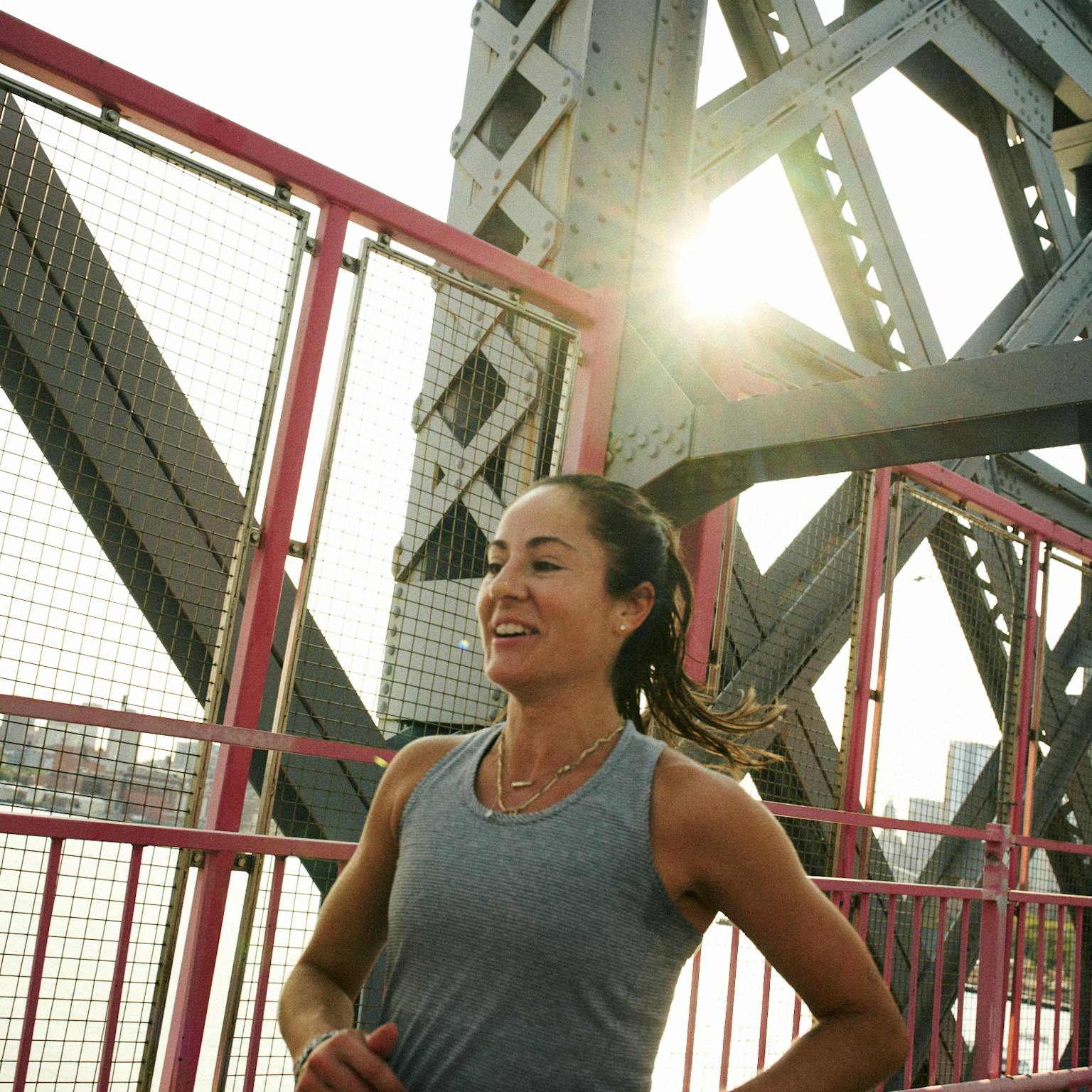 Brooklyn in Berlin
Words by Leigh Anne Sharek
Photography by Ben Rayner
'Holy shit.' That was my reaction upon hearing the news that the Olympic Trials Qualifier for women had been lowered to sub-2:37. Perhaps I should have filmed my reaction on video – like when parents film their kids opening their college letters. After all, it had been a topic of conversation for months among almost everyone I know. My PR that got me to Atlanta was 2:42. We had speculated on 2:40, maybe 2:42. A step up, but still achievable. No one predicted 2:37. Two hours, thirty seven minutes. Holy shit.
Despite the shock, it was a relief to finally have a goal again: something tangible to aim for, regardless of how intimidating it might be.
In 2021, our community returned to running as we'd always understood it; marathons were back on post-COVID, and group training was back. Mostly, everyone was just happy to be running with other people again. We pinned on race numbers, but there wasn't much pressure for a breakthrough PR performance. It was instead about celebrating together: doing the thing we loved within a community that had tried its best to be supportive during a very tough time. But running's comeback also meant a return of long training sessions, gutsy performances, and yes, lofty goals.
There was never any question as to whether I would try to hit the new standard. The time was released; I took a second; ok, let's do it. I'm sure women all over the country felt the same: that whatever the time was, they were going to do their absolute best to achieve it. I think it's damn-near impossible to beat the encouragement that exists in the women's running community. I felt it at CIM in 2018 when I qualified for the trials, I felt it in Atlanta in 2020, and I felt it the day the new standard was released. Dozens of women posted on social media about it, but most posts weren't about themselves; instead, there were rallying cries to all the other women out there, to make this Trials race just as spectacular as Atlanta.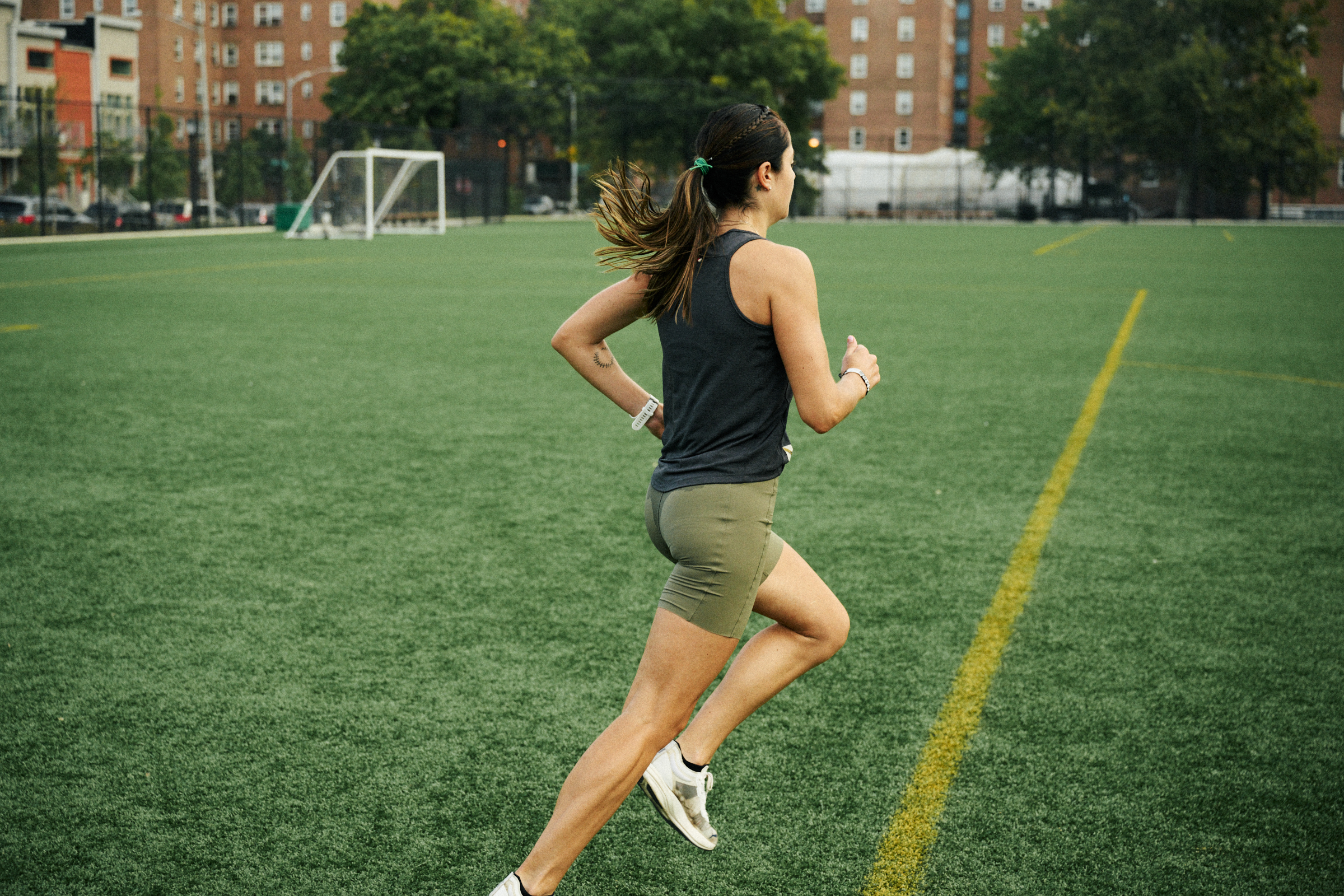 I know I am not going to make an Olympic team. And before you say, 'well not with that attitude you won't!', I am not setting myself up for sympathy or compliments. When I was training for the trials in 2020, coworkers (scientists accustomed to probability and statistics) would say things like "there is a chance!" And I would be like ok, sure, mathematically yes, there is a very small chance I make the team – but back in the real world, I am not one of the perhaps 12 women realistically vying for one of three podium spots. And that means that I can root for everyone, and genuinely want as many women as possible to make it to the startline. The OTQ brings this community together and we can all do it: 400+ women made the trials in 2020, why shouldn't a similar number qualify for 2024?
We, the runners, get to set the tone. We get to go out there and work hard, together. Hopefully we hit our goals. But we may not. I sometimes get caught up thinking 'I'm due a good race,' or even, 'I deserve to have a good race.' Both might be true, but if I may be melodramatic for one minute: the marathon doesn't owe us anything. And it can't be forced into submission. You can't strong-arm your way through a three hour race, trust me I've tried.
You have to let it come to you.
The Training
I have been running marathons – one or two a year – for a decade. This build would prove to be different in many ways. In 2017, I co-founded the Brooklyn Track Club and in the years since, it has flourished. We have cultivated an amazing group of women, and this spring, four of us decided to make Berlin our goal race of 2022. In addition we all started working with the same coach. I didn't run in college, so I'm unaccustomed to working within a team of women all training for the same race and on the same plan. While I don't regret the path I took to get to this point, this summer has been a revelation. The best part was, we got along! Group dynamics are tricky, especially with competitive and perfectionist personalities, but we had little-to-no drama. It could have been us against each other, but instead it was us versus whatever workout we had to tackle. And there were plenty of hard workouts, sometimes two a day.
It was also us versus the weather. This summer in New York was HUMID. And hot. I put humid before hot because as every runner knows, it's not the heat that melts you, but the dew point. Bottom line: a high dew point will kill you, or at least, make training really hard.
Every winter I find myself daydreaming about it being warm. To run in a sports bra and be working hard and glistening (yes, freaking glistening) with sweat as if I've stepped out of a pool. And every winter, as I'm glorifying summer training, I conveniently forget one small, important tidbit: I am terrible at running in the heat. Like, really bad. I try so hard to help myself: I hydrate the day before, I carry a handheld water bottle to dump on myself mid rep, I wear a visor to shield me from the scorching sun. And yet, I suffer.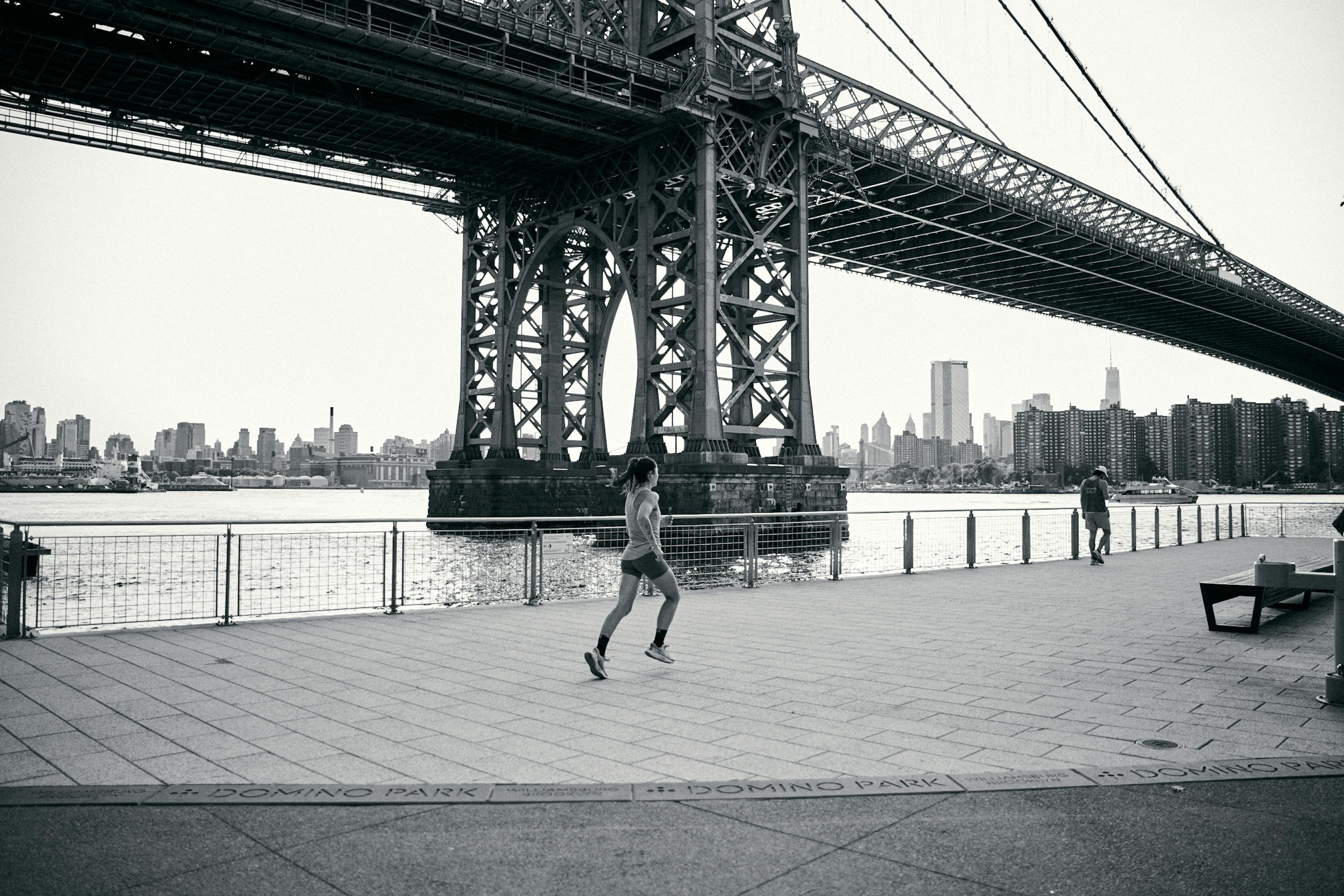 Week two, not even peak training – really still in warm-up mode. We have an 18-mile 'easy' run that we do in scenic and hilly Rockefeller Park. I do not feel good from the start. The uphills are killing me, the downhills are too short, the 'easy' pace is too hard, the sun is BEATING down on me. I wind up cutting it a mile short. I flipped early, and literally staggered back toward the car on the trail. I saw what I thought was a mirage: a Maurten bottle one of us had left on the side of the trail. Sweet relief! I thought it would be water, maybe Maurten, but what I found instead was my friend Tim's newest fave: flat Coke. Tasting that flat, tepid soda was the final straw. I couldn't tell if my chest was tight from the run or from the hot thick air that consumed me. My breathing, already labored from the torturous run, devolved into sobbing. I did not expect this run, so early in my training, to break me. But it did.
And that's how training began. Every workout was about heat management, about where there would be water fountains and shade. I have never been a morning runner, but that went out the window this summer. I ran to work most days, to beat the heat; I went to work straight from morning workouts; I often showed up to work sweaty and grimy. Glistening? Not so much. I had decided early on in the marathon build that I was going to prioritize the training. That meant I wouldn't miss a workout or rush a cooldown or skip post-run smoothies for work.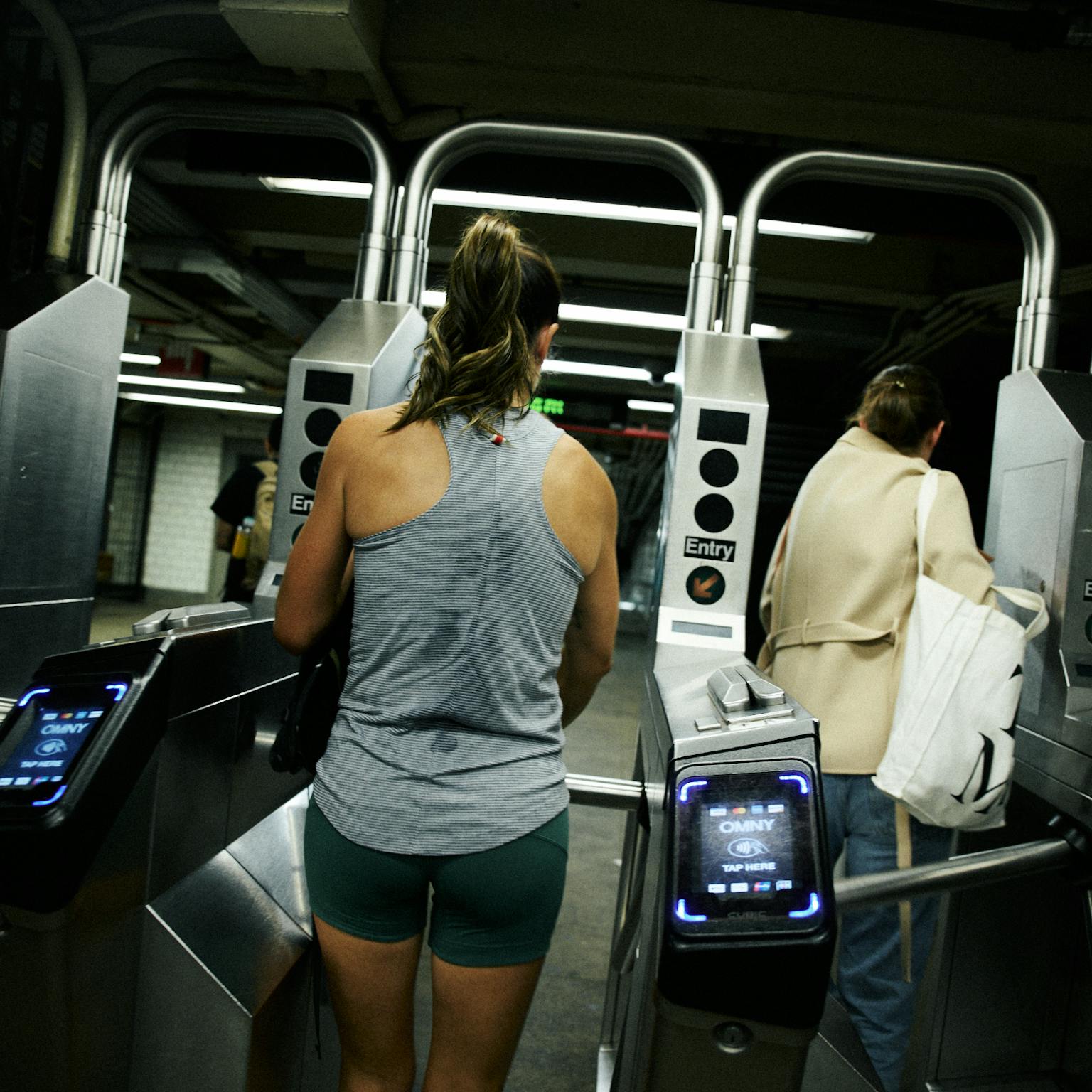 I am a forensic scientist at the Office of the Chief Medical Examiner in NYC. I perform DNA testing for crimes that happen in the city. I like my job and I am proud of what I do. I have to be in the office every day, so that part wasn't flexible, but I was able to catch up on work in the evenings to compensate for the time I was taking some days to run. It was hard: working full-time, in-person and training at this level, life was fuller than it's ever been. I was cranky a lot. I wore Hoka recovery slides with socks at work. My desk was perpetually littered with electrolytes. But if I'm honest, I enjoyed the grind. I like juggling work, running, my social life and self care: I would be lost without any one of these things. I want to be successful at my job AND at running, but this summer, in order to meet my goals, the balance shifted heavily towards running.
My favorite runs were the track workouts with Brooklyn Track Club. We rarely ran the same workout as the team, but we would be on the track at the same time. It was extremely important to me that we were able to come to team practice in some capacity: I still wanted and needed to feel like part of the larger team. I take a lot from them: energy, motivation, discipline, and I want to reflect those qualities back on the larger group as well. Those nights on the track were special: the four of us locked in to our own workout while being cheered by over 100 friends and teammates. It's hard for me to think I missed out on running for a college team when I'm able to experience this kind of training environment.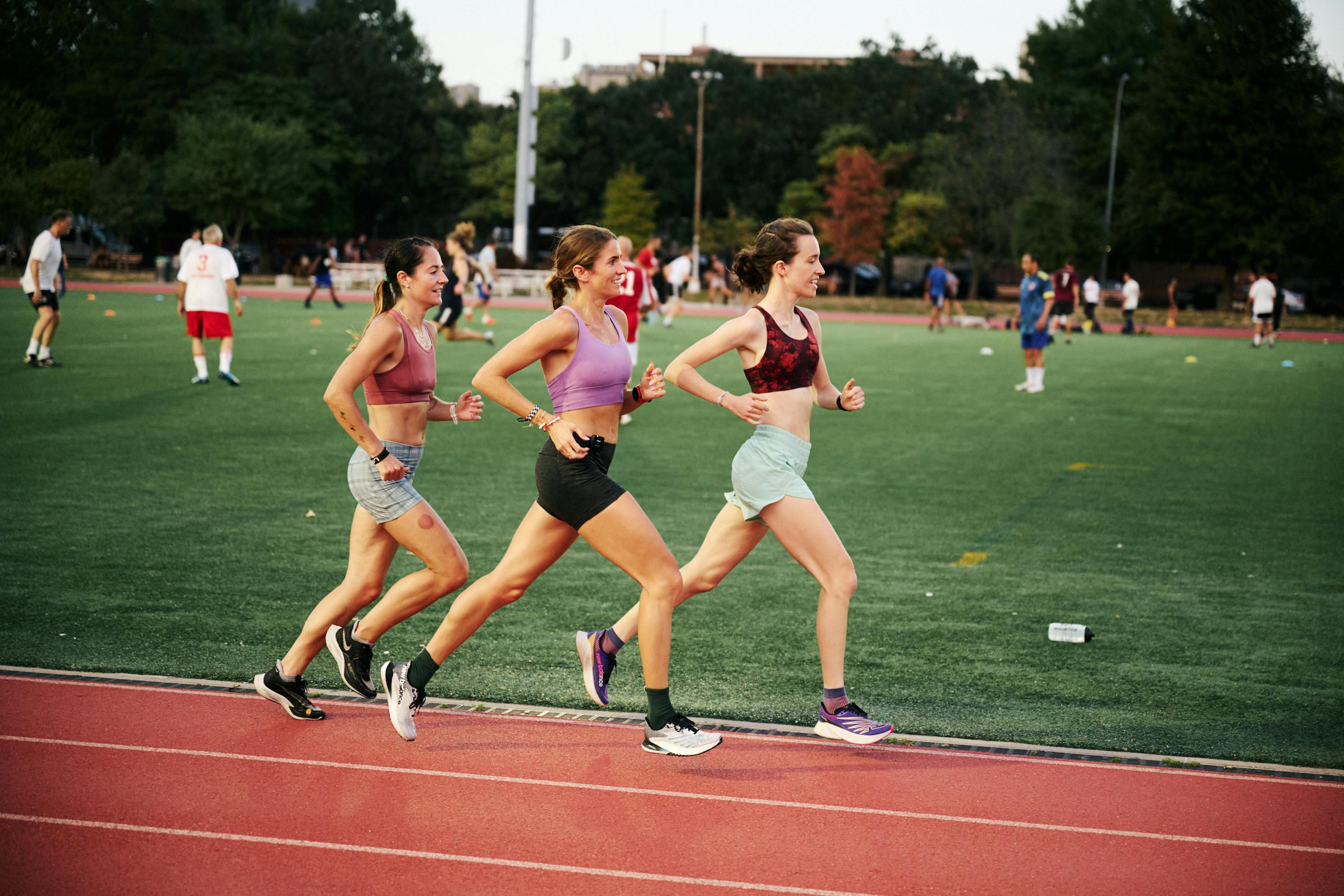 This build was extremely special. In some ways I was dreading race day because I didn't want it to end. For months we were a well-oiled machine, working together seamlessly through the training cycle. I loved the routine of training so much it took effort to remember what it was all for. Going into race day I tried to maintain that mentality: routine, effort, mutual support. I had so much fun and worked so hard with these women that I had already won. Berlin felt like an extension – a celebration even – of our group's training and bonding, rather than an ending. While I wanted the race to go well for all of us, I had come to know that the process is what matters, and also what I had come to value most.
The Race
Obviously, I was nervous. It was hard to sleep the night before, my brain flip-flopping between positive affirmations and dread of the inevitable suffering. I hadn't had a good marathon since 2018. I woke up, choked down an english muffin with pb and banana. Put on the kit, put little braids in my hair. There were tears.
One thing I have had to accept, which truthfully I am not sure I have, is that it is rare (in my case impossible) to show up to the start line of a marathon and feel fully prepared.
There is always something more you could have done: more workouts, more strength training, more sleep. You can only trust the process, which means trust that the work that you have done will be enough to deliver the results you want. You have done the workouts, the long runs. You've recovered and eaten and slept and skipped happy hours. And none of it can guarantee success; all it can do is put you in a position to succeed. Perhaps the last step of the process isn't running the race, it's stepping up to the start line and trusting yourself.
It's crazy how quickly you forget the feeling mid-race. Was it really that hard? Was I really in that much pain? My goal was to go out around 6:05-6:08 pace for the first three to four miles. Ease the pace down and come through the half around 1:19-1:19:30. Stay in the 6:00-5:55 range through about 20-21 and then rip the last part. And it mostly played out like that, except for the last five miles. I felt really comfortable through the first half. I wasn't looking at my watch much, kept shaking out my arms to relax my shoulders. I hit the half around 1:19:20. I said to myself 'ok, no more miles above 5:59 pace.' I hovered between 5:55-6:03 through mile-21. And then I just couldn't keep it up. Nothing in particular was hurting, but I was out of gas. To co-opt a joke, 'everyone is an atheist until mile-22 of a marathon.' After that point, you'd do just about anything for it to be over. The last five miles consisted of a mental hamster wheel of my go-to mantra: 'live in this mile.' There were so many turns in the last 2km, and I thought I would see the Brandenburg Gate after each one. Finally, I turned and saw it, and it was still so far away. As I passed under the gate and finally, FINALLY, saw the finish line, the men's winners were being announced. I hadn't made it a step over the finish line and I was already looking for my teammates.
Three PRs, four massive efforts, one OTQ (Erin Gregoire). I ran 2:40:35. A roughly minute and a half PR. My immediate reaction was, 'I'm good with that.' The last five miles had been so hard and I had constantly fought the urge to stop. Half an hour after the finish I noticed that I wasn't feeling nearly as bad as I should be. I was ready to get brunch and hang out. So I started feeling like I should have been able to run a little faster.
Now that a few days have passed, I am happy with the PR but hungry for more. I feel dissatisfied in myself, and a little embarrassed that I wasn't closer to the goal I had publicly set. But I was more mentally strong in this marathon than any previously. I did not panic early, I was relaxed and controlled for over half the race, I stuck to my race plan. I know I can do better. I will do better. Berlin was a stepping stone: sub-2:37 is there and waiting, and no longer deserves the 'Holy shit' respect I once gave it.
"I know I can do better.

I will do better.
Berlin was a stepping stone:

sub-2:37 is there and waiting,

and no longer deserves

the holy shit respect

I once gave it."