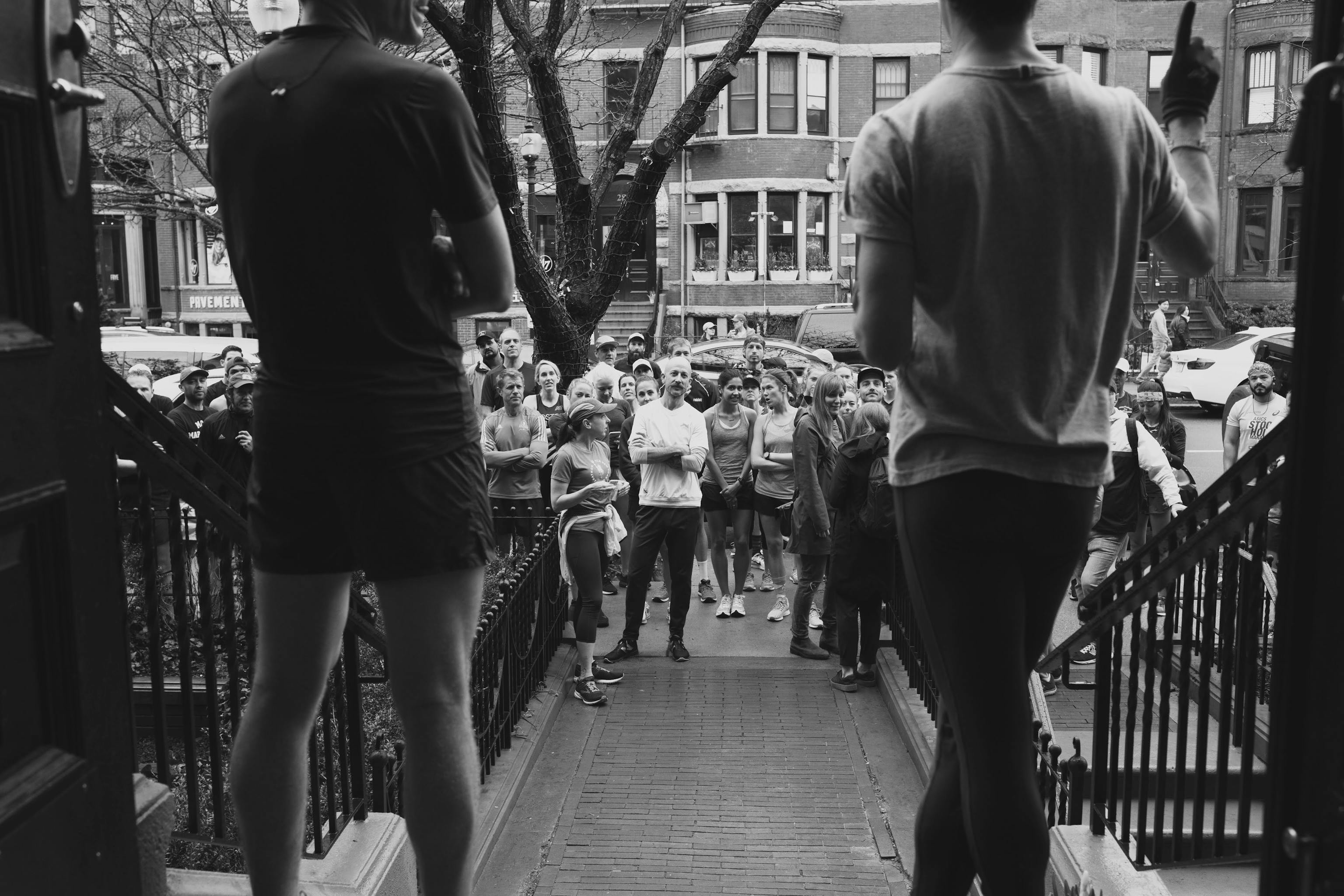 GROUP RUNS
ARE BACK
Updated on June 1st, 2021

After a long and very unplanned absence, we're excited to be reopening our lounge doors for weekly runs, starting with Church of the Long Run on Sundays. The Sunday long run is often conflated with spirituality. It's an easy comparison: like church, the long run is a weekend ritual. And like any religion, it encourages us to reflect on our shortcomings and appreciate all that we have. The fact that it's the one run of the week where we push for distance, not speed, only encourages that - done correctly, it's an introspective, centering experience. It's our favorite tradition of the week and one we're excited to bring back to the Trackhouse.
For those new here or those who need a refresher, Church of the Long Run is a weekly group run that meets at the Trackhouse (285 Newbury Street) on Sundays at 9:00AM. The meet-up is free to attend and open to runners of all ability levels.
Weekly Church of the Long Run will begin Sunday, June 6th. Here are a few things that you need to know before showing up:
- Self Check-In. Please register and check-in for the run ahead of time at runclub.tracksmith.com.
- Doors to the Trackhouse open at 8 a.m. The run begins at 9 a.m.
- In accordance with Massachusett's COVID-19 guidelines, masks are no longer required in retail settings. However, in a continued effort to keep fellow run club members and Tracksmith staff safe, we encourage anyone who is planning to enter the Trackhouse to wear a mask. Massachusetts state guidance advises that unvaccinated individuals continue to wear masks indoors when they can't social distance. The state guidance on fully vaccinated individuals aligns with the CDC guidance of no longer requiring masks in indoor or outdoor settings.
- No Food or Coffee. Please do not plan for food or coffee to be served during run club hours. We will plan to revisit all of our offerings in July. In the meantime, we'd encourage you to visit and support many of the local businesses on Newbury Street.
- Bag Check. There will be locker space available for bag check during each run club.
- Route Details can be found here. This week's run leaves from the Trackhouse and runs along the Charles River. This route is mapped for 12 miles with lots of options to shorten or add miles if needed. There will be no water stops for this week's run so please plan accordingly.
- The team from Wellness In Motion will be at the Trackhouse post-run from 10:30-12:30 p.m. to offer free PT and massage on a first-come, first-serve basis.

Looking Forward
In addition to Sunday long runs, we'll also be reintroducing free, guided speed workouts on Wednesday evenings at 6:30pm. Details on each week's workout can be found on our Strava page.
We're also looking forward to a Run Cannonball Run event this month, 100 Days to Boston kick-off in July, and destination long runs this summer. If you have any questions about this Sunday's run or any future Tracksmith events, please email community@tracksmith.com.