Kara Winger:
Still in Flight Mode
Words by Dan McQuaid
Photography by Emily Maye
A mischievous wind blows into Hayward Field each summer. It arrives from the north, and once inside the stadium conducts itself like a sugared-up toddler, careening off bleachers, whipping around curves, snatching hats.
On the eighth day of the 2022 World Track and Field Championships, it jumped the track and barged straight across the infield all the way to the javelin runway. In its path stood Kara Winger, gripping her javelin and squinting into the late afternoon sun. Her samurai-style top knot added inches to her already imposing 6ft frame. She might have been a modern day Athena, except for the brace on her left knee. The brace suggested the price she'd paid to get there. It revealed her humanity.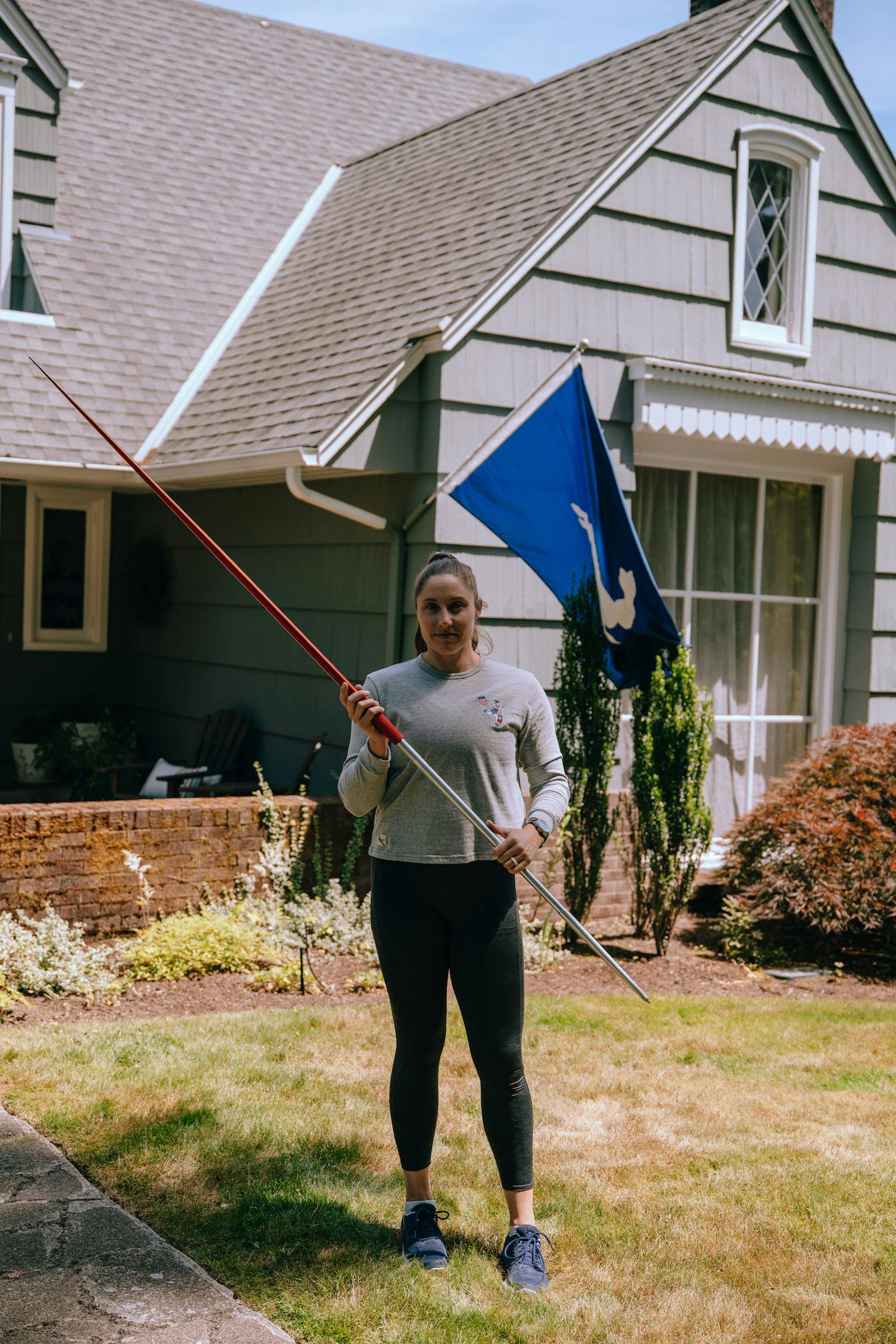 What makes an athlete endure? Kara turned 36 in April, young for a 21st century human but old for an athlete. When the 2022 season began, she had not thrown a PB for 12 years. The last came in 2010, the same season she won her first Diamond League meet. She had not won another since. She had, however, suffered three major injuries.
Was it fame that kept her going? Probably not. During warmups at this year's Mt. Sac Relays, a thrower in Kara's flight turned and asked "What year in school are you?" Kara, at that point, had won eight US titles, had appeared in four Olympics and five World Championships.
Was it fortune then? When Lebron James was 36, he got paid $44 million to play for the Lakers. How do you walk away from that kind of dough? Kara's situation was different. There has been no dough to walk away from. In fact, for several years she has had to work a full time day job in order to finance her javelin habit.
So what kept her going?
Kara, over the course of her career, has acquired much. A two-legged soulmate: Russ, her husband, coach, and favorite mountain man; a four-legged soulmate: Maddie the golden lab, not quite as shaggy as Russ, but equally beloved; a legion of friends scattered throughout the world; a reputation among her colleagues as a truly delightful person – the Keanu Reeves of track and field. "She is," says her friend Ariana Ince, "genuinely invested in people's stories. She is always the first person to say hello, and to know who you are and what your season's best is."
Rodney Zuyderwyk, Kara's coach when she attended Purdue University, says Kara has been that way since he recruited her: "I immediately loved her personality," he recalls. "She was always friendly, upbeat, and positive."
Every track and field athlete dreams of getting on the podium at an Olympics or Worlds. It is the track and field version of a Super Bowl ring. It is Gatsby's green light, Odysseus's home port, old man Santiago's big fish.
If Kara retired without a major medal, she'd likely be remembered as, in the words of Ariana Ince, "this really nice jav thrower who was on the scene for a long time." She would not, however, be considered one of the all time greats in her event. She'd be Vinny Testaverde, not be Tom Brady.
And that's a hard bone to swallow. For most of us, it's not so traumatic to give up on our childhood dream of achieving athletic immortality. But what if your talent and drive and self-sacrifice bring you this close…this close…to the summit of your sport only to feel the ground beneath you give way as you go tumbling back down the side of the mountain?
That would suck, right?
And so, Kara soldiered on. She accepted that she could not stay in the sport forever, but after the disappointment of a 17th place finish at the Tokyo Olympics, she was determined to give herself one more chance to maybe…maybe… take a medal at a major championship.
* * *
Standing on the runway in Eugene as the women's javelin final at the 2022 Worlds began, Kara would have at most six throws to make her dream come true.
She janked the first one.
You never know for sure, but based on past history it seemed likely that it would take at least 64m to get on the podium, and Kara's first toss at the 2022 Worlds went only 56.93m – one of her worst efforts of the entire season.
Throwers sometimes try to grab a quick jolt of energy before an attempt by leading the fans in a display of rhythmic clapping, but Kara made no attempt to get the crowd involved. That didn't deter the crowd. As Kara began her run down the runway, she heard some "very sporadic" clapping that, according to Ari Ince, is typical of a Eugene crowd. "They are," Ince says, "the most uncoordinated fans in history."
"Not their fault," according to Kara. "They just needed to be walked through how to do it."
She made a mental note to take care of that in round two.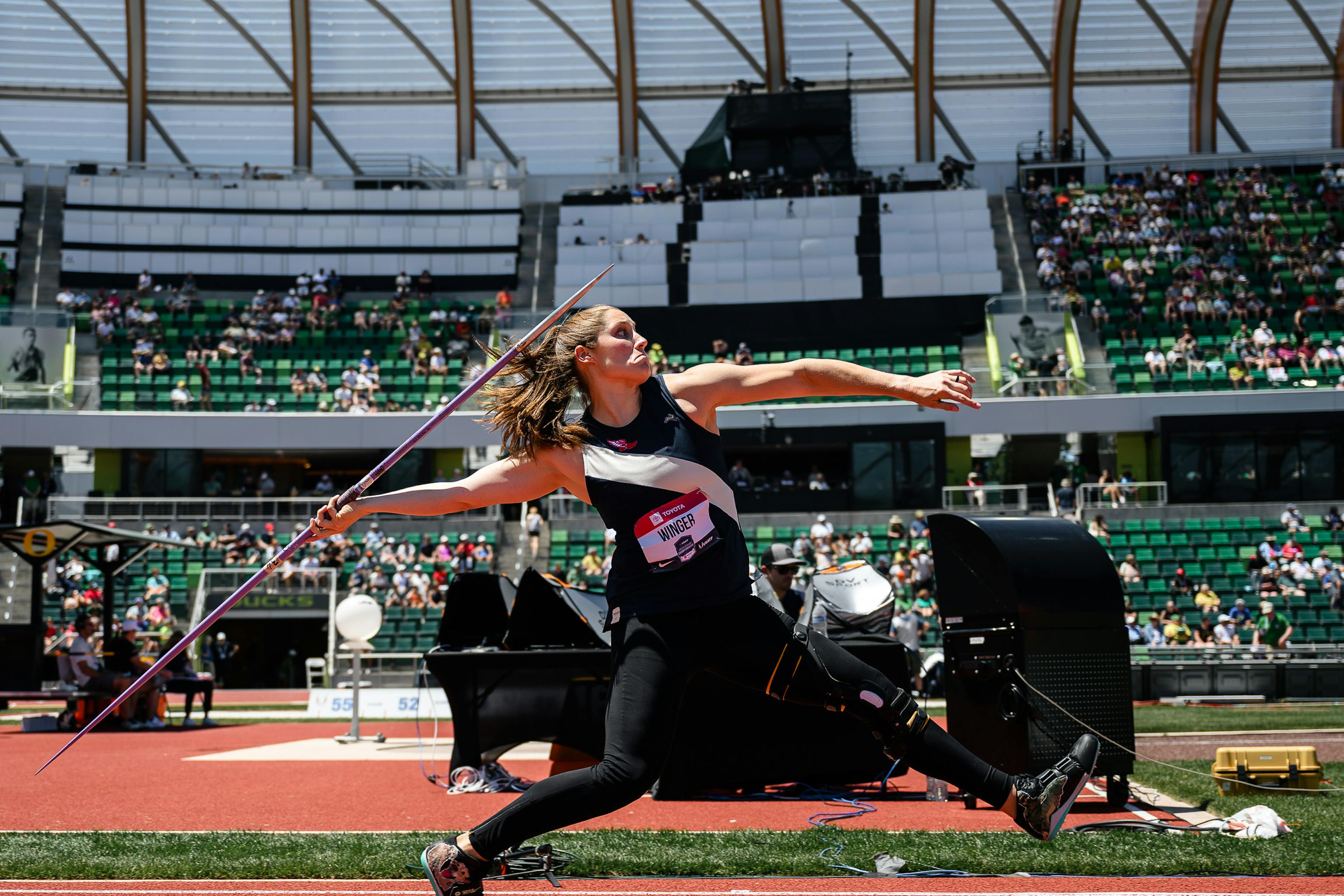 For some throwers, it would be no easy matter to shake off a lousy first attempt at a meet like the Worlds, but Kara had been through worse.
Every javelin throw is an act of recklessness. Javeliners train hard to prepare their bodies to handle those forces, but precise timing through the runup and into the release is essential to avoid calamity. In round four of the 2012 Olympic Trials, Kara increased the speed of her approach to impart more force on the jav, and that might have been the reason she planted awkwardly and tore the ACL in her left knee.
She was 26. One minute a rising star, the next wondering if she'd ever throw again.
Jamie Myers, her longtime strength coach and friend, remembers hearing the news from Kara: "She was down, but the doctors believed that throwing in the Olympics probably wouldn't make the injury any worse, so I said, 'Look, here's what we'll do. We'll tape it up and give it a shot and go crush it at the Games.'"
Remarkably, she did compete at the 2012 Olympics in London. She finished 31st, ten places higher than in Beijing.
In the process, Kara learned about overcoming adversity. Those lessons would come in handy.
* * *
Several of the people who Kara treasured most were in the stadium for the javelin final at the 2022 Worlds. Her parents were there – sport had always been a family affair for the Wingers. Jamie Myers was there. He had begun working at the Chula Vista Training Center around the same time that Kara took up residence in 2009, and they remained close after Kara moved to Colorado Springs in 2012. Ariana Ince was there, sitting near Jamie. She and Kara were such good friends that Ari moved in with Kara during the pandemic.
And Russ, of course, was there. He and Kara met in 2006 when both were part of the US team at the U23 NACACs. They began dating a year later, and a year after that he moved to Lafayette, Indiana, to be with Kara during her senior year at Purdue. They lived and trained together first in Chula Vista, then Colorado Springs, marrying in 2014. Each made the World Championship final the following year in Beijing, Russ in the discus. He retired from throwing in 2016, and now, for her final season, Kara asked Russ to officially take over as her coach. She had been working with Dana Pounds-Lyon, her friend and former competitor, since 2018, and together they had engineered Kara's highest ever finish at a Worlds (fifth at Doha in 2019), but traveling while competing can be a lonely life. Kara went through a stretch of poor performances during the summer of 2021 in Europe, which Russ says is "The worst. You are away from home, not competing well, not getting anything good out of the sport. Times like that make a lot of athletes decide they don't want to continue." Kara did want to continue, she just didn't want to be lonely.
Kara could not afford another crappy throw. All twelve finalists were given three tosses, but after that the field was cut down to eight. Kara would need to surpass 60m to make the cut, and the last thing she wanted was to have it come down to an all-or-nothing third attempt.
Luckily, two decades in the sport had taught Kara how to keep her cool.
She took a moment to get the crowd clapping in the proper rhythm: slow at first, then building in speed and intensity. They showed improvement, and the sound was loud and persistent as she charged down the runway and launched a throw of 61.92m, which essentially guaranteed her a full six attempts.
"Round two," she said afterwards, "is where I live."
* * *
After surgery in 2012, Kara devoted herself to rehab and was able to resume competing late the following summer. She was National Champion again in 2014, and by the spring of 2015, felt ready to ditch her knee brace. She and Russ each medaled at the 2015 Pan American Games, each won the NACAC Senior Championships, and each qualified for the Worlds in Beijing. Kara threw 66.47m in May and 64.94m at the US Championships in June to win her sixth national title and show that she was once again a medal contender at the world level.
But, just as it appeared that her career had regained momentum, another setback. An ineptly performed chiropractic adjustment after the 2015 Nationals resulted in a torn labrum in Kara's left shoulder. The resulting pain made it difficult to blast into her throws with the requisite aggressiveness and may well have kept her off the podium in Beijing, where she finished eighth.
She and her coaches decided that she could not go into the Olympic year of 2016 uncertain if the shoulder would hold up, so she had it surgically repaired after the season.
* * *
Kara threw exactly 61.00m in round three in Eugene, which left her in fourth place. Ahead of her were two Austalians, Kelsy-Lee Barber and Mackenzie Little, and a young and delightfully animated Japanese thrower named Haruka Kitaguchi who was undefeated during the 2022 season.
In the stands, Russ saw reason for optimism. Barber, the defending World Champion had hit a big throw of 66.91m in round three, but a spot on the podium was by no means out of reach. Little's best so far was 63.22m. Kitaguchi held third place with 62.07m.
A month earlier, in the US Championships also held at Hayward, Kara had thrown 64.26m on her sixth attempt to take the win, and her training prior to the Worlds had gone so well that Russ had sent Jamie Myers the following text: "I'm calling it right now. She's going to win a medal."
She had three more throws to prove him a prophet.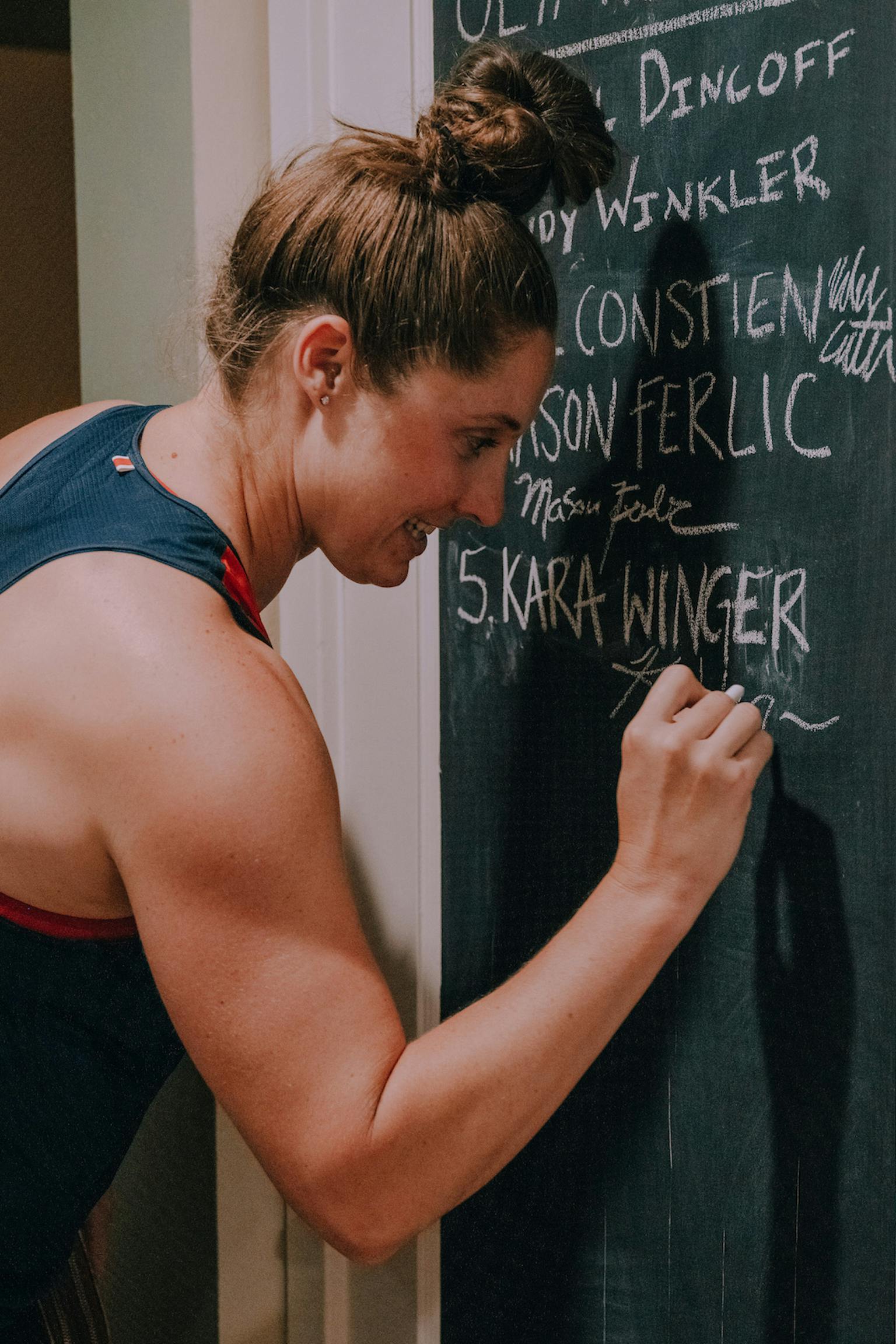 In 2016, while working her way back from the surgery on her left shoulder, Kara injured her right shoulder and tweaked her left knee. She struggled to a season's best of 61.86m and missed the final in Rio by one place.
In her blog, she reflected on the dismay, recently, admitting it took "a long time to be at peace with it."
She and Russ adopted Maddie, the lab that year, and Kara found solace in their long walks together. That was good timing, because challenges kept coming. She improved to 64.80m in 2017 and won another national title, but failed to make the final at the London Worlds and split with her longtime coach Ty Sevin.
By then she had become an expert at regrouping. This time, she enlisted her friend and former competitor Dana Pounds-Lyon as her technical coach and asked Jamie Meyers to play a larger role in supervising her training.
The result was another national title in 2018 and a third-place finish at the Diamond League Final with a toss of 64.75m – her best ever in Europe.
Kara was filled with renewed hope that she could finish her career on a high note. With the Worlds scheduled for Doha in 2019, the Tokyo Olympics in 2020, then the Worlds again in 2021 in Eugene – essentially a home meet for Kara, who grew up in the state of Washington – her path seemed clear. She'd take three more shots at winning an international medal then step away from the sport for good.
Her plan in place, Kara's career once again came perilously close to ending prematurely. This time the wound was self-inflicted.
She had always been crafty. As Halloween approached in 2018, she decided that the staff at the Olympic Training Center deserved some specially decorated "USA" pumpkins. Unfortunately, she stabbed herself in the right hand while carving one, and was left wondering for several weeks whether the resulting nerve damage would heal well enough to allow her to resume throwing.
It did, eventually, and after adjusting her grip to take some of the pressure off her hand, she put together a few solid outings in Europe including a fourth-place finish at the Rome Diamond League meeting.
She switched back to her old grip after losing to Ari at the US Nationals, then went on a tear: 64.92m for the win at Pan Ams, 64.23m for the win at the US v. Europe Match, and 62.33m for fifth place at Worlds, the highest finish ever for an American woman in the jav.
Those results showed that in spite of all she'd been through, an Olympic and/or World medal was still within reach. Kara worked to refine her technique under Dana's direction. She took Maddie on long walks. She trained diligently. She stayed healthy. And then Covid arrived.
* * *
Throwers often tinker with their technique during competitions, making subtle adjustments like a safecracker trying to get the tumblers to align.
In Eugene, Kara noticed that during her first three throws she had finished well short of the foul line, a possible sign of tentativeness. When Russ came down near the track for a chat, she suggested that it might be time to go into attack mode. He heartily agreed.
As round four played out, Shiying Liu, throwing just ahead of Kara in the order, jumped into second with a toss of 63.25m. Kara then dialed up the speed, trying to conjure the reckless abandon of her 2010 pre-injury self, but her timing wasn't quite right, and she hit only 58.78m.
She was now in fifth place. Two attempts remaining.
* * *
During the pandemic lockdown in 2020, Kara trained with Dana at a local park. Russ somehow MacGyvered a cable system in their yard that allowed Kara to build strength while mimicking her throwing action.
Competitions were scarce during that summer of 2020, but the Iron Wood Throwers Center in Idaho hosted a meet in August, and Kara and Ari signed up. Kara's throw of a 64.44m early in the comp showed that she was ready to build on the success of 2019 and to contend for a medal in the delayed Tokyo Games. Then, on her final attempt there at Iron Wood, she once again tore her ACL.
Jamie Myers remembers being in his garage when Kara called. "She was in an airport, probably wearing two masks, and crying so hard I couldn't understand her," he recalled. "And then, when I realized what she was saying, I was like, 'Oh, shit.'"
* * *
In round five at Worlds, Kara came close. Damn close. She was again aggressive with her approach, and this time more patient with her arm strike. The result was a 62.17m toss, which lifted her back into fourth place.
She had not lined it up perfectly, but she felt "a hint of the patience, and relaxation" that she'd been looking for.
One more attempt.
When Coach Zuyderwyk heard about Kara's second ACL injury, he wondered at first if she'd be able to bounce back. "But," he says, "her support network was incredible, her attitude was incredible, and when I spoke to her she just said, 'We are going to do rehab, and hopefully I will throw again.'"
He believes what kept Kara going was the fact that she was more than just a javelin thrower. "Yes, getting injured stinks, but she still had Russ, she still had her friends and her parents. I think that allowed her to stay positive through all the ups and downs."
Russ says that the second ACL injury was "tough" but as always they quickly focused on moving forward. They met with a surgeon, put together a timeline, and developed a plan.
Remarkably, she made the Tokyo squad and ended up finishing 17th. The joy of qualifying for a fourth and final Olympic Games, followed by the disappointment of missing the final, followed by the elation of being elected flag carrier was, Jamie Myers recalls, "like emotional terrorism."
Still though, Kara was not ready to quit.
* * *
The wind blowing into the face of the javelin throwers had caused some trouble. Coach Zuyderwyk says a headwind requires javelin throwers to get the angle of release "exactly right," or it will simply knock the jav down. That had happened frequently throughout the competition. In the second round alone, six of the 12 throws were complete misfires, some falling short of the 50m line.
Kara was not thinking about the wind. She'd competed in every kind of weather and had actually thrown her PB into a strong headwind back in 2010.
Instead, she looked around the stadium and thought about all the things that had happened to her over the years in Eugene. She set a stadium record at Hayward while winning the Prefontaine meet in 2010. She made all four of her Olympic teams there. It was in Hayward that she'd first blown out her knee in 2012.
Now, as the sixth and final round played out in Eugene, Kara sat fourth behind Barber, Liu, and Little. If nothing changed, she'd need to surpass Little's best of 63.22m to reach the podium. But, as is often the case in the final round at major championships, things did change. The irrepressible Kitaguchi, now throwing just before Kara in the order, hit 63.27m to take over third place. That knocked Kara down to fifth.
Every other event scheduled that evening had concluded, so all eyes were fixed on Kara as the stadium announcer reminded folks that she was down to her final attempt in her final World Championships.
At that moment, an athletics event that traces its roots to the desire of various ancient peoples to kill each other on the field of battle, was transformed as the 20,000 spectators in the stadium were joined by thousands of people at home all across the globe watching Kara attempt to produce the throw of her life.
Most of us have no idea as a javelin hangs in the air whether or not it is a good throw. We have to wait until it touches down to find out. But those with a trained eye can tell right away.
"As soon as she released that throw," Ari said later, "I was like, 'That's gone.' And I just froze."
When the javelin finally landed near the 65m line, Jamie and Russ started yelling and shaking each other. Ari says that they also started shaking her, and Jamie does not deny it. "We lost our shit," he admits.
They had to keep it together for another few minutes because while Kara's toss – it measured out to 64.05m – vaulted her into second place, Little and Liu each had one more attempt. If both surpassed her, Kara would once again finish out of the medals.
Having just turned in the performance of her life, Kara found her thoughts turning to the well-being of her competitors. She was, she says, "not about to celebrate prematurely in front of people who had just been knocked off the podium."
So she stood quietly and watched as Little, who Kara remembered being kind to her last year at the Games when Little qualified for the finals and Kara did not, took her sixth throw. It was a foul, which guaranteed Kara a medal and sent Russ and Jamie sprinting down the aisle to reach her.
Liu also misfired on her final attempt, which meant Kara had won the silver. A medal, at last. She hugged pretty much anyone who opened their arms to her as she took her first ever victory lap at a World Championships. At one point, an official tried to hurry her along, but she "politely refused," wanting to thank "every member of that 20,000 person crowd" who propelled her to a medal.
Hours later, after the medal ceremony, the interviews, the peeing in the cup, Kara and Russ and her parents and Jamie and Ari finally left the stadium, now dark and deserted, they headed back to their airbnb where Maddie the lab was waiting for someone to come home and take her for a walk.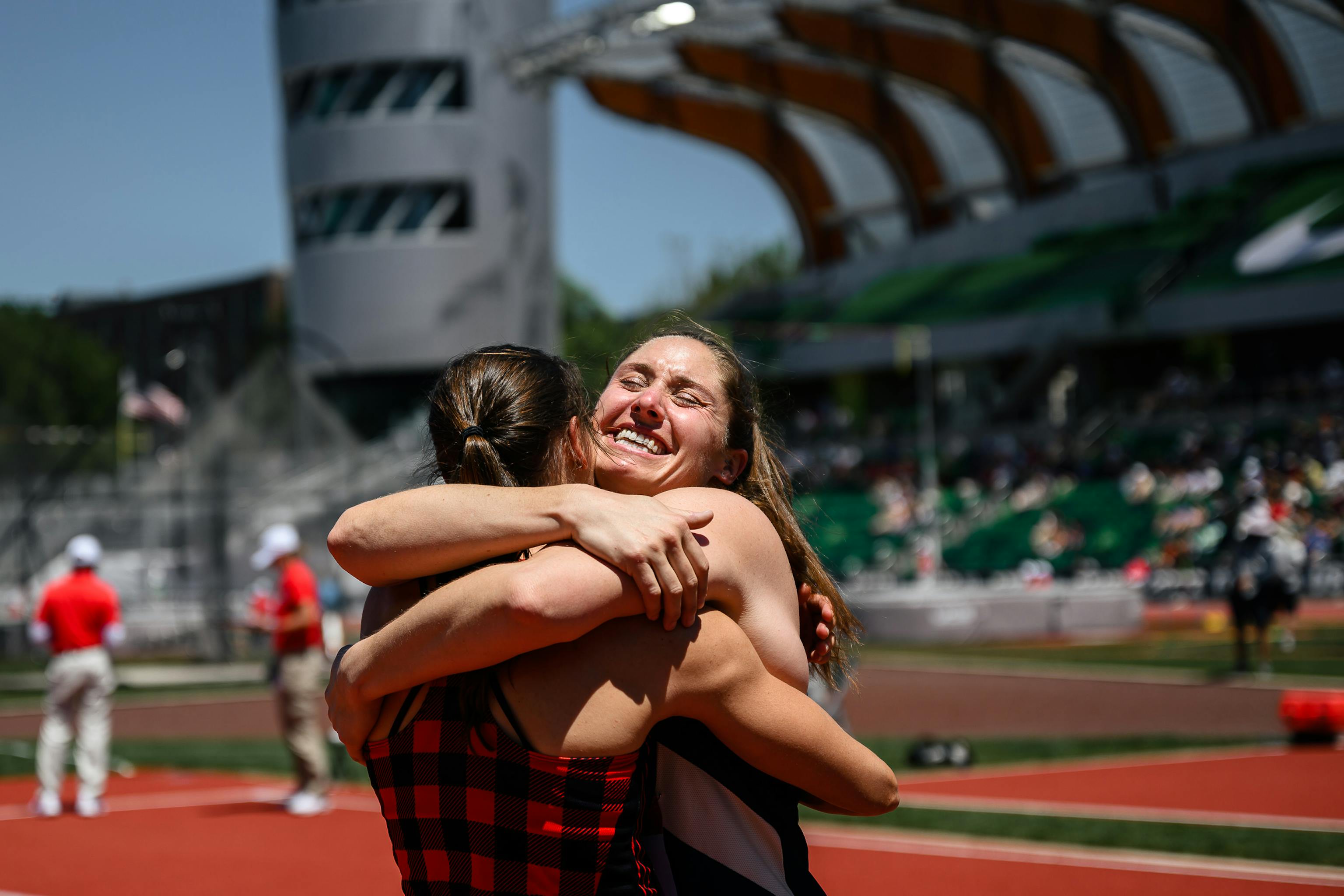 Apparently, it is easier to throw the javelin far without a grand piano or large monkey sitting on your back. After medaling in Eugene, Kara went on a roll, the highlights of which were a 64.68m toss to win the NACACs on August 1st, a massive PR and world lead and American record of 68.11m to win the Brussels Diamond League meeting on September 2nd, and one of the best series of her life – including a top throw of 64.98m – to take the Diamond League title in Zurich on September 8th.
After the Zurich meet, Kara described herself as "completely fulfilled in track and field" while also acknowledging that the automatic bye into the 2023 World Championships that is awarded to the Diamond League winner in each event had her thinking that there might be a "two percent" possibility that she would extend her career for one more season.
Whether or not she competes again, Kara will continue working at her day job (she is a senior director at Parity, a company that seeks to match female athletes with online marketing opportunities), and hopes to establish a foundation that would provide support to up-and-coming javelin throwers.
She will also collaborate with Russ in coaching Ari Ince, who has relocated full time to Colorado Springs.
Whatever the future may bring, know this. When an ill wind blows, she'll pull her people close. They'll eat together. They'll laugh. They'll devise a plan, and then they will turn and face the storm.