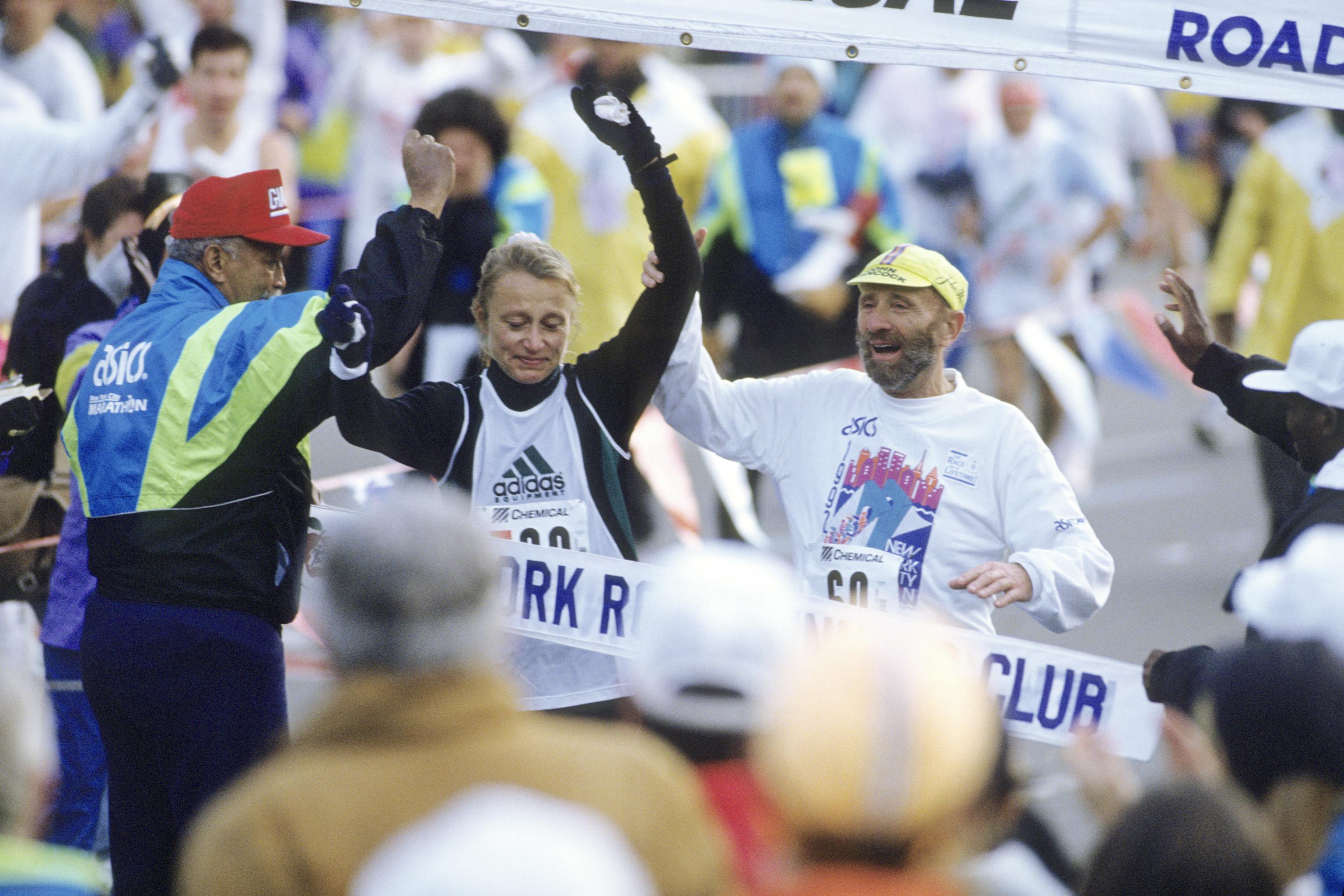 Lebow's Last Marathon
On friendship, heroism, and the power of running
in New York City.
Words by Stephen Lane
Photo by Getty
Thirty years ago at the New York City Marathon, three hours after Willlie Mtolo and Lisa Ondieki were crowned champions, the most important runners in the race neared the finish. Fred Lebow, the race's founder, and Grete Waitz, its nine-time winner, finished together in 5:32. For each, it was the last marathon they would run; they cried uncontrollably as they crossed the line. Waitz, the famously impassive Norwegian, and Lebow, running's merry prankster, shared a long hug amidst a sustained ovation from the thousands of friends, athletes, spectators, and volunteers who awaited them. Neither seemed willing to let the other go.
In 1990, Lebow had been diagnosed with brain cancer. His prognosis left little room for hope. Lying in his bed at Mt. Sinai Hospital, he fought off despair by doing what he'd always done: dreaming big. His one wish was to do something he'd never had the chance to do – run his own greatest creation, the five-borough New York City Marathon. By 1992, he'd fought cancer into temporary remission, and made plans to run. His friends thought he was crazy; Waitz offered to run with him.
For both, it was a long, unlikely journey to that moment. Lebow, born in Romania, was uprooted and on the run as a teenager – first from the Nazis, then the Soviets. He worked a number of jobs in postwar Europe before he landed in New York and took a job in a garment factory. By the late 1960s, he had his own garment business.
A competitive, near-compulsive tennis player, he took up running to improve his tennis game, and he found something in running that he hadn't had in a long time: a home. In his first race, he finished second from last; he was hooked for life. He ran his first marathon in the Bronx, dodging traffic and the rocks thrown by neighborhood kids. Mid-race, he was already scheming: Why the Bronx? Why not run in Central Park? There'd be fewer cars. And fewer rocks.
He built the New York City Marathon in his own image, and became the ringleader of the running boom of the 1970s. More impresario than race director, he had a twinkling, mischievous charisma: he made running less self-serious and more fun – and worked obsessively to make his race the biggest and best. For runners, he was New York personified: full of glitz and hype, but with the grit to get back up no matter how hard he got knocked down.
And in Waitz, New Yorkers saw the beating, compassionate heart pulsing under the city's tough exterior. Lebow could put on the show, but he needed stars to sell it: Waitz was the brightest of them all. She was painfully shy and she hated the spotlight, but she understood her role, and fulfilled it with such grace and kindness that she became the most beloved of all New York's champions, "a New Yorker by adoption" according to then-mayor Ed Koch. She even earned a Seinfeld reference: "What's to see?" asks Jerry about the New York Marathon. "A woman from Norway, a guy from Kenya, and 20,000 losers."
By 1990, she was comfortably retired, though she came back to race New York in Lebow's honor after his cancer diagnosis. Lebow, meanwhile, was planning his comeback. At first, he could barely walk – maybe a dozen steps. Then a full five minutes, IV stand clattering behind him. At Mt. Sinai, he discovered a tiny rooftop terrace, and calculated the distance around it: 67 laps to the mile. When he transferred to Sloan-Kettering, he measured the hallway around his floor – 11 laps to the mile. Visitors didn't sit with Lebow, they walked. He even swept fellow patients into his fitness program.
His doctors prescribed rest; he knew he needed to move. As usual, he won them over. Even during chemo, he pushed his medical team to help other patients keep active during their treatment. It's probably no coincidence that, years later, when Waitz faced her own battle with cancer, she founded a charity, Aktiv mot Kreft (Active Against Cancer) dedicated to helping patients keep moving and sweating – or even just stretching and meditating – during treatment.
When he was discharged from Sloan-Kettering, he began jogging again in Central Park, a wraith-like figure, running 20m, then a rest, then 20 more. Gradually he built back his strength, and the marathon began to seem possible. Waitz, who trained so hard that world-class men begged off running with her, practiced running slower than she ever had – she'd have to run Fred's pace, and she would have to be strong enough to support them both if needed.
On race day, Lebow still tried to direct the start, barking orders, shoring up last minute details. Waitz, who always hid her emotions, looked more nervous than she had before the Olympics or World Championships. Throughout the race, she was the gentle, calming voice in his ear, helping him get his jacket off, guiding them to their starting position near the back, reining in the pace – "Fred, if you don't slow down, you're going to be walking the last six miles" – mandating walking breaks, making him take food and water.
All along the route, New Yorkers cheered Lebow; they rushed off the sidewalk just to shake his hand. Around 17 miles, they passed Sloan-Kettering: patients and children stood outside holding hand-made signs for him; his doctors rushed out to hug him. The last six miles, Lebow, physically and emotionally wrung out, had trouble holding a straight line. His breathing grew ragged. But he was still Lebow: at one point, he doubled over, moaning. Waitz leaned over to check on him, and he shouted "fooled you!" and sprinted – hobbled – away down the course.
At the end, he was barely shuffling, taking each step as if he was uncertain his legs could support the weight. But "New York, New York" blared from the loudspeakers; he'd made it. Waitz and Lebow both tried – and failed – to hold back their tears. Grete stood aside at the finish to let Fred cross alone; he refused, and beckoned to her, and together they broke the tape one last time. At least for one day, Fred had beaten cancer, helped and supported the entire way by Waitz – and the 26,000 runners, nearly as many volunteers, and millions of spectators who helped bring them to the finish line.
Few moments in the sport's history better capture running's special alchemy, its ability to forge powerful communal bonds out of what is essentially an individual pursuit. And few acts demonstrate the real meaning of heroism better than Lebow and Waitz's last marathon: real heroes aren't like Superman, they don't have superpowers, and they don't swoop down to save the day. Real heroes are very human, with human frailties, and they set out to try great things anyway. They challenge our own sense of complacency. Sometimes, that challenge spurs us to seek our own greatness. More often, it just helps us get out the door in the morning – and it's enough, most days, to take those first few shuffling steps.
Shop the New York '22 Collection