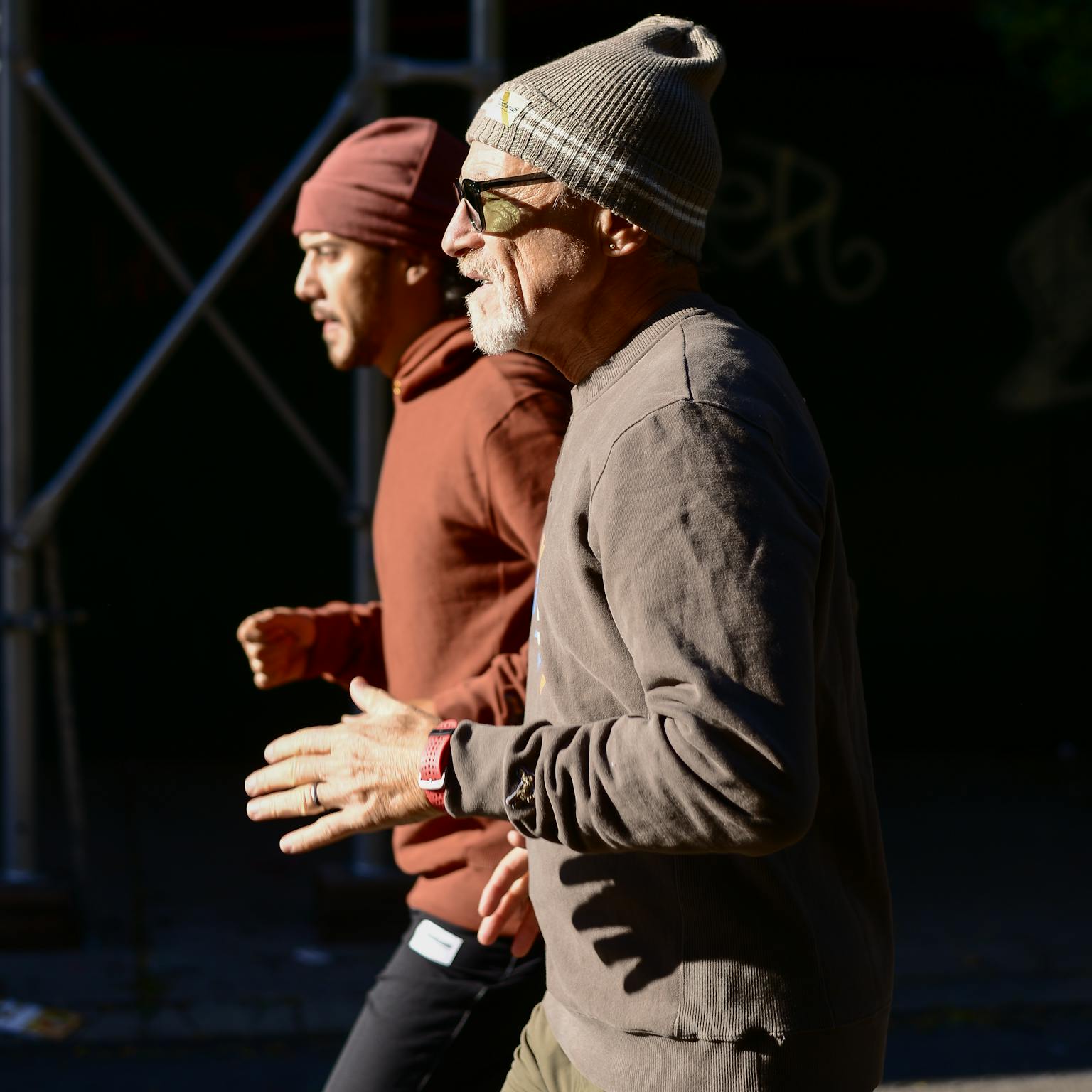 Like Father,
Like Son
Interview by Erica Stanley Dottin
Photography by Jason Bautista
Uptown musician and runner Reph has been coaching his 73-year-old father to run the NYC marathon. Training together has given them a chance to connect, develop their relationship, and give back to their community in the process.
Tell me a little bit about your father-son relationship.


Jose Alfaro: I'm a family therapist and if I compare our relationship, which I try not to do, I think we're pretty honest with one another. We try to respect one another's life, at the same time, we're offering support to one another.
Reph: Growing up, my father ran. But I never really ran with him. So when I picked up running, it let us connect in a new way. Maybe it creates space for us to have more in depth conversations? We spend so much time together when we're out there.
Jose Alfaro: I don't usually talk, I'm just busy breathing. I've been a runner since I was a teenager but I used running to train for basketball, football, wrestling... When I got older, running became my primary sport.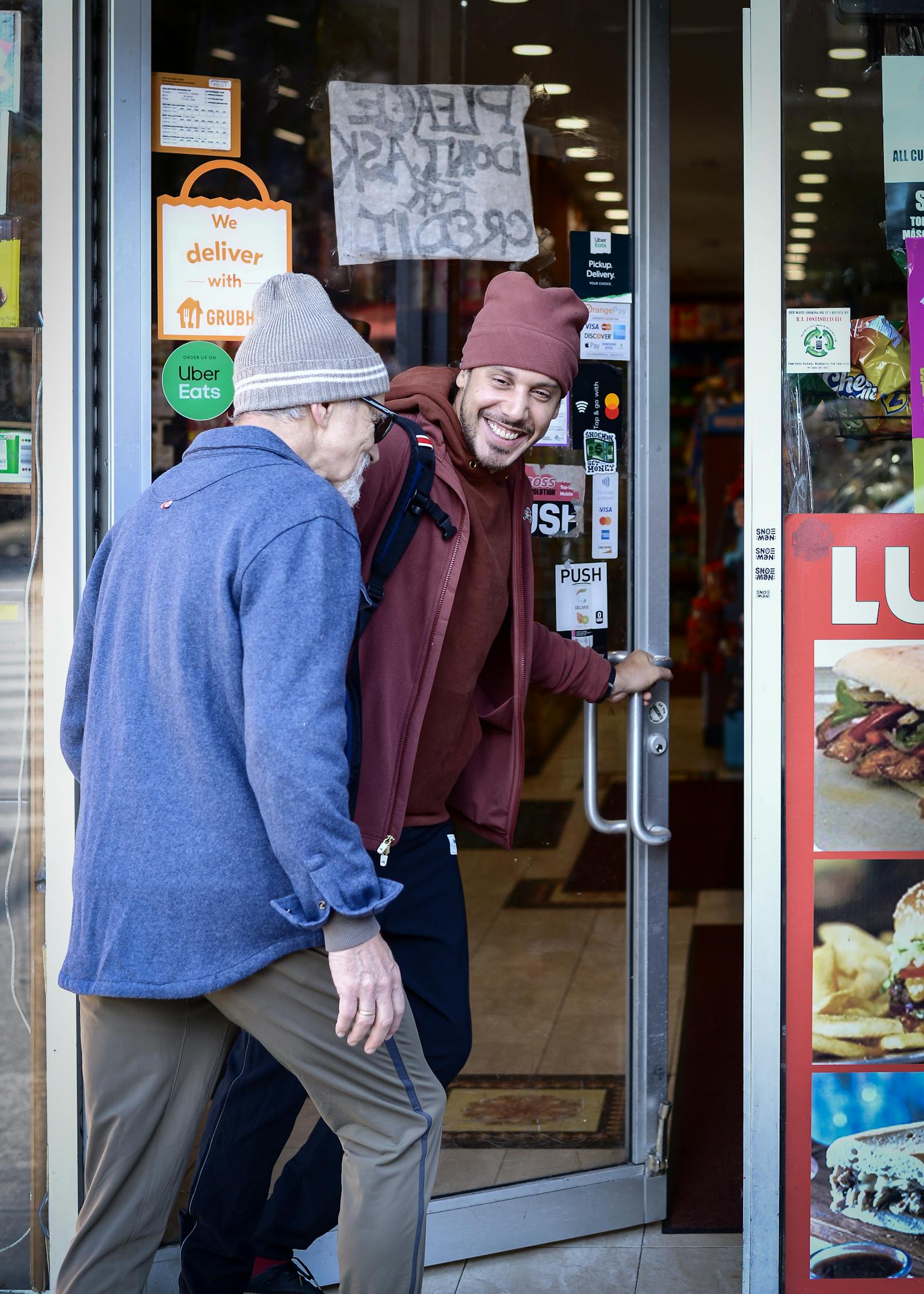 You guys are learning through training together. How'd this journey start?

Jose Alfaro: I am 73 years old. I've been very involved in sports my whole life. But what I'm curious about is, how much can I improve?
Reph's helped me to have a plan. I had no idea I needed speed work for a marathon. It really helps my legs and my cardiovascular fitness. It's only been a year since my ankles healed and the progress I've made has been fascinating. Somebody should study me.
Around 2018, I had to stop. My ankles started to hurt. Of course, surgeons suggested surgery. But I did general exercises for my Achilles and amazingly, after two years, I was able to speed walk. I said to myself, 'Heck, if I could speed walk, maybe I can run.' I started doing that around the start of the pandemic.
I started running with [Reph] and Patty. I started running with We Run Uptown. They're totally non-competitive and it was really enjoyable. Then, Reph recently started a training club that's given me a sense of approaching running in a scientific way.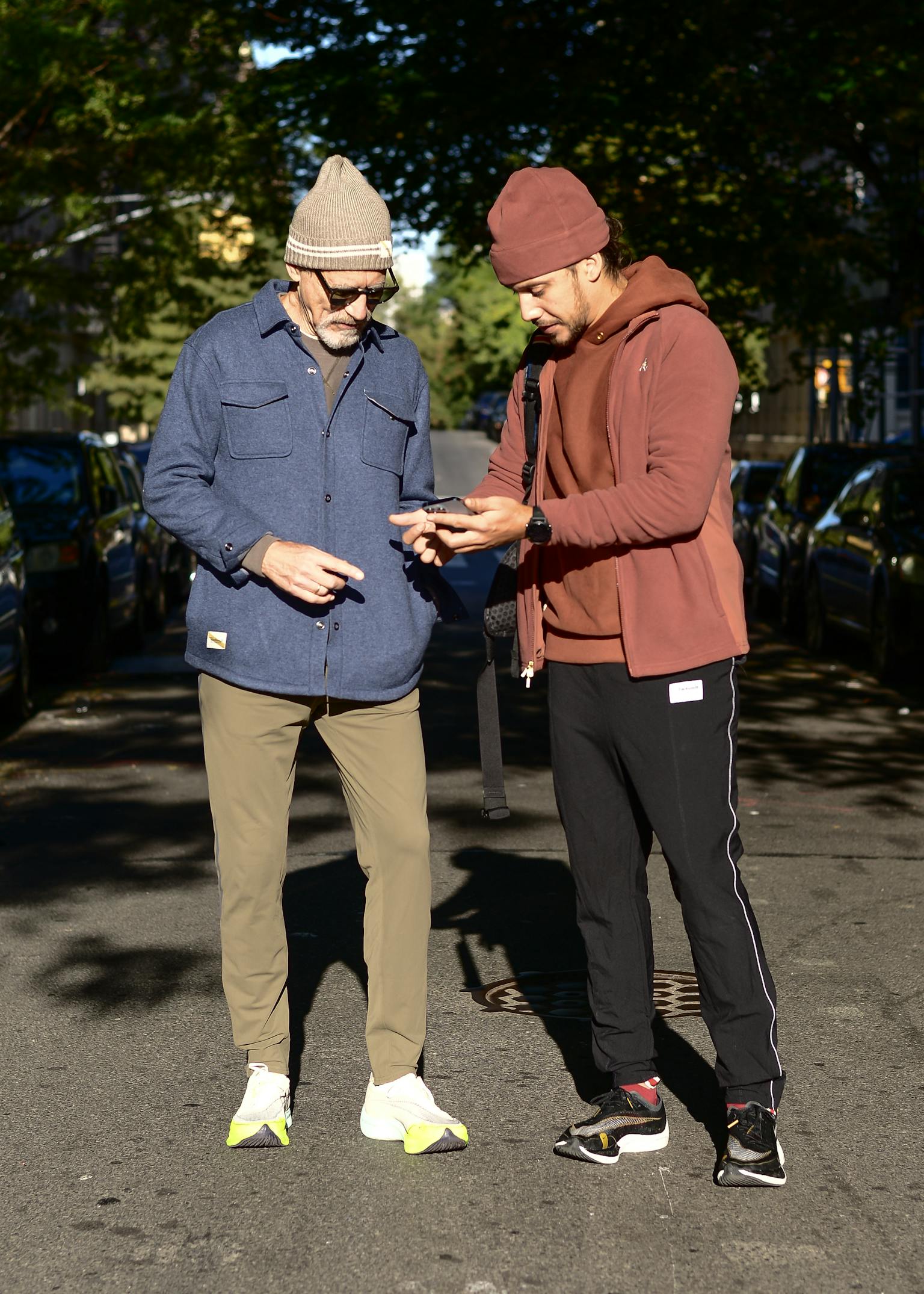 Reph, you've run a bunch of marathons. Can you talk about training for the NYC marathon together?


Reph: It's been dope seeing him get into the data, the Garmin… Strava... Slowly, he's consuming all this information and it affects his training. He's lasting longer, getting stronger. We made adjustments with nutrition. He went from almost passing out at 20 miles, to running 22 and having fuel to go further, if needed. This changes the training because I reflect on what we're doing. It's been a back and forth process.
Reph: Six months ago, he actually won in his age group in a 5k in the Bronx. That's when we considered the New York City Marathon. We were like, 'Well hey, your ankles are doing great. You're running races, you're putting in miles with us on a weekly basis. Shoot for the stars, right?' He really took on that challenge.
Training is a long term plan with my dad. Look at the progress that he's made in six months. How about two years? We'll see even more growth. But we have short term goals in New York City. He's born in the Bronx, so we had to do the New York City Marathon first. People were like, 'Oh, that's the hard marathon…' But I can't wait until we hit Fifth Ave and it feels like you won a Grammy.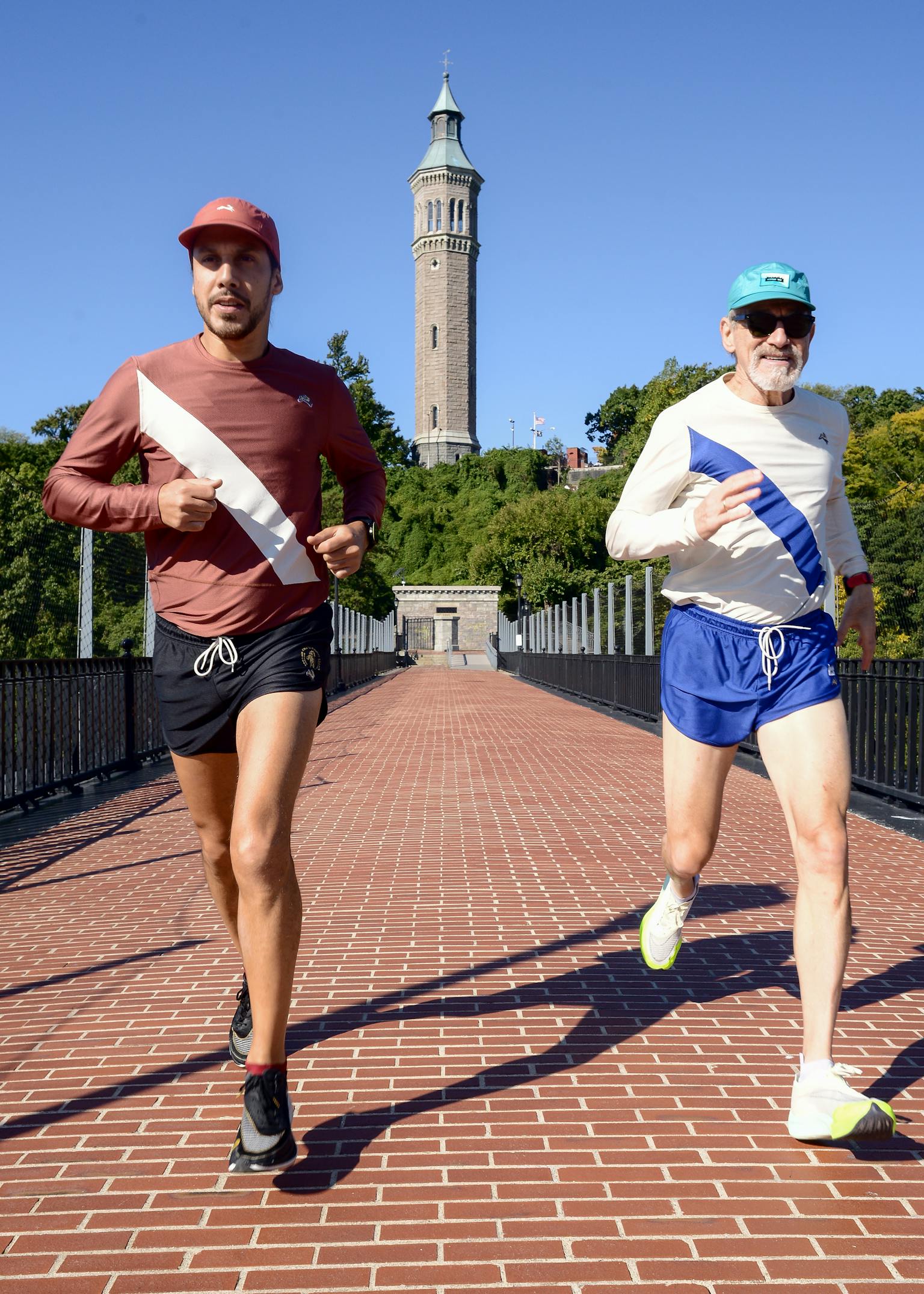 Reph, you started Circa '95 Athletics during this time, right? What made you get a group together?

Reph: Yeah, Circa '95 was actually a rap group. Then we started running and thought, we already have this group, let's bring running to the Hip Hop community, to our Washington Heights neighborhood. We started running to interesting food places, like Patsy's Pizza. It's a way of exploring the community. Then we were exposed to We Run Uptown. And were like, 'Oh, there's a running group uptown? Started by young people?' Part of our mission is how we can support other people who do the same work. We clicked with them and we've been supporting them for nine years. Like my dad was saying, this non competitiveness kind of spirit. All paces, all faces.
Reph: Then we decided we're gonna take that energy but bring a performance aspect to it. How can we make racing and training accessible to the everyday participant who is interested in taking it up a notch? My dad suggested, towards the end of Covid, we need something to bring people back together. We started doing track nights. It's a process of watching people get into it, learning the aspect of warming up, cooling down, running drills and just centering yourself. We focus on the spiritual and mental aspect of running, and try to bring a holistic experience to our community. That's the mission.
If you're already out there, it's like, 'Okay, well how well can I do? How far can I push this?' That's important for our community. We think, "Oh, we're out here representing," but no, actually we're out here performing. We're getting better.
Do you guys have a favorite race you've done together?


Jose Alfaro: The Lola challenge in Puerto Rico was really interesting with the heat and getting up super early. Running with Patty was inspiring, and with other people from We Run Uptown and Circa '95. Seeing [Reph] do the best he can. He had already finished the half marathon and he came back and encouraged me at the end. That kept my enthusiasm up. The other race that stands out is a relay on Randall's Island. [Reph] and I ran as a part of a team. I don't know what place we came in, but that was really fun. I hope we can do that again and pass the baton to one another.
Reph: We want to invite everybody to Puerto Rico to experience the vibe there. People can support the community not just by racing, but also through cleanup efforts. Two days after we left the Lola Challenge, people didn't have any power. People in Puerto Rico lose power regularly, and if the systems are stressed, like in a hurricane, they completely run out. We want to shine a light on these inequities. These are real places with real people who need respect and support, while we're enjoying running.
Reph: We Run Uptown brings running to the largely Dominican community Latino and African American community, but it's important to show more communities of color who can do things together. It's often said that Black and Latino people can't come together, that they don't have the skills or the capabilities. Running is one way that shows we can build community and address community issues. The gentrification up in Washington Heights is a major problem because a lot of people of color – working people – are being pushed out because they can't afford the rents. Running goes beyond running. We can link up with other people who are addressing issues within the community that are harmful.
Can you tell me about when you competed at CUNY? What was that like, being a student-athlete?


Reph Star: I went to college right after high school and it didn't work out. I came back to New York City and started my career as a MC, Hip Hop artist, painter and designer. But my dad always wanted me to finish school. Patty had recently gone back and was finishing up school. I was just like, you know what, let me follow back up on this 10/15 years later. They don't make it easy though… Everything that's worth it, is gonna be difficult. But I made it through all of the hoops, the back and forth, and I found myself in school.
It never occurred to me that I would be eligible to play college sports. Then I saw CUNY's running team and took a shot in the dark. I wrote a couple emails. I got a positive response and was on-boarded onto the team. It was interesting for me, as an older dude, coming onto the team with young people who were 18, 19, 20. They got their group established. How is this older guy gonna fit into this group? Or with the coaches? The coaches are younger than me, or my same age. All of these dynamics are in play.
City College showed a lot of love, especially the athletics department, by bringing me in. I was connected with all the young people on the team and felt that sense of camaraderie. I ran Cross Country, Outdoor and Indoor. I wasn't ready for what the grind is. Racing every weekend. Bouncing back to train during the week. Racing all three seasons. My body could recover if I did it the right way. It's hard but there's ways of doing it. Especially when you have the support of a team. I didn't win a medal until my last race of my DIII career. I finally placed. My biggest takeaway from running college was resiliency.
Now, Circa '95 track nights are a combination of what I learned from the community six or seven years ago, and what I learned in the last three years from training with the college team. I've brought those skills to people who don't have opportunities to go to college or to be part of official running groups. I think it's really important to pay back the community. I'd encourage companies making good profits to be out in the community more, or at least communicate through people in the community. We know in communities of color, there are high rates of high blood pressure, diabetes and all kinds of chronic illnesses like heart disease that are a result of poor nutrition, lack of exercise and inadequate food. Running is one way to bring to the community a lot of positive information.That's inspiring to me. It influences me in running, but also as a Hip Hop artist. What I am giving back to the world? How am I contributing?
Jose Alfaro: I'm inspired by his motivation and resilience. I was disappointed when college didn't work out for him the first time. When he went back I was really happy he's finished. Now, he's thinking about grad school. He's thinking about his plan for how to move forward, whether it's running or in life in general. Having a plan is really important.