American Hero
Rudy Winkler is incredibly easy to root for
Words by David Melly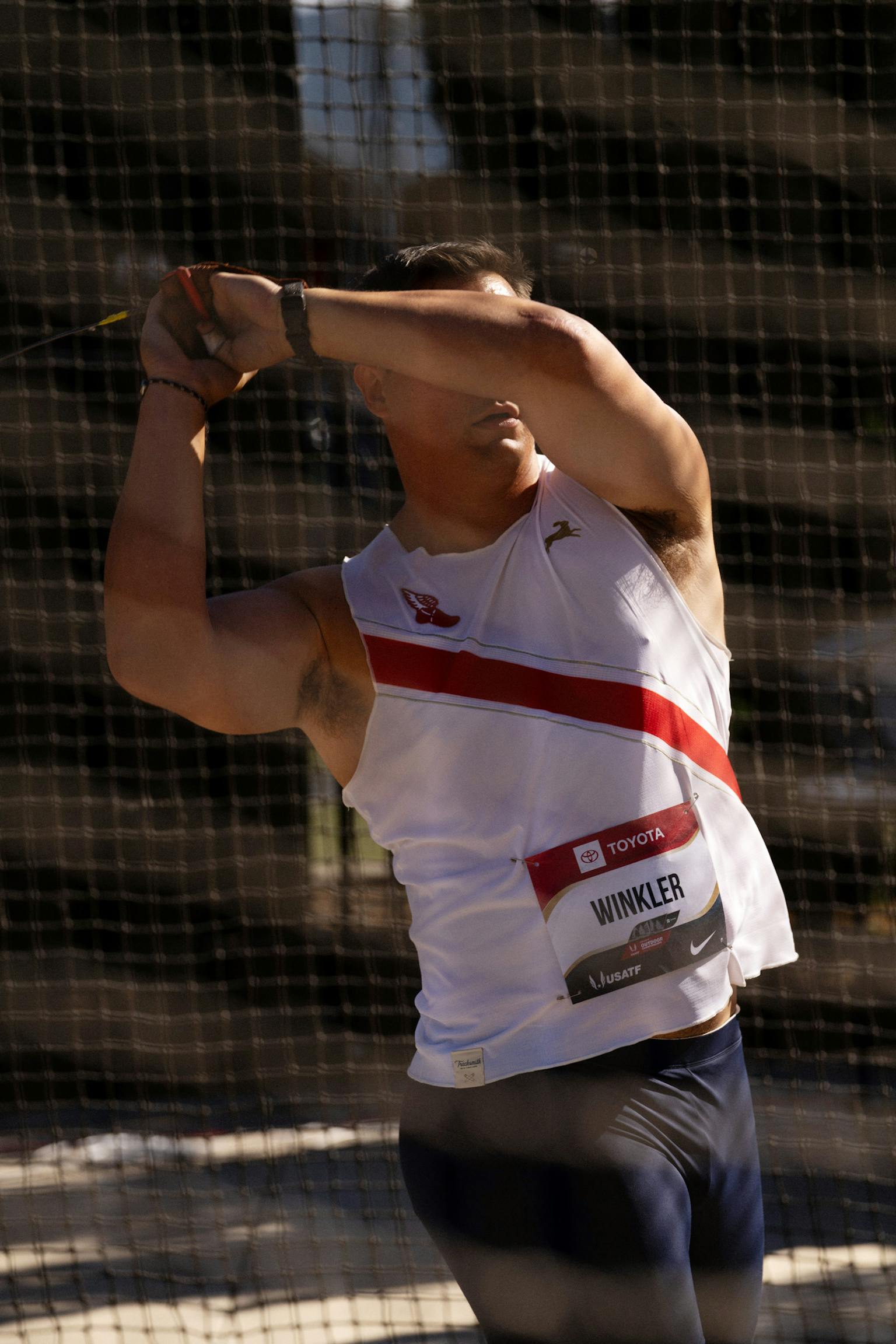 Rudy Winkler is kind and soft-spoken in person; the 6-foot-2 Olympian is more interested in hearing about your day than talking about himself. Much like Clark Kent, he sports wire-framed glasses and keeps his barrel chest under wraps, but when he steps into the ring, he turns into Superman.
Rudy is a hammer thrower, one of the oldest and most niche disciplines in track and field. First contested at the 1900 Olympics, the hammer throw asks athletes to whirl rapidly around a concrete ring in an effort to hurl a 16-pound metal ball attached to a 4ft long handle nearly 300ft. Hammer throwers tend to be tall and strong, but they are also astonishingly nimble, as the challenge of building up speed and momentum in 5secs of spinning requires a huge measure of agility and coordination.
Hammer throw is under-appreciated by track and field fans for a variety of reasons. Due to their size, throwing cages are often located outside of stadiums on adjacent fields, which limits the ability of spectators to watch the event. Diamond League meets, the premier professional series in track and field, have attracted significant criticism for their choice to omit the hammer throw from events, costing athletes valuable television exposure and thousands of dollars in prize money.
It's a shame, because American hammer throwing is experiencing something of a renaissance. Six of the top seven all-time marks in the women's hammer throw have been set in the last two years, and American record holder DeAnna Price won the event at the 2019 World Championships. The American men have not been quite as competitive in international competition… until very recently. That brings us back to Rudy Winkler.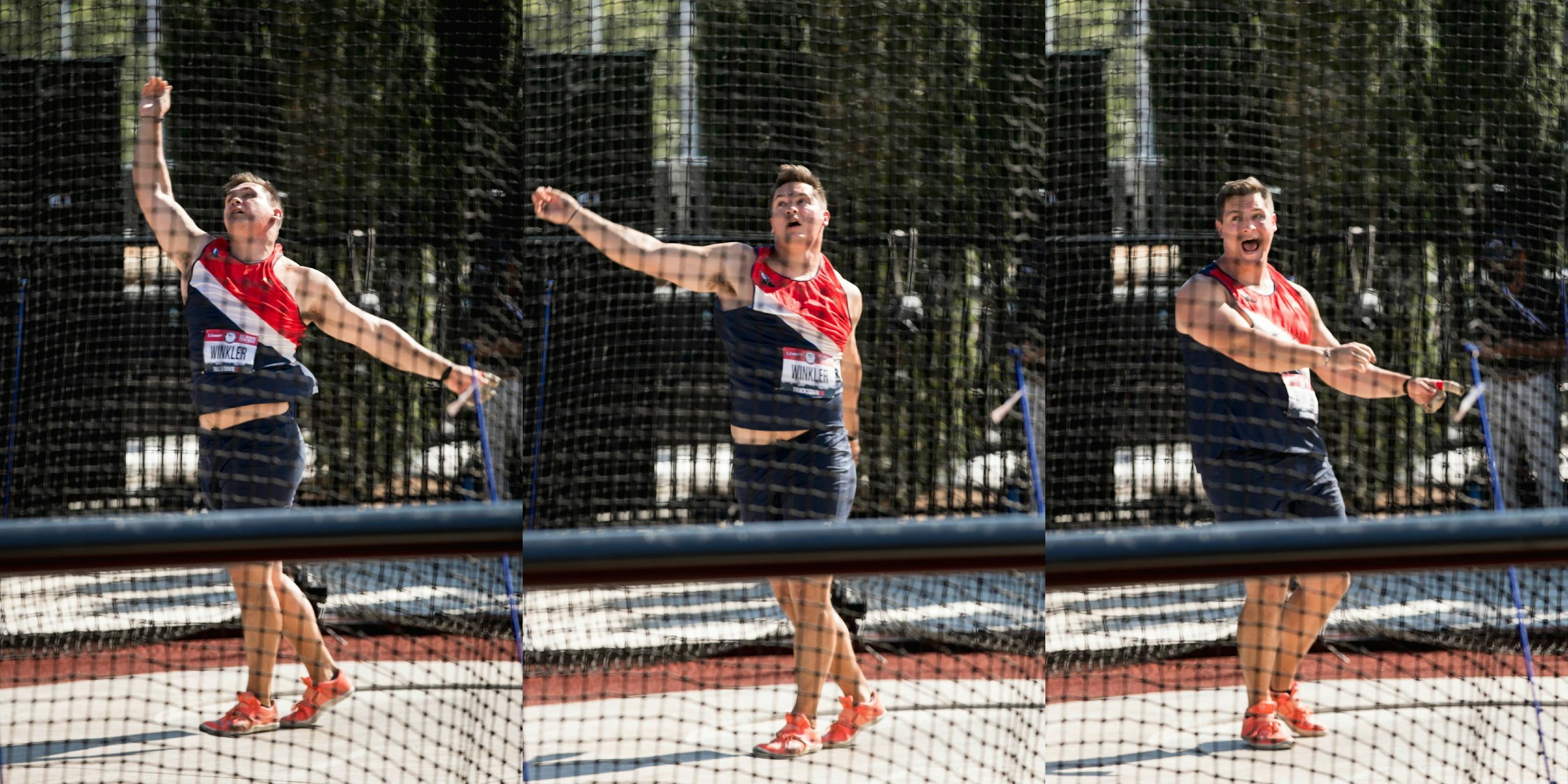 Rudy grew up in Averill Park, NY, a small suburb of Albany, the youngest of six children. He has represented the United States in international competition since high school, competing at the World Youth and World Junior championships. In 2016, Rudy qualified for the Rio Olympics, winning the Trials with a personal best of 76.76m. At the time, he was a rising senior at Cornell University, where he studied Information Science in the demanding College of Engineering.
"2016 was kind of unexpected," Rudy remembers. "I was training for the collegiate season and then the Trials came, and it felt like I just happened to make the Olympic team and didn't know what to do after."
Since then, he's represented the United States on two more world championship teams and picked up another national title in 2018, but it wasn't until last year that he truly announced his arrival on the international stage. In 2020, he improved his personal best by over 3m and set the world-leading mark, breaking 80m for the first time in a season that unfortunately did not end in a championship opportunity due to the COVID-19 pandemic.
While Rudy is an Olympian, he is technically not a professional. Sponsors are hard to come by in throwing events, particularly as many shoe companies trimmed their professional ranks during the pandemic. So Rudy works part-time as a cybersecurity consultant, having moved back to Ithaca, New York while his girlfriend, Olivia, studies at Cornell Law School. A friend pointed him toward Tracksmith's Amateur Support Program, which aims to give athletes like Rudy, modest but meaningful support as they pursue their Olympic dreams while managing a second career.
For Rudy, having a team makes all the difference. The Cornell track and field team is one of the larger NCAA programs, featuring a roster of over 150 men and women most years, but the post-collegiate training world can be lonely. In particular, the past year of COVID-19 was hard as it kept the tight-knit throwing community apart, limiting field sizes and access to workout facilities. Reuniting with his competitors this spring has meant the world to him, and showing up to the Trials with over 30 other athletes wearing the same kit has brought a familiar sense of team spirit and camaraderie back into meet day.
"When we got together in April for the USATF Grand Prix, it felt so surreal to see everyone for the first time in a year," Rudy says. "It was such a special meet, even though it wasn't a championship or anything. It was just so great to finally be together again."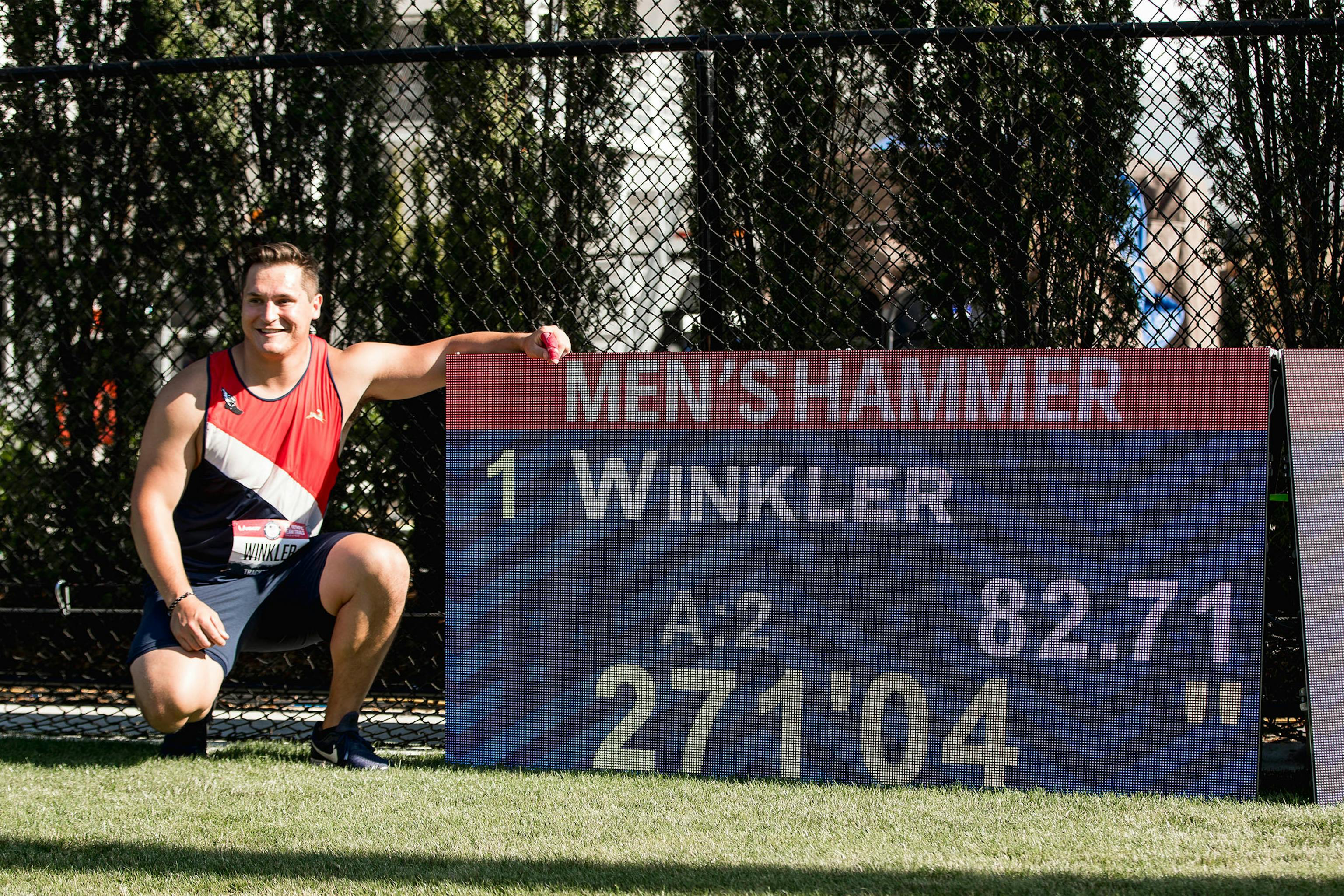 The first national championship since COVID-19 is particularly special as his family is rarely able to travel to his competitions all over the world, but his girlfriend and two of his sisters were able to attend the Trials. For Rudy, his fiercest rivals are also like family; they root for each other even as they battle for victories and podium spots.
This year, Rudy entered the Olympic Trials undefeated, with the U.S.-leading mark by a wide margin, the favorite for the Olympic team. He arrived in Eugene, Oregon for the Trials a few days before the competition began, since the qualifying round of the hammer throw was the first event of the ten-day meet, but he did not rest on his laurels for long.
In the first round of the final on Day 3 of the competition, his first visit to the ring produced a new meet record with a throw of 80.75m. His second round was the true bomb: he set a new American record, breaking Lance Deal's 24-year-old mark by 20cm. His roar as he let go of the implement was quickly drowned out by a much louder road from the adoring Hayward Field crowd, a cheer loud enough to be heard from the Tracksmith hospitality house half a mile away.
Lance was one of the first people to congratulate him: the 59-year-old four-time Olympian was a longtime throws coach at the University of Oregon and now manages the expansive and recently-remodeled track and field facilities. He literally built the throwing cage that Rudy broke his record in.
By the end of the event, Rudy had produced the best series ever by an American hammer thrower. Five of his six throws eclipsed the previous meet record, and his shortest throw would still have secured first place by nearly a foot.
Although he's been throwing remarkably well all year, breaking the record still took him by surprise. When he arrived at the Tracksmith headquarters earlier in the week, he signed a poster in Sharpie with his personal best (at the time) of 81.98m under his name. He's going to have to update his signature.
As always, Rudy is unfailingly modest about his performance. "It was pretty cool to do what I did with my family around, 'cause all I wanted to do after I finished was hang out with them."
After spending nearly four hours in team processing the day after his victory, Rudy finally arrived back at the Trackhouse, where he was greeted with a champagne shower. As his new teammates toasted his success, Rudy was gracious, beaming, and perhaps a little overwhelmed.
"Being here and seeing all the people in Tracksmith, whether at the stadium or in the AirBnb next door, has been really special," Rudy said to the small crowd of well-wishers with raised classes. "Thanks for letting me be a part of it."
Securing his Olympic spot has changed his summer plans, as he had intended to compete in a series of meets in Europe, but unnecessary international travel brings an increased risk of a positive COVID test, which in turn could mean watching the Games from home. The cancelled trips have a silver lining, however: between his competition record and the pandemic, family time has been scarce and he's looking forward to seeing his siblings more often.
When Rudy does head to Tokyo, he has a decent chance to medal as he is ranked #2 in the world this year. When you tune into the TV coverage of the meet from home, don't miss the hammer throw or the chance to root for a real-life superhero.