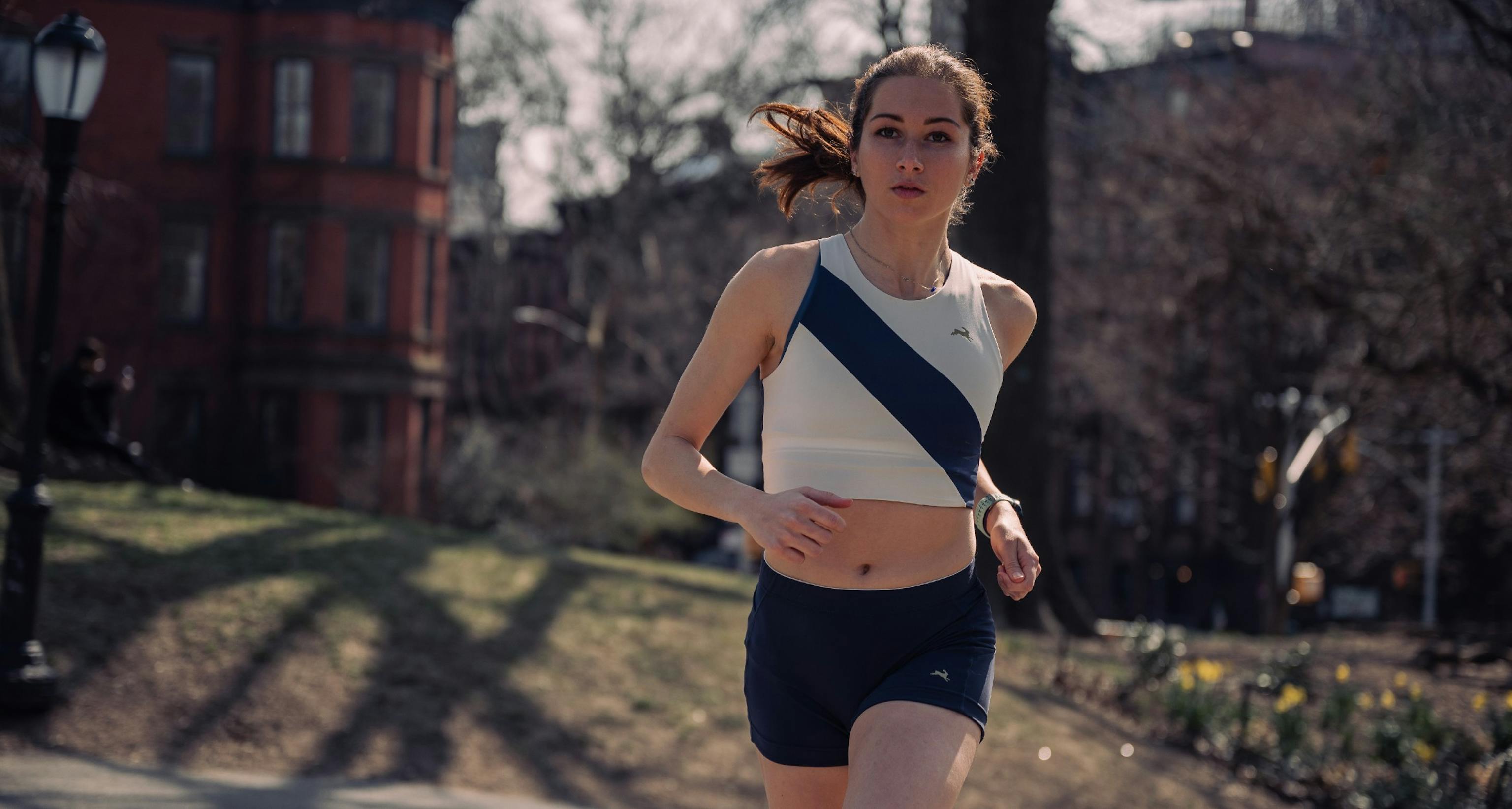 Sarah Fountain
Aiming to be Armenia's First
Olympic Marathoner
Words by Lucie Beatrix
Photography by Johnny Zhang
The Olympics represent the pinnacle of athletic excellence and opportunity – a chance to manifest global goals and turn dreams into reality. While some hope to prove something to themselves, their compatriots or the world at large, others harbor an ambition to inspire future generations and unlock the power of sport for the kids back home. The Olympics are more than entertainment, they are hope for a unified world.

Meet Sarah Fountain, a 26 year old New Yorker of Armenian descent, who is aiming to become Armenia's inaugural Olympic marathoner. Sarah is on the quest to represent what is possible – not only for women, but for people of diaspora and the people of Armenia, a country that has undergone more than its fair share of trouble over the past century.
Way back in 1915, WW1 brought conflict to the country. Sitting to the east of Turkey and the south of the Russian empire, Armenia found itself in the firing line. Unhappy that the Imperial Russian Army contained a contingent of Armenian volunteers, the Turkish government led a genocide of Armenians that lasted two years. To this day, Turkish authorities deny any such massacre occurred, despite calls from the diaspora to recognize the events. Most recently, Biden became the first US president to recognize the Armenian genocide on the 106th anniversary of the massacre. Armenian Genocide Remembrance Day is April 24, 2021.
Conflict never seems far away for Armenians and in the last year Armenia and Azerbaijan have been engaged in a full-scale war, with both sides reporting military and civilian casualties. The war is now over, but the conflict remains.
While Fountain was raised in the U.S. she sought out her maternal heritage, ultimately gaining Armenian citizenship. Like many other people descending from war-torn nations, Sarah's family found their way to New York City. Having reclaimed her birthright, Sarah now aims to earn a place of pride for her people, her country, and her culture.
"Being a woman from Armenia has always been an important part of who I am, connected me to my family, my community and ultimately, to running. My Armenian culture gave me the ability to think outside the box when it came to running and ultimately pursue a dream that didn't fit a straight line. It made me think about the bigger picture, and what I was giving back to my community in pursuing this kind of dream," says Sarah.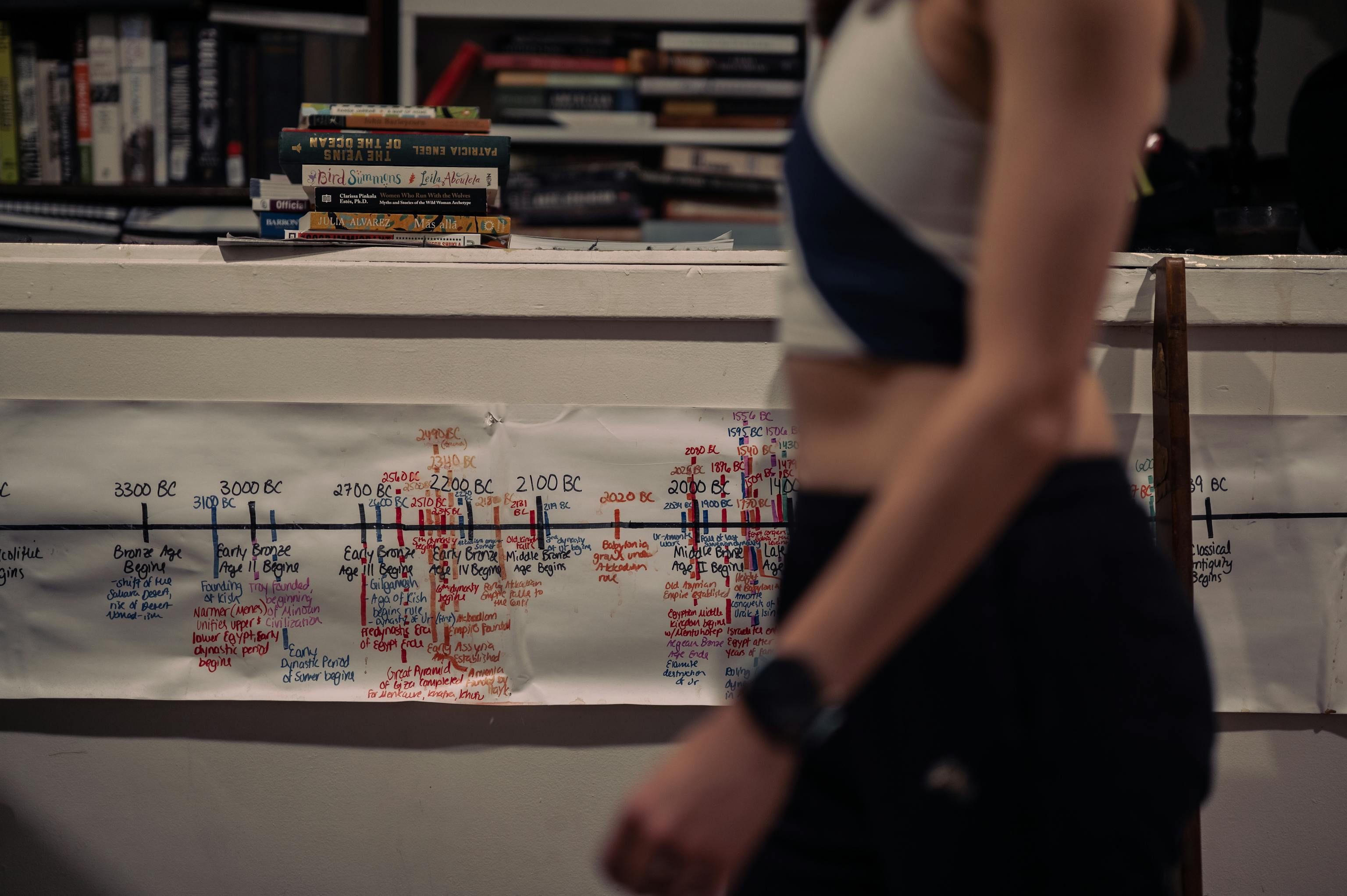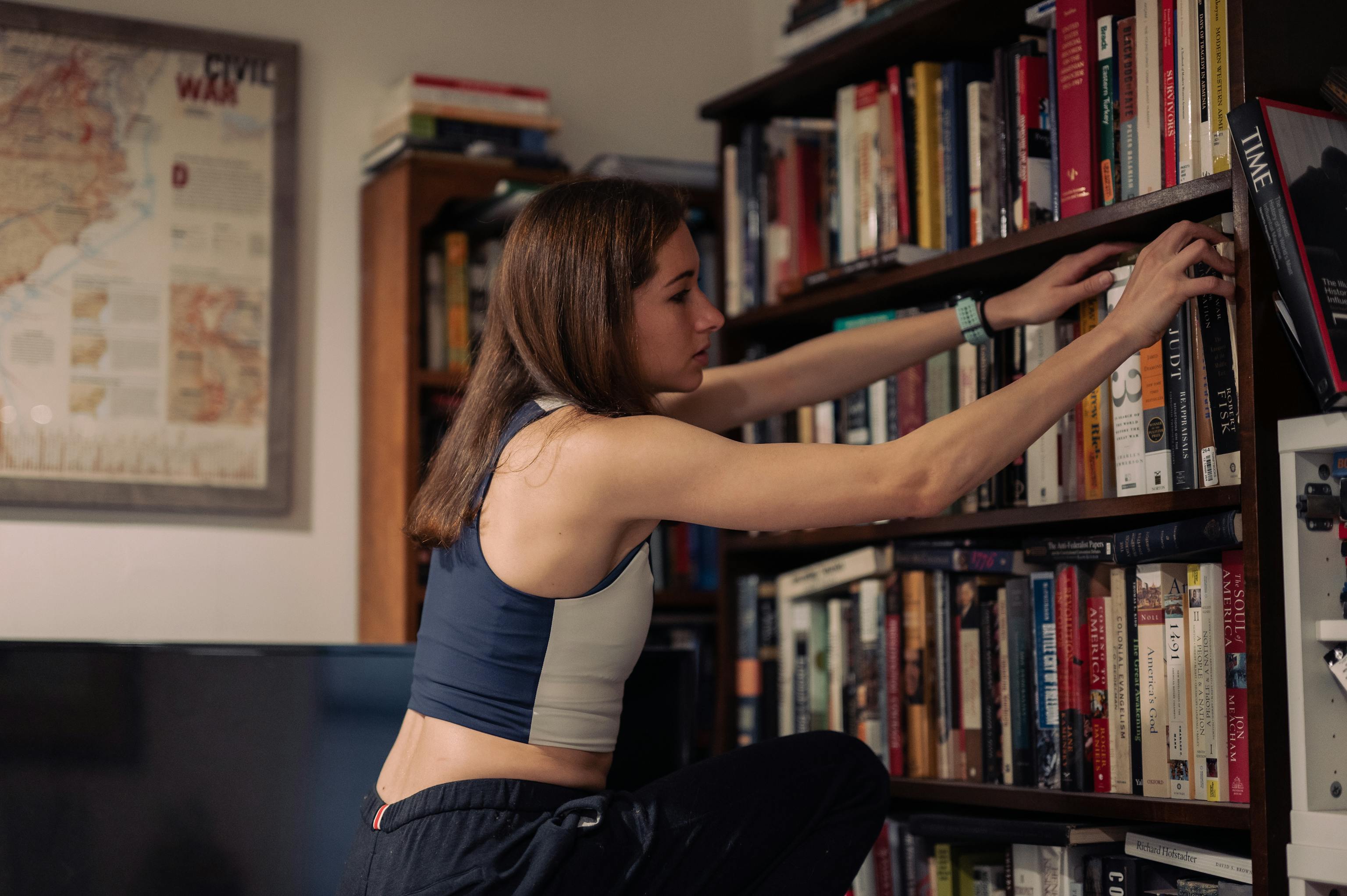 i.
Sarah resides in Fort Greene, Brooklyn. Her life does not resemble that of a professional athlete, but rather a typical hustling New Yorker: running is one of the many things that occupies her time. Amidst her busy, coffee-fueled work days of back to back meetings, Sarah can be found writing, reading, or cooking traditional Armenian dishes like roasted chickpeas.
Running is an integral part of Sarah's life. At least once, and often twice, per day she's lacing up and heading out towards Prospect Park where she circles the hilly loop, hopping on a video call for work within minutes of getting home. The monotonous mileage is all part of the process of building the endurance necessary to run 26.2 miles fast. Sarah's focused on improving upon her endurance base, often racking upwards of 80 or more miles per week.
Her dedication to the sport is etched in her just as much as the Armenian aphorism tattooed on her shoulder: 'Kani lezu imanas, aynkan mart es" which means, 'The more languages you know, the better person you are.' Sarah's a polyglot, speaking Armenian, Spanish, and some Arabic. As a born New Yorker, she knows the intrinsic value of diversity. She also knows that diversity is a privilege that her ancestors back in Armenia have been repeatedly denied.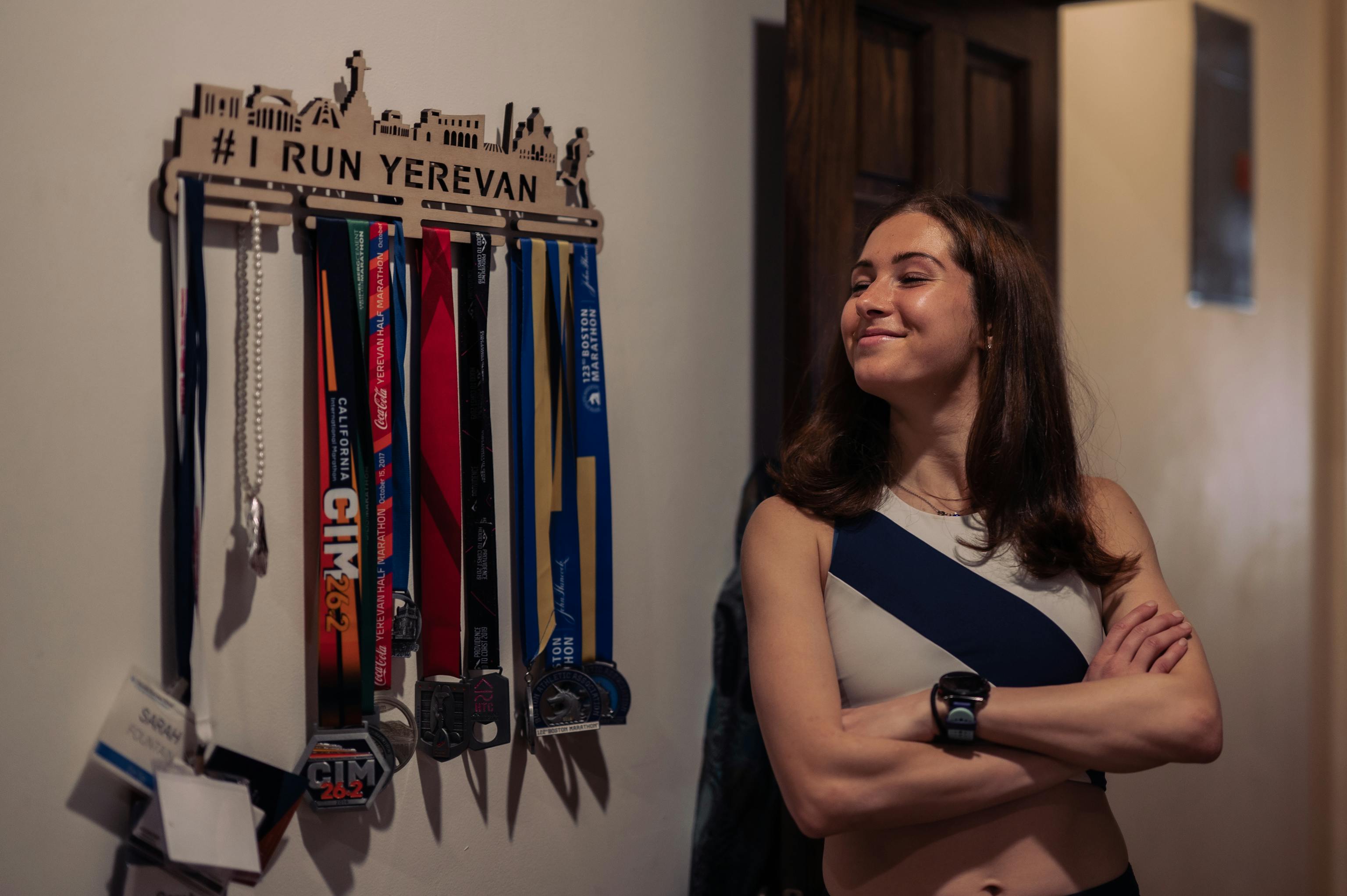 ii.
When asked to elaborate upon what running looks like in her daily life, Sarah says, "The day-to-day for that [running] is training partners in New York. It's invaluable to have so many women competing at the same level, shooting for similar times, to be able to train week after week with."
Sarah's marathon PR (2:53, CIM 2019) was 8 minutes away from the OS before the IAAF changed it from 2:45 to 2:29. That said, she believes that the new standard is within her ability for 2024. There are incidents where athletes may qualify outside of traditional time standards when there is historic underrepresentation of a nation, as has been the case for Armenia.
So, if she demonstrates that she is within reach of the OS as well as applies to represent an underrepresented nation, she will do what she is setting out to do by Paris 2024.
She keeps this dream close to her heart; a vision that she could someday carry the Armenian flag with pride amongst other nations at the Opening Ceremony.
"I hope other Armenian women and girls watch my running career and see that there are no set paths they have to follow living in Armenia. That even something as simple as running can be transformed into an engine for change. I hope they watch my successes and are inspired to reach for great heights, but I also hope they watch my shortcomings and remember that failure is ok. That nothing is achieved without falling a few times."
This image of Sarah is shared among close friends and running partners, but it's not at the forefront of who she is. She's not chasing this noble dream for personal motives, but rather wants to bring hope for the future. Since Armenia has seen immense political despair, Sarah's dream is just a glimmer of optimism, like a phoenix rising above the ashes.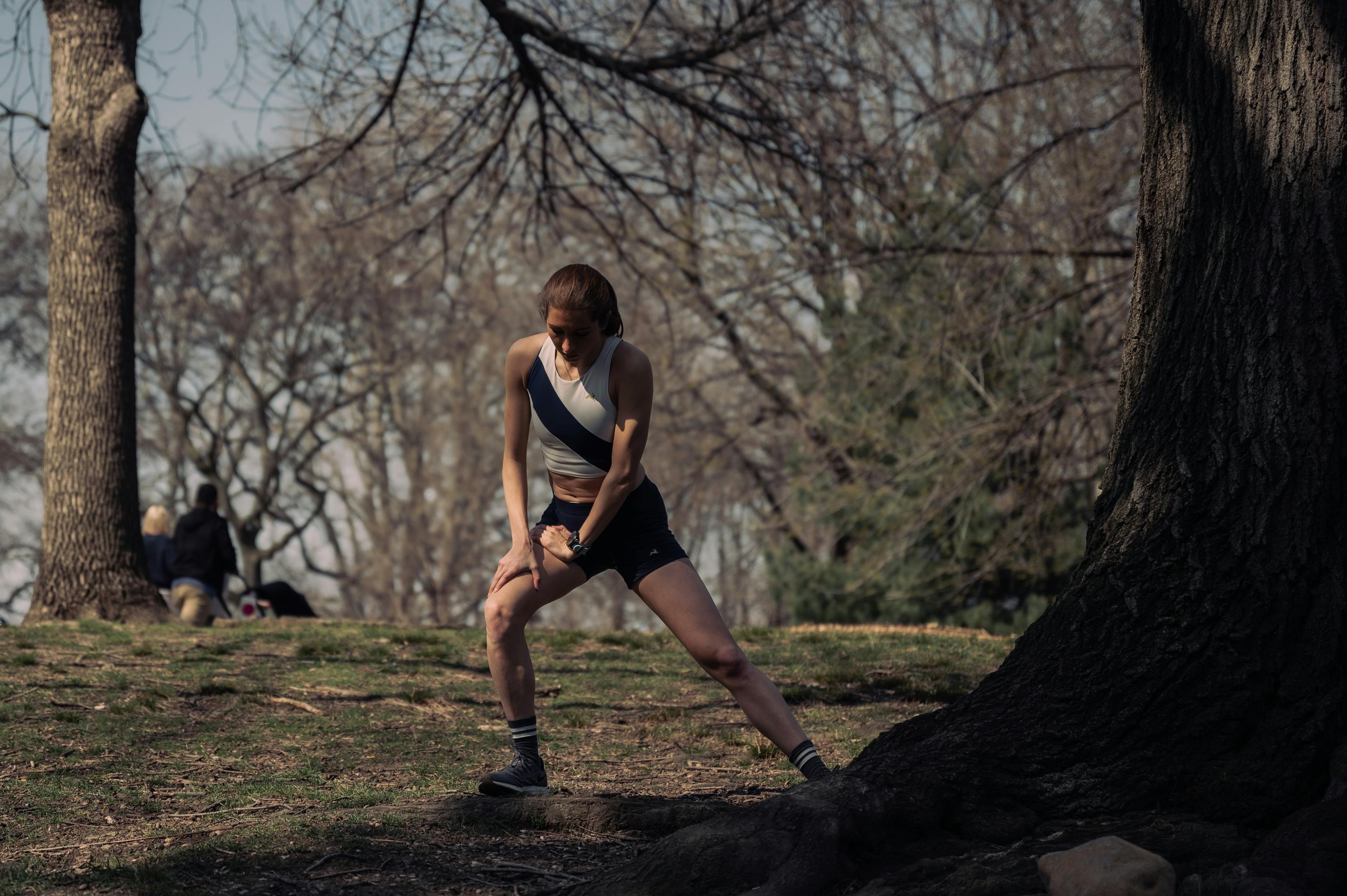 iii.
Those who have had the privilege of training alongside Sarah this past year know how her life took an ominous turn this past fall when explosions rocked the region in Armenia and Azerbaijan. While the world faced the hardships of the pandemic, Sarah had an additional layer of being consumed with the horrors happening in her maternal homeland.

On October 6, 2020, Sarah tweeted, "I don't have many words between the explosion in Lebanon and the war that started in Armenia last week, but the weight of everything on our community is crushing. Armenia is surrounded by countries promising to wipe them off the map."
The nation's distress sat in Sarah's stomach like a rock. She uses this feeling to provide awareness on what was happening in Armenia to those around her in the Western world. The horrors consumed much of her energies and the reality of the war erupting on Armenian soil. Sarah's focus became solely about giving a voice to her people, putting out as much information as she could through her social media.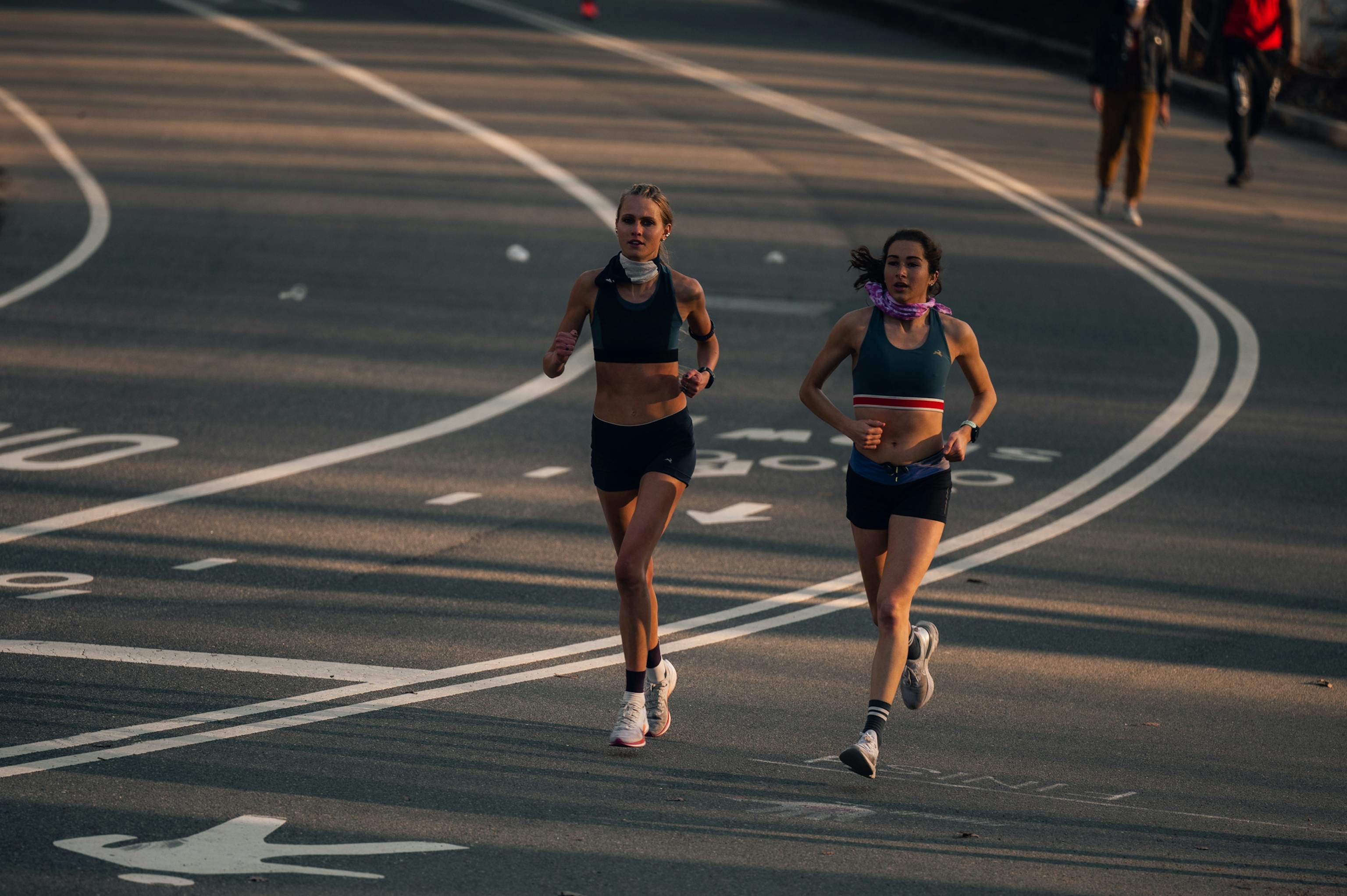 iv.
Sarah attended University of Michigan from 2012 to 2015. She competed as a club runner in the 5k and 10k, but her running took a greater significance when working in Armenia over the summer. What she learned in the classroom as a Political Science major provided a foundation for her work experience at a nonprofit for Armenia's future as strategic philanthropy lead for ONEArmenia. Her studies only prepared her so far, and she was pushed to move forward on her feet by her fellow Armenians. She started training with partners, primarily men, who encouraged her to race. While it's not at all common for females to run in Armenia, Sarah says she sees the gradual shift emerging, slowly but surely.
When asked about navigating the running space in Armenia, Sarah explains that she just set out to run along the Hrazdan Gorge in Yerevan every morning. There, she was soon introduced to a group of endurance athletes who wanted to grow a local running scene.
"Seeing a community of runners growing and falling in love with the sport was so inspiring and reminded me why I fell in love with running in the first place. I started placing in races in the region, and was so proud to carry the flag with me onto the podium. Armenia is so full of ideas and change-makers, that I thought, you know what? This is my 'something great.' Let's shoot for the moon."
Though Sarah admits that at times it was hard to take on a goal of this size, it forced her to seek out individuals and groups ready to support her dreams in Armenia.
"It takes a village, and like any big goal, it is just about finding the right people ready to help you get there."
Just after running her personal best in a 10K race in Tbilisi, Georgia (the country) in 2017, Sarah found herself beside a man from Azerbaijan on the podium. For individuals from different nations with a history of conflict to be standing side by side – as runners – there was newfound significance of what this sport has the potential to represent.
"I felt incredibly proud to hold the Armenian flag on the podium of the 10K in Georgia. That was the moment it clicked for me – I never believed that 'runner Sarah' and 'Armenian Sarah' seemed to come together in an incredibly meaningful way. I thought about other races in the region that I could represent Armenia and checked the OQ time, and immediately went to my coach to see what he thought."
Suddenly, her running meant so much more. It became about giving back and earning something for Armenians and, in particular, Armenian women, who are poorly represented globally in sport.
The seed was planted that one day, Sarah herself could represent Armenia as a vessel to showcase an underrepresented nation in competitive running, and as an athlete with potential to bring prosperity to all peoples of Armenia. This idea that running has the power to unite us, evoke change, and ignite prosperity fuelled Sarah and became the "why" behind her efforts.
But, it's a long road to get to where she wants to go, and it's not going to be easy. Keeping the focus on self-improvement keeps Sarah in motion.
"I think my running goals are pretty two-fold," she says. "On one hand, I want to be able to compete for Armenia, and on the other hand, I want to be as fast as I can be."
To Sarah, running is so much deeper than claiming a legacy, hitting a time goal, or even going after gold. She runs to show others that they can, too. Her strides are towards empowering women, or people for that matter, with grace and discipline as she attempts to transform national pain into global awareness and positive change.