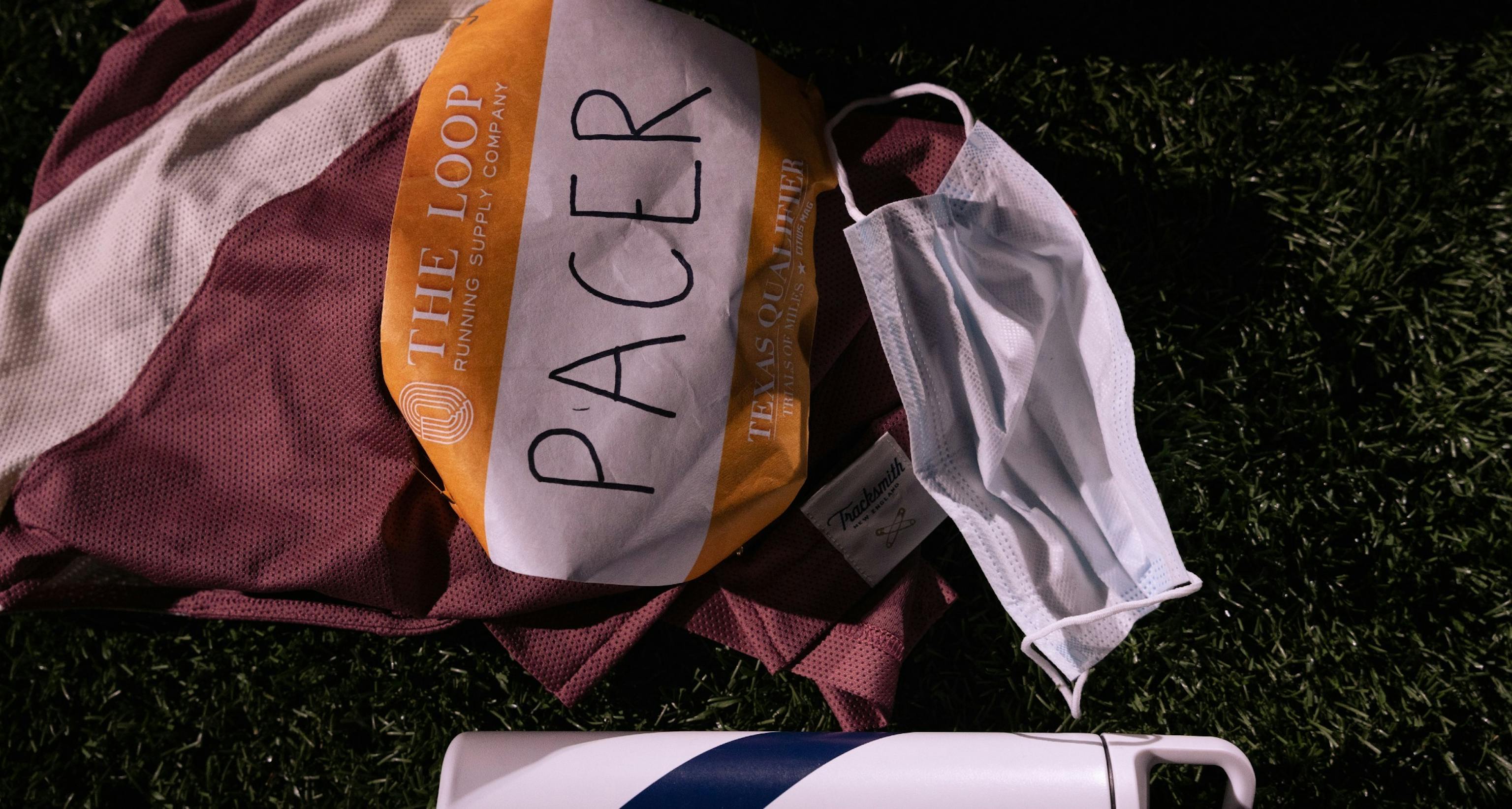 Setting
the Pace
Photography by Aisha McAdams
Over two nights at the end of February, athletes congregated in Austin for the Texas Qualifier, an opportunity to run fast times and qualify for the Olympic Trials in Eugene. Promoted by Trials of Miles and Citius Mag, the event drew elites from across the US to compete in paced races from 800m to 10,000m. One of the athletes asked to pace was Meredith Rizzo, part of Tracksmith's Boston Team and a member of our Amateur Support Program. Her first exposure to pacing at this level, Rizzo was requested to pace the elite women through 1000m of the 1500m on the first day of competition, and then come back on the second day to pace the development 1500m.
Photographer Aisha McAdams travelled from Boston to Austin, recording her reflections along the way. What follows are all Rizzo's own words.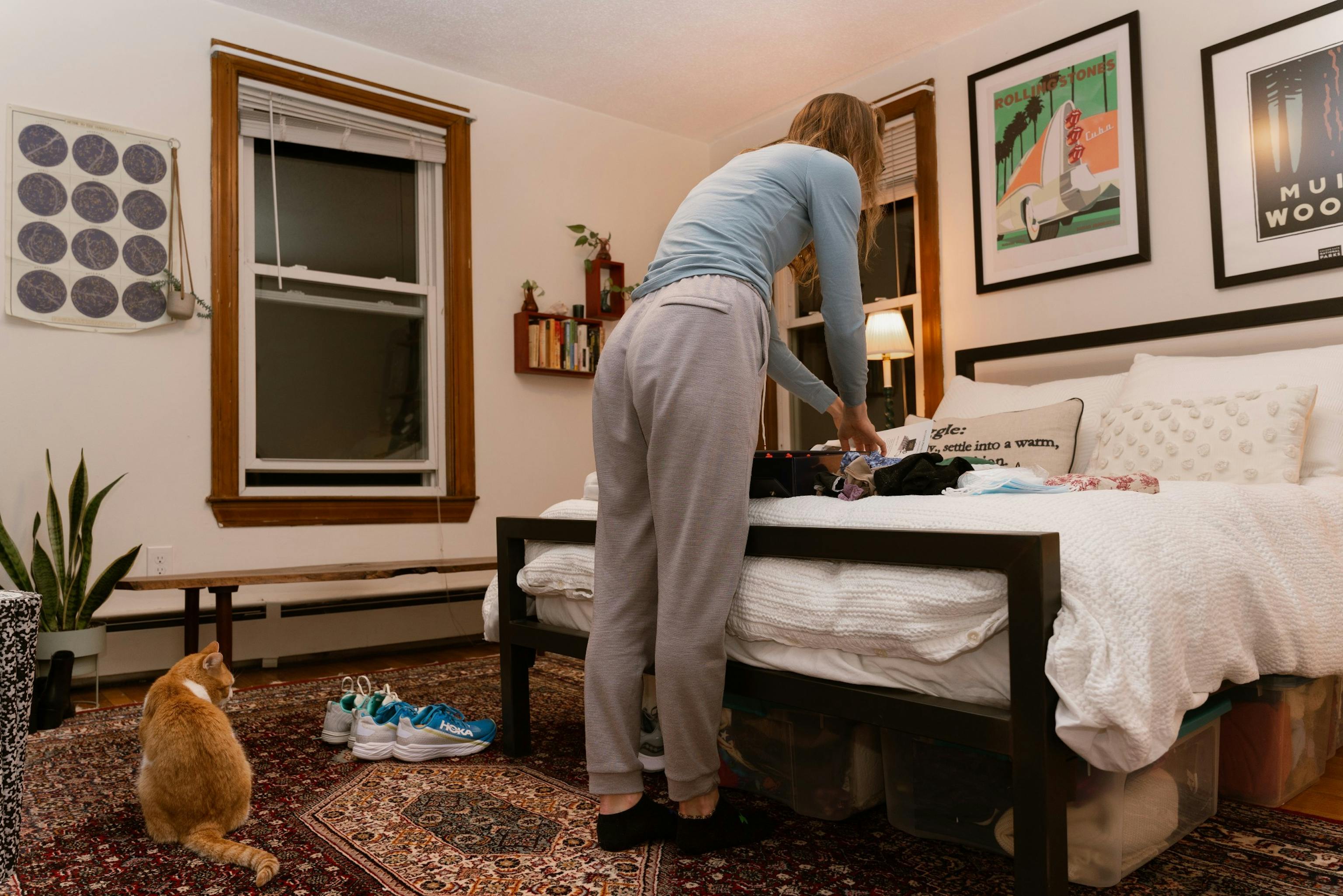 Packing
When I'm packing for meets, I always triple check that I have at least my uniform and my spikes. Anything else, I can buy.
For races and travel, I always bring my long form journal. I need a way to relax and also try to remember. I especially want to remember this.
This is definitely a scale up beyond anything I've done before outside of pacing friends in workouts and time trials. This is my first foray into what could be considered, professional pacing. I'm really excited about it. I'm ready to take another step up.
When I was asked if I would be game to do it, it was sort of a no-brainer.
But I'm trying not to think too much - it's running for different reasons, to hit a very specific time. Not for your own personal gain but for the benefit of others, a very different way to approach a race. I'm excited to do it. I'm really looking forward to it.
Post flight, pre-meet
The staple for the last week has been small calculated workouts. I feel good, I'm excited for tomorrow. I really wanted to be able to visualize it tonight. Every track's got its own unique footprint and I didn't want any surprises tomorrow.
I took a big gap, I stopped running and went cold turkey after my fifth year. I was like, I wanna try something else. I tried yoga and I loved it. But then I went for a run with a friend and hurt my knee. I was still hurt when I moved to Boston in 2019 but I wanted to start running again. I took recovery really seriously and went to physical therapy every week. By that summer I was running more regularly with the team. That fall and winter I started working out with the team, right before the world shut down.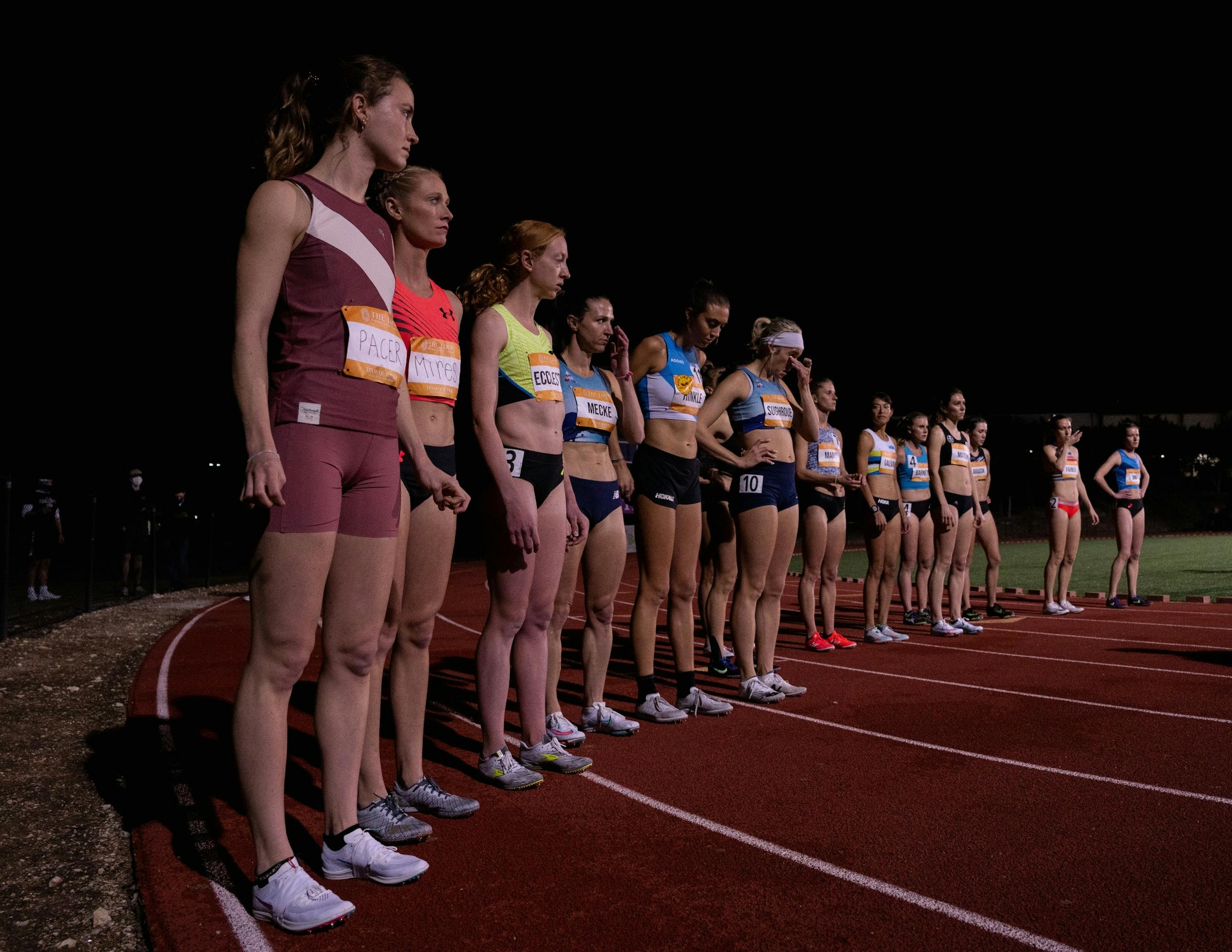 Pre-race
Today isn't about me. It's about the ladies I'm lining up with who are trusting me to do a good job this evening. Something you've been preparing for, arguably a long time. Trusting me to do this, without even knowing me personally.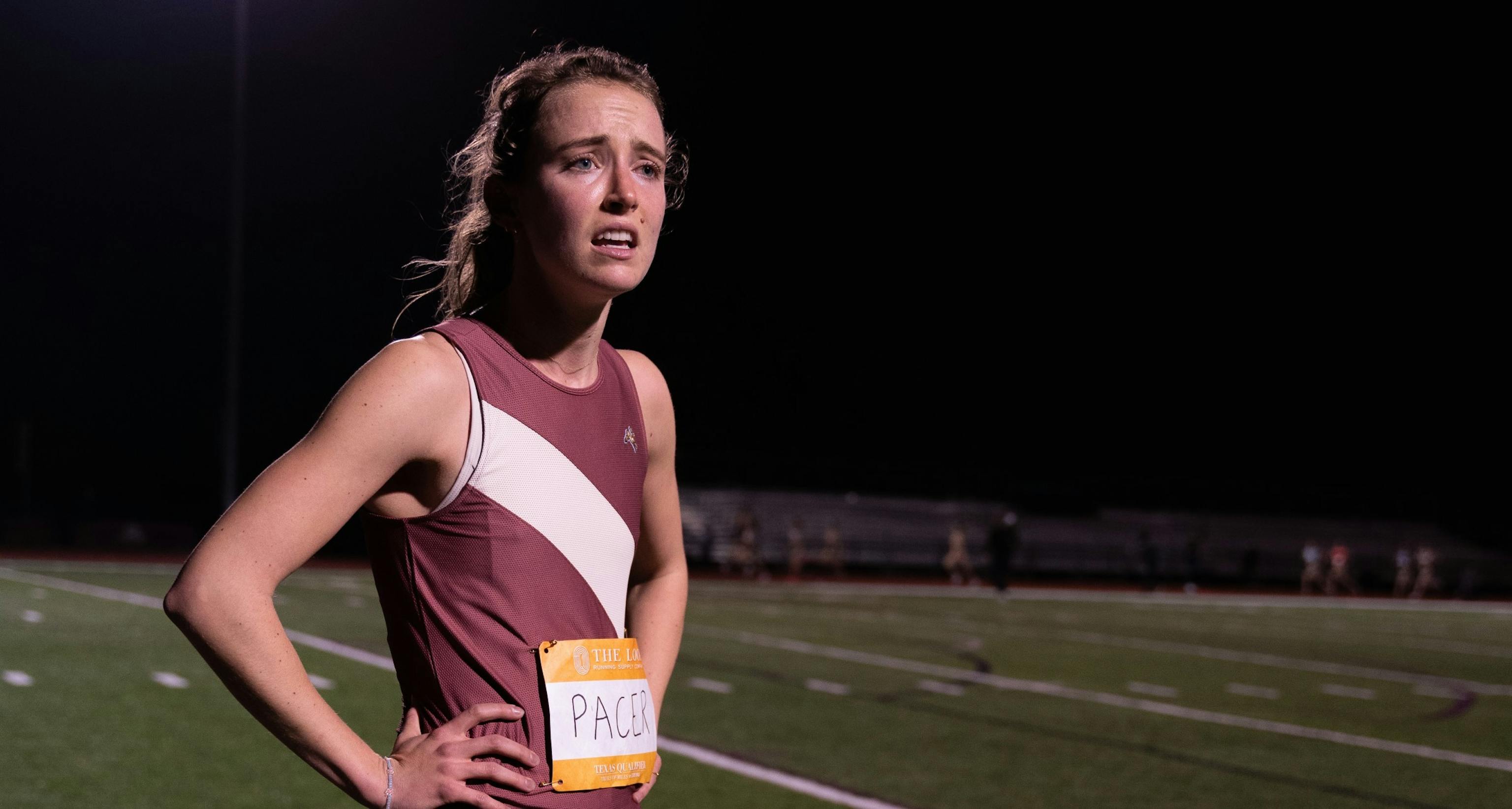 Race One
I didn't want to be in the way! Eugh. I wanted that to be better. But I didn't want to stay in and keep it slow. I had a job. Didn't get done today the way I wanted to. Not the way I wanted to. There's a lot of feelings happening right now. It doesn't feel like I helped.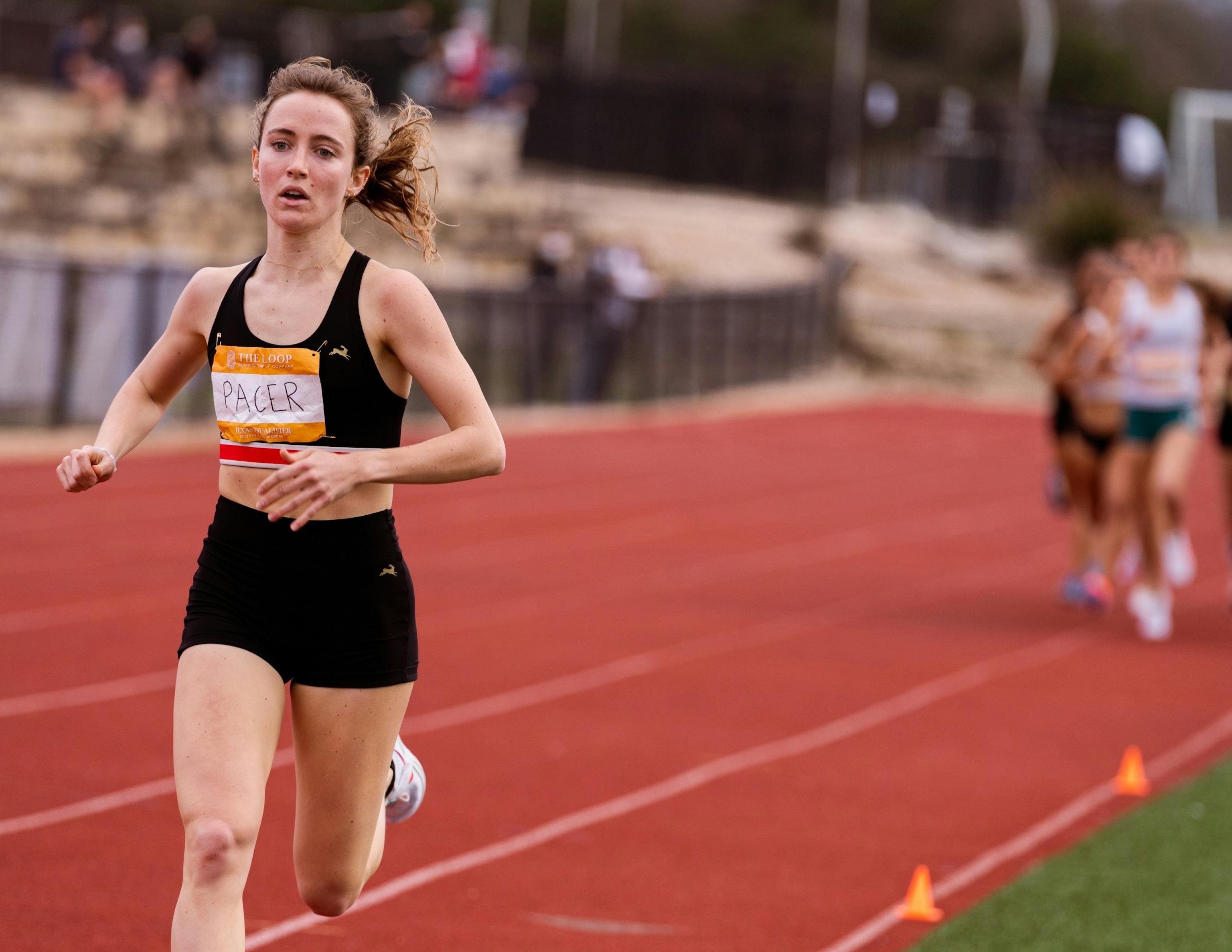 Race Two
That's what I needed to do last night. A lot better. I felt more confident about what I was doing and what I needed to do to be fast and give them something to chase.
Like the rabbit I am.
It was fun. It was such a Tracksmith heavy race. I hope I helped.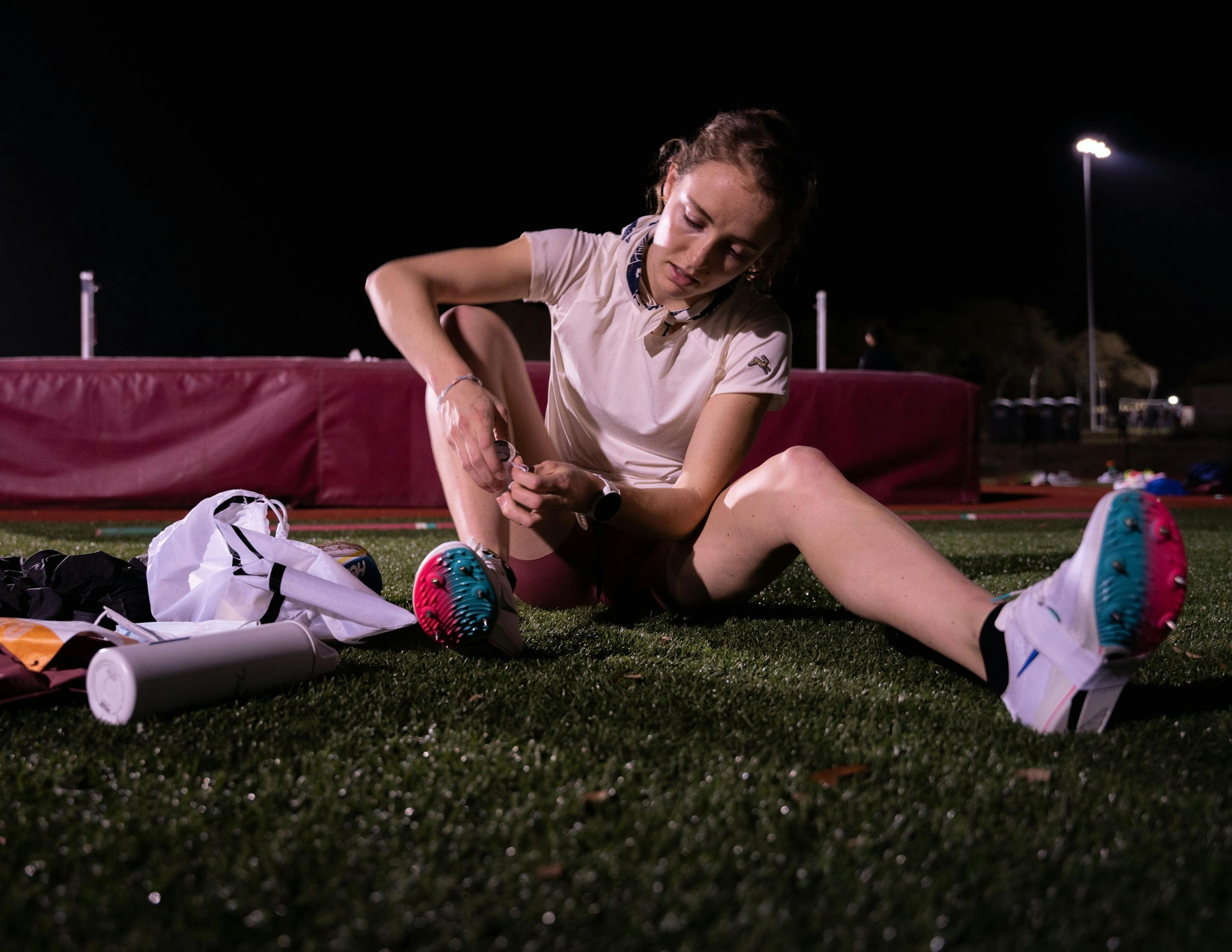 Post-Race Reflections
I needed time to have some reflection and have some conversations with myself and my coach before I felt ready to communicate this experience of what it was like to be a pacer.
It's a question that has come up a lot. How I explain it is that a pacer is someone who jumps into a race with an agenda of hitting a certain time with the goal of setting up the race to run fast. It takes out the element of strategy until the end, when it matters. It allows everyone to change their focus from conserving energy, jockeying for position, to spending it effectively over the entire race, so they can run as fast as they can.
In the case of the Texas Qualifier, that time was the Olympic Trials standard for the 1500m. It was my job to go the first 1000m and set that hot pace for women who had come from all over the country to strive to hit that mark. It was incredibly nerve racking. Pace making and rabbiting feels like a lot of responsibility and I put a lot of expectation on myself to do it perfectly.
I approached it as a pacing job and I kinda set myself up with the wrong mindset, looking back retrospectively. It was really a 1000m race. The reason I say that is that is that after about 400m, when I should have been putting my nose to the grind to keep the momentum going forwards, I was thinking about keeping things even. That's not to say that you want to be yo-yoing, but I started to fall off and the weight and magnitude of what I had built up in my head got to me and I felt pretty overwhelmed.
I kept moving forward to 900m, but that's when I decided to step off - with 100m of my 1000m to go. I could feel the women coming up behind me and they clearly wanted to move. I didn't want to be in their way, especially as I was off pace. I was upset with myself. I felt ashamed. I assumed I had disappointed them. That was really hard and I didn't know how to handle those emotions. It knocked my confidence but it didn't deter me.
I was right sided by my wonderful coach and team. I had another job to do the next day pacing the development 1500 and I was gonna do it with confidence and I was gonna do it well. I feel fortunate that I had that opportunity to redeem myself to myself and whoever I imagined was watching. It was honestly totally different. I knew what I needed to do, I wasn't nervous and I got it done. Overall I'm glad I had the chance at a high level with elite athletes. I'm learning to tell myself I deserve to be there.
The METER View
In running we're so used to working for ourselves that the idea of putting everything on the line in the service of other runners is perversely stressful. The thought of letting our fellow athletes down so tangibly as to run too fast, too slow, or not quite far enough for them to be able to achieve their goals is frightening. Terrifying even. But without our presence shepherding the race, they would surely be at a disadvantage. Pacing is an art as much as a science. An expression of altruistic athleticism that goes against the stereotypes of what it means to be an endurance runner. Fast times are the product of strong communities and peer support. No athlete is an island, and pacers are the most tangible expression of this.

Pacing is a topic we explore further in the summer issue of METER, due out in late June.