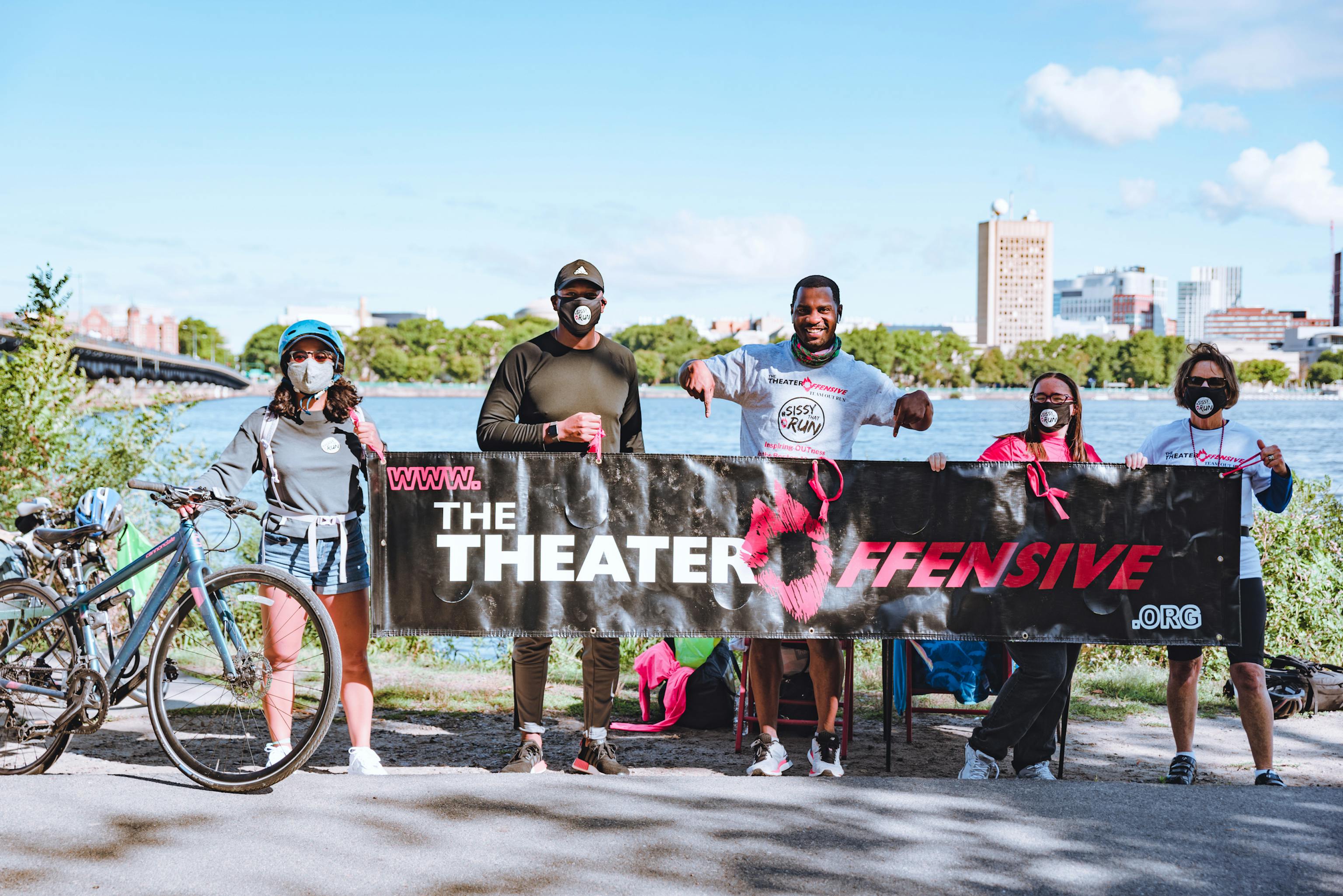 A Different Race,
the Same Cause
Words by David Melly
Photography by Adam Parshall
Stetson Marshall's second marathon bears the same name as the first, but come race day, it looked unrecognizably different. Stetson, a Chicago native who's lived in Massachusetts since 2015, ran his second Boston Marathon last weekend, but the unprecedented virtual nature of the 124th edition of the race made for a unique sophomore effort. He didn't take the bus out to Hopkinton with 30,000 of his fellow runners; he ran alongside a biker around the Charles River. His "Marathon Monday" was a beautiful September Saturday.

Stetson wasn't much of a runner before he ran Boston last year, but he's not afraid to step up to the plate when called upon. Stetson is a board member for The Theatre Offensive, a Boston-based organization founded in 1989 that works with young queer and trans people of color in the performing arts. Last year, he was sitting in a board meeting when someone suggested he run Boston as a fundraiser, a tradition begun by the organization's founder.
"I wasn't expecting it, honestly," he says. "They asked me, 'hey, if we can get a bib for you, would you run?' And I was like, 'sure, I'll run,' not expecting we'd actually get a bib. And when we finally got it, a month and a half out from the race, I started training."
Six weeks later, Stetson finished his first marathon in 5 hours and 48 minutes, and although it was "intense," it was "not so intense that it stopped me from doing it again." Like so many others, he'd caught the marathon bug, and when the opportunity came to sign up for a second round, he didn't hesitate.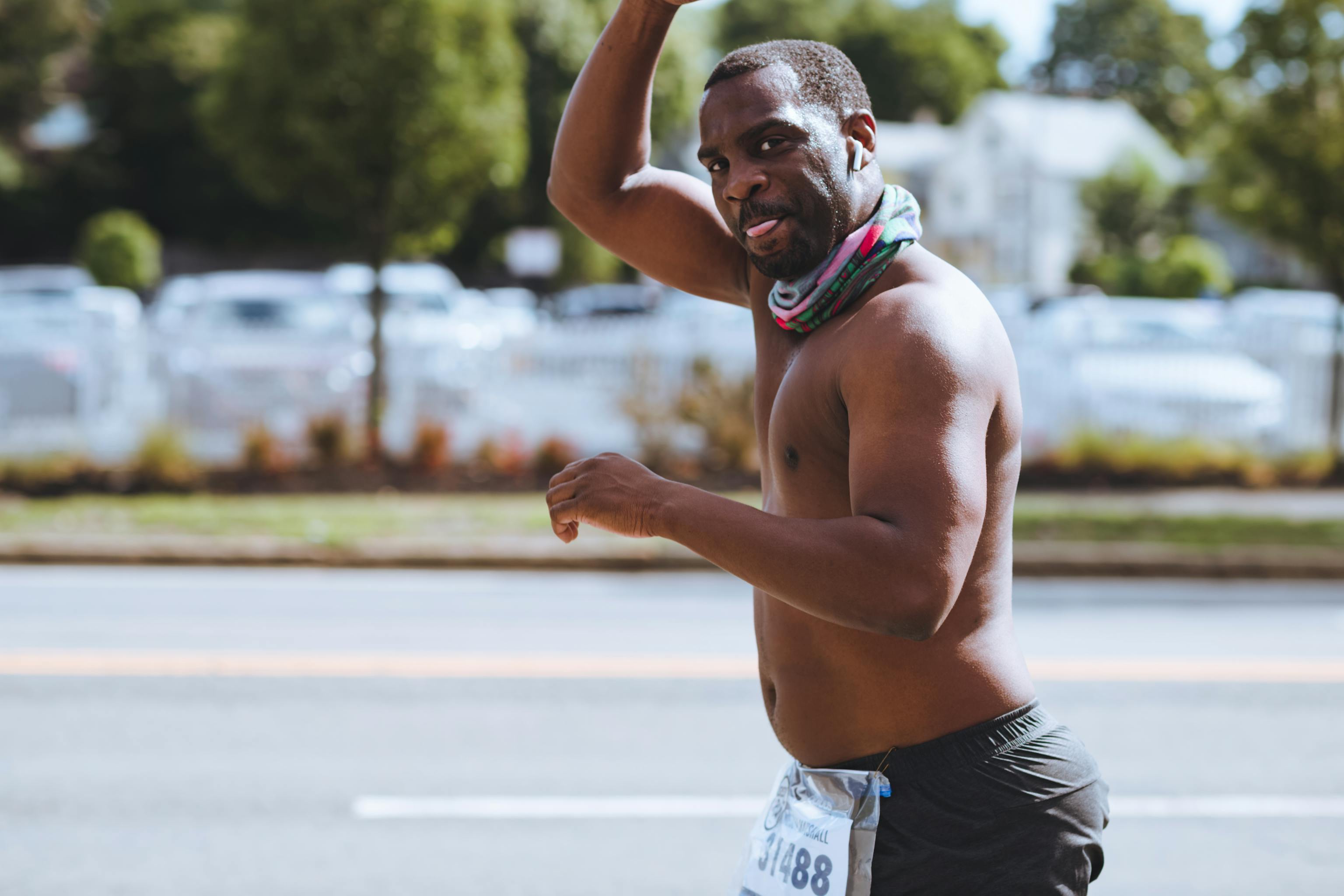 Since the COVID-19 pandemic hitting the U.S. pushed the Boston Marathon from the traditional Patriots' Day in April to the second weekend of September, Stetson has had far more time to train than in 2019. He was more consistent with his buildup, getting his long run up to 17 miles.

With the race turning virtual, Boston runners had the luxury of choosing the time and place of their loop. Since runners have been strongly discouraged from running the course itself near race day, Stetson mapped out an alternative, but equally iconic Boston location – a 7.5-mile loop along the Charles River between Allston and Beacon Hill that he'll circle a little more than three times.
Training in a pandemic has been difficult, but not impossible. Like many local runners, Stetson employs the "mask on, mask off" method – running with a mask around his neck that he can pull up when others get within 6 feet or remove when alone. This practice has become common along the Esplanade and around Boston's many ponds, reservoirs, and trail paths, and everyone has gotten used to the new normal.
"Mask on is responsible; mask off is comfortable," Stetson says. "But fortunately, the other people running, biking, or working out understand it as well."
2020 has been nothing if not eventful, and the pandemic isn't the only world-shaking event that has changed how we think about the sport. Last week, the Boston Athletic Association named Ahmaud Arbery, a Black man murdered while running through a suburban neighborhood in Georgia, to its honorary team. His death sparked a broader conversation in the running community about the systemic racism baked into a sport that is, on the scholastic and professional level, incredibly diverse but, among American amateurs, predominately white. For Stetson, running alone versus running Boston as a Black man is very different.
"[When running alone], I'm comfortable running, but there's still a fear that I'm a threat," he says. "So if I run through a more white neighborhood, even though it's just a training run, there's a sad reality that it's a fear.
"But when I'm running the marathon, that's gone. The one thing that kept me going on the course last year was the people – white, black, Asian, Latinx, all supporting the runners, regardless of what the runner looked like. At one point, when I really wanted to stop, one woman tossed me a banana and that gesture alone kept me motivated and kept me going."
For countless runners, conquering the challenges of the marathon can be a freeing or even defining experience. In that sense, it is fitting that Stetson used his race to raise money for The Theatre Offensive. TTO seeks to offer performance and creative arts to these young artists in a manner that, in the words of its mission statement, "transcends artistic boundaries, celebrates cultural abundance, and dismantles oppression." Stetson doesn't have a theatre background, but he believes in the values of the organization and he believes in the young people he supports.

"It's a place for LGBTQ+ youth to express themselves freely and to live out loud, without fear of shaming or disappointing someone because they haven't met [others'] expectations," says Stetson. "It's a place for them to be free. I didn't have that, and I wish I'd had that. And I really enjoy working for the Theatre Offensive because this is exactly what they do, especially in times like this."
The upcoming generation of teens and young adults is uniquely positioned to bring this mission to life more than any group that came before it. When we spoke, Stetson and I marveled in the many ways this generation, not much younger than us, feels different in their embrace of diversity and understanding of identity in ways that we, as young, closeted men, did not.
I asked if it made him hopeful. "Yeah, absolutely. This is a generation that's unapologetic and doing what they need to do to be happy, and that's great.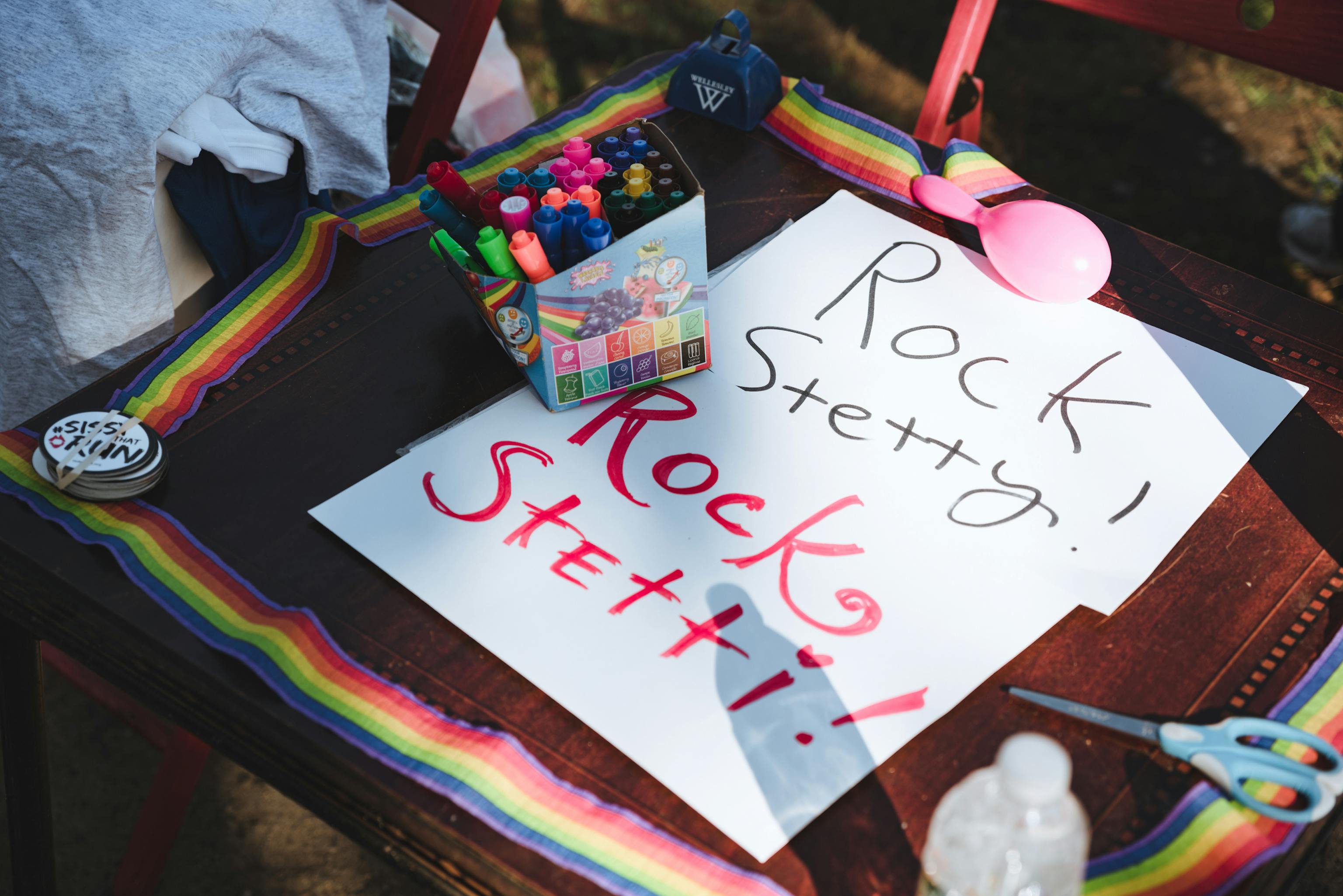 Stetson ran his second marathon in an unofficial personal best of 5 hours; 41 minutes – a tracking issue ultimately impacted his final time. He was running solo, but he wasn't alone. "It was amazing," he says. "There were several other [racers] that had the idea of running the Charles and as we passed each other we cheered, gave a thumbs up, and shouted 'last lap' when that point came."
But for Stetson, the goal for Boston was not about time or place; it was about raising money for the cause. Just as his Theater Offensive crew was cheering him on along his improvised course, offering energy drinks, bananas, and encouraging words, Stetson's Boston Marathon allowed him to act as a cheerleader and champion for the young people and the organization he cares deeply about.
Second marathon down, but was it the last?
"I'm ready to run another one!"
To learn more about The Theatre Offensive, visit thetheatreoffensive.org. To donate to Stetson's #SissyThatRun fundraiser, visit this page.