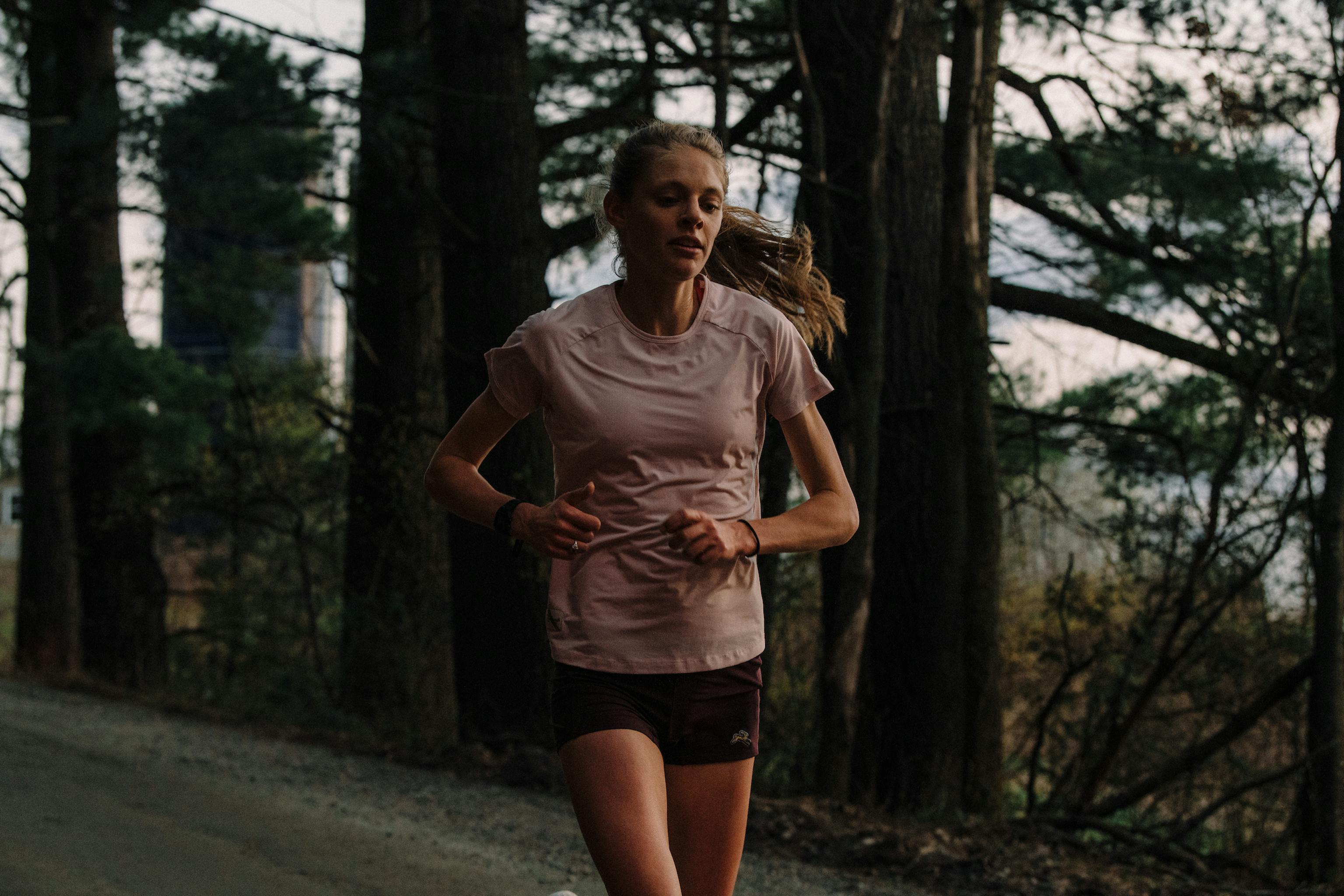 PART TWO
The Front Line View
From Runner-Medics
in a Time of Crisis
Runners make up a disproportionate percentage of the medical profession. Half of doctors profess to be runners, and on our OTQ program, it was noticeable just how many doctors, nurses and other medical professionals were running hard while holding down often stressful, technical jobs at medical facilities across the US. From Roger Bannister to Roberta Groner, there's a long history of runners working on the front line of medicine, so Tracksmith reached out to our global community of runner-medics to get their view on the Covid-19 crisis, and find out how they're coping with this career, and generation defining illness.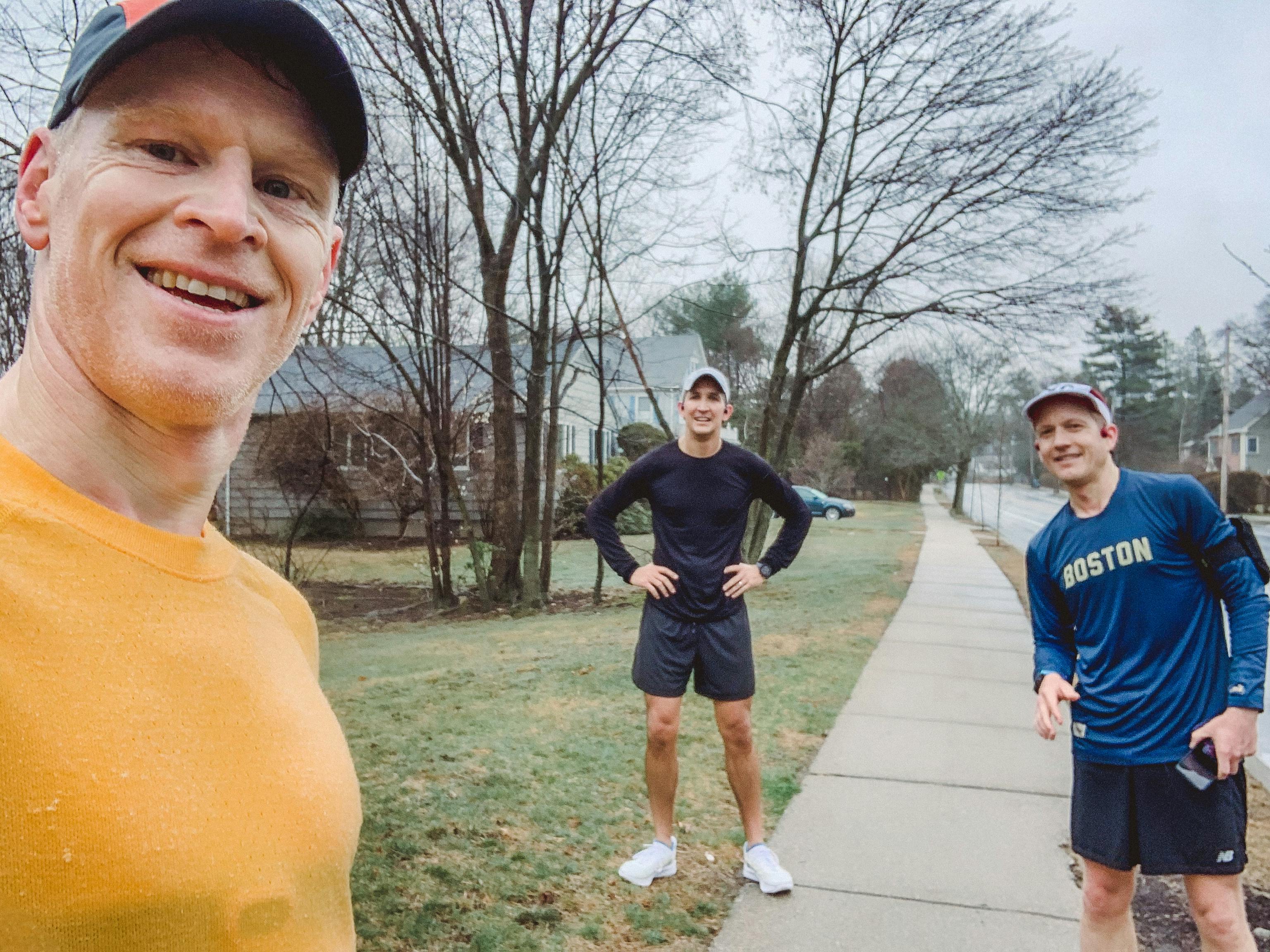 Neil Martin
—Radiation Oncologist, Newton, MA
Has Covid-19 dramatically changed your work routine? How are you dealing with the change?
Fundamentally we are still delivering our care to patients with cancer but the whole process has been radically upended. No longer do we meet our patients in person - instead we have telephone or video visits. Staff in the hospital is kept to a strict minimum to deliver our care. There are fewer interactions with patients, their families, and colleagues. Video conferences are better than phone calls but still a poor substitute. I also am responsible for the clinical operations and so am working longer hours than I ever have to fundamentally redesign our work. I'm dealing with the change by running at what I've called "COVID pace". That looks like marathon or 1/2 marathon pace depending on the day. When my mind wanders, the pace accelerates.
What has been the biggest challenge for you?
The enormous amount of work. We're doing everything from figuring out how to schedule patients for video visits, to projecting staffing and treatment volumes, to coming up with ethical frameworks to approach challenges of scarcity should they arise. Running is, and always has been, both a time to process and a time to escape. Both are crucial now. We have been advising all non-essential staff to work from home. There are times when I have to be at work and in some ways I like those days more because I know I'll get in two runs as I run commute. Working from home there really is only one run I can afford to do from a timing standpoint.
With the uncertainty of racing, how has this affected your training?
It's an ever fresh joke that we're in great shape based on training and should target some obscenely ambitious marathon time. I'm coming off CIM in December with a 6 min PR and was heading to Boston feeling even fitter. I've always been on a knife's edge between overtraining and nailing it and maybe I was falling into overdoing it per usual, but I do think I was more fit than I've ever been. I run for the process more so than the results so it's been okay to not have the race to "prove" things - plus Boston has never conspired to be a fast marathon for me. Regardless, I'm still going out to hammer.
What is your game plan for the coming weeks and months?
Show up, do good work, commit to finding good outcomes for our most vulnerable. That's about patients, staff, everyone. For running, run as much as I can. Just run. This is an amazingly disorienting time. I have the luxury of having meaningful work to focus on. Running supports that as it always has and I hope it will continue to do.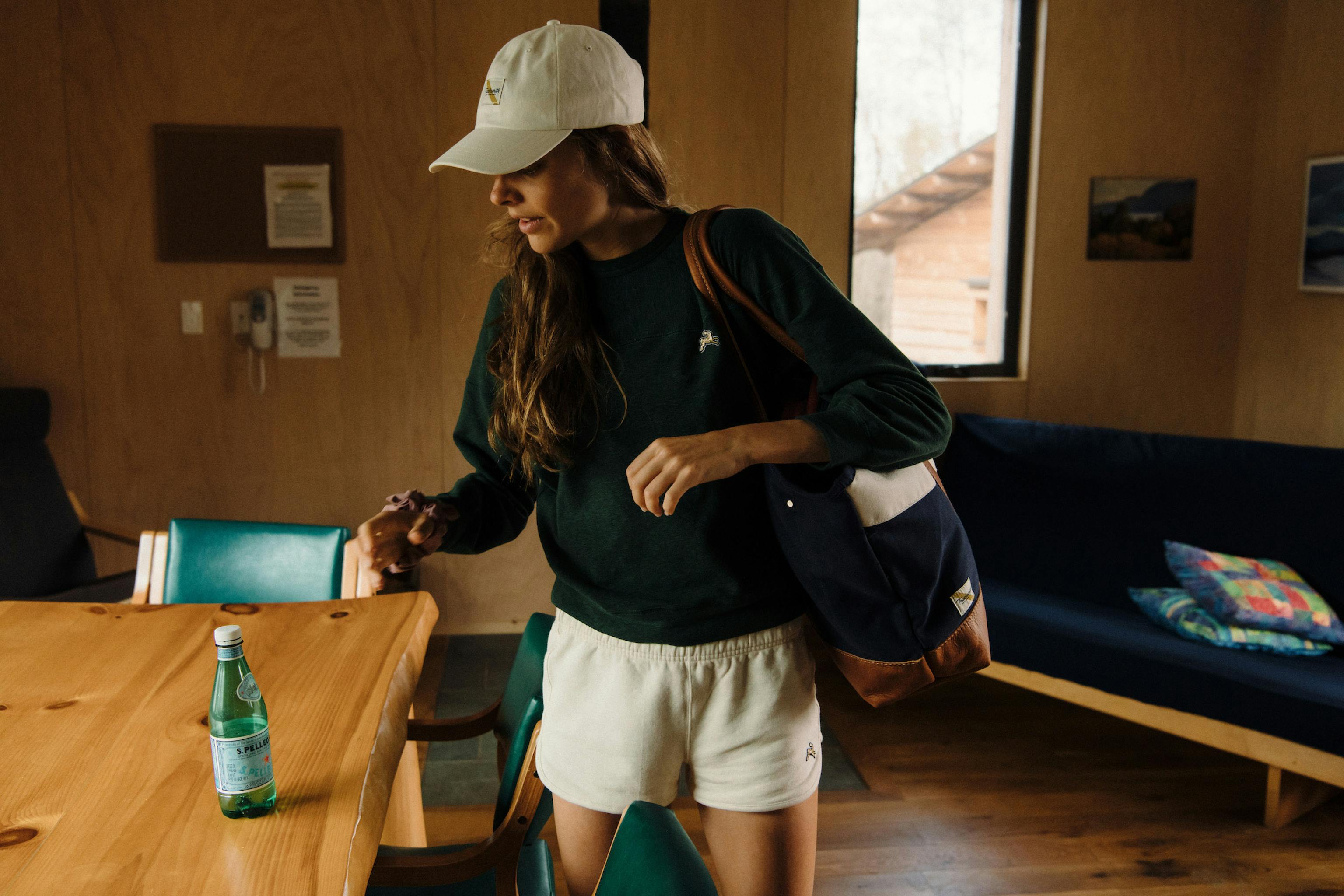 Samantha Roecker
—Registered Nurse (ENT-Rhinology/Skull Base Surgery), Philadelphia
Has Covid-19 dramatically changed your work routine? How are you dealing with the change?
Our specialty was deemed among the most 'high risk' as the majority of the viral load has been found in the nasal cavities. We have essentially stopped seeing patients in clinic and all of our surgeries, with the exception of a few emergent cases (that are heavily screened), have been cancelled indefinitely. This past week we've worked hard to transfer our practice over to telemedicine which has come with challenges and a big learning curve. My co-worker and close friend who is a nurse practitioner was pulled to work in the tents outside of the ER triaging patients; the rest of us are waiting to hear if or when we will be redeployed. There is also talk of our clinic space being converted to patient wards, and if there isn't enough room, apparently using Franklin Field has not been completely ruled out - it would be quite a different scene from Penn Relays.
What has been the biggest challenge for you?
It has been a struggle to keep up to date with the newest and best recommendations for patients who are symptomatic and for our own safety as healthcare workers, especially as resources become more scarce on all fronts. There is a lot of incorrect information circling around and even as a medical professional, it has been challenging to dig through the weeds. I think being a nurse has put any of my running 'problems' in perspective. In the past I probably would've been frustrated that I couldn't supplement my short 'injury comeback runs' with cross training. While they'd be nice, those extra minutes on the elliptical feel irrelevant in the grand scheme of things right now.
What is your game plan for the coming weeks and months?
My game plan is to have no game plan. There's too much uncertainty to plan for future races so I'm just trying plug away and get a little better every day. I'm simply looking for an overall upward trend. I am trying to work on being extra kind and patient to anyone I come in contact with. I spent a few days feeling angry towards others for their individual choices before realizing that I can only control my own actions.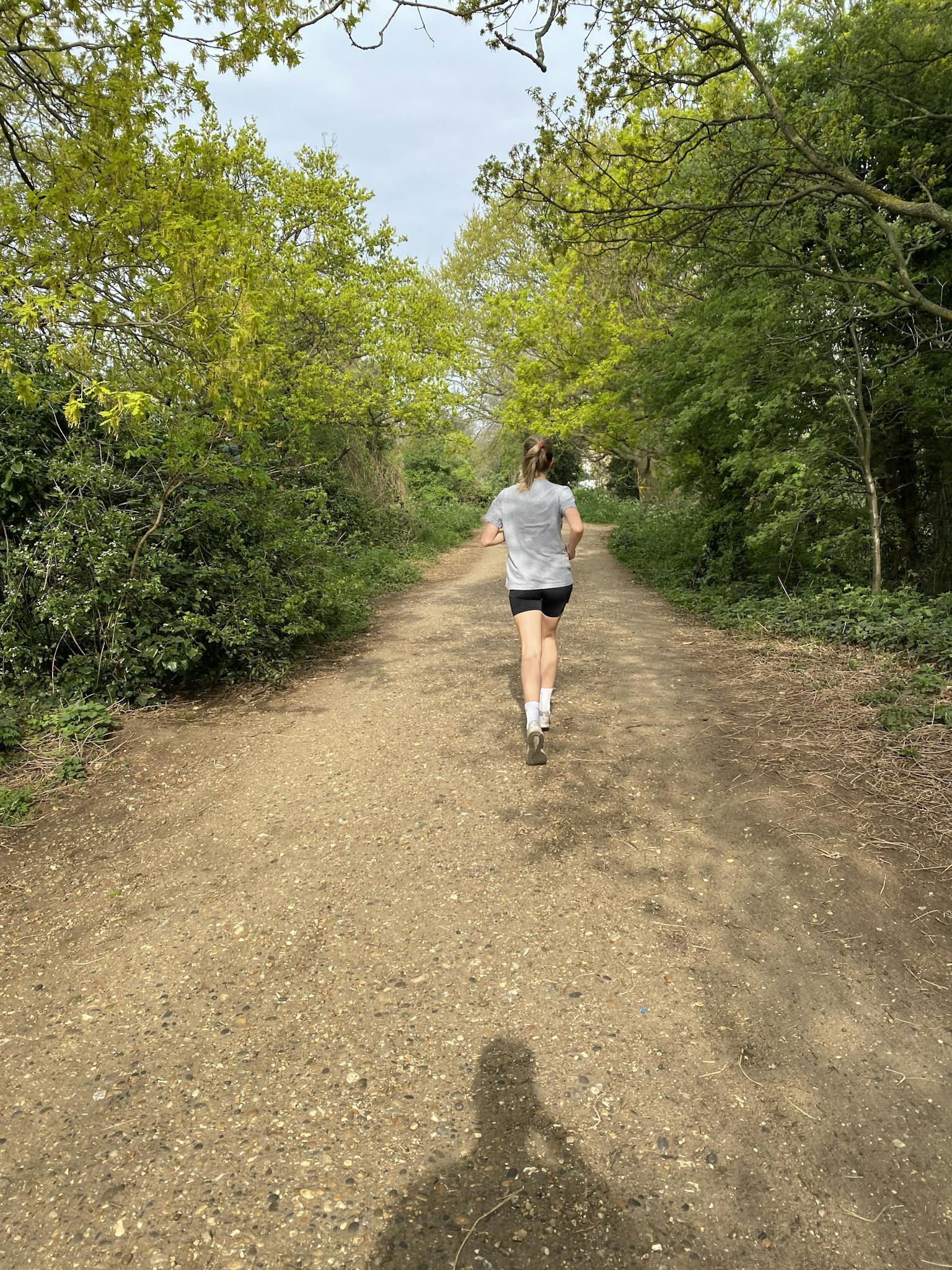 Jess Anderson
—Nurse, London
Has Covid-19 dramatically changed your work routine? How are you dealing with the change?
I manage a medical admissions unit and predominantly work Monday to Friday during the day but due to staff shortages me and the other managers are filling in more clinical shifts and rotating on to night shifts in some cases. This is fine just now because a lot of our additional management work has been sidelined and meetings cancelled in order to deal with Covid-19. As we get busier it will become more challenging but for now I feel like I'm getting enough rest between shifts.
What has been the biggest challenge for you (running or personally related)?
Running wise I haven't really done much in the way of 'workouts' and my mileage has gone down because, like lots of runners, I was in the middle of marathon training (for London) and with all big races cancelled or postponed it has been difficult to maintain the same level of dedication! But equally I'm conscious of preserving my energy and therefore not over training.
Work wise the main challenge is leading a team and trying to keep staff informed (and safe) when guidance and advice keeps changing. On Thursday I wrote an e-mail to the whole nursing team summarising the recent changes over the past few days and by the time I sent it some of the information had already changed.
Trying to keep staff feeling safe while also ensuring we don't use PPE inappropriately has also been difficult. The initial advice was to use full PPE for any contact with suspected cases - this meant full length long sleeved gown, long gloves, eye goggles or visor and FFP3 mask but this has since been downgraded to a normal apron and gloves plus surgical mask for most procedures. It is difficult to reassure some staff that they don't need full PPE in most instances, and I am conscious that we may require more of the full PPE in future as we begin to take sicker patients who would previously have been admitted to critical care. A high risk procedure would include giving high flow nasal oxygen which is becoming more commonplace now. A few weeks ago these patients would have been admitted straight to critical care but capacity there is limited now.
What is your game plan for the coming weeks? months?
If I can maintain my current level of mileage without too much intensity to tire myself out too much, I hope it will provide a great base for a future marathon. My direct commute to work is about 5 miles and if I leave at around 6.15 the roads are quite quiet and I can get to work with time for a shower. I find I'm much less motivated to run after work as I often feel quite drained (mentally and physically) so I hope I can keep the morning run commute going. It has the added benefit of avoiding public transport and now that we're getting into spring time it's lighter when I leave the house.
Final thoughts?
Although Covid-19 has brought huge challenges at work I'm still grateful to have a routine and be able to go in each day and try to help with the situation. It has actually brought out the best in a lot of people, particularly my team at work who have adapted amazingly well. I worry for people whose financial situation was precarious before the pandemic kicked in and also those who were already socially isolated and vulnerable. I feel incredibly lucky to have a wonderful partner at home to support me and to have running as an outlet to deal with stress. We often run together on days off and he sometimes even accompanies me if I run to work in the morning. Running is also helping to counteract all the snacks and treats we have been bombarded with at work!
Chandler Carreon
—Pediatric Nurse, Kansas City
With the uncertainty of racing, how has this affected your training?
I had a 2 week break after the trials, I feel a bit lost as I had my mind on hitting the qualifier for so long, that goal was what drove me to run when I didn't want to. So now, with no particular goal or race in mind, it's all so uncertain. All you can do is ground yourself in the present moment and be grateful for what you have each day, even if that's the simple freedom to get outside and run. I'm shifting my focus to how I can offer my help in a time of need while appreciating the simple matter of getting a run, any run in.
How have you been dealing with the change? Has it drastically affected your day-to-day?
I am a pediatric nurse and although children are a very small percentage of those affected by COVID-19, our hospital is doing everything they can to ensure the safety of our patients and their families, and also the healthcare workers. I'm grateful to have a job where I can still get my hours in, and in fact, even pick up extra hours to help as our unit is still very busy right now. I'm trying to shift my focus and purpose in life to help wherever I can in a time like this.
What has been the biggest challenge for you (running or personally related)?
Finding toilet paper. I'm still not quite sure how COVID-19 relates to hoarding toilet paper.
Do you have any tips to stay on task or keep yourself on routine?
Keep a gratitude journal to help you appreciate some things, big or small you may have not appreciated a few days ago. I bought some guided journals to fill out when I have downtime.
Bennett Shaw
—Clinical Research Assistant, Cambridge, MA
With the uncertainty of racing, how has this affected your training? What is your game plan?
My training has been completely ruined by my work atMass General Hospitalon the front lines of this pandemic. I'm working 70 hours a week in a super high stress environment and I'm trying to squeeze in runs here and there, but it's really hard working so much and not having the time to run. My game plan for the coming weeks is to just run as I need to for my own health, mental and physical. I am sort of lucky that my decision to basically halt training has been made for me, but I have chosen not to be mad about it. There are forces at play that we can't control, and as hard as it is I think we have to do our best to embrace uncertainty and live one day at a time.
What are some tips you have for staying on track with your training and racing goals?
I know that this situation will get better and that I will be able to run Boston in the fall. I think it's important to have something out there to train for, even if it's really far away. At the same time, it's okay to be frustrated, okay to be mad, okay to feel the emotion associated with losing a season. While running is a hugely important part of my life, I am forced to take a step back and reflect on what is important to me beyond running. Will I stop running? No. But can I let myself be okay with focusing on something else for a few weeks? As a steeplechaser in college, I always saw my sport as a metaphor for life. Don't make life too complicated. Take it one barrier at a time.