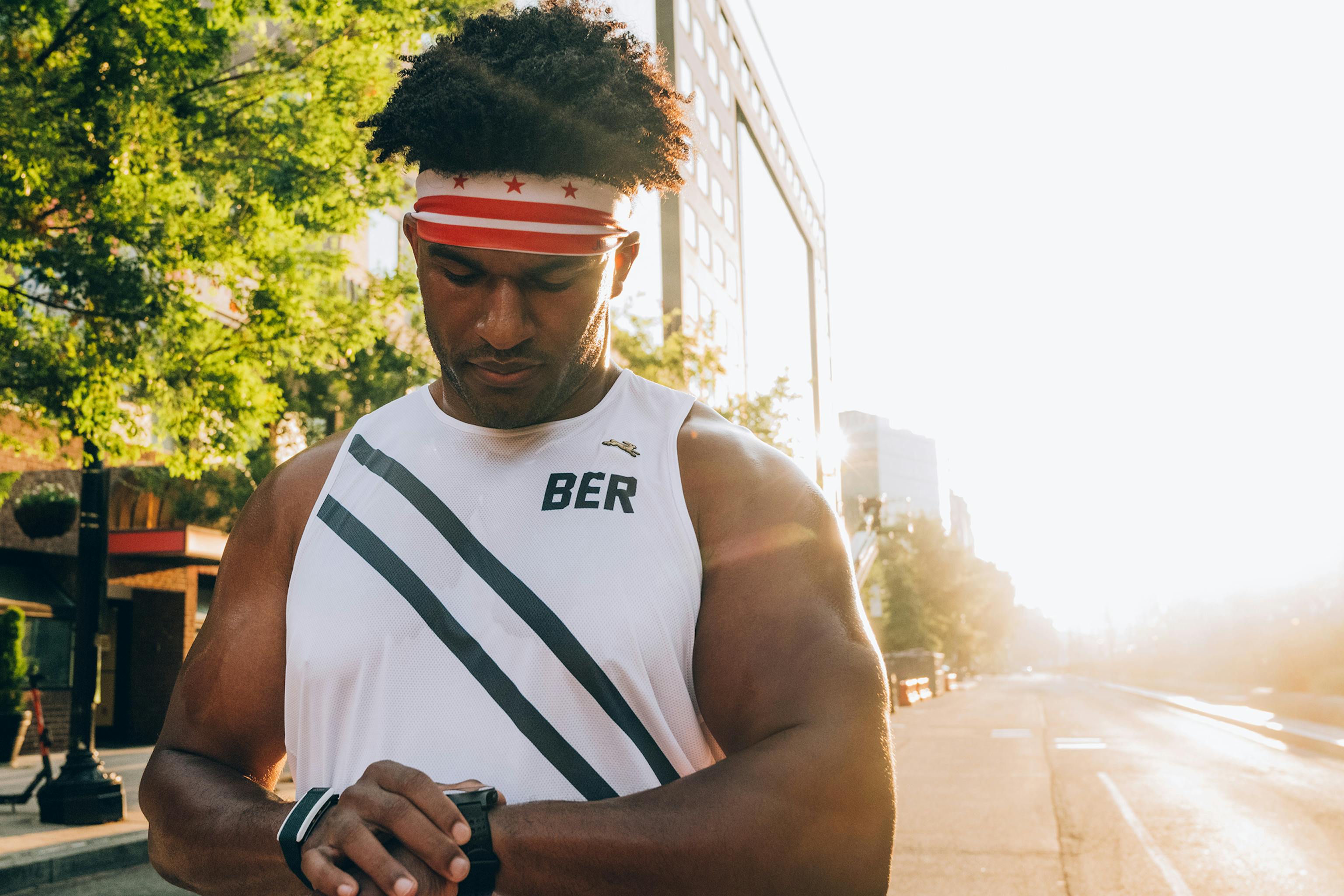 What Are
You Here To Do?
Leading through movement: a conversation with Eric Bolden
Words and photography by Carl Maynard
The Tracksmith Journal exists as a place to tell the stories of runners who are doing extraordinary things in running, in life, for their communities and for the sport. Trainer, athlete and organizer Eric Bolden is just such an individual.

It's 6:49 a.m. on a Tuesday morning, July 21st in Washington DC. It's not hot - yet - but it's going to be. If you've spent any time in the nation's capital, you know a cool July morning is by no means a sign of what to expect for the rest of the day, hell, even an hour later. As I make my way up 15th Street NW, it hits me that this is my first time returning to The White House and Lafayette Square. More specifically the intersection of 16th & H Street NW, now known as Black Lives Matter Plaza. For months now, this famous intersection has been the epicenter for protests in DC. After the world witnessed the murder of George Floyd on May 25th, 2020, protests began all over the country to speak out against the use of excessive force by police officers on Black citizens. After a few days of protests in DC, things boiled over when riot police and secret service members began using tear gas and rubber bullets on peaceful protesters.
On the night of May 31st, I was there, hit with tear gas on four different occasions and taking a rubber bullet to my left foot, luckily only after it had been slowed down by a skip off the pavement. It still hurt like hell. Whatever, my story pales in comparison to the hundreds of people who showed up day after day and raised their voices in protest. It pales in comparison to centuries of Black trauma in this country that came to a head this May.
On June 1st, the country would again watch live as various police forces used these same tactics to disperse the crowds gathered at the corner of 16th & H, all for the President to have his photo-op outside of St. John's Episcopal Church. Four days later, the Mayor of DC would reclaim this location and worked to bring to life the 'BLACK LIVES MATTER' mural with help from the MuralsDC program and DC Department of Public Works. She went on to designate the two block stretch from H Street through I Street NW as 'Black Lives Matter Plaza." Since the protests began in The District, I had been down to the Plaza multiple times, even making my way down the day the mural was painted. However, it had been a few weeks. I wasn't too busy to go, but being there was heavy and anyone you ask, they'll tell you, even just being there, police or no police, took its toll on you emotionally.
I take my last turn, and make my way east down H Street, just two blocks now from Black Lives Matter Plaza, where I am meeting Eric Bolden, a trainer and running coach in DC organizing a Run Against Racism fundraiser that's raised thousands of dollars for a slate of racial and social justice initiatives. By the time we meet, he's already not only got in a workout, he led said workout. He's cleaned up: khakis, a tee and some scuffed-up leather shoes. He's relaxed atop a jersey barrier in the middle of the intersection. Not on his phone, just sitting. I stop for a moment as I recognize him from his email profile photo and watch as he takes in the scene. I approach and we share pleasantries. He could not be more welcoming. Right away, there's an energy to Eric that you can feel. It's comforting and endearing. I think to myself, 'I want to just be friends with this guy.' We make our way to a local cafe for breakfast. Our conversation is easy and relaxed. We talk about Eric's training at MADabolic DC, the studio where he coaches and his background in fitness. We grab our coffee to go and make our way back to Black Lives Matter Plaza.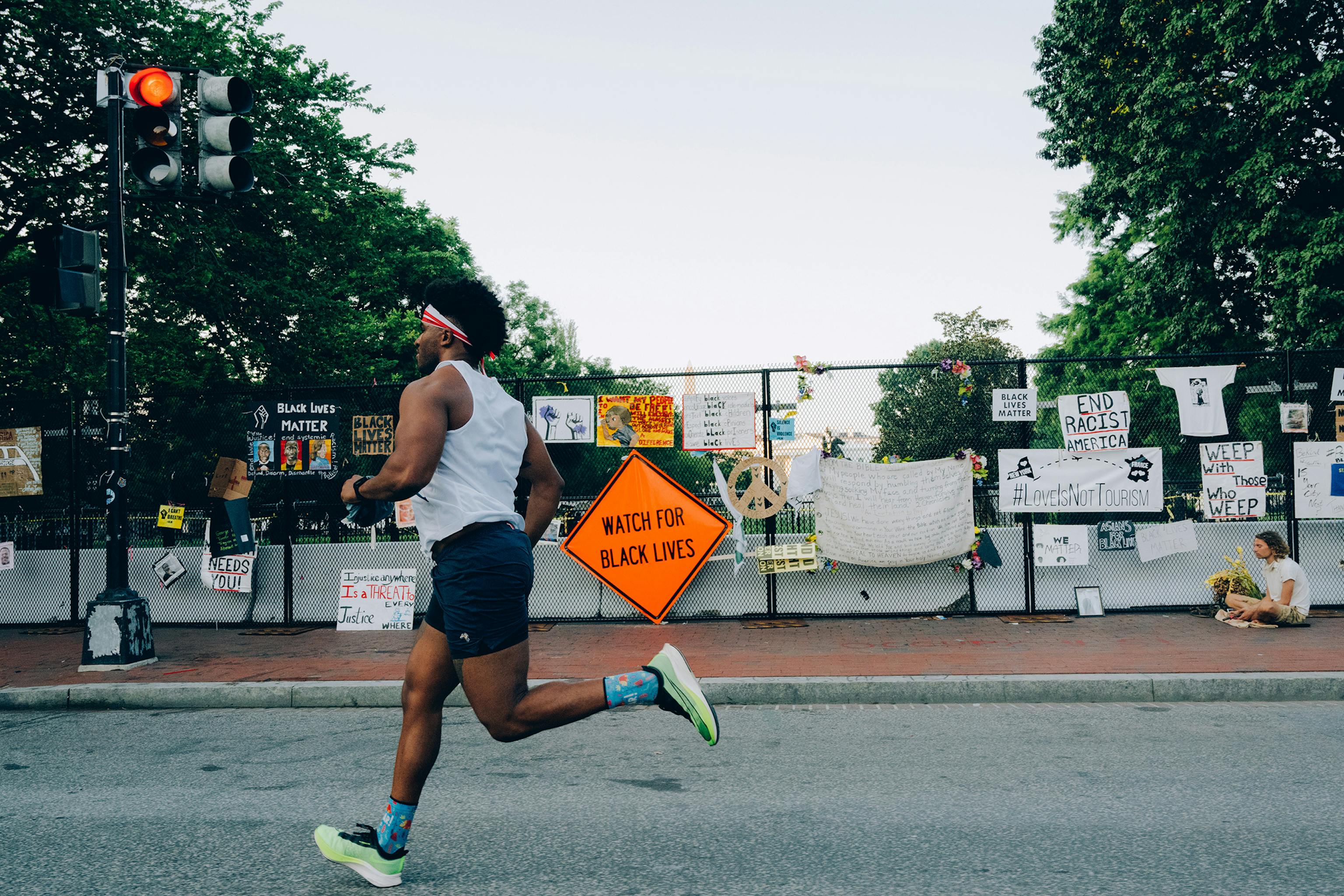 As we sit down on the same jersey barriers where we met, we're sitting facing a fence covered in signs from the protests that have been ever present. On the other side of the fence, The White House, barely visible. Before I have a chance to ask my first question, we take a moment to talk about the recent passing of Civil Rights icon and Representative John Lewis just four days prior. Eric recalls a moment earlier in his career when he was working on the Hill and met Rep. John Lewis in the hallway. He shares with me the occurrence and likens it to a 'genuine human experience,' in which he walked Lewis back to his office. The walk in and of itself was only a few hallways long, but, as anyone who has ever walked the halls of the Hill can attest, that can make for a long walk. This moment would be one in a list of moments that Eric would share with me throughout our morning together. Rep. Lewis asked him, 'What are you here to do?' and Eric recalls that may have been the only thing Lewis said during their time together. A lesson in itself, he would come to realize later, 'Sometimes you can help by just listening.' Since the passing of Lewis, Eric tells me he's thought of this moment and how even in his silence, he was teaching.
Our conversation ebbs and flows and we start talking about running. In 2019, Eric ran his first marathon. And in true Eric fashion he went big. I learn over the course of a couple of hours together there is no such thing as "half-ass" with him. His workout motto is not 'Last one. Best one.' It's 'Each one. A better one.' On September 29th, 2019, he toed the line in Berlin, successfully completing the course and officially adding 'Marathoner' to his list of athletic accomplishments. He then begins to tell me how he and his girlfriend decided to tack on a trip to Paris after the race.
Excited because I'm a Francophile, I said, 'Ever since my first trip there in 2012, I've loved it. And not even being able to speak French has never been an issue.' Eric smiles, 'And that right there is a perfect example of a difference between the two of us." Confused, I ask him to explain. He tells me about when they went to check in to their hotel, the concierge, a Black woman, asked Eric if he knew any French. He replied 'No!' and then she proceeded to tell him, 'You may want to learn some to help yourself out.'' And not in a sense of getting around, but as a way to avoid issues amongst the locals. He then explains how from the moment they arrived, a Black gentleman approached him and his girlfriend to help them with directions. Confident he could sort it out, he declined. Later he would admit he realized it wasn't because the man didn't think he was capable but more so he was looking out for him, as Eric puts it...'He'd probably been there before himself and wanted to help.'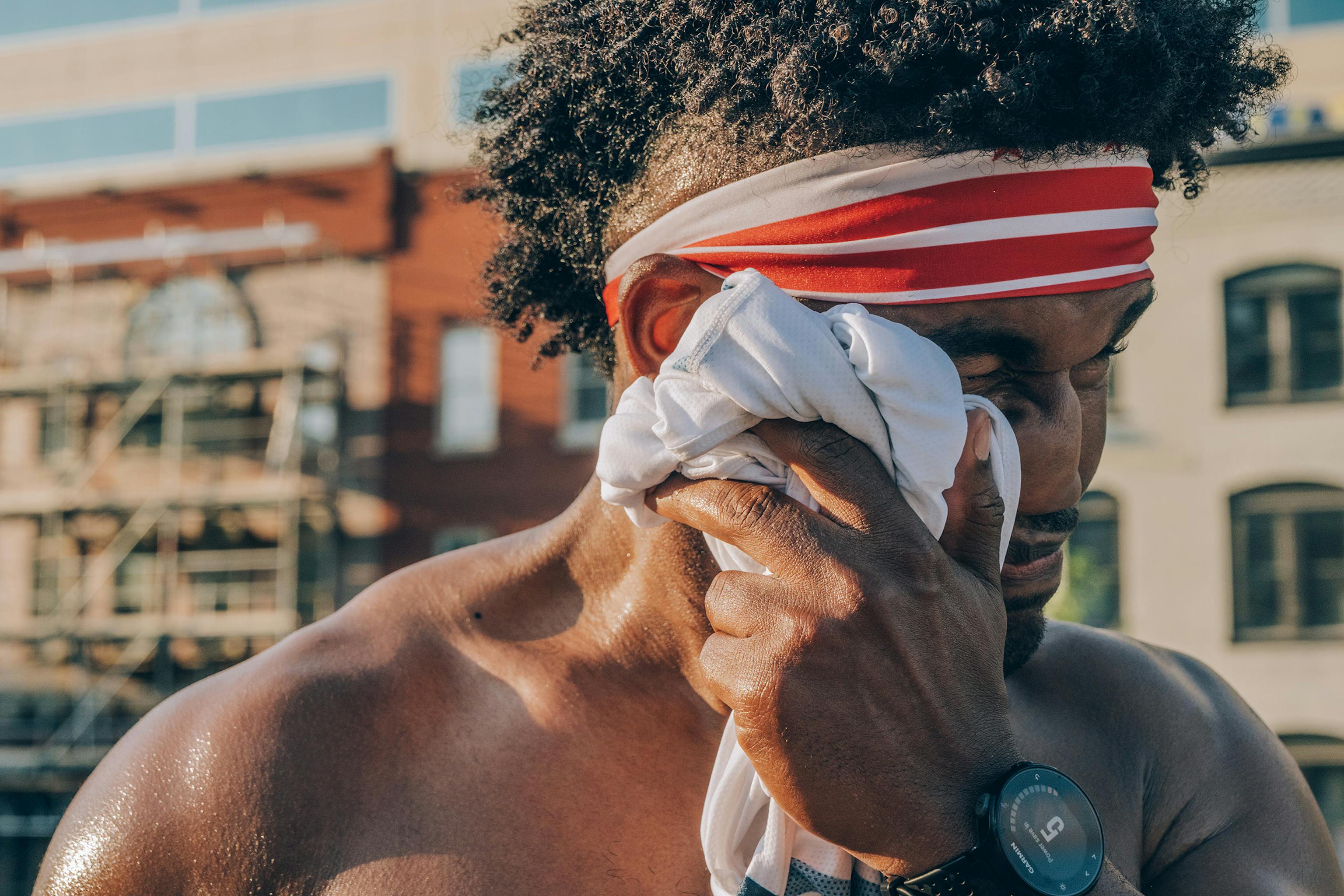 A child of parents who never went to college themselves, Eric shares that his goal of not only going to college but finishing was his way of fulfilling their Black dream. He wanted to show his parents their work paid off. His mother had him reading two books a week when he was younger. 'When you engage with people, always use salutations, Mr and Mrs.," his father would tell him. His parents, both city kids, raised him in Middleburg, Va, a town located roughly an hours drive outside of Washington DC, of which is 69% White & 24% Black or African American. Eric says the benefit of being raised by 'city kids'' in a small town helped shape who he was. His grandfather, he told me, would often refer to him as 'Mr. Eric' and as he got older would come to realize it was an endearment. His grandfather was instilling the idea of having belief in himself. When he speaks about where he comes from, his upbringing and his education, he tells me he often hears, 'You're not that type of Black.' A statement people often use to refer to him, oftentimes to his face, which he always took issue with. "What does that even mean?"
When the murder of George Floyd happened, Eric tells me 'I knew I needed to do something.' With the support and encouragement of his team (Corbin Jennings, Kamille Warren and Tricia Thompson) at MADabolic DMV and his friends, they began the Run Against Racism initiative and launched a track club to begin a fundraising effort to raise money for multiple organizations: Black Lives Matter, the American Civil Liberties Union, Big Brothers Big Sisters of America and the Equal Justice Initiative. To do this, Eric would not just launch a page and ask people to donate. He took it one step and a ton of miles further.
The training plan would help athletes improve and have a goal to work towards, but more importantly their workouts would be a place to come together and learn. Eric takes time at each session to have a discussion around racism not just in America but worldwide. 'Often, before I have my conversation for the week, something new would happen in the news and that would end up becoming our topic.' There's a sense of sadness in his voice when he says this. The idea that before he can even talk about something in our nation's history, something new needs to be addressed. It's as if each week he realizes things just will never slow down long enough to truly grasp the scale of this issue. The goal initially was $20,000 but that number was crushed in a matter of weeks so he raised it. It's now $40,000. He himself has a goal of raising $8,460, a number symbolic of the police brutality associated with the killing of George Floyd. The running challenge? Take part in a virtual marathon between August 15th & August 21st.
When you meet Eric, the word leader jumps to the forefront, but he will tell you he did not 'get into this to be a leader.' He simply wanted to 'start a conversation and get people thinking.' The topics at the sessions have varied from red-lining, police brutality, the prison industrial complex and more. The idea of the track workouts were added as a way of keeping people engaged and accountable. The conversation however was necessary. 'I've lived my life with this reality. This didn't just start. It just happened to splash on your stovetop,' he says as a way of explaining just how present these issues are now for people.
His hesitation to step into the role of leader is not one of shyness, it's because he's always felt like he excelled at 1-on-1 dialogue with people in his communities. But he again brings up that question from that day on the Hill 'What are you here to do?' from the late, Rep. John Lewis. He knew this needed to be about more than a workout. He saw the opportunity to lean in and help. He knew his experiences could help not only educate others but give people more to think about.
He talks about the idea of this global solidarity he experienced while traveling, with the woman at the hotel and the man outside the train in Paris, and tells me he realizes he has the opportunity to be a part of that. But his way of building solidarity is to use movement to open the door for conversations, giving people something to think about, learn and take back to their communities, not only be advocates for anti-racism but to help educate others.
It becomes clear during our conversation that Eric doesn't see this project as the end of his work in his local community. I ask him what's the goal of all this? He talks about raising money, and leaving his runners and community with a deeper understanding and education around systemic racism in America and the world. When he explains this to me, I pause, give him a second and silence fills our time. He sips his coffee and looks at me. I laugh and say,'You didn't mention anything about a certain number of runners finishing the half marathon.' He quickly replies, 'Because this is about more than a workout. A half marathon doesn't make this go away. Only change will."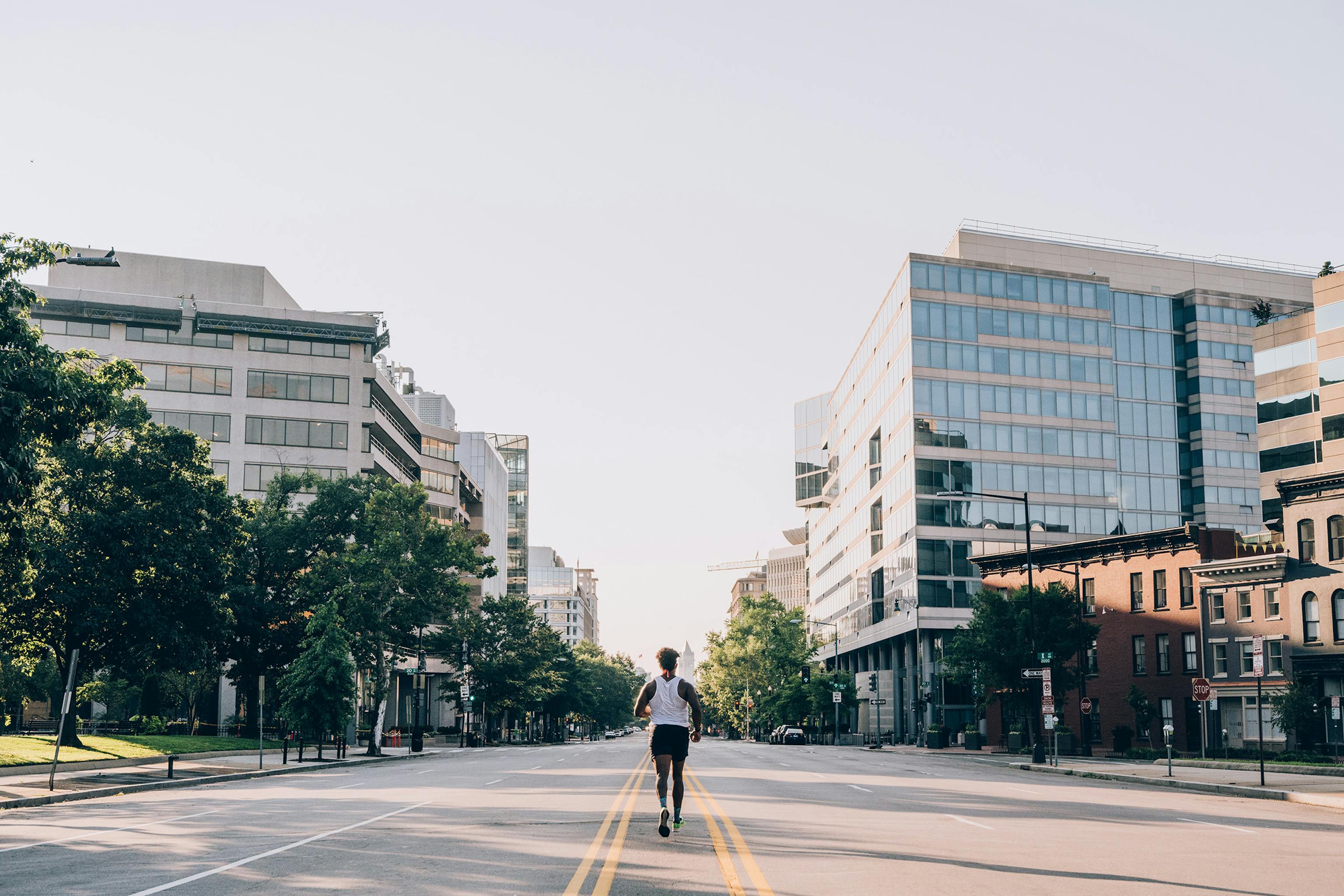 A couple hours after meeting the sun has risen higher, along with the temperature. We agree to walk the Plaza in full. At that moment, I make my way to the only trash can nearby. Two white female DC Police officers stand on the other side of a shin high 'Police Line Do Not Cross' tape. It's just the two cops, Eric & I right now at the corner of 16th & H NW. I step over the tape and throw my cup away. Without stepping back, I turn to Eric and ask for his cup. He hesitates. 'Excuse me sir, you can't stand there.' One of the Police officers says out loud while Eric hands me his cup. I throw the cup away at the same time and say, 'Sorry!' 'No Worries,'' the officer says. I exchange goodbyes with the officers, 'Have a nice day!' 'You too!' I think nothing of it, join Eric and we make our way north up the street. He looks at me and laughs, 'I would have never even thought to do that.' he says. Again confused, I say, 'What do you mean?' He tells me, 'I would never step over a police tape to throw anything away, especially not in front of any police.'
It's a moment I have not stopped thinking about and a moment I don't think I'll ever forget. Not the throwing away part, but the education part. Eric didn't say 'Hey don't do this," in his own way as naturally as it comes to him, he took the chance to educate. To help someone learn. He didn't need to say 'They would have treated me different.'
Eric, despite his reluctance with the term, is a leader. It didn't start with a walk alongside John Lewis. It didn't start with a half marathon challenge. It's just who he is. He's not just a voice in his community, but an example of what it means to have conviction in everything that you do. I walk away from my morning with Eric with this thought: if you're going to take up space, fill that space up with a purpose.
When I think of what it means to be a leader, I believe a true leader will never tell you they're one. They're too busy to worry about titles. They're more concerned with the difference they can make. A couple days later I find myself thinking about that chance meeting between Eric and Mr. Lewis and I've come to believe that moment changed Eric. Eric talks about wanting to continue his parent's legacy. To make an impact. I believe he has. But again, I remind myself it's not 'Last one. Best one' with him. It's always going to be 'Each one. A better one.'
-----
Carl Maynard is a Washington-based photographer and writer, and the founder of Walk With Locals.