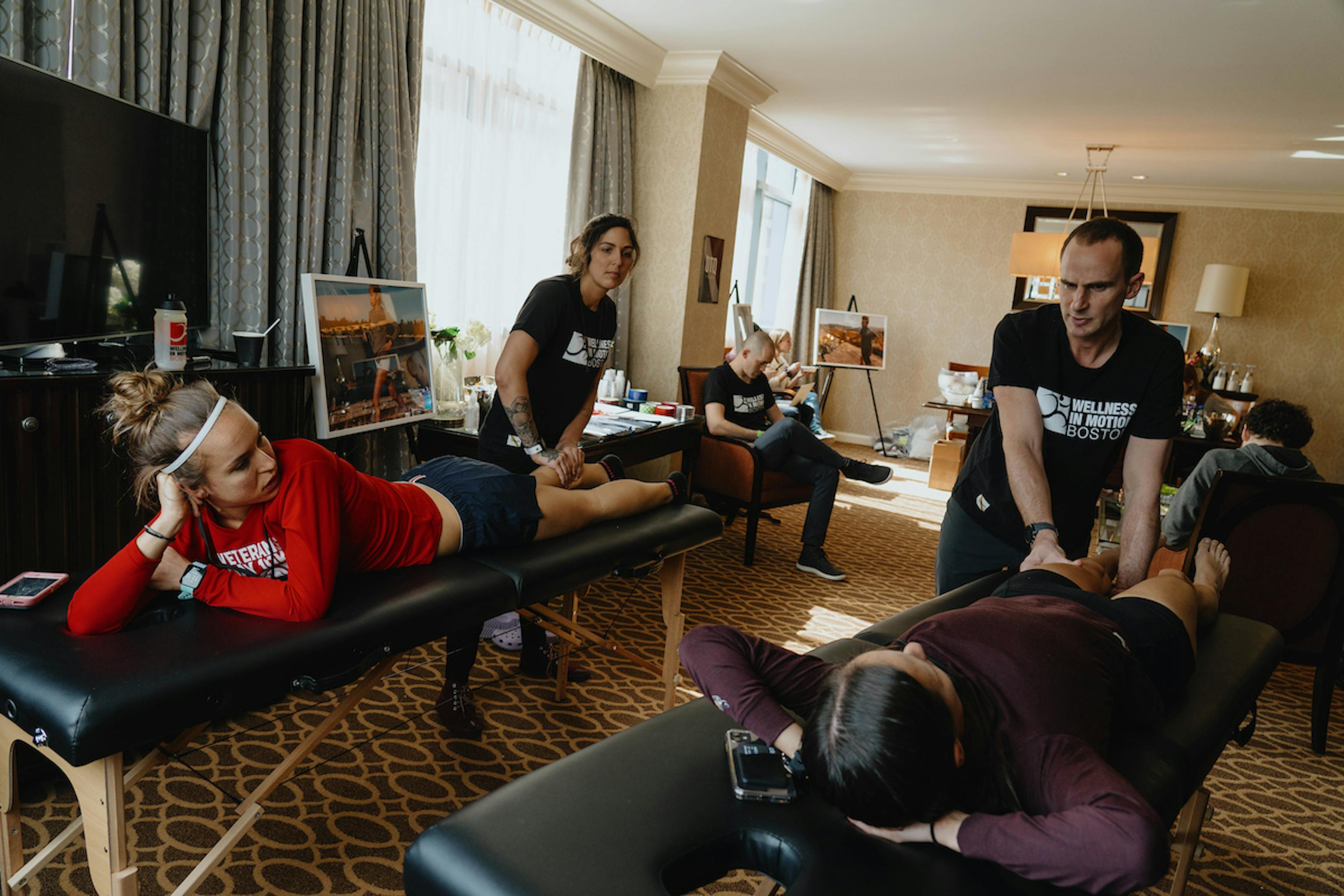 Ian Nurse: A Boston Legend in My Book
Interview by Lou Serafini
Hey Ian, thanks for taking the time on this. I've known you for awhile now and it's been so cool to follow your journey. Take us back a little bit. Why did you decide to start Wellness in Motion (WIM) and when exactly was that?
I started Wellness in Motion just over 6 years ago (September 2014) with the goal of creating a One-Stop-Shop-For-Wellness. While attending chiropractic school on the west coast in Portland, Oregon, I witnessed first hand the effectiveness of the multidisciplinary alternative health care approach where teams of practitioners were able to collaborate to help their shared patients get better. For example, while a patient might benefit from the hands-on treatment of a chiropractor, they could also seek nutritional advice and reap the holistic and systemic benefits of acupuncture all under one roof with all the practitioners in full communication.
While this type of approach is commonplace out west, there were very few multidisciplinary practices here in Boston when I returned in 2012. My goal was to bring this concept east to this incredibly active and health conscious client base.
Can you talk a little more about the specifics of your offerings at WIM? What makes you guys stand out from the pack?
What started off as just myself and a massage therapist in a dingy old building Downtown has grown into 5 multidisciplinary wellness clinics in and around Boston (Downtown, Back Bay at Tracksmith, Brookline, Cambridge at Heartbreak Hill Running Company and Concord). In addition to chiropractic and massage therapy we now also offer physical therapy, acupuncture, nutrition, fascial stretch therapy, shockwave therapy, personal training and even sports psychology.
I think people not only love our multidisciplinary approach but also the fact that we are all active ourselves. We don't just talk the talk, we walk the walk. Our practitioners all have their own passions whether it's running, biking, hiking, aerial, practicing yoga or even fencing. I feel like this allows our practitioners and patients to relate to each other on a different level. We know what it is like to be injured and not be able to do what we love.
What's it been working out of the Trackhouse?
We really feel so honored to have an office within the Trackhouse. Not only do we love working in such an incredibly beautiful and welcoming space, but, more importantly, we love being part of the community that Tracksmith has created in Boston welcoming runners of all levels to gather, run and connect. We feel so lucky to be part of the culture you guys have cultivated.
How has the pandemic affected you? How have you adapted? And what precautions have you been taking to ensure safety?
Like most small businesses, Covid has been a defining moment for us. I'm not going to lie, when it first became apparent that this was not going to be a short two week lockdown, I was very nervous that this would be the end of WIMB. Were people ever going to feel comfortable receiving the type of hands-on treatment we offer again?
While we couldn't perform our normal means of helping our patients, we knew that had to adapt in order for our business to survive. We also knew the key to keeping our client base was to stay connected to them anyway we could. For this reason we turned to the new medical norm of Covid: telehealth. However, instead of trying to charge people we decided to do it for free. For 10 weeks we offered complimentary 30 minute telehealth consults for anyone who needed it. We spoke to over 700 people from all over the country. We couldn't believe how popular it became. We were doing Zoom sessions with entire companies offering ergonomic advice for working at home. We were showing Olympic Trials Qualifiers in Colorado how to use a bottle opener to do self-Graston to an aggravated Achilles.
One thing we definitely learned was that people needed to not only CONNECT during this time of isolation but also MOVE. People were running, biking, walking and yoga-ing more than ever just for the sake of their own sanity. This realization gave me confidence that when we were able to open again, people still needed us.
Thankfully our efforts during the lockdown paid off. As soon as we opened, our schedules were filled with both new and existing patients. These last few months have actually probably been the busiest we have ever been. Unfortunately, people are in pain and need us to not only keep them doing what they love but also to simply make it through a day that now sees them working from home, helping their kids navigate their remote learning and, not to mention, having to now put together new swing sets and gardens.
We have also gone to great lengths to make sure our offices are the safest possible for our patients. Whether that means buying special air purifiers, more sanitizer than you can possibly imagine, enforcing a strict mask policy and allowing more time between patients, we have tried to make people feel as comfortable as possible. Thankfully, unlike most PT practices that usually consist of one large room with multiple practitioners and patients occupying the same space, WIMB has always been set up with individual rooms for one practitioner and one patient. For this reason, I think our patients are seeking our help more than ever.
Covid could have easily been the downfall of our business. If we had just sat around and waited for things to go back to normal we probably would be still digging ourselves out of a hole. Our efforts to connect and help as many as we could not only saved our business but united us as a Team more than ever. We have the strongest bond with both our patients and our fellow colleagues that we have ever had. We are truly a family that is in this together. I couldn't be more thankful for the efforts that my colleagues have made to help us survive these challenging times.
Any plans for you to jump back into the competitive racing scene? I know you're a 2:25 marathoner.
At nearly 43, I'm afraid my PR days are probably over. However, I really look forward to focusing on getting in better shape over the winter. This Fall has been so stressful with the opening of our Concord and Cambridge offices, not to mention, my family and I moving homes. Running has meant so many different things to me throughout my life. For the last 8 months it's primary focus has been two-fold: simply put, a means of transport (I run commute to all of the WIMB offices) and most importantly, a means of stress relief and keeping my sanity.
As soon as the Cambridge office is open in the next week, I have said to myself that I want to focus on my training again. I would love to get back into sub 2:35 marathon shape and will hopefully be able to run the Boston marathon this Fall!!!
Okay, last question. What are you telling your patients who are feeling down about things right now? Surely it's been difficult to deal with the pandemic and many people are using running as a way of coping. What if you can't run?
Running is absolutely an incredible way of dealing with the stress of our new norm. Not being able to run right now is definitely a huge setback. I think the most important thing to remember is that not only will this time pass and we will be able to live normally again soon, but also that our body has an amazing ability to heal itself. As practitioners, we are here to help the body move in the right direction towards healing but, ultimately, it WILL heal. If one of my patients can't run, I know how hard it can be. I've been there myself, many times actually. For me, I try to focus on the positive and pick new goals. Some of those goals are exercise focused while others are not. I might try to get as many Summit Ave hill repeats as possible on a bike or burn as many calories as I can on the elliptical. Conversely, if I truly need to take a break I'll try to read a certain number of books in a month.
We are all goal oriented people. Just because we can't run doesn't mean we can't find satisfaction in setting goals in other areas of our lives.