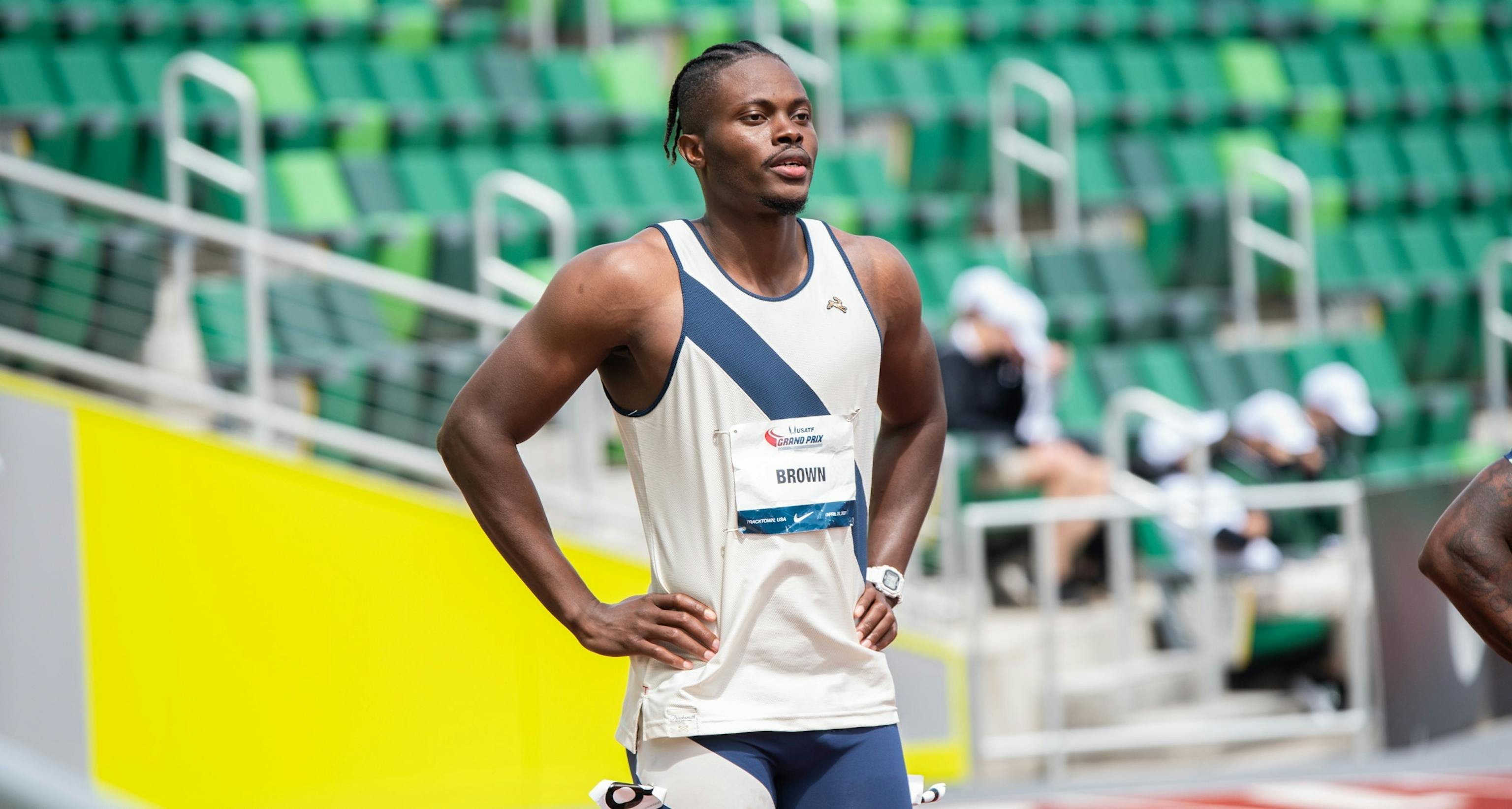 Jermaine Brown Has the Hustle
Meet the world's fastest Amazon delivery guy
Words by Sheridan Wilbur
Photography by Jake Willard

Being an Amazon delivery driver is a grind. Clock in, deliver hundreds of packages over 10 hours, clock out, collapse into bed. Typically, a driver doesn't clock in a second time when their shift is over. For the Vegas-based Jamaican sprinter, Jermaine Brown, who is a member of our Amateur Support Program, working long shifts to pay the bills before clocking in at the track has become all part of his day's work as prepares to challenge for a place at the 2021 Olympic Games.
Brown has a 200m best of 20.29 seconds and a 400m best of 46.24 seconds, but he is best known internationally for his performances in relay competitions. He is the world record holder for the 4x200m relay event and was a bronze medallist in the 4x400m relay at the 2014 IAAF World Indoor Championships. Recently, he competed in the Men's 100m at the USATF Grand Prix at the new Hayward Field in April and ran 10.61 seconds.
To find out more about what it takes to compete for selection in the world's leading sprint nation, while working as an Amazon delivery driver and training in the U.S., we spoke to Brown from his coach's house in Las Vegas, Nevada.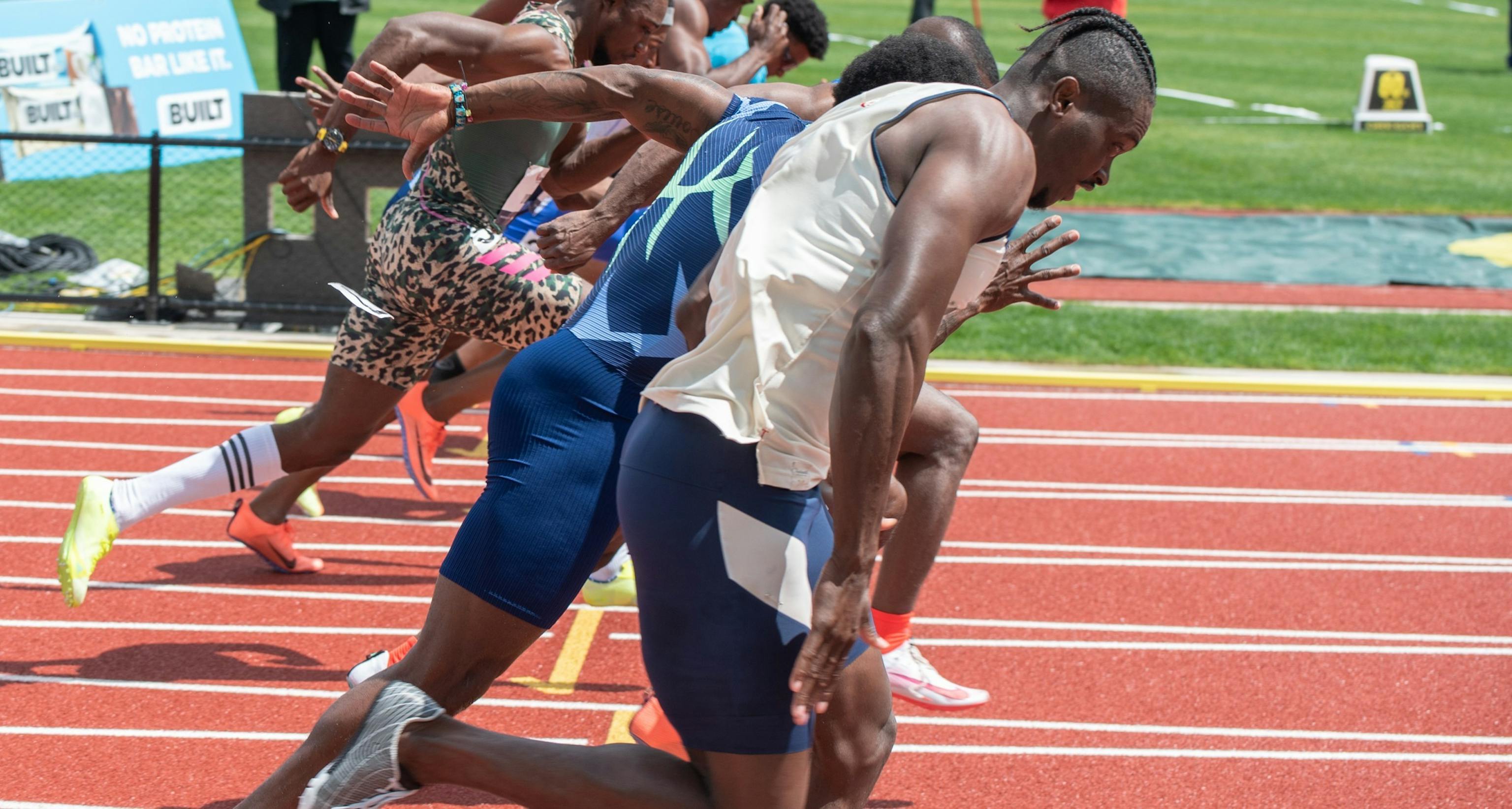 SW: Can you share a bit about life back home and how you started running?
JB: I started track when I was nine. We had field days in Jamaica and they had tryouts at my school. They asked my age so I told them I was 10. I didn't want to run my age group. But I represented the blue house for our small mini-competition within the school. And the blue house-- they were always winning sports each year. So I tried out. I beat most of the 10 and 11-year-olds. I finished third and have run track ever since.
Running has always been with my family in terms of aunts and uncles. They all did it back in their high school time, none of them went to college. They went to trade school. It's been a part of me. I've always been fast. Growing up back home, kids are outside, walking home from school, always playing and racing each other. Running has always been competitive.
I went to two different high schools, Bridgeport, and Calabar. I made my first national team at Bridgeport. I was in 9th grade and was the fastest in the entire school. I did the 100 and 200 and went to Turks and Caicos. I got bronze in 100 and silver in 200 there, and won two gold medals in 4x100 and 4x400 relays. Then I transferred to a D1 school basically. Bridgeport was a junior college to Calabar. But I was not eligible to compete due to the transfer and just practiced for the following year. So I did school work, just enough to pass my classes and practiced track. I had to use my gift. I got to go to the high school championships- what we call in America- "nationals." I was pretty good for my school, I got bronze and silver.
SW: How did you come to live and train in the US?
JB: I moved here when I was about 17. I had a torn hamstring injury. Jamaica didn't have an MRI machine so they sent me to a doctor in New York along with another athlete. We did an MRI on my hamstring and I decided, "okay, I'm gonna stay here." I overstayed my visit.
Back in 2008, I went to high school in Brooklyn and continued to run track and field. My high school coach took me into his house. Back in Jamaica, he was a family friend; he's half Jamaican and half German and has been coaching forever. He's a father figure and role model to me. I broke the 60m and 300m state record. I was the only New York state athlete in the 200m at nationals my junior year. I won a gold medal. My senior year, I couldn't compete because of the transfer, so I just practiced for New York. I didn't run any PSA meets. I worked on my documents.
SW: Tell us more about life in Jamaica
JB: I have to help my family get out of poverty. I grew up with my mom for the most part but then my mom was not around. She was convicted and spent some time behind bars. So my auntie helped raise me. My aunt is more of a buyer and seller. She's where I get the hustle from. I never saw her doing a lot of book work. She'd borrow money, go to Cayman Islands, buy shoes and start selling them. That's where the track and field hustle comes from. There's always ways to make money. My uncle didn't have the money to open a full-ass restaurant but still provides a service to a lot of people by doing jerk chicken and cooking on the side of the street. Best food ever on the street.
SW: What does training look like for a guy your standard in Jamaica and how does it compare to your training here in the US?
JB: In Jamaica, you're growing up competitive. Everyone's training and then it gets more intense and fun at the senior level. You all have the same goal and want to represent the country and turn it into a career. You get up, go to practice and break into different groups and different coaches; there are so many athletes on the track. Training there was fun; something I look forward to. Training starts October 1 and goes until the Olympic World Trials in June.
At the level I'm at now, you have a few major camps in Jamaica. There's a club called MVP where Shelly-Ann Fraser-Pryce and Elaine Thompson-Herah train. It's based at the University of Technology. Or there's University of the West Indies, where the club coached by Glen Mills is. That's where Usain Bolt and Yohan Blake train. In high school, if you're not looking to get a scholarship overseas, you will try to get a scholarship to go to one of those colleges.
SW: Relays are different - they're competitive between teams, but there's also teamwork, and there's the competition in your team to be picked. I'd love to learn a bit about that dynamic.
JB: I hate the 400m in the relay. I just wanted to run the time. We went to Penn Relays. They got me to run on 4x4 that was US versus the world and that was a dream. Always. In high school, you stay at the back of the stadium. I told myself, "one day you gotta make it to the infield." It was a pleasure to see that hard work pay off. It was a great feeling, to be a part of that. In that bullpen, you're all so close to each other. I stood next to Nigeria and was like, "wow this is what it feels like, everyone looking at you," and the high school kids were looking at me. Penn Relays is where you highlight yourself as a group or stand out as an individual. If you create enough damage on your leg. They put me on the anchor leg. US and Jamaica and Brazil were siding for third and they tripped me.
I'm a fighter though. No matter how much lactic acid. I won't give up. That's the difference between training here. When you go to the national trials, they cannot screw you over. As long as you finish in the top three and you have an Olympic standard, you will run that event. The United States is always gonna put their athletes first, so that's why I train here.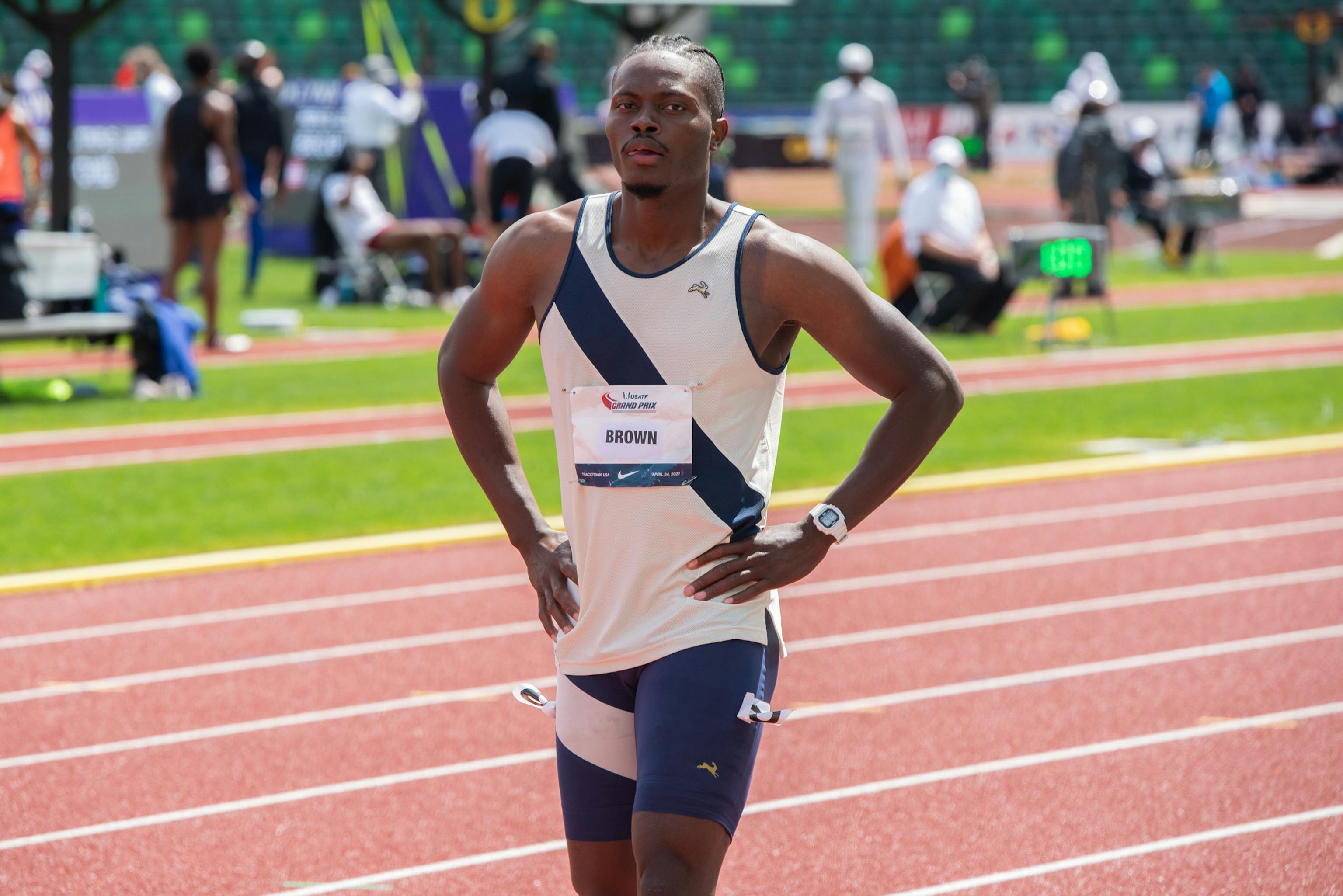 SW: How crazy has this last year been for you as an Amazon delivery driver and how has it all affected training?
JB: Well I used to work at Carvana, from 7:30 AM until 4 PM. I quit the Carvana job sometime in May of 2020. Then I went to Amazon Flex, it's working in a warehouse; they pay $15-16/hour. They didn't have a permanent position open but I gotta work a job. So I'd get home and check the schedule at 6:15 PM. That's when it goes live. If there's a schedule available, sometimes I'd work at midnight; that's what's available. I need a job, I need money. It was crazy because there were no set times but they were just five hours shifts. They give you one 15 minute break where you sit and the remaining time you pack and work with food and pack. No joke, my legs would be dead. I was only allowed to have two days off.
This season I have nobody. No training partners. I used to train with a guy who's in high school. When I did Amazon Flex, I'd come home, finish practice, get up at 1 AM, come home at 6 AM, sleep, go pick up my training partner when he'd be out of school at 4 PM and stop at 6:15 to check out schedules. I'd be clicking, clicking, clicking and get nothing. So I'd click midnight because no one wants that. I quit that job in September 2020. But I still needed money to pay my car insurance. At 28 years old, you need to take care of yourself.

So now I do a delivery job for Amazon, it's also $15/hr, but they are more steady hours and whenever you finish your route you'll be done. I've been doing this job since October. On Monday, I had 214 stops. That takes me about 10 or 11 hours. I can do stops real quick when they're for houses. During the summer, it is the worst. It's 100 degrees. The plastic might start melting and I have to go around and take out packages. I'll organize all big ones into numbers and I have to do this quickly. It might get up to 120 degrees in the van. My chiropractor man told me, "you got to quit that job." He said, "There's nothing more I could do. Your job is wrecking your back."
Hopefully, I can run fast enough so I can make money again. For now, you have to really love it. Just love. When I go out there and make Jamacia news and my friends call me and say, "Hey dude, I see you on the news. Are you running?" It makes me feel good to see all my hard work bringing smiles to a lot of families. I'm not making any money. I'm not contributing a lot and I'm grateful for an amazing lady that believes in me and supports me. That can only go so much until I stress her out.
SW: Tell us a little about your coach - that relationship's a big deal.
JB: My coach who coached me in high school moved to Vegas two years ago. For some reason, I found him on Facebook and reached out to him. I said, "What's up? What's chillin?" He answered. I said, "I'm coming to see you, yo we need to finish what we started in high school and take it to a professional level." So I left Jamaica and came to Vegas.
Now 10 years later, nothing's changed. Our chemistry kicked in. We talk every day. He coaches high school in Vegas. When we first started practicing last season, I was living with roommates but he decided I needed to move in with his wife and kids. His son was three when I lived with them back in New York- now he's 18. I said, "Hey what's up man, you remember me?"
He insisted I move in to make sure I'm eating right, take supplements, and he doesn't like me going to the gym by myself. I'm fragile and he's hands-on. He does all the research on supplements and makes sure I get the right legal stuff. I think he really compares me. He tells me I can be as good as Bolt, "the talent is there." He motivates me. We have our ups and downs and we respect each other. I'm lucky, I was gonna be done with track and field.
SW: What's it going to take for you to make it to Tokyo? Are you at an advantage or disadvantage being here in the US?
I'm suffering with a bad knee. I can't practice much. I was very disappointed with 10.6. That's not up to my standard. Of course, for the next two months, I'm going to request to only work two days a week, 'give me the highest package count,' and spend five days recovering. I'll sacrifice a paycheck to make it to my first Olympic Games at age 30. It will take a lot, I gotta get up in the morning, do more abs, go to practice in the morning, do a lot of rehab to keep me healthy. I had been walking on my right side for the past seven months and running with limp.
Yesterday was the first day I felt something in my left leg. My chiropractor readjusted me- someone shined a blessing on me. Now, when I practice, I can actually see my left leg power is matching. I gotta stay healthy for the next few weeks. Six weeks is not a lot of time but it's enough to put myself in a good position. So I gotta get in sync with the good leg.
In a few weeks, I'll look around for meets in California. Then I will find the money and travel there to hopefully improve my time. There is no Olympic qualifying standard for Jamaica. I don't even care if Jamaica has a Standard, I will be there right in time. That's the energy I'm going with.
Hopefully, I can make it to the Games. It will take a lot. I will do specific work to stay healthy to be a member of the Olympics. Every day matters. You're never late until that final day. I am the best; the best at being me. I am the best in the world at what I do. If I cleaned my car, I cleaned my car to the best of my ability. I never disappoint, I try to give my very best at anything I do. I show people, no matter what life throws at you, you gotta get up and try. Nothing beats a try.