O Pioneer!

Two decades into a running career, Amanda Phillips continues to run into the great unknown
Words by Amory Rowe
Photography by Christian Brecheis
When Amanda Phillips first stepped foot on the campus of Lewis & Clark, home of the Pioneers, she said to her father, "I don't belong here." She'd been accepted to the college earlier in the year and had been awarded a sizable grant to help offset the cost of a private liberal arts education. So incredulous was she at the amount of the financial aid package that she'd phoned the school to see if they'd made a mistake. They hadn't, she was assured.
Still, the leafy-green campus in all of its liberal arts splendor unnerved Phillips. She'd been raised in a single-parent household with an annual income of $30,000. No one in her family had gone to college. Yet here she was in the fall of 2004, on the threshold of becoming a student-athlete at Lewis & Clark, a pioneer in every sense.
Being a pioneer isn't easy. It requires courage to break new ground, to forge ahead through discomfort, distress and distraction. Above all, being a pioneer means striving towards success when the odds are stacked against you – a challenge to which Phillips has risen repeatedly.
Though the first couple of years at Lewis & Clark were tumultuous, Phillips eventually found her footing. "I grew a family [at Lewis & Clark]," she explained in her 2018 Athletic Hall of Fame acceptance speech. She also grew a reputation as a fearsomely talented competitor, posting still-standing school records at 1500m (outdoor track), and 5k and 6k (both cross-country) and becoming the college's first All-American in cross-country.
Phillips continued her pioneer ways beyond college, often choosing less traveled roads to her ambitious goals and always defying the odds en route. She's navigated mountain ranges of injuries and circumvented quagmires of illness. She's endured long stretches of her journey alone, logging most of the miles that delivered her to the start line of the 2020 U.S. Olympic Marathon Trials in the dark – either before dawn or after nightfall – as bookends to her work as a middle school teacher.
Through it all, she's cultivated a self-reliance that would make Ralph Waldo Emerson's heart happy. Amanda Phillips knows who she is. She knows where she's heading. And she's unafraid to divorce herself from convention and crowd in order to get there.
Lately that strategy has landed her in front and alone on race day: if not leading the race outright, as she did for the entirety of the Austin Half Marathon in February, then in the hunt for a podium spot, as she was when she ran a PR – and OTQ – of 2:35:06 at the L.A. Marathon in late March.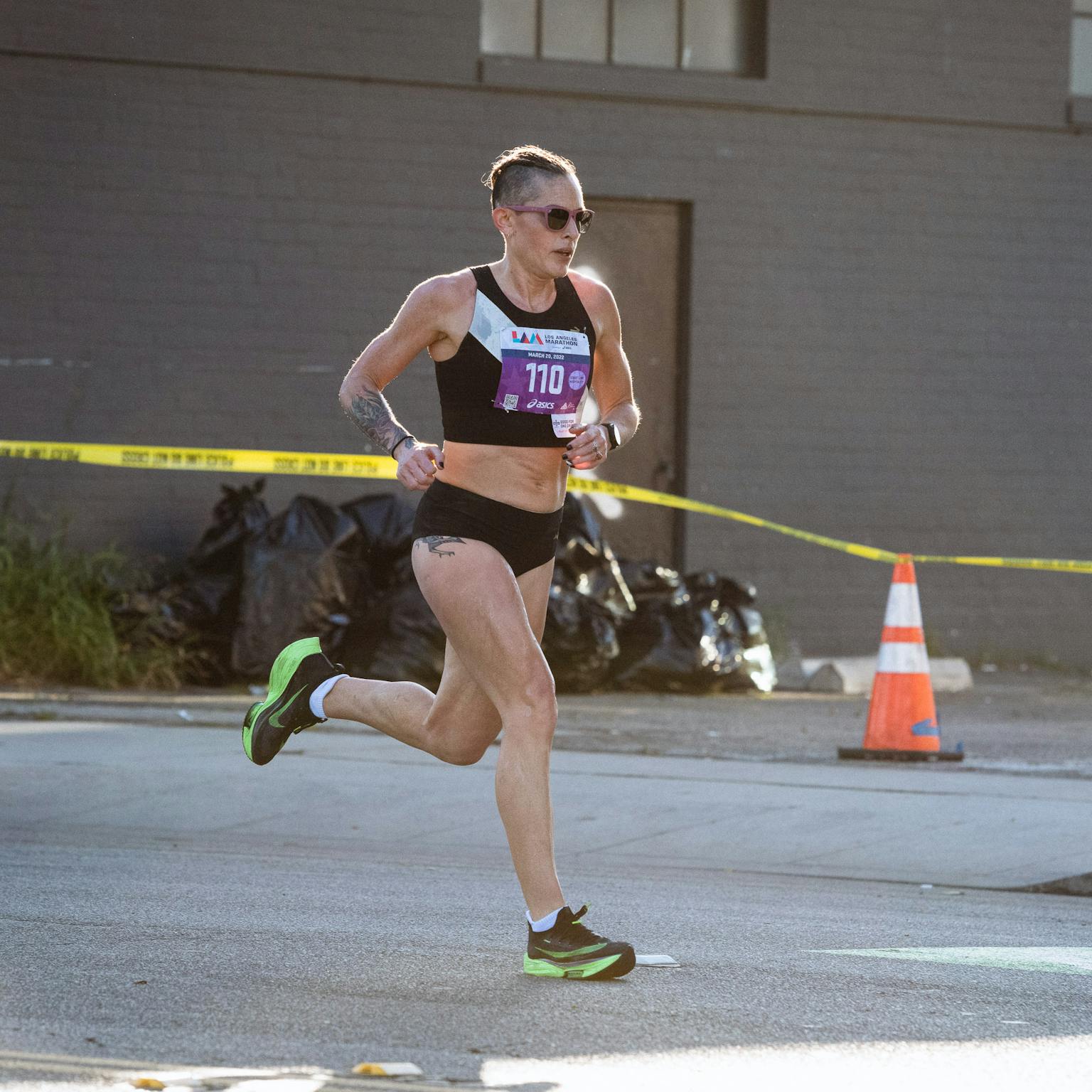 That day dawned cool and windy by Southern California standards. Phillips recalls the scene at the start: "I think a lot of people were concerned about how the wind would affect the race. And the coolness led to a little bit of stress on the line. People were trying to move around a lot and keep warm. And it was dark. Cityscape dark."
Phillips went off the line with the lead pack of six women and they hung together for four miles until eventual winner Delvine Meringor dropped a 5:09 fifth mile and Phillips made the considered choice to let the leaders go. L.A. can be a lonely race with its rolling hills and wide-open boulevards, but Phillips was prepared.
With the backing of a new team and the guidance of a new coach – Cascadia Elite and Travis Floeck – she'd broken fresh training ground in her 13-week marathon build: "I was doing some 18-milers at a little bit off marathon pace. Longer efforts, harder efforts. I think I was afraid of those when I was just coaching myself. A lot of times I would break up harder efforts out of fear. But [Travis] put them in my plan. And I did them. And I was successful at them. So that was a good indicator of where I was."
As every pioneer knows, no journey worth taking is without its bumps in the road, those rough spots that demand you buckle down and commit to suffering some for what it is you want most: a PR, an OTQ, the radiant joy of a race well run. Phillips hit her first of those bumps at mile eight when it became clear that she needed to use the bathroom. The second bump heaved up in her path at mile 12, when she realized she hadn't quite finished the job four miles earlier.
But she and Floeck had discussed her goals going into the race and they were clear: "I've always run marathons with a lot of fear. And going into this race, I told my coach, 'My goal is really just to learn how to push myself and run at a harder effort than I always have run marathons,'" Phillips explains. "When things don't go well, it's hard to keep your head in the game and be positive about where you're at. But I exited those Port-a-Potties with passion. I just told myself, 'You still got this!'" In fact, she says, she exited the second Port-a-Potty with "so much passion" that she trailed a streamer of toilet paper from the heel of her Alphafly for a good quarter-mile.
Phillips doesn't remember much about the latter half of the race – "I put my sunglasses on and [was] just daydreaming," she says – but her splits tell a compelling story: she accelerated through the course, posting one of only two negative splits in the entire co-ed professional field.
It was the second big race in a row in which Phillips saved her fastest miles for last, having also raced the back half of the Austin Half Marathon faster than the first. In this way, too, Phillips defies the actuarial odds stacked against her: she's 36 years old and she's getting faster.
Being able to accelerate as you move through an event as demanding as a marathon takes a special kind of self-awareness. So does posting PRs at 5k, 10k, the half-marathon and marathon after your 35th birthday when you've been running competitively since the sixth grade. But Phillips has always understood running as a larger project. "Running for me is learning skills," Phillips explains. And, she adds: "I'm a learner."
Running is its own classroom, one in which the runner is teacher, student and subject. No one knows this better than Phillips, who has always hewn closely to the education available in full stride. She is a teacher after all, a profession she chose for herself in fourth grade when her aunt – one of her mother's five sisters – was a teacher's aide in her elementary school classroom.
Even back then, at ten years old, Phillips knew the shape of the road ahead and had confidence in her ability to navigate it. Though much has changed since, a few things have not, like the mantra she has repeated to herself throughout every race since high school. She started reciting it in her earliest prep cross-country contests and she ran to the beat of its seven syllables all the way through the finish line of the L.A. Marathon: "This pain is temporary."
It's a pioneer mentality: a simultaneous recognition of both the necessity and the impermanence of the journey's discomfort. And it's the marathoner's bargain: an acceptance of the work in exchange for the glory of the destination. In this way, Amanda Phillips has traveled a great distance from that place of dislocation she expressed to her father on the threshold of her college career. She's found herself – like so many pioneers – in a place of her choosing and her design, a place where she belongs.