Team results are in from the inaugural Alumni Championships. Michigan, Iona and Northwest Missouri took the top spots for the Open Men, while Michigan, Haverford and Fordham led the way for the Open Women.
The participation and support of alumni helped raise $20,000 in the fight to save collegiate track and field programs. These funds have enabled us to continue to contract campaign manager, Russell Dinkins, to provide key strategic support to recently cut programs. Thank you!
In reflecting on the things we'll miss the most this fall, it's clear that collegiate racing and the joys of cheering on our favorite teams were close to the top of the list. So, together with our friends at Trials of Miles, we've devised a racing challenge to bring out that old school competitive spirit: the Alumni Championships.
Whether you ran in college or not, whether you're in fighting shape or fighting to get back into it, join your fellow alumni for a 2 mile race and ultimate bragging rights. With no championships until March, this is as close as we'll get to crowning a 2020 champ.
The Alumni Championships are open to teams from around the world, whether or not you ran competitively as a student. Runners are asked to submit the alumni team for which they'll be competing. If you didn't go to college, we invite you to choose your preferred allegiance or run for the School of Life alumni team.
Runners are asked to submit the alumni team for which they'll be competing. Please note this does not have to be the school you attended.
You may run your race and submit your result any time within the competition window of October 31st to November 8th.
Run 2 miles on a 400m track, and have your GPS data recorded and submitted to Trials of Miles for verification that all 8 laps (+18 meters) were completed. Do not stop when your GPS says you have covered the distance. If you want to keep things simple you can also just elect to run 3200 (8 laps exactly) and we will add 3 seconds to your time. 8 laps of the track MUST be completed for the result to count.
There will be an open division and a masters division (40+) for both men and women. Masters will be based on age as of October 31st, 2020. You must be 18 years or older to race.
Current NCAA athletes are not encouraged to participate, and are not eligible for prizes. Current college students who are not NCAA student athletes are welcome to take part.
Please note that all profits from the race will go towards a fund supporting collegiate Track and Field programs that have recently been cut. This fund has enabled us to contract a campaign manager, Russell Dinkins, to provide key strategic support to recently cut programs. Dinkins, along with several others, was instrumental in helping Brown University Men's Track gain reinstatement this summer.
Dinkins will also work with Tracksmith and other key stakeholders to advocate for policy measures and structural changes that will help to fortify and make collegiate track and field more resilient in the future.
"I am so passionate about this not only because of my love for the sport of track and field, but because I see and value track and field as a pathway to an educational opportunity. My youth coach instilled in us the value of education and how running could get us there. That guidance carried me to the Ivy League and beyond. I was afforded tremendous educational opportunity through this sport and I want the next kid and the kid after that to have the same opportunity. This is why we fight and this is why we will win."
As a consultant, Dinkins' work will center on the following core pillars:
Saving Cut Programs: Providing immediate assistance to programs that are cut or are on the verge of being cut
Policy Advocacy: Developing proposed policy changes to present to the NCAA that would require college athletics programs adhere to diversity ratios/considerations if programs are cut
Resiliency Advocacy: Working in concert with NCAA teams to advocate for ways to make Track and Field more resilient
Tracksmith gift cards will be awarded to the top finishers and top teams in both the women and men categories, and also to alumni team with the most team members.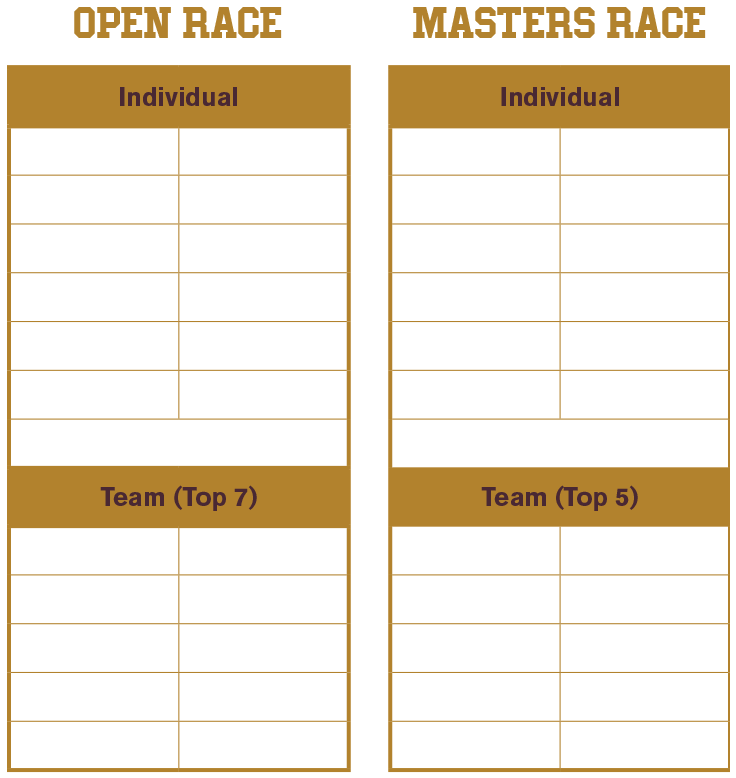 These will be emailed to the qualified recipients in the week of November 9-16.