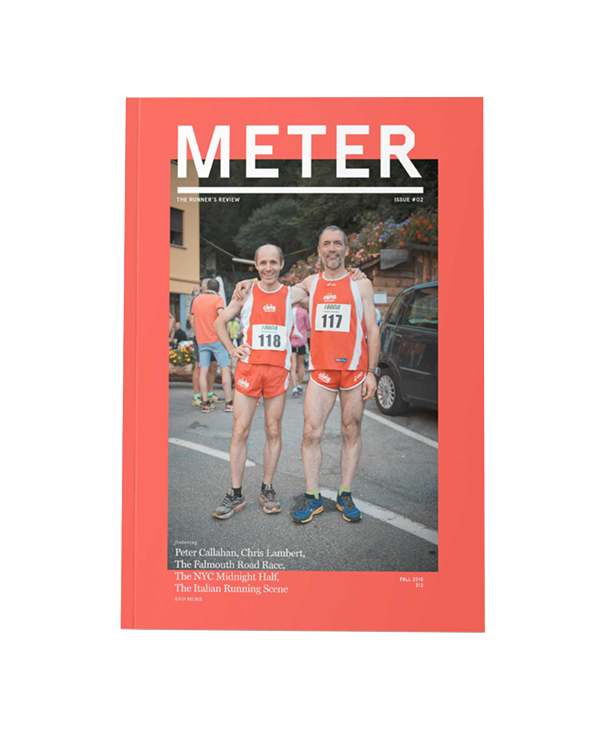 What happened to running? Where are the inspirational stories of racing and racers? Where are our heroes?
When we started Tracksmith we could see countless running stories unfolding all around us - ultimately going untold. Something had to be done. These stories deserved to be shared. And so METER was born.
We take a long-form look at the hidden side of running culture and at the athletes, heritage and events that continue to make running the greatest sport in the world.
Toni Reavis
The Falmouth road race is one of the best road races on the US road running calendar - it's also the biggest party weekend of the Cape Cod summah. Toni Reavis looks back at 43 years of this great American road race.
Running vs Art
Poet Ben Wilkinson explores the historical connection that links running with the arts, from the Ancient Olympics through to modern times.
If a man ever strives
with all the soul's endeavor,
sparing no labour to achieve
excellence, we must give praise
to those who attain the goal,
a proud tribute that shuns
all thoughts of petty jealousy.
We must speak kind words
of the endless toils
that built a monument to beauty.
— Pindar
In the city that never sleeps, runners race at midnight. Sarah Gearhart and Paulsta Wong report from Orchard Street Runners' Midnight Half, an increasingly popular renegade race that makes runners think on their feet.
Chris Lambert Is:
When elite distance runners retire, they have the privilege of slowing down and learning to enjoy running again without the constant need to prove themselves. But sprinters? What hope is there for a sprinter forced to retire with their potential untapped? This was the predicament in which Chris Lambert found himself, a Lone Wolf against the world.
The Italian Scene
Local races create local heroes, nowhere more so than in the tight-knit Italian running scene. Phil Gale and Emmie Collinge are newcomers to the scene, but that doesn't mean they've been made to feel anything less than welcome.
Illinois to Albuquerque
Peter Callahan recently concluded his collegiate career with a fourth place finish at the 2015 NCAA Outdoor Track and Field Championships. Callahan's non-traditional path to the top has him on the precipice of stardom. This is his story.