Zoom In
Trackhouse Crew - Pioneer Club
This item is out of stock. Please enter your email address and we will notify you when it is back.
Free Returns & Exchanges
Legends
of the Sport
Inspired by the legacy of New York Pioneer Club athlete Ted Corbitt and in celebration of 50 years of New York's marathon – the course for which Corbitt helped plan – we worked with writer, coach and Black Roses NYC founder Knox Robinson to craft our New York Pioneer Club Collection. Using archival images of the Pioneers' uniforms, we designed a version of our Trackhouse crew with a chenille patch.
Five percent of all Collection sales will go to support the Jeuness Track Club, a community-based girl's track club founded thanks to the lasting legacy of the Pioneers.

Reverse Weave Cotton Crewneck Sweatshirt
Ribbed Hems
Designed For Shrinkage, Will Shrink One Size When Dried On High
To Preserve Says, Lay Flat To Dry
Fabric
80% Cotton
20% Polyester
Care
Sweatshirt will shrink one size when put through dryer, purchase size up to shrink down as desired by tumble drying on high.
Air dry after washing to preserve existing size.
Wash Warm Water
Do Not Bleach
Hang Dry or Tumble Dry on Low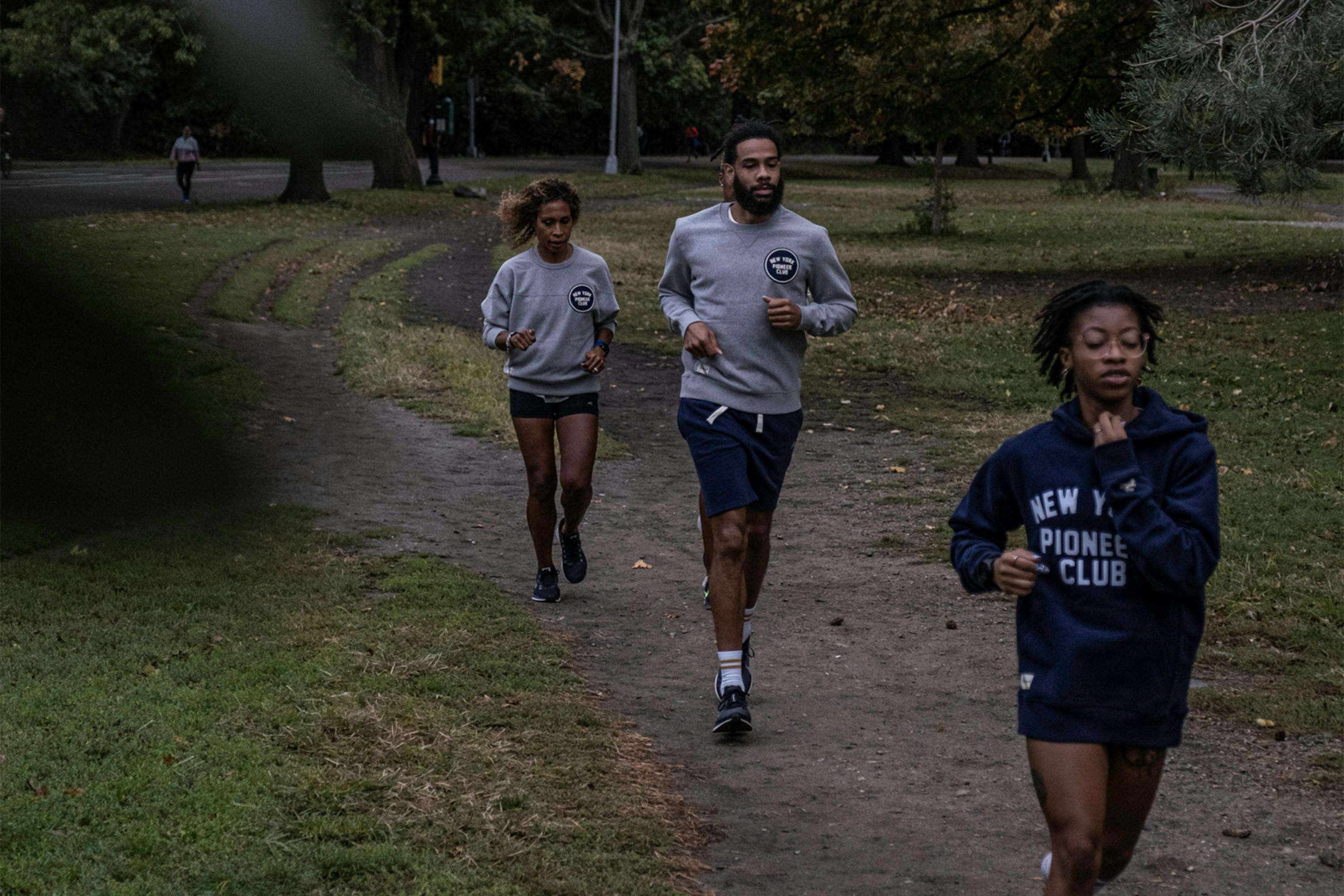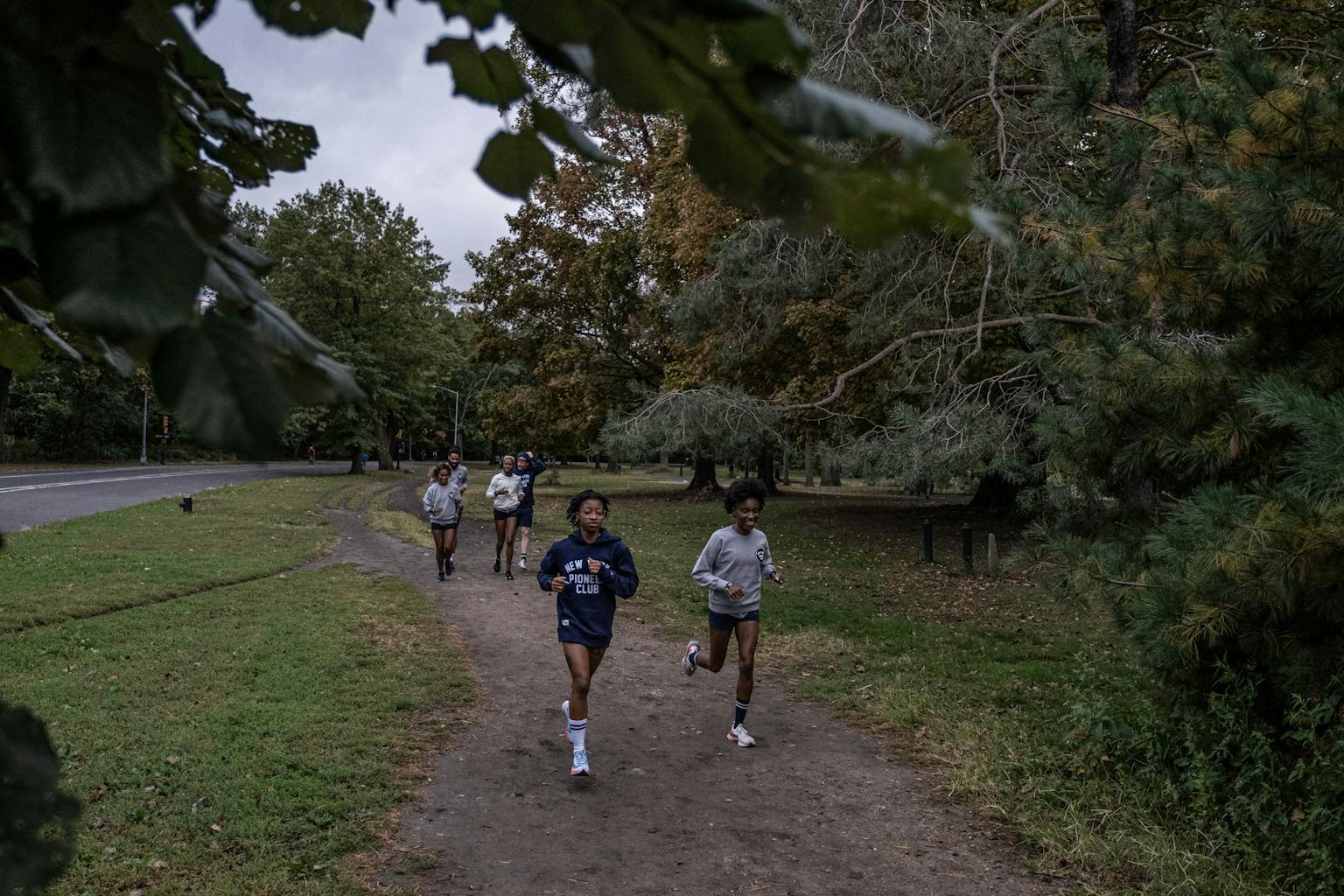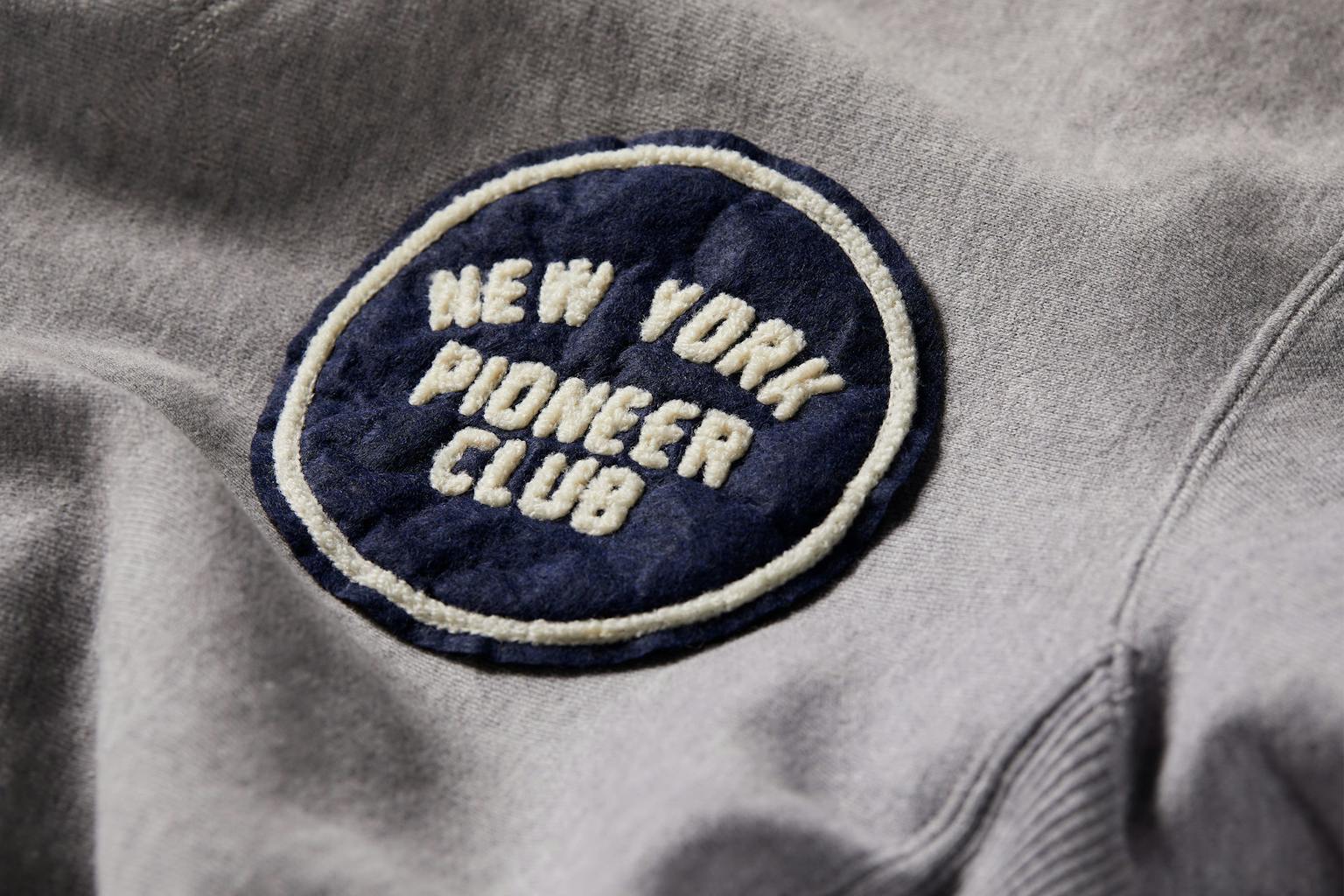 Heirloom Quality
Photos of Ted Corbitt show him in a crewneck sweatshirt, the kind of heavyweight classic that only got better with age. Our rendition is delivered in a durable yet soft reverse-weave cotton blend that won't pill. The ribbed cuffs, side gussets and hem help keep its shape over time.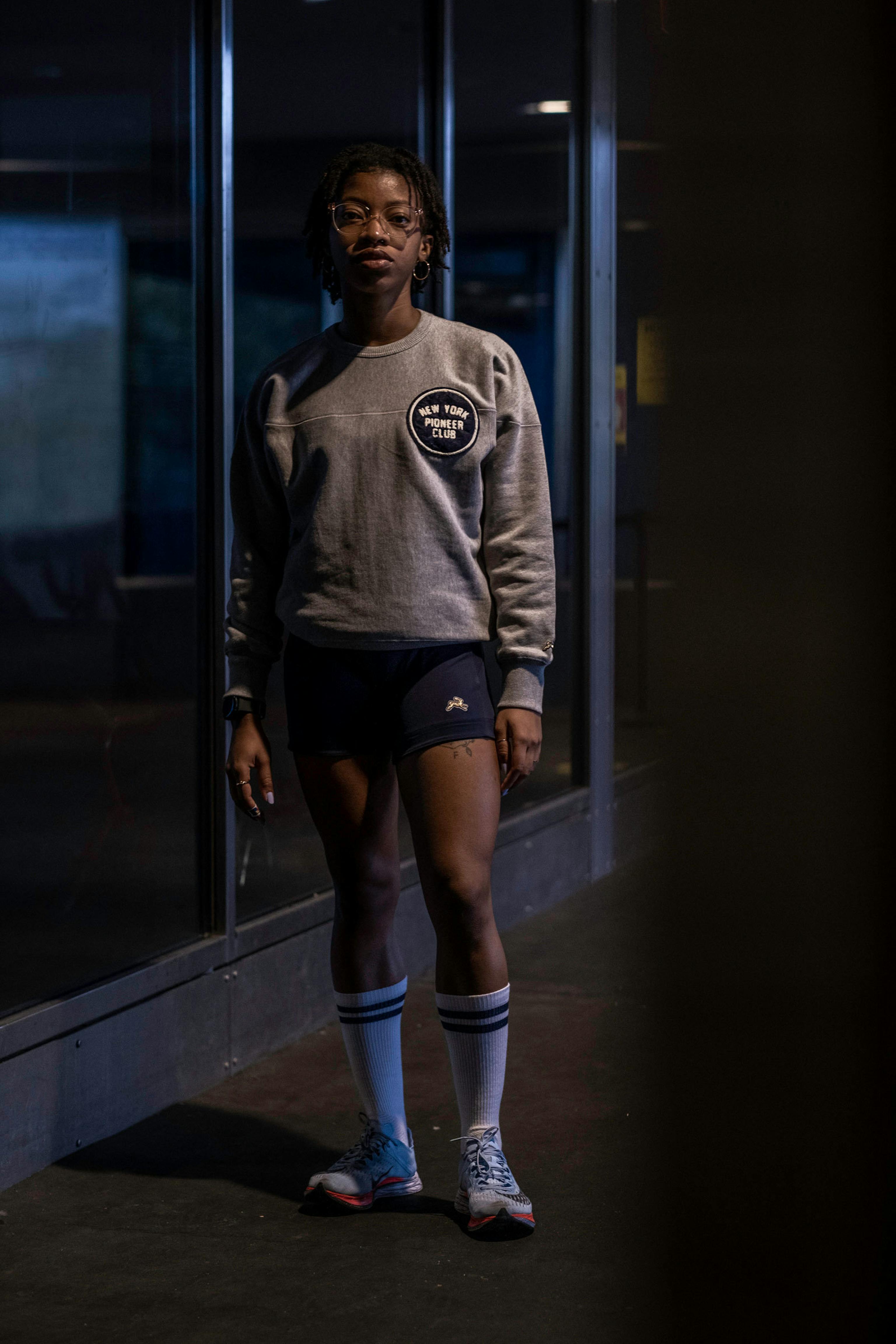 The Creator
Ted Corbitt has been called the "spiritual elder of the modern running clan" and the father of long distance running. The first Black athlete to compete in the Olympic Marathon for the United States, he was the co-founder and president of the New York Road Runners and instrumental in creating the course measurement standards we rely on today. The New York Pioneer Club athlete and physical therapist, he completed four 300-mile training weeks while working full time, averaging 44.6 miles a day, and set several American records. His consistency and longevity were astounding, running over 1000 miles in one month at age 50 and walking 300 miles in six day at age 82.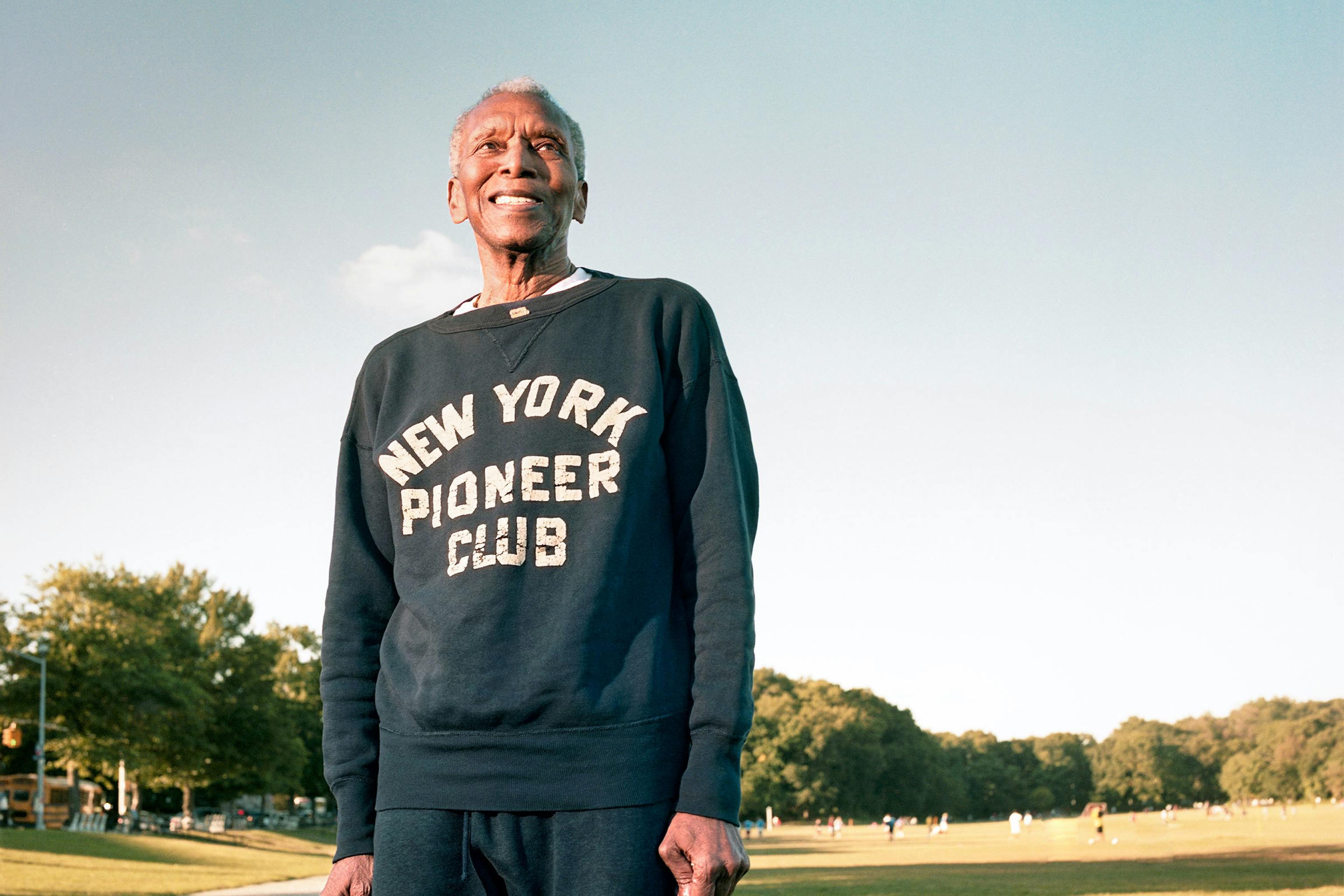 New York
Pioneer Club
Founded in 1936 in Harlem, NY by three Black athletes –Joseph J. Yancey, Robert Douglas and William Culbreath– the Pioneer Club's mission was "to support, encourage, and advance athletics among youth of the New York Metropolitan district, regardless of Race, Color or Creed. To encourage and further the ambition of our youth for higher education that they might become intelligent, civic – minded citizens, and to work toward a better racial understanding through the medium of education and sports." Ted Corbitt became a member of the nation's first integrated running club in 1947, joining a group of championship athletes across a wide-range of disciplines from track and field to ultra-marathoning, including Olympians Bob Beamon, John Carlos, Elliott Denman, Meredith Gourdine, Byron LaBeach, Gordon McKenzie, Oscar Moore and Reggie Pearman. As Corbitt's son Gary notes, "the Pioneer Club was special; an integrated club made up all nationalities and abilities. The NYPC was making civil rights history in Harlem and the Bronx during an era of racial segregation. The beauty and genius of Mr. Yancey was coaching an athletic team that was a vehicle for his primary mission of building men of character."