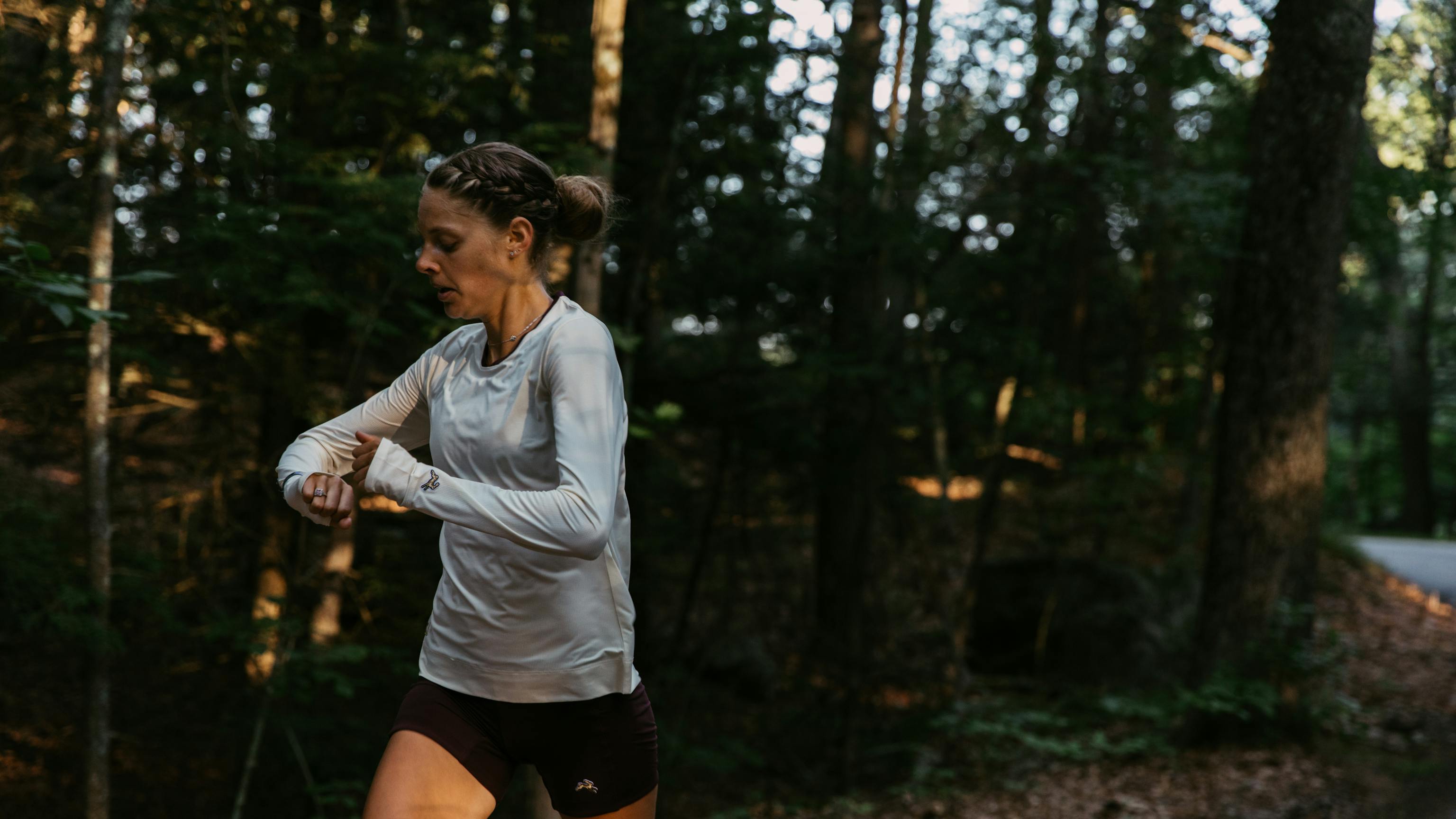 Passing the Baton:
Sam Roecker and Jess Anderson, the Fastest Nurses in the World.
WORDS BY SHERIDAN WILBUR


PHOTOGRAPHY BY EMILY MAYE, JASON AYR AND ANDY WATERMAN


British nurse Jess Anderson currently holds the World Record Holder for the fastest marathon in scrubs. Her run, and the controversy around it (The Guiness Book of World Records believed she should have worn a comedy nurse's outfit to achieve the record) helped inspire Sam Roecker, a Penn nurse and 2:29 marathoner to take on the record in the service of a good cause, a charity that supports nurses' mental health. We facilitated a conversation between the pair and asked them to compare their experiences in nursing, the burden of the pandemic, and running.
Can you both start off by talking about nursing as a career and the specific role you have? What does being a nurse mean to you?
Jess: I work currently in the Plastic Surgery and Trauma unit in Glasgow, Scotland. Previously I worked 10 years in Medical Admissions in a managerial position. That was where I worked during the pandemic. I'm glad to have a break from that side of it, to not have to think about staffing levels. I'm learning something new. I've never worked in surgery before. That refreshed me a lot and reset my interest in nursing. I'm much more patient-focused.
Sam: Managers were in a rough spot in the end. Hopefully you got out before Omicron and the real staffing shortages. I work in outpatient surgery and in an ENT (Ears, nose, throat) clinic for two sinus skull base surgeons. I was fortunate to never be at the bedside. We do office procedures and I see their patients pre op and post op. I'd never really be able to go anywhere else with these specific skills.
Jess: It's the opposite for me. I was so general in acute medicine. I never thought, 'I know what I want to do, I know what I want to specialize in.' With my new role, I'm learning a lot about specialists. It's been a good change.
Sam: I applied only to outpatient jobs because of my lifestyle with running, then liked the team at this particular place. People would ask me, 'Did you know you wanted to specialize in the sinuses for nursing?' No, I've always been passionate about nursing but I didn't know I wanted to look up people's noses.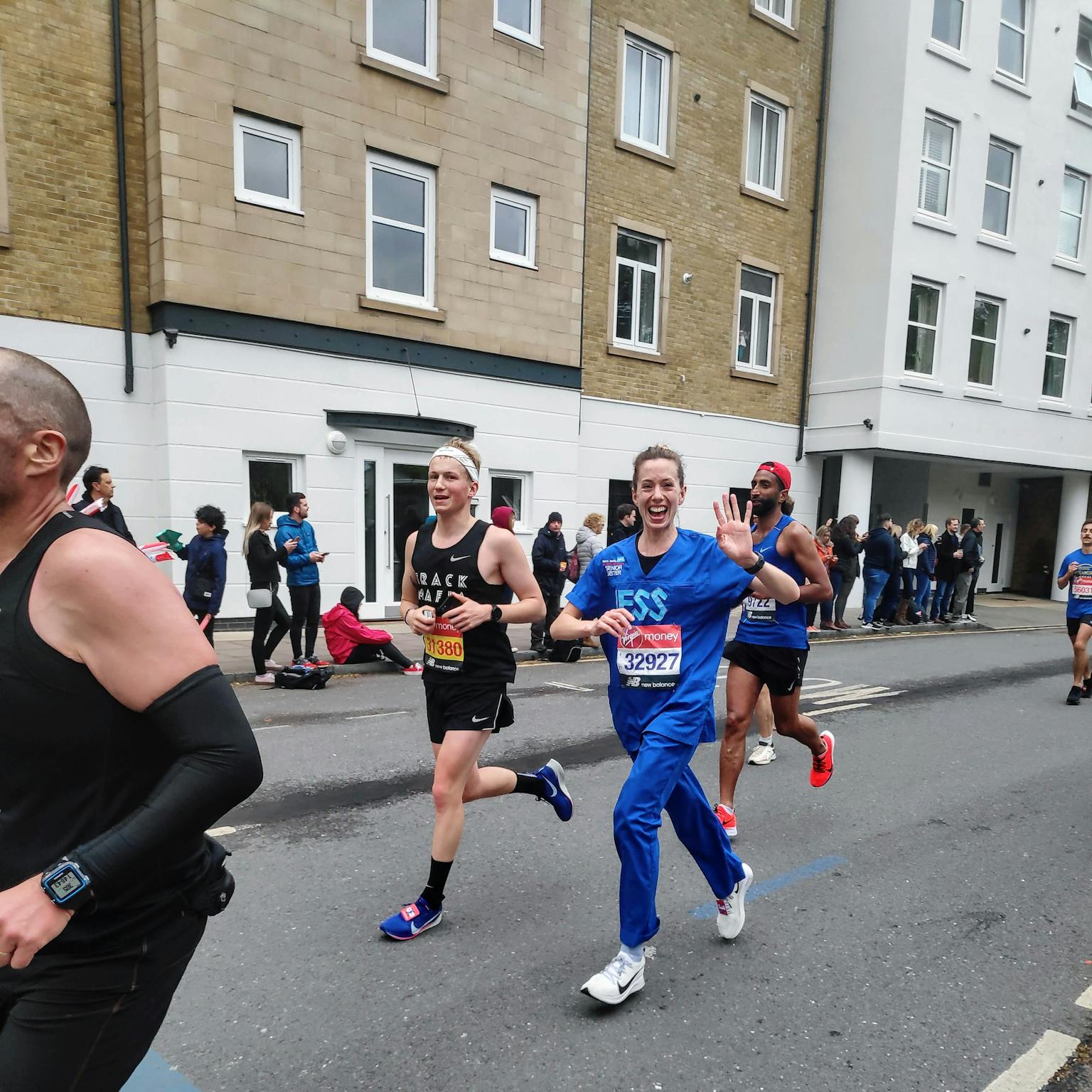 What does a typical day look like for you both with training and working?
Jess: In that job, I did day shifts. I would start at 7:30 a.m. and run to work. I found it easier to do the bulk of easy runs as run commutes. It actually gives me more energy and we had showers at work. The shifts on the floor started at 8 a.m. We'd have a daily meeting at 11:30 a.m. to discuss the patients and set the schedule with the doctors, physiotherapists, occupational therapists, and social workers. We'd have a wrap up meeting at 3 p.m. In between that, you'd check in on staffing, getting involved with certain patients, trying to make sure people went for breaks. We'd finish at 5:30 p.m. I would do a track session every Thursday night with a group and long runs on the weekend. I'm doing a fraction of the running now I was doing then…
Do you ever track how many steps you take during a shift to see how much extra training you put on your body?
Jess: I average 12,000 steps without running. Because I've taken a break from running, it feels strange to look back and think how much you must be really in the thick of it now, Sam. When you stop, it's going to seem quite crazy, how you managed to fit it all in.
Sam: I wish I could run to work. We don't have a shower there. But I only live a mile away, so it's not that bad. I usually run before going in. My day can be busy with 70 back-to-back cases. I'll usually start my run within a couple minutes of getting home if I'm feeling motivated. I'll do easier runs on the days that are a lot at work. I'll pick a day during the week that's not as stressful to do a workout or a harder run. I try to get in a long run on the weekends. Figuring out what feels the best when you put a lot of time on your feet already was a whole learning experience.My Garmin keeps track steps If I have a high mileage day and it's a Tuesday, which is my crazy clinic day, I can sometimes get to 50,000 steps. It's crazy.
What is your goal for Boston Sam? You've run 2:29 before and competed in the Olympic Trials. Now, you're racing in scrubs, which is not exactly a performance enhancing kit.
Sam: I have to thank you Jess. I read your Runner's World article in 2019 and that's how I knew this record existed. Your story changed how the world views what the modern nurse actually wears. That was awesome. It was funny because the nurses I follow on Instagram were posting about you, and the runners were posting about you. How I came to want to try to break the record, is I have a close friend who worked in a baby nursery her whole life in New York City. She didn't feel like she was doing enough, so she went to an inner city hospital. When COVID hit, they transferred her to an adult inpatient ICU with COVID patients. It was rough. She suffered anxiety, depression, PTSD, and is struggling going through some of the darkest holds. I was trying to help her find resources. Obviously a lot of people are experiencing trauma from that and there aren't a lot of resources, it's so expensive. That pissed me off. I remembered that you did this and thought I could try this for a foundation that supports mental health workers.

Jess: Well, I'm really happy that you are doing it and using that spotlight for another great cause. I don't think it's such a big thing in the States, but in the UK, the Guinness World Records are a big deal. At the London Marathon, loads of people dress up to get records and they have official spotters on the course to verify your record.
Sam: I submitted an application to the Guinness World Record. I don't even think I've heard from them.
Jess: Some of the records are silly, like wearing a lumberjack costume, but they tried to say about the nursing one, 'Oh no, you have to wear the dress and the hat, like a comedy outfit.' The comparison I made to them was, 'Well, your record for doing it as a fireman, a more traditionally a male associated job, is that you have to wear the real firefighter equipment. How could you say one profession, 'Wear a comedy version of it,' and then another, 'You have to wear the real thing?' That was my rationale for disagreeing with them. It wasn't until it went in the press that they reconsidered the rules.
How did you come up with the idea? Were you the first person to run and get this record in scrubs?
Jess: The record existed before, and then I got a spot in the London Marathon. I don't know why I looked up the record, but Guinness in London is more of a thing. I saw that the record was close to my time I'd done in New York. I thought it would be nice to raise funds for my charity, which is based at my hospital and the group of hospitals at the time. Because of the publicity, I raised about 10 times what I probably would've without it. So there were people contributing from all over the world. It was great.
As somebody who has already raced in scrubs, do you have any advice for Sam?
Jess: I was lucky with the weather conditions. It was not warm, but it wasn't rainy. If it was either, it would've been a lot harder. Obviously we wear scrubs every day, but practice running in them, so you're used to it. I used a lot of chafe cream and wore shorts underneath the trousers. Boston can be very unpredictable for weather conditions. I'm praying that it's good conditions for you.
Sam: The weather is what it is in Boston! I'll be wearing them. Luckily the huge thing now is jogger scrubs.
Are jogger scrubs cotton or is the material different?
Sam: The ones I have are polyester, so they're nice running pants as long as it's not too warm.
What are you most looking forward to next weekend in Boston, Sam?
Sam: I'm looking forward to just being there and focusing on race. I've been so busy. I can't wait to get there and be around runners in a running environment and away from school or work. I'm excited to only have to think about that and the race. That race is so unexpected. It's gonna be amazing.
Jess: Even in London when Guiness is so big, and it wasn't a public thing before I did the race, I felt like I got extra support. People notice what you're wearing. It'll be emotional.
Sam: I hope I can represent well.
Help Sam reach her fundraising goal with the American Nurses Foundation here.