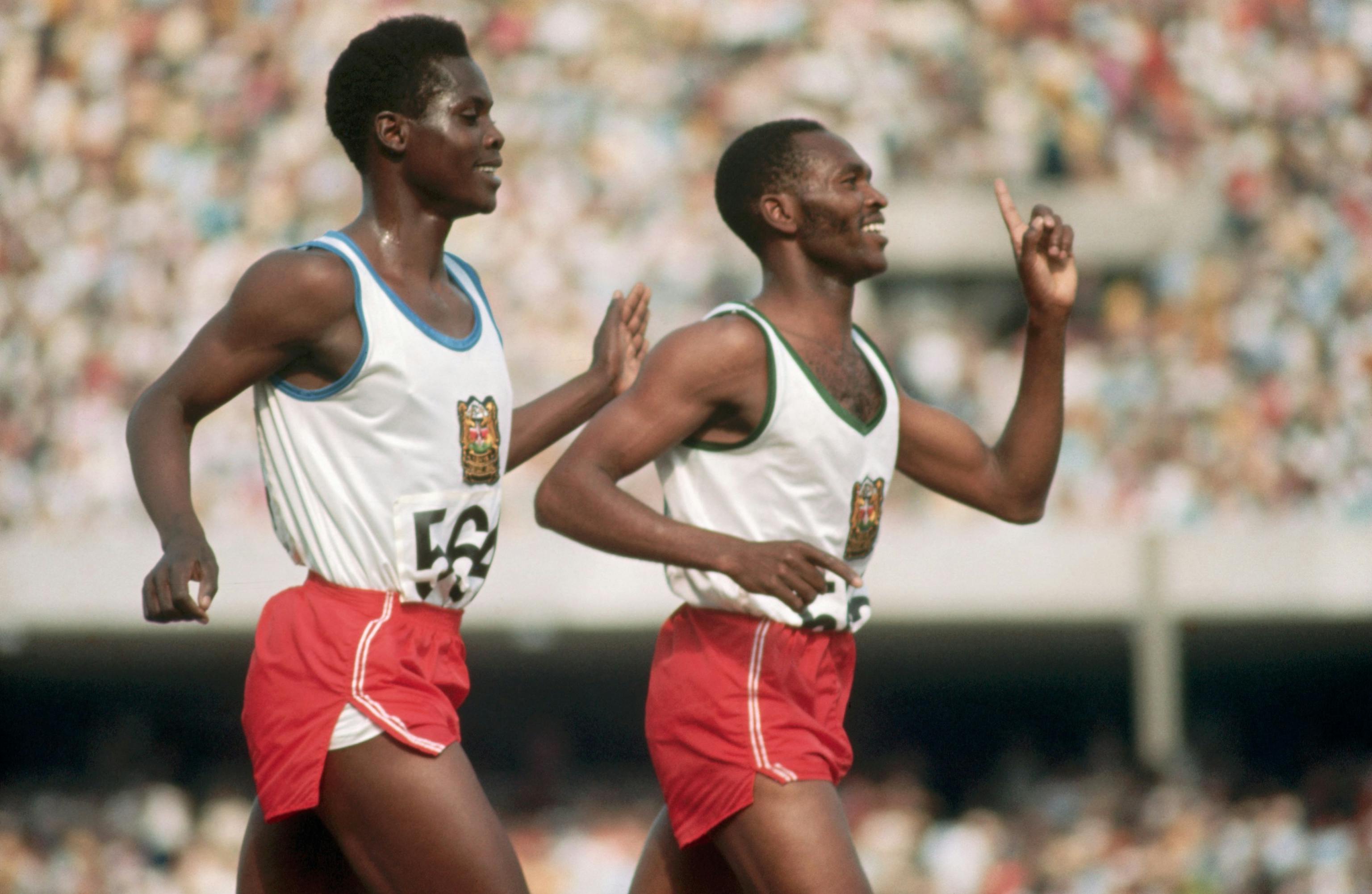 The First Kipchoge:
When the Tide Turned
Words by Sarah Gearhart
Kip Keino's 1500m gold medal performance at the 1968 Summer Olympics in Mexico City put Kenya athletics on the map after he outpaced American world record holder Jim Ryun. Ever since, generations of Keino's countrymen have continued Kenya's reputation as world-dominant middle- and long-distance contenders.
Mexico City pokes 2,200m above sea level, the equivalent of 7,200ft . The high altitude is comparable to Kenya's Rift Valley, which hits upwards of 2,600m (8,530ft). Running is naturally more torturous in either environment than it would be at sea level. Thinner air can feel like a controlled grip around your lungs, mercilessly robbing your breath. Kipchoge Keino knew no different. He embraced the challenge, over and over and over again in preparation to compete in the 1500m, 5000m and 10,000m at the 1968 Olympics in Mexico City.

Keino's journey from penniless amateur to Olympian stems from humble origins. Born near a granary, as his Kalenjin name "Kipchoge" implies, in Kipsamo of Nandi Hills, he grew up in a mud hut, absent of electricity and running water, in company with his sister and the grandmother who raised them. Keino's parents died when he was young.
Keino's country upbringing was coupled with goats that he herded when he wasn't running barefoot four miles each way to school. Sometimes he'd tallying as many as 16-miles in a day if he came home for lunch. "A normal African life," he says.
When Keino finished secondary school, he joined the Kenyan Police Force as a physical training instructor, an opportunity that allowed him to work, run, and play rugby on the side. Keino's natural athleticism and long legs caught the eye of British coach John Velzian, then the head of sports activities at the police force, who first spotted him running a mile on a grass track.
It wasn't until 1962 when Keino made his international running debut at the Commonwealth Games in Perth, Australia. Keino clocked 4:07 in the mile, good enough for fifth place.
Two years later, Keino stood on the start line at the 1964 Tokyo Olympics ready to race his way out of a qualifying round and into the 1500m final. He narrowly missed his chance. But four years later he was ready to release his improved athleticism during the matchup in Mexico City against "America's Golden Boy" Jim Ryun, the first high schooler in the U.S. to run a sub-4 mile.
The rivals competed against each other several times prior to arriving in Mexico City. They first met on the start line for the mile at the 1967 Los Angeles Coliseum Relays, where Ryun set an American record, and Keino, relaxed and waving to the crowd, finished third. On every occasion of Ryun versus Keino, the American would outkick the Kenyan using his powerful sprint.
The tide would turn in Mexico City.
These Olympics were controversial even before the opening ceremony on October 12, 1968. The first Games staged in Latin America were also the most politically charged since the 1936 Berlin Olympics. Protests disrupted the city over the Mexican government's use of funds being filtered to the Olympics instead of for social programs. Just 10 days prior to the start of the Games, more than 200 protesters died and 1,000 more were injured.
Awarding Mexico City the opportunity to host the Games had also been subject to controversy due to the city's high altitude. Back in those days, high altitude training wasn't the desirable advantage it has since become. Ryun admitted he knew little about Mexico City's elevation, nearly on par with the environment Keino was born, raised and naturally trained in. The Western consensus at the time was that the high altitude would be more of a psychological issue than physical.
Ryun's brief exposure during a 1500m time trial in Alamosa, Colorado, elevation 3,000m, pushed his breath and paused him after just 600m. "I realized that Mexico City was going to be no fun," he told a filmmaker.
Back in Kenya, Keino was repeatedly hustling uphill in Nyahururu, elevation 2,300m, where he would outrun training partners who reportedly could only withstand one rep. Intervals became a key training method under Charles Mukora, head coach of the Kenyan Olympic Team at the time. The upside of high altitude training is increased production of the hormone erythropoietin, meaning a natural boost of more red blood cells that aid in oxygen delivery to muscles. Combined with mental fortitude, the competitive edge can no doubt become advantageous.
When Keino, then 27, showed up in Mexico City well prepared in Mukora's eyes, he added to the 5,500 total athletes, collectively representing 112 countries that took part in these Olympics. Prior to Keino and Ryun's parallel lives colliding during the 1500m final in Mexico City, no Kenyan had ever placed among the top three in that distance at any Olympics. Race favorite Ryun held the world record (3:33.1, achieved at the USA vs. Commonwealth meet in Los Angeles). Keino entered the Games with world records in the 3000m and 5000m. The 1500m was the most anticipated track and field event at these Games.
"I knew he had a very good kick. That's the only thing I knew," said Keino in an ESPN documentary, referring to Ryun's characteristic sprint.
Keino had already competed in the 10,000m, keeling over with two laps remaining due to stomach pains, but he followed the disappointing DNF by earning a silver medal in the 5000m four days later.
After qualifying out of round one and the event's semi-finals, the final was held on a Sunday afternoon at the Estadio Olimpico Universitario on its synthetic all-weather track. Just before the start of the race though Keino was nowhere to be seen. Instead of warming up in the vicinity of his 11 other competitors, he was running roughly two kilometers to the stadium after the bus he rode got stuck in traffic.
A doctor had advised Keino not to compete due to a gallbladder infection. Keino, of course, refused to miss the opportunity. "I'm going to run, because I came here to run," he had told his coach, insisting that his name not be withdrawn from the 1500m final.
Runners were being called to the start line by the time Keino arrived. The race unfolded with Kenyan Ben Jipcho leading from the gun. Keino, wearing bib 565, pulled up on the outside of lane one, shadowing Harald Norpoth of West Germany. Jipcho lapped the track in 56s, a "suicidal" pace, described a broadcaster. Keino remained behind Norpoth on lap two, while Ryun trailed by a few seconds behind.
"Clearly this is team running by the Kenyans designed to produce a gold medal for Keino," commented a sports broadcaster.
By the look of his outstretched lanky legs navigating on the track, it wasn't obvious that Keino was in serious pain as he clocked 1:55 mid-race. Ryun was in eighth as the pace escalated inside a potential world record. By now, 40yds separated front runner Jipcho from the last man remaining. Jipcho dropped off from playing rabbit and Keino slipped into the lead; Germans Norpoth and Bodo Tümmler held second and third position.
Ryun managed to close his gap to 25yds behind No.1 Keino just shy of the bell lap. Keino remained in front with 300yds to finish. As Ryun accelerated, he surpassed the Germans. With 200m left, he'd caught up to second. But by now, Keino was too far ahead for Ryun – or anyone else – to chase down. Keino sprinted across the finish line first, 2m ahead of Ryun. Keino smiled as he waved to the crowd. His 3:34.91 set an Olympic record that would stand for 16 years.
Keino's effort was considered one of the greatest upsets in athletics. His performance contributed to Kenya's three golds – earnings by Naftali Temu (10,000m) and Amos Biwott (3,000m steeplechase). Collectively, the East African nations of Kenya and Ethiopia amassed 13 medals at the Mexico City Olympics. An era of dominance had begun.