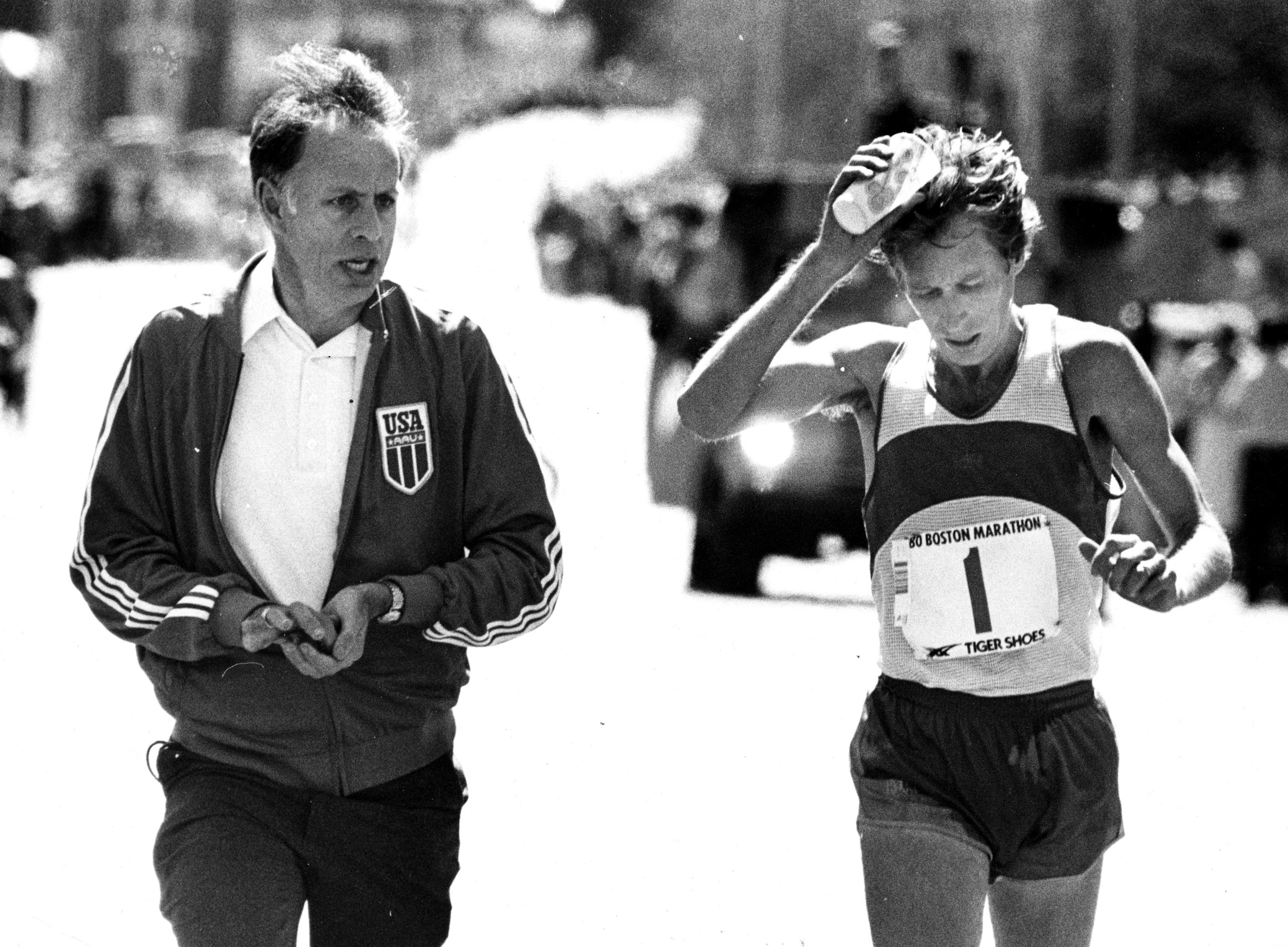 Bill Squires and the
Greater Boston Track Club
Words by Paul Clerici
Photography from Getty Images
During the early stages of the 1970s running boom, a group of athletically ambitious young Bostonians began to think about how they might excel beyond graduation. They decided to form a club.
They called themselves the Greater Boston Track Club (GBTC), and their meteoric rampages, first on the track and then on the roads, laid the groundwork for the future success of some of America's greatest ever distance runners and even for the sport itself.
Formation
On August 16, 1973, legend has it that Boston College's 4-minute-miler and New England champion Jack McDonald formed GBTC with Charlie Diehl, Dave Elliott, Dick Mahoney, Kirk Pfrangle, Don Ricciato, Bob Sevene, track official Chris Lane, and coaches John Pistone, Billy Smith, and Bill Squires. The main impetus was track. "That's why we did it," McDonald explains, "because the other clubs were totally distance. The distance guys would do the mile and two-mile or the 10K. But there were no hurdles, no high jump - none of that stuff. That's why we started the Greater Boston Track Club, because we wanted track and field."
As head coach, Squires assessed the assembled and realized where the initial success, upon which he would build, could be found. "The club wasn't so much a distance running club in the beginning; it was more of an all-inclusive club with sprinters, hurdlers, and middle-distance runners as well," he says. "The club was made up of athletes looking to further advance their running goals in a team atmosphere."
Squires was an Arlington High School state champion and a University of Notre Dame All-American runner who by the time of GBTC, had already established himself as an innovative coach. He won state titles at high school and collegiate levels with his proven group training and race simulations.
"I liked to play around with training techniques; surprise my athletes; make any situation as fun as it was competitive," Squires says of his approach. "Whatever the exact race situation was going to be - whether on the track, cross-country, or roads - I wanted my athletes to be prepared. I believed in moderation on the track, and that a coach needs to control where and when his athletes race. Above all, I believed in the importance of belief in oneself and in the courage to think big. As the stable of horses grew in the late 1970s, every athlete - whether put in the A, B, or C group - went above and beyond their expectations. This was achieved because each runner believed he could make it to the next level, and thus personal records were constantly achieved."
Sevene, who himself became a coach of Olympians, as a runner had recognized and appreciated the training scheme. "Bill Squires helped create structure and set goals for the group as a whole. The dynamic of a group with the same goals, motivation, and desire for excellence created great chemistry." Mark Duggan adds, "That's where Squires was really good. Going to a race with a strategy, either to win because the race was important for one reason or another - it was a New England championship, it was points for a team - you had a strategy, for the most part, going in."
Club success was immediate. About 10 weeks after it formed, GBTC won the first race in which it competed - the 1973 National AAU 20K Championship in Gloucester, Mass. That win was the first of nine straight titles. The club also dominated many of the relays, sometimes fielding more than one team at a time due to their depth. "Shortly after the success of the two-mile relay," notes Ricciato, "the club was attracting some of the best post-collegiate runners in the New England area."
One of the early foundational goals Squires set was the coveted National AAU Senior Men's Cross-Country 10,000m Championship, in which they first competed in 1975 and finished seventh. After a ninth-place in 1976 and third in 1977 and 1978, it was becoming an elusive title that Squires began to think would slip away as shoe companies cannibalized clubs for athletes to represent their wares.
"I kind of think they knew it was going to be the end," says Squires of the impending decimation of clubs. "These were all stars and it had taken me almost four years, picking up one or two kids per year. This was it!"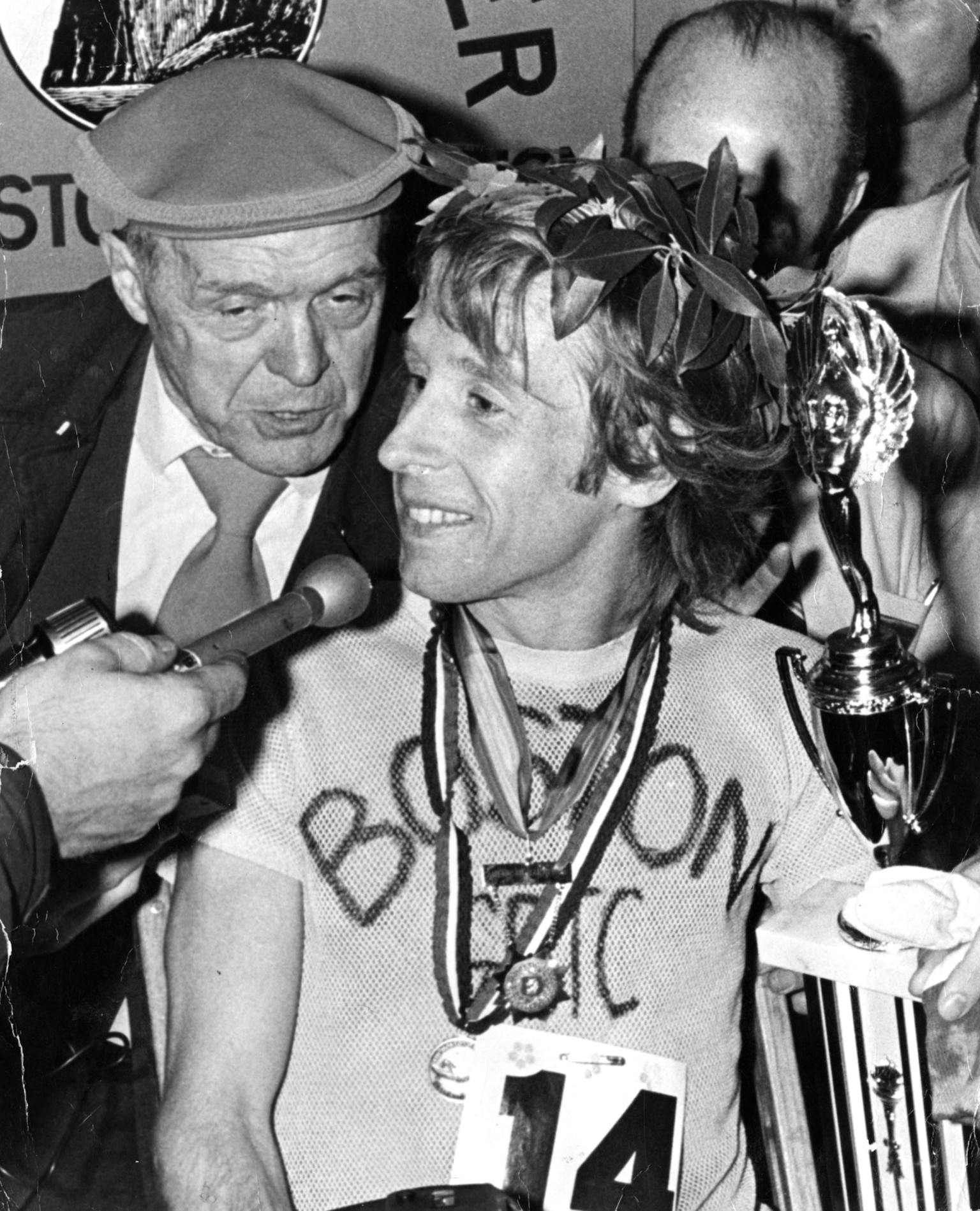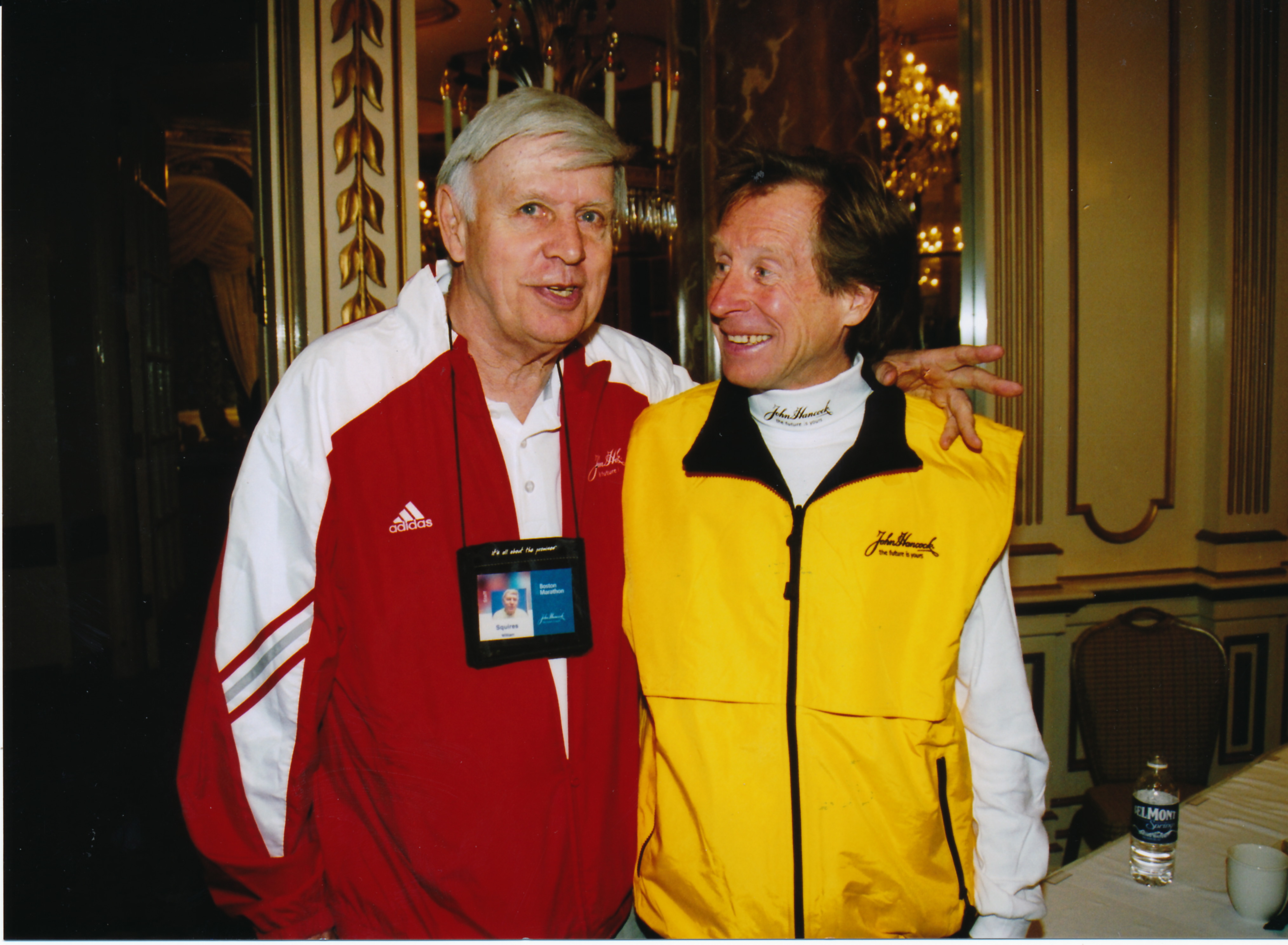 Bill Rodgers and Coach Bill Squires
By the time of the 1979 title meet, in Raleigh, North Carolina, the GBTC stars had indeed aligned. In a meet-record-low 26 points, they steamrolled the 400-plus field of 20 clubs with finishers in first (Alberto Salazar, 30:27.8), third (Bob Hodge, 30:52.6), fourth (Dan Dillon, 30:56.6), fifth (Greg Meyer, 31:01.9), and 12th (Randy Thomas, 31:23.9), beating the likes of Herb Lindsay (second, 30:48), Duncan Macdonald (sixth, 31:05), and Steve Scott (seventh, 31:06). GBTC was so packed that non-point-getters included Bruce Bickford, Bill Okerman, Paul Oparowski, and Pete Pfitzinger.
"The 1979 championship was a highlight. It was exciting to win a team championship with all my old friends from Boston," says Salazar, who joined GBTC as a local Wayland High School student runner. "They were very friendly and took me under their wings, so I felt welcomed by the runners and by Coach Squires. He put me in a group that I was ready to run with on any particular day, but by the second year, I was running the same workouts as the top runners."
To put the national achievement into perspective, Sub-4 Track Club came in second with 179 points. "We were lucky that that year Salazar came and ran for our club," Meyer says. "I was the national champ the year before and I was the fourth man on the team and fifth place in the race! To me, in terms of a show of force, at a period of time when the club system across the country was strong - Atlanta, Club Northwest, Colorado Track Club - and you get these guys together and you score 26 points? We kicked their asses!"
But for all that success, GBTC's earliest, most well-known, impact on running - at least in the public eye - was seen via its televised long-distance performances. Twenty months into its life, GBTC was thrust upon the public radar when for just under two hours and 10 minutes, spectators, television viewers, and the running media alike, watched Bill Rodgers run the 1975 Boston Marathon in a victorious 2:09:55. The 27-year-old New Englander set a course and American record, all the while donning a personalized club shirt.
"My racing singlet from 1975," Rodgers explains, "I recall having found it in a trash bin on a run. My wife at the time, Ellen, wrote BOSTON, with GBTC in big letters underneath, with Magic Marker dark ink so folks could see I was a local boy and might cheer for me."
In addition to Rodgers' win, the world also witnessed GBTC's national wheelchair champion Bob Hall cross the line in victory, setting the stage for future generations of push-rim categories and athletes. His ascension matched that of other GBTC members, all of whom trained equally. "We had all different workouts based on fitness level and distance; trying to achieve [your] best performance. We were all one and equal," says Hall. "Bill Rodgers and I enjoyed the camaraderie on and off the track, especially participating in races and [socializing at the runner hangout] the Eliot Lounge."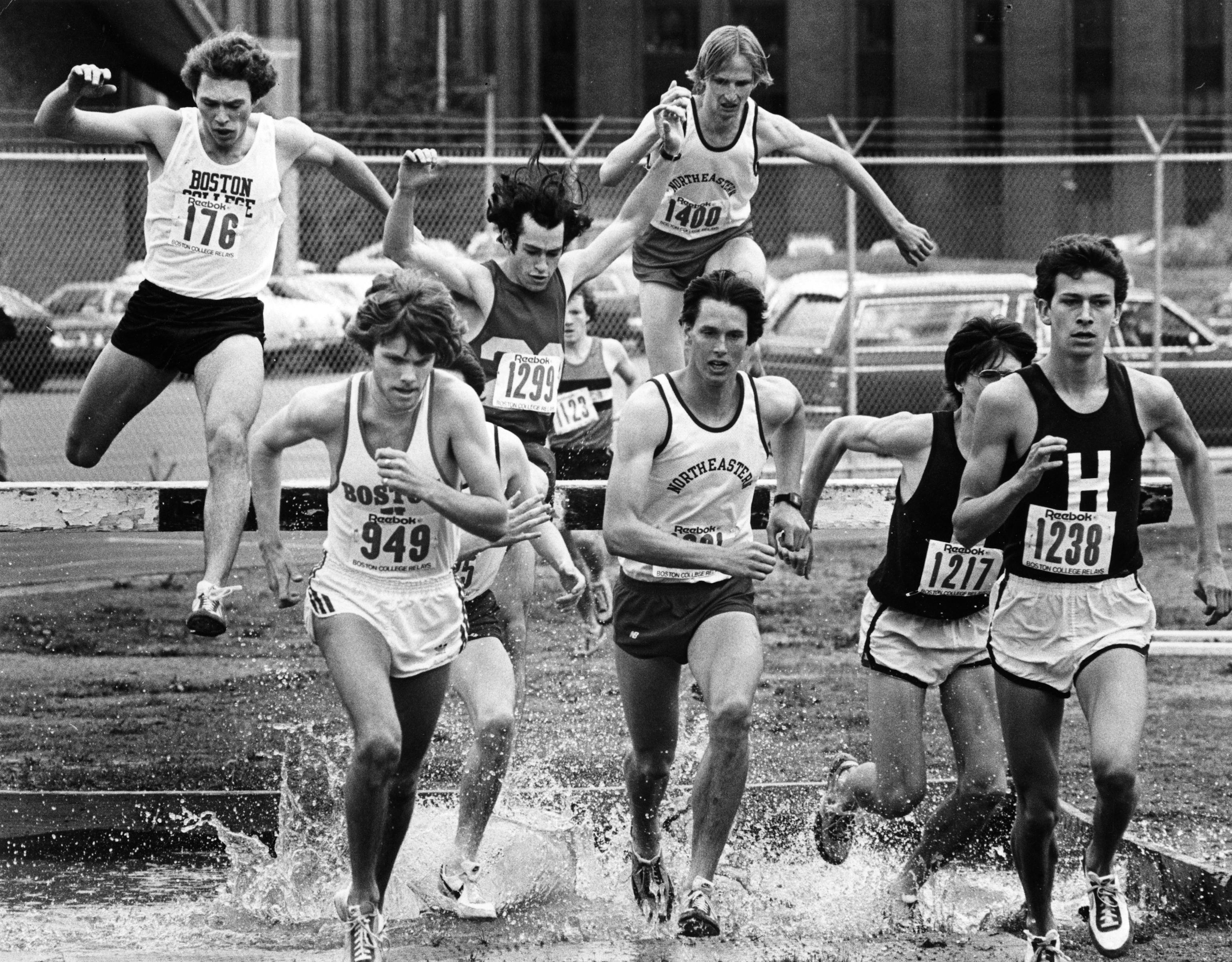 For the Boston Marathon alone, Squires-coached runners and wheelchair athletes - GBTC and non-GBTC - accounted for nine wins, five champions, and two team titles, between 1975 and 1983.
In the years following the passage of Title IX of the Education Amendments of 1972 (equal federal funding for male and female sports) and the AAU's incremental allowance of women in its long-distance races, GBTC began to see an increase in interested - and talented - women who sought out proper coaching, running, and racing.
One of the first women-only races in which the club competed was the 1979 New England AAU 15K Women's Road Racing Championship, in Wellesley, Mass. GBTC came in third, with point-getters Linda Lecoq at 1:01:57 (10th overall, 3rd age group, sixth AAU), Mary Ann Bray (17th, 1:03:27), and Margaret Champion (19th, 1:04:22), along with Diana Dickinson, Pam Duckworth, Frannie Fisher, Norma Ligor, Sandy Miller, and Lori Sparks. At the GBTC/Etonic co-sponsored 1980 Etonic/New England The Athletics Congress Women's 25K Road Racing Championship, in Sudbury, Mass., also known as "The Wonder Woman 25K," GBTC had enough runners to field two teams - GBTC A (Bray, Cynthia Hastings, Francine DeGrande), which finished third; and GBTC B (Bridgette Huber, Duckworth, Fisher), in fifth.
"The club saw a need for a race for women only and filled the need," Hastings says of the NETAC 25K. Duckworth comments that "… there had not been a U.S. championship race at 25K for several years, so the club was very excited to have the opportunity to host the race."
GBTC athletes all trained with the work ethic - men, women, wheelchair athletes, young, old, experienced, rookies - as Squires adjusted programs based on ability. "The workouts were indeed grueling, and at times I would feel sick to my stomach all day, knowing what was in store for me that night," admits Sharon (O'Hagan) Gilligan. "But when I realized the rewards of such hard work, I kept at it."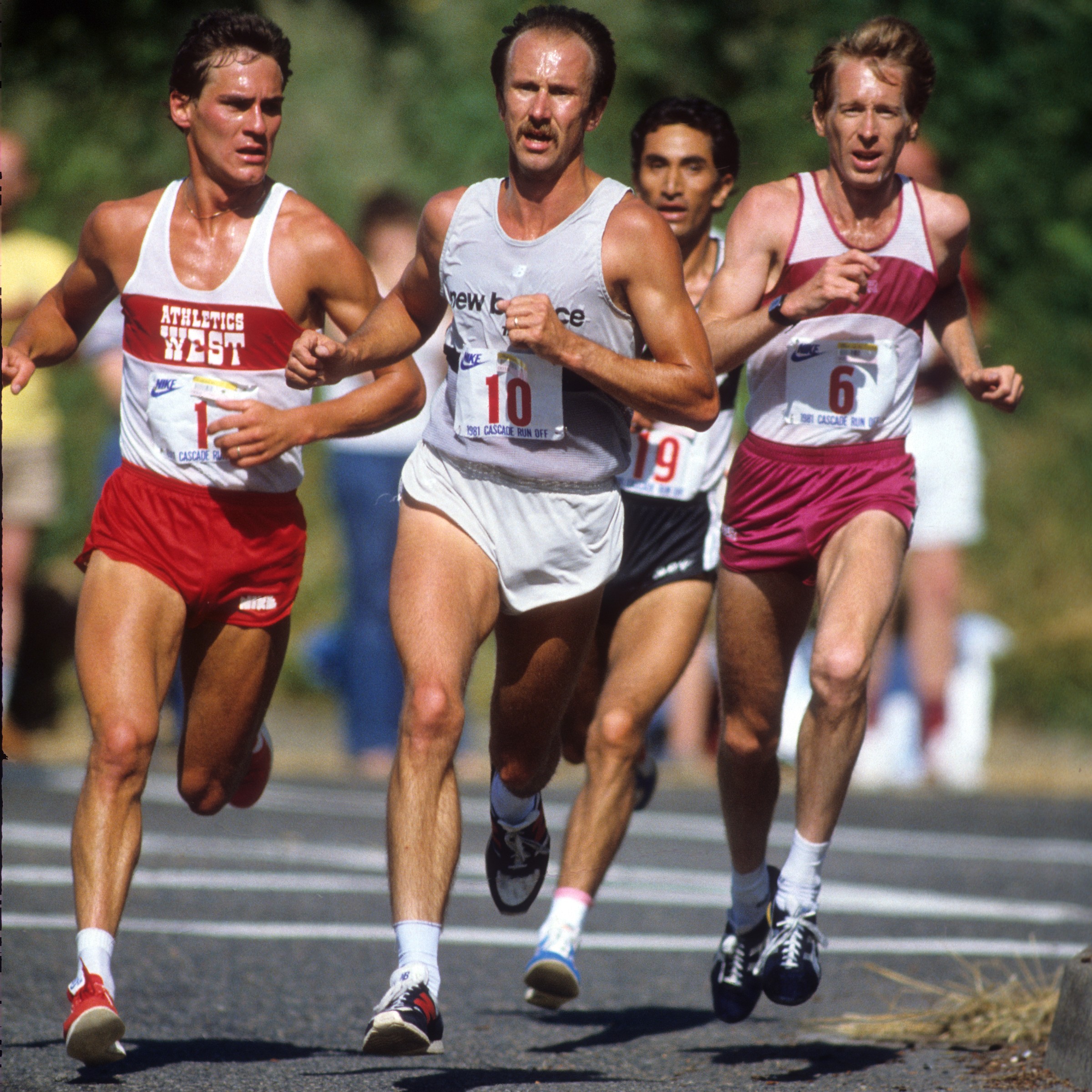 The club eventually attracted more road-racers and marathoners who dreamed big beyond the track. However, the lifeblood was still track runners, so GBTC became a club for all - track and field, road races, marathons, etc. But by the mid-1980s, it was forced to retool, restock, and reinvent itself after the shoe contract-driven departures of such marquee names as Bruce Bickford, Dan Dillon, Tim Donovan, Mark Duggan, Vinnie Fleming, Scott Graham, Dick Mahoney, Greg Meyer, Paul Okerman, Andy Palmer, Pete Pfitzinger, Mike Roche, Bill Rodgers, Alberto Salazar, Randy Thomas, and Coach Squires. Others soon followed.
"It became less about the team and the club and it became more about doing what's best for yourself and your career," says Fred Doyle. "At first, that wasn't a goal [to get a shoe contract]. The shoe companies weren't doing that. Nike would sponsor athletes, but you could run for whatever club you wanted to and wear the club jersey and their warm-ups. New Balance started giving more to the club. Then all of a sudden, they decided - coming up to 1980 - they wanted to start their own clubs. That's when the [non-shoe company] clubs started to break up."
But GBTC survived and thrived, even after the exit of so many top athletes, as well as Squires, who left in 1985 with 17 national championships, six national champions, seven American record holders, and many other accomplishments under his belt. Taking a page out of his predecessor's handbook, when he became the club's coach, Tom Derderian continued the multi-pronged approach, noting, "I decided that the club should compete in cross-country; try to win the USATF-NE championships in track, indoors and outdoors; have women's teams; go to the club nationals in cross-country and track and field." GBTC welcomed it all.
And since its inception, GBTC has won over 70 New England club track titles, more than a dozen Eastern club regional titles and runner-ups, over a dozen USATF club national championships and runner-ups, and produced numerous individual Olympians, national champions, and record holders, among many other achievements.
***
Paul Clerici is a running historian, speaker, and author of several books, including "Born to Coach: The Story of Bill Squires" (Meyer and Meyer Sport), "Images of Modern America: The Boston Marathon" (The History Press), "Boston Marathon History by the Mile" (The History Press), and "History of the Greater Boston Track Club" (The History Press).
This feature originally appeared in METER Magazine, the exclusive print publication of Hare AC.