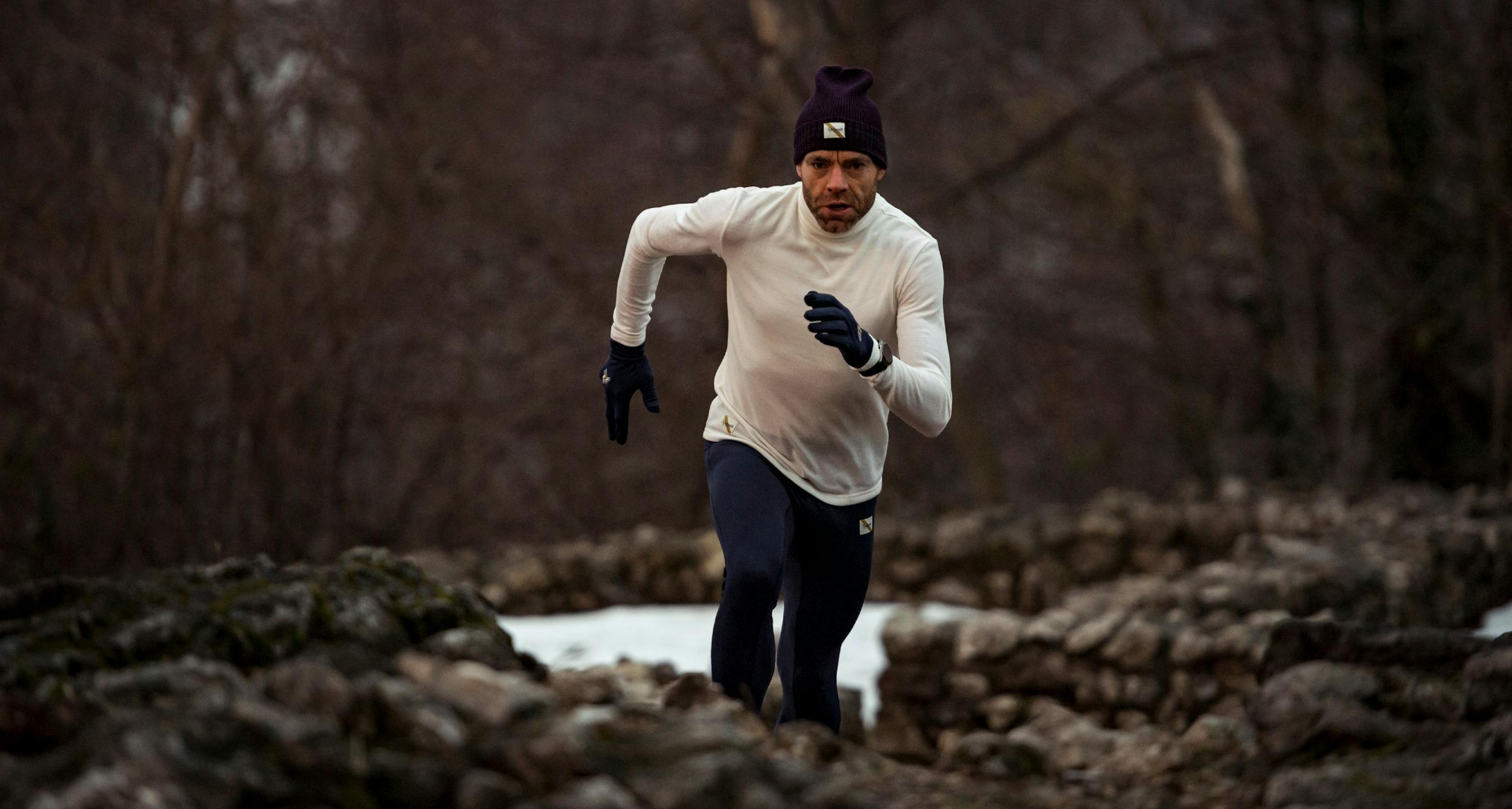 Forever
Grateful
Cadel Evans - from the Tour to the trails

Words and Photos by Emmie Collinge and Phil Gale
It's still early when the silhouette of a runner comes into view. The dark winter sky is yet to change from the deep blue of night to the warmer glow of morning, but you can see him, moving fast and smooth. Snow remains in pockets after the last dump, but the figure is untroubled by it, heading uphill towards the Swiss-Italian border. There's nothing significant about his shape or his form - nothing that marks him out as anything more than another fit, amateur runner, out to enjoy the trails before the day begins. There's certainly no suggestion that this runner once scaled the heights of international cycling, winning the Tour de France and World Championships on the road, and the World Cup in mountain biking. But that's exactly what the figure once achieved; the runner is Cadel Evans.
What many people don't know is that in the five years since retiring, this Australian cycling legend has been bitten by the running bug.
It would be easy to imagine how tens of thousands of hours of training, travel and sacrifice, pushing a tired body to the edge of human possibility would leave you a little burnt-out: jaded; weary, even; unwilling to break a sweat. But Evans is not one of those to turn their back on the routine of training, even after a long career at the top of cycling.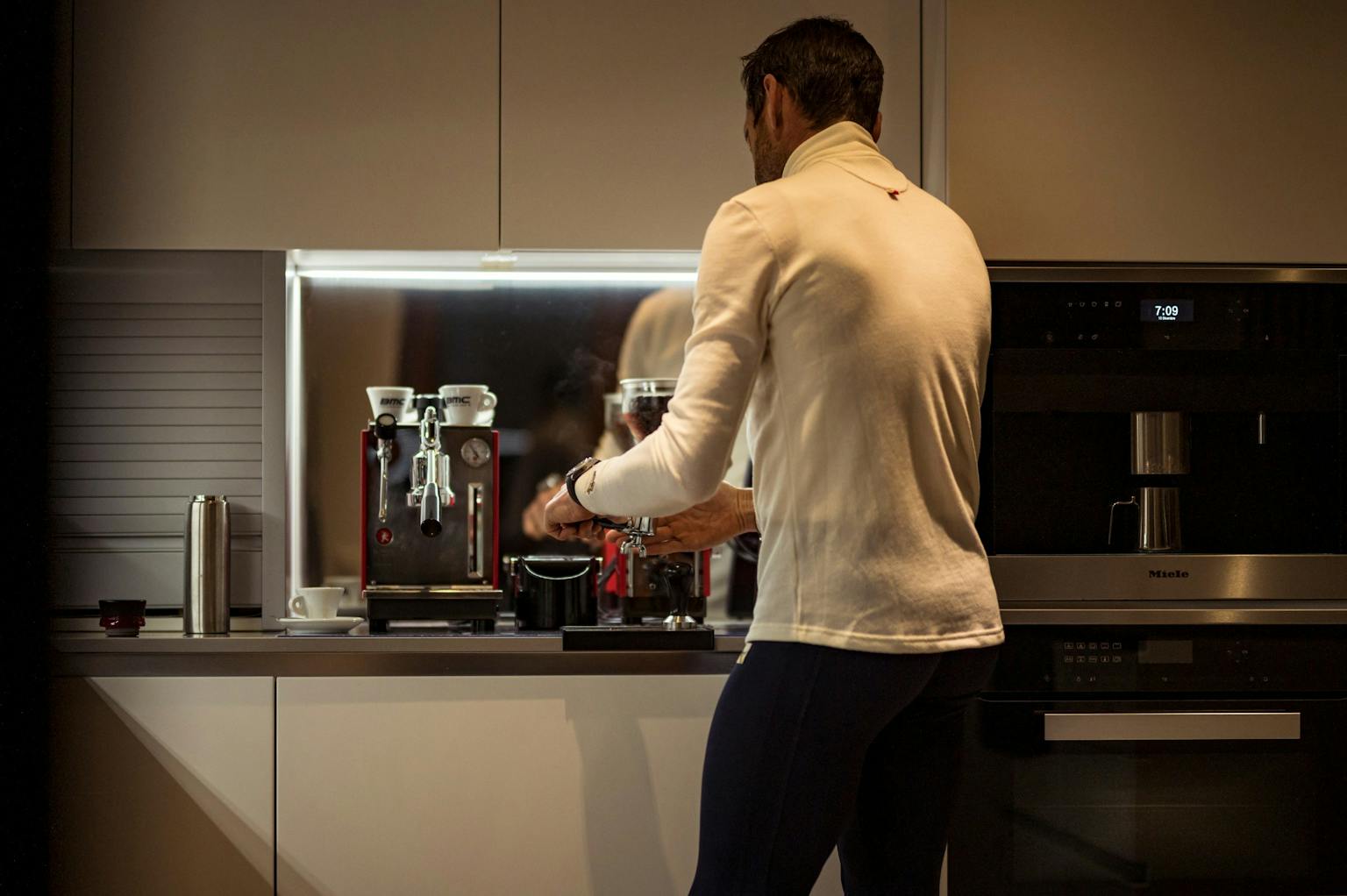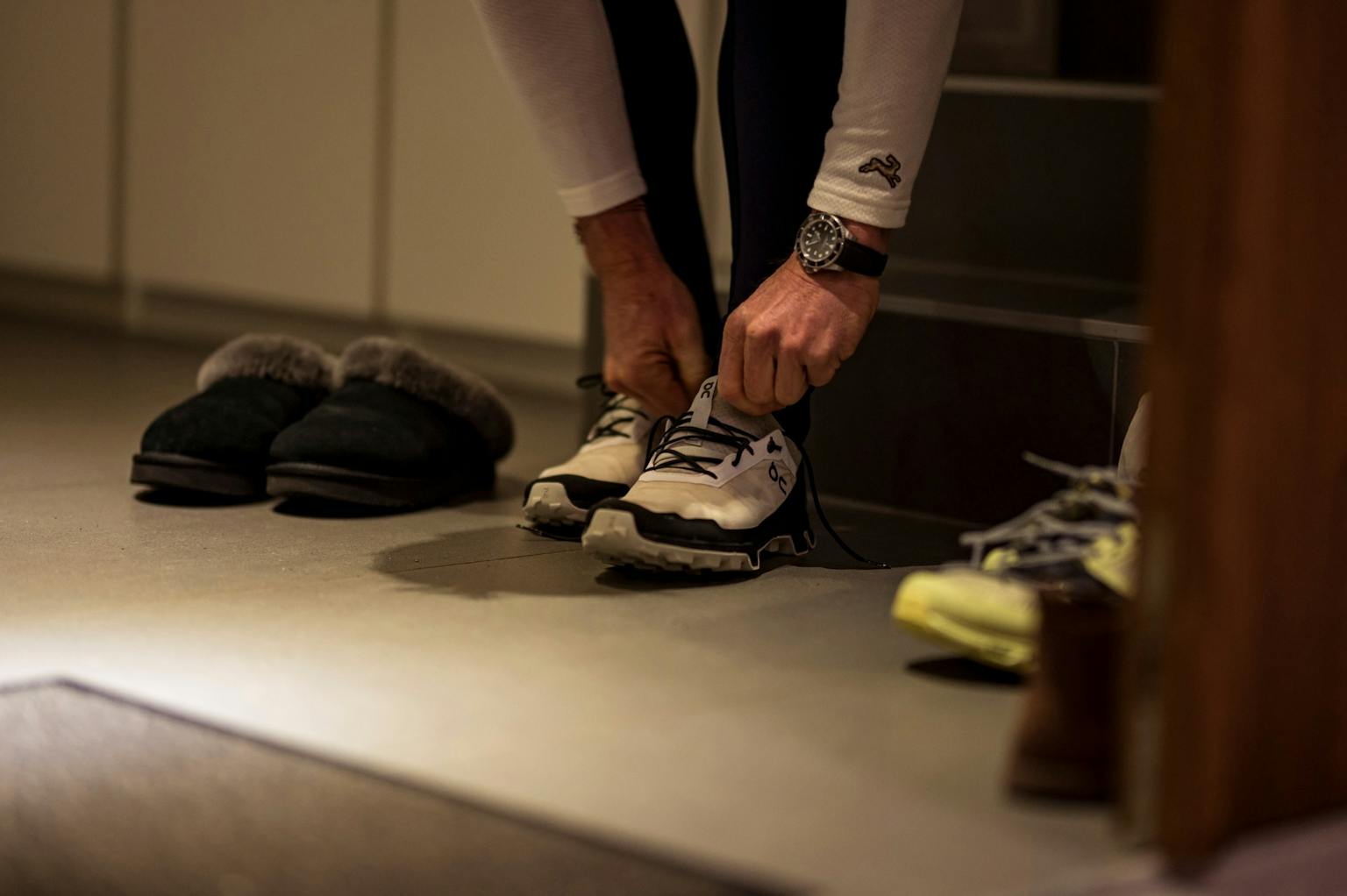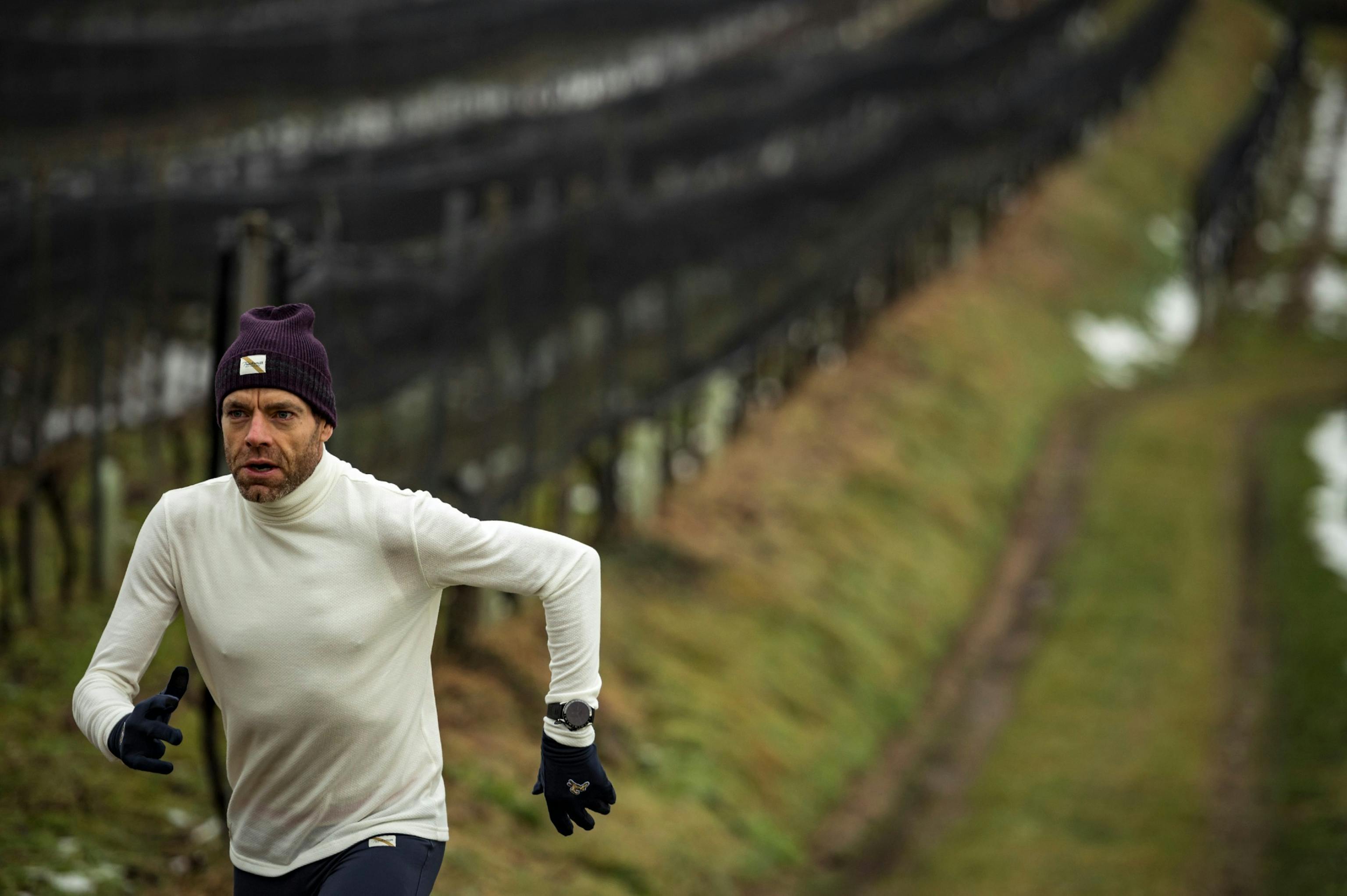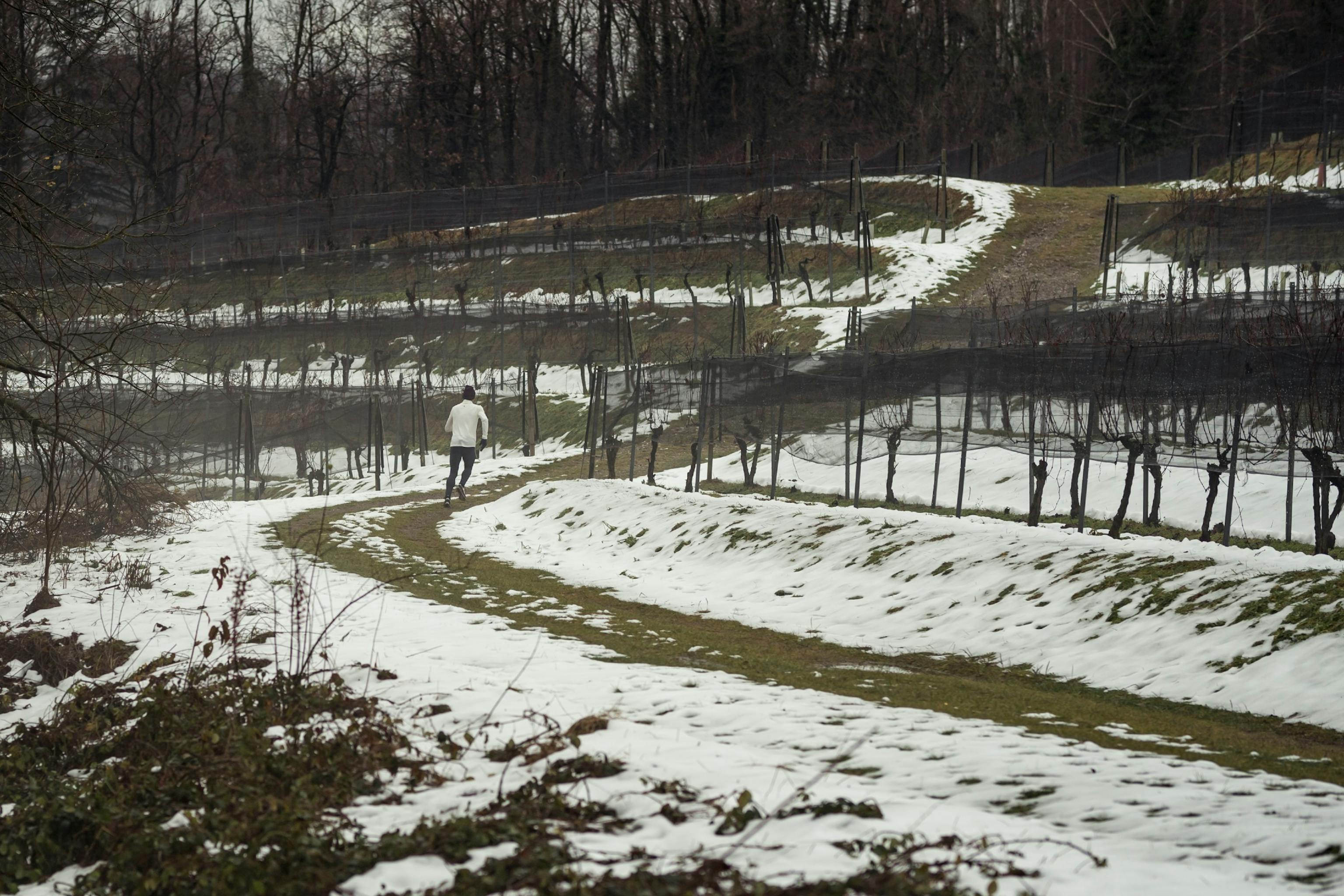 Early mornings are familiar to Evans. Our conversation is muted as he quietly makes us coffee while his family – partner Stefania, the almost 2-year-old Aidan, 2-month-old Blake, and Evans' mother, visiting from Australia – are sleeping. There is an air of anticipation as we get ready to run and experience the buzz the 43-year-old has become so accustomed to over the decades.
'You get addicted to the endorphins from sport. No one can go cold turkey when they retire – I definitely couldn't. After I retired from professional racing in 2015, the biggest adaptation I had to get used to was the idea of sitting all day. When you're a professional athlete, there's acceptance when you say to people: 'Well I've got to go training at such and such a time.' They respect that, they work around your schedule. When you're no longer pro, you have to fit your sport around life.'
Evans is visibly still in great shape. As his lexicon switches seamlessly between 'running' and 'training', it's clear there has only been a slight let-up of the focused mindset ingrained in him from his mid-teens when his mountain biking started to take off, first on a regional level, then national, then on the world stage. While he's no longer training with the focus of an elite athlete, it is also clear from the speed he runs up the trails that neither has he slipped into the world of excess many ex-professional riders do when they hang up their wheels. But running was a revelation to Evans.
'I'm drawn to running because it's so simple; we all need to simplify our lives. My long-time osteo, David 'Da Bomb' Bombeke, suggested taking up running when I retired, telling me it would fill the void, and he was right. Most cyclists are scared of it – me too, at first. I never ran when I was pro because of the injury risk and the impact on your muscles. At the beginning I could barely run up the road by my house – it shocked me that I could win the Tour de France, ride over 35,000 kilometres per year on a bike, but I couldn't run 500 metres without hurting.
'I'd say the real moment that sparked my interest in running was when I was at the Taipei Bike Show with BMC Switzerland. I had less than an hour to myself one morning, so I decided to head out for a run. I ran down the packed main street towards the river where everyone was; the traffic lights let you know when they will be changing so I did not stop once. I did a short loop at the river and got back to my hotel in 45 minutes. Satisfied, with the sensation of having done something productive, I realized that I wouldn't have been able to get changed and unpack my bike in the time it took me to do that run. Soon after that I visited George Hincapie in New York and ran, spotting all the best restaurants by foot before having breakfast. You get a much better orientation of where you are, even more than cycling can give.'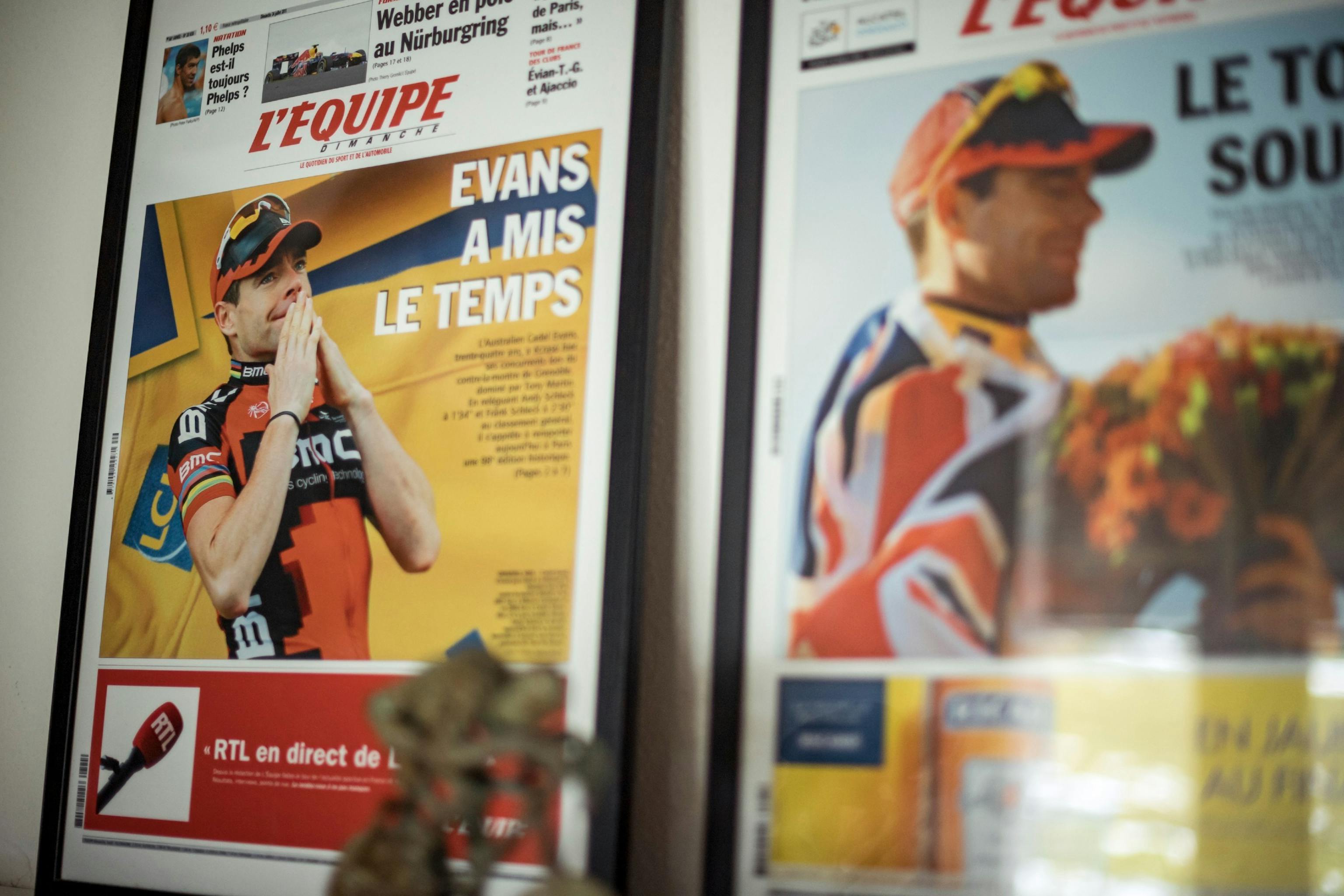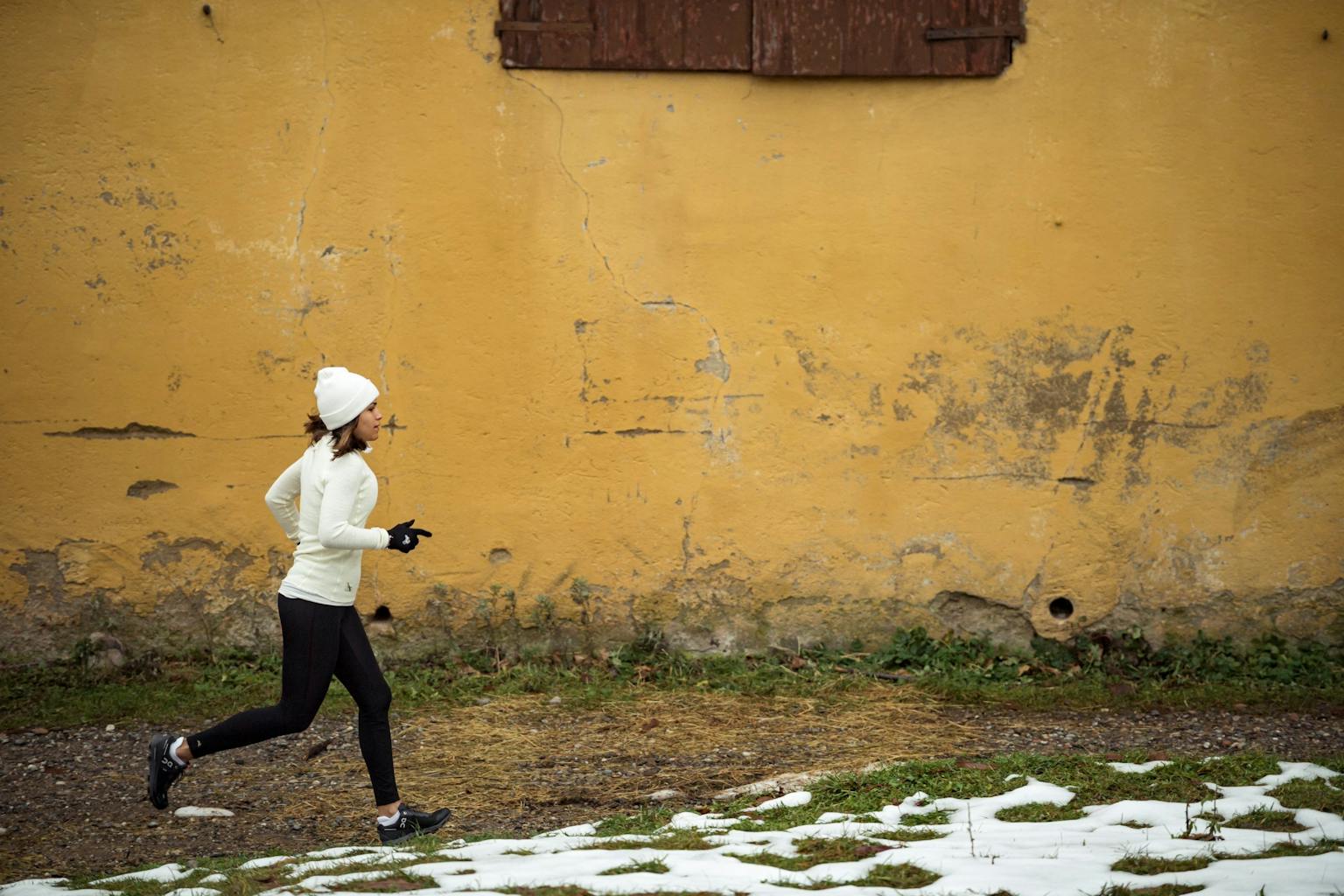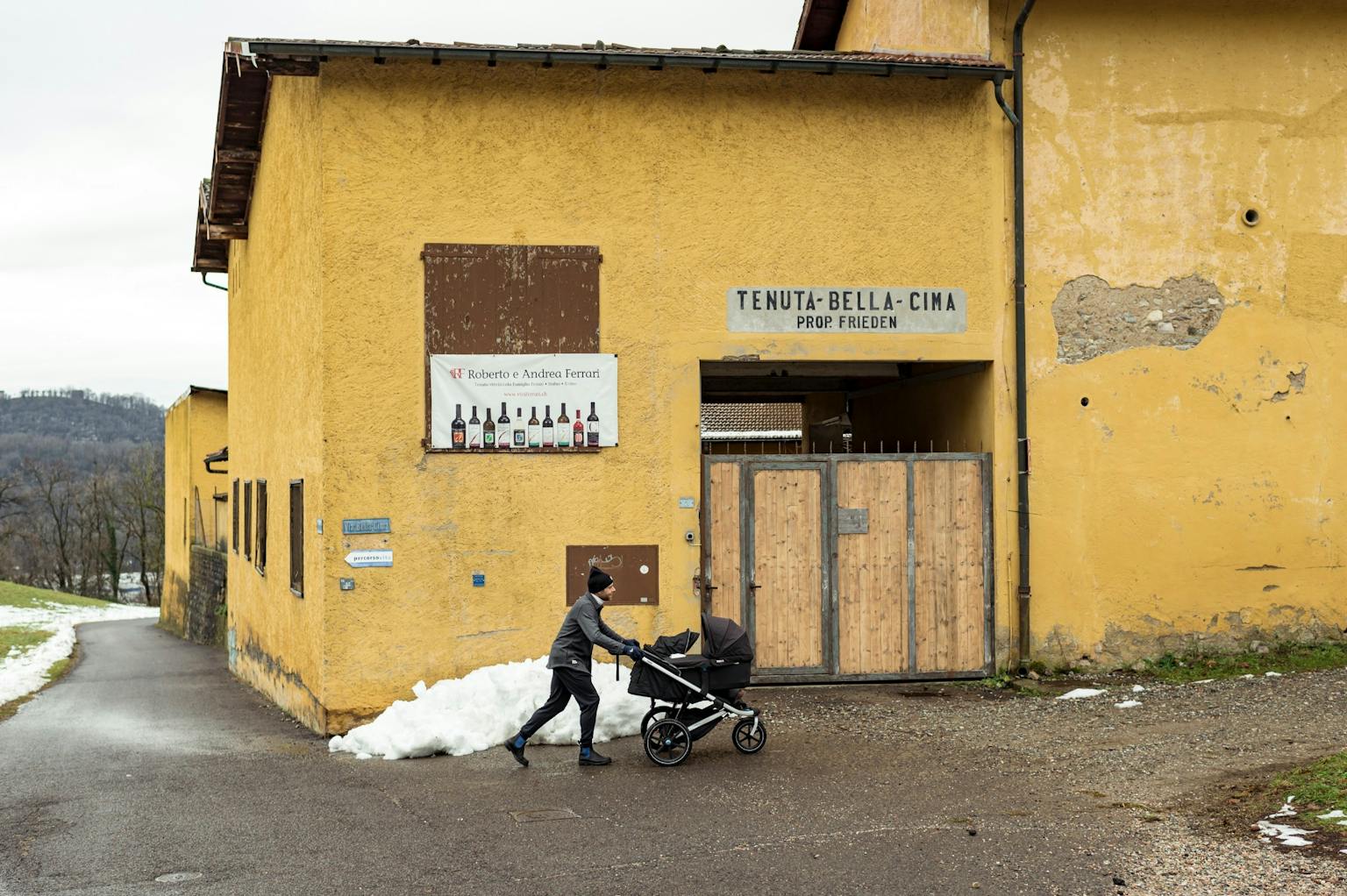 From that moment on, Cadel's runs grew in length. His legs became accustomed to the sensation. He spoke to coaches, read books, devoured podcasts on the topic; he had an efficiency test and came out, unsurprisingly, with a high score. As a cyclist, he had a reputation for meticulousness (including cutting off every single label in his kit) and this trait is now being applied to his trail running. And that VO2 max he worked so hard to build up has found a new outlet.
'Not many people know I run; it's my secret release. Publicly, I'm still a cyclist – it's just that now I do my endurance on the bike and the intensity while running. If time allows, I try to run one day and ride the next, it keeps a good balance. I set myself rough annual distance targets, but look at the hours of sport I do each week. I still love riding; it's who I am. Cycling has given me so much. I had the opportunity to be a pro and test myself to the very best of my abilities, I spent 20 years pushing myself beyond the limits. Now I want time with my kids. I've made my share of sacrifices. When I come home, I like to be a human, a dad, a husband.'
The Evans that many people meet in everyday life is calm, reserved and extremely polite. As we chat he opens up to us, showing the energy and considered curiosity that drove his professional career. We chat about his local trails, ones that we share an intimate knowledge of having lived in the area a few years back. We hit the topic of competition; Evans has been known to pin on a number at mountain races, but there is an underlying hesitance to aim for more measurable distances on the roads and tracks.
'It's obvious; for a Tour de France rider that wins, there's only one way you can go from there. I simply can't ride 35,000km a year any longer, I don't have a mechanic, altitude camps and all that. Now I train a lot like a junior – like I did back in the early 90s anyway. I had a MTB loop that I'd ride before school, basically time-trialling it every single time. It looks a lot like that with my running. I trail run like a mountain biker road rides. When track cyclists come to the road, they bring a really good pedal stroke. An MTBer coming to the road will be super strong on the climbs, but won't have the finesse for the flat. That's me. I don't feel the need to do any road races because I'll always be compared to Armstrong or Jalabert and their marathon times.'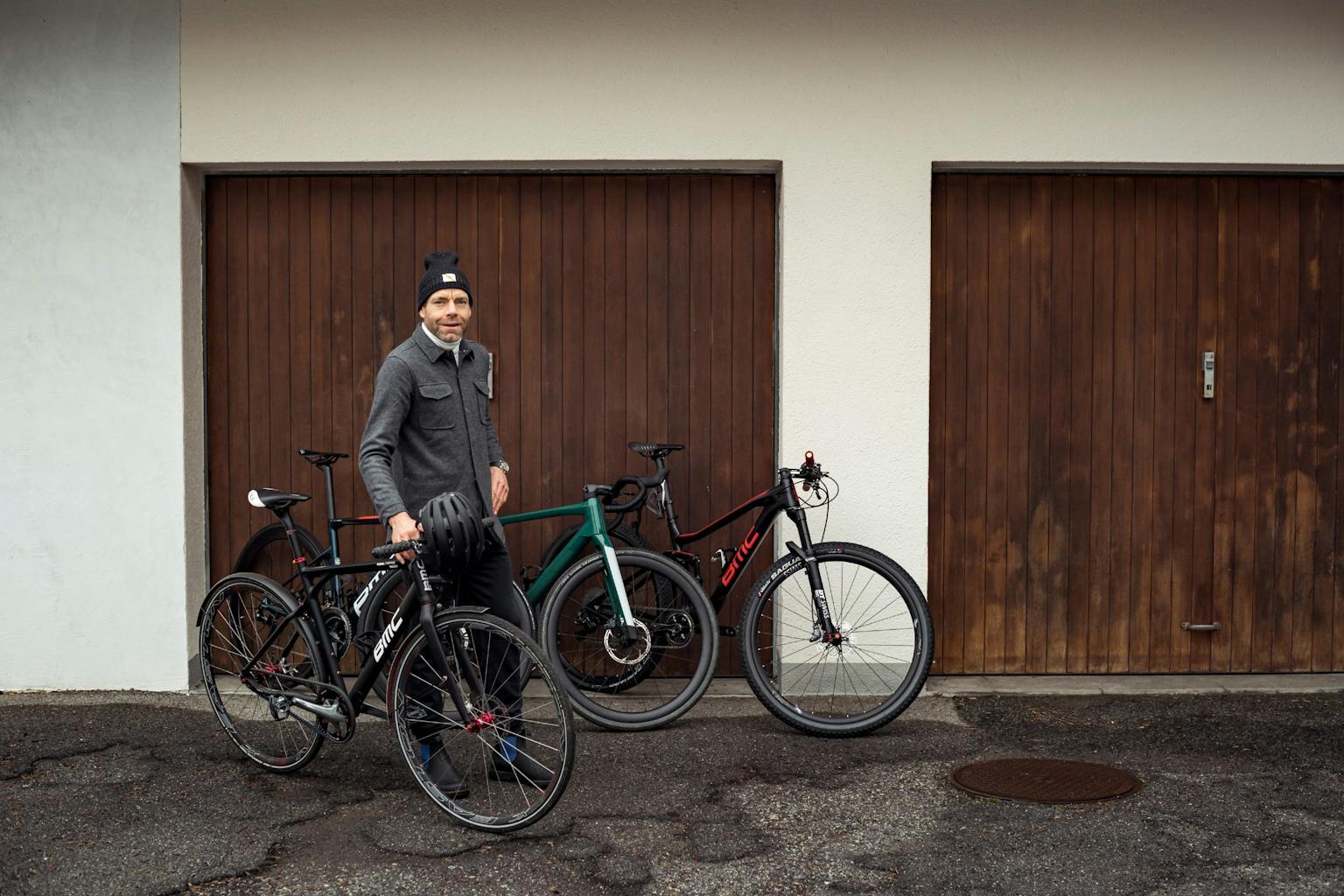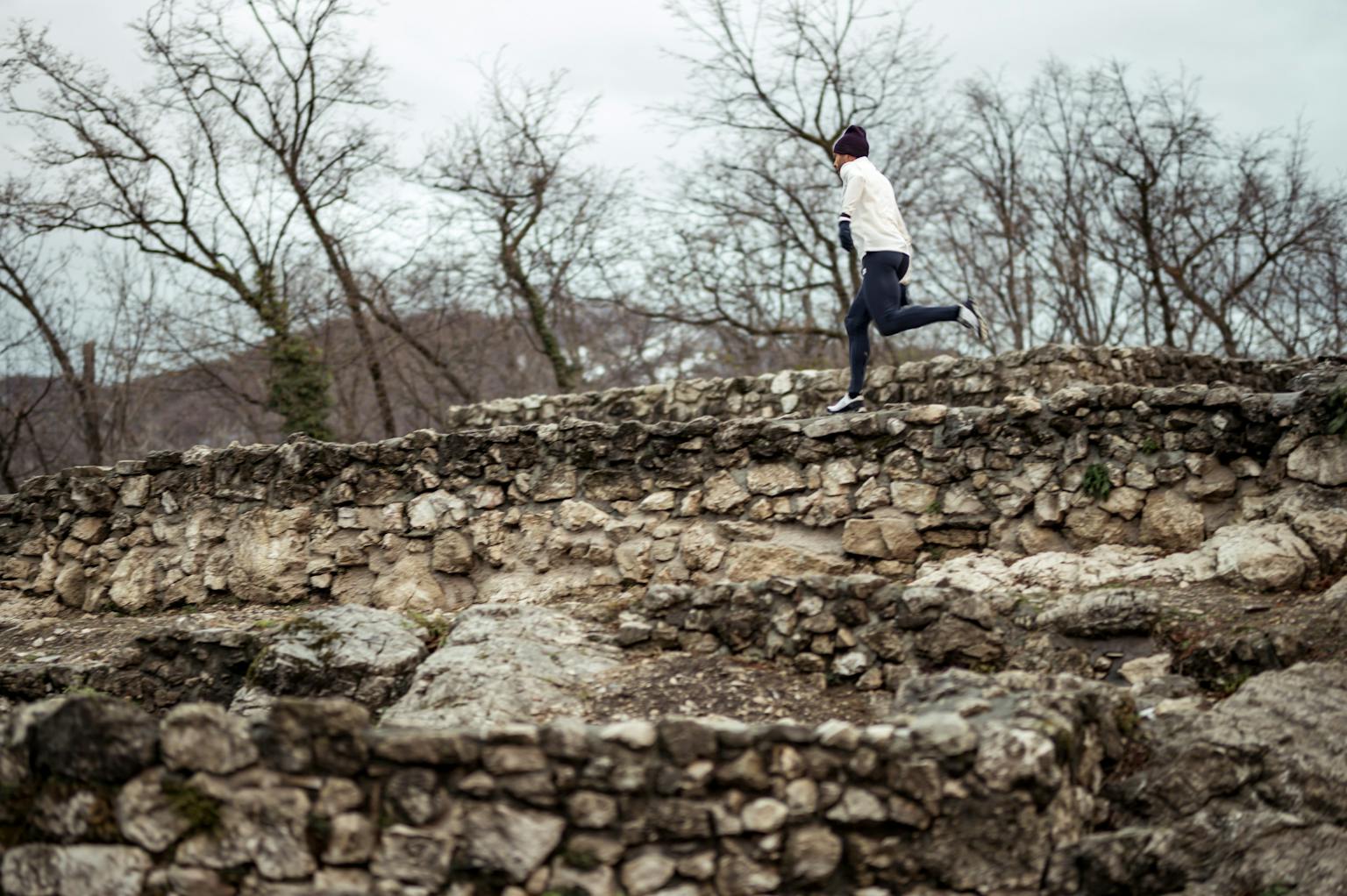 It's clear also that when you talk to Evans about competition there is still that fire inside of him to perform, progress and meet his targets. He knows the local loops, how long he should take on the climbs, how it all measures up – and exactly what it says about his current form.

'When you become a General Classification contender and team leader at the Tour de France, there's a huge weight of expectation, beyond just the stress of a hard training routine. If I decided to target a road marathon, the pressure would grow and I don't want to fall into that place where you might fall short of a time by a few minutes and let yourself down, or others. It's harder to compare off-road. I feel that at any running race I go to there is a target on my back. I'm there as a runner, but still everyone knows me as a Tour de France winner, so they push harder to try and beat me. But you know, I still can throw a good elbow at the start, like when I was in the bunch. I see huge similarities between cross-country mountain biking and trail running, both at an elite and amateur level.'
There is a wry smile on Evan's face: it's just a flash but that competitor, fighter and winner that took him to greatness in cycling results is still alive and well within this laid-back Australian. It's just now, he has other priorities:
'I don't often have time for five-hour rides and I wouldn't get much out of a two-hour ride, so give me 30 minutes of running and it'll be effective – Stefania and I call them my therapeutic runs. With the kids, that's often all I fit in. I'm very conscious of doing my share. I can't do the breastfeeding, but I'm good at compensating by doing the afternoon stint with the naps. I remember when Aidan was born and I came back from a longer ride and the first thing Stefania said was: 'please, can I go to the toilet?' That shook me. It's crazy. I tried to think of other careers when you're in a situation like this. Airline pilots, maybe. Now I get my sport in early so that Stefania, an ex-downhill skier, can go for a run later on. When Aidan is back at nursery, I do reps of the hill up to the church next door. I know exactly how many I can do before he comes out and I'm back being a Dad.'
Evans still works within the world of cycling though – most notably as race director for the Cadel Evans Great Ocean Road Race and as a brand ambassador for BMC Switzerland – and it's these demands which also reduce his time for his own sport.
'Since I've moved outside of the tapes, doing bike testing, prototyping, product development, and organizing my race, I've discovered both sides. On days with business ahead of me, I wake up even earlier, run on the ice and then go and focus for the other part of my life that I'm not as well prepared for. My race, the Cadel Road Race, won't happen in 2021 because of Covid-19; it's like we've all been held back a year at school. I'd rather get unemployment figures down and kids back in schools before we get sports on. We set it up through my hometown as my last professional race and I cramped in the sprint for the win; I didn't want any regrets. The event joined the WorldTour [ed: basically Diamond League status] really quickly, and I think this is justified given the work that goes into it. I made sure that we were the first race outside of the Olympics that live-broadcasts the women's race – that's what cycling is like.'
The last year has seen less travel for Evans, meaning fewer loops of his 25-minute pre-flight run he mentioned to us, but more opportunity to spend time with his young family, creating their own customs – including shirts for lunch on a Sunday. Exercise – in its many forms – he admits as he manoeuvres a BMC bike of his around one of the many sports buggies, is the basis of the family's wellbeing, but even with the freedom to explore more of the mountains around his home, Evans' internal competitor hasn't felt fully satiated.
'Perhaps I'm more reliant on it than I'm willing to admit. I entered a race on Monte Lema in October and I remember being very conscious on the uphill about the exertion and how much I'd missed the sensation of pushing myself. That moment when you're concentrating on nothing else but the effort. Your thoughts aren't lost: you're focused entirely on your breathing. I am so used to getting this sense of satisfaction that I don't get from anything other than sport like that. No one expressly likes suffering, but it does a lot of good for you. I've missed the exertion this year; that sensation of pushing yourself past the comfortable.
'Running is probably the most simplistic way of achieving this sensation. Now, what I find with cycling – and this is us as consumers – is that we are taught to believe you always need more and better. You go out and you've forgotten your liner gloves, or your bike computer, or you didn't charge something, or forgot your rear lights. Riding up a mountain in the Tour is already so hard, that the day you overdress or underdress, you're so aware of it. But when you run, you need so little. A pedal stroke is so natural to me that I'm often going through the motions. Running is all about being there in the moment – especially on the trails. You see fewer details but more of the landscape while on a bike, but when running you see all the details – even the ants – just over a lesser distance.'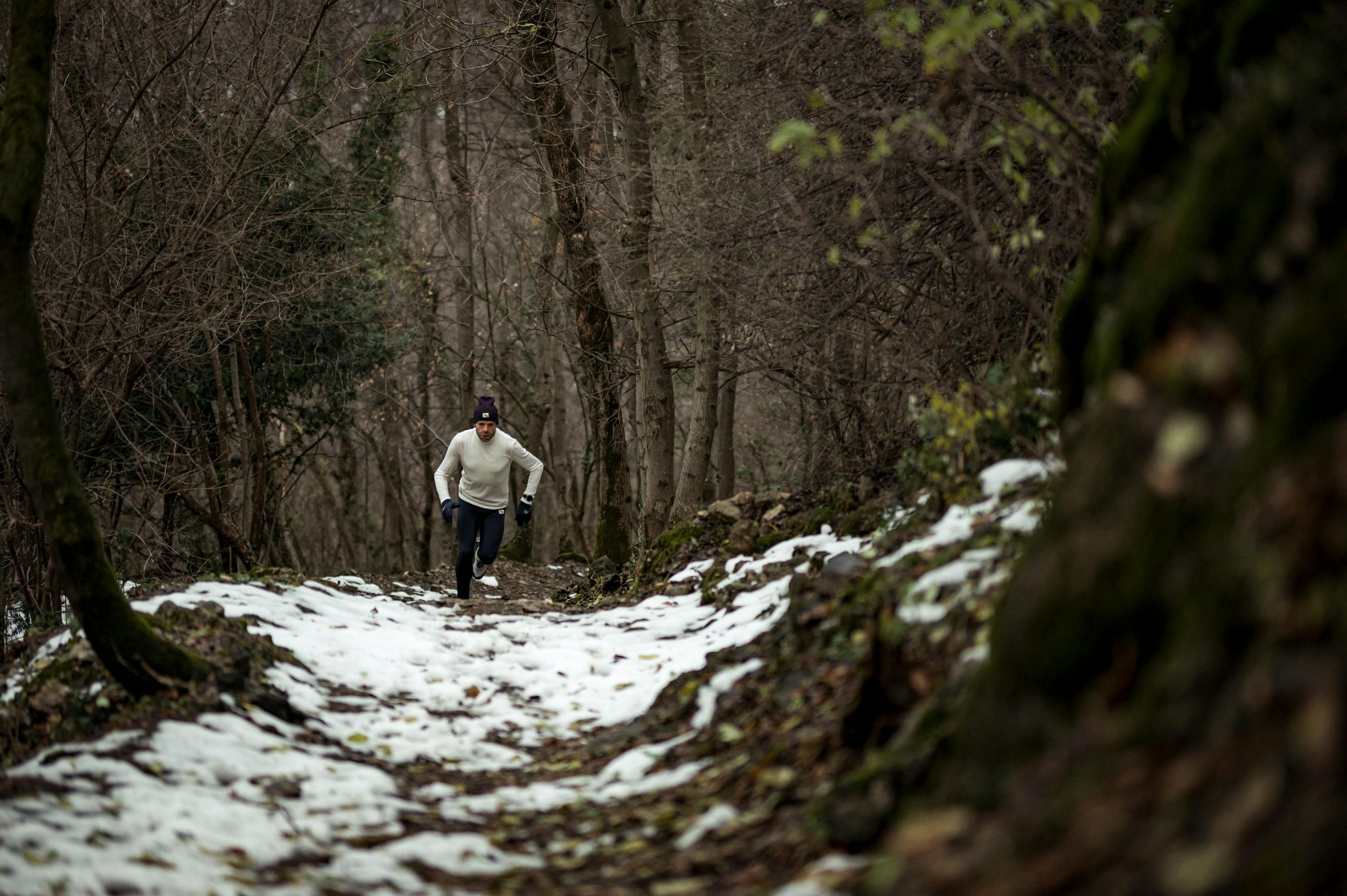 There is something that we notice whilst running with Cadel, and that is how much fun he takes from the freedom of off-road running. During our loop, we head through the ruins of an ancient castle, the perfect vantage point to watch the sunrise over Mendrisio, where Cadel won the 2009 Elite Road Cycling World Championships. While there, we get a feel for both sides of Cadel: the professional, focused athlete, and the freer former-professional of today, equally focused, yet also fun-seeking. Cadel plays with the terrain like a mountain biker would, tracing loops, jumping onto walls, and running through the remains of alleyways. This exploration, Cadel agrees, is what initially hooked him to mountain biking, which in turn sparked his whole career.

There is one certainty about Evans, with all the success he never takes what he achieved and the ability to be physically active for granted. 'Forever Grateful' is his well-known slogan, underlining his appreciation of where cycling took him, and what it gave him. 'I used to read Tintin books as a child and dream of coming to Europe. Cycling gave me all these possibilities. First of all, it was my passion, then a possibility and then opportunity, and I'll be forever grateful for it.'