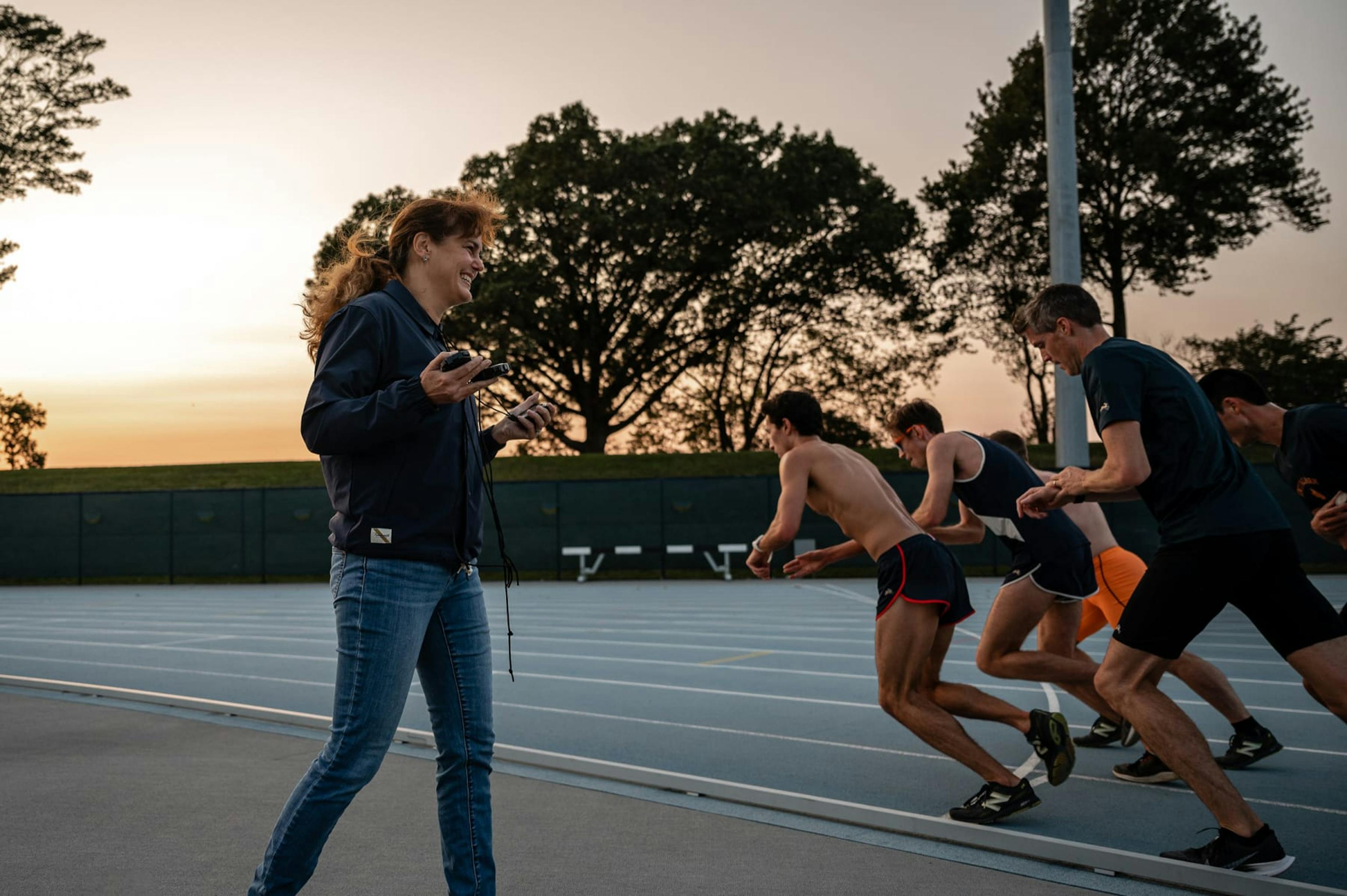 Coach Devon
A coach at Central Park Track Club for two decades, Devon Martin has been breaking barriers since the early 90s.
Interview by Mary Cain
Photography by Johnny Zhang
What was your route into coaching at Central Park Track Club?
I started coaching at University of California at Berkeley under Tony Sandoval back in 1992 while I was training for the Olympic Trials. Fortunately, UC Berkeley was one of the first universities to have a combined men's and women's program so I got to coach men and women from the start of my career. I do love coaching both men and women, it's the best part of my job.
I've been with Central Park Track Club Tracksmith for 20 years. I was part-time for six years and then full-time for 14 years. My role has changed over time: I started focusing on middle distance, but added marathon coaching as many of my track athletes moved up in distance. But the 800m is still my favorite event probably because my first Olympian was a male 800m stud!
How do you structure your day?
Everything revolves around practice and races. We have multiple practices including many evenings and some mornings and weekends. When not at practice, I'm on the phone a lot, checking in with different athletes and talking to my other coaches and meet directors and answering lots of emails and texts from athletes.
What's an average day-in-the-life?
Too much administrative work! We're a big club – kinda like a big college – so I'm doing the work of a director of a college program and all that entails.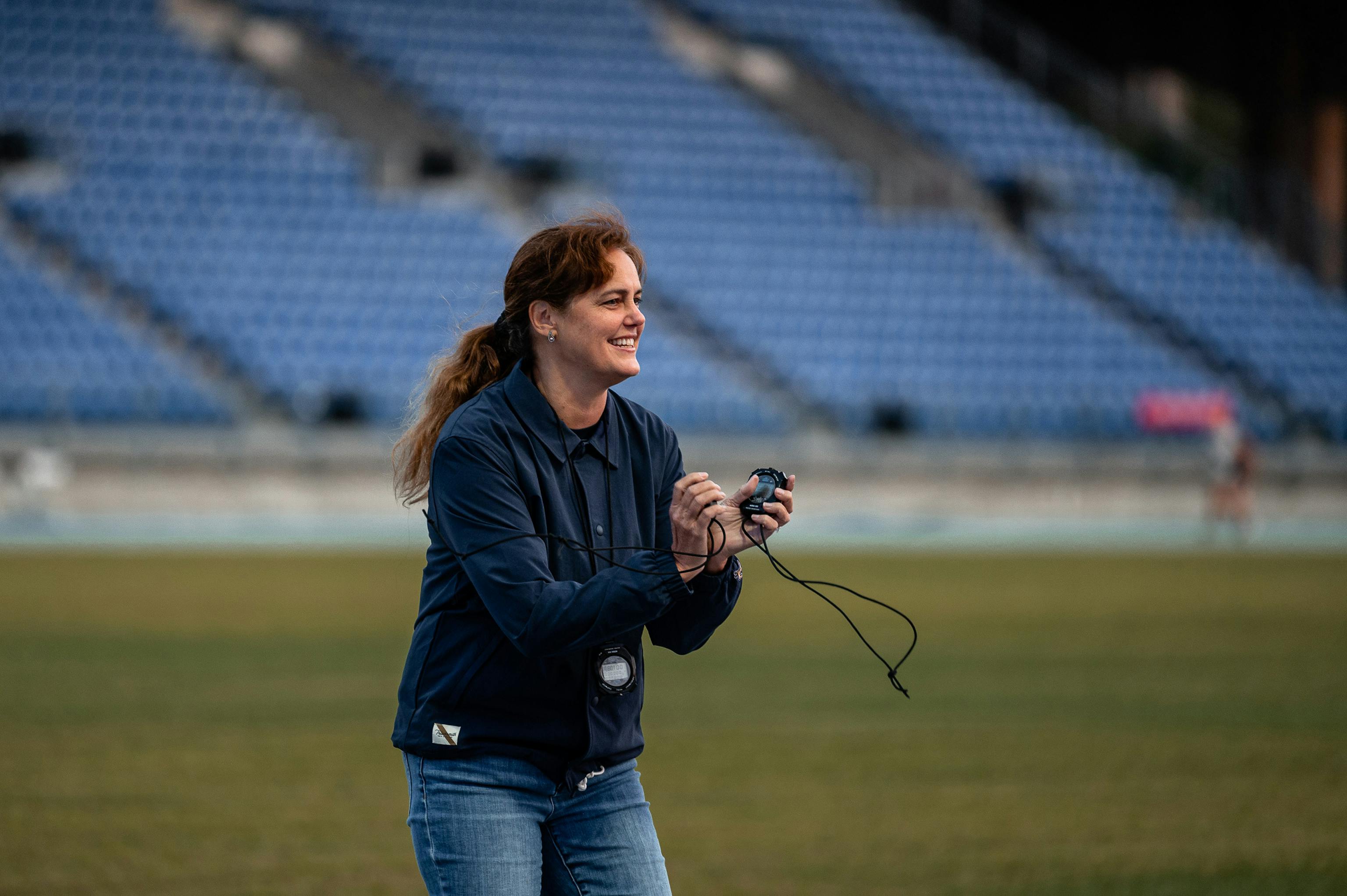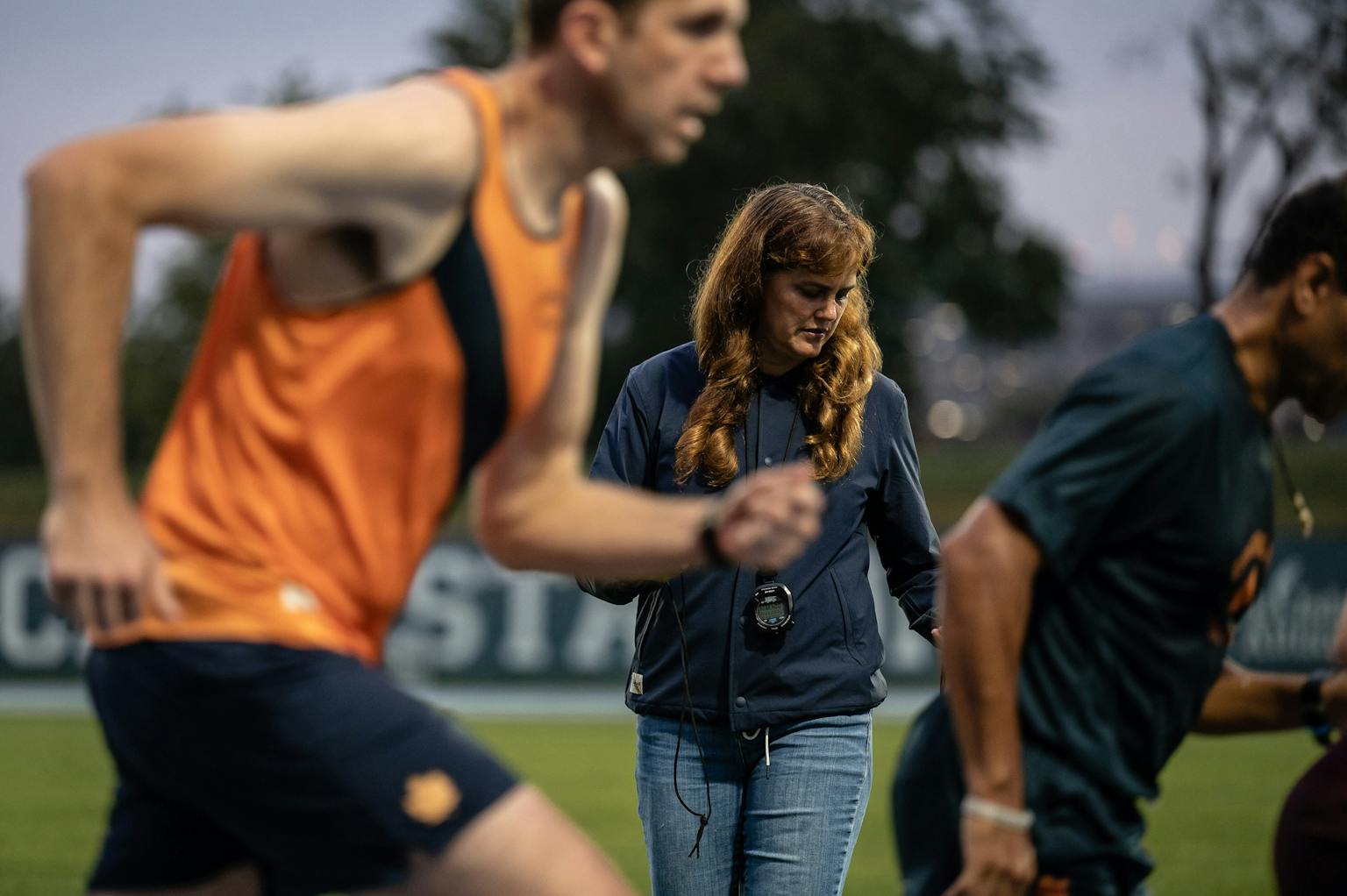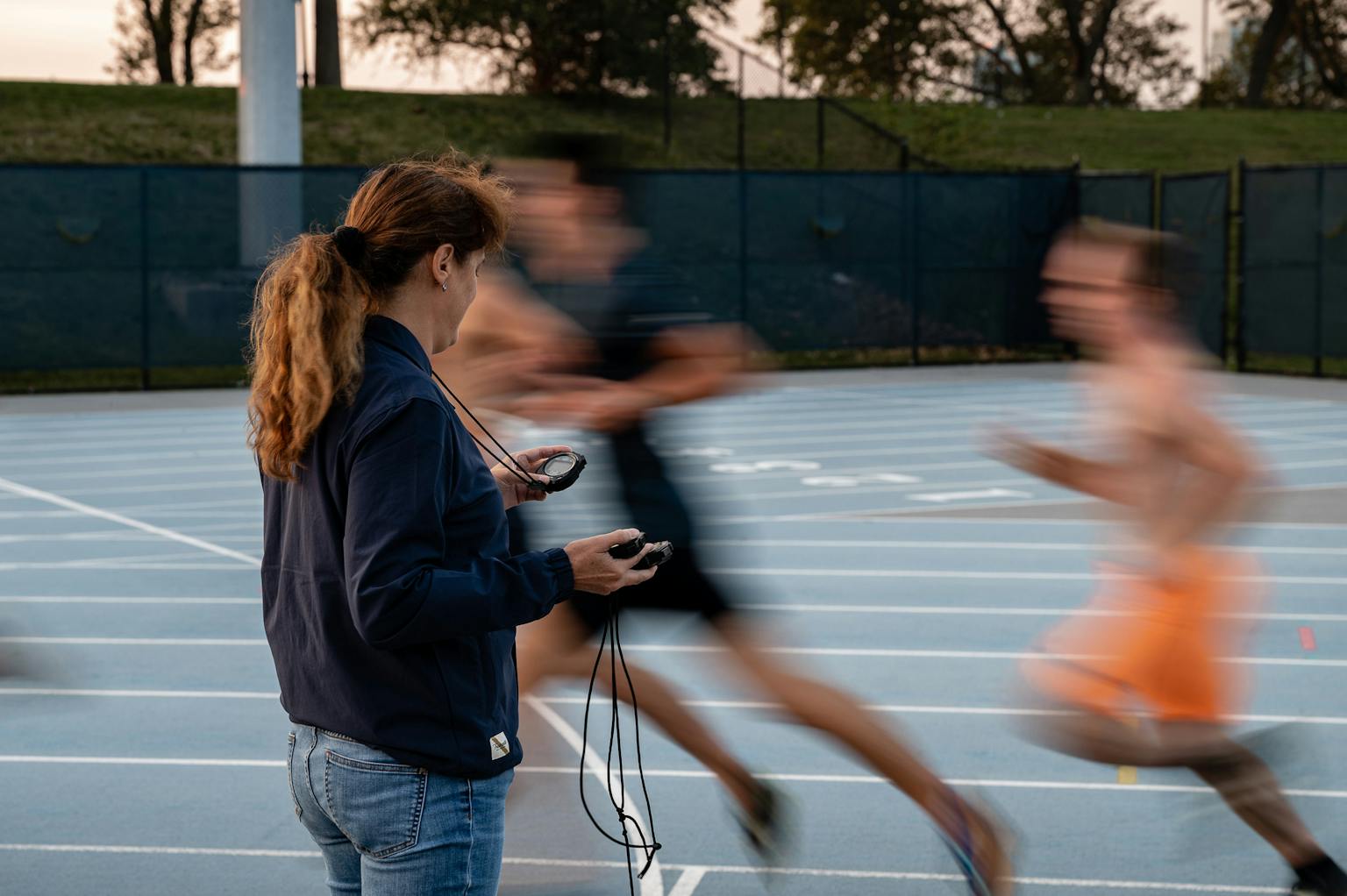 A lot of people's only experience with coaches is from their high school years. What are the similarities and differences when it comes to coaching adults?
With adult athletes, there's a more collaborative approach. We make decisions together and there's a constant dialogue between athlete and coach. I'm part of their team to achieve their goals and dreams.
There aren't as many female coaches as there are male. What changes do you see needing to happen to ensure opportunities in the field are more equitable?
There aren't as many female coaches but the ones out there are top notch. Amy Begley, Dena Evans, Shayla Houlihan, and Rose Monday just to name a few. And I'm excited about Shalane Flanagan joining that group.
But I do think women can change the dynamic and they will. But female athletes have to ask for a female coach. I encourage women to speak up. Talk to your college, talk to your AD. If you are a club athlete, ask for a female to be on staff. But choose to be coached by a woman. Look at Sydney McLaughlin – she chose to be coached by a female. We need more elite women choosing female coaches. Bottom line is women need to support women.
One other piece of advice is to get mentors – both male and female. I was fortunate to have Coach Tony Sandoval who guided my career, former CPTC President John Roberts who gave me a full-time coaching job, and now I have elite women coaches I can now turn to to get advice.
But you are right that there are too few female coaches and even less that coach both men and women. We're changing that.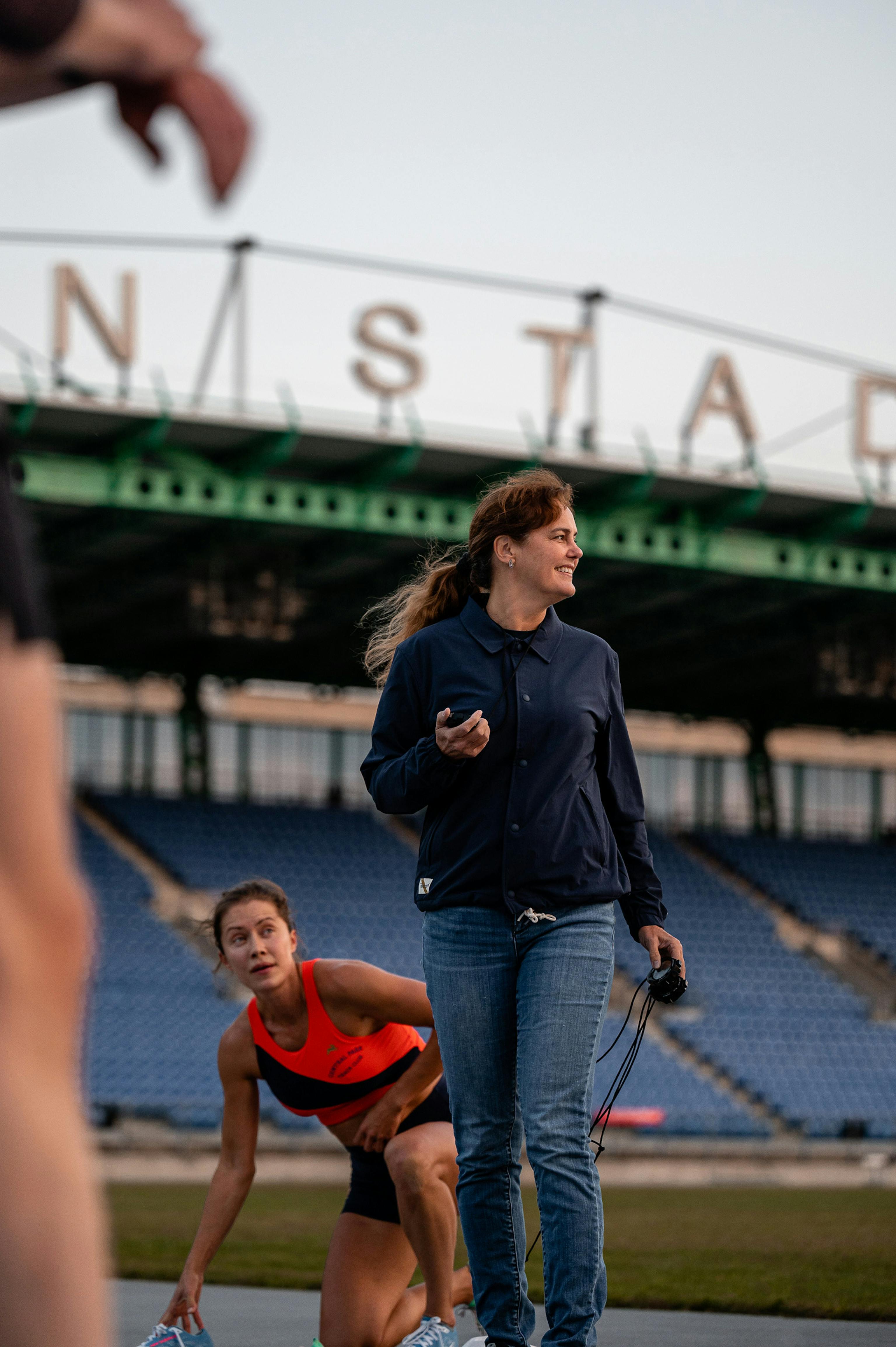 As an athlete, I always feel bad when a coach comes out in bad weather. How do you prepare to take on the elements? Are there any must-have outfits?
Warm jacket is a must! And then it's all about layers underneath like a good half zip or long sleeve. If it's really cold, I'll wear tights under my sweat pants.