Cravont Charleston
King of
Consistency
How the Tracksmith ASP athlete has made 2023 a breakthrough season, and now has a good chance of making it to Worlds.
Story by Andy Waterman and Sheridan Wilbur
Photography by Brendan Davis
Track and field is a sport where the only metric that matters is performance: if you're good enough, you're good enough. The meritocracy of time/distance/height means that every year we get the implausible sight of full-time professional athletes competing to maintain their dominance over unsponsored elites on the come-up, many of whom have been through the wilderness, struggling to make ends meet as they train and compete for that breakthrough shot at glory.
Cravont Charleston is just such an athlete. Born and raised in North Carolina, the 25-year-old attended Mallard Creek High School and North Carolina State University before continuing his running career as a post-collegiate athlete. His progress has been gradual but as Citius Mag wrote in their preview of the USA men's 100m, "Charleston's strength right now is his consistency." In 2021 he failed to make it out the qualifying rounds at US Olympic Trials; in 2022 he ran sub-10 for the first time; this year he's broken that barrier four times, and set a new pr of 9.90. That time places him fourth in the country going into USAs, and seventh in the world, making him a real contender for a medal, and a place on the World Champs team for Budapest.
"I had a coach who had been there and helped me navigate my career," says Charleston, talking about his coach of seven years, the 1996 Olympic gold medal-winning hurdler Allen Johnson. "I'm fortunate. Tracksmith came along and helped me with expenses, gear, equipment, so I'm grateful. That relieved a lot of stress and let me focus on running. Going post-collegiate is hard, man. You gotta worry about working, training, getting to practice. You get through it because at the end of the day you have a dream and you gotta do what you gotta do."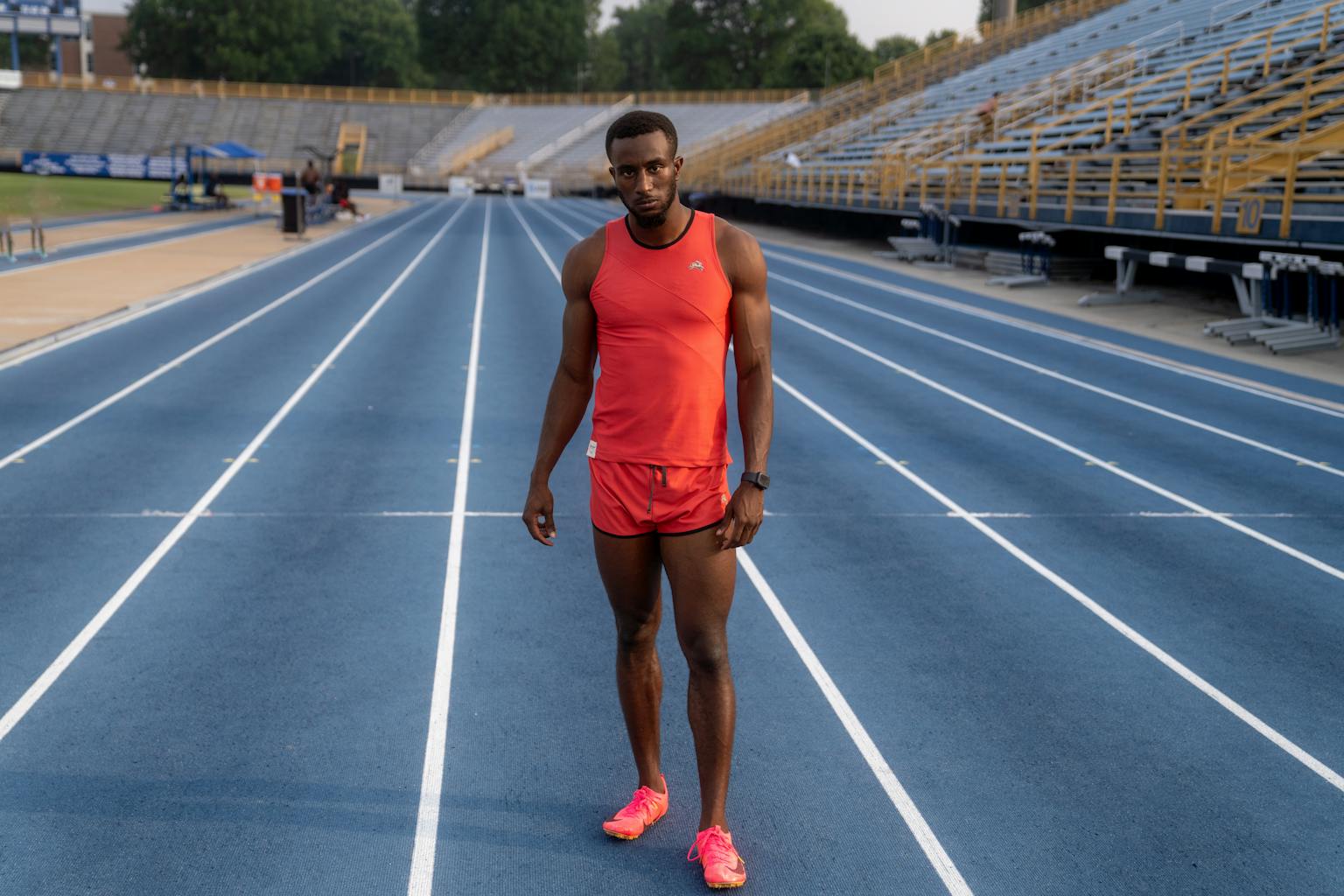 "I'm fortunate. Tracksmith came along and helped me with expenses, gear, equipment, so I'm grateful. That relieved a lot of stress and let me focus on running. Going post-collegiate is hard, man."
For all its simplicity, sprinting is very much a technical discipline. Watch a 100m runner in full flight and you'll see that the sprinting gait is quite distinct to a normal gait and that needs to be learned, practiced and iterated upon. "I'm working on the last 10 of my race, making sure I stay upright, working on attacking the ground," Charleston told the press after the first round of the 100m in Eugene, where he won heat three, running the second fastest time of the day in 10.01.
Practice takes dedication and years of track time, working with coaches and physical therapists to best transfer that combination of talent, power and hard work into forward momentum. All that time focusing on form means that sprinters often turn into great athletes, and it's no surprise that athletes who have learned to pick apart the minutiae of their stride in 240fps slow motion should also be among the most stylish performers in track and field.
Charleston is no exception. A man who values style as well as function, and who finds inspiration in vintage clothing, Charleston has spent his time on the Tracksmith Amateur Support Program racing in the Van Cortlandt collection, our classically inspired race apparel that can keep pace with the elite in every discipline, from the sprints to field events to the marathon. Comfortably qualifed for the semi-finals, Charleston goes again tonight at 19:29 PT – could he be the first man this century to become national champion in the 100m in traditional shorts?
"You never know what's going to happen in this sport, but this year I've got more confidence in my race plan. If I just focus on doing what I've been doing, I'll be ok."
Post-script:
The day after this piece was published, Cravont Charleston, a member of the Tracksmith Amateur Support Program, shocked the US and the world, by becoming the 2023 US National Champion in the 100m with a time of 9.95sec, beating established championship contenders Christian Coleman and Noah Lyles into second and third place. In doing so Charleston looked like he was meant to be there. In August, he'll be wearing a different uniform at the World Championships in Budapest. Don't bet against another upset.
Van Cortlandt – Style For Every Discipline