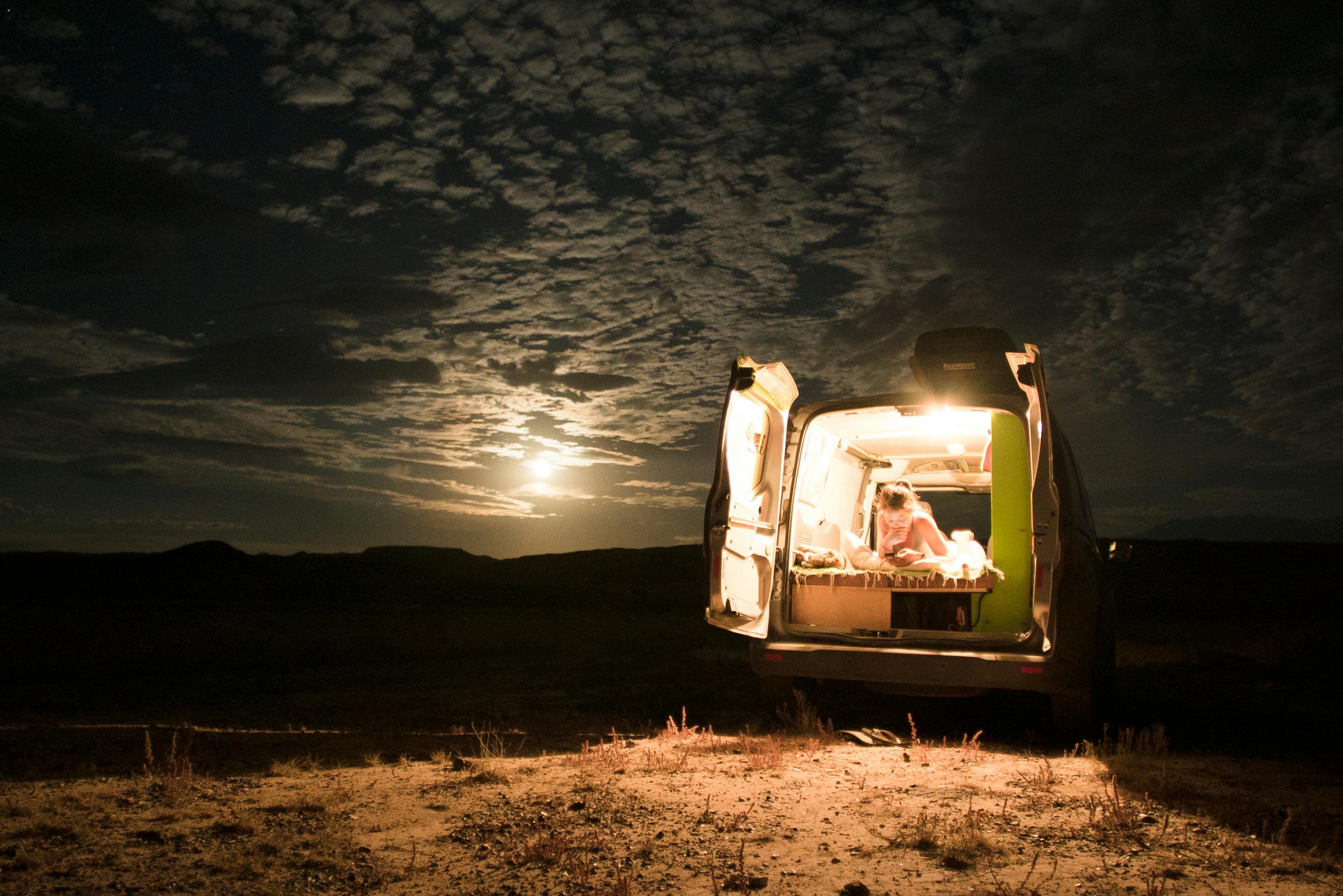 Dirtbagging
Unconventional Lifestyles of America's Elite
American distance running has come a long way since the 1970s, when Steve Prefontaine fought the Amateur Athletic Union (AAU) for athlete's rights while living in a trailer off of food stamps. Comparatively in 2015, the Abbott World Marathon Majors gave out $1 million in prize money to be split equally among the top women and male point earners in the series. Sponsorship opportunities exist in products from sports nutrition to sunglasses and athletic resources include everything from anti-gravity treadmills to cryotherapy. However, beyond the bubble of the Olympic podium lies the majority of elite distance runners. According to a survey by Jack Wickens, Chair of the Elite Grant Committee for USATF Foundation, about half of the athletes ranked in the top 10 in their event made less than $15,000 a year through a combination of sponsorships, USATF tier funding, prize money, and grants. That sits just above the 2015 U.S. poverty line of $11,770 for a single person. To pursue running at an elite level as a post-collegiate requires sacrifice, and some creativity.
To upcoming elite distance runner David Laney, his solution is simple: he lives out of his car. Two days after a disappointing finish at the 2016 U.S. Olympic Marathon Trials in Los Angeles, Laney moved out of his apartment in Ashland, Oregon to spend the "foreseeable future" traveling around the West Coast training on the courses he'd be racing the spring and summer of 2016. His focus races included the Western States 100 Endurance Run and the Ultra-Trail du Mont-Blanc (UTMB), a race in which he placed third in 2015. His rent-free set-up is simple: he folds the seats down in order to sleep in his blue hatchback wagon, his cooking gear fits in a box, and his duffel bag rests on the other side. The car is surprisingly small and the sole element of luxury is a thick foam mat to sleep on.
While living out of his truck affords him the financial and geographical freedom to travel the trails he'll be racing on this spring and summer, he admits that the lifestyle can be tough. "You put a picture up of running and people are like 'Oh, you live the dream,' but no, it's not anybody's dream. It's a nightmare at best," says Laney. "You're working towards something, but there's a lot of nights when you're camped at a trailhead, sleeping in your car. You read a book for an hour, make some pasta, and then you're just really lonely for three hours until you actually fall asleep. There's nobody really to talk to and you don't have phone service, so like you're just kind of like, well, I guess I'll just go to sleep because it's 9 o'clock and it's dark.'" His breakfasts on the road routinely include a banana, granola bar, and Gatorade, and he admits that in a sport that thrives off of routine such as running, "There's always a little element of uncertainty, like, it's 7 o'clock at night and I have to find some place to sleep that's not a Wal-Mart parking lot or a dirt road."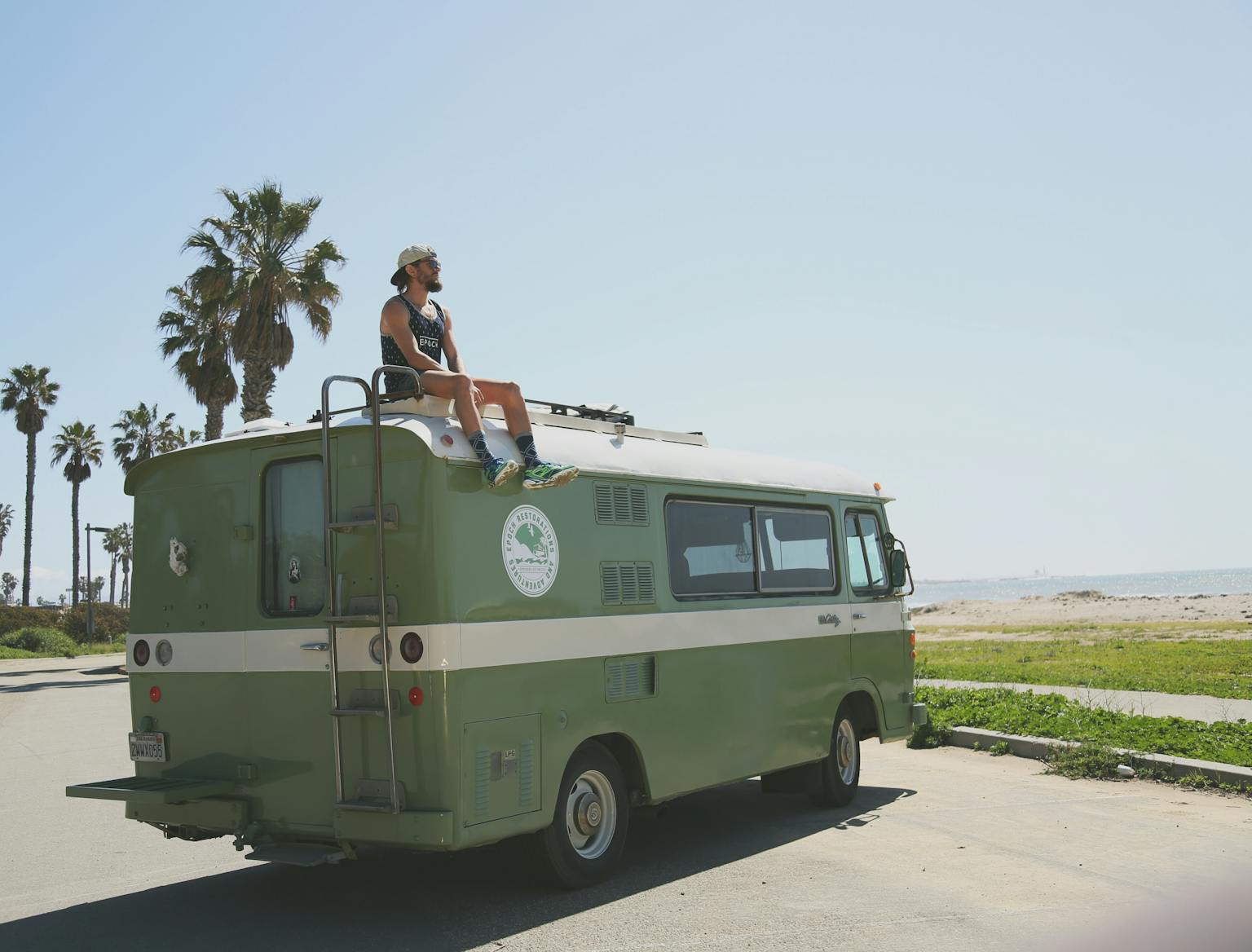 Living the true dirtbag lifestyle in outdoor sport communities such as rock climbing was once a term reserved only for those committed to pursuing the activity full-time at whatever (lack of) cost. The term dirtbag is used to incorporate a wider demographic these days. Weekend warrior dirtbagging, for example, is alive and well for those that balance their climbing with 9-5 desk jobs. Even the original dirtbag lifestyle of living out of your car for extended periods of time while traveling from crag to crag climbing, eating literally whatever you can get your hands on, and hoping for some type of sponsorship or method of sustaining your lifestyle has become much more commonplace in the climbing world. But, in the running community, it's pretty rare. In the road racing community, it's unheard of.
"I think more road racers have something to prove or fit with that keeping up with the Joneses mentality,"
says Stephan Shay, a 62 minute half-marathoner and 2:16 marathoner who lives full-time out of his van, a renovated 1966 Clark Cortez. The van, which he calls Lolita, is painted a vintage shade of Volkswagen Green and outfitted with birds of paradise patterned curtains. Shay, whose experience on the roads includes qualifying for the 2012 and 2016 U.S. Olympic Marathon Trials and the 2010 World Half Marathon Championships, believes the structured nature of elite road racing may prevent many from considering the van lifestyle. "Maybe the idea of living in a van is very much outside the box. Whereas trail runners are like 'I'm going to run for 6 hours,' with road racing, every little thing you get caught up on."
Shay has been living in the van since the start of 2015. In addition to pursuing running at an elite level, Shay works two different marketing jobs at Santa Ana College and a lithium ion battery company, and recently started Epoch Restorations and Adventures, a van restoration business inspired by the renovation work he did on his own van. Starting out as a post-collegiate after a successful collegiate career at BYU (after transferring from Michigan State), Shay originally signed with Saucony and was able to support himself off running, albeit through living what he called the "starving artist" lifestyle. After losing his sponsorship after taking time off for foot surgery, Shay picked up work at a motorsport company before a culmination of events beginning with November 2014's New York City Marathon led to his decision to buy and live in the van full-time.
"It was a pretty big race and a really emotional race for me," says Shay, describing the New York City Marathon. "My brother passed away in Central Park [during the 2008 U.S. Olympic Marathon Trials] and I always said I'd do the New York City Marathon, so it had a lot of significance. I did well and conditions were brutal so just getting to the finish line was very uplifting and draining at the same time." After the marathon Shay describes his return to Huntington Beach as a "crash." After getting laid off at the end of December from the motorsport company, and learning that his living situation was up in the air, Shay decided to pull the trigger on buying his van. "I think any time you get laid off or you lose your job you immediately question how long it could last. When I bought Lolita I kind of was like, holy shit, what did I just do? I thought I'd try it out and could end up saving some money in the long run," says Shay, whose van since has paid for itself in comparison to paying rent along the California coast in Huntington Beach.
For those that take the plunge into an unconventional lifestyle, the hope is that it will eventually pay off. Tyler Andrews went from a 5:25 miler as a high school senior to finishing his running career at Tufts University boasting personal bests of a 4:29 mile, 14:45 5k, and 30:22 for the 10k. Despite his progression, his times were not enough to earn a sponsorship. Still, Andrews felt like his running career wasn't finished. The flexibility afforded to him through his work out of college as a co-owner and group leader of Strive Trips, a company that provides service learning and high altitude training trips to Kenya and Peru for high school and college students, allowed him to do his work from anywhere. Andrews says, "I had no debt but I also really had no money. I wanted to go somewhere where I could have a low-key part time job, train most of the time, do my Strive work, and ideally be somewhere at altitude because I know that I responded really well to altitude in the past. I knew that I had a lot of running I wanted to do and improvement I had left in me, especially in longer races."
He decided to move to Quito, Ecuador, where he had spent a few months during his gap year. He got a job at a hostel, where he describes the living situation for the first six months as four people sharing a tiny room in the basement with no windows. "It was basically a storage closet with a loft in it," says Andrews. He trained twice a day, worked at the hostel in the middle of the day making beds and answering the door, and spent weekends racing around South America. He ended up running a few big PRs on the roads that ultimately led to an invitation to the elite field of the 2014 Boston Marathon, which Andrews describes as a turning point.
"I was like, O.K., this is paying off. This is a good decision. There were definitely times I'd have a bad workout and would be sitting there living in a broom closest eating canned tuna and ramen and questioning if it was worth it to come here and have it not go well."
In 2016, Andrews is a 2:16 marathoner and as of April 2016, holds the fastest time in the world for a 50k with his 2:56:01 from Mad City 50k. Supplemented by Strive work and clients, Andrews is able to pursue running full-time due in part to his sponsorship with Hoka One One. After competing at the U.S. Olympic Marathon Trials in February, Andrews headed back to Quito, Ecuador for some high altitude training.
Andrews notes that on his most recent trip to Quito, more financial flexibility allowed him to opt for a $100 40 minute flight to a race at sea level instead of the previous public transportation trips he would take down every 10 days for longer marathon workouts. "That was just super brutal," says Andrews. "It was a six hour one-way trolley, train, and bus combination that would cost a dollar. It was never pleasant. I would go down the night before, sleep in some shitty hostel, do my workout, and come back the next day. Sometimes those workouts went well, but sometimes I was so exhausted from travel that it wasn't even worth going down there." Andrews says of his most recent trip, "It's mostly about spoiling myself a little bit more. If I have something that's going to be a huge stressor and I'm training seriously, then I'll take the other option that might be a bit more costly."
Best known for winning the Leadville 100 twice and finishing second in 2010's Western States Endurance Run, Anton Krupicka is a top American mountain runner that originally started living out of his truck during Colorado summers, but is now happy to be living out of an apartment in Boulder, Colorado. When he bought his 1999 Chevrolet S-10 pickup in 2008, he outfitted it with a simple platform for storage so that he could live out of his vehicle. He describes his reasoning, "It was totally a financial decision and sort of a logistical decision. I wanted to be living in the mountains every day in central Colorado rather than the Front Range and it seemed like buying a truck for $4,000 dollars was cheaper than paying $400 a month in rent. It pretty quickly paid for itself and I guess I wanted to be flexible and mobile. There's definitely romantic notions tied to it, but it was a fairly pragmatic thing." After eight years with New Balance, Krupicka is back with his original sponsor, La Sportiva, which has seen a growth in his sponsorship earnings from what he described as initially half a dozen pairs of shoes and a stipend to a totally livable wage. From his home base in Boulder, he's able to spend his days in the mountains running, scrambling, climbing, biking, and ski mountaineering thanks to a sponsorship deal that supports his mountain projects in addition to performance at his upcoming races, most notably the UTMB at the end of the summer.
For most who strive to make ends meet through running professionally, a living is rarely earned through prize money and shoe deals alone. The role of a sponsor can be varied and complex, and most elite American runners have to add marketing to their skill set, utilizing mediums such as social media to become brand ambassadors for their sponsors. "It's all a game of doing things that people find interesting so that they'll want to buy the same shit that you're wearing, so that companies will pay you to wear your stuff. It's marketing. That's my job, marketing," says Krupicka. However, for Krupicka, his marketing results in an ability to set his own hours and determine his lifestyle. Over the 10 years of his career he's spent working with sponsors, Krupicka says that he has been able to work with people in companies that love the sport and the outdoors and have a desire to both grow the sport and support people doing interesting and inspiring activities. "There's a bottom line, obviously. These are for-profit companies, after all, but there's also an undeniable humanness and love for the outdoors. If it were all just about money, the people at these companies would be working in finance, not running or climbing or the outdoor industry in general."

Stephan Shay, who works in marketing in addition to pursuing running at the elite level, believes that brands miss a lot of opportunities to take advantage of the marketing potential and unique stories of runners pursuing their Olympic dreams. While Shay doesn't currently have a major shoe sponsor, he believes it's important to represent brands that align with his unconventional athletic lifestyle, as reflected by his role as an ambassador for Stance Socks, which collaborates with artists such as Rihanna and professional runners such as Lauren Fleshman. "There are a lot of really awesome stories out there. I think the problem with running is that it's so results driven, which is obviously important because that's how you get recognition, but unless you're in the top three, no one pays much attention most of the time. No one outside of the sport knows who got 15th at the trials, but if you got 15th at the trials, that's damn good. But, you're not going to get anything out of it." While a total of $600,000 in prize money was awarded at the U.S. Olympic Marathon Trials in Los Angeles, the payouts stopped after the top 10 placing male and female athletes out of the 373 top American marathoners that were entered to run.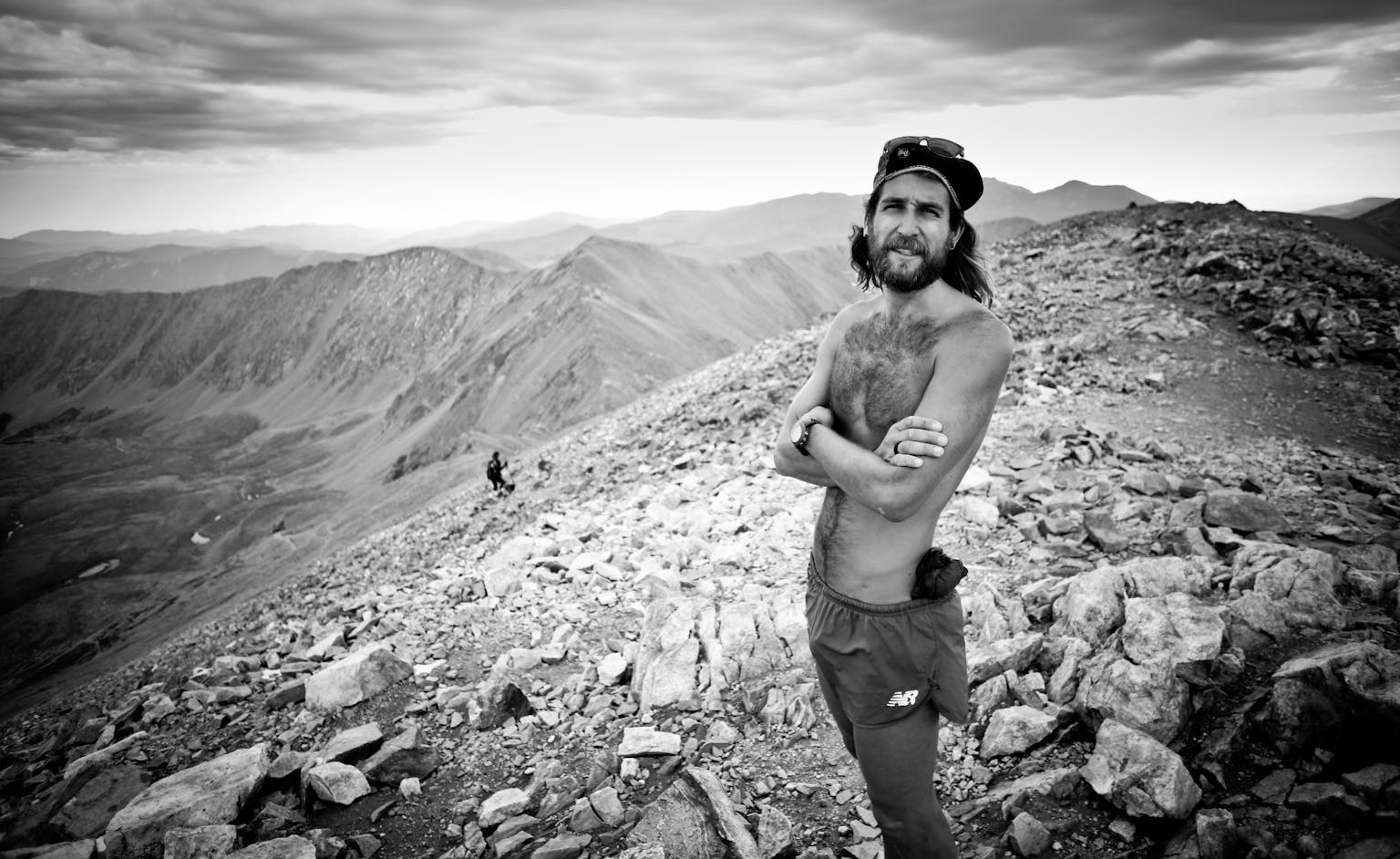 Even athletes receiving top distance running accolades through podium finishes don't receive the payouts one would expect. Nike Trail athlete David Laney became one of the highest placing American male finishers in history with his third place finish at 2015's UTMB, a race Anton Krupicka refers to as the most important race in the scene. "It's the de facto championship of 100 mile mountain racing. Like the Kona Triathlon, it's the race to win," says Krupicka.
"You run a 105 mile race and you make $1,000, that's like ten bucks a mile, and that was one of the best pay days of the year. You can't break even," Laney recounts, noting his expenses were primarily the cost of the flight over and staying in an Airbnb for 30 euros a night. Along with the financial sacrifice, Laney admits that humility is another essential component of long distance running. "Runners love the freedom of running, and most elite runners would train and race regardless of the support they receive from sponsors. You don't need a brand to validate your passion. We would all do this for free, and sponsors know it. It's a catch-22."
When you break down the financial cost of pursuing dreams to become the best track, trail, or road racer in the country, the odds are against you. Tyler Andrews acknowledges that for most elite runners, having supplementary jobs is necessary, save the few truly professional runners. "Unless you're going to be Mo Farah or Usain Bolt or Galen Rupp or Kara Goucher, you're never going to make as much money in running as you would in almost any other career. You could do almost anything and make more money than you're going to make as a runner. Is that worth it to you? Is that worth doing it? I don't know. For me it is for now at least. I don't want to be really poor for my whole life," says Andrews, noting his unique situation including working remotely, the shared expenses from his living situation, and the support of his family and support network. "It's not something that everyone can do so I don't want to paint this picture that I have like this iron will and I want to do this. No, a big part of it is financial and if you can't do it, you can't do it, and that's just the way it is in this country." Andrews still feels his best running is ahead of him. After a disappointing U.S. Olympic Marathon trials, he came back to win the Mad City 50k, setting a course record and earning a spot on the 2016 50k U.S. World Championship team.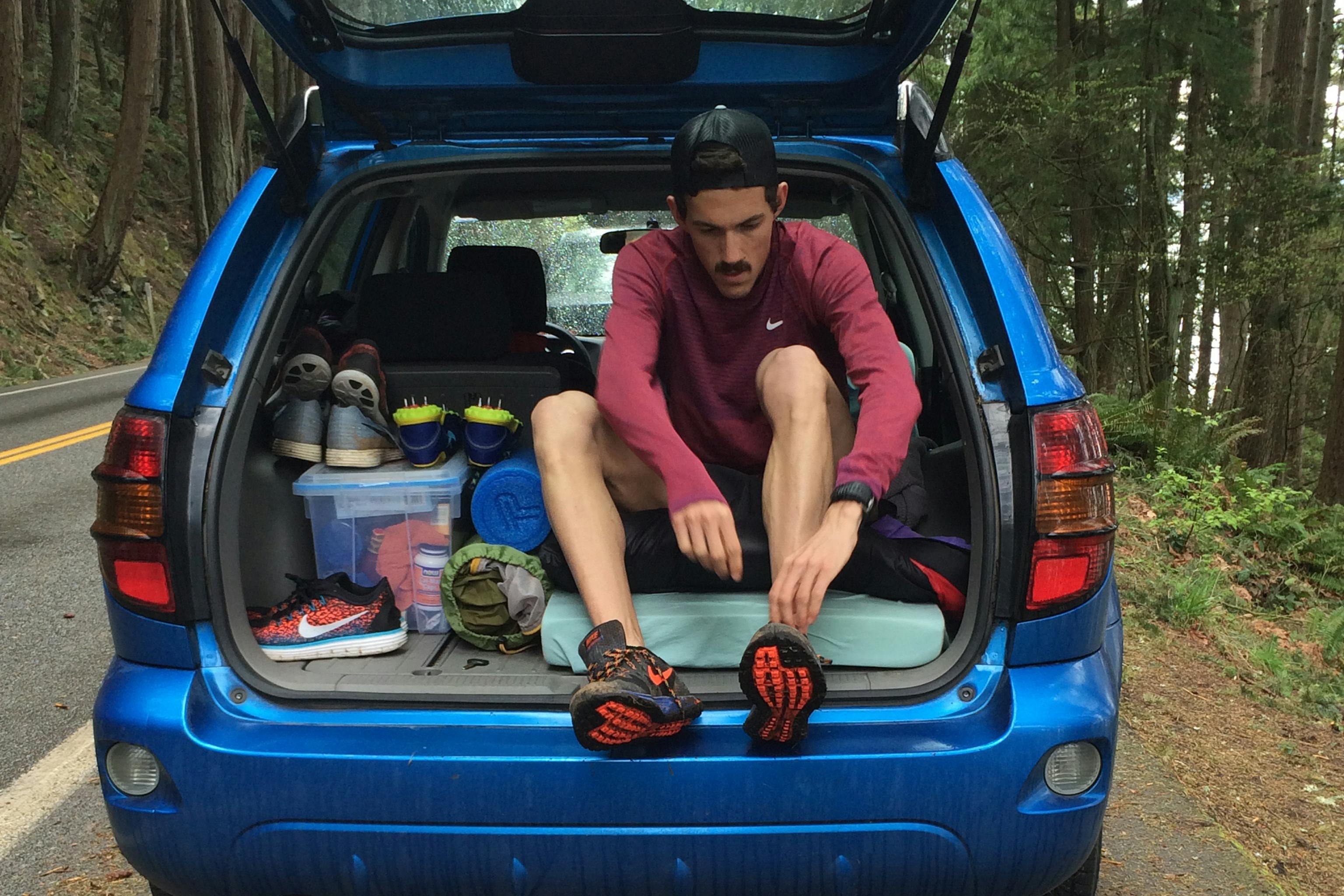 David Laney in his home away from home.
Others, such as Patagonia ultramarathoner Jenn Shelton, who formerly held the American 100-mile trail record, advise taking agency in earning a living as a professional runner. "Don't accept less than what you believe you are worth," says Shelton, who chooses to live out of her van for part of the year. "I make much less money than most people believe; much, much less", admitted Shelton in an email from Italy where she was studying the sport of ski mountaineering.
"But," she says, "I am happy with how much I make and the lower expectations that come with my lower income. I am happy with my lifestyle and I am proud of it, because I created it."
Shelton originally began living out of her van (named LJ, for Little Jenn) while planning summer training and racing expeditions in the mountains, but disavows the romanticized notion that living out of your van and training full-time is cheap or easy. "I'm not going to pretend that my life is all butterflies and smiles like all American trail runners like to pretend. It is hard to run up a mountain! It is rewarding, and it is fun when you can make it look easy, but it isn't as sexy as you might think in terms of the process that goes into it all."
For David Laney, it's always been a love-hate relationship with the sport in pursuing his dreams of winning a major 100 miler and redemption on the roads in the marathon. But for Laney, as with other elite runners, living unconventional lifestyles is part of their unfinished business in pursuing competitive running as a profession. "There's days when you're like, why am I doing this? This is a waste of time. I have a college degree. I have jobs waiting. Why don't I just go do something and have a clear direction? But, I really feel like, and this is part of living in the car too, that at some point in life you're going to have that. You're going to come home from work and sit on the couch. I just want to be able to be content when I do that. I want to know that I did everything I could do to accomplish those dreams and have that experience."
As complicated as it can become, at its core running is a simple sport, and lends itself to those that live simply. When you think about it, there are only so many miles left in every runner at any given point in time. Maybe some people just recognize that temporality more than others.
Words by Liz Gill. This story originally appeared in METER Issue 05.