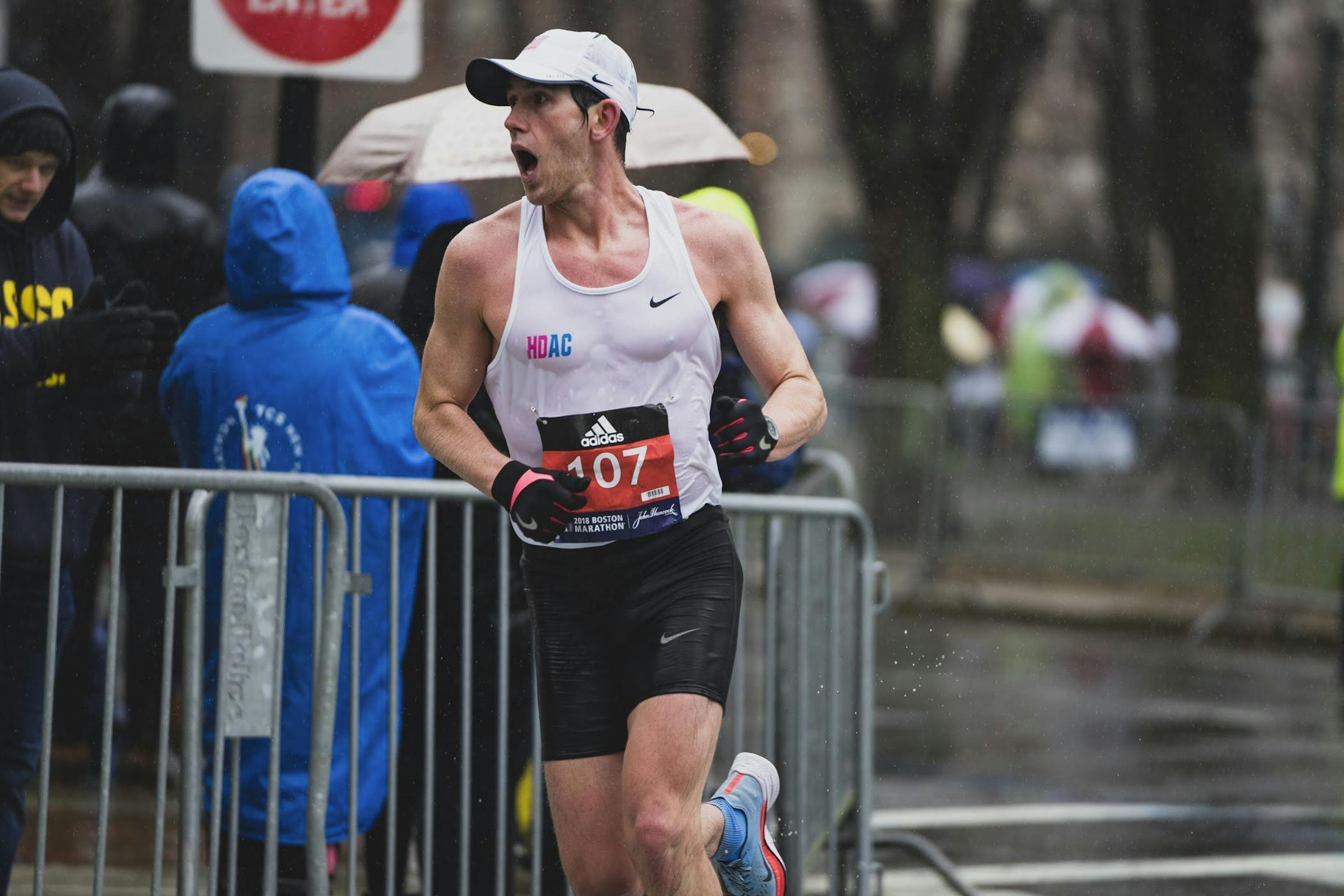 DROP THE HAMMER (DONUTS)

When Tate Schienbein dashed up the stairs at 285 Newbury on Marathon Monday to collect his First to the Trackhouse robe and beer, we couldn't help but notice the donuts decorating the back of his soaked singlet. Not only is Tate a 2:25 marathoner, he's the founder and owner of Hammer Donuts in West Lafayette, Indiana. As we were finalizing plans for National Donut Day–running's favorite food-based holiday–it seemed only fitting that we catch up with Tate to find out more about his training and pursuit of the perfect donut.
The inspiration for Hammer Donuts came on a run. Tate was a senior at Purdue, a 5k man and steeplechaser for the Boilermakers. On his birthday the distance crew each brought a dollar to practice. With an easy eight mile run on deck, they ran four miles off campus to a classic donut shop, where they stopped, ate a pastry and ran the four miles back. On the way home, conversation turned to the lack of donut shops closer to campus. One would make a killing, they agreed.
Schienbein graduated Purdue and started working in marketing in Denver, but couldn't quite shake the idea of opening a donut shop back in West Lafayette. Ultimately, he quit his job and returned to Indiana in January 2017, lured by the opportunity to shadow a donut maker and learn the business. Things fell into place quickly afterwards: he secured financing, developed the core recipe, and found a location within a few months. Hammer Donuts opened its doors on August 17, 2017.
With a new business to lead, Schienbein knew his running would be on hold. For the first two months, he didn't run once–the biggest break from the sport he'd taken since sixth grade. But he didn't plan to be gone for long and registered for Boston in September. He'd qualified with a 2:25:26 in 2016 and hoped, as things progressed at Hammer, he'd have time to commit to training and getting back in shape.
That fall, Schienbein says, "Donuts and running were my whole life."
By November, he was back up to eighty miles a week. Then an employee quit in January, and he had to take over the night shift: working 8pm at night to 2pm the next afternoon. That left no time for running, let alone for sleep. By February, he filled the position and was back up to 30-40 miles a week. March was a lot of the same: low mileage and long hours in the shop. In the lead up to Boston, Schienbein estimates he managed just three weeks with more than 50 miles, averaging around 40 mpw.
To say he went to the line in Hopkinton underprepared is an understatement. A steady diet of Boston Cream donuts had him sitting at 170 pounds on race day, well over his ideal marathon weight. Nonetheless, when he saw the weather forecast, Schienbein was heartened. With a slower race, he thought, maybe he could break into the top fifty.
Much like Sarah Sellers, who credited long days on her feet working as a nurse for helping her tough it out for second place at Boston, Schienbein believes that the work at the shop fueled not only his endurance but also his mental toughness. "After the first couple months of building the business and working 120 hour weeks, I just had a different attitude towards running," he says. "It changed the way I approach challenges and gave me the confidence that I can handle anything. That really helped in Boston. I'd already put in harder days."
Tate ran a 2:28 and finished 17th overall. Next in his sights is Berlin in September, where he's chasing a 2:19 and an Olympic Trials qualifying time. Toeing the line in Atlanta in 2020 is the overarching goal, so until he hits the standard, it's donuts and running. All day, every day.
A Recipe For
Boston Dream Donuts
Donut Ingredients
1 cup milk
4 tbsp butter
½ cup sugar
+ additional ½ teaspoon sugar
½ tsp salt
1 egg
1 package yeast
¾ cup warm water
3 cups flour + additional ½ cup
½ tsp vanilla
Canola oil for frying
Vanilla Filling
1 cup pre-made vanilla pudding
Chocolate Glaze
2 oz semisweet chocolate
½ oz unsweetened chocolate
1 tbsp butter
1 cup confectioners' sugar
½ tsp vanilla
2-3 tbsp hot water
Directions
For Donuts
Scald milk with 4 tbsp butter, ½ cup of sugar, & ½ tsp salt. Stir to dissolve sugar. Cool until milk mixture is lukewarm & beat in 1 egg. Proof yeast in ¾ cup water with ½ tsp sugar until it foams.
Combine 3 cups flour, milk mixture, ½ tsp vanilla & proofed yeast in large bowl. Beat until smooth to make a soft dough that pulls from the sides of the bowl (add more flour as needed).
Place dough onto a floured board & knead 5 minutes, until smooth. Place in greased bowl, cover lightly, & let rise in a warm place, until doubled in size.
Punch down dough & place on lightly floured surface. Roll out to ½ inch thickness. Cut up with 2 ½ round cookie cutter. Place cut pieces on a floured baking sheet, cover lightly, & let rise ~45 min, or until doubled in size.
Heat canola oil in a heavy pan to 365ºF. Fry donuts, 2-3 at a time, 3 minutes on one side, until golden. Turn with a slotted spoon & fry 2 to 3 more minutes. Remove donuts & drain on paper towels. Cool.
Make small slit in the side of each donut. Fill pastry bag with vanilla pudding. Use tip to push ~2 tsps of filling into each donut.
For Glaze
Make glaze by melting semi-sweet & unsweetened chocolates with butter in a saucepan.
Stir in confectioners' sugar and vanilla until smooth.
Beat in 2-3 tbsp water until glaze is a spreadable consistency.
Spread on donuts.
Recipe adapted with Hammer Donuts from Blue Plate Specials and Blue Ribbon Chefs cookbook.