Ten Days of
Athletics Bliss
If you're in Eugene for World Champs, you'll find copies of The Amateur, our special Eugene newspaper being distributed around town. From issue one, here's a note from Tracksmith CEO, Matt Taylor, plus a preview of the sprints and a profile of ASP athlete, David King.
Illustration by Bryn Morales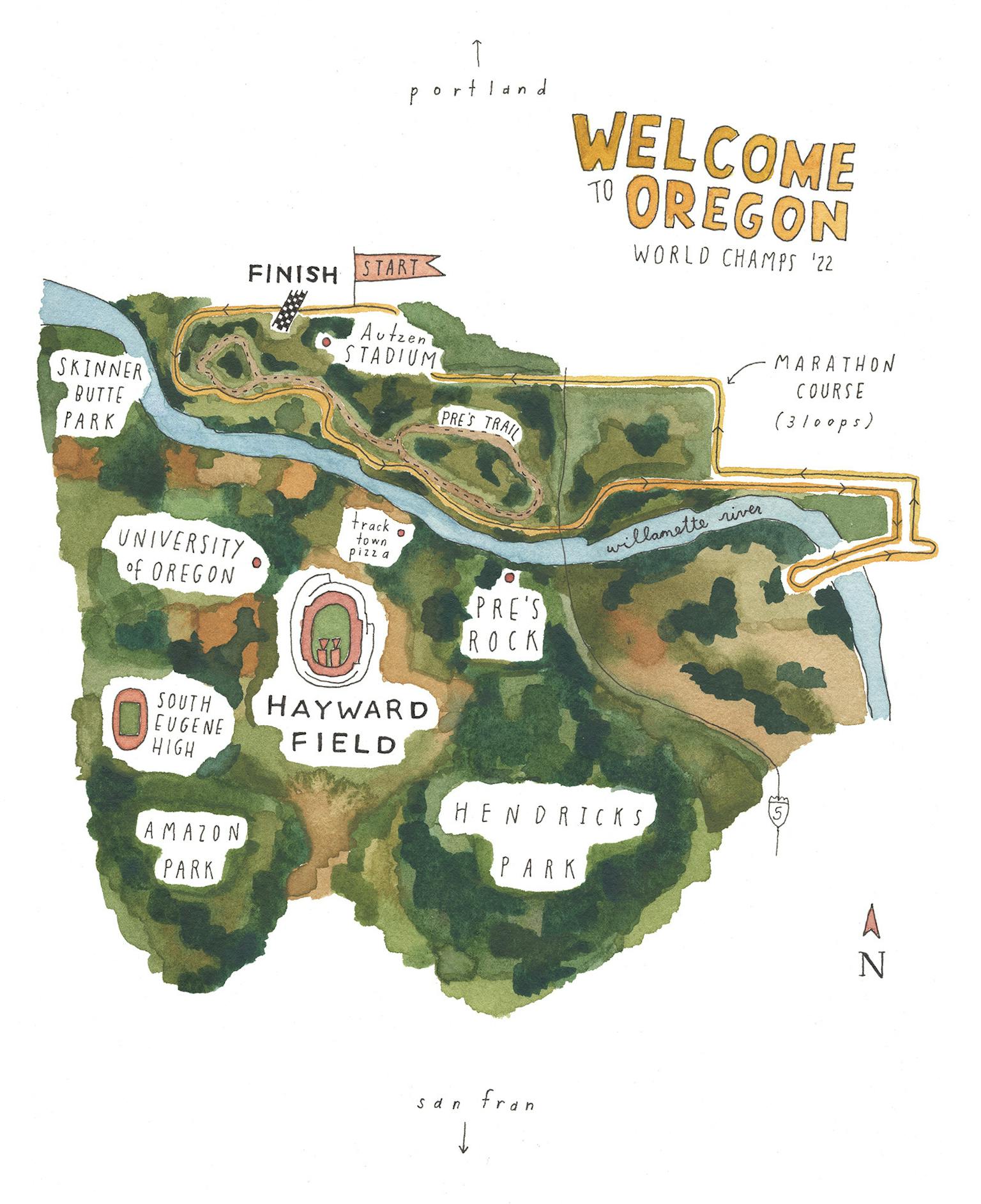 The World Championships are here, making their first ever appearance on US soil in arguably the most hallowed venue for American track fans. I say arguably because, as a Pennsylvania native, I would put Franklin Field – home of the Penn Relays since 1895 – in the same league, but maybe that's a discussion for another time. In Hayward Field, track has a home fit for the world stage, in the USA. That's something to be proud of.
A World Championships is a brutal campaign for the athletes. They have to perform on the day and at the exact time to earn their prize. There's only one final – no sets, no best-of-seven structure, no playoffs. It's the beauty of our sport and what makes winning an Olympic or World Championship medal so damn hard.
But for us track fans, wow – it's 10 days of bliss. We'll see world records and surprise medalists, and that elation will be tempered by heartbreak and drama and, possibly, a dropped baton or two. I brought my family to Eugene last month for the US Championships, where the team was selected with a top-three-go-through, everyone-else-stays-home system (minus the controversial World Champs bye process). With the stakes so high, every final held our attention. Now, add in a full stadium, global stars and an electric atmosphere, and you can understand why so many are currently making the pilgrimage to Eugene.
What many people don't anticipate coming here – and what makes Tracktown, USA so unique – is the unprecedented proximity to the athletes. Eugene is so small it creates an intimate experience around town, even if it creates some logistical headaches for travelers. You'll see an athlete getting groceries at the market in the morning, winning a gold medal in the evening, and toasting at the bar late at night. You'll see an Olympic champion getting ice cream with the rest of us, run into a national record holder on Pre's Trail, and find yourself next to a world record holder in the security line at Eugene's Mahlon Sweet Field airport. It's an experience that few sports and few venues can duplicate.
At this particular World Champs, I'm excited to watch 13 Tracksmith Amateur Support Program athletes compete on the global stage. My son is a Rudy Winkler fan, so we'll be cheering for him in the Hammer Throw. My daughter loved the drama of the men's high jump, with ASP athlete Shelby McEwen out-jumping JuVaughn Harrison in the high jump. Both will compete here in Eugene.
I'm also excited and proud of the podcast we've executive produced with Malcolm Gladwell and PUMA, Legacy of Speed, about the San Jose State team of the 1960's, nicknamed Speed City. As you watch the Jamaican sprinters blaze the track here, relaxed, looking effortless – know that many of the techniques that have made them the fastest athletes in the world can be traced back to San Jose State's coach, Bud Winter, and the group of sprinters he coached. It's a topic the podcast explores. The last episode of the series will be recorded here in Eugene on 7/20 at 13:00 local time at The Oregon Contemporary Theater in front of a live audience, with Wyomia Tyus, Ato Boldon and a few special guests.
I hope you enjoy your World Championship experience and take in everything this special town has to offer us crazy track & field fans. You'll find copies of The Amateur being distributed around town on Friday, with new issues next Tuesday and Friday.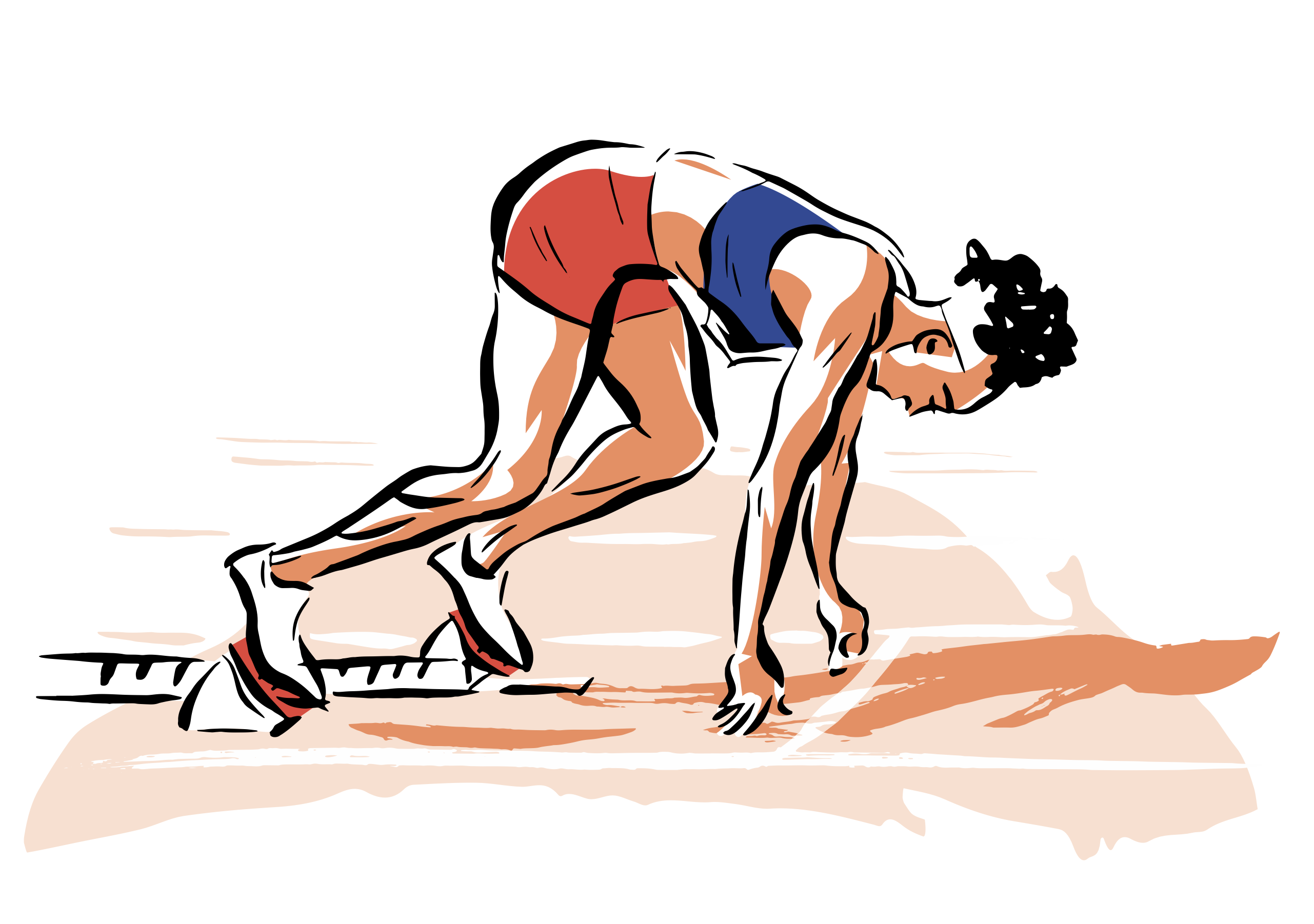 Sprints Preview
Tokyo was a trip into the unknown: unraced athletes, uninvited spectators, unseen technology for spikes and the track. The uncertainty turned out to be a festival of sprinting brilliance. Yet as good as Tokyo looks now, Oregon looks like it could be even better. Let's fly through a preview.
By Chris Lambert
Illustration by Simon Scarsbrook
Men
100m
Olympic champion Lamont Marcell Jacobs brings unknown form following injury, leaving Fred Kerley as favorite. Trayvon Bromell is fast enough, but unproven under pressure. Runs of 9.8s for Yohan Blake and Christian Coleman showed fitness, but both have championship rust. Kerley is a metronome in his prime, almost certain to PR, making 9.75s the time to beat.
200m
A Tokyo finalists reunion: Olympic champion Andre De Grasse needs to return from injury like he'd never left, or it's between Erriyon Knighton and Noah Lyles, reaching for 19.5s. Behind them, it's Club 19.8s. Kenny Bednarek returned to form post-injury with 19.8s at the US Championships. Jereem Richards, the inevitable Kerley, and Joseph Fahnbulleh of the locomotive finish, have all brought home a 19.8s this year.
400m
Michael Norman will have his hands full, but his path to a world championship became easier when Olympic Champion Steve Gardiner scratched due to injury. Norman's season ran out of juice in Tokyo – it's unlikely he'll repeat that mistake. Norman, with the fastest time in the world currently, will have plenty of challengers in Eugene, including Americans Champion Allison and Randolph Ross. Add perennial wunderkind Kirani James and returning WR-holder Wade van Niekerk for likely podium picks, but don't tell Diamond League winner and consistency-aficionado Michael Cherry, or new British record holder Matthew Hudson-Smith. The last time an American man won gold in the 400m at Worlds was 2013, and Norman might be our best shot to return to the top of the podium again.
110mH
Defending champion Grant Holloway is the most gifted male hurdler in history, but he crumbled badly in Tokyo, and Devon Allen took him to the cleaners for 12.84s last month. Holloway withdrew from the US Champs final, and it's tempting to wonder whether he is ready for the challenge. If so, Allen will happily ease the crown off him. Watch these two for sub-13 runs, but the other Americans, the Jamaicans, and the seemingly-limitless young Frenchman Sasha Zhoya will reach for anything going at 13.0s.
400mH
Injured Karsten Warholm has no reason to take risks with his supreme legacy, and is unlikely to arrive unless he's in perfect shape. Rai Benjamin would have been the subsequent college fund bet, until Alison Dos Santos hit the outrageous mark of 46.80s. These two aside, and with this event absolutely in bloom, the field is open for anyone who makes the final to have a pop at bronze.
Women
100m
Double Olympic champion Elaine Thompson-Herah keeps on improving and was exceptional last year, but has never won World gold. Shelly-Ann Fraser-Pryce is four-time World champion and World No.1. The 20 fastest global times in 2021 went to these two titans, Shericka Jackson, and Sha'Carri Richardson. Jackson beat Thompson-Herah to win Jamaican Champs, while Richardson didn't make the US team. As in Tokyo, I predict a Jamaica 1-2-3, leaving 10.8s too slow to medal.
200m
It may seem disrespectful to not mark Thompson-Herah as the favorite in the 100m after her 2021 times of 10.54s and 21.53s raised the threat of bringing legitimacy to the 100m and 200m WRs. But it's 2022 and we can't single her out in the 200m either because Jackson beat her at Jamaican Trials with a 21.55s showstopper. Olympic medalists Gabby Thomas and Christine Mboma are both absent through injury, but would have had the outstanding Abby Steiner for company anyway. Steiner may have heavy legs after a long college season, but looks poised to challenge for years to come.
400m
The world list looks tight on paper, but it only looks that way. Shaunae Miller-Uibo keeps her gunpowder dry for the big show, and the double Olympic champion is hunting her first World gold. In her signature, majestic form there will again be daylight between her and Olympic silver medalist Marileidy Paulino. As the great Allyson Felix no longer graces this stage, NCAA champion Talitha Diggs will relish her audition for the American mantle, while being chased (again) by NCAA runner-up, Charokee Young.
100mH
World record holder and World No.1 Keni Harrison arrives in gilded form, but has yet to win a title outdoors. Her competition temperament has improved since her 2017 WR, but so has the competition. Jasmine Camacho-Quinn dispatched her with startling ease in Tokyo and will be gunning for both Harrison and her record. Keep an eye on Olympic fourth-placer Tobi Amusan, and the remarkably improved Alaysha Johnson, second (just) behind Harrison in the US Champs.
400mH
Sydney McLaughlin will only lose if something goes wrong. She is rewriting records whenever she runs, to the extent that the most surprising thing about her is that we don't talk about her more. Another WR run is a fairly safe bet. Dalilah Muhammad's ability to secure silver will depend on her form after injury, and whether Dutch sensation Femke Bol chooses this season to break 52s.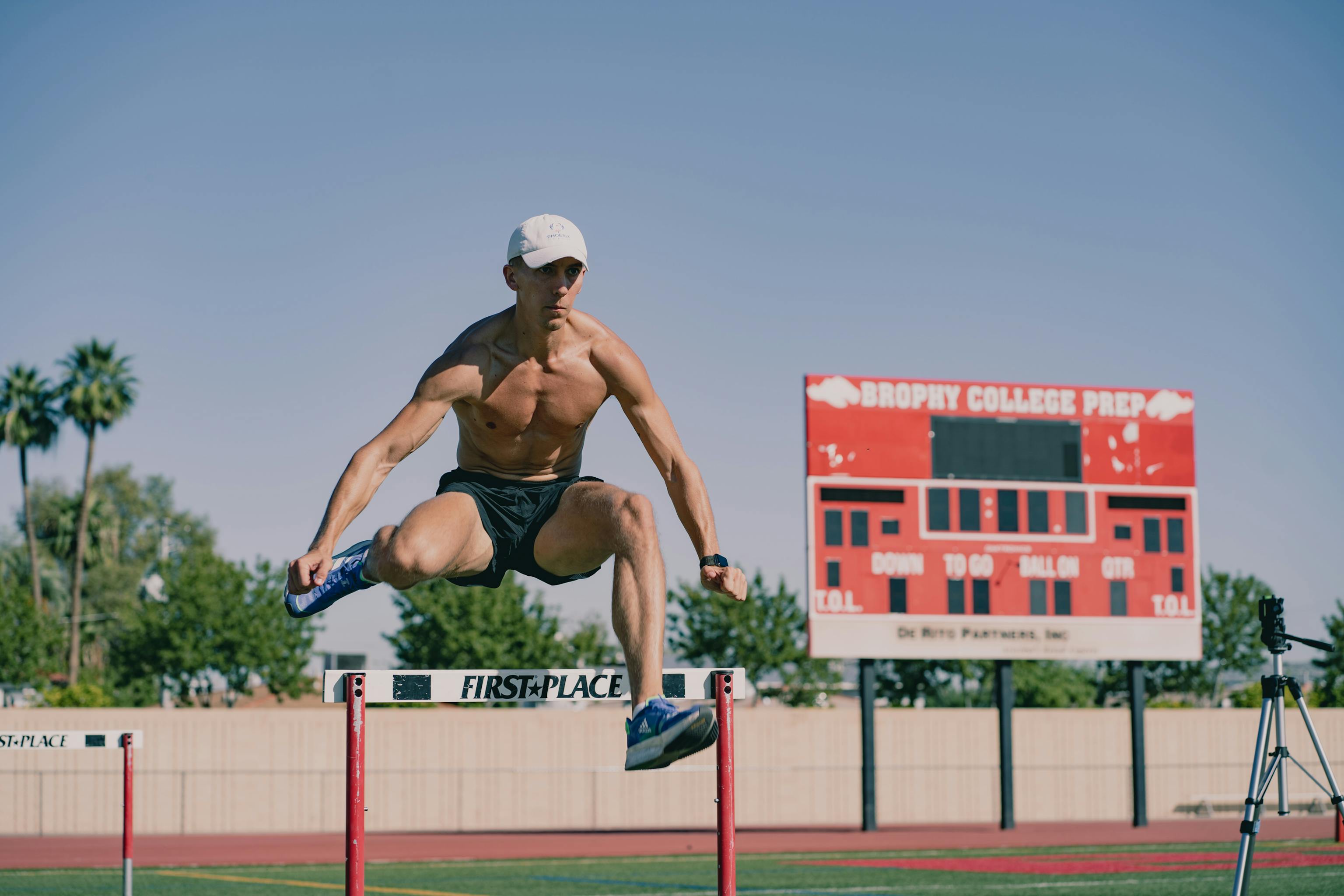 King of the World
How a British ASP hurdler came to the US
to take on the world
By Russell Dinkins
Photo by Paul Dedewo
David King, like many young people in Great Britain, had dreams of becoming a footballer, one of the best athletes in the country's most beloved sport. Footballers are legends in many places in the world, but they hold a particular significance in the minds of the British public. To make it in professional soccer is to become one of the revered few who've overcome the odds. King, like many ambitious young people interested in sport, began his sporting journey by playing soccer with the distant dream of becoming one of the best athletes in the world.
It was the pursuit of excellence that drove King to the soccer field day after day. This same passion eventually led him to become one of the best hurdlers in the world.
King's mother first encouraged young David to give athletics (what we call track and field in the US) a go. She had been a competitive high jumper back in her day and wanted him to run. David himself noticed that he was one of the fastest on the field and eventually entered a local youth athletics competition at the age of 10. He won, and from then on he was both a soccer player and a track athlete.
Over the next several years, he played both sports, but as he continued to progress in skill and achievement, he began to notice that progress in the soccer world was about more than who was the most talented athlete on the pitch. A professional soccerl team, Plymouth Argyle, tested King for their team a few times around age 15 or 16. "But I realized that they were trialing me as more of a formality. I was one of the best athletes from the local club, so they had to consider me for their team, but I would notice that during trial play, I would never get passed the ball." He said it was clear that the team didn't really want to add new players to their team – that they were just ticking a box. That was the moment when he realized football was also political. "I wanted something that's black and white. Athletics offered that."
From age 16 onwards, King decided to focus entirely on track, settling on the hurdles after also trying the sprints, triple jump, and even some of the throws. What drew him to the sport was not only his natural ability but that he was also in control of his own destiny. In football, King could play his best game, but the team could still lose. With track and field, you control the result. King was drawn to that.
A couple of years later, King found himself sitting in a movie theater in 2012, watching some of the athletics competitions at his home London Olympics. Watching those athletes, he decided that he was about to begin his own journey to compete on the world stage.
As someone who progressed steadily every year, King assumed that he would easily qualify for the 2020 Olympics after nearly qualifying for the 2016 Games. However, in 2017, he hit a plateau that challenged him physically and mentally. In the fall of 2019, after a fews years of struggle, he chose to move across the world, from the UK to Phoenix, Arizona, and train with the Phoenix Track Club under Tim O'Neil. A change in location and training group helped him to find his groove again: after qualifying and competing at the Tokyo Olympics in 2021, he became a finalist at the World Indoor Championships this past March in Belgrade, Serbia, and is set to compete in this summer's World Outdoor Championships in Oregon. "I know it may sound simple, but I run better when I'm enjoying myself and when I'm happy," he says. "I'm surrounded by people who are smiling and who are encouraging. It really makes me run my best."
King's journey to becoming one of the best hurdlers was one that began as a young boy focused on that relentless pursuit of sporting excellence. But as he's progressed in his athletic career, he has grown to appreciate that relaxation and happiness are what allow him to be most successful.
As he steps on the track to face the best in the world, he will bring not only the ambition and zeal of that young boy who dreamt of soccer success, but also the wisdom and resolve of his current self: someone who understands the importance of balance, perspective and joy.
Both his former and current self make him the athlete he is today: an athlete who is ready to become King of the world.