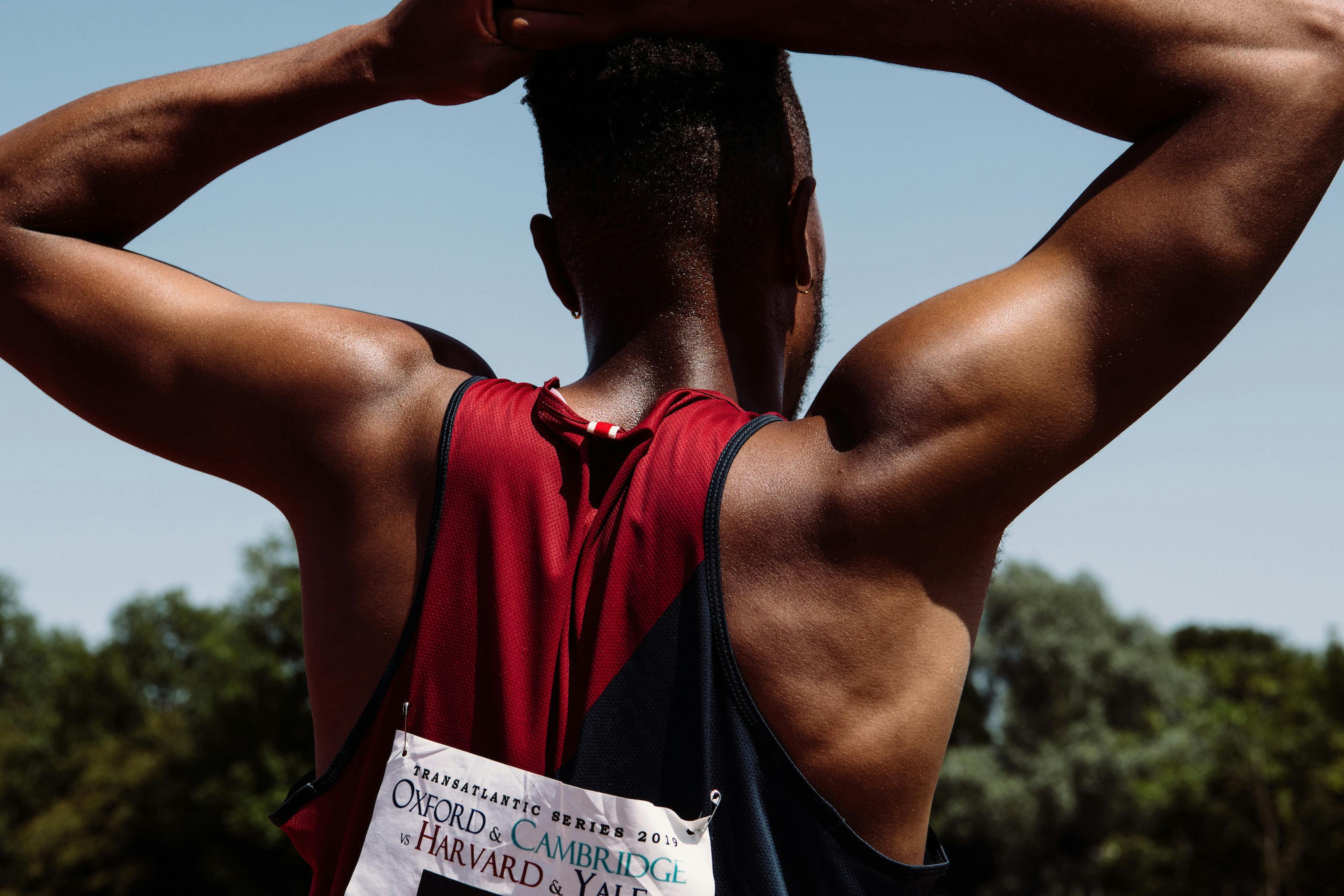 H.Y.O.C.
The Ivy League take on Oxbridge on home turf.

Photos by Emily Maye
Last summer, Harvard and Yale travelled to Europe for the all-important bi-annual H.Y.O.C. meet. A year later, amid a lockdown-lull in sports at all levels, it's good to look back and be reminded of what we're missing: the competition, the camaraderie, and the mind-altering effects of travel.
METER recruited two U.S. athletes to document their experiences of the trip – 800m runner Myles Marshall and 10,000m runner Andrea Masterson. What follows are their stories.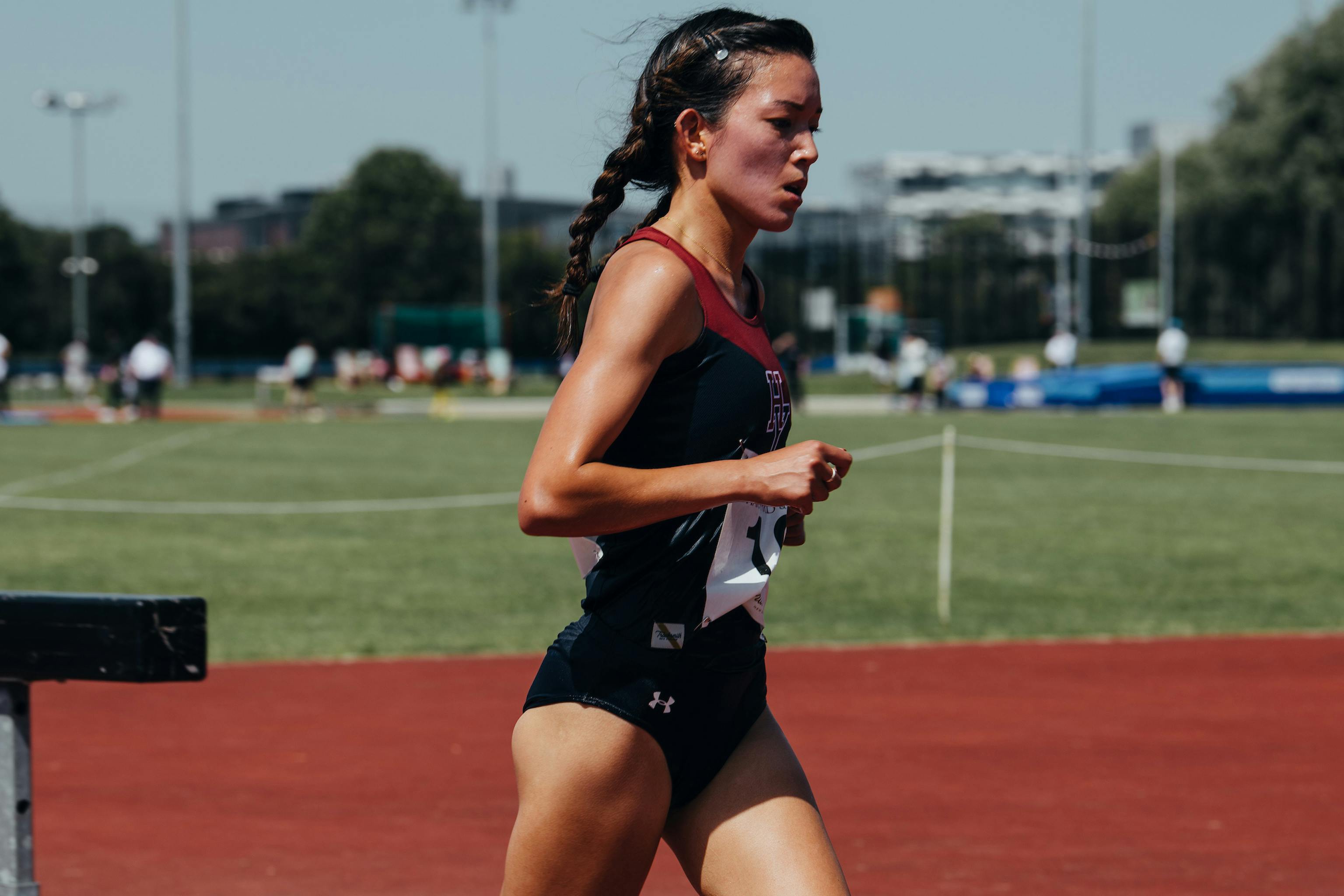 Andrea
Who wouldn't jump at the offer to travel across the Atlantic to run in the world's longest-standing transcontinental track meet? Obviously I said yes. It was the perfect scenario: a way to extend my final collegiate track season and take a free graduation trip to Europe. A total win-win. Thanks to the way the bi-annual Harvard-Yale Vs Oxford-Cambridge (HYOC) meet alternates between the US and the UK, I had exactly one shot to qualify for the trip and luckily, my chance came at the end of my senior year.
The last time the trip took place was the summer before my freshman year at Yale. It was recounted by my upperclassmen teammates as the trip of a lifetime – ten short days packed with visits to castles and rugged seaside cliffs, full of late nights, team gossip, and many, many pints, with the occasional race sprinkled in. Plus, they said, it was pretty cool to compete in a meet that predates the modern Olympics.
HYOC reminded me of all the best things about college athletics. After overcoming the initial awkwardness of uniting with our fiercest rivals, we made easy friends with our new teammates from Harvard. We bonded over jet lag and the success of the U.S. women's national soccer team, who we cheered on from pub. On this edition of the trip there were very few Harvard and Yale seniors, so I spent most of my time with underclassmen. This, I quickly realized, was exactly the change of pace I needed: I went from being surrounded by fellow seniors who were incessantly thinking about endings and the future, to spending time with people who were in the midst of the college experience. It was a relief to pretend that I was in the same boat as them for a little longer.
We knew we had to make the most of every moment of our trip, and we did. I was grateful to be with a group of people who were completely and totally present.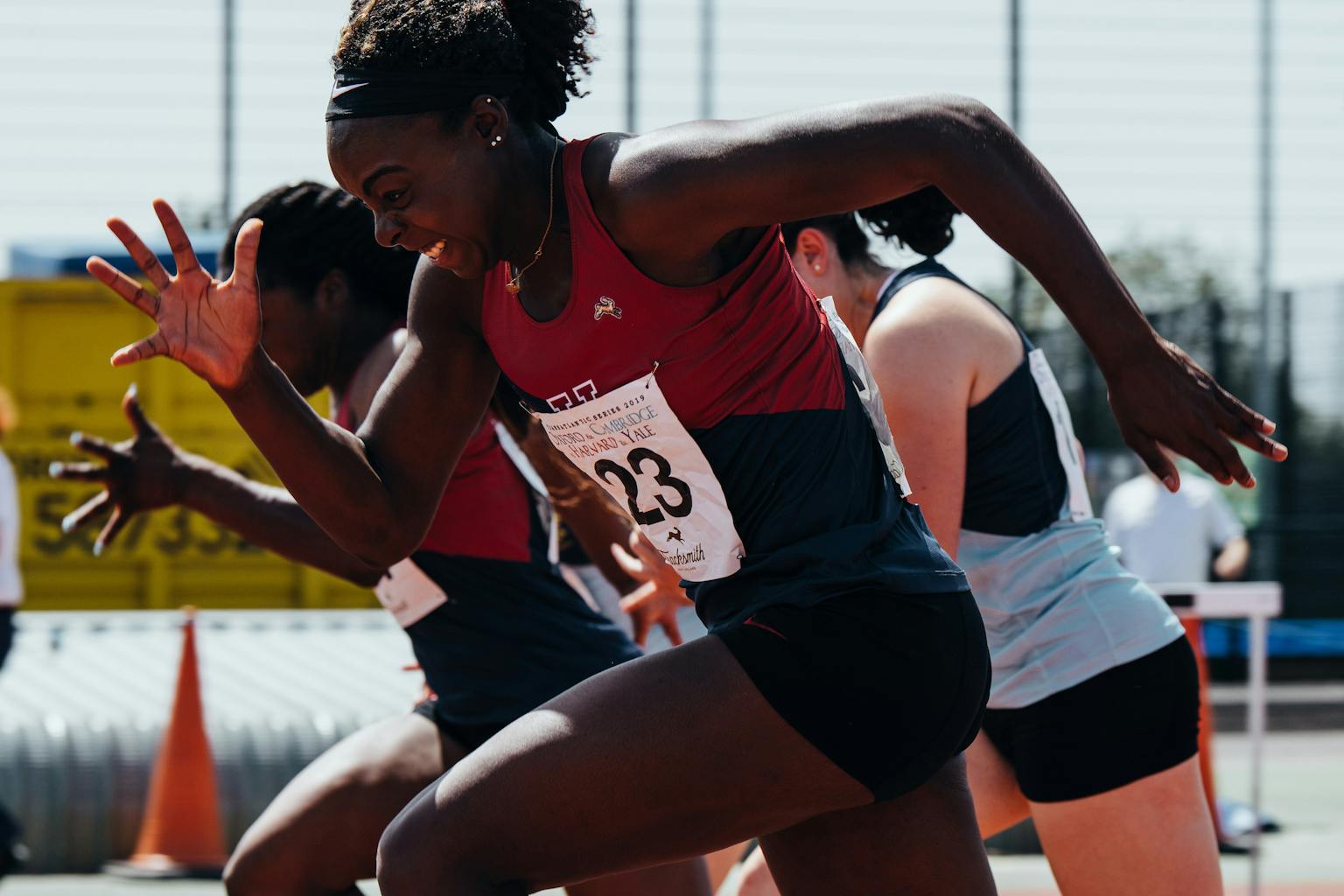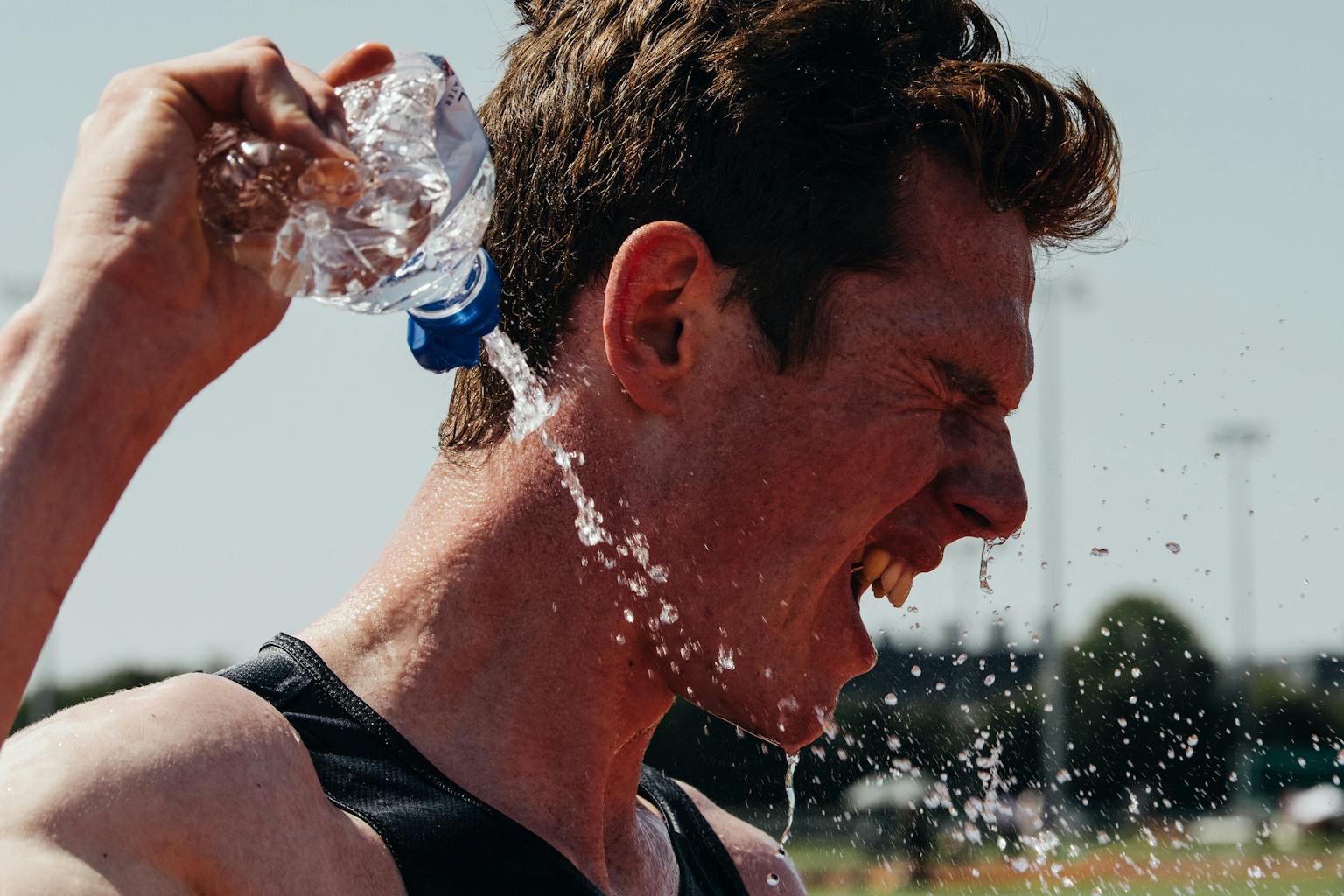 It just so happened that the day of the race coincided with Europe's first major heat wave of the summer. Though the 10,000m took place in the morning, by the time of the race the temperature was in the mid-80s, and running 25 laps suddenly didn't seem very appealing. Before the race, our coaches reminded us that the stakes were high: we had not lost to Oxford and Cambridge since 1993, and we would not be losing to them this year. To add to the pressure, the meet was scored 1-0, meaning that the first place finisher in each race received one point, while each subsequent finisher received none.
When we arrived at Wilberforce Road track, it quickly became apparent that the day's objective was not about winning at all. With many alumni, parents, and friends in attendance, the meet had something of a carnival atmosphere. Spectators sipped Pimm's from the deck of the club house, while others reclined in striped lawn chairs on the sloping field that bordered the track. There weren't enough competitors to run separate men's and women's 10,000m races, so the races were combined into one, something I hadn't done since high school. Conditions were hot enough that the race officials set up a water station along the back stretch and it was clear that this race was not about the times, or even the competition – it was about preserving the spirit of the transnational exchange. It was as much about each of us taking part in the historic experience as it was about celebrating the scores of athletes who had come before us.
Still, I had a 10k to run. I tried to enjoy my final college race as much as I could in the wilting heat. About 15 laps into the race, my head coach decided to take the hose from the steeple pit and doused us with water each time we passed, making the goal of each lap to make it around the track to get blasted with a cool jet of water. I ran a time that my sophomore self would have been embarrassed by, crossing the line soaking wet and happy to be done, awash with gratitude that I had been part of this absurd and wonderful tradition.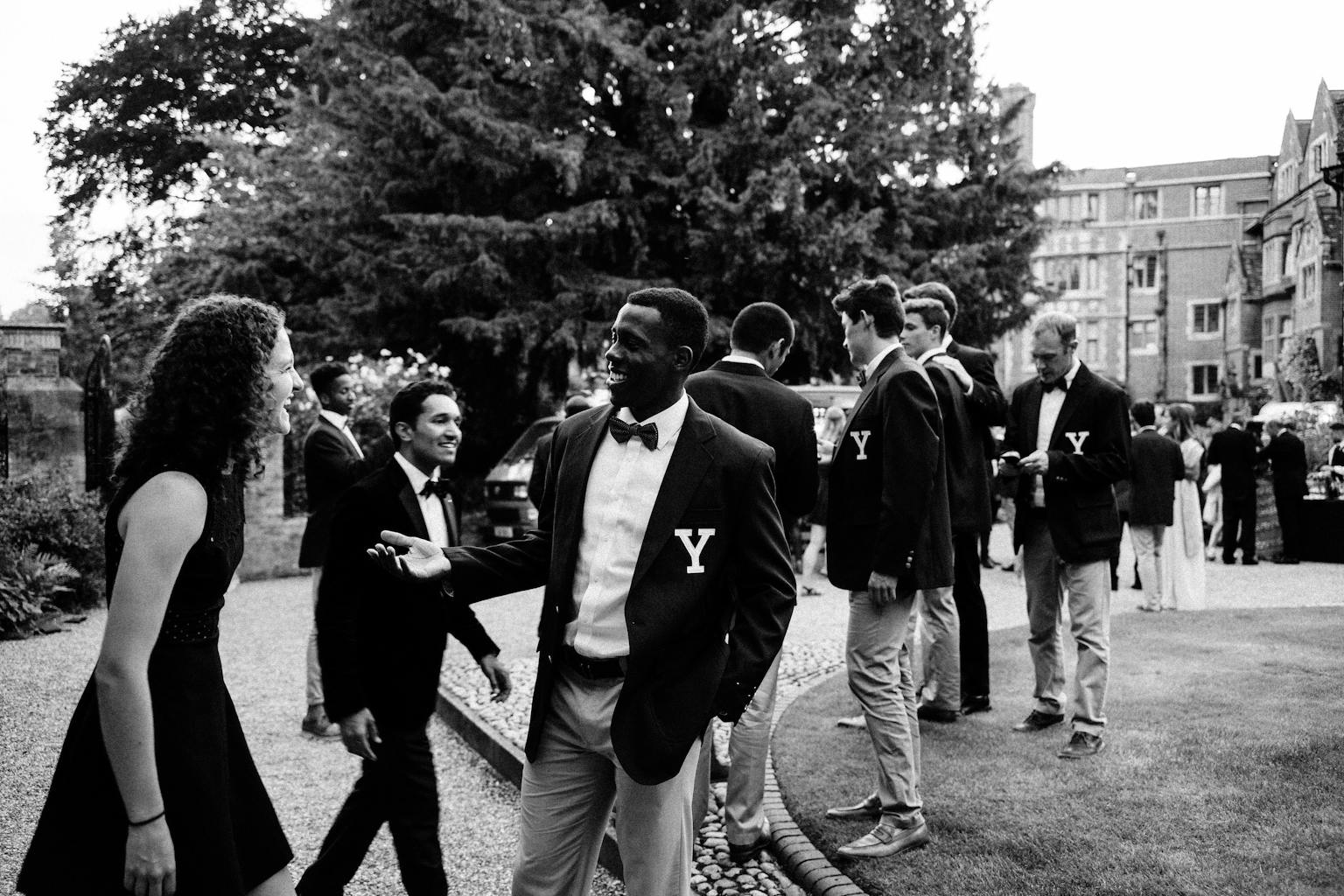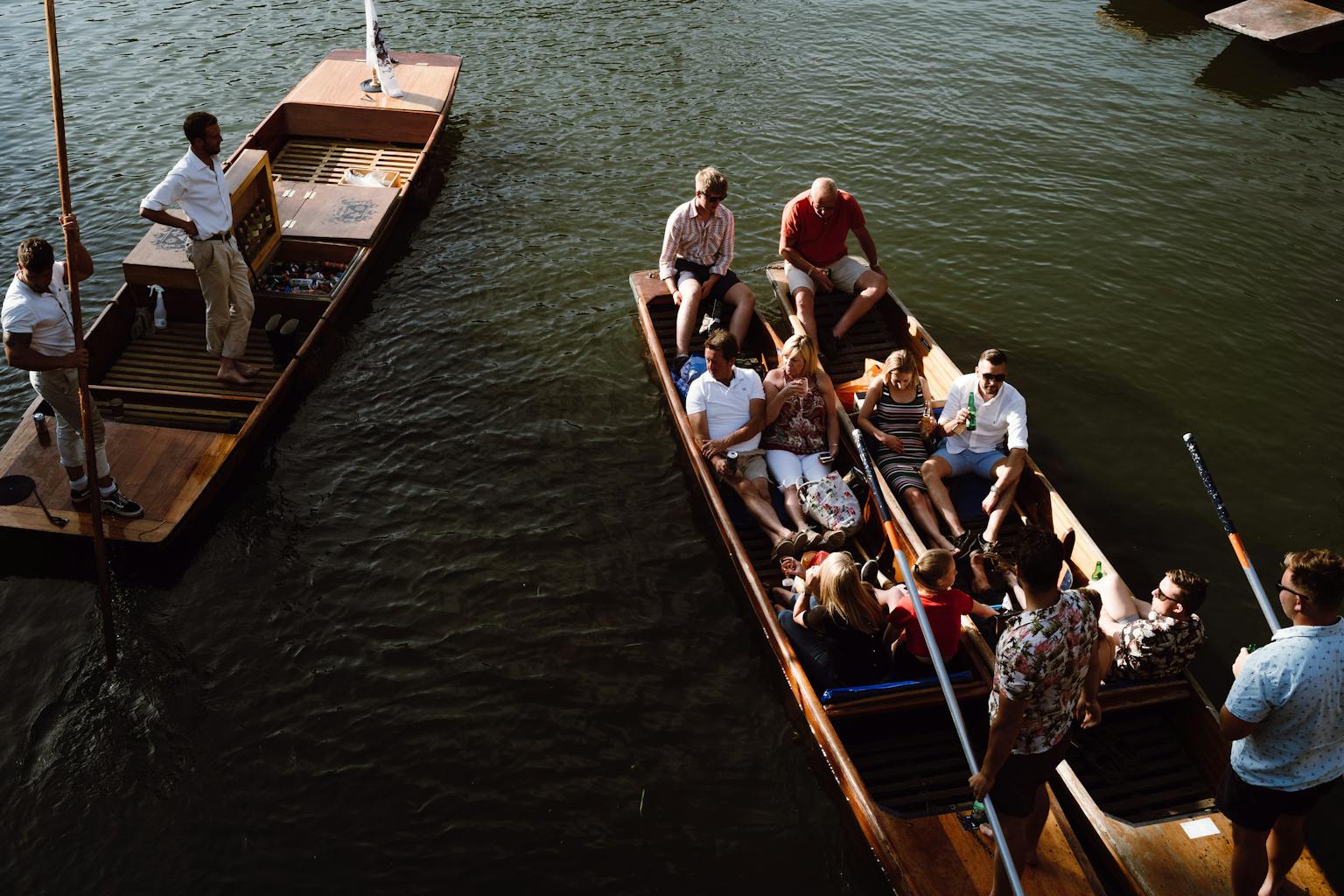 As someone who only knows the streamlined, hyper-competitive world of NCAA track and field, I was surprised to find how different university-level athletics are in the UK. Without the same level of resources that nationally competitive track programs enjoy in the US (things ranging from recruiting top high school athletes to receiving university funding) athletics in the UK are loose, informal, and largely student-organized. As a result, something much more collegial and, frankly, freeing exists: a club running atmosphere in which athletes are able to pursue the sport at all levels of commitment and competitiveness. It is student-driven, social running at its finest, something about which programs in the United States could learn a thing or two.

In the United States, we treat leadership like it is a skill to be honed – something that we learn through practice, like riding a bike. Some are better at it than others, and we act as if those naturally predestined to be great leaders gradually emerge through constant exercise of their skills. While this may or may not be true, most of the settings in which young adults are allowed to practice being leaders are closely supervised, like riding a bike with training wheels. This was the case in my experience as captain of the Yale women's cross country team. My duties ranged from organizing captain-led practices to voicing concerns of my teammates to the administration, but these are the kinds of things that any invested team member is happy to do. Anything beyond this was out of my control: matters of administrative importance were left up to the paid coaching staff and athletic department.
When we stayed with hosts from the University of Birmingham (which has in recent years transformed into one of the top distance running programs in the UK) I was surprised to learn that our visit had been organized not by the coach, but by the team captain. Everything from a welcome barbeque to fundraising to making sure we had places to sleep and people to train with was arranged by members of the team, largely on a volunteer basis. There were incentives to team participation, to be sure (for instance, qualification for a trip to the United States that Yale will help to host next year) but it was notable that just being fast wasn't enough to be considered a great teammate. Though our visit to Birmingham on the whole wasn't as streamlined as our coach-organized visits to the Universities of Limerick, Oxford, and Cambridge, the lack of student planning meant that we didn't get to know our hosts nearly as well at these places. Of course, since college sports in the US are a money-making enterprise, NCAA athletes would never be trusted with such responsibility – there is simply too much at stake. Nonetheless, I feel that American programs are missing out on the real-world benefits of taking the training wheels off and letting students steer.
Our combined Harvard/Yale team easily won the day's competition, but not without Oxford and Cambridge putting up a strong fight. The fact that the majority of the competitors from our Harvard/Yale team were recruited athletes made the strength of the Oxford/Cambridge team all the more impressive. What's more, after spending the weekend at Cambridge, I began to appreciate the similarities between our programs. Walking around campus, I was constantly reminded of home, because, after all, much of Yale's architecture and institution was modeled after Cambridge and Oxford. More importantly, I recognized that everyone who competed at HYOC had chosen to attend their respective schools for their academics, not for the promise of athletic glory. At the end of the day, we were students before we were athletes, the kind of high-minded strivers who were foolish enough to take on the challenge of attending some of the world's greatest institutions while choosing to spend time training when we could be studying, working, or playing instead. And for what? No reason other than the fact that we love our sport so fiercely.

There is a particular kind of person, myself included, who does this sport for nothing much more than the promise of camaraderie and sweat, and sometimes, complete and contagious joy. It's why, 125 years later, this transcontinental exchange is still going on. This promise is why traditions like HYOC matter. At the end of the day, who won or who lost didn't make any difference. It was never about the race.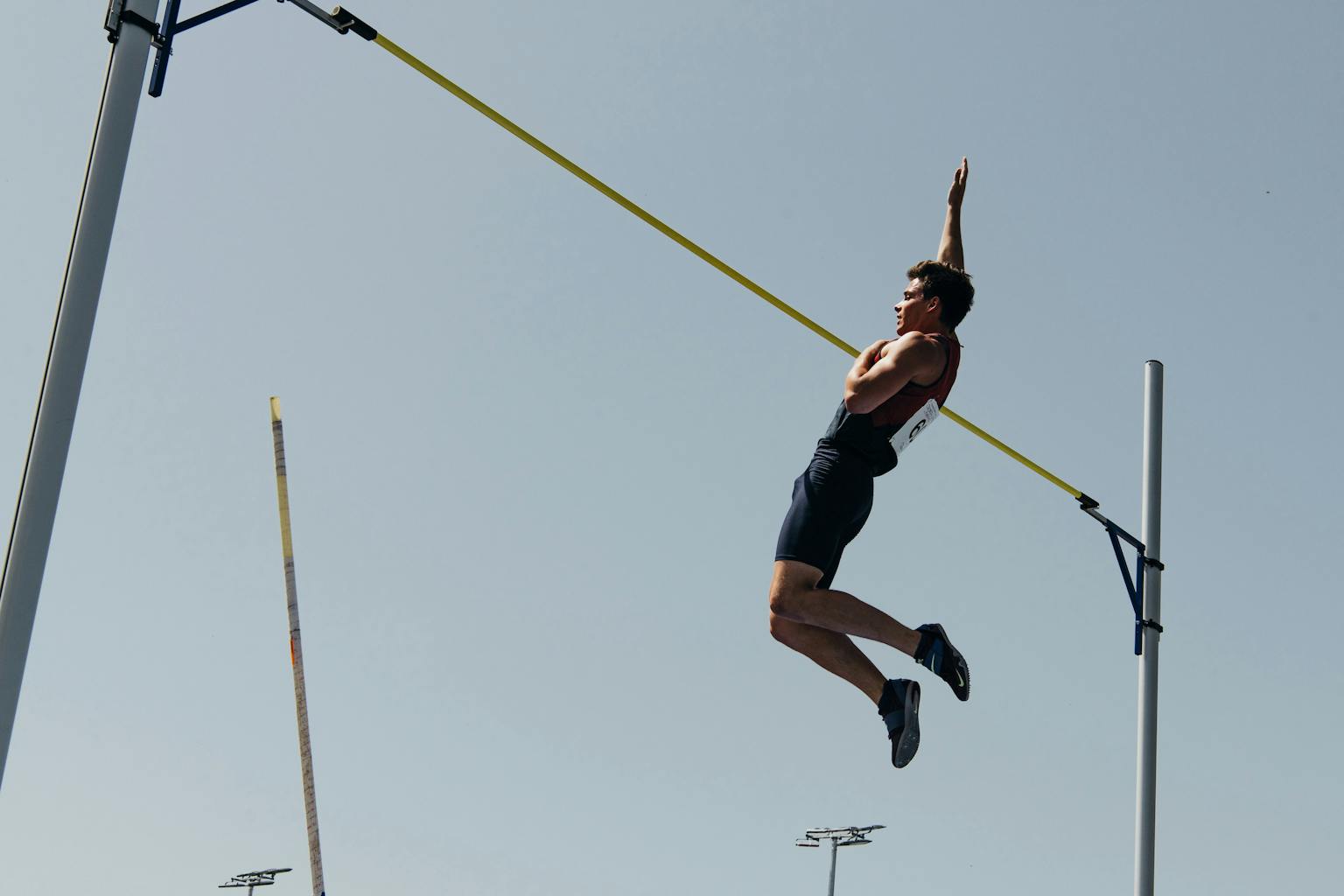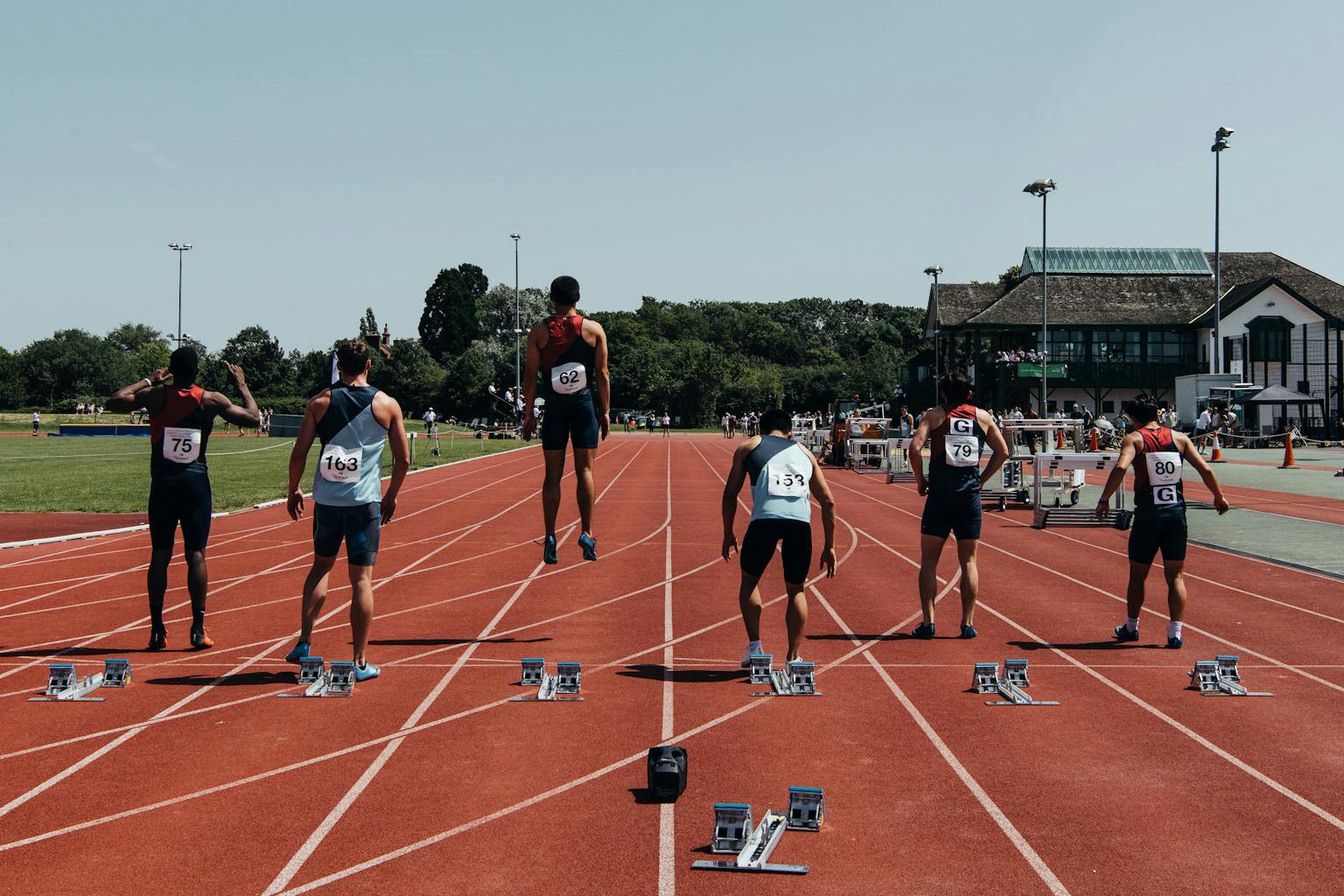 MYLES
From its classic colonial brick buildings to its traditional dormitory housing, Harvard is a school which sticks to its mission of academic excellence and creating future leaders of the world. The athletics at Harvard are no different. A quick google search and you'll find that Harvard was integral to the way American Football is played and looks today; a quick trip to the library and you'll find old yearbooks with sports teams from the 1800s staring back at you as some of the first U.S. collegiate teams in existence.

The rivalry between Harvard and Yale dates back all the way to 1852 and the first intercollegiate sporting event in the United States - a regatta on Lake Winnipesaukee, New Hampshire in which Harvard triumphed. The rivalry runs deep and 167 years later, it's as fresh as ever.
Every two years, however, even the fiercest of opponents can be made to come together, if only to take on a more formidable foe: the British counterparts of Oxford and Cambridge. This event, known as Harvard-Yale vs. Oxford-Cambridge, first took place in 1899, and every four years, barring a few pauses for the World Wars, Harvard and Yale team up and travel across the pond to compete against the British Universities.
Last summer, I myself had the opportunity to make the trip and represent Harvard/Yale and the United States in what's known as the oldest continuous international amateur competition in the world. Thanks to the scheduling, most athletes only have one opportunity during their college career to make the team. If one is lucky enough for summer plans, post-grad plans, and their health to fall into place, representing Harvard-Yale in England is literally a once in a lifetime opportunity.
Over the years, the trip has evolved to encompass additional traditions, including stopping and competing in Limerick, Ireland, and doing the same in Birmingham, England. These stopovers lengthen the trip not only in time, but in fatigue, but that was a price worth paying for the experience of seeing foreign cities and interacting with their athletes.
The meet in Ireland was technically Harvard and Yale vs University of Limerick, to the best of my understanding, but due to a somewhat lopsided pool of entries, they opened up the meet to a few Irish National team members. The track was located on the lovely campus of UL, and was part of a very impressive sports complex that seemed to serve the outside community as well. Due to the weather – cold and rain (we soon learned how Ireland became famous for its impossibly green landscape) – there wasn't a spectacular number of fans at the meet, but there was still plenty of support and excitement from the people spectating. Harvard and Yale's team was comprised of about 60 people in total, so it truly felt like we were one large unit, and for the first few days in Limerick we stayed in student housing that was designated for summer visitors,
In Birmingham, we roughed it, sleeping on couches and floors of Birmingham athletes' houses and apartments. Each housing situation was a bit different than the last, but it was fun to experience what life as a student at each of these schools could look like.
Our competition in the British Midlands comprised a match against Birmingham University's track team at their newly created track on campus. It didn't have the stadium set up, but that only made the meet more intimate as fans and team members were able to stand pretty close to the action(all the way in lane four for the 4x4) as they supported their team.
The European system of student athletics tends to be student-led, which made me incredibly thankful for the support and the focus that our schools provide in the US. Racing against the Europeans, it's apparent that they are purist of the sport: racing, jumping, and throwing not because it's expected of them or because they always have, but purely because they want to, and enjoy the grit and grind, rather than the glamour and glory. There's also a strong social side to the sport and it was in Birmingham where we were introduced to the lovely experience that is a post-race night at Snobs Nightclub with Birmingham's team. Even with that experience, we travelled to the match against Oxford and Cambridge with our focus sharpened by the racing in Ireland and Birmingham.
Representing Harvard and Yale a meet such as Harvard-Yale vs. Oxford-Cambridge, it's easy to get swept up in the gravity of the situation. This past summer happened to be the 125th anniversary of the match, so plenty of alumni had returned, only bolstering the stakes. Taking a moment to allow yourself to absorb your surroundings, you begin to feel the immense privilege you have to represent such a squad of schools.
The meet itself went great. It was a hot day by English standards and the heat affects everyone, but I think that the Americans were a bit more used to it from the meets we attend in the south during the spring. Most races had only four or five competitors, which doesn't happen often but it didn't change my race, the 800m, all that much. My job was to win the race to score points, in which case, tactically speaking, my best option was to set a decent pace from the start and be able to finish strong. My final time was 1:51, which was a decent mark, but pretty far off my best. In a meet such as this, the points matter more than the time, and at the end of the meet, Harvard-Yale had amassed more points than Oxford-Cambridge.

Overall, I felt that the entire trip was one of unforgettable experiences that have created everlasting memories and friendships. Personally, it was a wonderful way to cap a season spent with me falling back into appreciation and enjoyment of the sport, and coming out I only felt more encouraged to continue on beyond my college career in a bid for the Olympic team. It's the sense of tradition that attracted me to attend Harvard five years ago, and it's also what made this event so special. It's surely one that I'll never forget, and I can't wait to attend as an Alum – you can be sure to catch me sipping on Pimm's cups wearing my fanciest summer stetson.