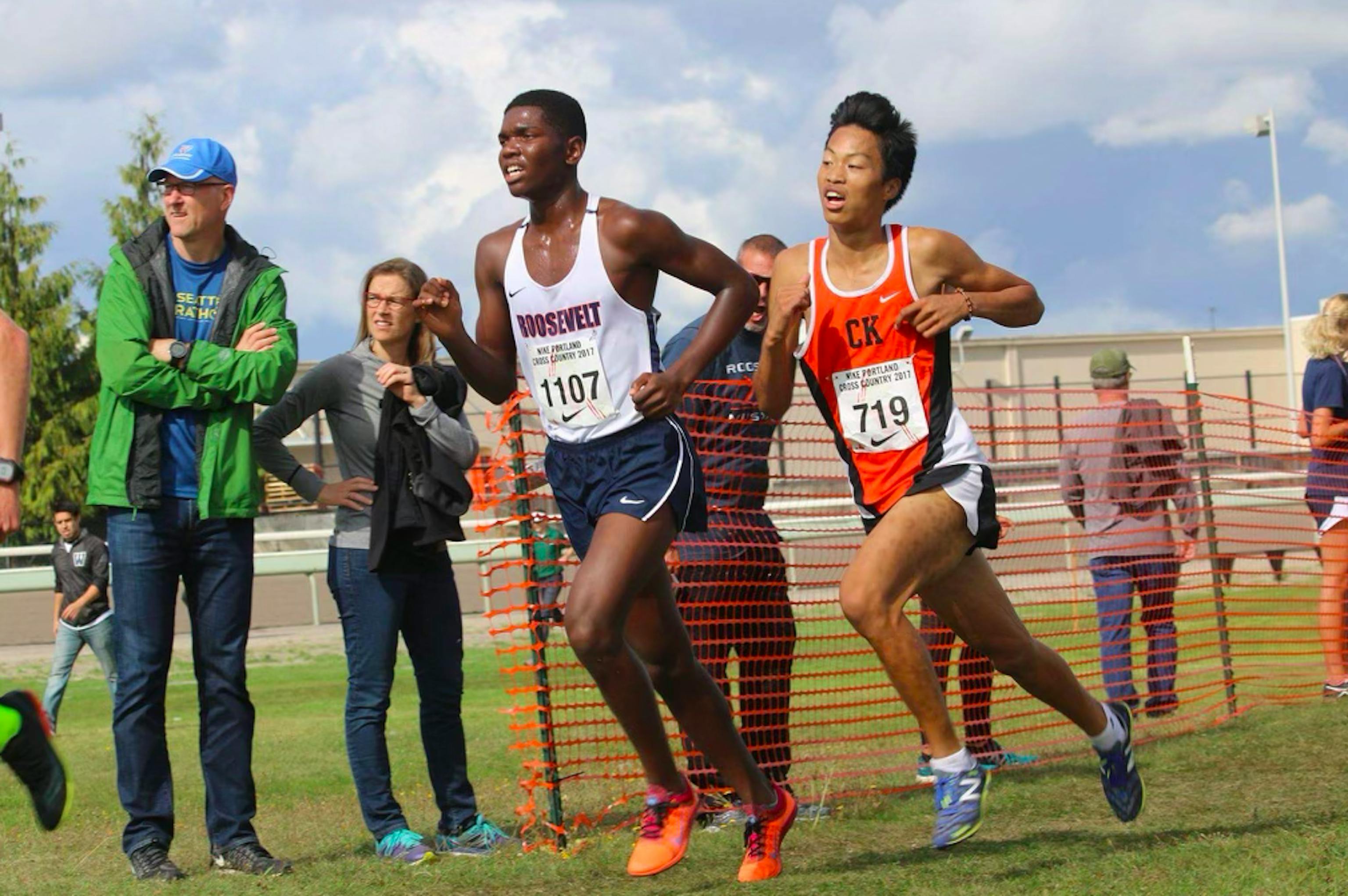 In Conversation with The Potts Brothers
Running Report
Interview by Lee Glandorf
Images Courtesy Aaron Potts
One of the most exciting changes we have seen in the sport in the last five years are athletes creating their own platforms for content and conversation. In doing so, they're helping change the narrative in our sport and elevating new voices and diverse perspectives. One new show we're enjoying is the Running Report and Two Black Runners, a YouTube Channel and podcast hosted by brothers Aaron and Joshua Potts. The Potts Brothers bring an encyclopedic knowledge and love for running to their shows, while also shedding light on social issues that have too long been sidelined within running. We sat down with them to learn more about their running careers, podcast and vision for the sport.
TS: What's your running story? How did you become invested in the sport?
Aaron: We come from a big running family. Joshua and I are two of four brothers, and everyone runs. Caleb, our older brother, joined a club team at 12. I followed his footsteps and joined when I was in second grade. Then our dad took over as coach of the team. It was always our dad's plan to use track to help us get an education and go to school with a scholarship. That was the opportunity. And we did. Our older brother ran the 800 at Northern Arizona University, I ran at Azusa Pacific. Our other brother was a football player and threw the shot put and discus at Cal State Fullerton.
Running has always been a big family thing. Our dad has an incredible love for the sport. He still coaches club track and loves going to any meet, high school, college, professional. He was putting us on to "Without Limits" in sixth grade, teaching us about Jesse Owens in second grade. We're a sports family but it's always been Track and Field. That was our thing.
Joshua: Track has always been our number one sport. When the Diamond League, Pre Classic, USAs are happening, track is always on our TV or someone is asking "Josh, did you DVR the track meet?" I was five years old when I started running. My earliest memories are watching my brothers race. It was the only sport I really saw. I started at five in the 100-200, and always wanted to run the 800 like Caleb.
Our dad was a boxer, he won golden gloves in Southern California. Our mom didn't do sports. But she runs now. She did 100 miles in a month and she's fifty-four. She's doing her thing. Running is a big part of our family. We truly love it.
TS: What inspired you to launch the Running Report? What conversations are you hoping to elevate?
Joshua:It stems from when I was a senior in high school. I started a Youtube channel with my friends on the cross country team. It was my first entrance into entertainment and being in front of the camera. When I came to Northridge for college, I didn't want to Vlog. I wanted to report on Track and Field. Aaron likes to entertain too, so one day it dawned on me, "We have to do a podcast."
In the media world of track and field, we don't get to see a lot of Black runners doing the reporting. For basketball and football, the main analysts you see on TV are Black. They are the ones leading the sport. You don't see that in Track and Field, and I think that's one reason why Track and Field hasn't made it to that level. Black fans aren't connecting to the media side, because they don't see themselves.
In quarantine, we realized we had time. And said "Let's do this for one year, fifty-two weeks straight." We're Black distance runners, we can be entertainers but we can also commentate on the social side of the sport.
Aaron: It stems from our childhood. We're a sports family. Our uncles and our dad, they made us very competitive. We grew up watching ESPN, arguing about sports with somebody. That's just what we did all the time, and that's what made the transition to podcasting really fun. We've always had barbershop talk about sports.
TS: What are some of your favorite conversations you have had?
Aaron: There are so many! I go into every podcast as a learning experience. Talking to athletes like Dalilah Muhammad and Ajeé Wilson, I've applied what I have learned from them to my own athletic experience. It inspires me. Then you have people like Jamison Michael, one of the few Black shoe reviewers. He's straight-up proving to brands that Black people can sell products. They're giving him free stuff to talk about their shoes.
I really liked talking to Alison Desir, because it was really smooth. I like the ones that are chill conversations, with different perspectives. Jordan Mann was also great, he's a really funny dude. He can just talk and he's really smart. He went to Columbia.
Joshua: The second podcast we ever did was with Katie Izzo, we weren't even 2 Black Runners then. It was incredible to hear her story, of breaking her fibula and then coming back to get third at NCAAs. Or Mariele Hall, to hear about her professional career and what it's like to run a 10K as a Black woman. Things like what you have to do with your hair when you're training. I just connected so much with her.
I really liked Molly Huddle, Ryan and Sara Hall. To have these epitomai of U.S. distance runners come to talk not just about running but about being allies. And what they are progressively doing as white people to lift Black runners up. We need to bring them back! There's so much more to explore there.

Tracksmith: You have a lot on your plate, how do you juggle work, school, training and podcast?
Aaron:I'm 26. Joshua is 21. 2020 was just a crazy year. Going into it, I was running for the HOKA Aggies. In 2019, I had a bad injury that halted me and I was struggling with mid-twenties life changes. I wasn't fulfilled in my work. I got injured and had time on my hands to seek out different opportunities and start to figure out what's next. I started reading more and exploring my Christianity. Opportunities began to arise, by March 2020 I was hired at HOKA, running again, launching the Running Report and moving to Santa Barbara. It was a ton of juggling. I'm still learning. Coming out of this transition, where before I was always just worried about running, and now have all these extra-curriculars, while being in Covid, sitting on your phone and the craziness of the world, it's a lot. For me, I just tell myself there's a light at the end of the tunnel. I am working towards something. Some of what I am doing isn't normal. Sometimes it's going to make you feel bad. I try to do things to combat that. I am in a phase of my life where this is what it takes, it's all systems go. Still, I try to be mindful of my mental health and check in on myself.
Joshua: I try and find balance, but it's hard. Covid has helped. Doing school from home, not driving to Mt. Sac every day, means it's easier to balance school, practice and editing. I'm still running on my own, and I've created my own schedule. At a younger age, I probably wasn't a great student, but I am now. Being a track athlete, an individual athlete, has given me so much discipline. There are four things I do. There are four things I want to do. Go to Church. Run every day. Do homework. Do the Running Report. Those are the four things. I am committed. I prioritize those things.
Aaron: It helps that I'm doing this with my brother, doing it with family. We get to spend time together. I never dread it. It makes it easier. And, as you can see, Joshua is very wise.
Tracksmith: What's your favorite running moment?
Joshua: Usain Bolt, 2008 Olympics. When he crossed that line, beating his chest, I remember being downstairs with my family and everyone lost it. David was doing the worm. Everyone was just hype. I was already a track fan, that cemented it. Track can be tight. Even at the club level, we'd see some crazy races.
Aaron: There are so many stories from going to meets. For me, with running, there's just so much to pull from. From my own competitive career, senior year of high school we won our first league championships in cross country. That year our team improved a lot. It was my senior year, and we got everyone together in the summer training and committed. I went from 15th place in the league to 2nd consistently. It was a good moment and even better to do it as a team. In hindsight that was cool and then for Joshua's team it became the standard.
Tracksmith: What are your hopes for the sport in the years ahead?
Joshua: I want running to be mainstream. I want to see it on SportsCenter and ESPN. They should be discussing, "Is the Best Young Star Noah Lyles or Michael Norman?" on First Take. That's the potential. There are so many young stars, so many world records. Track and field is the most participated sport in high school, cross country is number 6-7, but these athletes don't see track in the media. If we're able to promote it in the right way, with the right personalities, we'll see growth. Track and Field on social media doesn't cater to the sprinters. Sprinters and jumpers don't dive into the sport in high school cause they don't see it on Bleacher Report. These are people they should be looking up to. The potential is there.
Aaron: I want people to see the opportunity within running. Especially people within the Black community. I graduated from Azusa, worked at a running store in college, finagled my way to HOKA and that's not the end of the story. There aren't many Black faces in the industry. The sport would look different if there were more Black voices in higher positions. Track athletes that don't go pro, come work at HOKA, come work at On, at Tracksmith. That could have a big effect on things as well. There's a lot of running companies that could change how the sport is presented.
Tracksmith: You consider your platform "A Running Media outlet produced for The CULTURE and by The CULTURE." Can you talk about what that means for you and how it informs your approach?
Aaron: Running Report is produced by runners for runners. We want to grow the sport, but we are doing it for our culture as well. We uplift those voices that don't always get a light shined on them, to create a more inclusive and equitable environment.
Subscribe to Running Report on YouTube and 2 Black Runners via iTunes or Spotify. You can catch Aaron and Joshua hosting the post-race interview for the Citius Mag and Trials of Miles Kansas City Qualifier on May 1st.