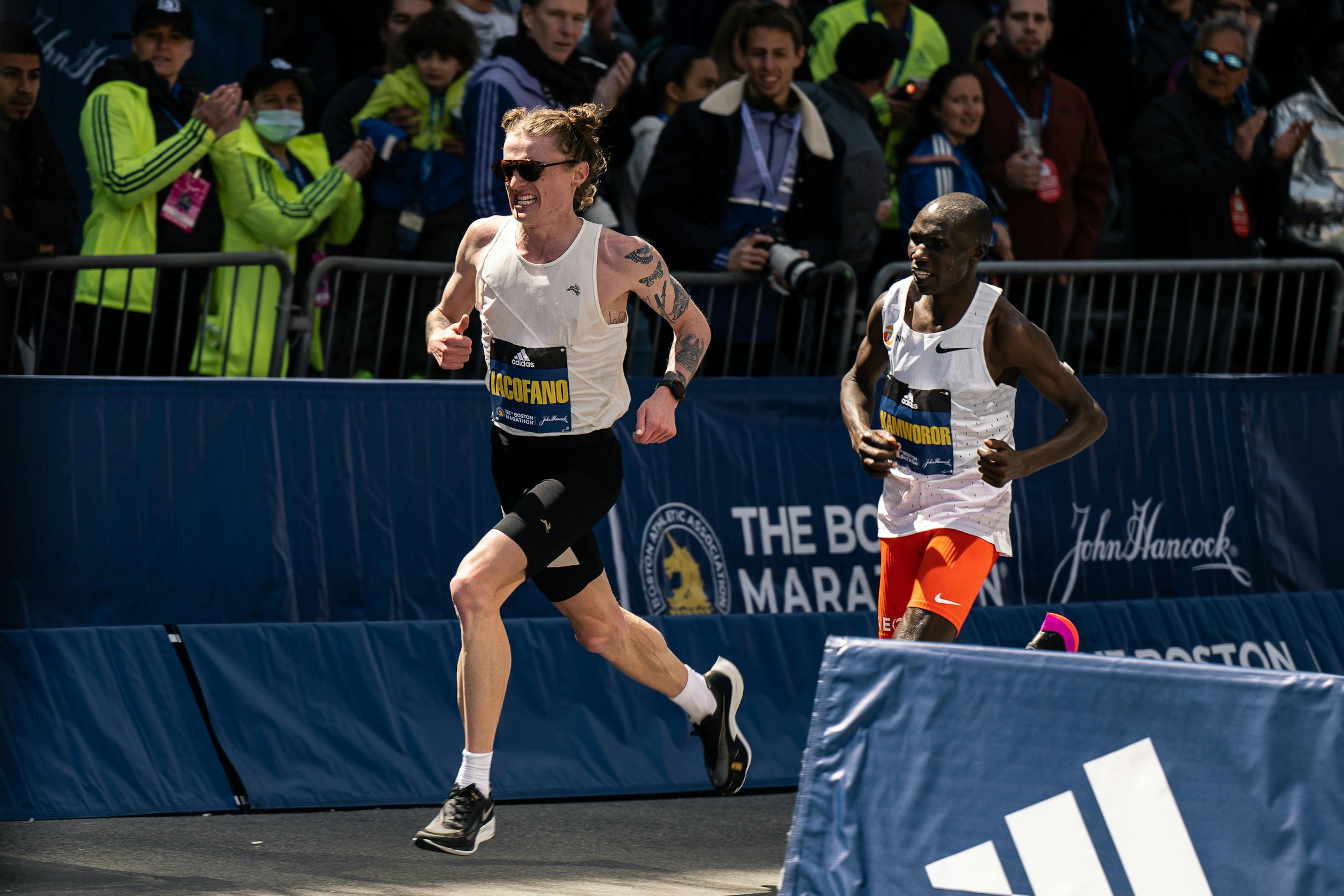 Mick Iacofano's Long and Winding Road to Boston 2022
Words by Andy Waterman
Photography by Johnny Zhang and Emily Maye
The last time we spoke to Mick Iacofano it was the summer of 2019. It wouldn't be accurate to describe the world as a simpler place back then, but it certainly looked very different to the way it looks now. For one thing, Iacofano, the marathoner, was virtually unknown, something that can't be said of the space-bunned, leader-of-the-pack in 2022.
The 2019 iteration of Iacofano had recently relocated to Boise, Idaho and he was making ends meet by working shifts in craft beer bars while training for the Berlin Marathon that fall. He hoped to better the 2:13 he ran at CIM late in 2018, and watching him run, on a Tracksmith shoot in western Massachusetts, there was a quiet confidence he could do it. He was training well, the moderate altitude of Boise was playing in his favor, and the lifestyle of bar work wasn't doing his running any harm at all: those late nights just meant his mornings were free to run.
But then, long before Covid or the myriad other distractions of recent years, disaster struck. First a stress reaction in one fibula, and then a stress fracture in the other. Berlin was off, and then, so was the 2020 Olympic Trials.
"It was really weird because it was the fibula, the non-weight-bearing bone in your lower leg, which is not very frequent for runners to get stress reactions," says Iacofano, when we speak online, early in May 2022. With the help of doctors he got healthy again, but the big goals had passed, and the arrival of a pandemic meant all racing was shut down with no return in sight.
Still, after a shaky start, he came back to running, albeit with more of a focus on cross training. The bigger changes came in his professional life. At the time of his injuries, he was 24 and covered under his parents' health insurance. With a cut-off at 25 and the importance of having access to health care at the front of his mind, a switch away from bar work became a necessity. "None of the service industry has any kind of benefits," says Iacofano. "It's a large reason why there was a career shift in my life: to get better healthcare options."
The career shift brought the young marathoner to Tracksmith where he now works remotely in Customer Experience. "Even for some really high caliber professional athletes in the US, who have big contracts with big brands, they're not technically employees so they don't get the health benefits which I think is kind of messed up. Being out in the mountain region, we utilized that timezone to shift me more towards the afternoon. I don't typically come into work till 10:00 which is perfect. I can get the bulk of my running workouts done before coming into the office."
Training is an interesting topic to discuss with Iacofano. He's on Strava but he's far from a Strava hero: his training is mostly modest and consistent, with paces more often around 8min/mile than 6min/mile. Is this a change post-injury?
"I was into more impressive training when I was in college. Like I look back at it and there's just no way I could even keep up with that now. I think I was overtraining. Every workout was all-out. Even on regular runs, the maintenance pace was fast. Moving to my current coach, the biggest shift has been 'less is more', essentially. If it's just an easy run, it's just an easy run. And then there's a huge shift on hitting really important workouts. As long as we hit those, we're pretty confident of what I can do in a marathon."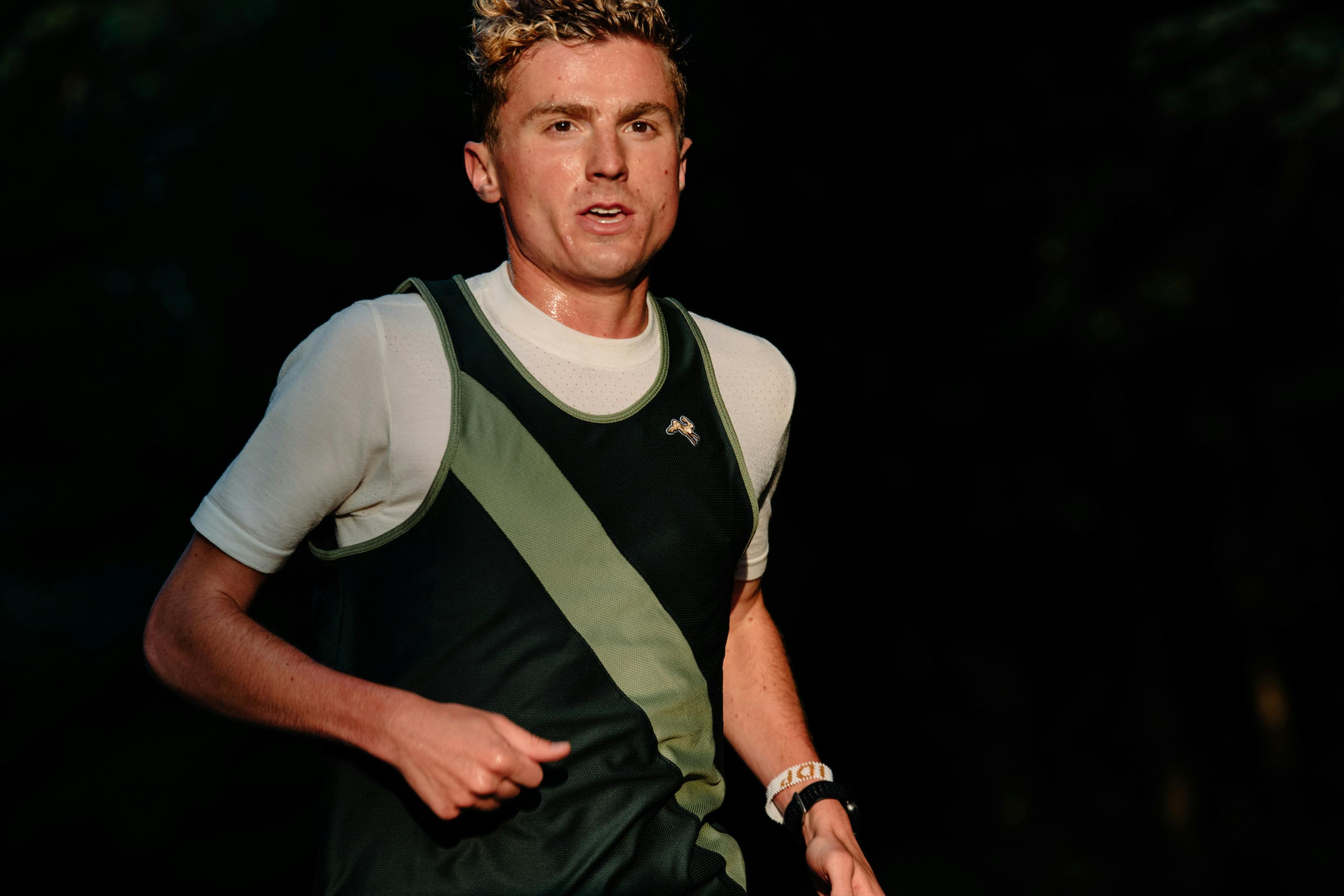 While the workouts themselves are impressive, they're still somewhat reserved. For instance, when Iacofano ran 7x5km efforts as part of a 25 mile run, four weeks out from Boston, his fastest 5km split was 16:15. In Boston his average 5k split was 15:30.
"I don't normally ever hit my marathon pace in workouts," says Iacofano. "I pretty consistently train under pace. So a lot of these marathon specific workouts, I'll get to like 80 to 90 percent effort. We try to hold back from what race pace would be. I think it's helped me tremendously because it's such a great physical burden on the body to be hitting marathon pace at high mileage, throughout an entire build, but it's also mentally exhausting, just going to the well, week after week. So I like training at a relatively reserved pace."
None of this is to say Iacofano is taking it easy, it's simply to see training for what it is: the foundation of a race performance. And in recent years, Iacofano has proven himself to be an impeccable race day performer, first in the Marathon Project of late 2020, where he ran a huge PR of 2:09:55, and then this year in Boston, where he led the front group right to the foot of the Newton Hills. "I just want to feel as fresh as I possibly can on race day," he says.
The modest and consistent approach of 100-110 miles per week of running, supplemented by an hour per day of cross training, mostly on a stationary bike, first paid out in Arizona at the Marathon Project.
Where a lot of talented North American and European men get stuck at 2:11 or 2:12, Iacofano made the leap into international relevance with his 2:09. "It's a barrier that I wasn't even frankly aware would be a possibility for me on that day," he says. "Like I mean, subconsciously, I'd always known that I was going to shoot for a sub-2:10 marathon, but just going into that race, it was like, I haven't raced in forever and that summer, particularly due to Covid, I was even considering not running anymore."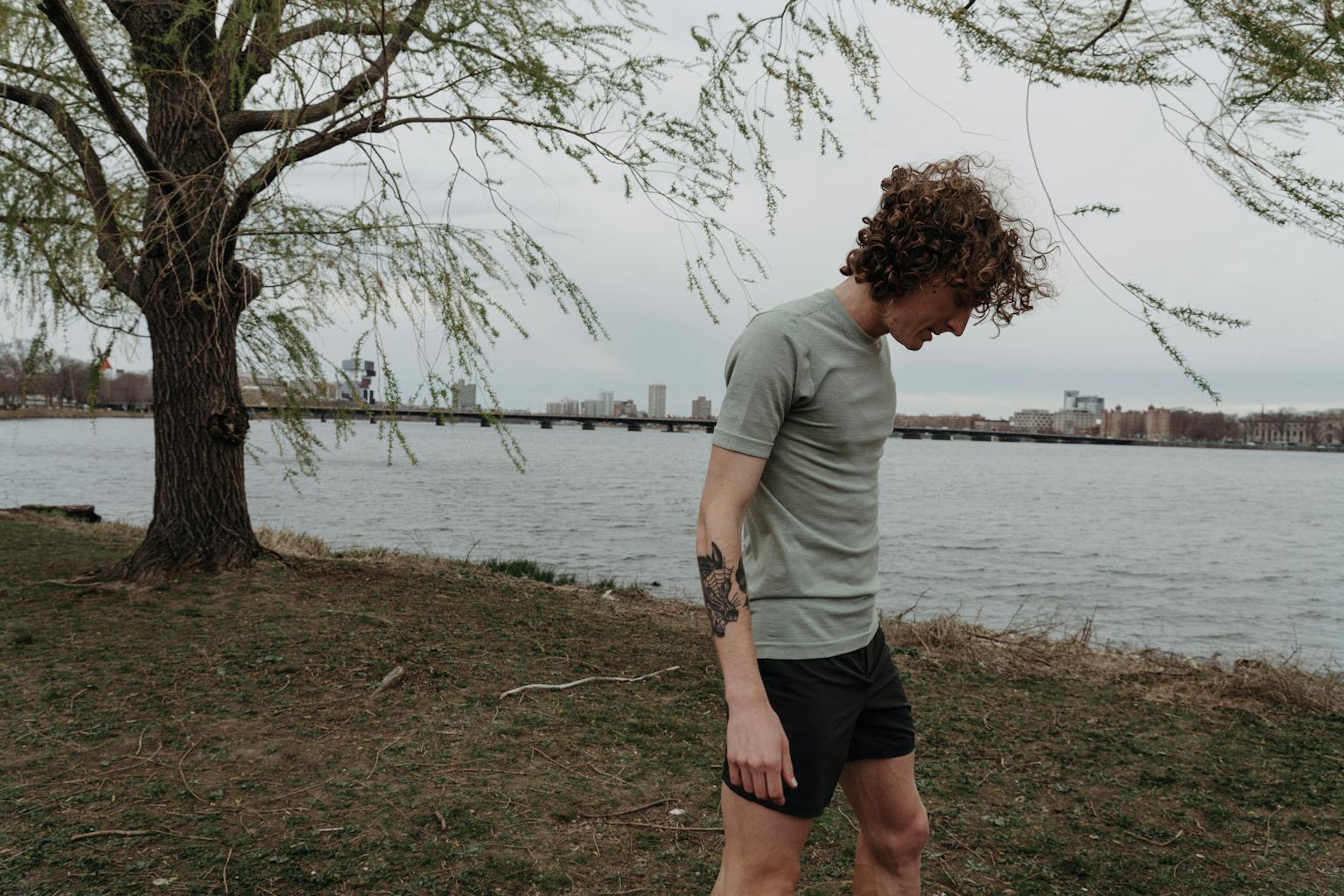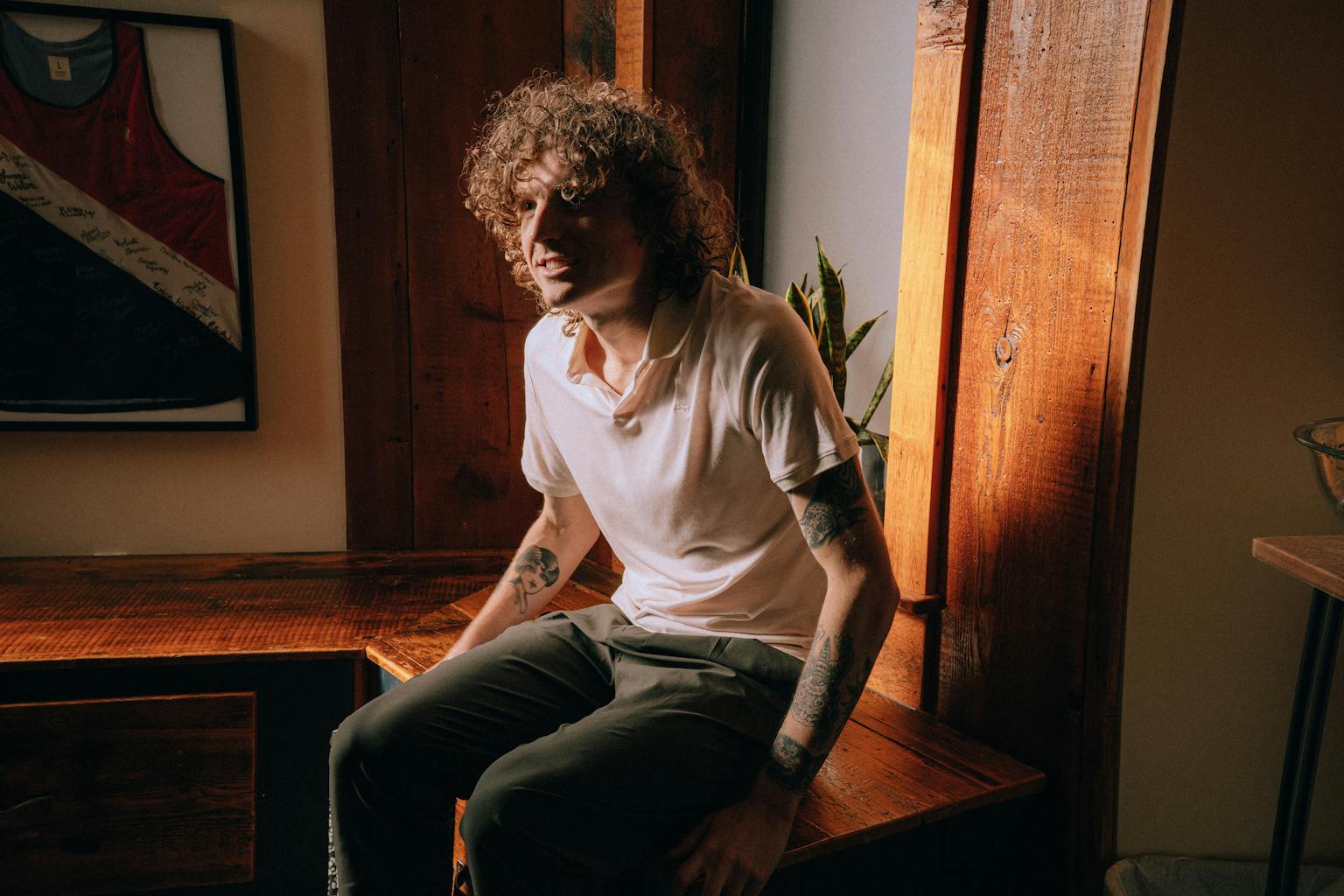 The Marathon Project, with its curated pacing and a big group all hoping to salvage something from the tatters of 2020 was an unusual race, a world away from the unpaced formats of Championship racing, or a point-to-point like Boston. And yet, when Boston rolled around this April, Iacofano arrived with a can-do attitude and a refusal to settle for the second group.
"When I get to the start line, I want to win," he says. And in Boston, he continues, "when that pack took off, I wanted to be there because that's who I want to be. I didn't want to have to work from behind with the American pack. And just to be at the front of the pack is a very exciting way to race." It's exciting not just for the athlete but for the crowd too: the atmosphere in Tracksmith's Trackhouse in downtown Boston, when Iacofano took control of the lead pack, with the Tracksmith sash across his singlet, was electric. When Evans Chebet took off and dropped a 13:55 5k between 35 and 40km, there was nothing anyone could do, let alone Iacofano, who eventually finished in 17th position in 2:11:48. He was in good company, one place ahead of two-time NYC Marathon winner and former Half Marathon world record holder Geofrey Kamworor of Kenya.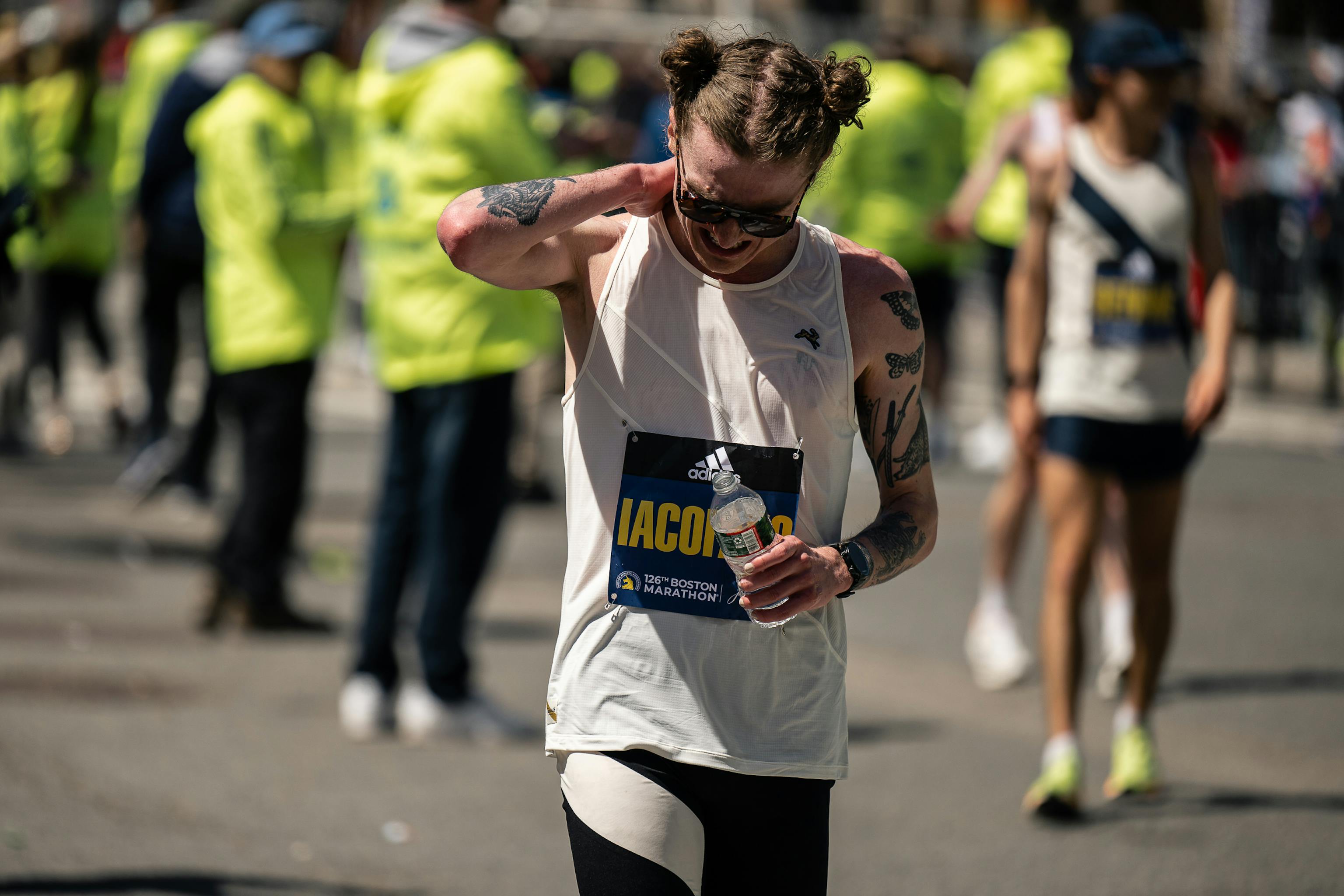 Iacofano is still firming up his racing plans for the fall, but, he says, he has intentions of racing all the World Majors while he's in his prime. "I'd love to go to every single one of the World Majors and put my best effort into getting what I can do on those courses."
Following his performance in Boston, livening up the racing at a time when few others wanted to push the pace, it's likely Iacofano has organizers lining up at his door. If he doesn't, he should. He's young, exciting and he always shows up ready to make an impression.
One thing's for sure, being based in Boise, Mick Iacofano has a ton of travel in his future. We finished by talking about how he gets to race day feeling fresh, and ready to do justice to the training he's put in over months.
"The hardest transition for me is living in Boise and then going to East Coast time, because that's where most of my races are. I try to get on Eastern Time before I even leave to make the transition super easy, even though I'd say I'm not a rigid, scheduled person."
He may not be a scheduled person, but in the last two years, Mick Iacofano has shown himself to be an adaptable, brave racer. We're excited to see where that talent takes him next.