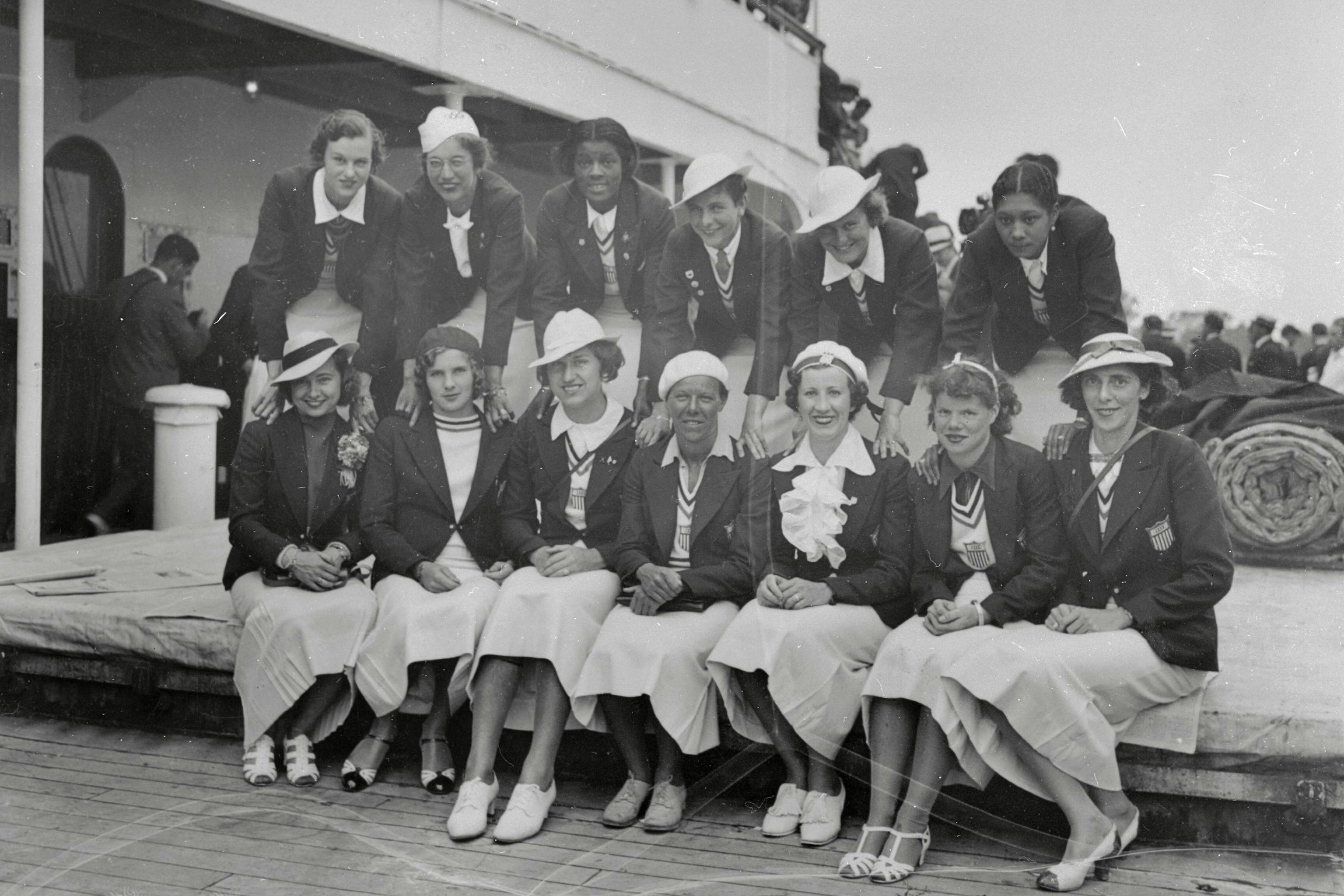 The Race of
a Lifetime
Louise Stokes was the first of two Black women to make a U.S. Olympic team. She never got to run.
Words by Heather Mayer Irvine
It was a sign that stopped Frances Ramirez dead in her tracks. Last summer, the 34-year-old was exploring a new running path and came across a sign commemorating a Black female track star: "Dedicated to Louise Stokes, Malden High, Track Star & 1st African American Woman U.S. Olympian 1936."

"After that run, I did more research about Louise Stokes," says Ramirez, co-founder of the women's running group, TrailblazHERs. "I was blown away. A Black woman track star from Malden? And no one knows about her? It blew my mind."
The 3.2-mile Malden River Loop, unveiled in the summer of 2020, runs along the Malden River through Malden, Everett, and Medford: Boston neighborhoods, miles from the famed Boston Marathon finish line on Boylston Street. The dedication took place 88 years after Stokes joined Tidye Pickett of Chicago to be the first Black female Olympians. But, the sign has an error: Stokes actually made her first Olympic team in 1932 and her second in 1936. Why she didn't get to compete in either Games is another, bigger story.
"We're uncovering pieces of history that have been hidden, and we're honoring them," says Karen Buck, president of Friends of the Malden River, who proposed dedicating the path to Louise Stokes. "These are folks we should have been honoring a long time ago," she says.
The Malden Meteor
Louise Mae Stokes was born October 27, 1913 and grew up in Malden, Massachusetts, roughly five miles from Boston proper. She loved to run from an early age, sprinting along the railroad tracks, building momentum with every repetition.

Stokes played basketball, but it was evident she would make a powerful track athlete.
When she was just a middle-school girl, Stokes joined the Onteora Track Club, where she ran under Coach William H. Quaine, the Malden park commissioner. Quaine, a tough but caring coach, constantly reminded Stokes to warm up properly before her workouts, according to Ann Chandler Powell, author of In the Blocks: An Olympian's Story.
Stokes was the great-granddaughter of enslaved people, but Quaine treated her the same as everyone else. As an athlete, first and foremost.
In 1931, Stokes competed at the Mayor's Day track meet and won the James Michael Curley Cup for the best women's performance. She set the New England record of 12.6s in the 100m dash. The runner could jump too. Several months later, Stokes tied the world record in the standing broad jump, jumping eight feet, five and three-quarter inches.
Stokes soon became a local hero and earned the nickname "Malden Meteor." Jerry Nason, the renowned Boston Globe reporter who covered the Boston Marathon and track and field, referred to her as the "fleet Negro ace," "Malden flyer," and "National 50-meter monarch."
It was hard to pick up the sports page during the early 1930s and not read about Stokes, who usually finished ahead of her competition.
The 18-year-old soon caught the attention of the Olympic Committee. In 1932, she received an invitation to compete at the Olympic Trials in Chicago at Northwestern University. She finished third in the 100m, earning a berth on the women's team, alongside Pickett.
Bound for Los Angeles
Perhaps the star of the 1932 U.S. Olympic track and field team was Babe Didrikson, a white woman two years Stokes' senior, who hailed from Texas. Excelling at nearly every event, her name was plastered all over the headlines, overshadowing the inclusion of the first two Black female athletes on the team.

"[Louise Stokes'] story is still a story that people are uncovering. People are unaware of it," Damion Thomas, curator of sports at the Smithsonian's National Museum of African American History and Culture, tells METER. He points out that women during this time – regardless of race – were victims of gender politics. "As scholars, we don't have as much information as we would like. There still hasn't been a significant amount written about women in track and field and certainly not those who extend back to the 1930s." But it was evident, even at the time, that having Stokes and Pickett on the team was a big deal. The Chicago Defender even went so far as to say, "The prejudiced South would not have permitted these two stars to enter a race with their white sisters.'"
Didrikson was fast but she was also loud, outspoken, and according to stories from the 1932 Games, racist. In one instance, Didrikson dumped water over a sleeping Pickett, on the train ride to Los Angeles. "There were a few athletes and team officials who did not hide their bigotry," said Picket in 1984, according to the documentary-turned-book, Olympic Pride, American Justice.
The authors of the book – Deborah Riley Draper, Blair Underwood, and Travis Thrasher – go on to say, "One of those will be the biggest name on this team… History confirms that Babe carries some racist beliefs held by many at the time." According to the authors, Babe had used the N word and frequently belittled African Americans. Babe's teacher is later quoted reflecting on her student, saying Babe, "really did hate blacks in those days. I think she went out of her way to antagonize them, and, truly, to hurt them."
Stokes' and Pickett's teammate wasn't the only one who made them feel unwelcome. When the 1932 Olympic team arrived in Denver for a special dinner at the Brown Palace Hotel, Stokes and Pickett were forced to enter through a side entrance and eat dinner in the back kitchen with the hotel staff. At the same time, the National Association for the Advancement of Colored People (NAACP), an organization founded in 1910, was never mentioned in Stokes' school classes, but sent a message to Avery Brundage, the head of American Olympic Committee, requesting fair treatment of Black athletes. According to the authors of Olympic Pride, American Justice, he never responded.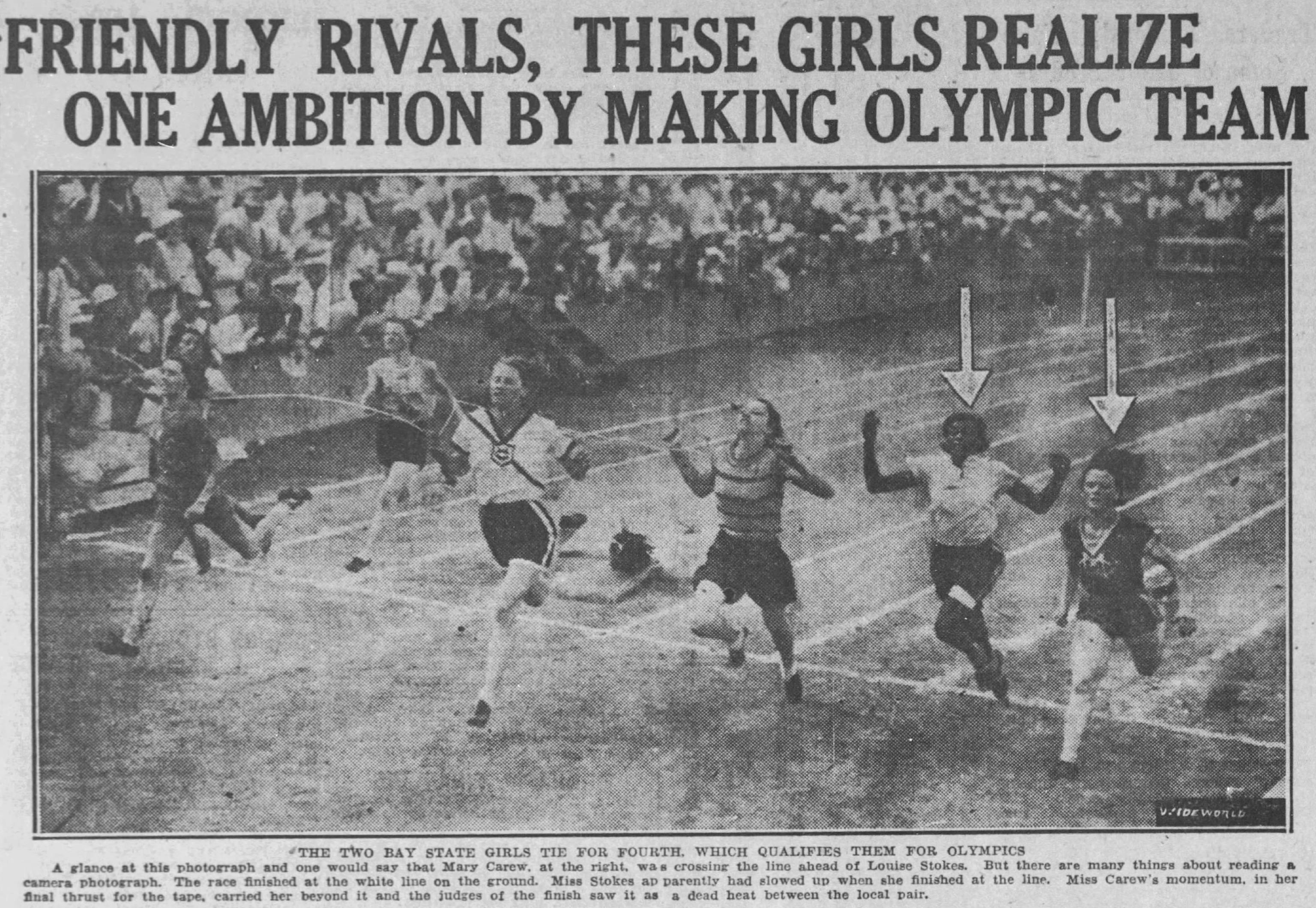 Top image: Louise Stokes, top row, three from left. Getty Images
Remaining images: Boston Globe
Sidelined
Stokes and Pickett had no doubts they would run the 400m and 100m relays at the Games in Los Angeles. Their qualifying times were ironclad. Until they weren't.
Stokes and Pickett had clocked impressive times but they were benched for both events. Instead, a runner who logged a slower qualifying time and another who didn't even qualify for the relay final at all replaced them in the 400m relay. One of those runners was Mary Carew, a white runner from Medford, Massachusetts, just 12 miles from Stokes' hometown. Carew, who referred to Stokes as "Stokesy," and Stokes, were longtime track rivals.
The relay team won gold, but Olympians Stokes and Pickett went home empty-handed.
"As strange as it may sound, mostly all of the information [about my mother] comes from family members and other people," Stokes' son, Wilfred Fraser Jr., tells METER. "My mother talked a little bit about [the Olympics] but not that much. I'm assuming now, after all these years, it's because of the hurt and pain she went through and didn't want to keep reliving it every time someone asked her."
Years after the Games' snub, Stokes would say, "A pretty fast stunt was pulled," according to Olympic Pride, American Justice. She added, "I felt bad, but I tried not to show it. I tried to keep it out of my mind and not to study it. I couldn't get an ulcer over it."
Thomas, of the Smithsonian, says, "One of the persistent myths about sports is that all that matters is your athletic ability." He acknowledges how we assume sport is an equal playing field, but, he says, "Time and time again it's been shown that that is simply not true. Sometimes it's your race, class, or gender that limits your opportunities."
However, Thomas goes on to say that for the Black community, sports have been incredibly important. "They've been a place where African Americans can say, 'Look at what happens when you give us a chance to compete on terms of equality.' They can use sports as a metaphor for what African Americans can achieve if you open all the other doors to society."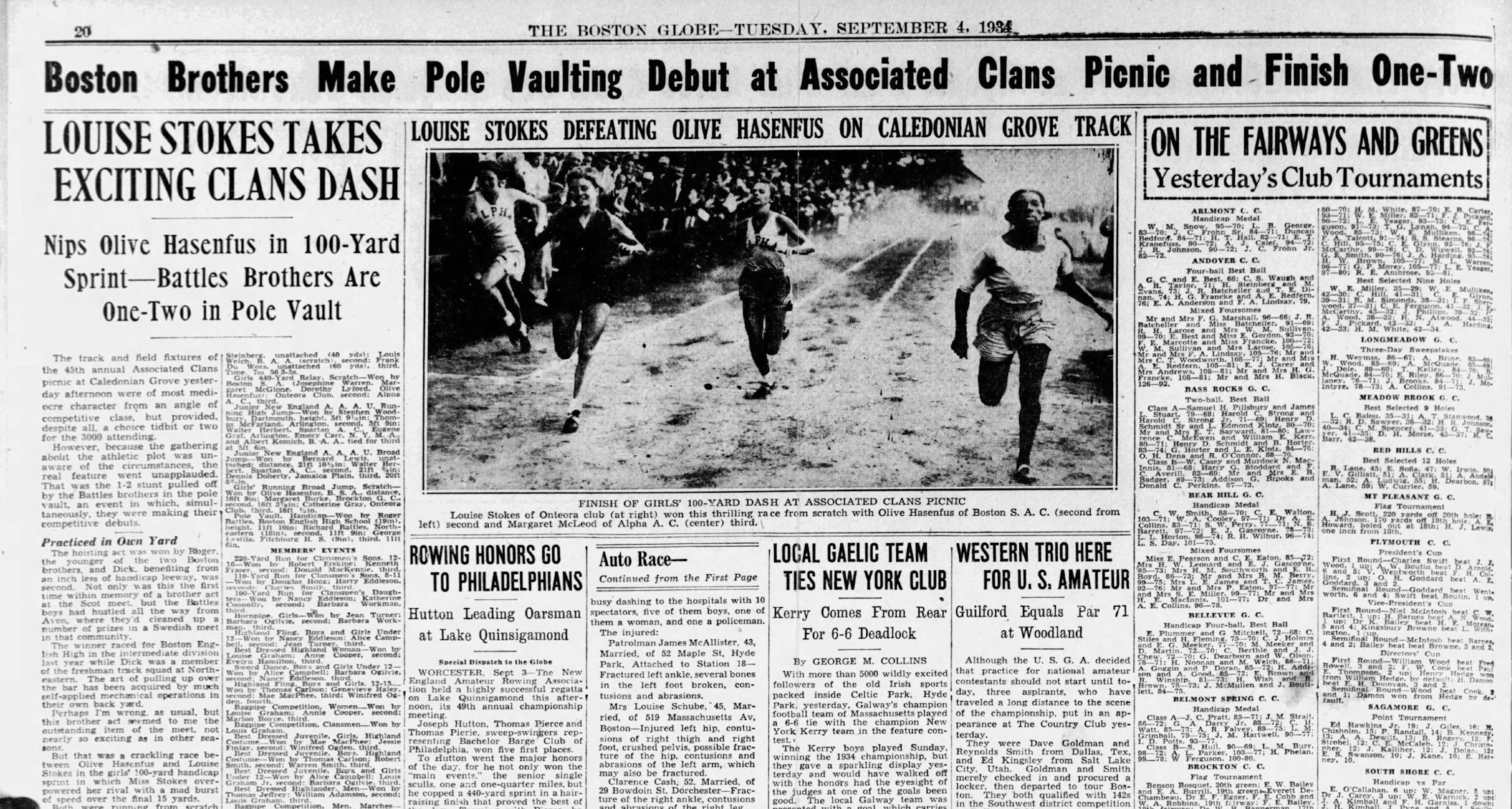 Looking Ahead to '36
If you were in Malden when Stokes returned home after the 1932 Games, you'd never have known she didn't race. Her hometown treated her like a gold medalist. Given a chance, she might have been.
As the Nazis rose to power in Germany, there were rumblings of whether the United States would even attend the Olympic Games in 1936 in Berlin. Stokes trained through the murmurs and attended the Trials in Rhode Island, not far from her hometown. She didn't race as well at these Trials, but she secured a spot on the squad: Stokes was Berlin-bound.
Travel wasn't cheap, but the city of Malden couldn't bear to see its hometown hero miss the boat to Germany. "It was the city who helped her raise the money," Fraser says. Her local church covered Stokes' railway fare from Boston to New York City. Then, Malden Mayor, John Devir and Quaine raised $75 for Stokes' additional expenses and stashed away $105 for a homecoming. Still without enough for a ticket, Stokes was about to board the ship in New York, when her $500 fare came through.
In Nazi, Germany, Jesse Owens wowed even Adolf Hitler. But once again, Stokes was benched. Pickett, who also made the team, was able to compete this time but ended up injuring her ankle in the semi-finals and could not continue running in the Games.
Later, according to Olympic Pride, American Justice, Stokes would say, "I was a cute little girl that didn't know anything. It was a lot of fun, traveling around Europe was a beautiful time… But when we [the Black girls on the American Olympic teams] went out to run, we found other runners in our place. We just had to stand there, and I felt terrible."

Welcoming a Hometown Hero
When Stokes, whose team won gold, returned to Malden after a second Olympic Games during which she was again sidelined, her hometown of 58,000 people greeted her with an Olympian's welcome. "They had a ticket-day parade for her," Stokes' son, Fraser says. "She represented Malden and went to the Olympics."
A blurb in The Boston Globe on September 11, 1936 was headlined, "Malden Welcomes Louise Stokes Home." It read, in part, "Miss Louise Stokes was tendered a welcome-home reception this afternoon on her return from the Olympic Games. Although Miss Stokes was a member of the Olympic team, she did not compete in the relay race in Berlin."
A Profound Legacy
Slowly and certainly overdue, Stokes' story of athletic prowess and injustice is coming to light.
In 1980, the field house at Roosevelt Park in Malden was dedicated to the sprinter until 18 years later, when the park closed to become the site of a new elementary school. In 1987, a statue of Stokes on the starting blocks was erected in the Malden High School courtyard.
According to a 2000 article published in The Boston Globe, titled "Stokes: Nowhere Fast," a childhood neighbor of Stokes, Bill Mini, who watched Stokes run along the railroad tracks and would later become a teacher at the high school, spearheaded the courtyard tribute.
Since then, Stokes' story has been featured in several publications and books, as well as a documentary. "I'm happy, very ecstatic that she's getting the recognition for herself and the 1932 and 1936 teams," her son, Fraser, says. "I'll do all I can to help push it along."
Stokes, whose married name was Fraser, never saw these recognitions. She died in 1978, at the age of 64, just three years after she retired from her position as a clerk for the Massachusetts Department of Corporations and Taxation.
"All my mother wanted to do was run," Fraser says. "She wanted to be treated fairly, but that didn't happen. I think she'd be a little shy or even embarrassed by all of the attention [now]. She wouldn't have been used to that."
Shortly after Stokes retired from elite running after the 1936 Olympics, Black women began to dominate the sport of track and field, thanks largely to the programs at Tuskegee University and Tennessee State University. The Tuskegee women, for example, won 14 national championships in the late '30s, '40s, and early '50s. Something Stokes would have been proud to see.
"That shift in women's track and field is part of the larger story that Louise Stokes' story helps us understand," Thomas, of the Smithsonian, says. "When you struggle and fight for what's right, you might not get it. But what you're doing makes it easier for the next generation.
As we think about the subsequent generation – Tennessee and Tuskegee – that success was not possible without the sacrifices from those like Louise [Stokes] and Tidye [Pickett]."
Thomas goes on to make an important point: the history books, and society at large, celebrate the stories of those who were given opportunities to succeed. "Unfortunately, the stories of the people who made sacrifices, who were denied the right to compete themselves, are often forgotten," he says. "Sometimes we forget who made the sacrifices along the way."
Stokes was fast and she remained fast. She never lacked pace. What she lacked was opportunity.
Stokes' son, Fraser, reflects on a time when he was 13 or 14 years old, when he was one of the fastest kids in the neighborhood. "I was racing against my mother down in the park," he says. "She hiked up her skirt, she was wearing hush puppies [shoes] and someone said, "Go!" She beat me. Twice."
* * *
Ramirez and her running crew of women – mostly women of color – remember Stokes and recognize how she paved the way for runners like her. Ramirez and her TrailblazHERs co-founders love to tell the story of Stokes when they hit the path along the Malden River.
"Thank you," Ramirez says to the memory of Stokes. "Thank you for setting the tone of what we're supposed to reach. We're going to pick up where you left off."