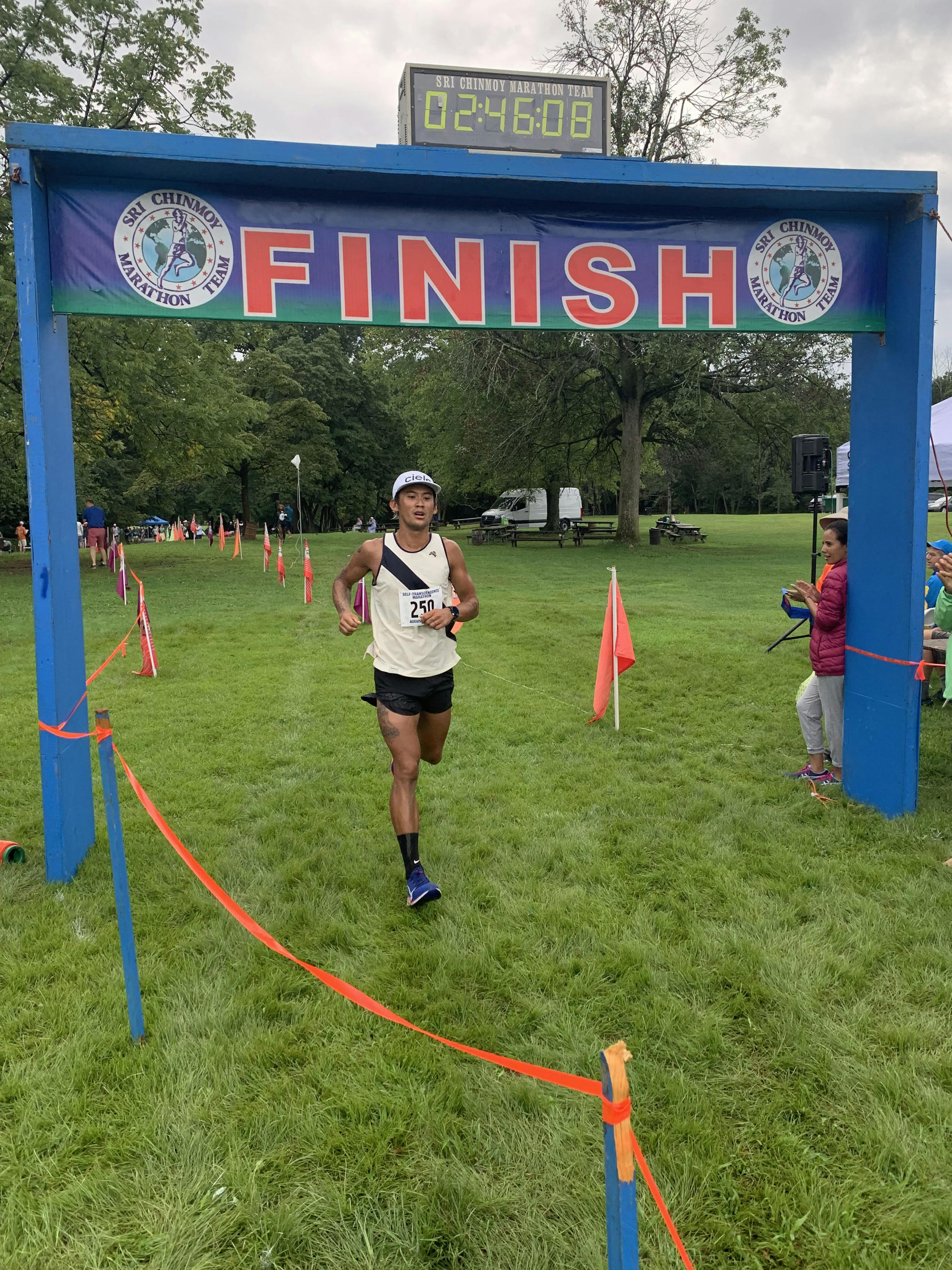 A PR Through
Self-Transcendence
August 23, 2019
7:00AM EST
Conventional vs. unconventional. How fast do I go? How many miles per week do I run? Do I need a 20 mile run? Do I need a warmup race before my goal race?
All valid questions that deserve valid answers, but for me I tip the needle towards unconventional.
I run everyday. No days off.
I've been running everyday since January 1, 2017, while at the same continuing to train for races at various distances. But most specifically for 2019 I've been focusing on the marathon. After 40+ races in 2018 and creeping close to a new age group (35-39) I decided at the beginning of 2019 that the marathon distance would be where I could make the biggest improvement, thus limiting my races to about 5-6 for the year, give or take a half-marathon, a 5K, and a 10K or two.
So how did I land myself at a marathon start line on Friday morning in August at Rockland State Park in Congers, New York with less than 400 other runners?
Simply put, it was the unconventional feel of it all that sealed it all together for me about a week out from the actual race itself.
I had a very conventional 20 mile / 150 minute Run on my training plan. I retreated to the rural countryside of Sussex County, New Jersey where I grew up to spend some time with family the day before. Instead of heading back to New York City I was talked into spending the night and doing my run in the NJ countryside. I am always packed and ready for run at any given moment, so I already had the necessary items for a typical long run.
20 miles quickly turned into 27 miles after a miscommunication with my transport to pick me up resulted in me having to ascend back up a mountain to my original start point, adding on an extra 800 feet of elevation gain to the day's totals.
I felt tired, but strangely satisfied. It was not the first time I had run over a marathon distance on a training run, but it stirred my interest to where I stood with my fitness. It stimulated it even more on Sunday the 18th when the deadline to sign up approached and I already felt readily recovered from the prior day's mileage.
I plotted out the Sunday to Thursday in my head. 5 days, 5 recovery runs at 30 minutes each, lots of sessions in compression boots, cryotherapy, secretly bowing out of workouts with fellow runners, no strength workouts, early nights, lots of sleep. The biggest driving factor was that I wanted to accomplish something to be proud of before I turned 35 on the 26th. This seemed like a good make or break moment.
I kept what I was doing quiet and secret from my physical therapist, my strength and mobility coaches, friends, and loved ones. Everything about this idea seemed to resonate as unconventional, but yet seemed ordinary and realistic to me.
I arrived at the race site on the west side of Rockland State Park in Congers, NY after a 45 minute drive from New York City at around 5:45AM. No exterior or artificial lighting aside from car headlights shining into the registration tents for volunteers. I used the bathroom with the aid of my flash from my phone as spill lighting in the portable toilets. I emerged still flanked by darkness that was slowly giving way to sunrise.
I reviewed the course again in the car, 9 loops of around the lake, each loop just shy of 3 miles. I stationed my friend handling my nutrition at the beginning at each lap. We worked out a system where I would call out what I needed (water, electrolytes, gels) after each lap to be ready for the next time I would lap around.
I left the car 10 minutes for the race start to jog over the start line. It was only a few minutes before 7:00AM where I stupidly realized that I should probably stretch a little bit. The race kickoff was brief, 10 seconds of quiet meditation, followed by a 3 second countdown to signal the start of the race.
The first 20 minutes of the race was a nice welcome comparative to the remainder I had to endure. The rain fell on and off for about an hour, soaking my apparel making it all a little uncomfortable, but I pressed on lap by lap.
Lap 1 – Good starting pace, I held back from jumping out to fast and ran with a pack of familiar runners. I was hoping they would drop the pace after the first lap so I could tag along with them.

Lap 2 – I moved past the initial group I was with on the first lap and started work down the pace.

Lap 3 – My quickest lap of the day as I started to settle in a groove running all by myself and began lapping other runners.

Lap 4 – Feeling steady, feeling strong in a good rhythm on my own. Absolutely nobody to key of off. I realized that the last mile of the loop was my favorite; good tree coverage, slight gradual turns.

Lap 5 – I pass a group of runners on the lead lap which instinctively tells me I'm probably in the top 5 overall.

Lap 6 – I initially feel a bout of fatigue begin to hit. The weather has been overcast after the rain had parted and with the humidity remaining at around 88% my clothing was still relatively wet. I pulled back on my pace and focused on breathing more efficiently, expelling as much VCO2 as possible.

Lap 7 – Ran into trouble at the start mile 20. I pulled back my effort too much and ran my slowest mile split and effectively my slowest lap. I began to crunch the numbers in my head with about 10K to go and I knew I'd be close to my sub 2:45:00 goal.

Lap 8 – The power in my legs were really starting leave me. I was more concerned about running a clean race where I didn't have to pull over to deal with a cramp, so I kept the pace scaled back and continued to run it out as best as possible.

Lap 9 – I could not have been more ecstatic to begin the final stretch. In the last mile you either get your last surge to fuel some turnover or you being to fall apart. I feel like there is rarely an in between. I was grinding through discomfort in my last 1000 meters. The finishing chute that I had run by 8 times already seemed so far away. I entered the chute as the clock ticked 2:46:00.

I felt like I wanted to disintegrate as I crossed in 2:46:07, half disappointed, half content. Of course, I considered all the underlying factors that I could change to trim that one minute and eight seconds off my time.
But what if I did get that sub 2:45:00 time by chance on that day, would I have been fully content?
Probably not. I would still want more. I would still want to turn the screws down even more to shave another minute.
The amateur spirit will endure and continue to be hungry during the marathon for decades to come.
Keep feeding it.
Francisco Balagtas
@IAmFranciscoB / @ProjectNoDays