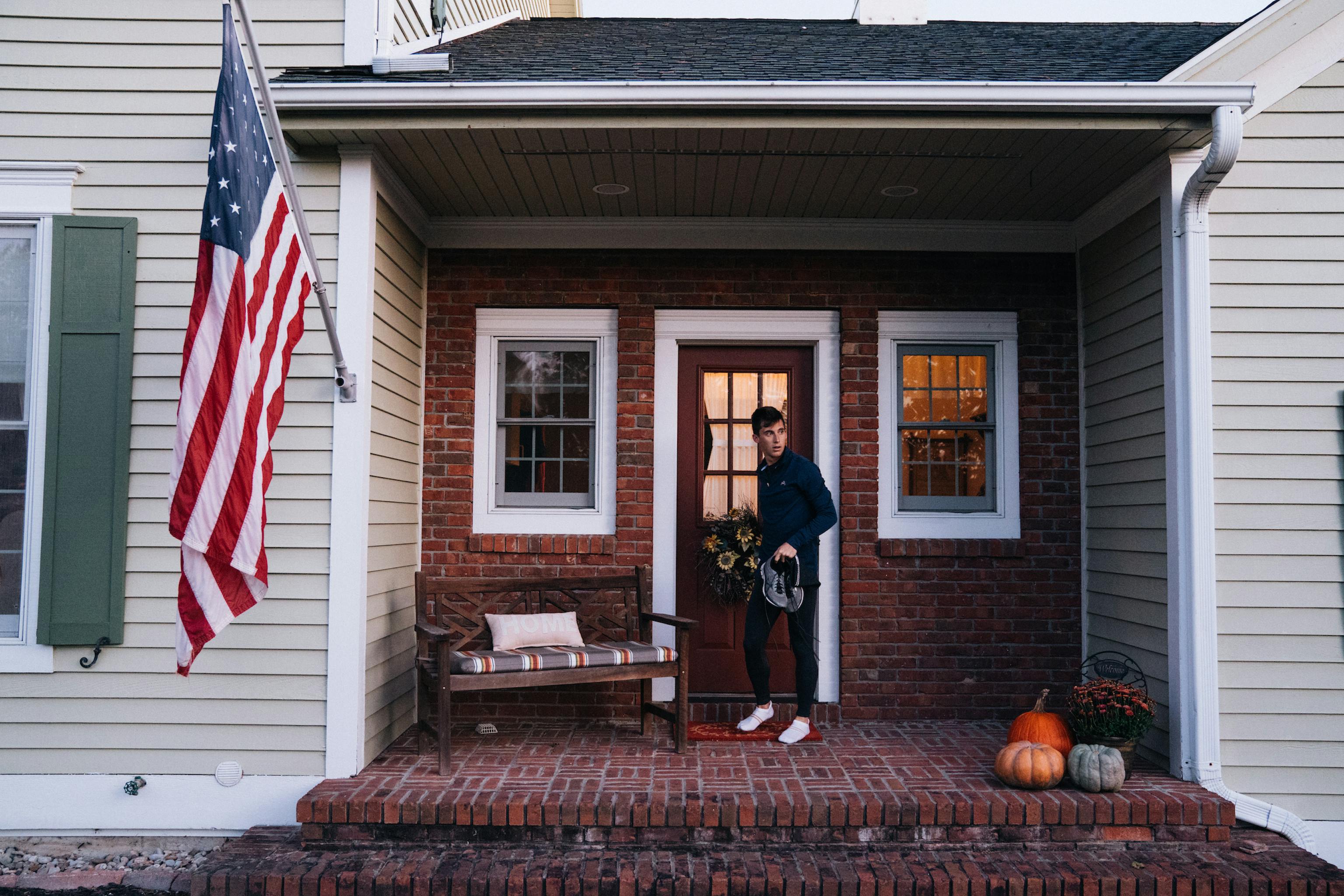 TALES FROM PAST
TURKEY TROTS
The Tracksmith team is united by our love of turkey trotting, from community manager Lou Serafini's 10-year Cardiac Classic winning streak to our founder and CEO's favorite low-key not-quite 5K in Mystic, CT. This year we asked a few team members to share stories of why they love to trot.


Brian Moore
Product
I owe my marriage in no small part to Turkey Trots. The race in question is known in my wife, Meg's, family as the Pumpkin Pie Race in Catonsville, Maryland. It is a race that Meg and her dad had always run on Thanksgiving morning: no times, no official results, aside from the winner of each age division being awarded a pumpkin pie.
Back in our early twenties, when we were just dating, I had an all too real "Meet the Parents" moment. Meg's father, Captain John T. Mitchell of the U.S. Navy was an active duty intelligence officer working at the NSA. I was a scruffy looking slacker, three years Meg's senior, whose job consisted of sending race kits and spikes to New Balance athletes. Needless to say, as the first boy that Meg had ever brought home for Thanksgiving, the scrutiny level was high and I had the distinct impression that her parents were not impressed. The first time we met, a few months earlier in Boston, they just assumed, or possibly hoped, that I was a harmless, passing thing. But now here I was, coming to Thanksgiving dinner.
The one ace I had up my sleeve was that, despite years of training for shorter races, I was, for the first time in my life, cross-country fit. Months of training with the NB Boston crew had already led to a PR at the 5th Avenue Mile and I knew that if I couldn't impress her family with my professional prospects I could possibly do so on the XC course by taking home a pumpkin pie. On race day I stripped down and spiked up. Toeing the line I saw two others wearing their collegiate kit. Meg and her dad were probably wearing sweatpants with shorts over the top. At the gun I went out hard with the other two NCAA athletes and hung on their shoulders until about the 2 mile mark. That is when I made my move - a hard pass on a downhill section and it was over. Until the last half mile that is, when I hit a hill that went straight up into the clouds. I think the first to pass me was the kid from Johns Hopkins. When the second flew by my vision was too blurry to make out what he was wearing, if anything at all. I stumbled in a distant third. All humble. No pie.
As I lay on the ground, heaving, Meg came in, then her dad. Both were handed pies for winning their divisions, as had become their annual practice. And then one of them said, "Oh yeah, there is big hill at the end.' Albeit pie-less, I had a sense that I did win something, a drop of admiration maybe, and the first step towards being accepted as one of them.
For the twenty plus years since we have almost always run a race on Thanksgiving, the last 10 years at the Turkey Trot at Maudsley State Park in Newburyport. And since our girls were 6 and 7 years old we had done so as a family, often trying to beat each other (Meg and I are about even over the years) or dragging a reluctant daughter over their first 5k, normally in the frigid cold and far too early in the morning. We then spend the late morning drive to her parents' house waiting for the results to come in so we can all see how we scored vs friends in town, vs our times from years past and vs each other. And even though Meg's dad no longer races, he's often the first to ask how we it went. I think he is happy to know that a tradition he started years ago has now been passed down to another generation, but in one sense I still feel I owe the man a pie.
Richard Issa
Customer Experience

I've spent the majority of my life avoiding turkey trots. It's due to either feeling the awful effects of Thanksgiving eve with old friends and classmates or just not wanting to deal with the cold. Either way, I've stayed away.
I was pretty set on keeping my tradition of never participating in a turkey trot going in 2019. Then I was invited by a good friend to join her and run the Moorestown Turkey Trot here in South Jersey. Between my goal of avoiding these races forever and the general lack of enthusiasm I had for all things Thanksgiving last year due to my family not being able to be together, I wasn't interested. After moping around for most of the morning, I realized that wasn't going to make the situation any better. I decided to get dressed and run over to the turkey trot to join everyone in this holiday tradition.
I sprinted over, found my friend amongst the crowd and ran my first trot. There was no PR or grand ending to the run, but afterwards my feelings towards turkey trots changed. Interacting with all the friendly folks both young and old who got together with family members that morning for the run reminded me that, although I wasn't with my immediate family for the holiday, running gave me the kind of feeling of love and togetherness that really makes the holidays so special. High fives with strangers as they finish, short conversations while sipping a cup of extremely hot, hot chocolate and just being around everyone out there that day really helped turn my Thanksgiving around. I'm now a fan of Turkey Trots. The end.


Lee Glandorf
Communications


I loved turkey trotting long before I loved running. My "local" was the Alexandria Turkey Trot in Northern Virginia. Despite growing up in Boston, my family spent Thanksgivings in D.C. with my father's sister. Her sons, my cousins Duncan and Connor, were eight and seven years older than me and annoyingly athletic, smart and cool. So when they suggested running the Turkey Trot, I was eager to tag along. As a middle schooler, I figured anything they did had to be the epitome of a good time.
My cousins' allure must have worked on my Dad too, or maybe he was in the middle of one of his running streaks, in which he doggedly wore a 3-mile path around our neighborhood, picking up trash along the way. I'm not sure he or I understood just how long this Turkey Trot was, not your standard family-friendly 5K but a hilly 5-miler. Either way, we joined the throngs of Alexandrians at the local elementary school gym, picked up our bibs and donated our cans of beans to the food pantry.
I remember going out too fast. I remember running by my uncle and aunt cheering on the side of the road. I remember realizing I was in big trouble around mile three. I remember shuffling the last two miles, only to have my Dad come huffing and puffing up behind me in the last stretch. I had to sprint to beat him, sneaking under fifty minutes (or maybe it was an hour?) on the way. Regardless of the result, I loved comparing notes with my cousins after the race, laughing over my terrible strategy and challenging myself before the big family meal. I was hooked.
What I loved about the Turkey Trot was its routine. Every year we'd go through the same song and dance. "Who's trotting?' My cousins would ask on Wednesday night. A motley group of family and visiting friends would agree to race, but come 7 a.m. Thursday morning there'd be a few shirkers who decided they'd prefer coffee to cardio. We'd scramble to find suitable non-perishables for donations and debate the best layers for the weather. We'd spot familiar faces from the years before in the sign up line, mess up the timing for the porta-potties and join the throngs in the corral for the national anthem. And always, I'd go out too fast, hoping vainly that I'd be able to hang with my cousins.
We trotted together for close to a decade. In true poetic fashion, I only beat Connor and Duncan once, in what turned out to be our final Alexandria Trot during my senior year of college. I ran just around 35 minutes, a big improvement from my middle school 50, and just fast enough to take the family crown.
That spring, my aunt sold her house and moved to New York, upending our family traditions. I didn't officially trot for nearly another decade until joining Tracksmith. Work chatter about racing reminded me how much I loved getting the chance to compete on Thanksgiving. So I convinced my Dad and sister to join our local run in Franklin Park. Within minutes of arriving at the start, I spotted a high school teammate and I knew I'd made the right decision. I felt differently at about 2.5 miles into the race, when the course wound its way up a staggering hill. That was also the same year I lost my age group title to a woman who ran with her dog.
Last year they gave out neck warmers instead of tee-shirts to runners. It was a prescient bit of swag. When running with a face covering became the rule, the Turkey Trot buffs started popping up on popular routes through Jamaica Plain. I still get excited every time I see someone in the neighborhood running in theirs and give them a big obnoxious wave.
This year I'm hoping to continue the tradition, challenging my boyfriend, brother-in-law and father to a race on the Franklin Park Turkey Trot course, even if we're the only ones out there. It's my one chance of winning a Trot out right, so I asked Nick Willis to write me a plan. I can't wait.


Lou Serafini
Community
Each year, I travel back home to Niskayuna, NY for my favorite holiday – Thanksgiving. There's a lot that I love about the day. There's the pumpkin pie, the whiskey sours, the Wednesday night drinks on Erie Blvd, and watching football with my Dad. But for the past 11 years (and really even before that), there's been one tradition that helps make Thanksgiving my favorite holiday, and that's my hometown Turkey Trot: the Cardiac Classic.
I've run the race since I was a kid. My senior year of High School I finished 5th in a time of 16:24. After that race I decided it would be cool to win it. So in 2009, I returned home from Boston College and extended what was a rollercoaster Cross Country season to compete for my first Cardiac Classic victory.
Oddly enough, I ended up battling with another Bostonian and GBTC runner, Matthew Haringa. I came out on top with a 3 second victory (15:47-15:50) and haven't looked back for the next 11 years. I joke every year that it would be nice to be dethroned. But really, I love the hometown glory. Coach Rocky hands me a blowpop at the finish line (just as he did in High School). I warm-up and cool-down with all my former teammates before returning home for a nice long nap and a day of relaxing with family.
This extended introduction should hopefully provide some context as to why my Thanksgiving is going to be a little different this year - I'm sure many of yours will, also.
Upon reflection, it's not really the race that I'll miss. It's the tradition. All the aforementioned things that I look forward to won't be there this year. Because of travel restrictions, I won't be going back to Upstate NY for the first time in my life. Which means I won't see my old friends, coaches, and family.
There is one tradition that will live on. When I wake up on Thursday morning, I'll choke down some coffee, bundle up, and run a 5k. No matter where I am or who I'm with, I'm not ready for the tradition of turkey trotting to be taken away from me. I've yet to decide if I'll defend my title virtually or not. But I'll be doing my best to enjoy Thanksgiving morning the same way I've done for the majority of my life.
Even without the pie, the drinks with friends, and football with my Dad, Thanksgiving will remain the only holiday on my calendar where no matter what, you run. That tradition will never change. And next year I'll just have to eat twice as much pie, drink twice as many whiskey sours, and watch twice as much football.