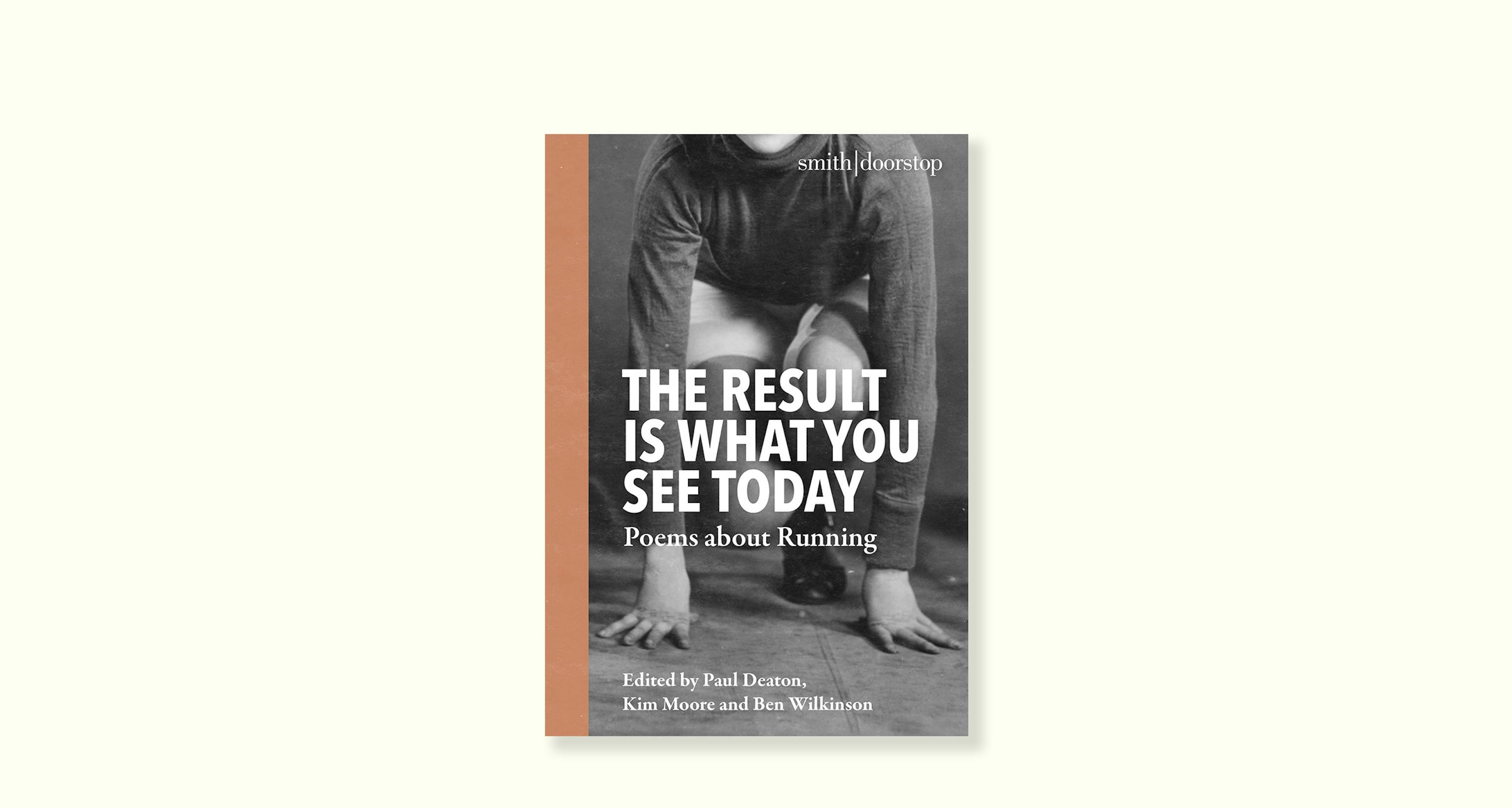 The Result Is What You See Today: Poems about Running
Edited by Paul Deaton, Kim Moore and Ben Wilkinson.
Running is not known as a sport that creates great literature. Few athletic pursuits give their participants quite so much time to think, and yet produce so few cultural artefacts. Maybe it's the sheer volume of introspection in running that overwhelms creativity? It takes a special writer to keep a first person narrative engaging without straying into self-indulgence. Indeed, the great sports writing is rarely a documentary of the author's own psyche, but more often describes the rivalries, the personalities and performances of others. Where running is a battle largely against oneself, other sports focus on the battles against the elements, the competition and the authorities, and those battles often have appeal far beyond the sporting realm.
If running has rarely produced prose that has leapt into the broader public consciousness in a way that say, Norman Mailer's The Fight did in documenting Muhamed Ali and George Foreman's 'Rumble in the Jungle', how about poetry?
Ok, verse is even less likely to achieve mass appeal, but if any form of writing seemed tailored to the introspective perfectionism of runners, poetry is it.
The Result Is What You See Today is a new anthology of poems about running, curated by poet-runners Paul Deaton, Kim Moore, and erstwhile Meter contributor, Ben Wilkinson.
Wilkinson describes running and poetry as "two sides of the same finisher's medal. Despite the company, competitors and camaraderie, both are fundamentally solitary pursuits."
When the editors put out a call for submissions they were overwhelmed with the number of contributions they received from writers and runners, known and unknown. "The most affirming thing about editing this anthology was discovering the wealth of different poet-runners already out there," says Wilkinson. "The poems in span those from established authors to lesser-known new writers. The diversity is actually pretty stunning. We've everything from reminisces of school cross-country and track competition going back decades, to funny and philosophical contemplations of the act of running from non-runners."
----
Running on Silloth Beach on Christmas Day
NELL FARRELL
Counting hawks like magpies; three for a girl
curves like a comma, tucked in from the wind
on a bare branch by the road to Skinburness
and all the other place names catch your throat
like peat smoke: Calvo, Kelsick, Langrigg, Causewayhead.
The beach is wide and empty, snow glitters
on the hills across the Solway Firth.
I work my injured ankle like a racehorse
and the sand gives just enough. Sweating
I unravel arms from sleeves, billow, balance,
crush nothing, even though the ground is pocked
with purple mussel shells and icing sugar cockles.
I catch myself scanning for a stone,
the perfect souvenir, then think Just run.
The only thing you need from this is this itself.
----
The anthology is split into three sections, exploring themes of why we run, how running keeps us rooted in the world, and the idea that running can be transformative.
Kim Moore highlights, "both poetry and running have a contradiction at their heart, rooted in the individual act, yet they have to take place within a living, thriving community" and there is a sense here of meeting a part of the running community we don't often get to interact with – there's overwhelmingly a sense of northern, British, otherness that runs through these poems. Wilkinson agrees: "It's adventurous, as you say. And though the poems come from poet-runners all over the UK, many of them have a wayward or contrary vibe. I think running, like writing poetry, is in part always rebellious."
----
Lap
MICHAEL BROWN
Suppose in the rain when you run
you think of breath,
the kilometre kiss-kiss of rubber
on asphalt,
your own cage of pain –
what if no thought
of else or other
comes to enter
the repeated metres repeated metres
lapped in limbic dark?
----
The Result Is What You See Today looks at running from a perspective we don't often encounter, and that's both refreshing and inspiring. It also raises the question of where are the poems by those who dream of running a BQ, an OTQ or a WR?
The Result Is What You See Today: Poems about Running is published by the Poetry Business. It is available now.