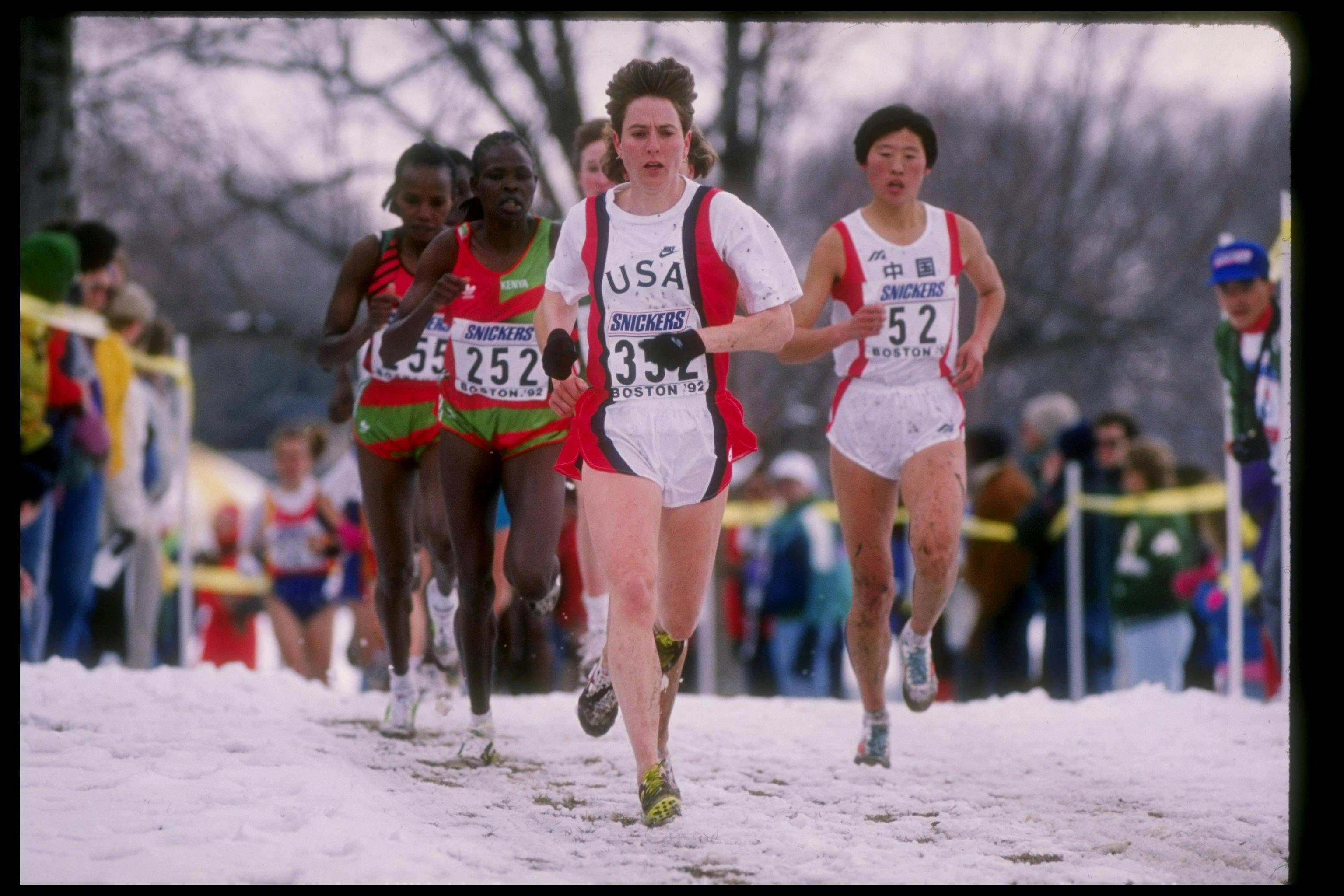 Tough off
the Track
Words by Amory Rowe

If you want to know how fast someone is, put them on a track.
If you want to know how tough they are, put them on a cross country course.
And if you really want to plumb the depths of an athlete's reservoir of grit, put them on the course at Franklin Park on a snowy March day. Stand them elbow to elbow with more than a hundred of the world's most accomplished runners; line the course's looping trails with 30,000 spectators; then fire the starter's pistol. Put a Championship medal and legend status on the line, and you're guaranteed to see the toughest get to work.
These were the conditions in which several US athletes thrived in 1992, when Boston hosted the World Cross Country Championships.
"I truly think that it was one of the more impressive races of my career," says Vicki Huber, who ran to a surprise fourth place finish, just three spots behind her teammate Lynn Jennings. Jennings won her third consecutive World Cross Country title that day, in the same park, if not the same course, where she'd captured back-to-back state titles in high school.
"I knew everyone. All the technical people and all the officials on the starting line. My neighbors were here with their two children," Jennings states. "It was like putting on a race in my own backyard. I wanted to stop and take it all in."
Todd Williams, who would go on to finish 10th in the 10,000m at that summer's Olympic Games in Barcelona, was the top US finisher in the senior men's race. "I fought the whole way not knowing what place I was in," he remembers.
That is the beauty of cross country: all the traditional racer's marks of progress and success — lap splits and mid-race position — are muddied. Gone is the level ground and sure footing of the track, its meticulously measured lane lines and the reliable order they convey.
Instead, the best cross country runners bring the sum total of their discipline and determination to bear on the chaos underfoot. No one in the history of US cross country running has been better at this than Jennings, whose short sharp strides matched her steely bearing. And no venue offered a finer crucible for a test of her nerve than the 1992 World Cross Country Championships at Franklin Park.
It was the first time the city of Boston would play host to a World Championships, the first time an American would attempt a three-peat as Cross Country World Champion, and the first time that same athlete would have an opportunity to perform on the sport's biggest stage on her hometown turf.
At the finish, Jennings shed tears of joy and appeared to speak for herself, for Franklin Park and for the city: "I never did that before," she said.
Photography via Getty Images.