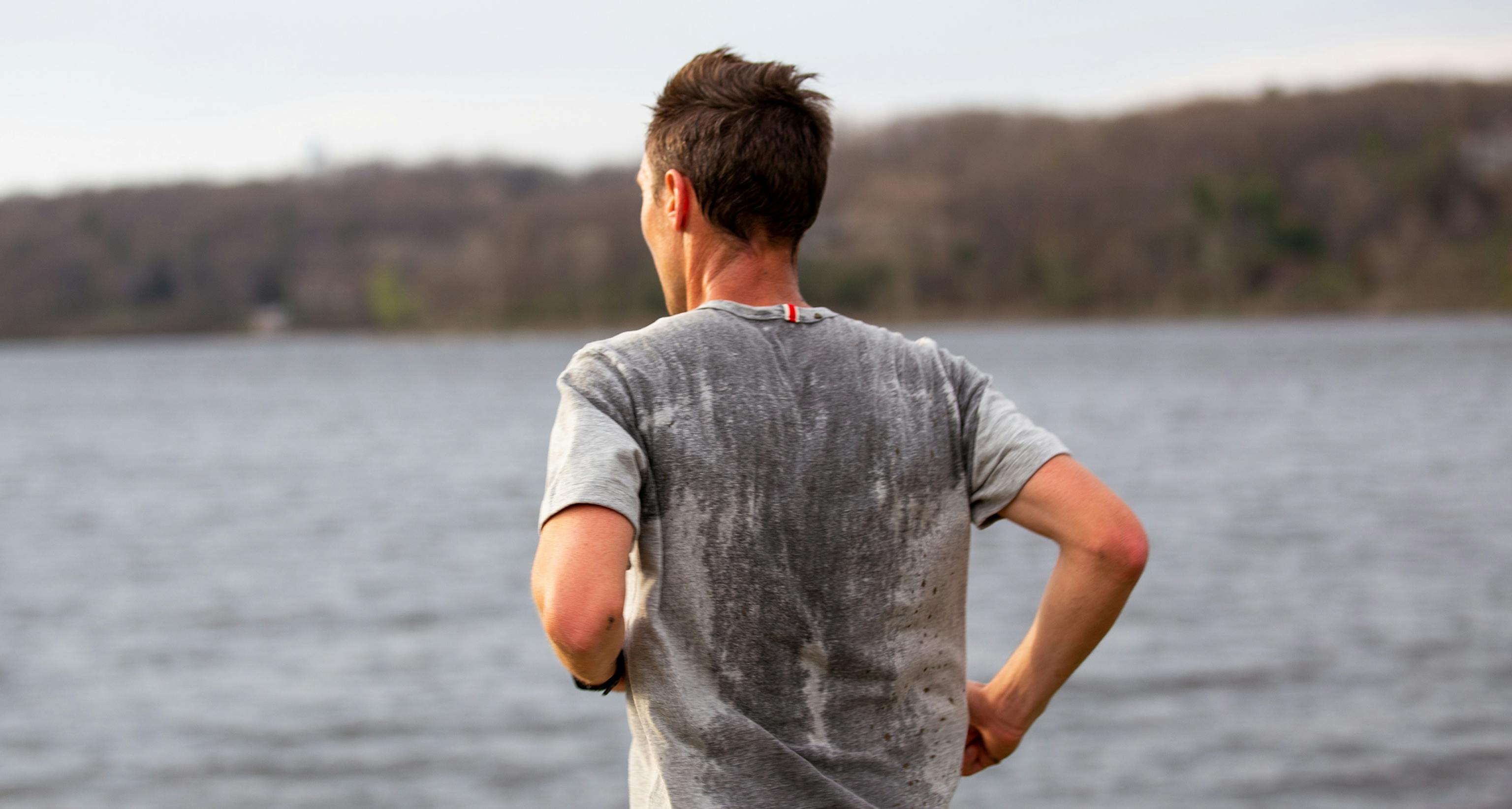 Workouts for Show, Miles for Dough
Words by Nick Willis
Photography by Daniel Ribar

It's not the races or the workouts that I remember most fondly from my time on the Michigan Cross Country team; it's not the ten-day camps in the woods of Northern Michigan, or the late night escapades around campus either. It's sitting in the locker room with my teammates and coach, exhausted after our Sunday long run, that holds the most enduring and meaningful memories. There were no classes, tutorials or study groups we had to rush off to. We just sat there and talked – a cup of chocolate milk in one hand, and a Washtenaw Dairy doughnut in the other. We recounted the various toilet stops that had occurred during our 16-20 mile expedition, we joked about the surges that were thrown down by the team's serial frontrunners, and we laughed about those who had broken the team's in-season no drinking pact and how their hangovers made their longrun a death march from the first mile. Most of all, we just talked about life, and savored every crumb of the delicious doughnuts coach Ronnie had supplied.

"The donut in the locker room after the long run was the mental fuel that kept me going as I yo-yo'd on and off the pack in the final miles."
- Andrew Bauer (UofM XC 2002-2007)


During every Sunday long run, for the 18 years I've been around the Michigan Cross Country program, and for many years before I showed up, the Michigan coach has driven down to Washtenaw Dairy on Ann Arbor's East Madison Street, and bought a few dozen of their famous fresh-out-of-the-frier doughnuts. Chocolate, malt, vanilla glazed, coconut, peanut or sprinkles, or just plain old sugar dipped – we each had our favorites, but it didn't really matter which were left after the half milers had taken first dibs after their meagre 10 mile trot. When you were 16 glycogen-depleting miles into your run, it was the thought of chomping into a warm doughnut that helped the rest of us get through the final slog – especially during the unrelenting Michigan winters.


"I loved how Ron wasn't allowed to see us seven days a week per NCAA rules. However when we would return from a Sunday long run the donuts would just magically appear in the locker room. Donuts weren't given, they were earned."
- Tommy Greenless (UofM XC 2000-2005)


Ron Warhurst started this tradition. He was the Michigan head cross country coach from 1974 to 2010. Doughnuts were his peace offering. Ronnie would put us through his gauntlet of demanding workouts, morning runs, and core sessions during the week. He was unforgiving in his demands, constantly teaching us the importance of developing toughness and grit to be successful in a 10km cross country race. But after capping the arduous week off with our longest run yet, the placement of three to four dozen doughnuts in the team's locker room was his peace offering to show that he understood what we had sacrificed for him, and that he wanted us all to relax a little and enjoy some simple pleasures.


"I have a vivid memory about Rondell Ruff coming back from a 15 miler in the crazy cold. He was covered in snow. It looked like the knit cap he was wearing was frozen.
He sat down next to the box of doughnuts from Washtenaw Dairy and grabbed one and said "boys, you're looking at a man who just ran a 100 mile week."
- Todd Iacovelli (UofM XC 2002-2006)


Doughnuts were a connecting point. They were the catalyst for casual conversion. Sure, running was important. We all worked really hard to reach our goals, but the doughnuts were a reminder: don't take this too seriously. Give it all you've got, but then step back and relax. Have a real conversation. Have a relationship with your training partners outside of running.
Doughnuts broke down the barriers of our sport and helped us have conversations about life. Relationships, family challenges, career plans, politics, religion – those are the conversations that happen with a doughnut in your hand. The focus of the long run became a distant memory as we switched the focus from being teammates, to friends talking about deeper stuff than mere workouts or races.
They're an equalizer.
Long after retirement from coaching at Michigan, Ronnie has continued to bring doughnuts down to the track, but the love he shares has spread more broadly. No longer are the doughnuts a reward or a peace offering, they're a gift to whomever chooses to be part of the small fraternity that gathers at the track. Runners of all ages and abilities, family members, photographers, friends and even random people stopping by to check out the university's athletic facilities. The doughnuts are a gift to make people feel welcome. Everyone gets a doughnut, and everyone belongs to the temporary club down at the bleachers. My wife, Sierra, was not a runner when we first met 13 years ago, but that didn't stop Ronnie from welcoming her into our training group. First thing he did was take her to Washtenaw dairy while I was out warming up for a 4 mile tempo run. They bonded over a doughnut and coffee and they've continued to keep that routine ever since, with Sierra eventually taking on the formal role as his (and my) assistant coach. And now if our kids hear they're coming to watch me do a workout, they ask if Ronnie will be there. What they're really asking is: will there be doughnuts?
Doughnuts put smiles on faces. The shared experience of a post-run doughnut is a reminder that the hard work is done, and it's time to relax and enjoy a momentary bliss. They bring people together and help put running in its proper place – secondary to the relationships you have with the people you run with.
Go out and share a few doughnuts with your friends after your run. It's time to treat yourselves.