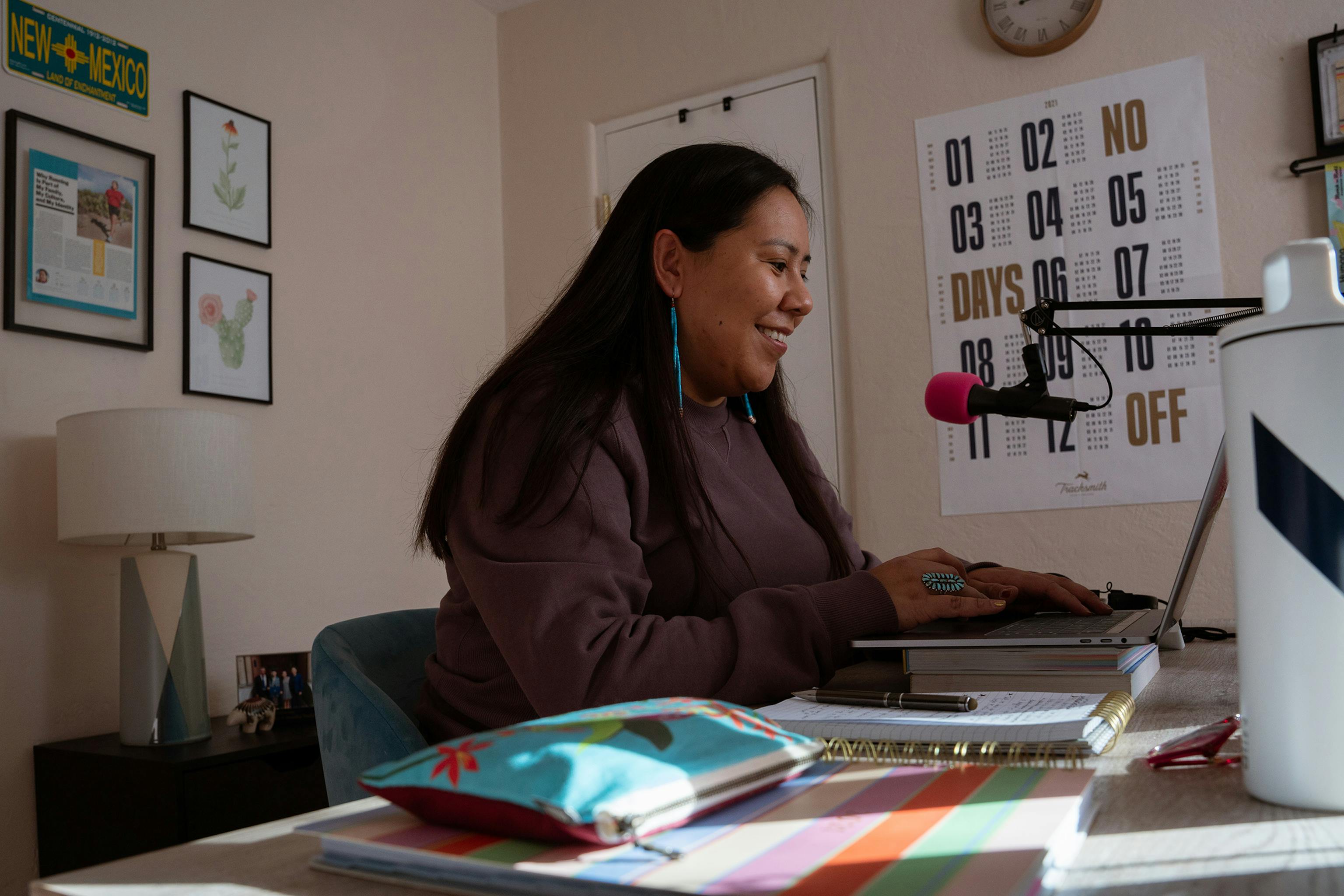 In Conversation with
Dinée Dorame
Words by Lee Glandorf
Photography by Aisha McAdams
This year, Tracksmith is supporting six projects from runners with creative ambitions as part of our first-ever Fellowship program. Over the course of 2021, we'll introduce you to the fellows, go behind the scenes on their projects and learn more about their vision. First up, is Dinée Dorame, a citizen of the Navajo Nation, runner and Associate Director of College Horizons, a non-profit organization that supports the higher education of Native American students. Dinée's Fellowship project is Grounded, a weekly podcast exploring the intersection of running, community, land, and culture, which launched on January 27th. Earlier this month, we spoke with Dinée about her journey as a runner, her ambitions for the show and her passion for storytelling and community connection.
Tracksmith (TS): To start, can you share a little about yourself and your relationship with running?
Dinée Dorame (DD):Shí éí Dinee Dorame yinishyé. Tábąąhá nishłį́, Naakai dine'é bashishchiin, Tótsohníí dashicheii, Naakai dine'é dashinalí. I'm introducing myself and my four clans, which is something I was taught to always do when meeting new people in order to identify relationships. I'm a citizen of the Navajo Nation, born and raised in Albuquerque, NM. Part of my family, my Mom's, is from Fort Defiance, Arizona on the Navajo Reservation, and the other part of my family, on my Dad's side, is from southern New Mexico. They are Yaqui and Mexican. Though both sides of my family are indigenous, because Navajo is a very matriarchal culture, I was raised with Navajo values and lifeways at the forefront of my experience. Thanks to my cultural traditions as a Navajo person, I've been running since I was a kid. It's a really valued and sacred part of our culture. My Mom and Dad are runners. They're both really competitive people. I grew up watching them train for races and would go for runs with them as soon as I was old enough. We went running as a family as often as five days a week. I saw that as the way my parents expressed themselves, found community, and decompressed at the end of a workday.
TS: What inspired you to start this podcast?
DD:I have been working in education for a long time and it's certainly a passion. I love helping Native students find their college, their academic pathway and learn how to be happy and joyful in themselves and who they are. At the same time, I've always had this itch to work in sports. It's how I grew up. Running was always the thing keeping me going as an admissions officer at Yale, during my time at College Horizons, even way back when I was in college. I was always running, always training for a race. Three years ago when I was living in Connecticut, I remember thinking, "I really want to do something with this. I really want to help other people connect to the spaces around them and find a happy place for themselves." I just love creating community and helping people find happiness. It sounds cheesy, but that's a lot of what I do in my work with Native students. I help them find their fit. I think I do a lot of that same work in running. I'm trying to help people find a space that is comfortable and a space that can make them happy, but also a space for reflection and learning.
I started with that seed and when I moved home to New Mexico, seeing the mountains and the landscape I was used to was just really reinvigorating for me and helped me refind my joy in running. At the time I was running alone, listening to a lot of podcasts. I found Ali on the Run first. I was training for a half marathon and realized "Wow this is a great medium to connect with other runners and share and be inspired." This sent me down a running podcast rabbit hole. I've always had a passion for community but also for storytelling, those two things blended together, made so much sense. So this has been a goal of mine for a while.
TS: What kind of stories are you hoping to share on the show?
DD:I want to tell the stories of Indigenous runners and other runners like me with nuance and depth. I've noticed in my listening that there are very few Native runners interviewed. When I did find that lone Native runner, a lot of those interviews lacked depth – which isn't to insult the podcaster – but our experiences were so new to people, that people weren't sure how to proceed. As a Native person I was listening to these interviews and I wasn't really learning. I know what it's like to come from a Native community so it's great to hear from them, but I want to know more about their career, about their running journey, about how they train. I realized Native runners weren't getting asked the same questions as non-Native runners. Even though my podcast is going to be a diverse slate of people, I think that my perspective as a Native person is always to dig a little deeper in those questions and to get past the surface. And not just ask BIPOC runners, "What is your take on Diversity and Inclusion?" but also value their experiences as runners. What is your training like? What has your experience training been like? So many of those deeper questions that we hear white athletes being asked over and over, we're not being asked. I'm just so interested in telling stories from people who just haven't been able to authentically share their running journey yet on a public platform.
TS: Can you talk a little bit about your relationship to the land and how you want to explore that in the podcast?
DD:As runners, we all rely on the land to participate in our passion. It's what connects all of us in this sport. I've always felt a huge difference when I am running in a new place. I spend a lot of time running on my homelands, or in the area where I was raised, which is the Tiwa ancestral homelands of a lot of the Pueblo community here. I feel really comfortable. Other places I feel more like a guest. It's important to acknowledge that I am a guest, and those are the homelands of somebody else, somebody else's indigenous community. I have always felt like running is the best way to get to know a new place, but it's also a great way to acknowledge that space, recognize that space and be educated around that space. There's an opportunity we have as runners to learn more about that landscape because we're so intertwined with it on a daily basis. That connection really motivates me and interests me. Other runners talk about these beautiful places and these communities that they build, but so much of that has to do with where you are.
We're really nomadic in running. The landscape is a big part of our experience and training. That's something I want to explore and talk to other runners about: not only where they were raised and how that impacts their running, but also where they currently reside. With Indigenous runners there's obviously another layer there because it's pretty common practice to acknowledge the land in Indigenous communities and to acknowledge it as either being your homeland or as being a guest. For me as a Navajo person, the traditions I've learned are that you wake up and run to the east at sunrise. I don't do it every day, but it's something I try to incorporate in my life as much as I can. It is said to be the way we make ourselves as Navajo people visible to the holy people so that they can bless us and protect us. That's an important part of my traditions and I want to talk to other Native runners to understand their communities' traditions around running, how they connect to the land and see themselves as inhabitants of the land through running. Those are interesting conversations to me.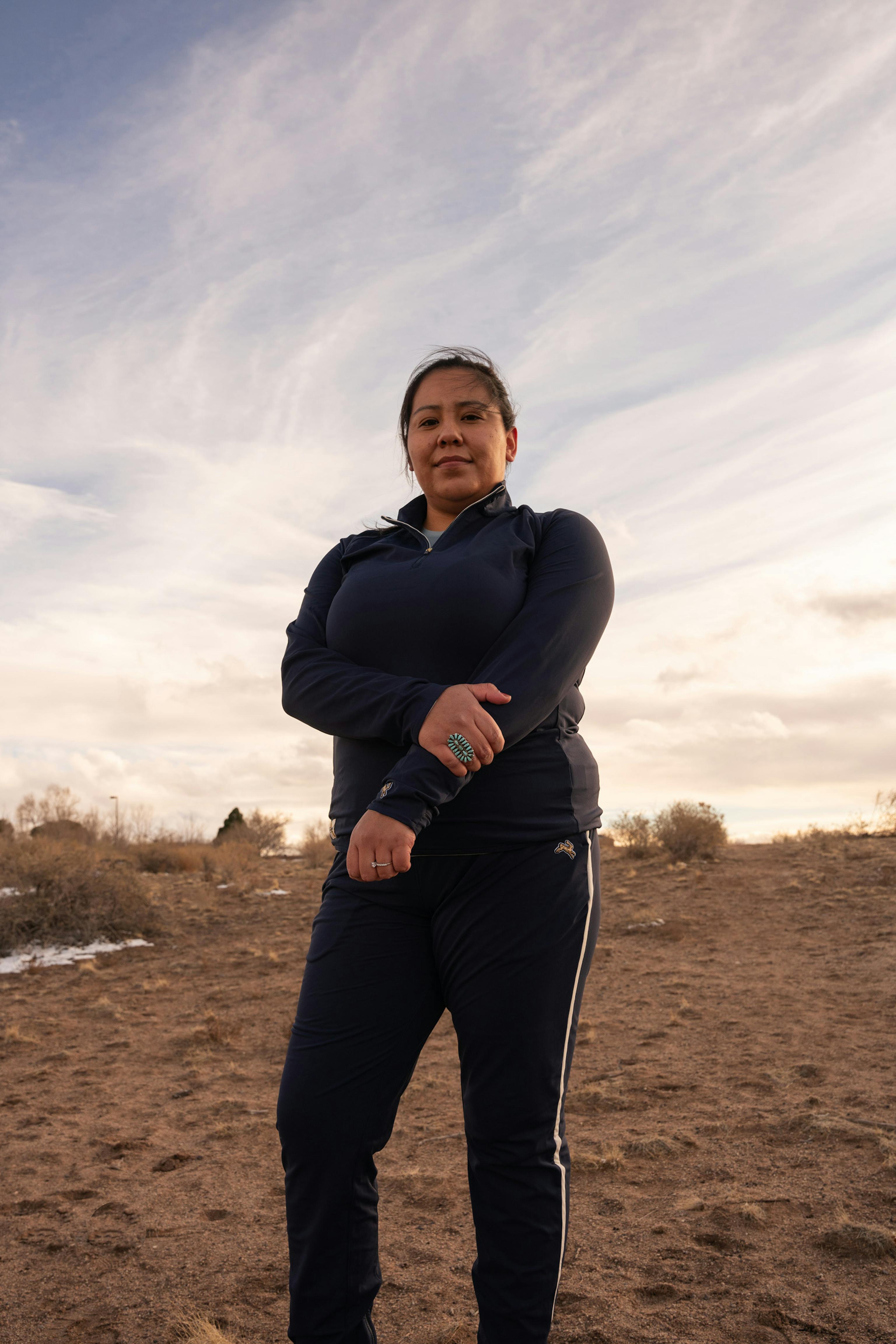 TS: What have you learned in the process of getting the podcast off the ground?
DD:A lot! It's been a self-driven project, I haven't had any help editing or on anything tech-related. I've always had an interest in design, audio, video and editing, which has come in handy. I've had to learn a lot about troubleshooting on the fly. Prioritizing things and making sure I am on top of my schedule, blocking out time when I am not working my day job to record right now. I am learning how to roll with the punches when the remote recording software doesn't work right now. I'm learning a lot about audio and running a microphone, asking questions. I've been talking to Mario Fraioli (host of The AM Shakeout), my mentor, all the time. He's calmed a lot of my nerves about prep work for interviews. I have a light journalism background from high school and college but I really had to dust that off a little bit and think about the questions I'm asking and making sure they will reflect the conversation I hope people will want to hear. It's been going well, but certainly it's uncomfortable to hear your own voice, to go through this process and put yourself out there. I'm getting used to learning to shed the nerves and be confident in my own voice.
TS: It's interesting in the way that it's a lot like training for a race.
DD: Having been a runner my whole life, I feel like training applies to so many things. It's just a day-to-day grind and one day you will see the result of your hard work. That's what I'm waiting for. I'm excited about the launch and I am excited to have longevity, consistency and a routine. But right now I know I have to push through this hard couple of months where I am recording a lot to get ahead, spending a lot of time on my computer, staying up pretty late. It feels a lot like I am working two jobs. I have so much respect for podcasters because I have spent so much time at my desk and my computer the past two months. I am definitely trying to find that balance right now.
TS: Do you have a dream guest?
DD:I really want to interview Billy Mills. He's such a legend: gold medalist at the 1964 Olympics in the 10,000-meter run and somebody I've looked up to for a long time. When I interviewed Alvina Begay – she's a 10,000-meter runner too – we spoke about competing at the Olympic Trials in 2012. There's this pretty iconic picture of her and Billy before the race, so I asked her, "What did Bill Mills say to you?' He is the last Indigenous person to compete in that category at the Olympic level, so I'm really hoping I can get him on the podcast. Other than that, I'm excited about talking to my favorite pro runners, especially Meb Keflezighi and Deena Kastor.
TS: How has running influenced your creative process?
DD: What's funny is I was having a really hard time starting this journey because I was newly injured and couldn't run. I talked to my trainer and was urged to take some rest and do some strength work, but I was just itching to run. I needed that consistency and inspiration. I kept thinking, "How am I supposed to have these conversations and start creating these questions without pondering it on a run?" I think it was a blessing in disguise. I was so wrapped up in the podcast development for the past few months, it was the perfect time to take a break from running and use that time to reflect on my own journey through talking and writing. Something I have always known is I hope I can run forever, we all do. I have a lot of chronic injuries and I need rest a lot more than probably the average runner. I know I can't rely on it every day, all the time. So having another outlet is really important for me. What's great is now I am back and running again, it's been my space to think through these conversations. I have started running a lot more without music and just silently on my own. Now I take that time to think about my own experiences, the show, and what I'm going to talk about. At the same time, selfishly, hearing these conversations, as much as I hope they inspire the audience, I really hope they can help me get through these injuries. Honestly, I think this was the first time I wasn't miserable while injured. I figured out I could be happy reading, writing and journaling, planning, and podcasting. Those were bringing me a lot of joy. I almost didn't notice I was missing running. And then when I came back I felt like a new person.
TS: 2020 was a challenging year, but also helped many put their priorities in order. How did you decide to launch the podcast and chase this goal?
DD:The Fellowship was like a green light for this idea I've had for three years. But what's funny is, I almost didn't apply for it. I stared at it for months and I just thought there is no way I am going to get this Fellowship. I wasn't feeling very confident in myself at that time. My partner was really instrumental in pushing me forward and helping me understand that I had all this unused time and all I could talk about was running. I realized if I can't go outside, if I can't get to the Reservation and help, I can't see my parents even, I needed a place to put that energy. Early on in the pandemic it was a very somber and hard time for me, for everyone, but I was really struggling with what was happening in the Navajo Nation and with not being able to see my family. My little sister lost out on so much as a high school senior. Everyone around me was losing things and I was having a hard time. I need that spark and the Fellowship gave me that push. I had some many ideas in my head about this project and finally right before the deadline, my partner sat me down. I had a beer and he just supported me while I wrote down all my ideas in a notebook. I am so glad I applied. Once I sent the application away,, it was the first time I vocalized and put my ideas out into the world. I said, "Ok this is real, whether or not I get this project I have plotted it out and this is something I want to do."