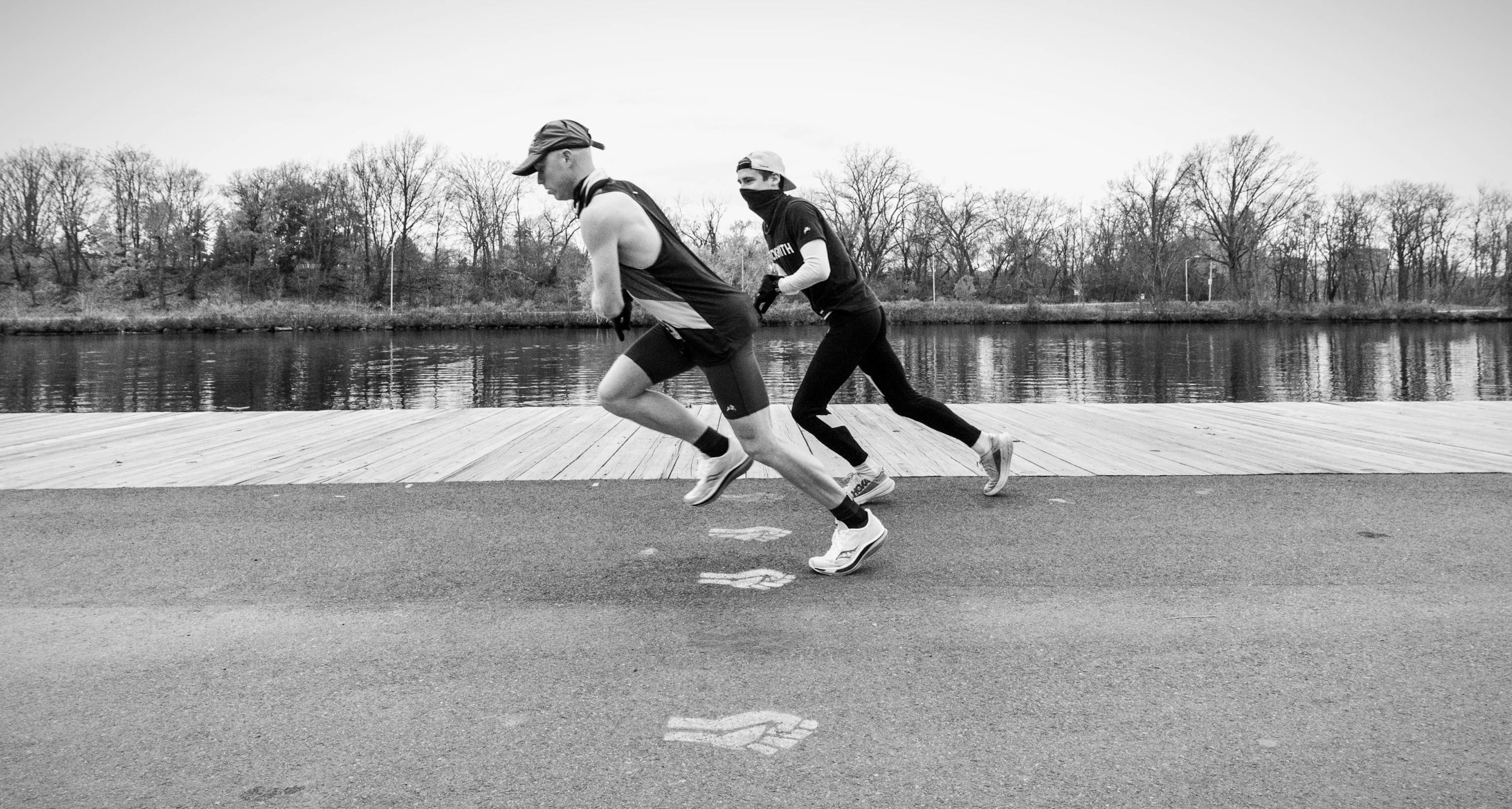 The Blueprint Stays the Same
Words by Louis Serafini
Photography by Matthew Tieuli
For as long as I've been a runner, I've trained with one thing in mind: getting faster. One of the best parts about running is that it's all relative. You measure your successes and your failures against yourself. Generally those efforts are measured during races with other competitors, but not right now.
This piece is about how a member of our running community hasn't let the pandemic stop him from chasing goals.
If you popped by The Trackhouse on a Sunday morning back in February, you'd be greeted by hundreds of runners who woke up to do a long run. Likely watching Track on TV or eating pancakes. The scene was alive and high-spirited.
Now, in the midst of a pandemic and gatherings restricted to 10 people or fewer, that community has been flipped on its head.
Many of those runners were training for marathons. Our competitive racing team alone had 35 members training to run the Boston Marathon in April. One of the most loyal "run clubbers" of that pack is Kevin Sheehan.
Kevin's race also got canceled last Spring. He was training for the Vermont City Marathon which takes place on Memorial Day Weekend in Burlington. While many whose races were cancelled took the opportunity to take a break from racing, Kevin saw an opportunity.
He said he didn't want 2020 to go to waste: "I just felt like this was a good opportunity to build as much strength as I could, try some new challenges and reach new heights."
That mentality paid major dividends in the form of a 2:36 marathon - a 14 minute personal best which he ran in a time trial in November, on a popular four mile loop on the Charles River.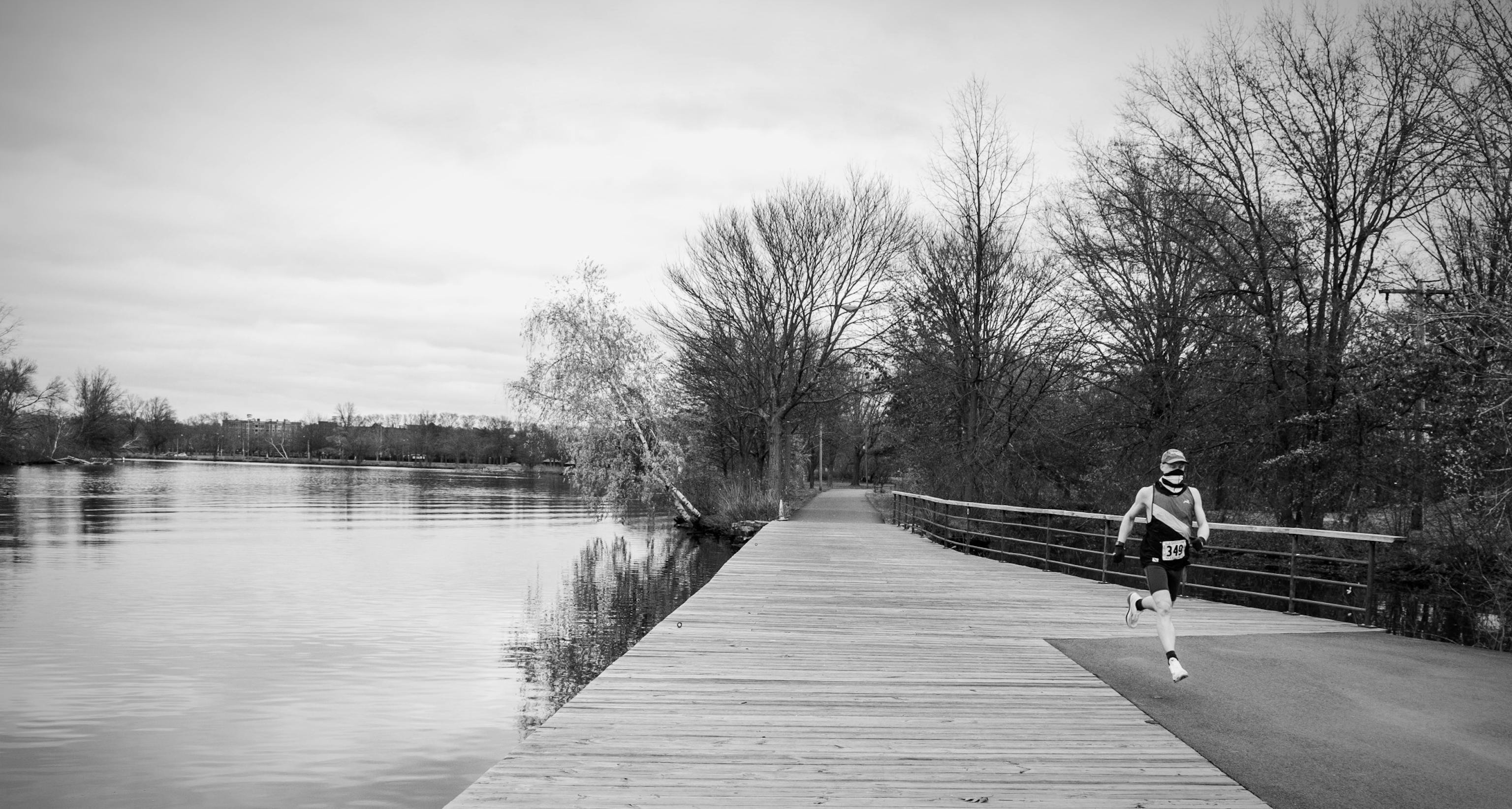 Kevin is 31 years old and started running when he was 12, competing as a sprinter and long jumper.
When I first started leading runs at Tracksmith back in June of 2017, Kevin quickly became one of my most regular participants. Now he competes for our USATF affiliated club and is coached by teammate and 2:37 marathoner, Emma Spencer. Even if he has a different workout than the group, he's at the track on Tuesday and Thursday evenings churning out laps.
"I certainly miss being in a large group setting - especially the Sunday long runs and team hangouts," Sheehan says. "I joined the Boston Racing Team because I knew it was the best field of runners to know and race with. Plus, after being around for the run club, I felt so attached to the group that it motivated me to join the team. Since then, this team has served me well on how much faster I have gotten on trying different style workouts I have never done in the past."
When Kevin messaged our team to let us know that he was going to be time trialing a marathon and needed pacing help, the community that had been relatively dormant came out in droves. When he toed the line, he was not alone. He was accompanied by mask wearing, socially distant teammates who were more than happy to take turns pacing segments of his solo effort.
"I really wasn't expecting this many people to come out and help support me," Kevin said on the day.
He says Emma put together a spreadsheet to help recruit teammates to pace.
"Especially in this moment, I think people get a lot of joy out of seeing other people succeed. With so many events canceled, the chance to rally around someone in the community and experience the suspense and payoff of a big win is really special," Emma explains.
She goes on to explain that it didn't really matter that this wasn't a real race. It was more about being consistent week after week and staying focused, adding, "once a date was set for the time trial he went into each run knowing it had purpose towards a larger goal."
A marathon time trial may sound like a daunting task to some, but for Kevin, the format actually helped take some of the pressure off. Without other racers, he was able to really focus on his plan and not get pulled out too fast.
After the race, our team group message erupted with positive messages congratulating Kevin on his performance. Thanks to his efforts our community feels alive in a way it hasn't for some time.
Kevin's run is a reminder that even though we can't meet for runs or races, we can still challenge ourselves to be better runners. He provided the blueprint: set a goal, show up week after week, set a date, and execute.