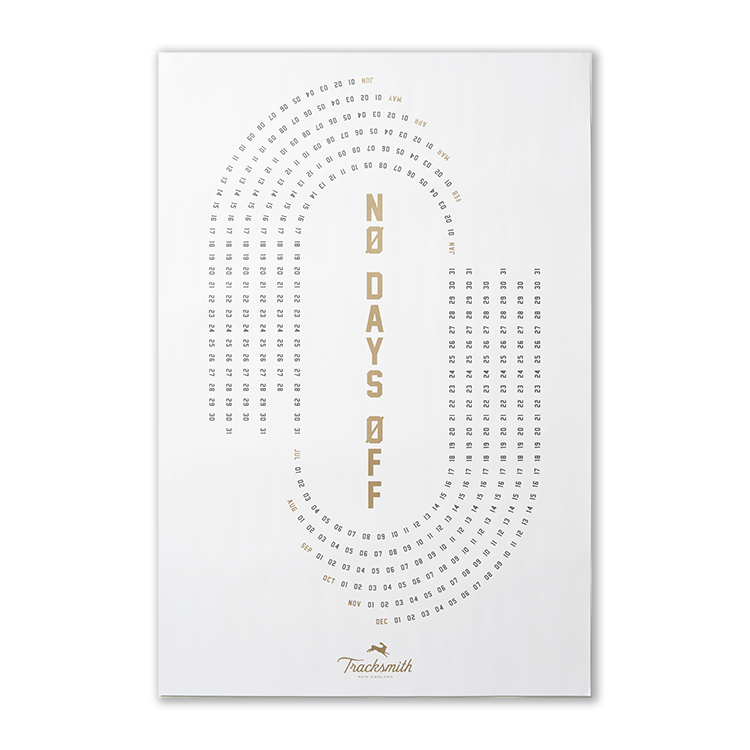 No Days Off Calendar
limit of 1 per order
It's as simple as it sounds: run every day, rain or shine. It doesn't matter whether you run for 15 minutes or 15 miles, what matters is that you get out the door. Some days it will come easy and other days will be a struggle; embrace them equally. Allow the simplicity and consistency to fortify you. Tick off the days as they pass beneath your feet - three days, three weeks, three months . . .
During the month of January all NDO orders come with a complimentary No Days Off poster. If you'd like to purchase just a poster, you only pay the shipping cost*. 

*U.S. shipping is $5. International is $10. Limit one calendar per order. 
No Days Off is not a race towards your physical breaking point, but rather a call for moderation – a daily greasing of the groove where today's run is only as important as what you are able to do tomorrow, and the day after that, and the day after that . . . 
Share your progress with us on Instagram.