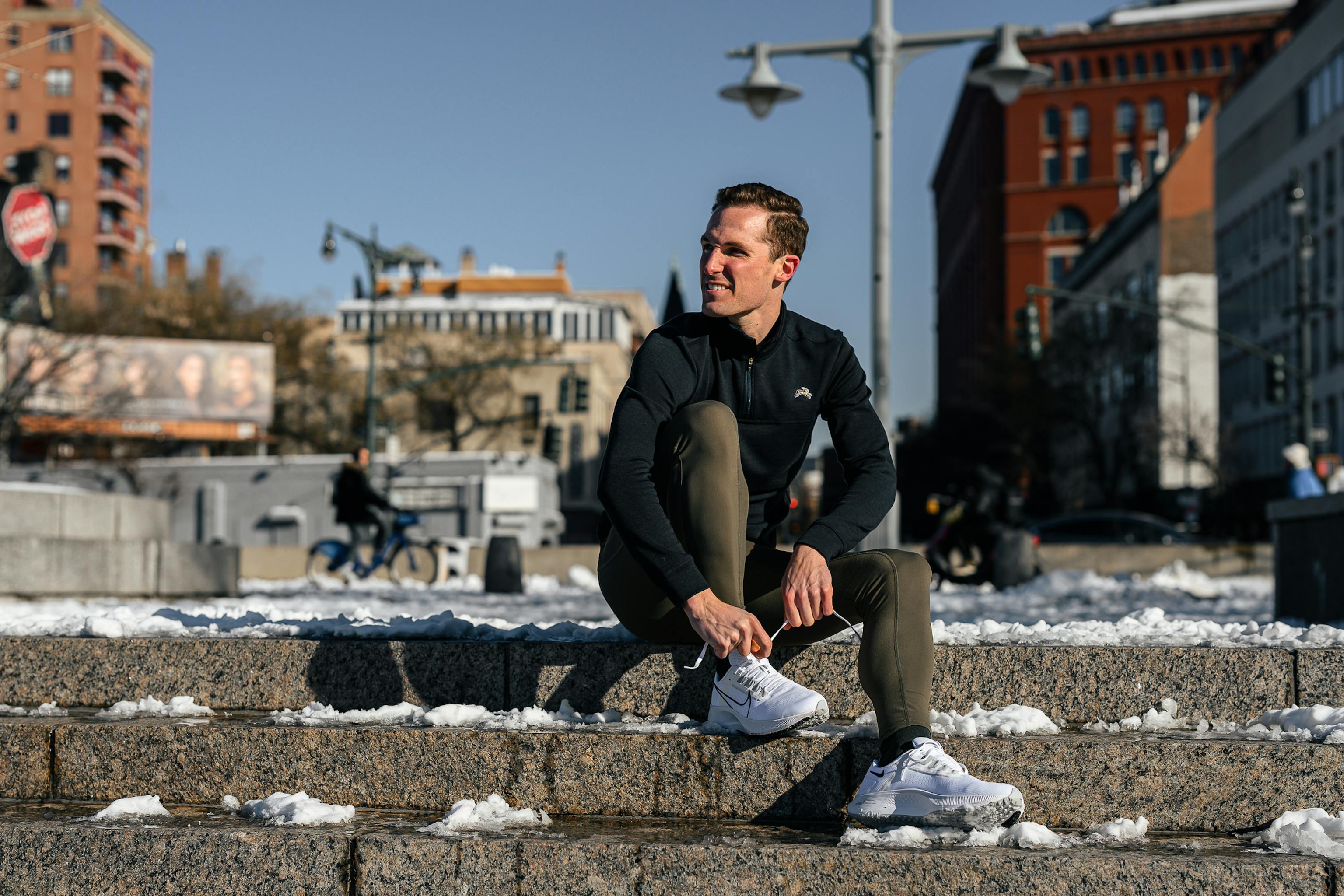 Finding His Legs
Beneath Him
Words by Lucie-Beatrix
Photos by Johnny Zhang and the Huffman Family


It's December 2020 and recently-retired pro-triathlete William Huffman has taken to the slopes above his adopted hometown of Park City, Utah. The altitude is what brought him here from his native Texas, but for years, the snow has been more an irritation than something to be enjoyed. Not any more. With those long training days behind him, he's free to enjoy the winter like a local.
The 27-year-old skis at full speed, savoring the cold, thin air against his exposed cheeks, accelerating down the mountain. The world opens up in front of him. For the first time in a long time, he's totally free.
Suddenly, he catches an edge and spirals out of control, slamming his right leg into a metal sign post. His femur breaks in two, severing the femoral artery. If he doesn't get to a hospital immediately, the blood loss will be fatal. As blood fills his ski pants, he cries out for help. He could be moments away from death, but there is nothing he can do besides hope that emergency aid arrives.
"From the time of the accident until I went into the operating room, I spent hours counting to one hundred," says Huffman. He counted slowly to distract himself and if the pain was ever so bad that he lost track of where he was, he'd start back at one and try again.

This was his meditation. The numbers took his mind away from the pain his body was experiencing in the moment. "Because the blood was fully contained inside my ski pants, the ski patrol didn't realize I had a compound fracture and severed artery. They were also a little thrown off because they later told me that I was the calmest femur fracture they had ever seen," he says. The ski patrol only figured out he broke his leg when they checked his blood pressure in the ambulance: it was dangerously low. "They debated life flight but decided it would be faster to take off in the ambulance immediately." It's no exaggeration to say the mental practice of attaching consciousness to the present moment, and not to the sensations of a body in pain, kept Huffman together as he fought to survive.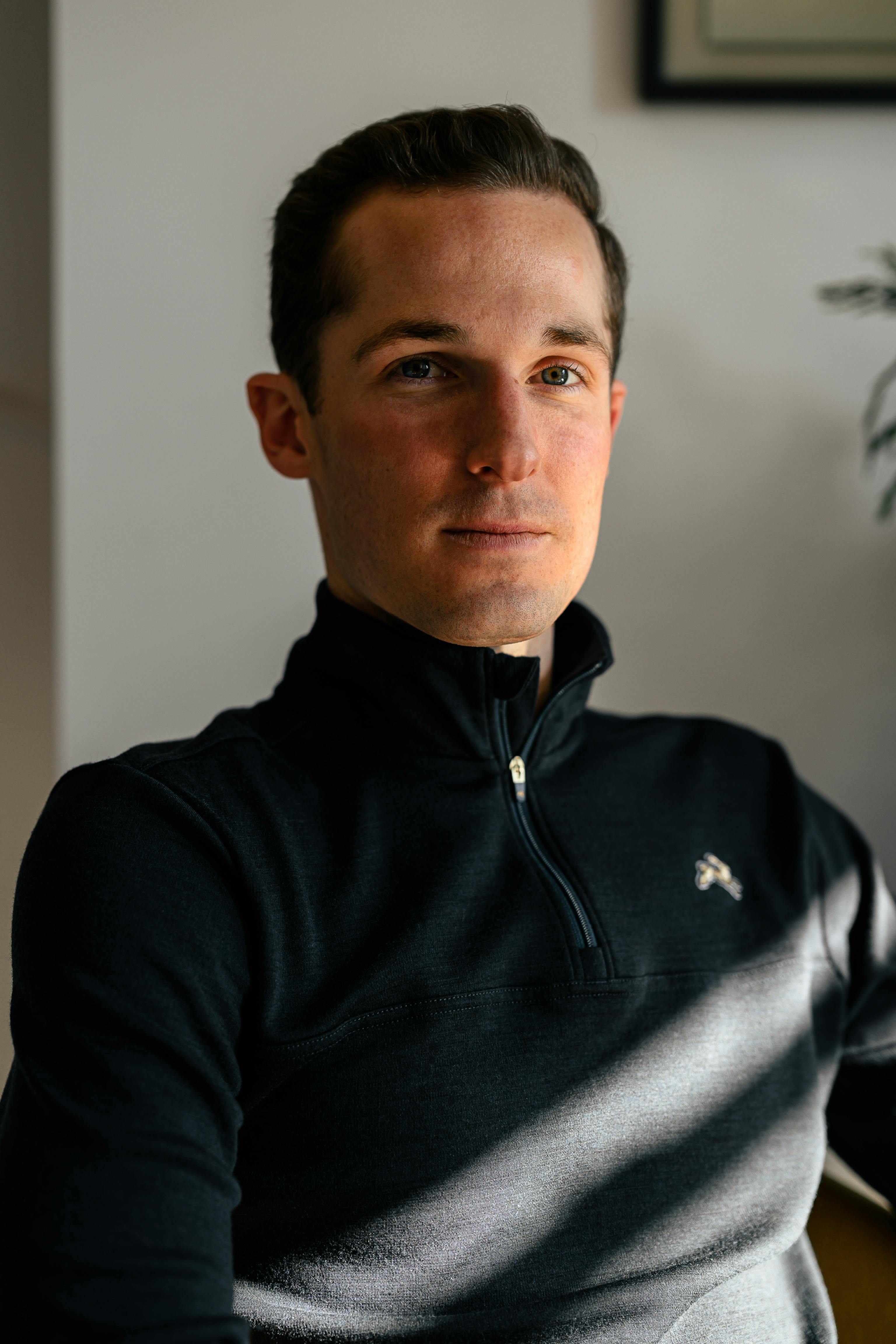 Someday This Pain Will Be Useful

Over the past decade, Huffman has demanded a lot from his body. He earned his elite status in the triad of swim, bike, run at just 16 years old. Soon after his second ever triathlon, a coach approached him and uttered the "O" word, planting the seed of an Olympic dream in the young William's mind. From then on, he trained hard, landed on several podiums, and earned a spot competing for Team USA. His competitive accolades are many and include a pair of gold medals from USA U23 National Champs (2013, 2014) and fifth place at the Pan-American Games (2019). He has redeemed his hard work in competition.
Huffman's days as a pro were rigorous. He built his life around training full-time and decided to virtually attend CSU Global so that he could obtain his Bachelor's degree in Business. He opted for online courses in order to better focus his energy on training three to five hours each day. Meanwhile, his mind was working around the clock on how to optimize that training: whether that was how to eat, rest, or recover.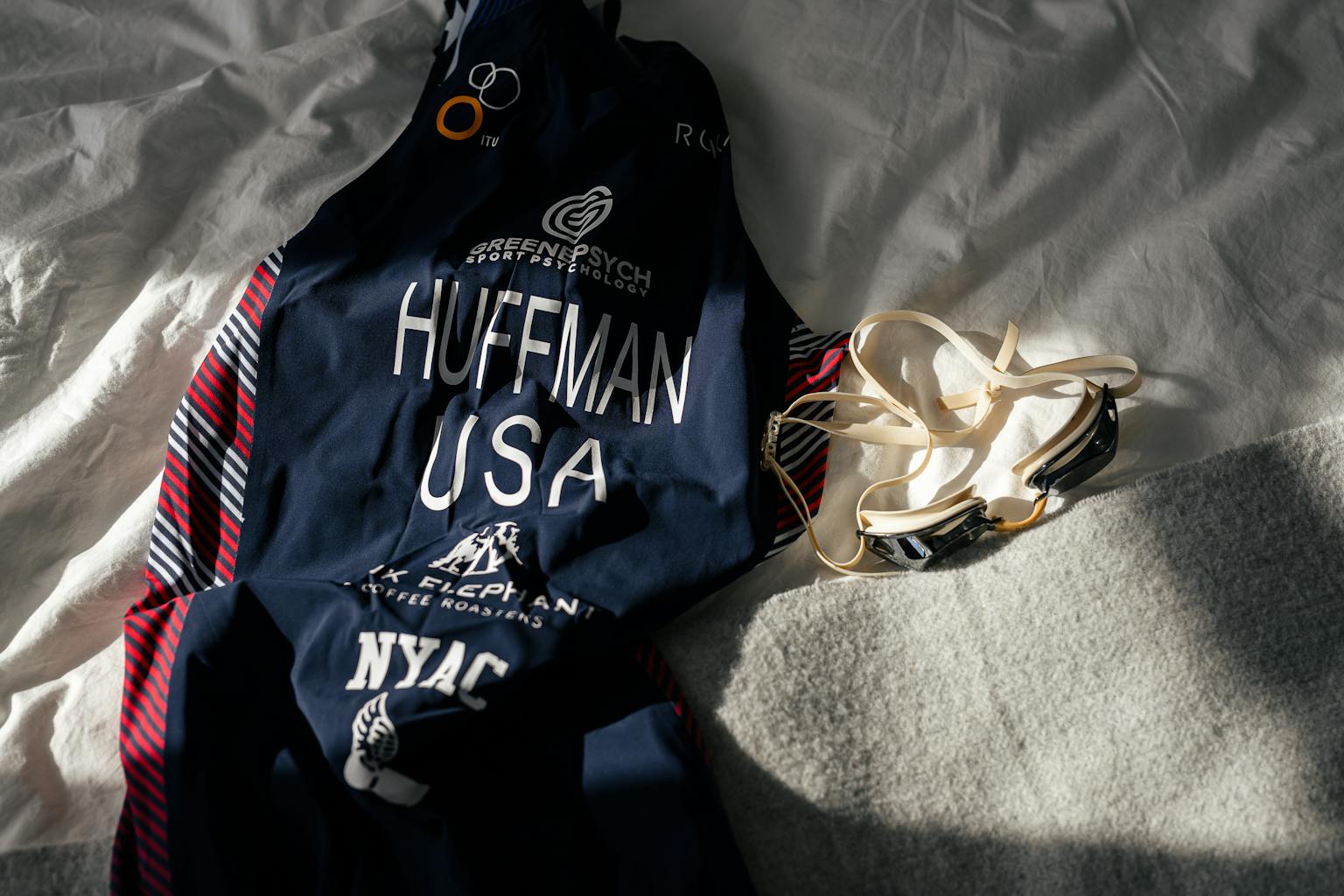 There were no breaks from being among the highest-ranking triathletes in the world. Discipline and the choices an athlete makes are consequential, with every action weighed for its potential positive or negative return on performance. Learning to live inside the athlete mindset morning, noon, and night is a critical part of training. Huffman conditioned his mindset like a muscle.
"Pain as an athlete is a means to accomplish something you are chasing – it's not always the most comfortable path that gets the best outcomes. As an athlete, I enjoy doing something that's difficult, I seek challenges. It's so rewarding to go and do something that's hard."
After a long and fruitful career competing, Will hung up his pro racing kit and retired from the sport in the summer of 2020. He remained an athlete, however, and retained his athlete's mindset. Thankfully so, because a few months later, he would face his greatest physical obstacle yet.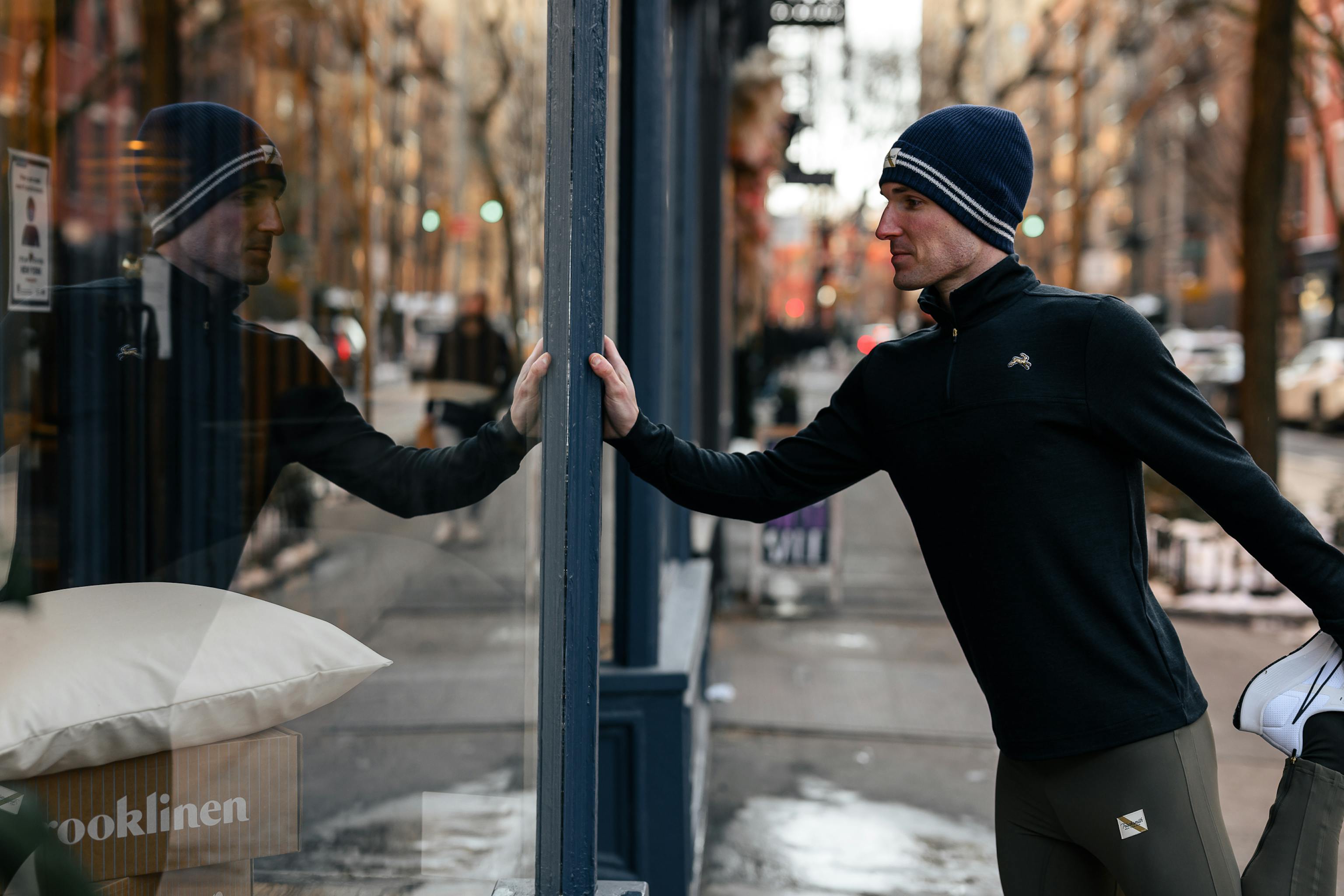 Not All Pain is Created Equal
Huffman required surgery as soon as he arrived at the ICU of Salt Lake City Hospital. While waiting, he continued to mutter "one, two, three…" The only thing that mattered was his next breath. Thrown into the immediate present, he was without an ability to worry about the future.
Soon he was sedated. As he passed in and out of consciousness, the next 72 hours were a roller coaster ride for his family. Loved ones were told by a doctor, "He may not make it, but even if he's lucky… He may never walk again."
He spent the next 10 days in the hospital. In that time, 11 units of blood were circulated through his veins – adults ordinarily have 10 units of blood in their body.
Will damaged his leg severely and he needed complicated treatment. Surgeons performed fasciotomies on all the compartments of his right leg to avoid compartment syndrome. The doctors acted to prevent life-threatening effects of rhabdomyolysis: an after-effect of muscle trauma. They worked around the clock to restore blood flow to his lower right leg to prevent further damage and stave off possible amputation.
Will's family and loved ones didn't know what would happen, but sought out every update they could get. They put together a shared cloud document so that loved ones could share and track his progress in the ICU.
Two days after the accident, a passage in the document from Huffman's aunt read:
"William is strong and determined, which I know comes as no surprise to anyone. The nurse said she hadn't seen anyone in this circumstance do as well with his mobility as he did today. And I didn't mention that when he did the breathing test prior to getting out the respiratory tubes they said he set records. Highest output they had ever seen. He deserves a trophy."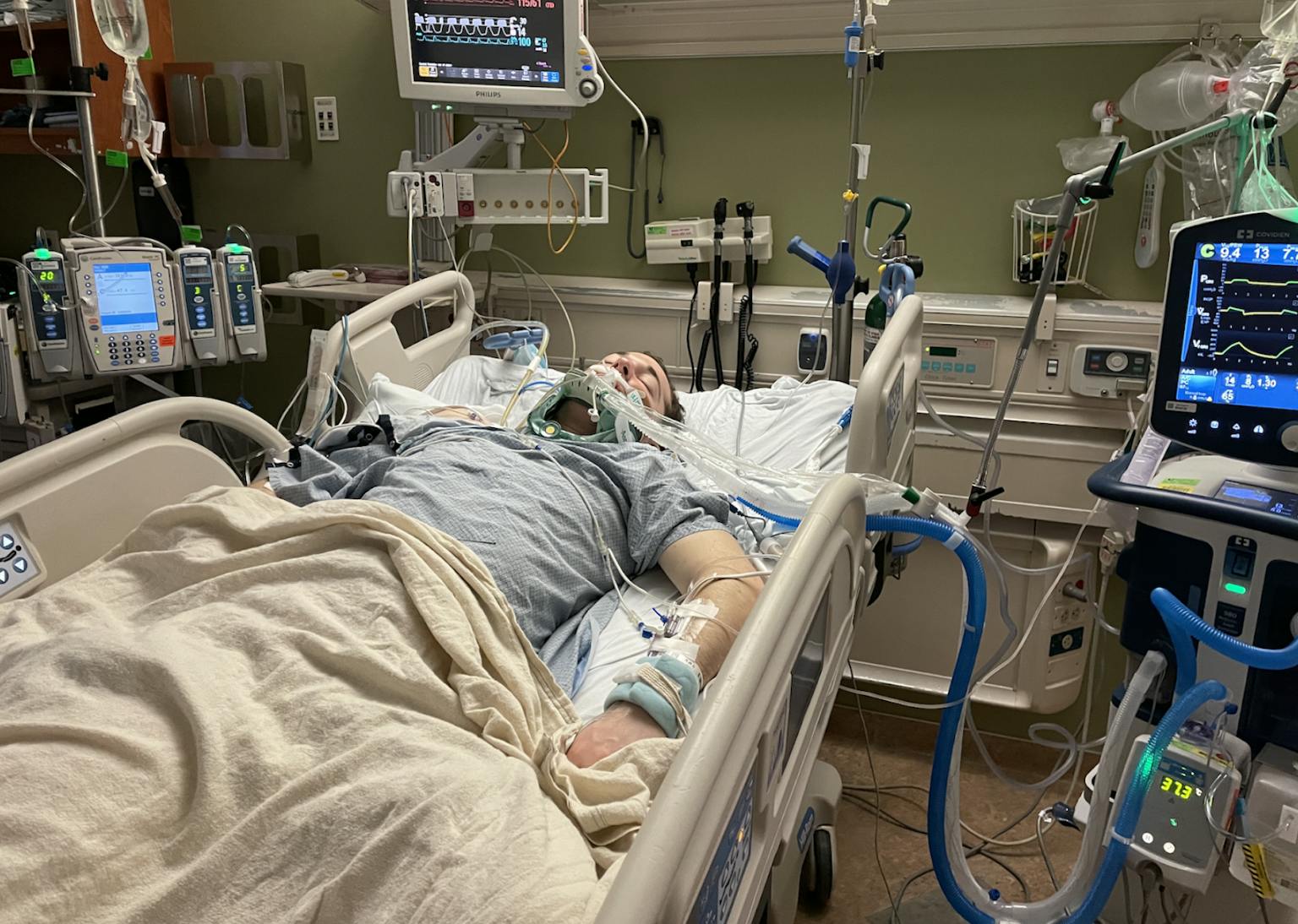 Even then, he had a long road of recovery ahead. In the days immediately after the crash, he was splayed in the hospital bed horizontally as his mind raced a million miles an hour. The medications made it hard to speak lucidly. His treatment was more exhausting than any training session or race had ever been. His red blood cell count plummeted to an all time low. He was too incapacitated to fully understand what was happening but inevitably he wondered what life would look like for him when it was all over.
In facing his doubts and his fears, the mental strength Huffman had cultivated to perform as an elite athlete showed up to help him face a crisis as a regular person. The challenge wasn't to win any awards or break any records; the goal was to recover as best he could. As modest as those ambitions may have been, he knew that he would need to commit to healing with everything he had.
Bend But Not Break
Huffman only began to gain a firm understanding of his situation on the second or third day in the hospital. He knew he had a broken femur, but only learned after the surgery was completed that his leg had almost required amputation. As the surgeons explained that the bone had torn open the artery and vasculature throughout his leg had been seriously damaged, they cautiously prepared Will for a very different kind of life going forward.
Unable to leave his hospital bed, Huffman accepted his reality but sought to change what he still could. He tested the limitations of his current state: whatever tiny exercises he could devise, he did. He grabbed a backpack and did weight reps while hooked up to the machinery keeping him stable. When he was allowed to return home, the simplest of acts became part of his conditioning regimen. Moving from the car to the bed in his home was a marathon. He was white as a sheet of ice moving at a glacial pace. Determined, he gave these new challenges the commitment he once gave to various sports.
It was unclear at this point how much mobility he would regain, but if there was still a question, there was still hope. Huffman would test what his broken right leg could bear. Standing on his left, he would place the right foot gently onto a scale and then gradually shift weight onto it until the pain became unbearable. He tried to apply a greater weight each day and, as he diligently maintained this training, his once-broken leg grew stronger.
Huffman worked with a physical therapist over the next few months. His knee on the afflicted leg seized up and needed mobility training to improve its range of motion. A metal rod was implanted to keep the bone together. Now, that same leg is covered with stitches and scars.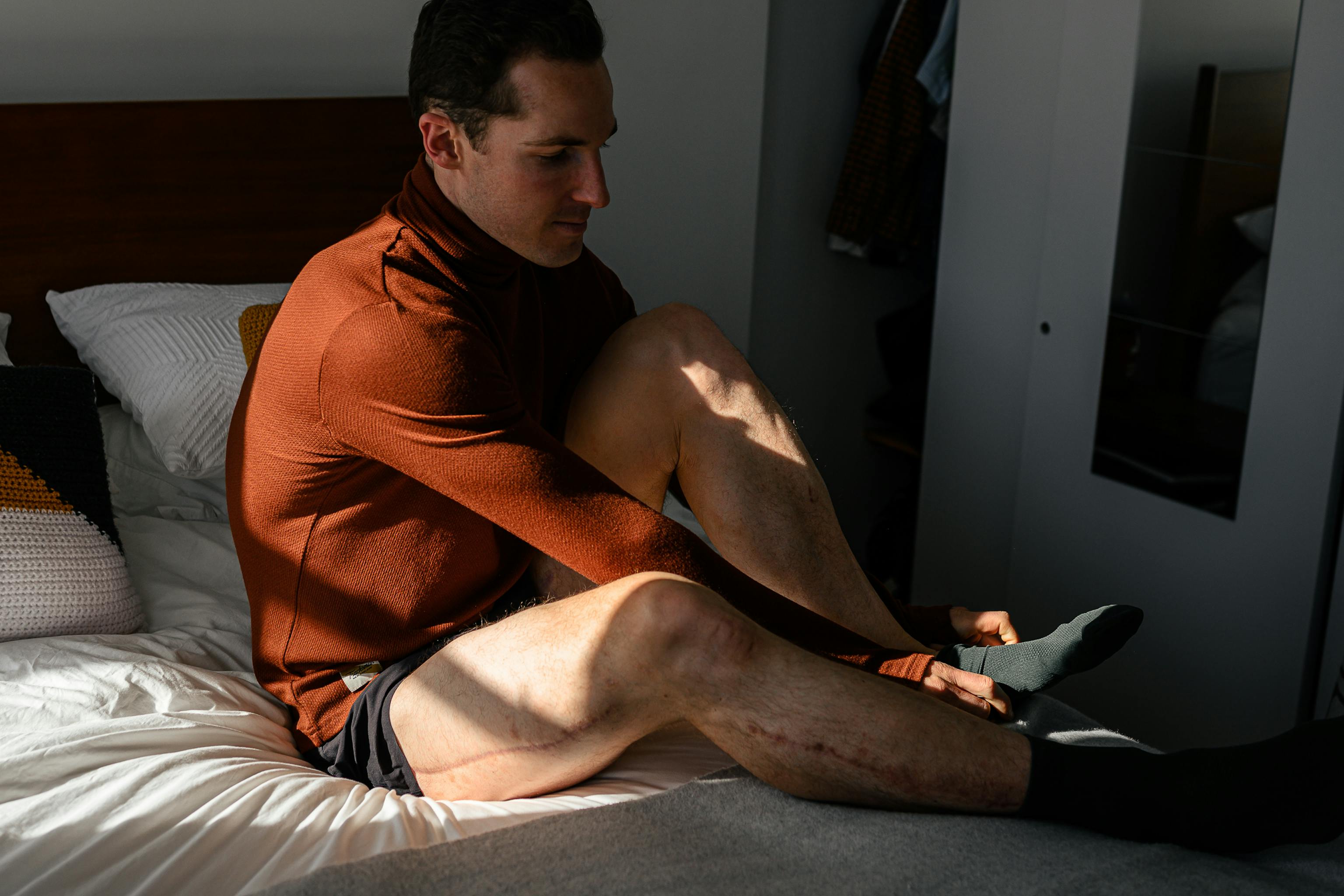 The first steps were wobbly, but within an astonishingly short time span, he was hobbling behind a walker and then on the treadmill. These first shaky steps evolved into full blown walking. The exercises assigned by Huffman's PT gave him encouragement and motivation. One day Huffman had regained enough confidence in his ability to challenge his physical therapist to a wall sit contest – for which Huffman had secretly been practicing at home. While he was far from where he was when he was competing internationally, he still found little ways like this to sharpen his competitive edge.
As snowy winter gave way to spring, Huffman continued to improve and take on new challenges. Once he was able to walk, he dared to attempt to shuffle run in the parking lot outside of physical therapy. As he tested little bouts of these mini run steps, he couldn't string together multiple strides, but still, it suggested running wasn't that far away from him after all.
One Foot In Front Of The Other
After just four months, Huffman was exceeding every recovery milestone. He had a new job that had relocated him to New York City and had traded the mountains for a new home in the West Village. The urban environment breathed new life into Huffman. Amidst the bustling city streets, he decided that he was ready to test himself yet again. Lacing up, he set out for a new unknown – he went for a run.
Sandwiched between the West Side Highway and the Hudson River, he descended along Manhattan's edge. With nothing but the sound of feet on pavement, a few steps turned into a mile of on-and-off running. Within weeks, Huffman added enough mileage to enter a local 5k race.
With zero expectations, he let his body follow his mind. He had proven to himself he is unwavering in the face of hardship, and that he can do the unthinkable. Then, he did exactly that – and managed to run 17:33 in the 5k, a time that most would describe as fast without having been through any kind of traumatic injury.
It is through running that Huffman rediscovers the same freedom he felt soaring down that life-changing mountain in Utah one year ago. There are no expectations other than to improve upon himself, something on which his mind will always be focused.
Out on the cobblestone streets and the asphalt perimeter of Manhattan, he continues to log distance by foot. From spontaneous marathons to a speedy 4:34 mile, he is reminded inside his new body of the days when walking, let alone running, seemed so far away. The rhythm of his legs carries him along. He's seen how incredible the mind is at governing the way his body responds to sensations, transcending physical limitations by using mental grit to persevere. It's a practice he's tethered himself to, from his days as a professional athlete to navigating the most traumatic injury of his life. With each proverbial step, Huffman is seizing the opportunity to practice the athlete mentality: a strong mind is the foundation for a strong body.