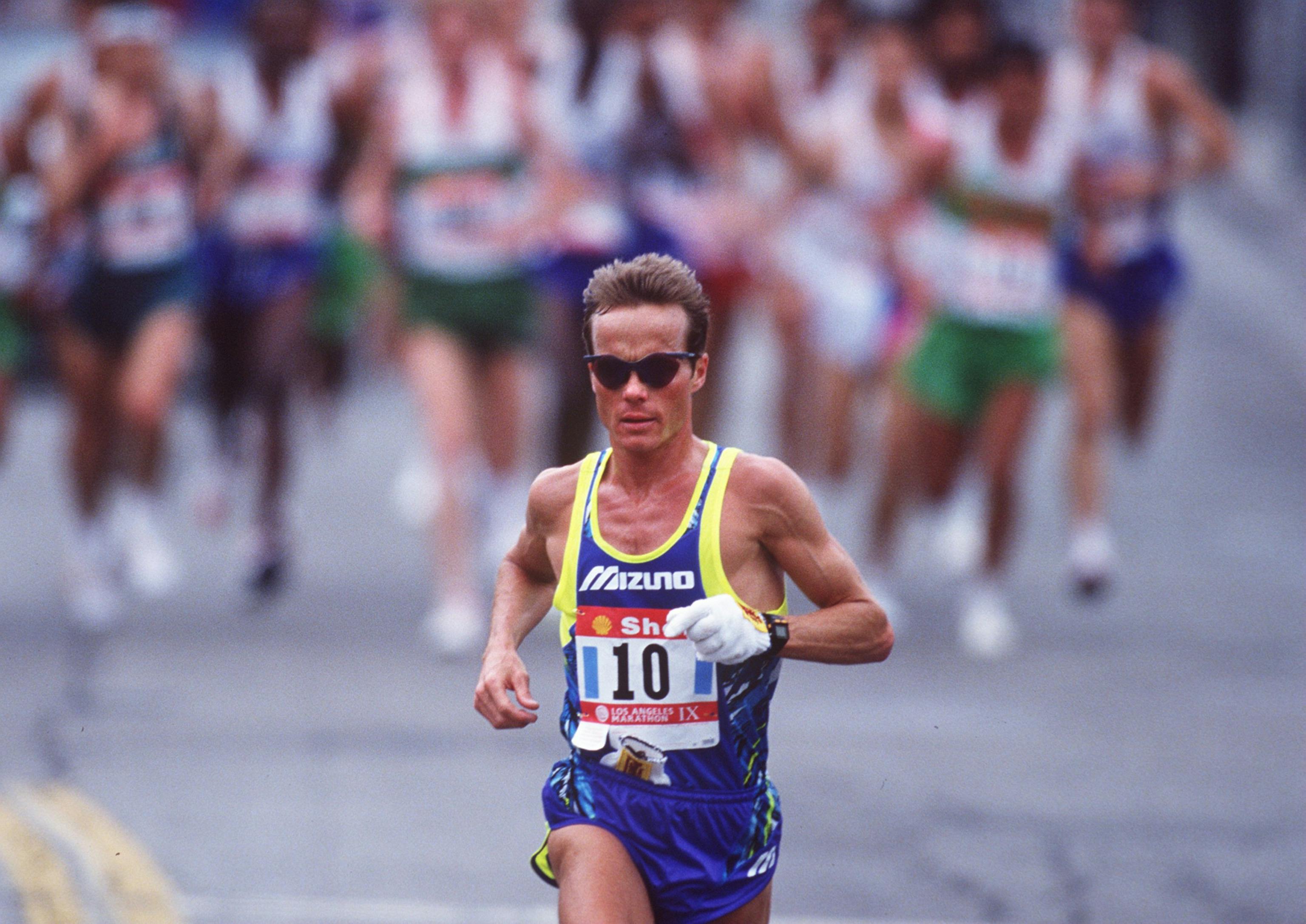 Leader of the Pack
From Paula Radcliffe's 2:15 marathon record, to Eliud Kipchoge's earth-shattering sub-two, and of course, Roger Bannister's four-minute mile mark – these record-setting efforts were accomplished thanks to pacers; the most meaningful, yet unrecognized contributors to history's most notable races.
WORDS BY SARAH GEARHART
PHOTOS BY GETTY IMAGES
The pacemaking plan unfolded without a hiccup.
On a Thursday evening in May 1954, a trio of Gentlemen Amateurs, all British Olympians who happened to be friends and training partners, strategized and later proved that the body could, in fact, endure a sub-four-minute mile.
Christopher Chataway, a runner who smoked cigarettes and trained no longer than an hour a day, had a job to do. He, along with Chris Brasher, had to lead a lanky 25-year-old, Roger Bannister, to the bell, or maybe even the final 200m. The trio had schemed a concept that changed racing forever: pacing.
Commonly known as a "pacer" or sometimes as a "rabbit," a pacemaker is responsible for setting the rhythm of a race. By definition, an exceptional, world-class runner, they are tasked with keeping a group of competitors at a specific speed so that they can better manage their performances. Truth is, the pacer is often an unheralded hero who carries the weight of the race on their shoulders without much credit. Like cycling's humble domestiques, pacers are the backbone of running's most illustrious performances, rarely seeing the limelight themselves, only enjoying the glory of a job well-done.
That's what happened when Bannister scaled the summit of sub-four on the Iffley Road track in Oxford, England. In front of a crowd of 1,200 people, he achieved one of the greatest sporting feats of all time. "Sport's greatest goal," described at the time by The Daily Telegraph. Bannister dismissed what many, including physiologists, thought was too dangerous, not possible.
For Bannister's epic effort, he had recruited his two fellow students and training partners for the challenge: Chris Brasher, a 3000m steeplechaser who finished 11th at the 1952 Helsinki Olympics; and Chataway, a 5000m specialist. Both discreetly agreed to escort Bannister, who was considered Britain's best middle-distance runner. Bannister, a med student at the time, had trained for six months for the sub-four endeavor.
Bannister, Brasher and Chataway had been training under famed Austrian coach Franz Stampfl during the winter of 1953-1954 when the idea arose about cracking the symbolic barrier. On the day of the undertaking, the plan was for Brasher to be the workhorse for two laps. When the three runners started, Brasher led from the gun, and Bannister readily unfurled his sinewy legs in response. But fear began to wrap his mind. "Faster!" he impatiently demanded on the first lap. Brasher disregarded the order.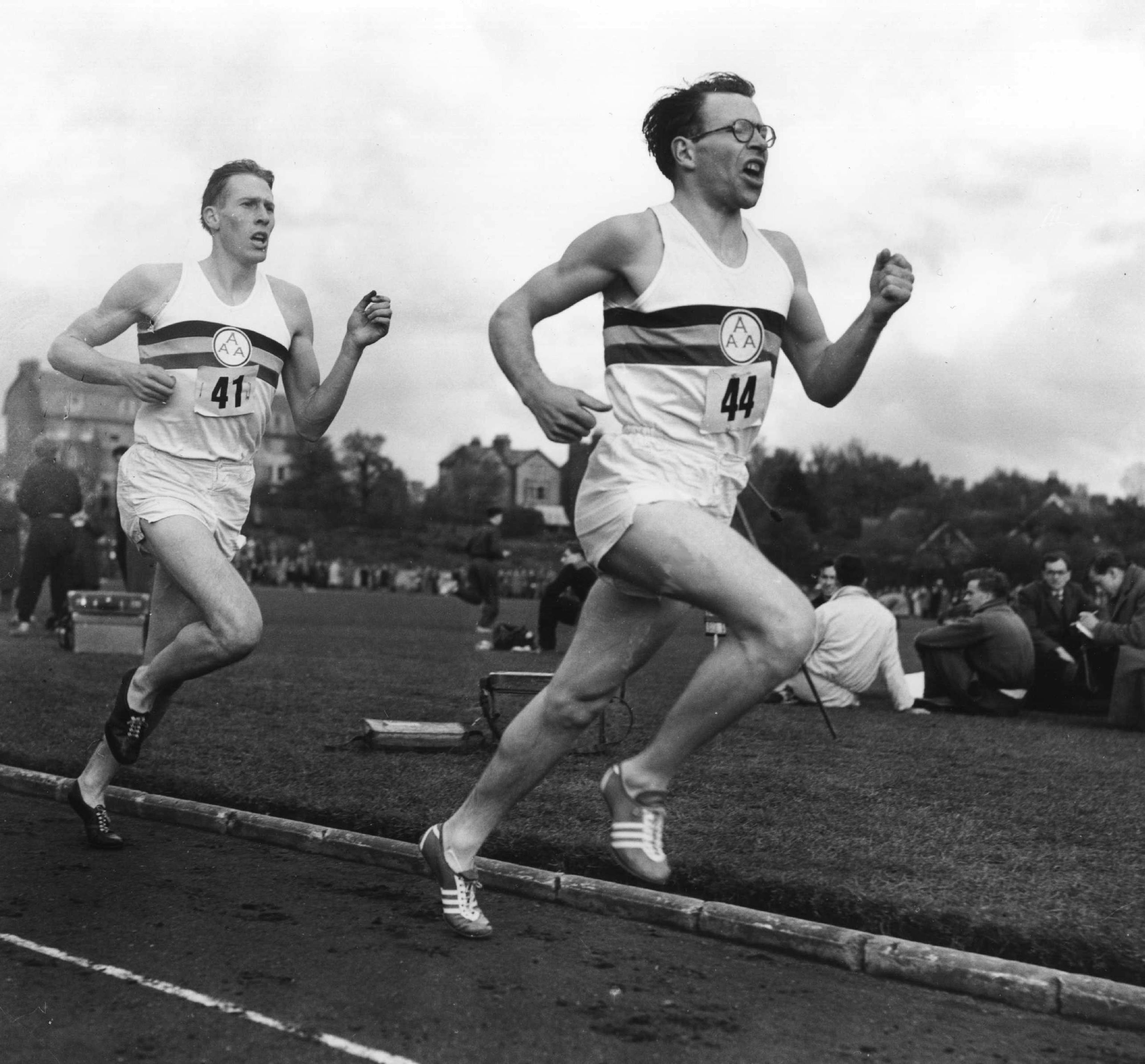 Though the three men had yet to complete one quarter of a mile, Bannister wondered if the goal was lost – until his first split: 57.5 seconds. Brasher, who had clocked 55 seconds, continued ahead of Bannister, taking him through lap two in 1 minute and 58 seconds.
Chataway, nicknamed "The Red Fox," had been running behind Bannister at the start of the race, but on lap three, he made a calculated move, accelerating to the front, dominating Bannister to get him to 3:00.7. Bannister later recalled that his mind seemed detached from his body.
Knowing he had to whip around the final lap in 59 seconds, Bannister cut loose from Chataway with 300 yards remaining. His hair flapped as his 6-foot-2 frame appeared effortlessly in motion. Bannister leapt at the tape to cross the finish line in 3:59.4 then collapsed nearly unconscious. Still alive.
Those sixth-tenths of a second made the unthinkable, reality. A new paradigm unleashed upon the world. Bannister's sensational performance set a British, European and world record – aided by Brasher and Chataway – and made front page news worldwide.
After Bannister's remarkable race, the concept of a pacer gained traction in distances as short as 800m to most notably, the marathon. The pacer, tasked and typically compensated, to lead the race at a predetermined speed until a specified distance, is expected to bow out before the finish line, giving room for the racers to conclude the race on their own terms.
At least, that's the expectation. In 1994, American Paul Pilkington had a different plan. Pilkington, a high school teacher, was paid $3,000 to set a fast pace at the Los Angeles Marathon and also to block wind for the elite group. He was instructed to drop out at mile 15.5 (of 26.2). Instead, he kept going. And going. And going. All the way to the finish line, clocking a time of 2:12:13, the fourth fastest winning time in race history.
"I figured as long as I was out there and feeling good, why stop?" he told The LA Times.
Pilkington used the race that used him. He earned $27,000 in bonuses, a new Mercedes sports sedan, and left second-place finisher Luca Barzaghi of Italy in disbelief. In Pilkington's defense, the lead pack should have kept up with him. Afterall, his job was to pilot the race.
The International Association of Athletics Federations (IAAF) once declared that a record achieved using a pacemaker would be ineligible due to "unfair assistance." The rule lasted a few years and was lifted in the 70s. However, the Chicago Marathon eliminated the use of pacers for elites in 2015 and a pacer is prohibited from world championships and the Olympics. Yet, the pacer can be a cornerstone in major marathons, like London and Berlin.
At the London Marathon in April 2017, Kenyan Mary Keitany became the world record holder in a marathon without any male pacers, finishing in 2 hours and 17 minutes. A year later at the same course, Keitany attempted to reset Paula Radcliffe's world record (2:15.25) with the help of three male pacemakers. When Radcliffe achieved the record in 2003, she was chaperoned by Kenyans Christopher Kandie (Hamburg Marathon winner) and Samson Loywapet. Both were instructed to run at 2:16 pace. In the end, Keitany lost the race to Vivian Cheruiyot and finished fifth overall.
Berlin – considered the flattest and fastest course of the six in the World Marathon Majors series – draws the upper echelon of elites. Since 1977, the marathon world record has been reset 11 times here, the last of which was in 2018, when Kenyan Eluid Kipchoge shaved it to 2:01:39. A world record by more than a minute, Kipchoge was quietly assisted by 22-year-old Josphat Boit, a relatively unknown Kenyan who led the charge before exiting at mile 20.
Kipchoge is no stranger to the use of pacers. The 2016 Olympic marathon champion has won 11 of the 13 official marathons he's entered and pacers raced beside him for many of these accomplishments. In April 2019, 21-year-old Kenyan Stephen Kiprop, a former goat herder turned pro runner, arrived in London ready to pace in the marathon for the first time while catering to the fastest man in the world. Kiprop, whose half marathon personal best (58:42) ranks as 11th fastest of all time, said pacers were specifically positioned depending on their time. As the world leader of the half marathon at the time, Kiprop ran the start of the race until 21 kilometers on the right side of Kipchoge. He later commented that he enjoyed the task, noting the value pacing had for his own racing in the future, but added that pacemaking has its own pressures.
"When you're running a marathon for yourself, you're not pressured like pacing. Pacing is different," Kiprop said. "Following the mark, stay on your side. If we come from [one] side to the other side we are making a mistake," he explained of his experience in London.
Kiprop helped Kipchoge to 1:01:37, the halfway mark, and the marathon champ ultimately went on to record the second fastest time in history on a record-eligible course. It would hardly be the last time that pacers would become valuable for Kipchoge to achieve a successful performance.
During his sub-two hour marathon effort in Vienna in October 2019, a total of 41 pacers were rotated in and out of the race, instructed to run in V formation in front of Kipchoge for maximum aerodynamics. Two pacemakers also ran behind him. Among the talent: Norwegian brothers Jakob, Filip and Henrik Ingebrigtsen, all world-class middle-distance runners; Hillary Bor, a 3000-meter steeplechase U.S. champion (and U.S. Army staff sergeant); Olympian Kota Murayama, who specializes in 5,000m and 10,000m, the lone Japanese pacemaker in the event; and Ugandan Jacob Kiplimo, who just a few years prior had competed in the Rio Olympics at 15 years old.
Of course, the world is familiar with the result of the highly-orchestrated spectacle. Kipchoge broke the once inconceivable 2-hour marathon barrier, clocking 1:59:40.
Even with a pacer, a runner can struggle to achieve the performance he or she targets. In December 2020, organizers of The Marathon Project – the first large-scale elite marathon held in the U.S. since the Olympic Team Trials last February – tapped several pacemakers to help achieve the aimed finishing goal of sub-2:10 performances for the men and sub-2:24 for the women. Four-time Olympian Nick Willis, a 1500-meter silver medalist, was among the volunteers for the lead women's pace group.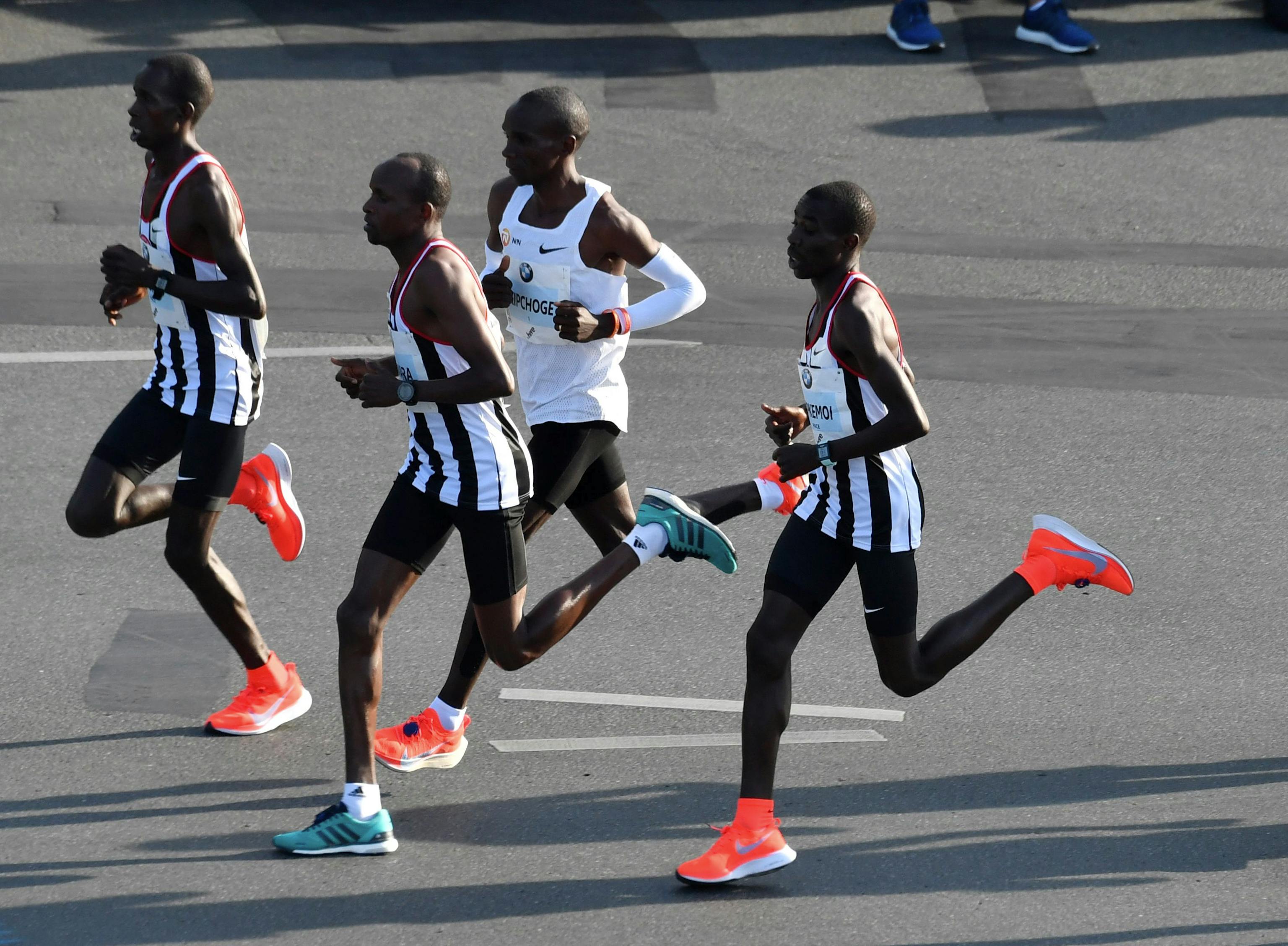 On race day, he woke at 3:30 a.m. and drove two and a half hours from his training camp in Flagstaff, Arizona, mentally and physically prepared to hit 5:30 splits. Though his plan was to run between 16 to 18 miles, Willis said, "The moment got the better of me," as he ran a step ahead of Emma Bates, the 2018 U.S. Women's Marathon Champion. He kept her aligned for five miles as she attempted to chase out of fourth place.
"I put everything into keeping up with Nick," Bates later recalled on Instagram.
Her mile average of 5:33 resulted in a finishing time of 2:25:40, narrowly missing her personal best by 0.13 seconds, by no fault of Willis.
A burning sensation in the back of her throat that started at mile four – a feeling she said she typically gets 18 miles into a marathon – only worsened. By mile 10, Bates stopped four times to relieve herself, but she was able to recalibrate and tick off 5:27 minute miles. The effort was as physically demanding as it was mentally.
"He was keeping my spirits high by sharing words of encouragement and motivation," Bates said of Willis. "I was so grateful to have him spurring me along."
She nearly started to laugh when she found out that Willis had a track session the following day – after running 20 miles with her.
That only exemplifies the humbling role of a pacer: courageously carrying a race, doggedly working under the fate of not losing, but not winning, all for the betterment of someone else.
How much longer will we need them?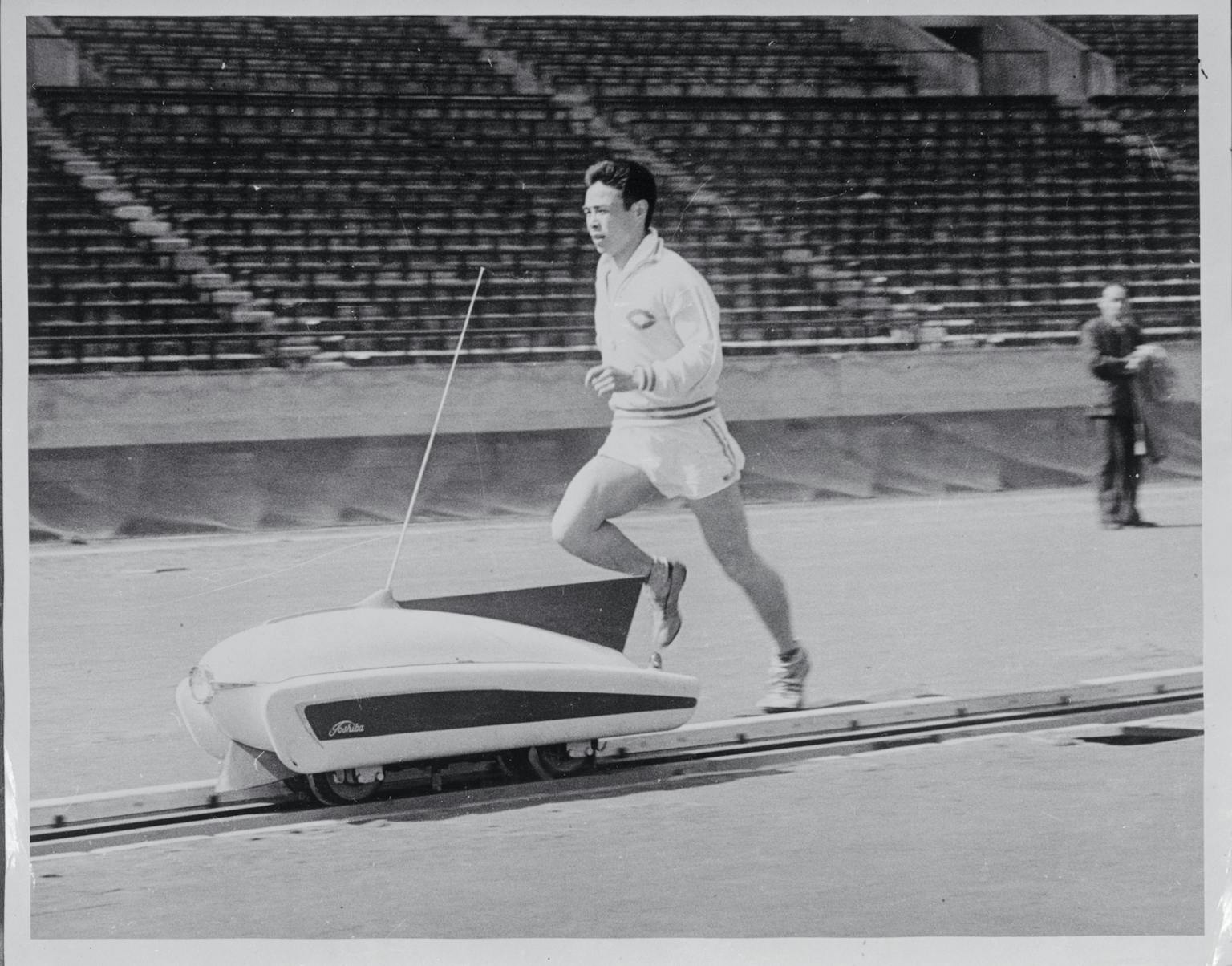 In October 2020, Ethiopian long-distance runner Letesenbet Gidey made headlines after she smashed the women's 5,000m world record in Valencia, Spain. The previous record, set by Tirunesh Dibaba, stood for 12 years. What made Gidey's effort all the more interesting was the way her eyes diverted to the lights on the rail of the track. With every stride, a blue light flashed near the left side of her foot, appearing as though to chase her.
The flashing color is what's known as wavelight technology, which has been fully approved by World Athletics. The system, initially designed by Dutch-based sports lighting specialists SPORT Technology, is essentially electronic pacing that can aid a runner to better target a specific time.
The advancement, first used at the 2018 FBK Games in Hengelo, The Netherlands, certainly modernizes the way races are run – mechanical visual cues as opposed to a human runner leading the charge. So far, though, there are no plans for wavelight technology to be integrated at major events like the world championships and the Olympics.
Curious minds have to ponder, how much do pacers help or handicap one's potential? Lights can never offer words of encouragement the way Willis spoke to Bates. But equally, lights follow a precise pace, unlike a human, meaning that never again will a runner feel compelled to shout 'Faster!' as Bannister did in 1954. And that's before we think about the aerodynamic benefit of running behind a fellow human.
Will human pacers become a thing of the past? It seems unlikely. But as we've seen with shoe technology, fast times will only get faster and the lights are here to stay, whether there's a pacer to chase or not.