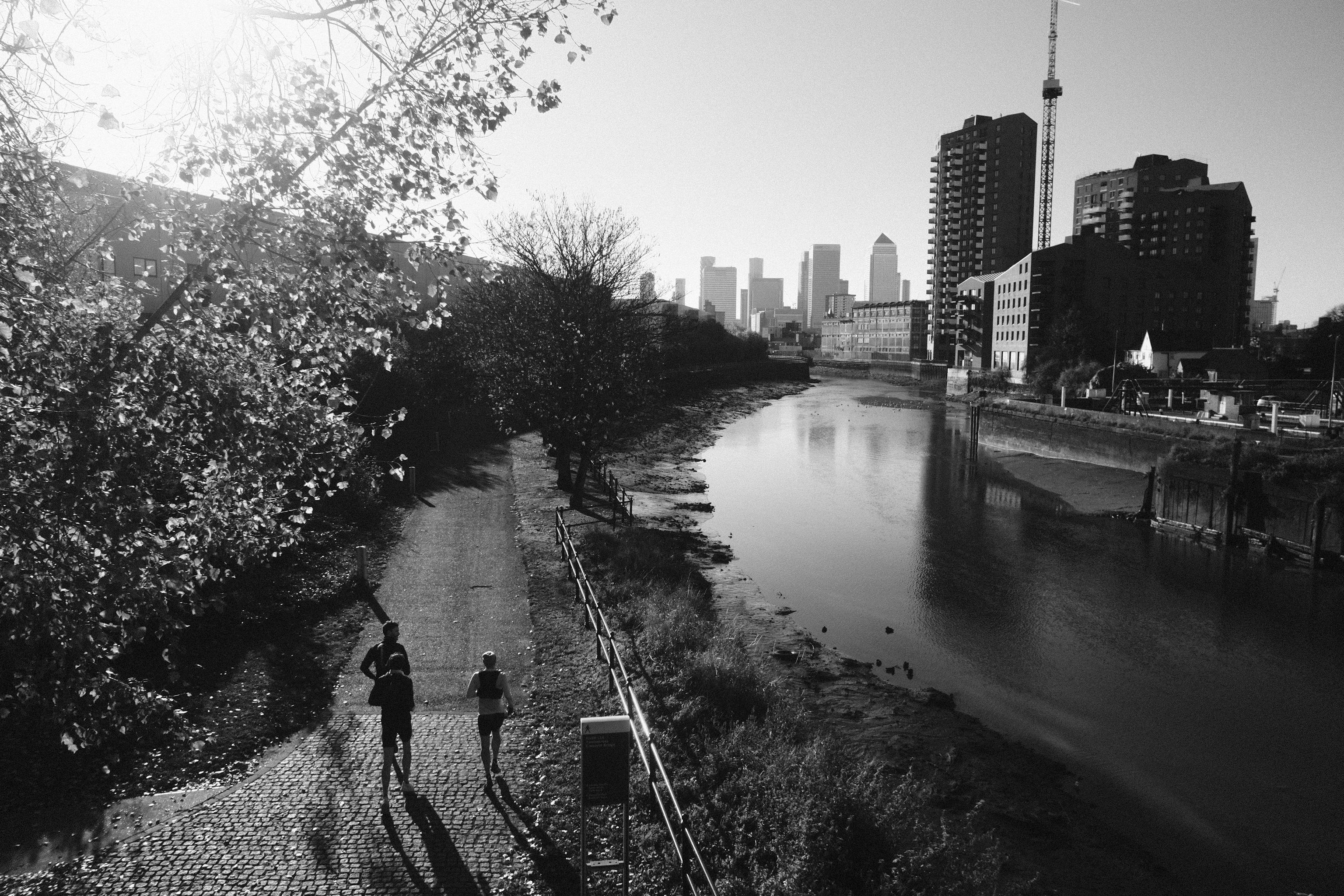 With the Tides of Time
Regaining a sense of time and place along the River Thames
Words by Luke Wicker
Photography by Andy Waterman
I was running late, as always. It was a fitting start to a day with time and place as its theme. When METER's UK-based Editor Andy Waterman first suggested this adventure, following two London rivers out of the city towards the expanse of the North Sea, I, of course, leapt at the opportunity. The last few years have offered many twists and turns. What better way to reacquaint myself with my home city than to explore new ground, on foot, with old friends and fresh eyes?
Having recently moved back to London from San Francisco, I was eager to rediscover the city. To find some footing, however fleeting, that would ground this new chapter of London life. Using my feet to reprogram what I thought I knew about the city.
Urban planners use the term, "desire path" for the shortcuts created by people drifting away from paths to get somewhere. While we didn't intend to create our own when we set off that day, our route was an unusual one, slicing through the city as we wished. From Walthamstow Marshes and the River Lea, to Dartford via the River Darent; with disregard for the hopes of the planners, we traced The Thames.
As is so often the case in London, the rising tides of gentrification have eroded our relationships with The Thames. This run was an opportunity to return to the river in its current form and to better understand its complicated history. One omitted from the modern descriptions of the London we've come to know.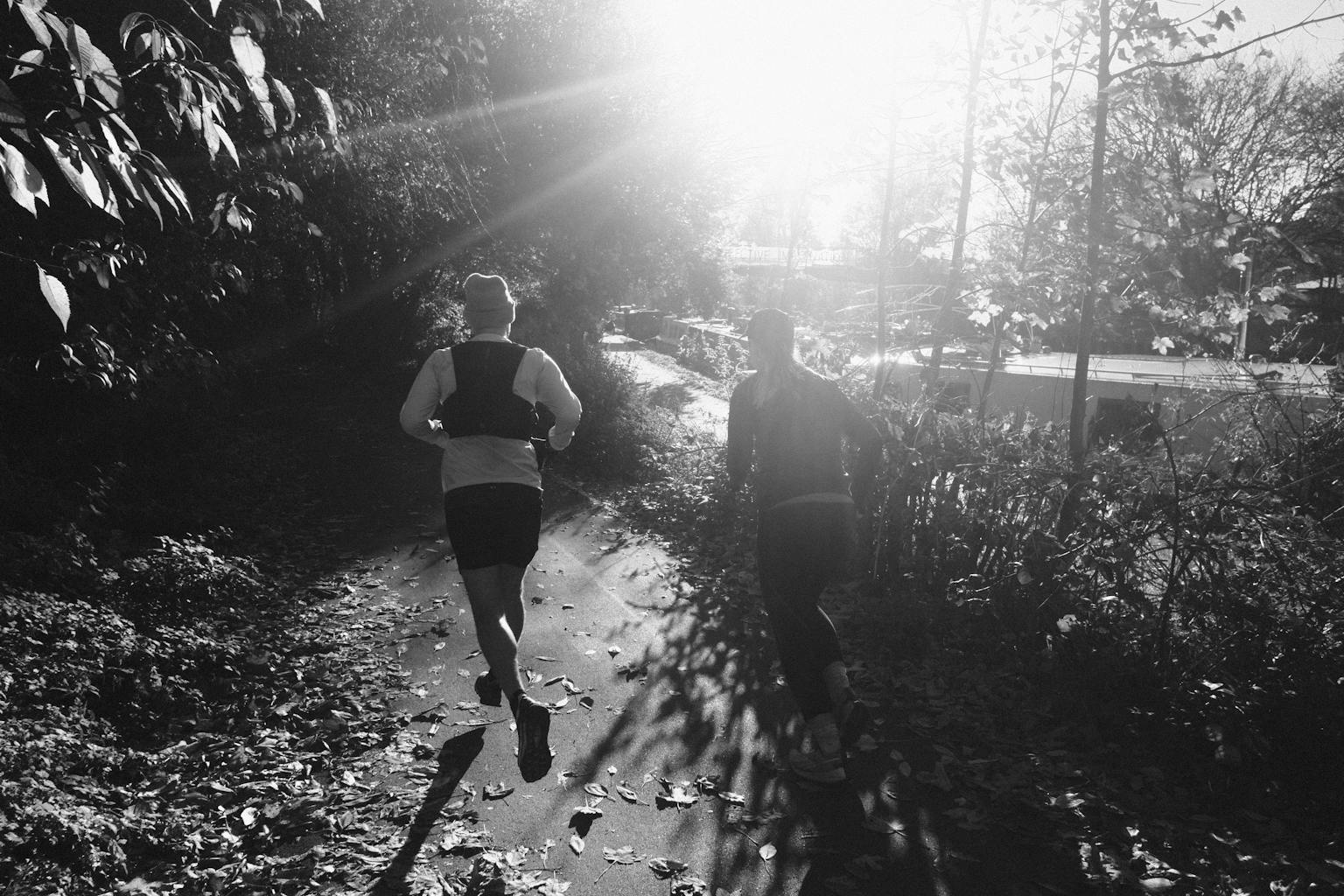 Walthamstow Marshes and the River Lea
So, I was running late. Rushing past river boats, trying to catch up with Andy ahead of me along the path. It felt surreal, it felt too perfect. It was a blue sky day. The River Lea on one side, Walthamstow Marshes on the other. Cattle graze here in the warmer months. You'd never think these wetlands were only a few miles from central London, hidden just off the busy Lea Bridge Road. The new buildings on the far side of the marshes are a not so subtle reminder not to get too caught up in the fairytale. I passed under a railway bridge as a train hummed overhead. Behind me a river boat was loudly chugging along. The myth of East London was created along the banks of this river.
Hackney Marshes
Our paths finally merged on Hackney Marshes. Scattered with goalposts and pitch markings, this hub of Sunday-League soccer glory just so happens to offer a great paved stretch ideal for workouts, as well as endless dirt that is dreamy for easy jogging (except when the mud thickens in the rain). Throughout summer 2020, there were blissful scenes of young Londoners enjoying the River Lea as it flows through the trees here. I was told it was because that summer felt so different - so claustrophobic and paranoid - that the freedom offered by the polluted water was worth the risk. But on this winter morning the Marshes were peaceful, dotted only with dog walkers and runners.
The Olympic Park and Stratford
Green space transitions swiftly to modernity: the site of the Olympic Games, now the capitalist megachurch otherwise known as Stratford Westfield. The former athlete village is still here and so are the Olympic Rings. There's a great 1k loop in the park that goes right by them. It's a place that's still developing a soul. It feels more interesting down by the water. On the other side of the river there are a few reminders of the old factories that used to line the water. The Wick and Fish Island contain an industrial history that is quickly vanishing.
We waited at the tube station until Tom and Owen joined us. Unsure of what lay ahead, each having spent chunks of our lives on the other side of the Atlantic, now running – although drifting may be a better description for it – in an attempt to make peace with our place in this city.
Three Mills Island
We set off now as a four. Then as if entering another era, we passed by Three Mills. What did we just run past? I paused, stumbled and took it in. Andy tells us it's a TV studio. I drop back from the group to process this for a stride or two. The sunlight is coming through an alley between two of the buildings and it feels like a new discovery. Even more so after the shopping paraphernalia in Stratford. How many people even know it exists? I tell myself I'll run past more often.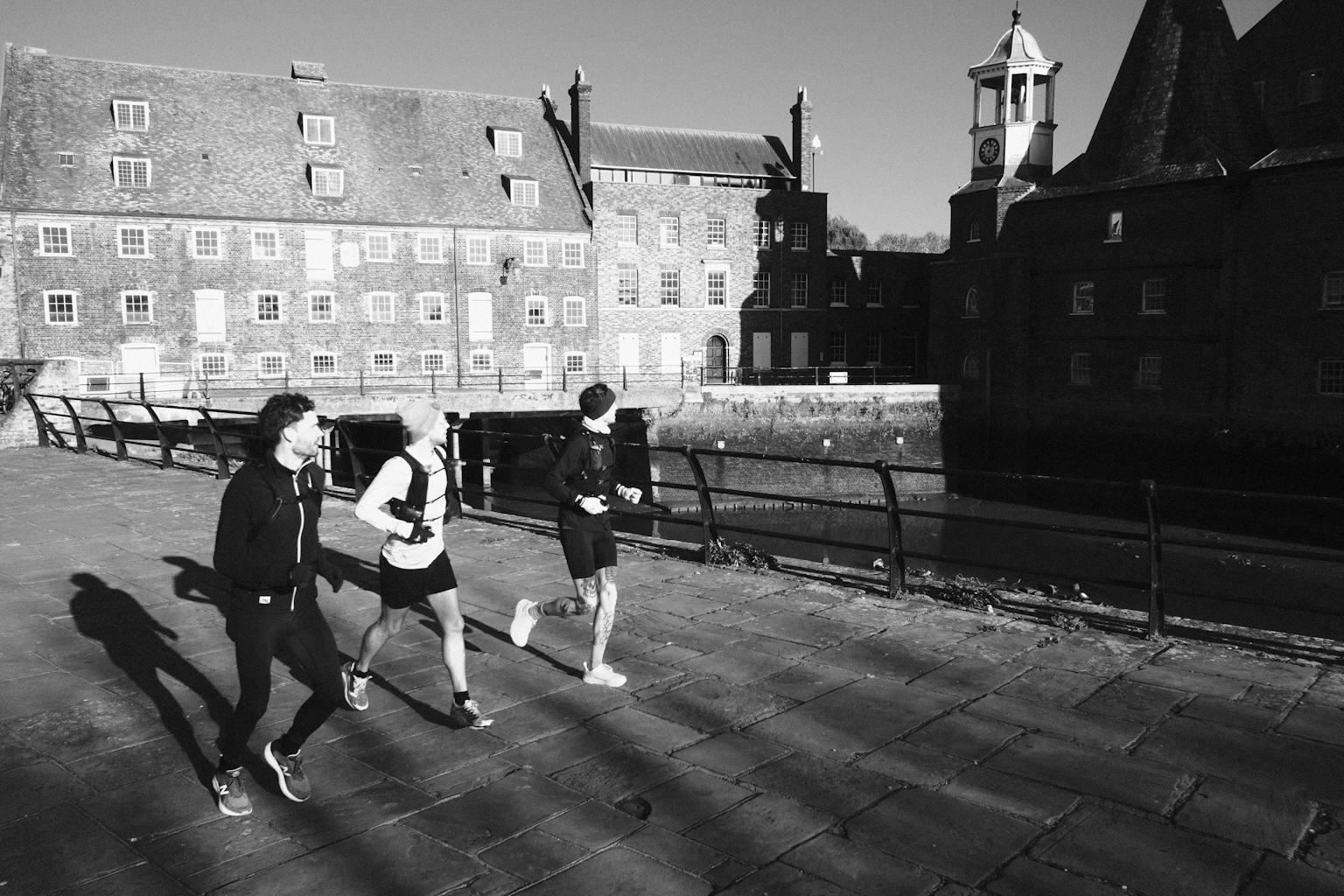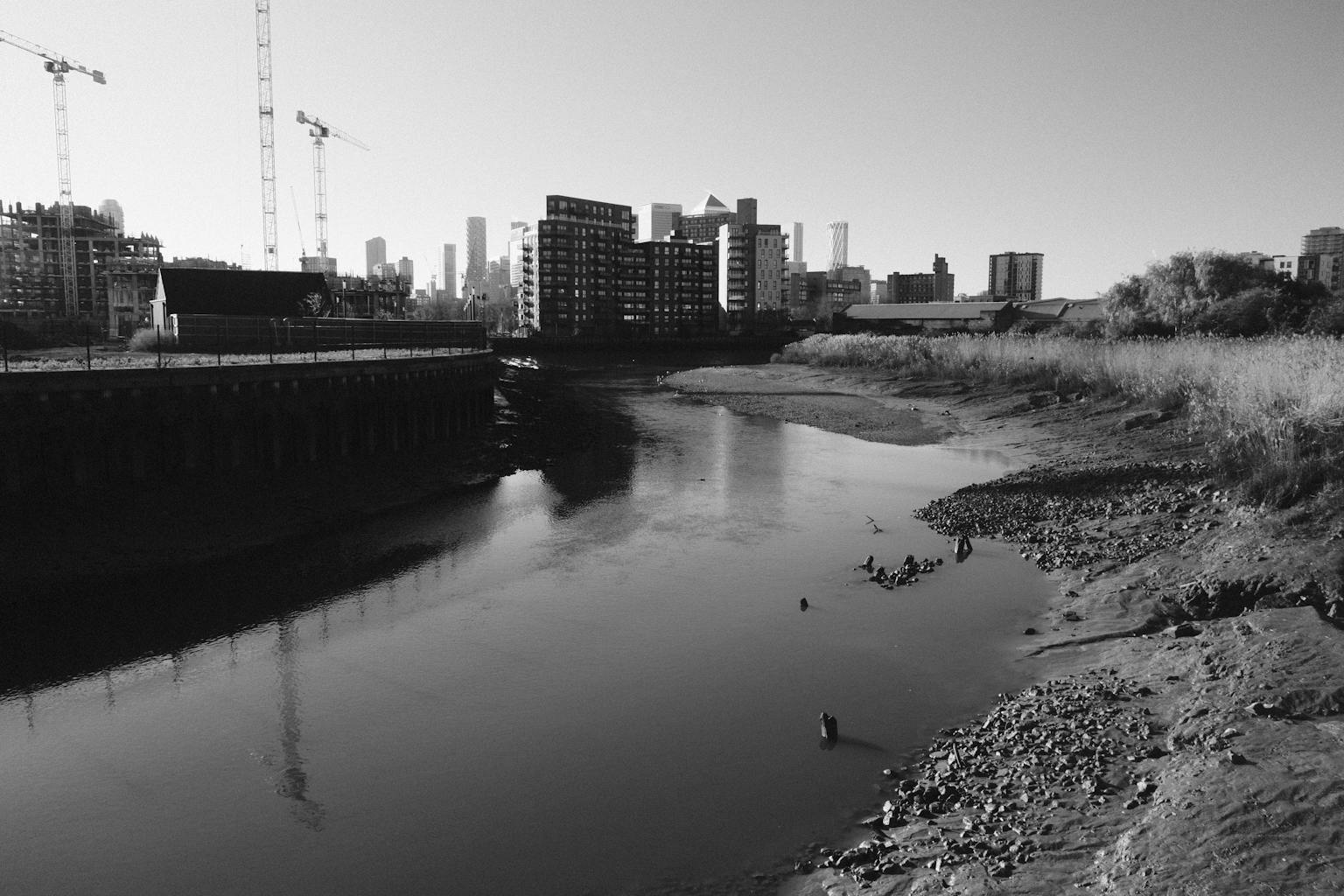 Bow Creek and Canning Town
Is it possible for a city as old as London to still have its soul? Surely it was sold off decades ago, to developers, to factory owners, and to shipping companies long before that.
We hit one of the last parts of 'old' London and find an answer to the previous question. East End music venues where the beer is cheap, still clinging on, squashed between scrap metal dealers and the industrial remnants of an age we've consigned to history. The ghost paintings that cover the buildings reference shipbuilders and engineers: a reminder of a way of life that once shaped this end of town. London's untamed past.
We continue on the Leaway riverside path to the Bow Ecology park, a green space that's replaced the old ironworks and shipbuilding site. Opposite is a brave new world of flats and office buildings. Change is coming.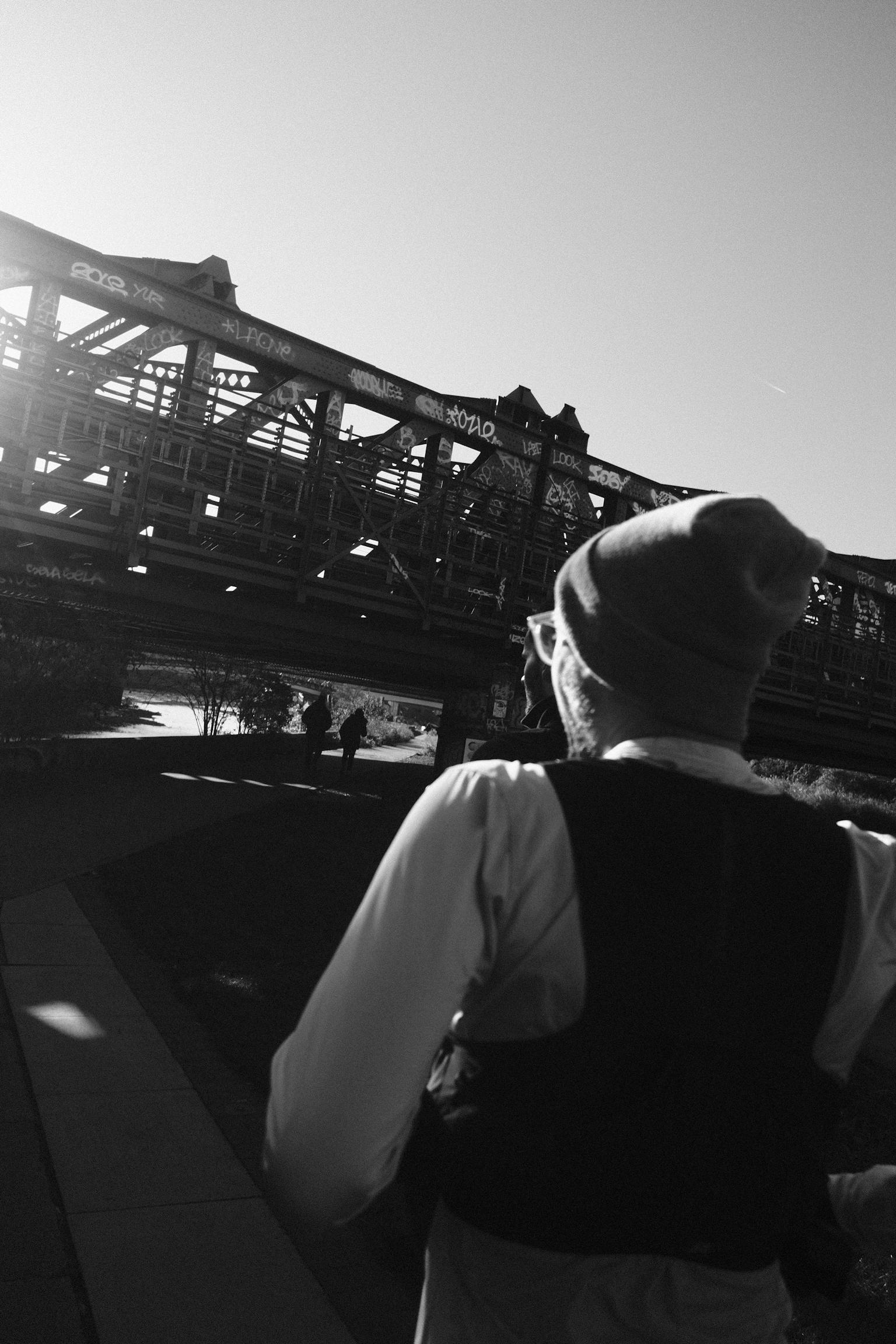 The Docklands and Excel Waterfront
You get a sense of time passing here. An appreciation for old London as it holds on against the shining skyscrapers that tower surround this section of water. The new city hall is here, more is coming. The water goes on forever, lined by buildings on either side and occasionally stitched together by a bridge or walkway.
We stop for coffee. Although we're all training for marathons, this is less a training run and more an adventure - a group bonding exercise, with each other and the city. We can afford a moment to stop, chat about the route, and caffeinate. This also happens to be as good a time as any for this writer to take a moment to bring in a conversation with Andy, sharing his own thoughts on the run.
AW: "Something that occurred to me was that you're not long back from the US; I've lived in the US for a bit; Tom still has a life packed up in boxes in New York: and yet, we're all here in London, making peace with the city. As you said, 'Humans are like water. Flowing to the point of least resistance.' And here we are exploring the city's liminal limits and extending our own comfort zones: the refuseniks to gentrification of Canning Town; the forced upward mobility of Beckton (who will occupy the infinity of these apartments?); the comforting 80s yellow brick throwback of Thamesmead, and the alien world of the Estuary towns of Erith and Dartford. Not home, but close enough to home to be familiar. Close enough to make it worthwhile to become familiar."
LW: "So much of your recent training has revolved around hitting paces and running loops. What got you thinking about this route?"
AW: "We have all this fitness - this capacity for endurance - and it always seems a shame to waste it going fast in circles when it also offers so much opportunity to get out and explore."
It was time to leave the coffee shop behind, along with the reconfigured streets and newly built glass facades. We would make our way from the sleek, city scuffle to the industrial wastes and suburbs. As we ran along the water we couldn't resist looking up. The cable car hanging over us prompted us to climb the next bridge for a new perspective. Where we've come from is a vast blue stretch of water; where we're heading is London City Airport, its runway abuzz with takeoffs and landings. Us? We're just passing through.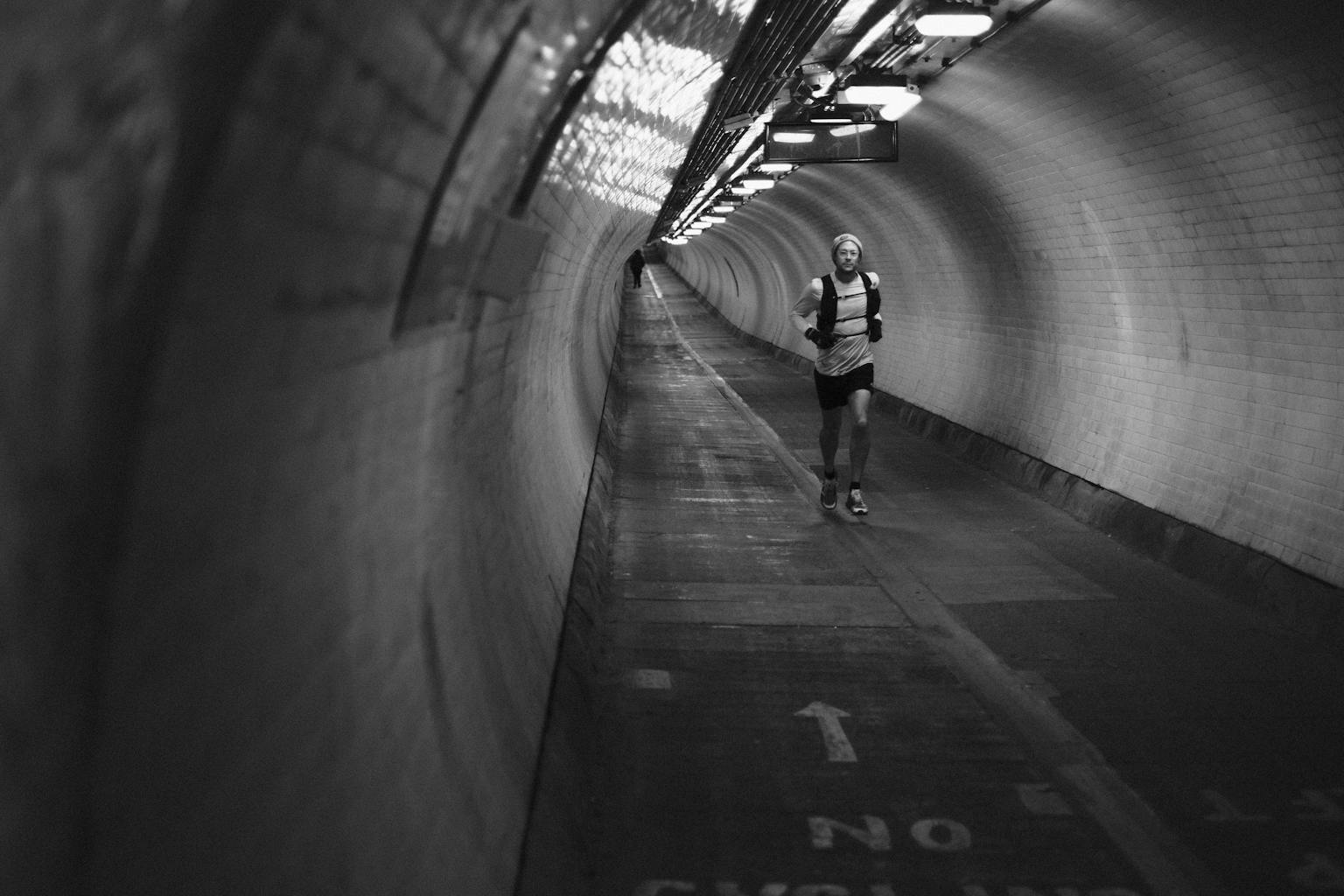 Silvertown and the Woolwich Foot Tunnel
We continued to cover miles, the sights of more interest to us than the miles at this point. We try to get up close to the Thames Barrier but construction of towering new apartments prevents our progress. We turn a corner and are greeted by the imposing Tate & Lyle sugar refinery. Its historic chimneys define the local skyline. A site so big in London feels like a relic of a time before any housing crisis.
We head down into the foot tunnel and under the river. It's made more striking because of the lack of blue sky above us. We cross over to the Thames Path. It's mostly straight from here, this prompts questions about our distance for the first time.
Thamesmead
Thamesmead was as I hoped. We found our flow on the flat stretches and I took delight in ticking off Thames Path markers. The river widened as we continued. The scale of everything changed. Grass lined the edges of the path, reclaiming the land. The mudflats were exposed in the low tide, exposing old wooden piers that stood crooked in the riverbed. There is no fancy design here, everything is functional and wethered. There is an old industrial feel, with wartime pillboxes reminding us of its history.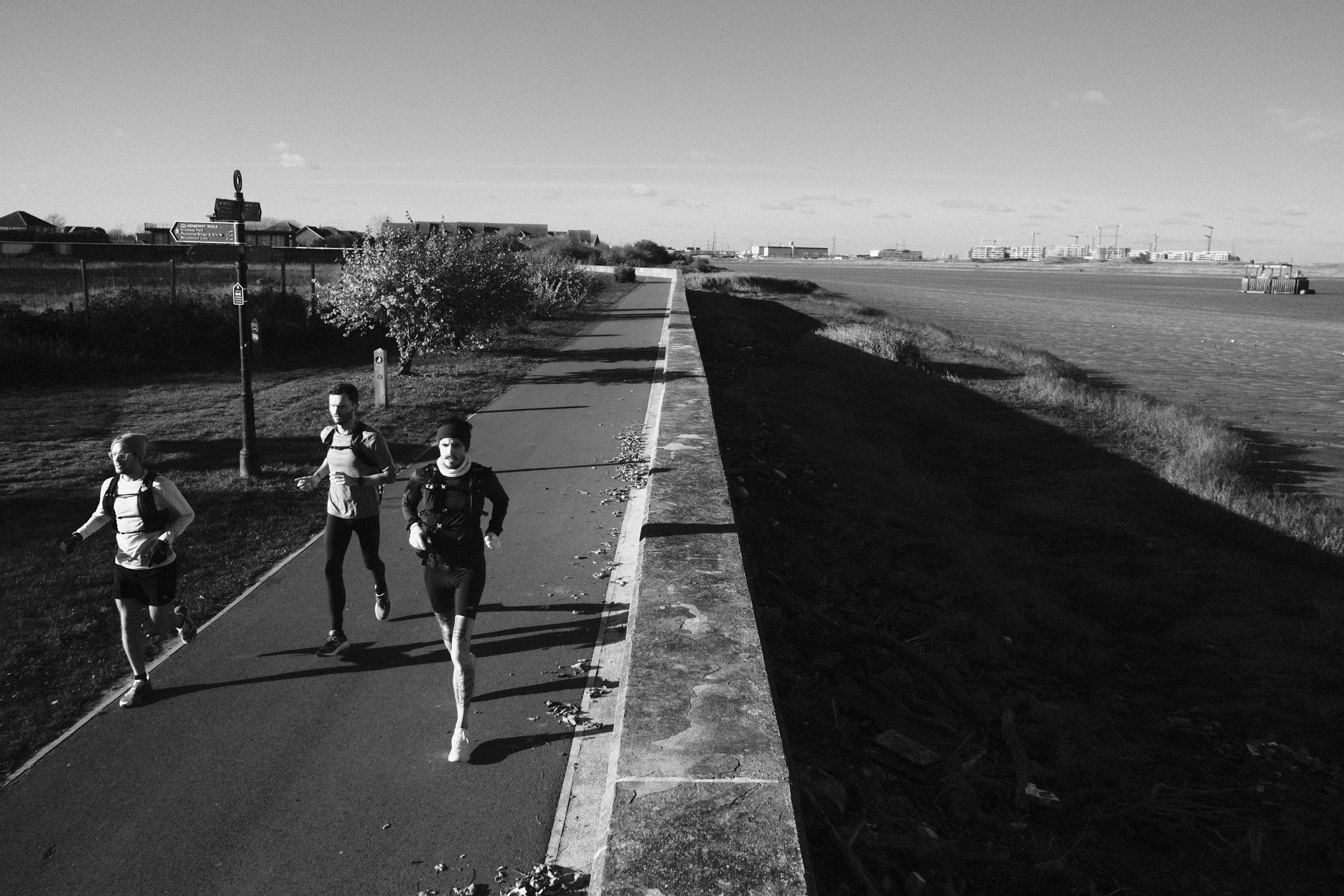 Crossness
As you reach Crossness, you find yourself wondering why it's not more of a destination. Why isn't there much more life here? Then the wind changes. Suddenly the stench cuts through any thoughts we once had. Turning a corner on the path, it's then clear that the sewage treatment works have long since killed any dreams of this as a place to visit. There's an isolated beauty to a small red lighthouse we spot in the tall grass. We don't stand around to admire it, the wind isn't on our side.
In Heart of Darkness, Joseph Conrad fills the opening pages with a trip along the Thames, out from the city. Our progress is more effortful than theirs, floating on the tide, but yet, it's hard not to feel a connection to that history - to us, this is a strange, and novel route, and yet, it's also a well-trodden path.
"What greatness had not floated on the ebb of that river into the mystery of an unknown earth!... The dreams of men, the seed of commonwealths, the germs of empires."
Rainham Marshes was on the other side of the water from us. A giant, greenish mound of buried trash, that is slowly returning to the land. It was unknown to me. Lots of this was unknown to me. Just as I hoped for and armed with new places to revisit.
The prosaic industrial structures previously in the distance now read more like harsh poetry as we passed by. It's impossible to gaze at them and not wonder what ghost stories they might hold. We paused, puzzled by the bleakness of the structures. I was grateful for the sunshine.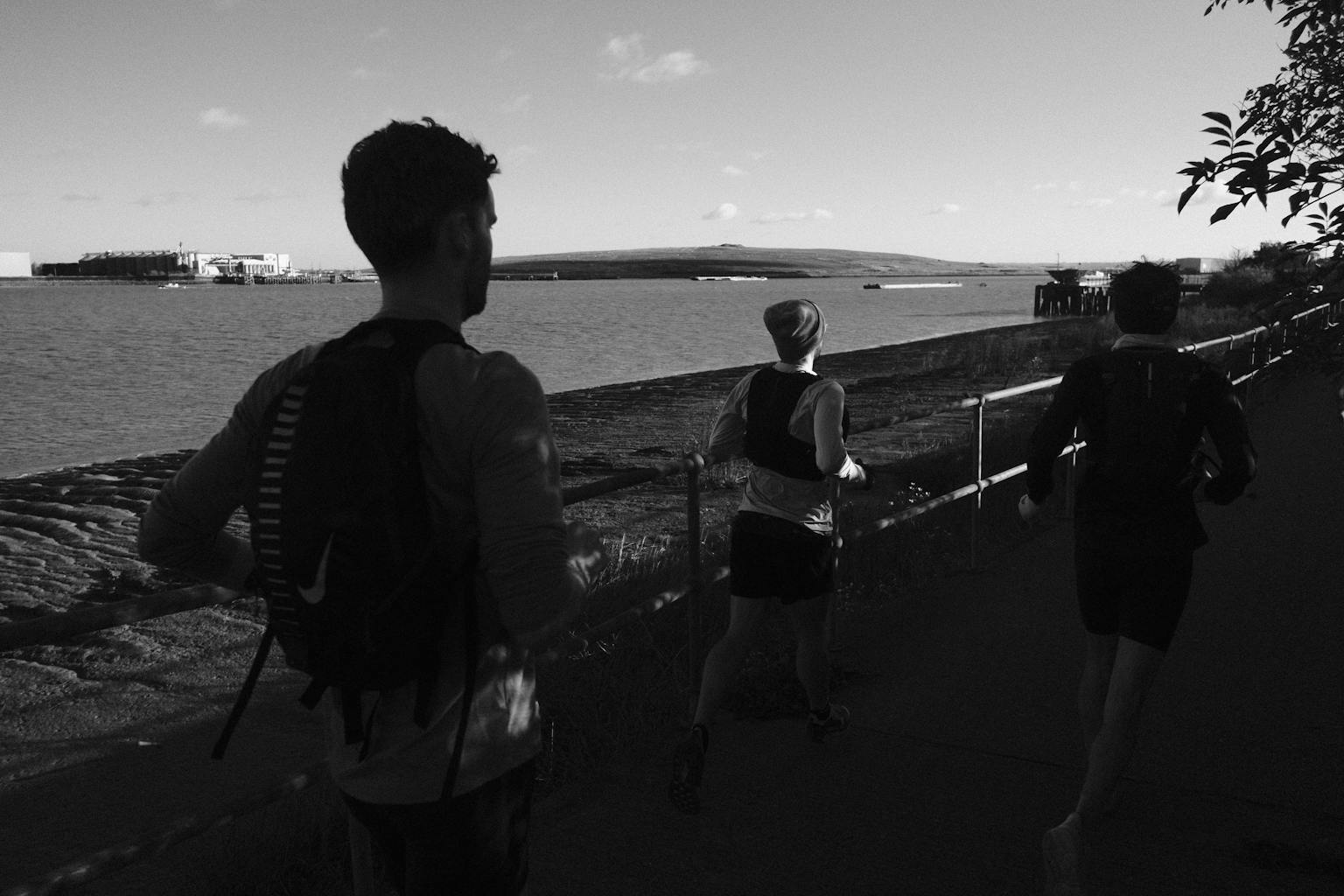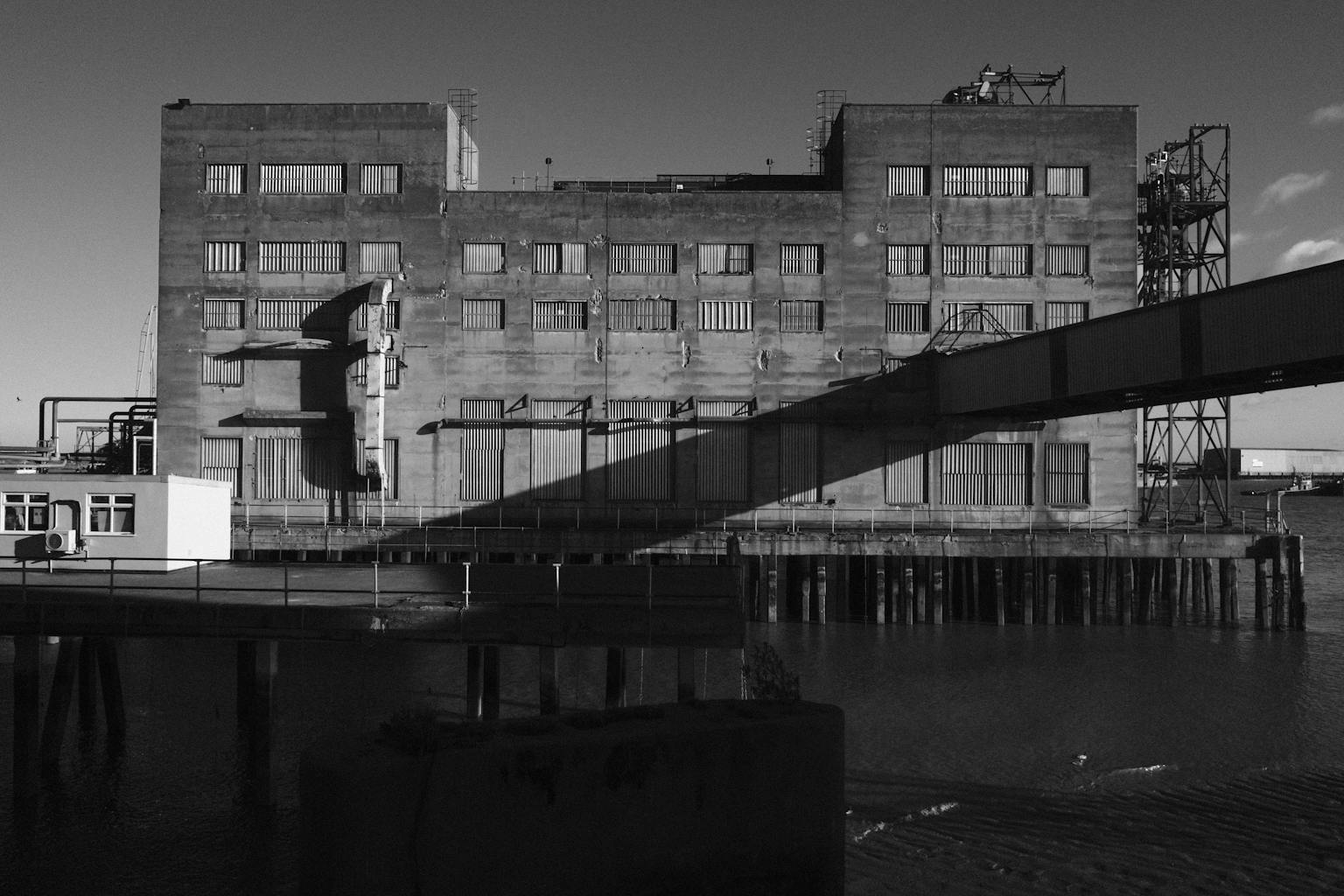 Erith
Civilisation! Yes, "Ear-rith". A place that used to be known as the border of London. At least it was according to the 1970 Greater Atlas of London.
A town with a lot of heritage. Much of it is now crumbling and unloved. It feels like a Victorian resort that never really took off, with the longest pier in London that floats out into The Thames. We found ourselves on Manor Road. A sad, dirty, industrial vein of a road that runs alongside The Thames, out of Erith and towards Dartford Creek. An example of the continual push of trades and industry out of the city, hidden in plain sight if you venture away from the tourist spots.
Erith Creek, Dartford Creek and the Salt Marshes
Have we ever been as free as this in London? Has London ever felt as open as this? I wonder to myself as we continue on, following the flow of the river. We curve around, leaving The Thames behind and following the River Darent to our destination. What a contrast this is to Erith minutes ago.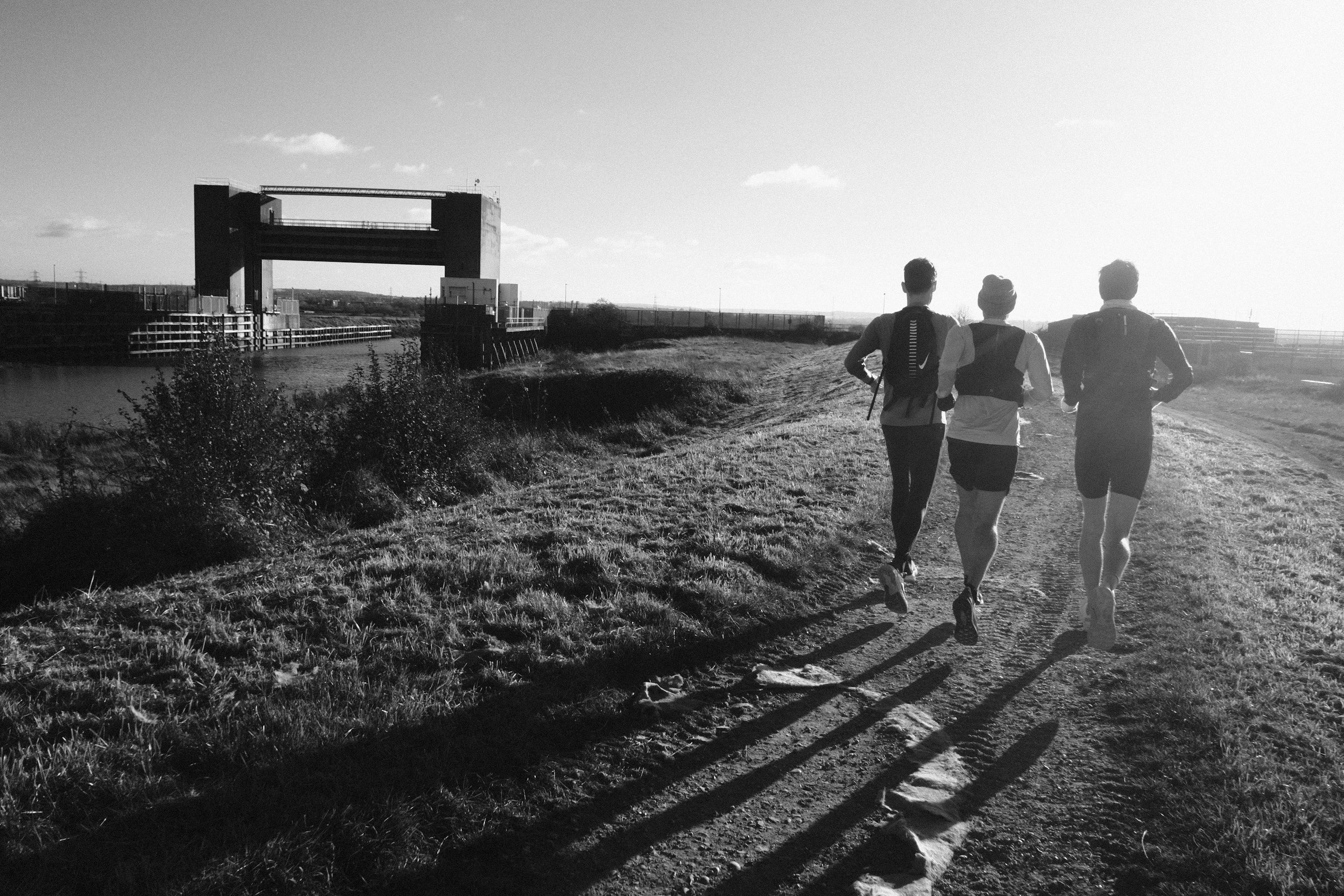 I remember thinking at the time that this couldn't be London. The wind was flowing through the reeds as we found our groove on the singletrack. Dartford awaited. There was an odd mystery to it all. We'd been on our feet for hours, the sun was much lower in the sky now. Everything felt different, a hazy glory was hitting me. How had we never heard of this place? When I'm running on fumes everything else normally fades away but in those moments it felt like the tiredness heighted every sense. It was intensely filmic, a memory so sensory that it's impossible to forget.
Then deep South East London revealed itself through the fencing. Industrial yards surrounded us once again. Dirt yielded to concrete. A roundabout jolted us back into the everyday procession and we paused to cross. It was clear we were all feeling a little jubilation, if only because we didn't get horrendously lost or lose hours retracing our steps.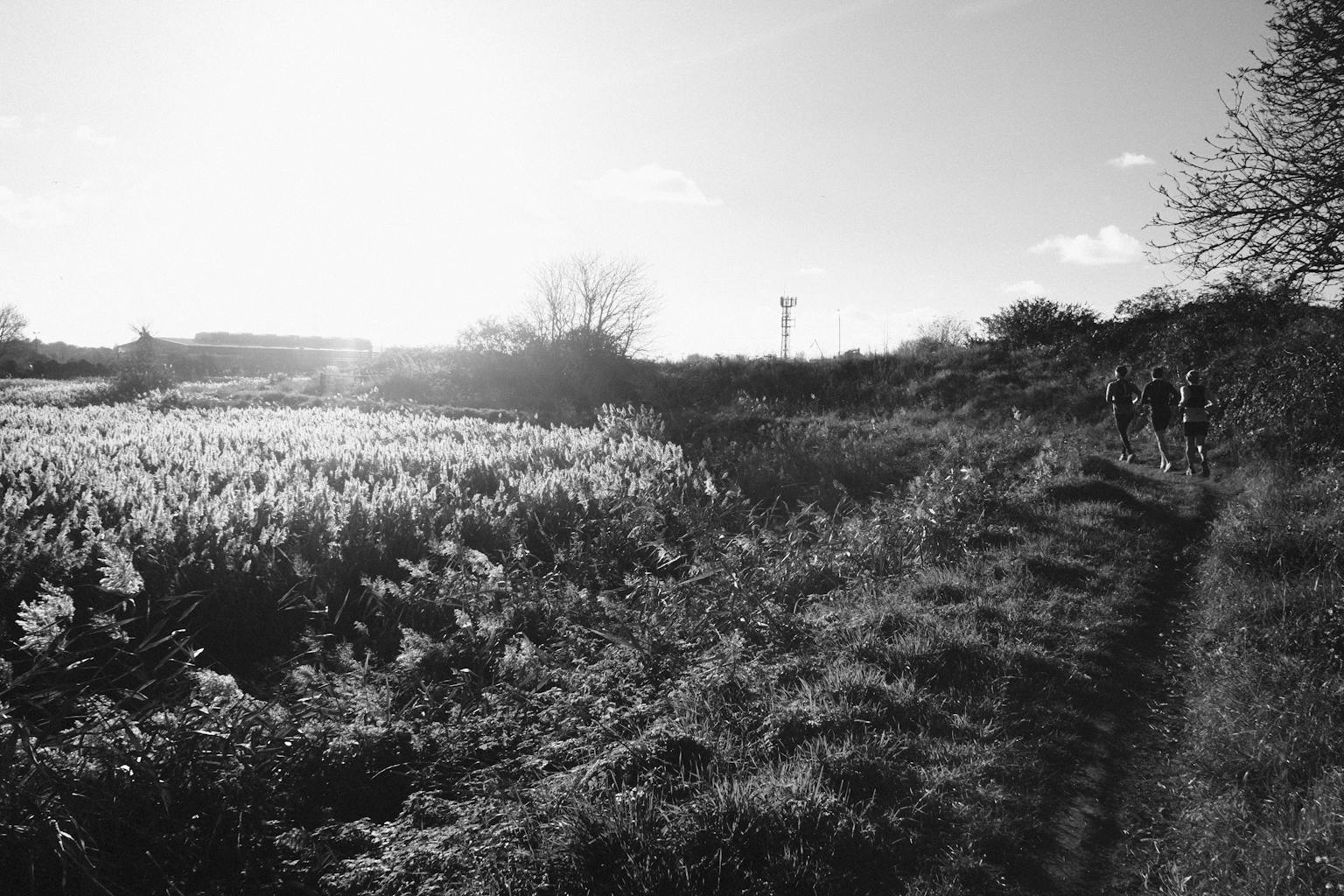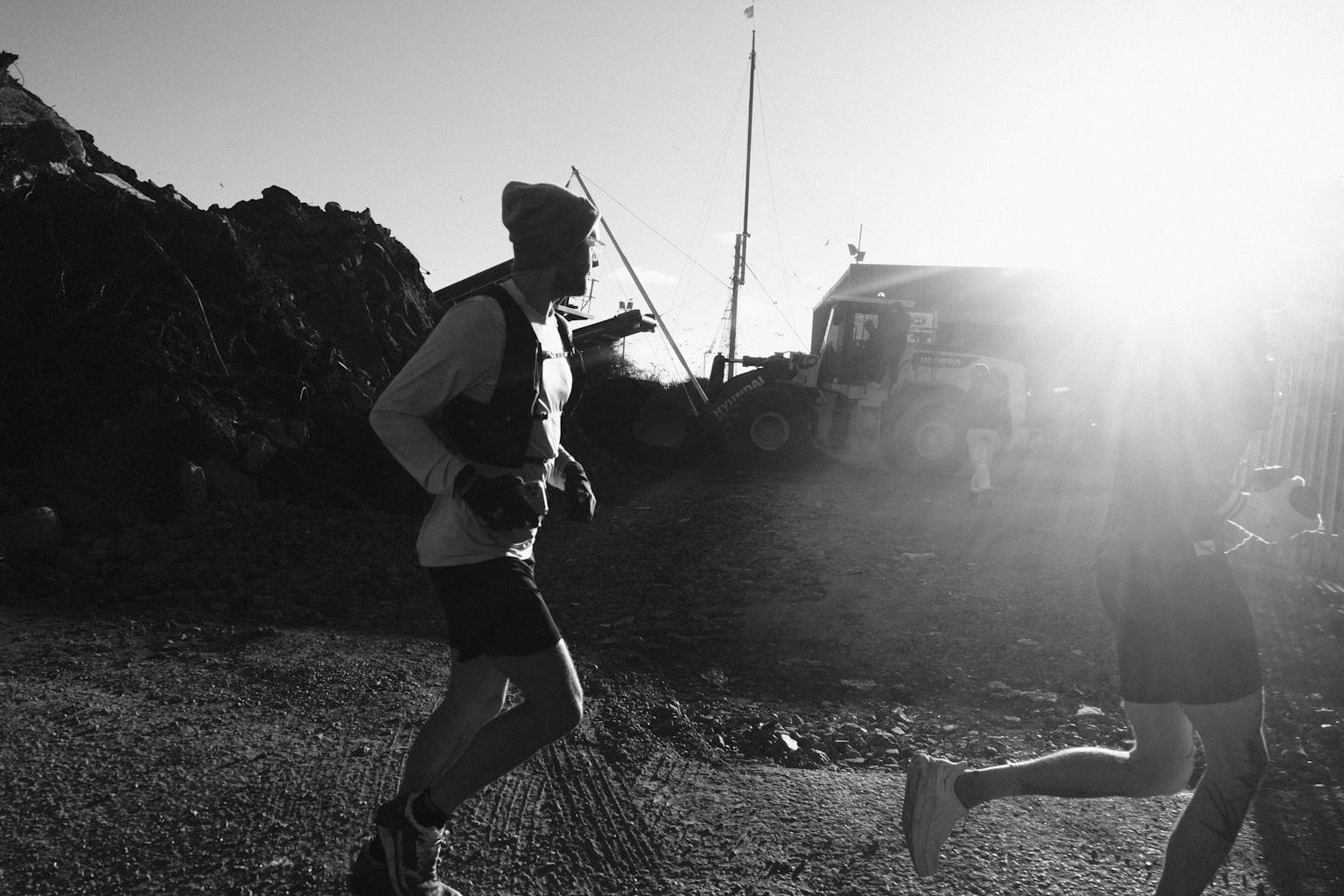 Just like that we finish. Here it was, Dartford. Our final destination. There was nobody to greet us, nobody to witness our feat. Simply the cars passing by as we stand still by the stairs to the train station. For a moment we're silent as we reflect on the route we've taken. In those short moments there wasn't a much purer feeling.
They may be the route home but the stairs weren't appealing. There needed to be some closure, a way to celebrate the sights we had discovered. We settled for a visit to a local burger chain (Wimpy?). A thick milkshake and a plate or undercooked chips had never been more appealing. There was nostalgia to the meal. Over time nostalgia will make its way into this day too.
In contrast to Murakami's motto from his book What I Talk about When I Talk about Running, it's moments like this that are a reminder that we are humans, not only runners. Feeling this way about the wind in the reeds, and the dappled light as it touched our shoulders, is only possible because together we are more than our component parts. And that too is true of our city, with its waterways and green spaces entwined in the crumbling brick and shimmering glass buildings, somehow coexisting as a canvas for this great big adventure of ours. Some day it will fall apart, but right now we still have a role to play.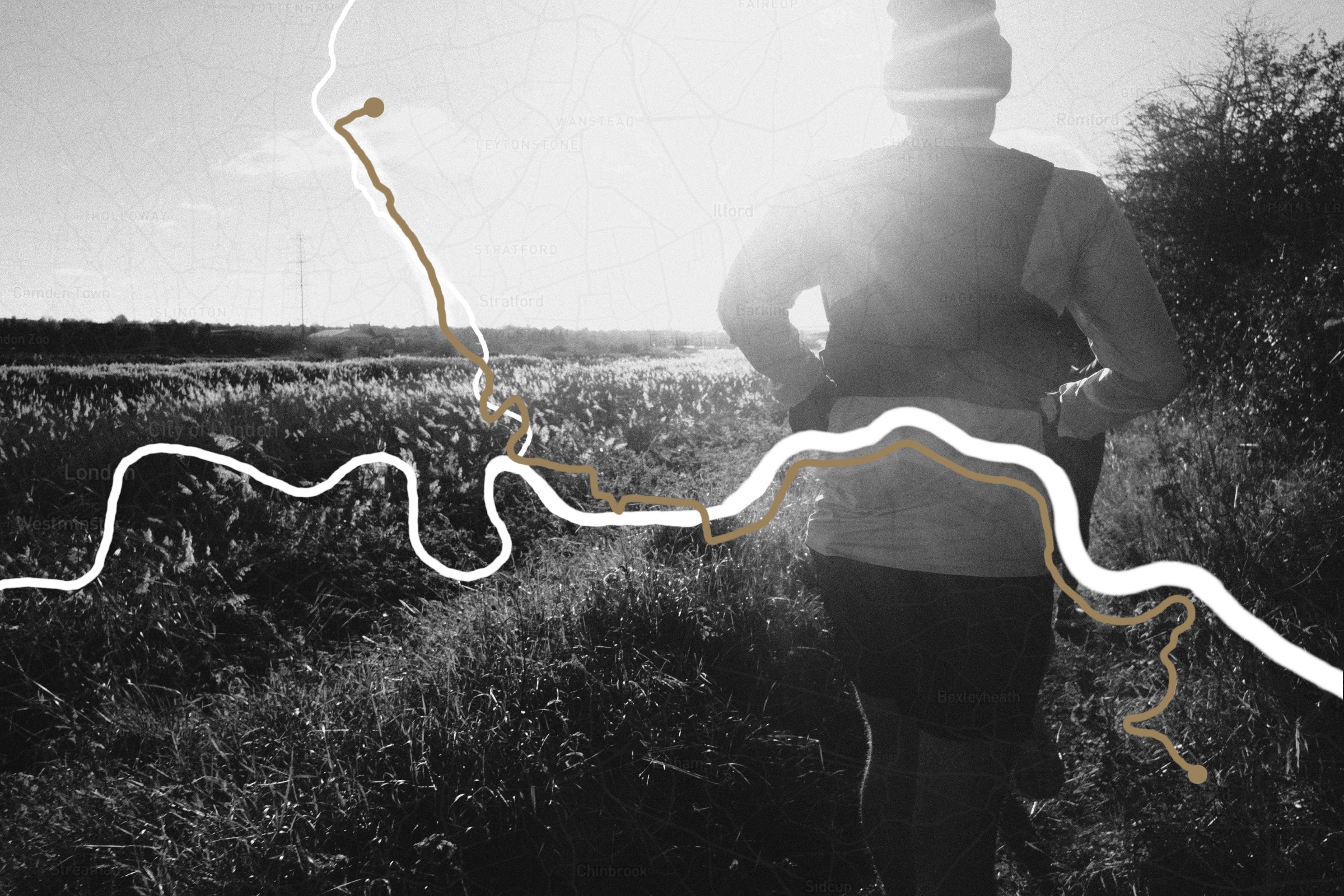 Date: November 25th, 2021. Distance: 25 miles. Moving time: 3hrs 35mins. View the run on Strava.