The
Steeple
People
Words by David Melly
Eight made the meet. Five made the final. Two made the team.
Tracksmith athletes represented 13 per cent of the Olympic Trials fields in the men's and women's steeplechase; more than any other brand. In the preliminary round, it felt like a veritable army in red, white, and blue was soaring over the barriers, one after another.
The Tracksmith steeplers are a motley crew, training in eight different states and working a wide variety of jobs. Alex Wilson and Washington resident Caroline Austin are coaches. Jordan Cross is a registered nurse who worked in a long-term care facility during the worst part of the COVID-19 pandemic. Two-time Olympian Donn Cabral took a step back from running in 2017 to attend law school and will be taking the New Jersey bar exam in the fall.
Some, like New York-native Meredith Rizzo, have been contesting the event since middle school. Others, like Alex Wilson, only took up the event after graduating college. Fed up with what seemed like endless 1500m races without a breakthrough, she ran her first steeplechase the summer after her senior year and has since dropped nearly 50s off her time. Now a full-time coach at her alma mater, the University of Northern Iowa, Wilson coaches steeplers herself.
Steeplers tend to be athletic and fearless; strong cross-country runners who often have a background in other sports. When Katy Kunc arrived at the University of Kentucky, her coach picked her out as a promising candidate because of her background playing soccer growing up. For others, it's simpler: 6-foot-4 Mason Ferlic was picked out for the event purely because of his long legs.
They're a pleasant mix of personalities as well. Ferlic is emotive and chatty with friends and strangers; he can easily get riled up on subjects ranging from hurdle technique to burrito orders. Cabral is quiet and introspective; interviewing him can feel like looking through a two-way mirror. He thinks as much about your questions as you do about his answers.
The steeple crew is a loyal bunch. Colorado alumna Val Constien, Kentucky Wildcat Kunc, and UNI's Wilson all still train with their college coaches, maintaining years- or even decades-long relationships. Ferlic trains with two University of Michigan legends: semi-retired head coach Ron Warhust and two-time Olympic medalist Nick Willis. The three veterans are fiercely protective of the youngest member of their squad, high school phenom, Hobbs Kessler. Rizzo, a Yale University alumna, still trains with her college teammate, Dana Klein, who also qualified for the Trials.
The steeplechase is high risk, high reward. The shorter hurdle events have ten hurdles apiece. In the steeple, there are 35 opportunities for something to go wrong as runners soar over solid wooden barriers that are 12 feet long. And that's not even accounting for the water pit.
Every steeplechaser has an epic fall story. Some are gory: Katy Kunc has a thick, 4in scar on her thigh from a freshman year pile-up – ironically at Hayward Field, the same stadium where earlier this week, she set a personal best to make the final. For her, this Trials was a full-circle moment. Others are painful in their timing alone. Jordan Cross was battling for one of the final qualifying spots in his prelim round when a bad landing on the final water jump sent him to the ground. He popped back up and finished, and the final result was brutally close: he ended up two seconds and one place out of the final.
When the women's steeplechasers lined up for the final, it just so happened that the three Tracksmith women were lined up next to each other. As the stadium camera panned across the distinctive red, white, and blue uniforms of the Amateur Support program, Tracksmith founder and certified running superfan Matt Taylor beamed from the stands. Shoulder to shoulder with some of the sports highest paid professionals were three women working full-time jobs and still earning their place on the starting line. It was a dramatic statement, but it wouldn't be the most dramatic statement of the race.
With 1200m to go in the 3000m race, Olympians Emma Coburn and Courtney Frerichs began to ratchet down the pace to open a gap on the field. At first, Leah Falland, who nearly missed the team in 2016, moved with them, but a bad landing off a hurdle tripped her up. Two spots were spoken for and a third was wide open.
Val Constien entered the meet with the U.S. #3 time at 9:25.53, but two women ran faster in the preliminary round and it was clear that the fight for the third spot would involve at least three or four major contenders. With a lap to go, Falland and Constien had opened up a gap on the chasers but it was still anyone's race.
Notoriously, the final water jump often goes horribly wrong. And sometimes, it goes perfectly right. Constien's last water jump was a thing of beauty – legs fully extended, lead knee high, and perfectly timed to pop out of the water pit with her momentum headed in the right direction. She flew down the home stretch and crossed the finish line into the arms of Trials-champion Coburn, a fellow Colorado Buffalo, becoming the third Tracksmith athlete to qualify for the 2021 Olympics.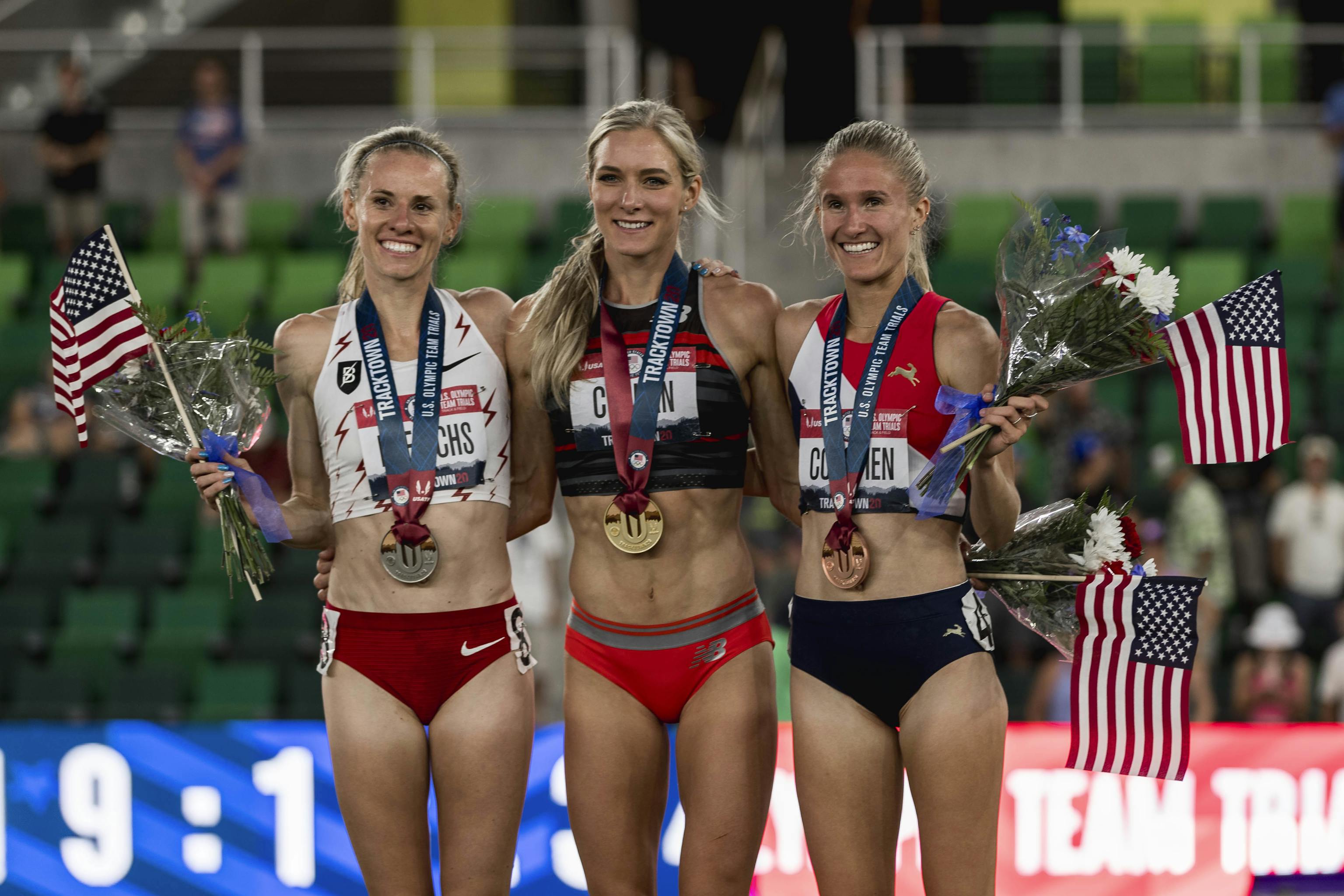 Ultimately, fast prelim times wouldn't matter as Constien set a 6-second personal best in the final, running 9:18.34, the #5 all-time mark by an American steeplechaser. The women in front of her are all Olympians and legends of women's distance running, but Constien is only 25 years old: she has plenty of time ahead to become a legend in her own right.
The men's final the next day was similarly defined by the presence of Amateur Support athletes as the first 2400m of the race were led by Donn Cabral as the field stayed crowded into a modest pace due to the unseasonable heat. Mason Ferlic hung back to avoid leading and was stuck in traffic for most of the race, a dangerous gamble when the racers aren't strung out.
The race really got started on the penultimate water jump. With a lap to go, both Tracksmith athletes were still in contention. Unheralded Alaska native Isaac Updike made a valiant bid for the lead as the final bell rang, and for a split second it looked like the top three were set as Updike, Hillary Bor, and Bernard Keter opened up a small gap on the field. But the steeplechase is the longest last lap in track and field.
By the final water jump, Updike had faded from first to third and Ferlic powered past him on the final turn. But another player had entered contention: Dan Michalski was closing like a freight train. The Tracksmith faithful watched breathlessly as both men sprinted down the home stretch but Ferlic kept his form and, ultimately, persevered. The NCAA champion will have to add "Olympian" to his resume and Tracksmith will send their fifth competitor to Tokyo.
In many ways, steeplechase represents not just the best of track and field, but the best of sports more broadly. In nine short minutes, the crowd gets thrills and danger, tension and release. Fan favorites are cheered and mourned, sometimes in the same race. Expectations are upended and upsets are common. The only thing guaranteed about the race is that it won't be boring.