Falmouth
Words by Toni Reavis
Photography by Getty/Falmouth Road Race
I mean, it is the number one money generating weekend of the entire year on the Cape – my car got towed twice on the same day one year! There is no doubt that it is the number one party weekend of the summah, not to mention the best athletic competition of the road racing season. Add it all up and you have the legendary Falmouth Road Race.
The Falmouth Road Race on Cape Cod has been called The Great American Road Race. Like the other foundational races that sprung up in the 1970s during the rush of the first running boom – Atlanta's Peachtree Road Race, the Lilac Bloomsday 12K in Spokane, Washington, the New York City Marathon, etc. – the Falmouth Road Race was not born out of any market analysis, but out of love, pure and simple.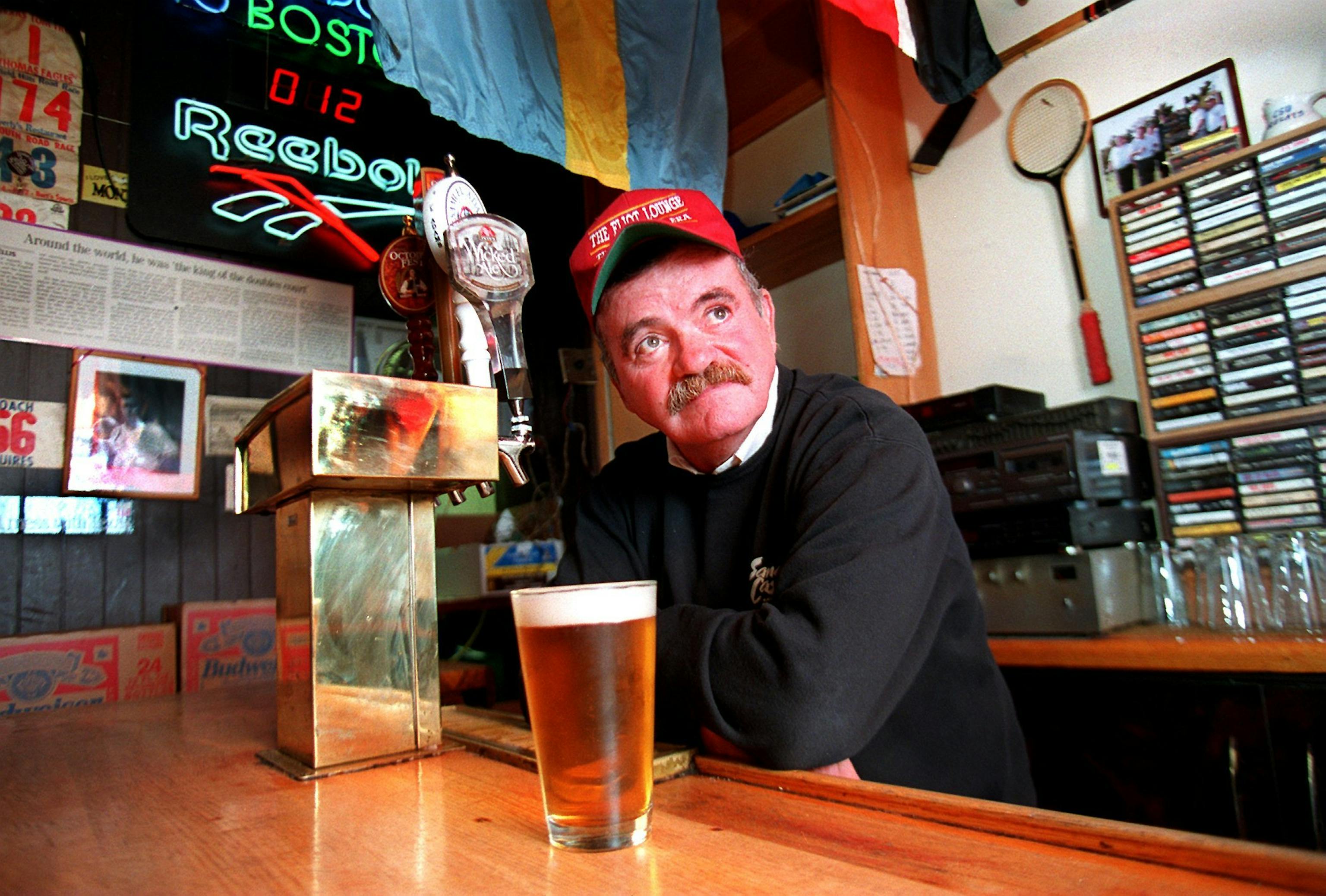 A week had gone by since Frank Shorter had copped the Olympic Marathon gold-medal at the 1972 Games in Munich. He became the first American to win the Olympic Marathon since Johnny Hayes in 1908. In Falmouth Heights, bartender Tommy Leonard was just coming off a heavy work schedule at the Brothers Four bar. It was late on a Saturday night; T.L. was sitting with his feet up on a chair having a cold one with Captain Red Kavanaugh of the Captain Kidd in Woods Hole looking out over Martha's Vineyard Sound.
"The Sound was like shimmering in the silvery moonlight," Tommy recalls dreamily. "And there was a little Roberta Flack in the background softly singing "First Time Ever I Saw Your Face". I'm a bit of a romanticist, and I really want to do something for the Falmouth Girls Track Club. And it all just came into being. So the conception was right there at the Brothers Four."
It has never taken much prompting to get Tommy rolling. Even these days at his unofficial retirement headquarters at the Quarterdeck on Main Street, you find him regaling long-time friends and wide-eyed newbies with tales of Falmouth's glorious past and his years behind the taps at Boston's legendary Eliot Lounge.
An ex-marine from western Massachusetts, Tommy Leonard had been a runner and Boston Marathon finisher well before the advent of the running boom. In those early summers working at the Brothers Four, Tommy remembered being the lone runner jogging along the shoreline from Woods Hole to Falmouth. As he ran, he would watch as other people were getting themselves out of shape. So, in typical T.L. fashion, he said, 'what can I do about that?'
At the same time, during evening workouts at the Falmouth High School track, Tommy had been impressed watching the Falmouth Girls Track Club. He noted the total dedication of runners like Johanna Forman and Candy Hennemuth and their coach John Carrol. So he thought, 'how can I put one and one together, and help the Falmouth girls Track Club, too?'
During the early 1970s all of New England was in the thrall of Bobby Orr, the transcendent no. 4 of the Boston Bruins, who led the team to two Stanley Cup titles in the last several years. The focus in Falmouth, as all over the region, was on youth hockey.
"So I went to a couple of bars," remembers Tommy, "and said, 'why don't we put on a race'?"
The inaugural Falmouth Road Race was run on August 15, 1973, Tommy's 40th birthday. And on that rain-drenched, wind-blown Wednesday, 98 runners took off from in front of the Captain Kidd on Water Street in Woods Hole, with the course tracing a shoreline, bar-to-bar route that Tommy had so often run by himself, seven miles to the Brothers Four on Falmouth Heights. The winner was Dave Duba, a senior at Central Michigan University who had only heard about the race the day before. He toured the layout in 39:16. Jenny Taylor of Cambridge, Mass. won the women's division in 47:23 finishing 15th out of 92 finishers.
Typically, Tommy missed the bus to the start, but caught a ride with his boss, Brothers Four owner George Robbat. But when George's car broke down along the way, Tommy hailed a lift in an over-packed VW, arriving just in time for the start. He would go on to finish 13th in 46:18.
Afterwards, the post-race party at Brothers Four raged until 1 a.m. with beers, bologna sandwiches, and clam chowder cooked up by Captain Kidd's Red Kavanaugh who created a Cape Cod style homage to the beef stew that finishers of the Boston Marathon were traditionally served. At the end of the night, Tommy passed the hat and collected nearly $500 for the Falmouth Girls Track Club.
"And it was one of the happiest days of my life," Tommy recalls. "And we probably could have had 300 runners. But with just two weeks of preparation we had to shut it down."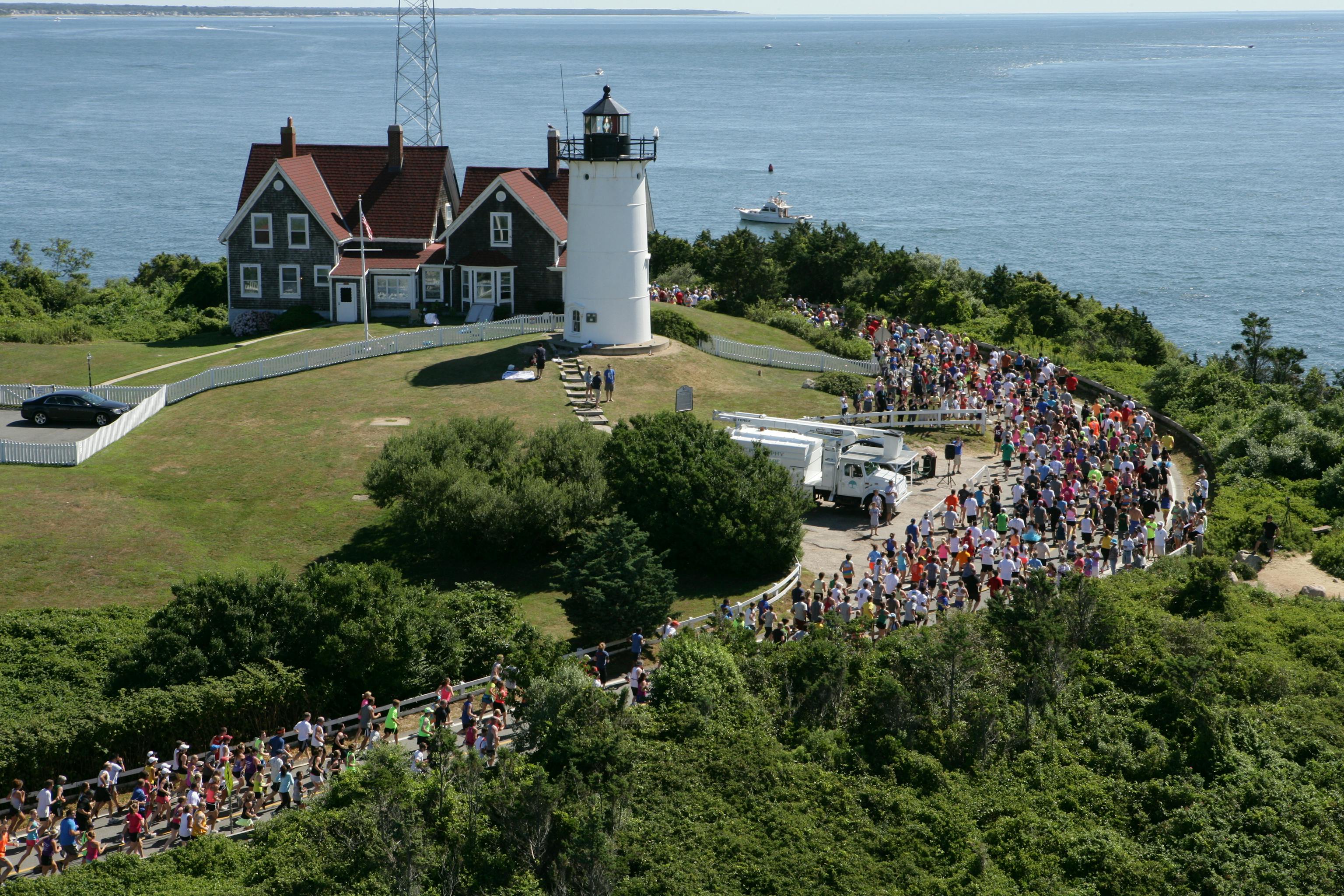 Year 2 – Good Vibrations
Everyone had such a good time competitively and socially in year one – especially socially – that Tommy started thinking big.
"An early memory was going to selectman John DeMello's office and asking permission to move it from Wednesday to Sunday and everyone saying, 'you'll never get it because of the beach crowd.' But John said, 'you have my blessing.' And I ran down from the selectman's office to the police station to see Chief John Ferreira, who told me, 'whatever selectman Demello said, you've got.' That was one of the highlights of the whole road race beginnings.'
Stirred by Shorter's Olympic run, Tommy was a huge fan of the sport itself, and wanted to secure a name runner for the event. During that time Tommy had met Steve Liquori who was a waiter at Charlie's Saloon in Boston – he was also the brother of world-class miler Marty Liquori.
"I asked Steve if there was any chance Marty would come," Tommy says. "And he did, with no expenses paid! But all of a sudden who burst on the scene but a skinny, tow-head by the name of Bill Rodgers who annihilated the field.'
Of course, it completely caught Liquori off guard. He was under the impression he was coming in for a friendly fun run. What he found instead was the birthing of an American racing legend.
'I remember being at Bill's house for dinner one time with Amby Burfoot (Bill's college roommate at Wesleyan and the 1968 Boston Marathon champion),' says Tommy. 'And I asked him, 'Jesus, Billy, how'd you feel about that race and beating the big miler Marty Liquori?' And Bill isn't really cocky, but he had a couple of glasses of rosé in him, and he said, 'No damn way I'd ever let a miler beat me in a road race'.'


Year 3 – Olympic Gold
You always had to do better, that was Tommy's philosophy.
"I picked that up from John Kennedy who was a big inspiration in my life. So I went after Frank Shorter who had won the '72 Olympic Marathon gold medal (and inspired the founding of the race)."
"I knew I had to bring him in with plane fare and the whole bit. So I went to see Billy Crowley who owned Oar & Anchor (another Falmouth watering hole that Tommy frequented on Main Street), and had a couple beers and asked, 'Billy, any way you can bring in Frank?' And he said, 'No problem,' and it was done."
That set the scene. With the Olympic Marathon champion coming in to race Rodgers, who had broken Shorter's American marathon record by 35 seconds in the spring of `75 by winning Boston in 2:09:55, 875 runners descended on the Cape for Falmouth for year three. The Boston Globe and Boston Herald both sent reporters and photographers down to capture the drama.
Shorter waxed Rodgers just past halfway that year, winning the race in a record time of 34:16, while launching one of the sport's great rivalries and catapulting Falmouth onto the national stage. By year four Tommy had secured Perrier as the event's first major sponsor, and over 2000 runners signed up as tens of thousands of Cape residents lined the course to view the action.
With Shorter and Rodgers serving as its speedy Pied Pipers, and its end-of-the-summer date luring the best of the summer road racers and the cream of the European track circuit distance men, combined with its end-of-the-world beauty along old Cape Cod, the Falmouth Road Race soon became The Great American Road Race. Four decades later it still holds thousands upon thousands in its hold.
"I'll tell you what's special about Falmouth, the magic of Falmouth," says Tommy, as enthusiastic as ever about his baby. "Frank Shorter probably said it best. It is so aesthetically gorgeous, running from Woods Hole alongside the Sound, looking out to Martha's Vineyard. And then coming out of the canopy of trees onto the straightaway alongside the beach, and the crowds are always so supportive. And I have said this before, the race almost becomes secondary, because it's not just a national homecoming it's a world class homecoming. The crowd is so enthusiastic. If you want to be loved, run Falmouth."