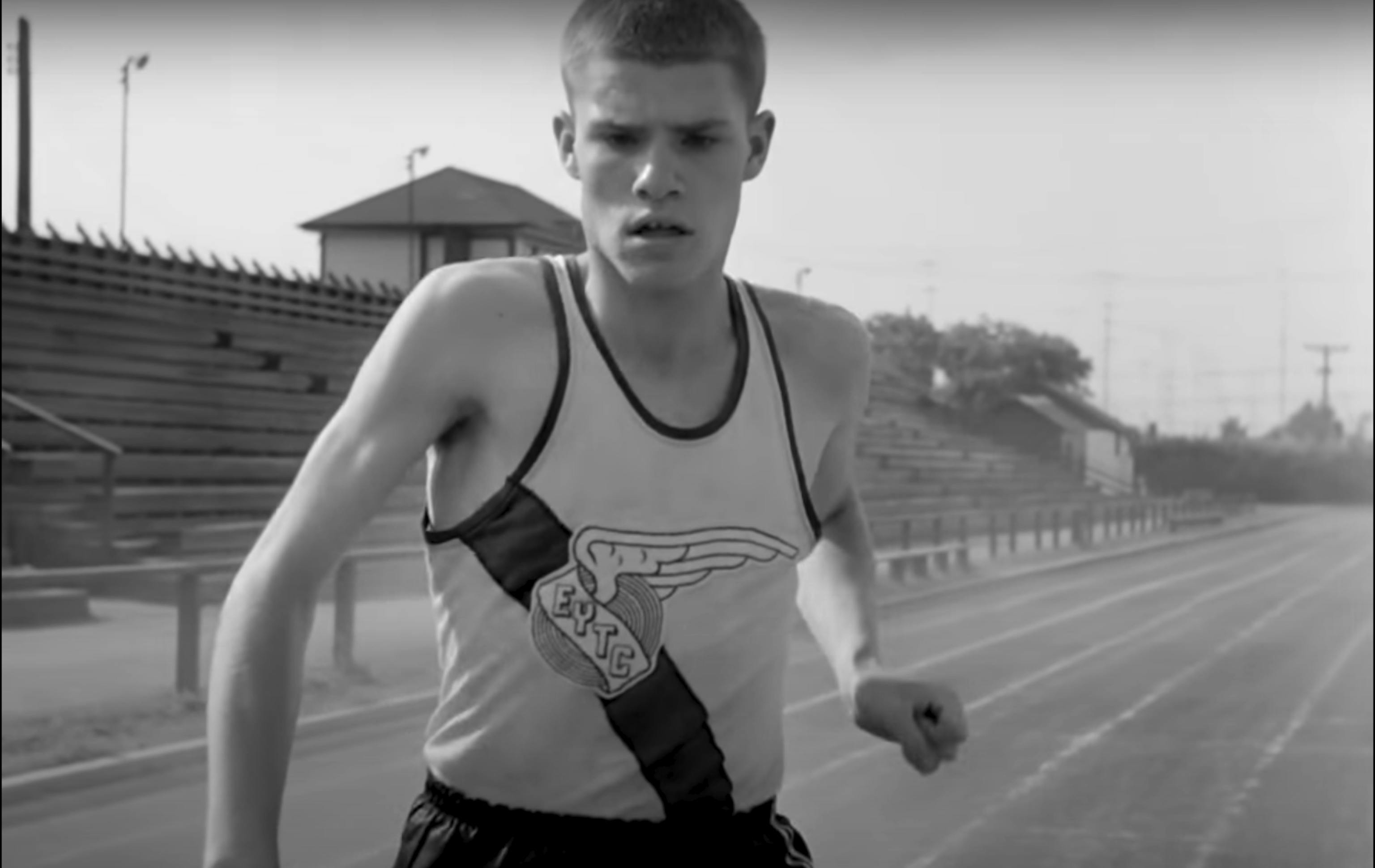 A JAZZ THING
Words by Kate Carter
Photography by Don Owen
In my school days, I had no interest whatsoever in running. I was, however, an extremely competitive performer in the hotly contested sport of teen pretentiousness. I dog-eared the pages of my favourite poems, copied them into sketchbooks and illustrated them, all while listening to jazz. (My only defence is that my dad is a jazz aficionado and biographer, so it's what I grew up listening to).
One of my favourite poets was WH Auden. And if, at the time, I'd realised that he had written a poem about running for a film with a jazz soundtrack, maybe I'd have taken a second look at the sport. In fact, it's not just a poem - or even really a poem at all - it's a narration to an delightful, quirky little film made by an unlikely ensemble of people - and I can't believe I only discovered it in 2020.
Back in 1962, the Canadian National Film Board (NFB) decided to commission a first time director to make a short film. The lucky recipient would get a budget to make pretty much whatever they wanted - and if it went down well, a full time job. Nice work for a young director. They chose Don Owen, who would indeed go on to work full time for the NFB making documentary films. Owen, perhaps mindful of wanting to please, chose as his subject a young runner named Bruce Kidd, whose parents were scholars and activists and connected to the NFB. Kidd, though, was not actually that implausible a subject - no unknown, but already probably the top distance runner in Canada at the age of just 18. He would go on to run for his country at the 1964 Tokyo Olympics.
So far, though, it was an all-Canadian affair. But Owen was a huge fan of the British poet WH Auden, and so, he somewhat audaciously wrote to him to ask if he would provide the words to his film. Auden had certainly done similar before - his famous "Night Mail" poem ("This is the night mail crossing the Border/ Bringing the cheque and the postal order") was written for a short film. But that was in 1936, with world-renowned composer Benjamin Britten providing the soundtrack and was made by a group of influential British filmmakers. Why Auden - even if he had moved to the US and taken on American citizenship - said yes to providing the narration to a short film from a Canadian unknown about a runner who, one guesses, he had also never heard of, is less clear - but say yes he did.
The resulting 11 minute, black and white film is a perfect time capsule of 1962, from soundtrack to sportswear. It opens with Kidd, clad in a loose fitting tracksuit, running along the seafront in a distinctively quirky running style - asymmetric, oddly paddling arms - legs ticking over. The rhythm of his footfall on wooden board sounds like soundtracked percussion. Auden's words introduce him portentously (and yes, you could indeed say pretentiously) with reference to Greek mythology:
"As Pindar long ago in Greece was proud to hail
Thessalian Hippokleas, even so
It is meet we praise in our days fleet-footed
Bruce Kidd from Toronto"
Fleet-footed Bruce is then shown in a group training session at the East York Track Club, which itself segues in a montage of track athletes of all distances - sprinters, middle, long. The training group Kidd runs with also features possibly the finest headgear ever worn by a runner: I don't know who the young man in the group wearing a trilby hat is, but he deserves eternal glory. The only conceivable upgrade would have been to a Lester Young-style pork pie hat, in homage to the greatest jazz saxophonist of all time (no argument to that statement will be considered). The soundtrack, meanwhile, is the very archetype of Blue Note records jazz recordings of the era.
In my admittedly hazy memories of reading about Auden, I certainly don't remember him having any particular interest in, or affinity with athletes, or with the tough grind that goes into the sublime moments of performance. But his words reflect the understanding that athletic effort is not effortless, even if it may seem so:
"By instruction only
Can limbs learn to live their movements
Without thinking?'
And later on:
"The camera's eye
does not lie
but it cannot show the life within."
(They should really put that on marathonphotos.com).
The camera follows Kidd in the group, then alone, moving down to his feet kicking up clouds of dust from the cinder track, until he's almost lost in the fog. He emerges again in a different scene - doing strides before a two mile race. There, he starts steady before visibly picking up and breaking the tape alone. The rhythm of the film goes from solo, to group, back to solo - the distance runner, as so often, the lonely hero of his own epic saga. There are no jubilant celebrations, no playing to the crowd - Kidd just sits down, takes off his racing shoes and goes for a jog on the grass to cool down, the eyes of the crowd following him quietly round the track. The credits roll.
What I love about the film is the time capsule it unearths of a world that has completely passed: of amateur athletes, popular yet untouched by the bombast and branding of modern sport. You can watch it multiple times and find something else to love on each occasion - the coach's terse instructions ("Pick up the knees!"), the outfits in the watching crowd (suits and hats de rigeur) or Auden's final words - reused in another of his poems, Hymn to the United Nations, fellow poetry-nerds: "Where Fate is Freedom, Grace, and Surprise".
Current situation aside, it's hard to imagine a national film body now commissioning such a work, let alone one featuring a distance runner. And certainly not one featuring jazz soundtrack, portentous poetry referencing Greek literature, or indeed a man standing right by the runners at the side of the track smoking a cigarette. A vanished world, and all the more mesmerising for it.