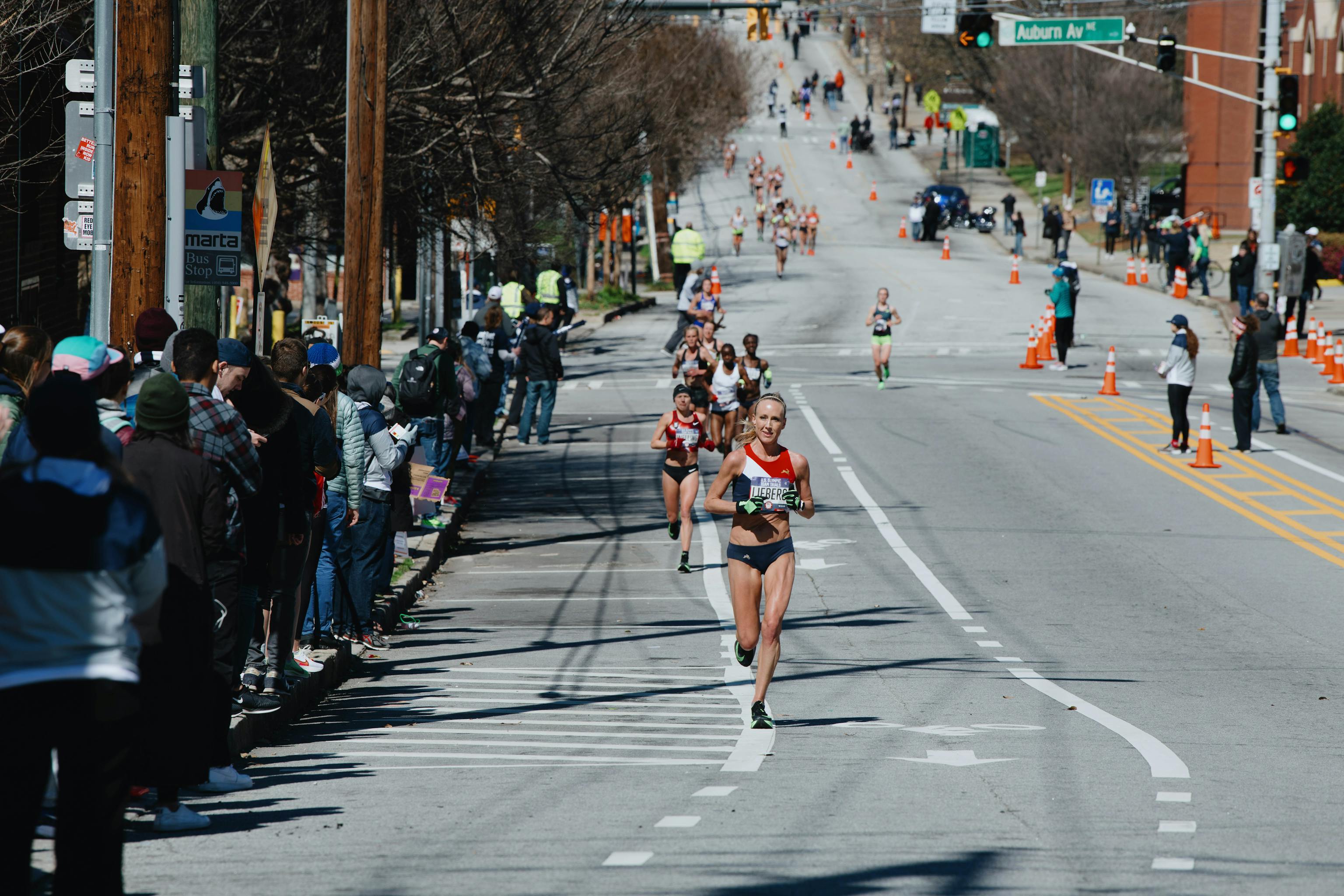 RACING OUT
OF THE TRAPS
Reflecting on the US Olympic Trials in Atlanta.
Words by Andy Waterman
Photography by Emily Maye
So that was the US Olympic Trials for 2020. Atlanta put on a show that will be hard to match in 2024, whichever way the sport develops in this next Olympic cycle. The organization was flawless from start to finish, with athletes singing the praises of Atlanta Track Club as loudly as they were cursing Atlanta's constant hills and incessant wind. With 18 percent of finishers wearing Tracksmith as part of our OTQ support program, we have never been more proud to be part of the amateur running community. Hopefully, with our suite at the Omni, custom kit options, massage from Wellness in Motion and coffee Linden X Two, we made the athlete experience just that little bit more special than it already was. Of the Tracksmith OTQ finishers, Keira D'Amato was the first woman in 15th place, in 2:34:24 and Chris Melgares was our first man in 33rd position in 2:16:59.
Now that the dust has settled, the Olympic teams have been set, and the noise about 'the shoes' has diminished, it's a good opportunity to look back and reflect on the people who really made the race - the athletes themselves.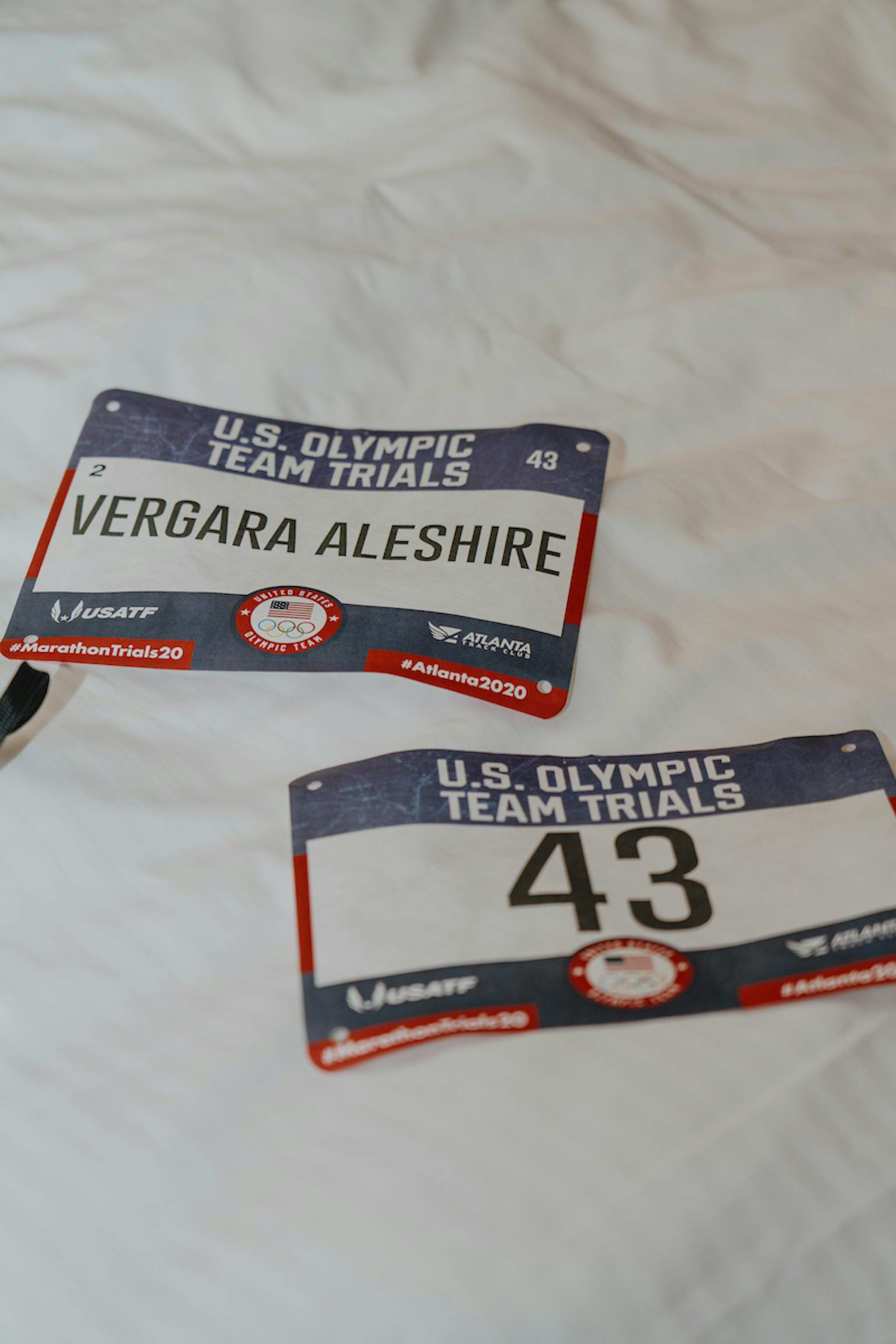 The day before
Christina Aleshire
I'll probably take a week off and then get straight back into it as the Speed Project is in three weeks. Just to maintain the fitness. I hit the A standard in March 2018 - 2:34, that was a good day. It was a smart race - a bit conservative at the beginning, then I negative split the end. I'm hoping for something similar tomorrow. I feel like I'm in similar shape.

The last two weeks I've been feeling great. The timing is good. I'm from Vegas so I have a different winter compared to other places. The midday start is 9am my time, so it's actually in my favor. Last time in LA, it started at 10am which was a little bit different. But sleep-wise, it's nice, and it will be warmer.
Christina finished in 23rd place in 2:37:20.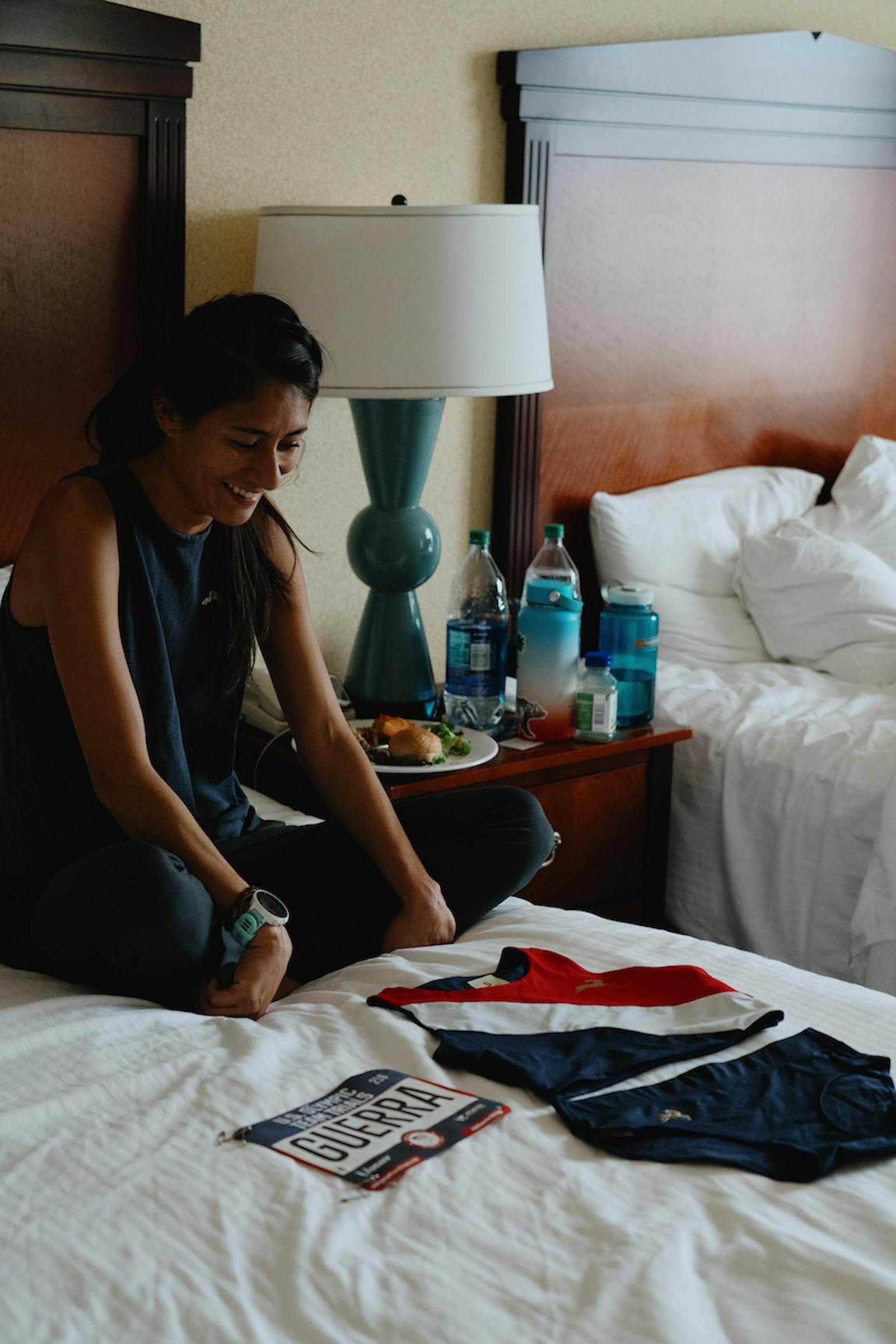 Andrea Guerra
I qualified in Houston, January 2019. This is technically my fourth marathon. I had a good build up, no major injuries. I didn't have anything that held me back.
I'm in Long Beach, California. I think I averaged a little more mileage for a little bit longer than my other build ups. I've learnt a lot. The first time, when I did CIM, my fuelling I wasn't very good on my long runs. Towards the end I was just dead because I wasn't hydrating properly, whereas this time around, I was taking my NUUN or whatever from the start. I learned a lot from doing those other marathons. I'm going to start a little conservative. That's usually how I race better anyways. Just move my way up.
Andrea finished in 352nd place in 3:00:33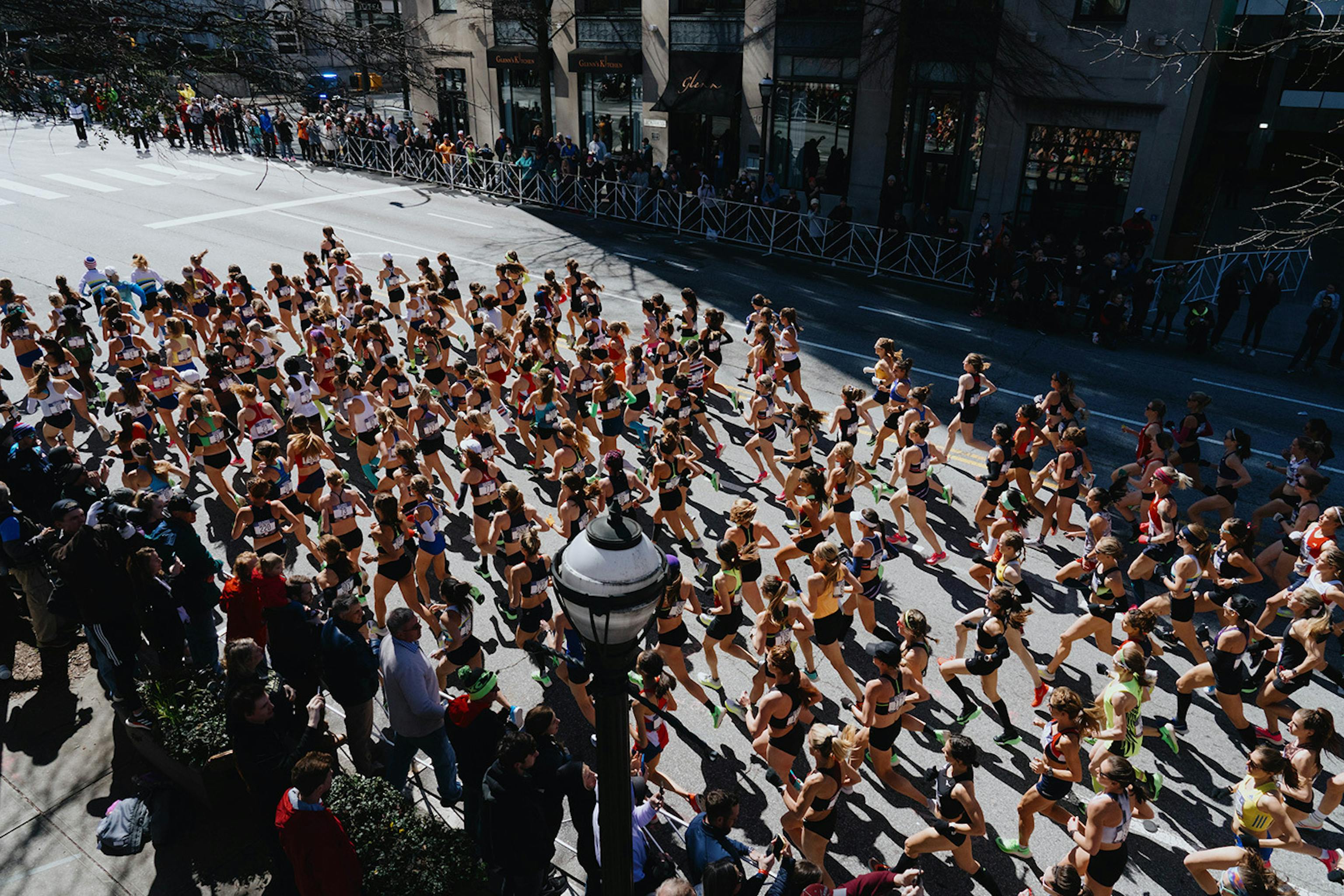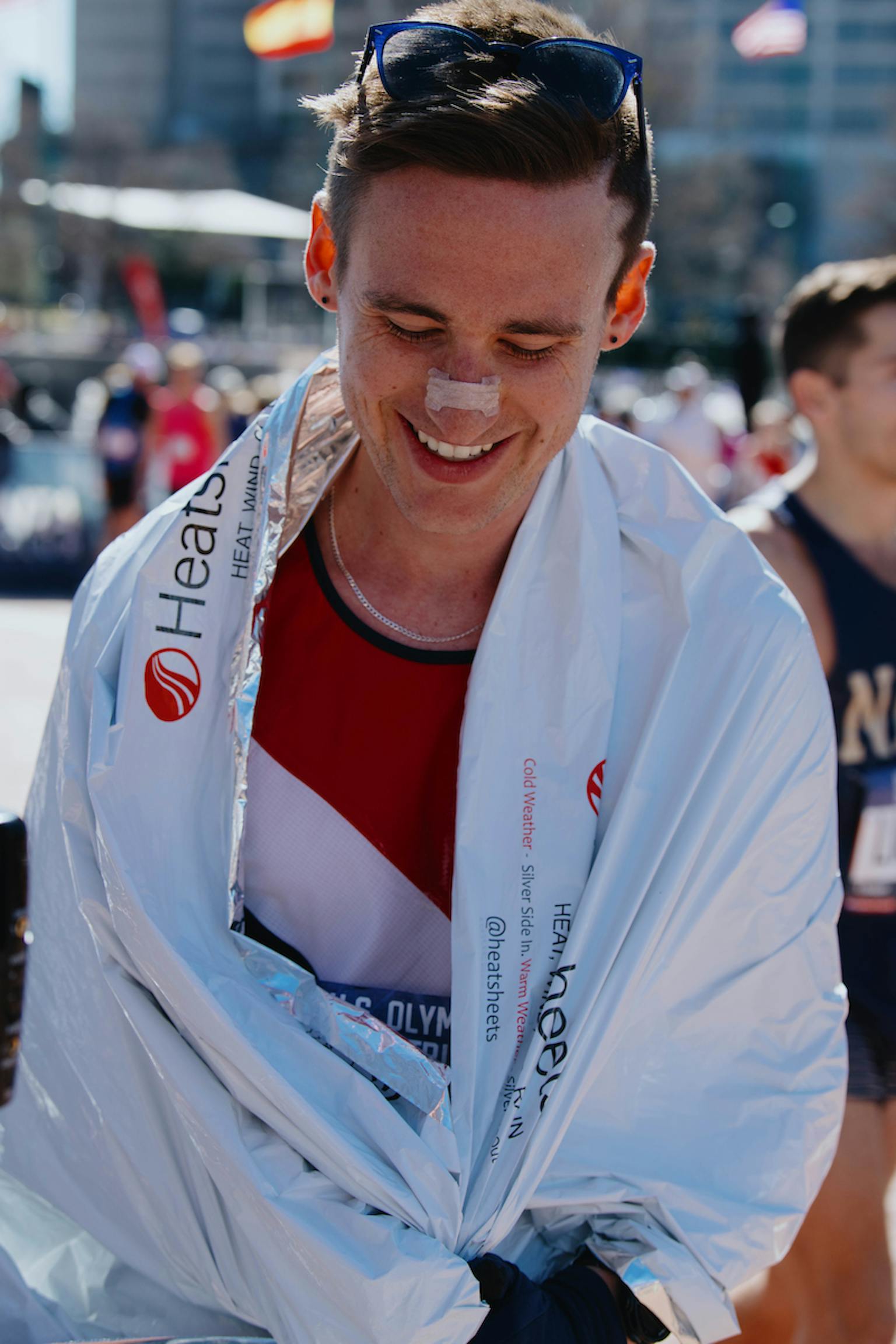 Race Day

Jeff Seelaus
It was the hardest thing I've ever done. I dunno man. Nothing came easy out there. Legs were cramping eight miles in; stomach was cramping 12 miles in; started throwing up 18 miles in. So happy I didn't pull out. I finished - that's the win. The wind was so hard - worse than the hills. When things break up and you're by yourself, it just hits you. You've got to fight. You've got to believe in something. I'm very proud. Proud to be wearing this singlet too.
Jeff finished in 118th place in 2:26:40
Elizabeth
Northern
Post baby PR! It was about a minute faster than what I qualified in. It was so wonderful. I had so much fun my face hurts from smiling. That last four or five miles were a doozy. I just stopped looking at my watch and I was like, just make it through this. But when we got to go on that out-and-back by the Olympic rings, that was awesome. So cool. I had so much fun, I'm kind of sad that it's over. It's just a privilege to be here. I ran in 2016 and since then I've had two c-sections and two kids. I had no clue if I'd be back here, so it's such an honor to be here - I just had the time of my life. My kids are here - they're two and three - and they are the lights of my life. They won't remember this but I will remind them!
Elizabeth finished in 73rd place in 2:42:32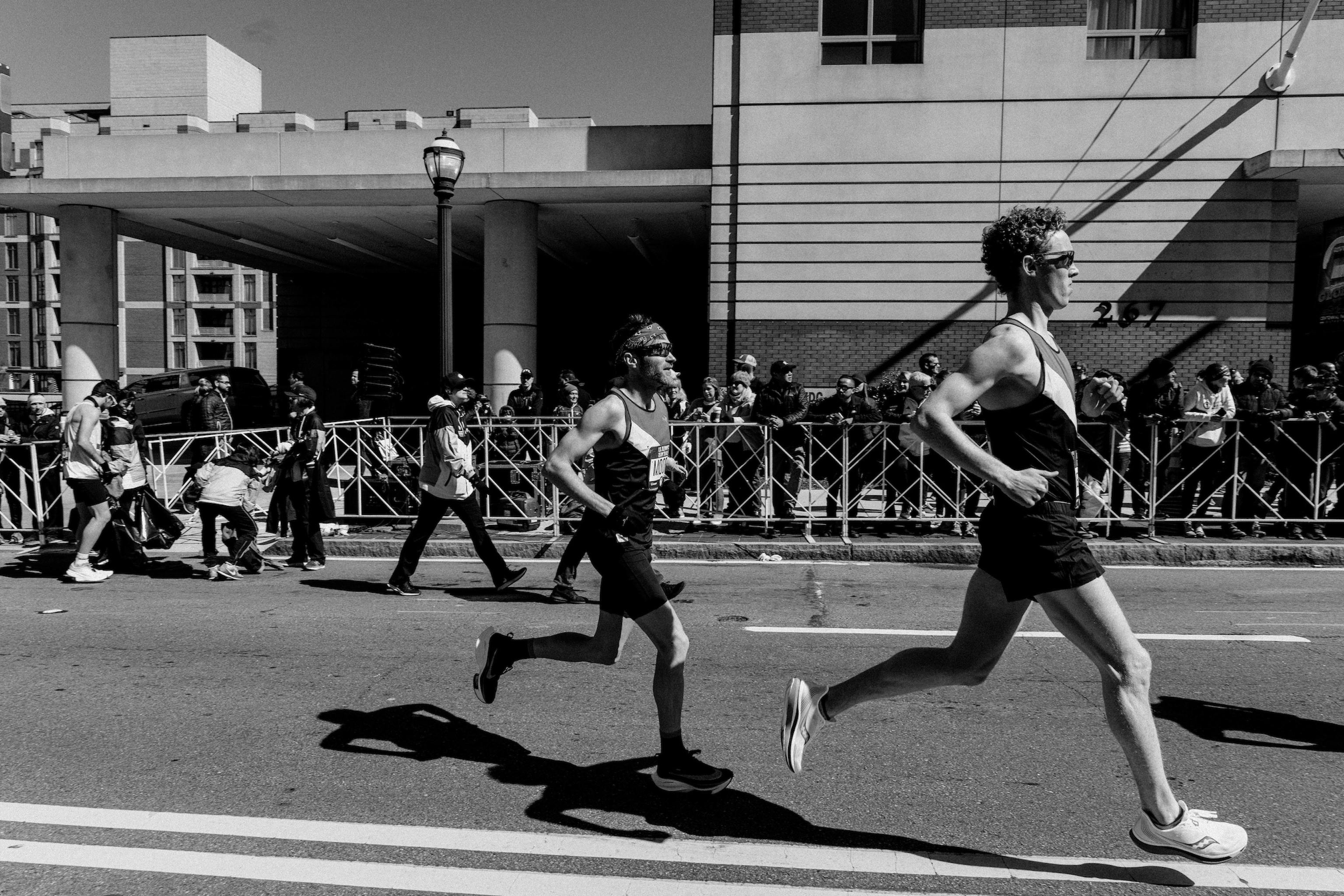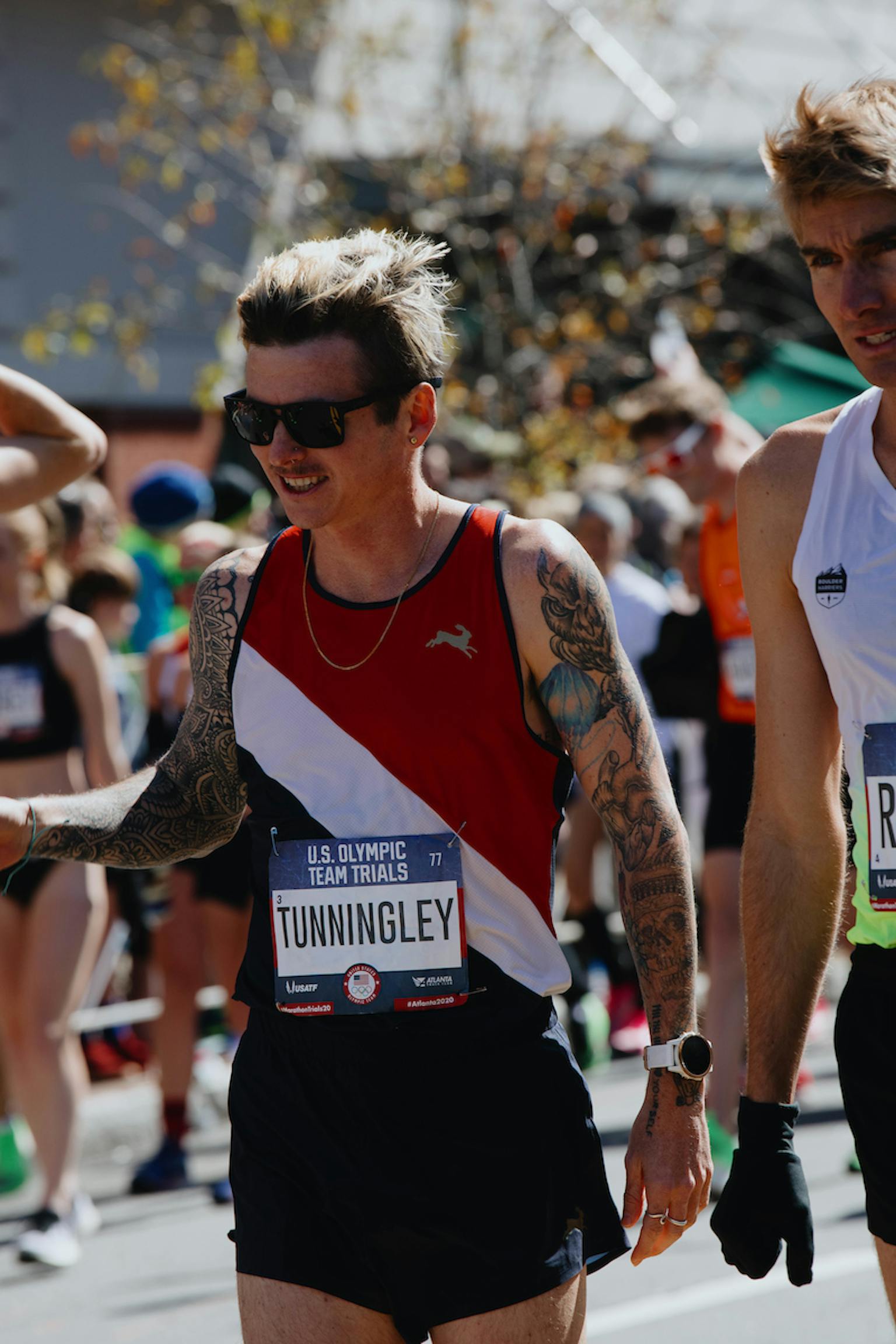 Rory Tunningley
It was the worst I've possibly ever felt. It was incredible, it was fun, it was really cool seeing a bunch of guys in the same jersey. It was a lot of fun but it was very tough. I'm happy that I didn't give up and I kept fighting the whole way. For the first half I was leading the pack, taking a lot of the wind, then just kinda blew up and thought about quitting every time I came through the start/finish area, so I think it was an accomplishment in itself just to keep going on a pretty tough day and to still run 2:28. I don't think that's too bad.

Rory finished in 128th place in 2:28:29
Andrea Masterson
It was tough. The hills definitely got to me. It was my second marathon ever, so it was a little bit of a wake up call but I was really happy to be out there. Hopefully this is the first of several trials to come. There were points where I really doubted myself, so to overcome that and finish is reward in itself. I was kind of on my own, bouncing between groups. Pacing was difficult. The hills really got to me. The hills plus the wind was a killer combo.
Andrea finished in 90th place in 2:43:24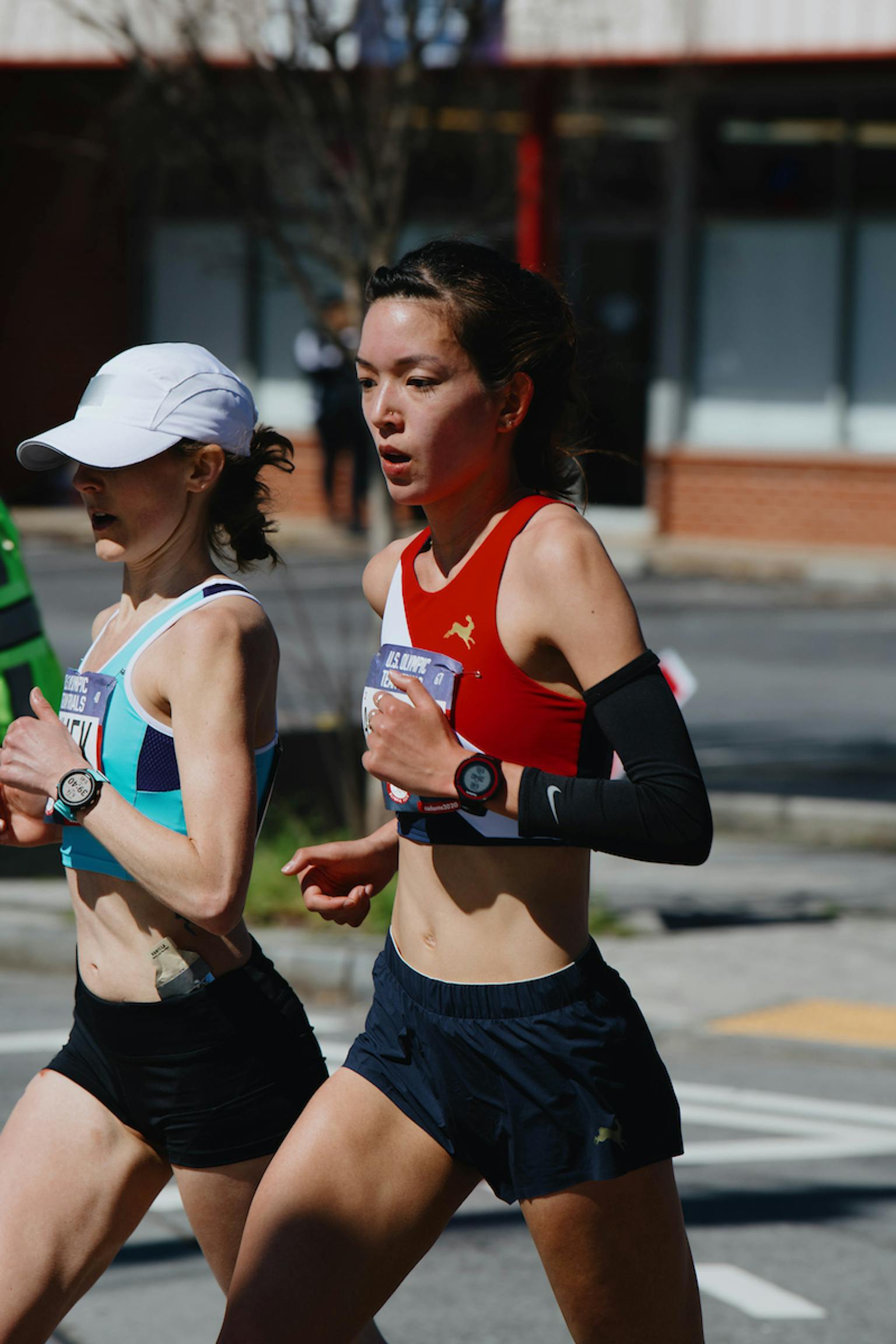 Garrett Lee
It was fun, but it got really really hard at about 21. You could tell everyone was hurting. Collectively the whole field was like, "ouch". I think that combination of wind and hills. We're not used to those. I'm proud, and I'm proud of my teammates too.
Garrett finished in 67th place in 2:21:14
Ellie Pell, Bailey Drewes & Chelsea Benson
- Hill-lanta.
- Just like they said, hilly, hard and windy.
- This is a fake smile.
- The first two miles were incredible. Just so raucous.
- It was so exciting to have someone to run with the whole time. It's never happened for me before and having all the women around me was incredible.
- Same with having all the Tracksmith out there and people yelling for us - it was really encouraging.
- I'm pretty happy.
- That last loop was kinda killer.
- It felt like a vacuum cleaner was pulling me backwards.
Ellie finished in 121st place in 2:44:59, Bailey finished in 66th place in 2:42:11, and Chelsea finished in 163rd place in 2:47:05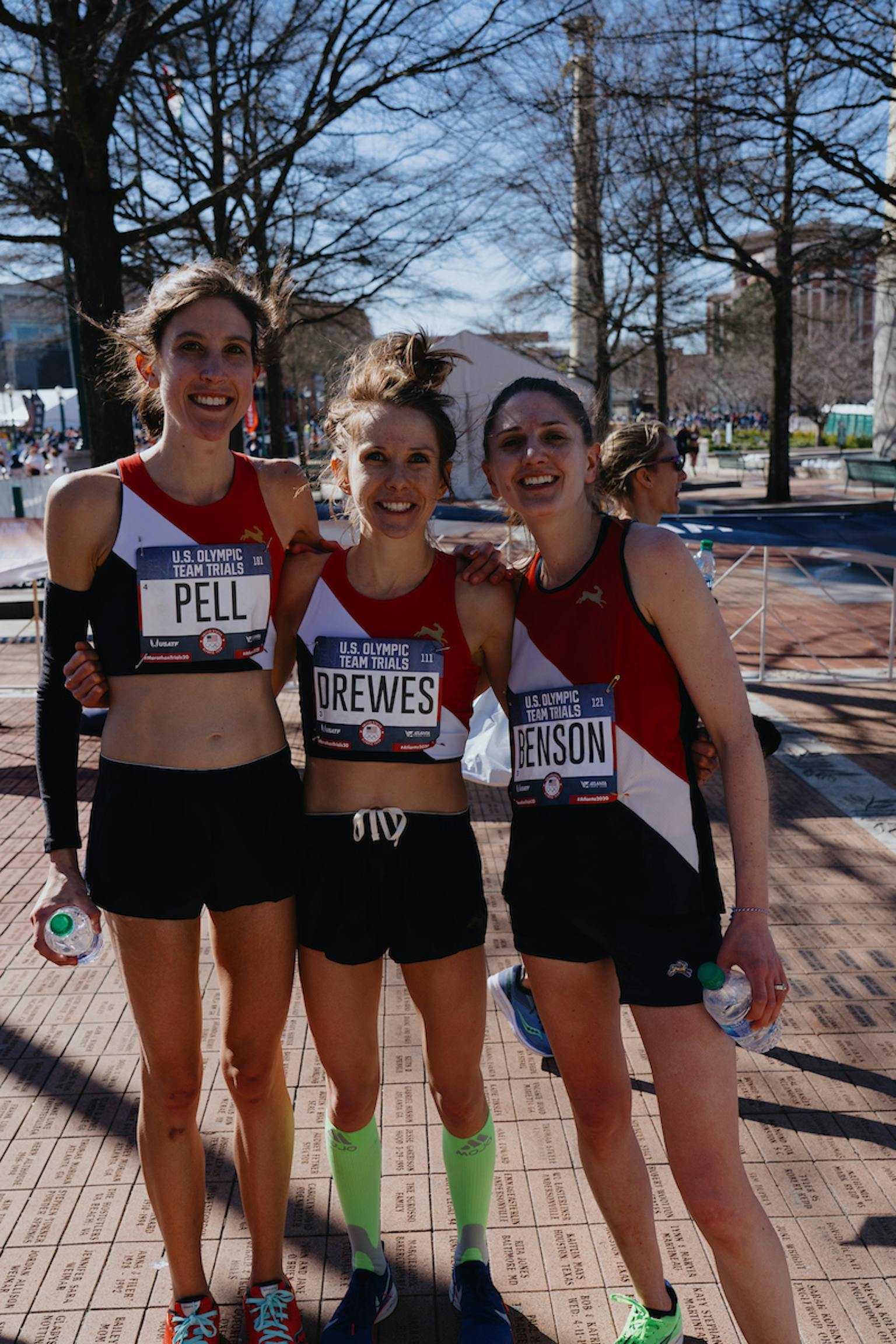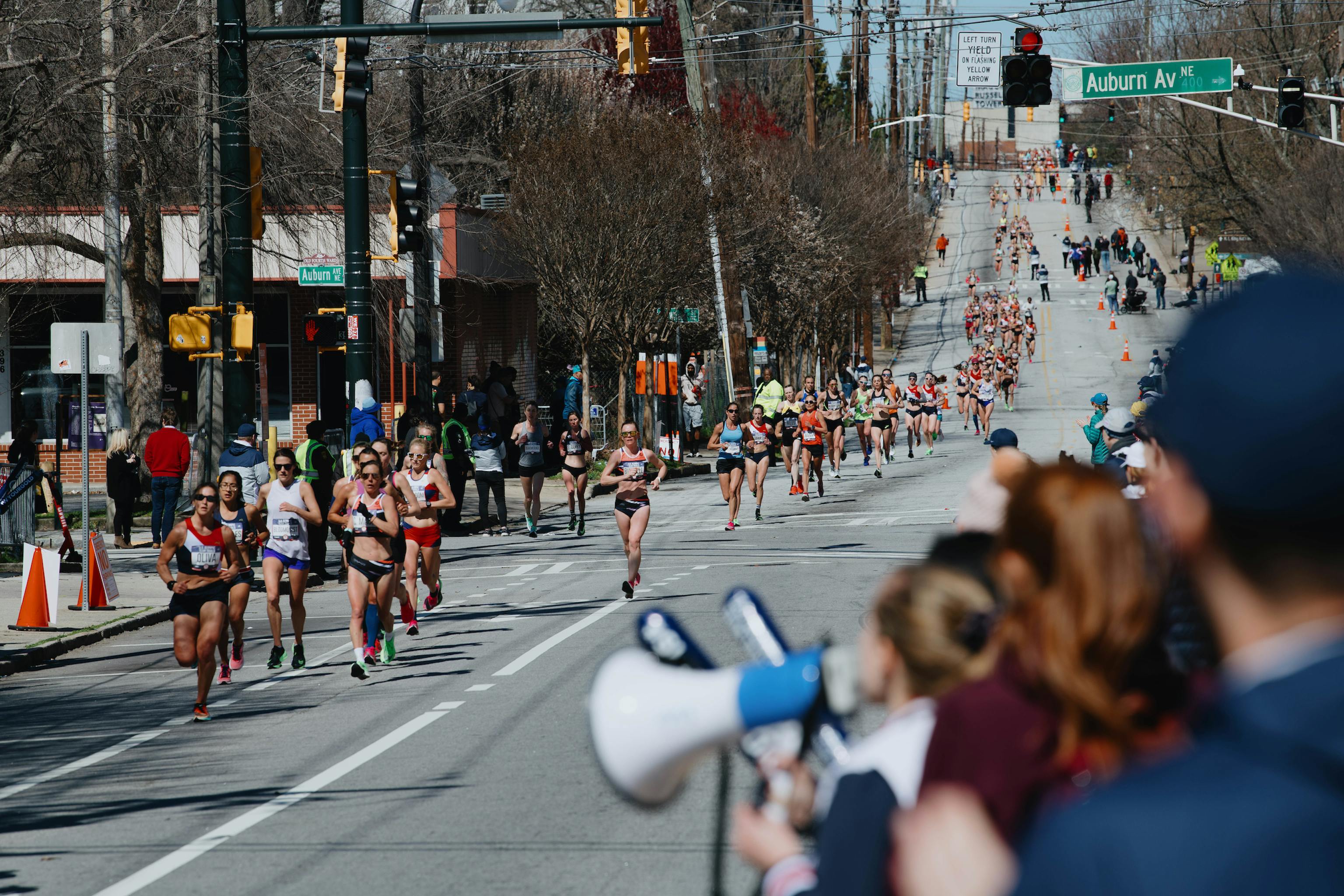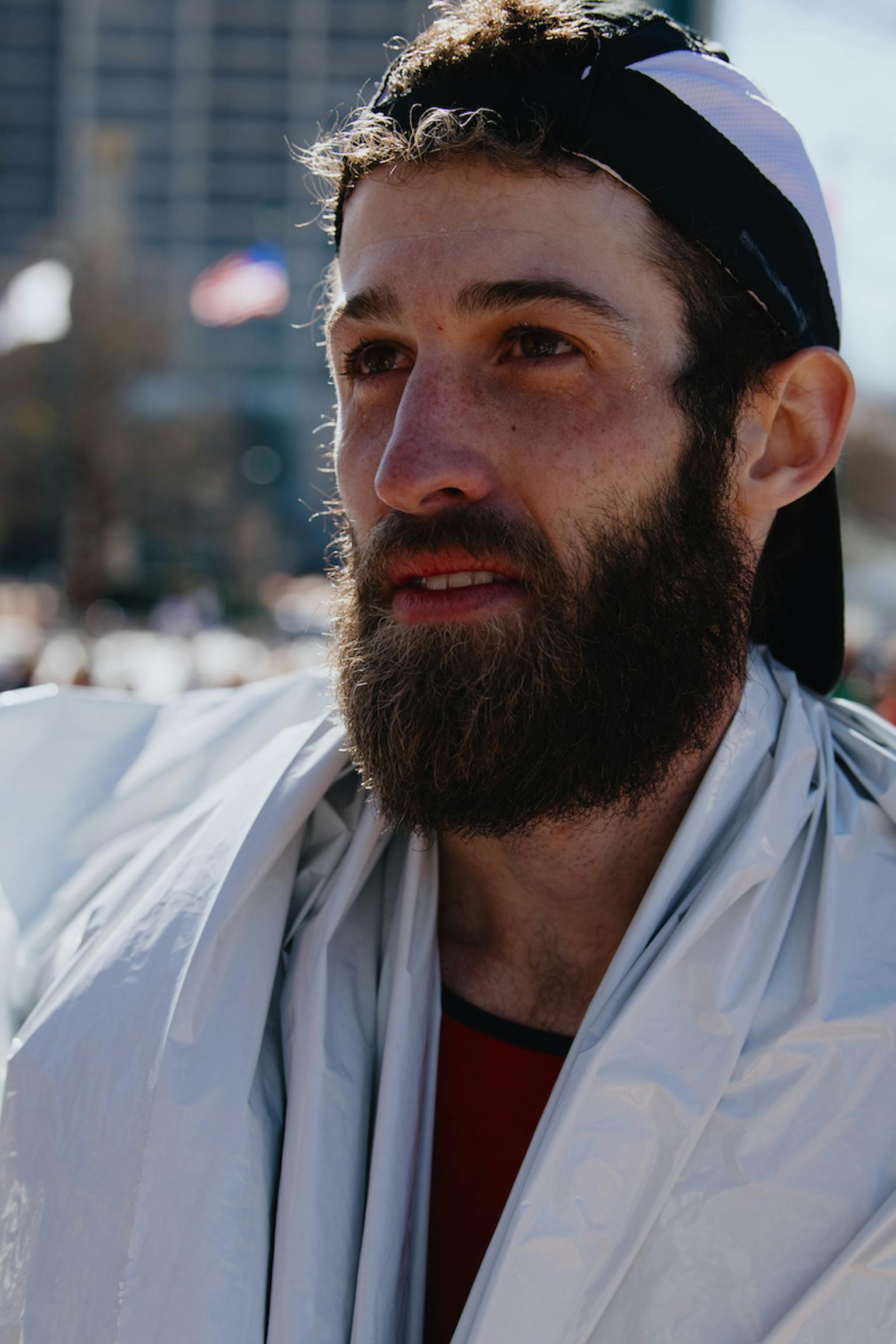 Aaron Dinzeo
I'm not happy with the time - I ran like 2:32 - but I'm happy I finished. It got really hard and I started to feel a little sorry for myself. You don't know how many more of these you're going to get so I'm happy I held it together and got to the finish line.
Aaron finished in 148th place in 2:31:55
Anne Marie Everhart
It was painful. Hilly, windy, really confusing. It was a beautiful experience, but at the same time, awful. Finishing the race, I did myself proud. It's a beautiful day and the energy was amazing, completely electric. First time at Trials - give me a minute before I commit to 2024.
Anne Marie finished in 266th place in 2:52:05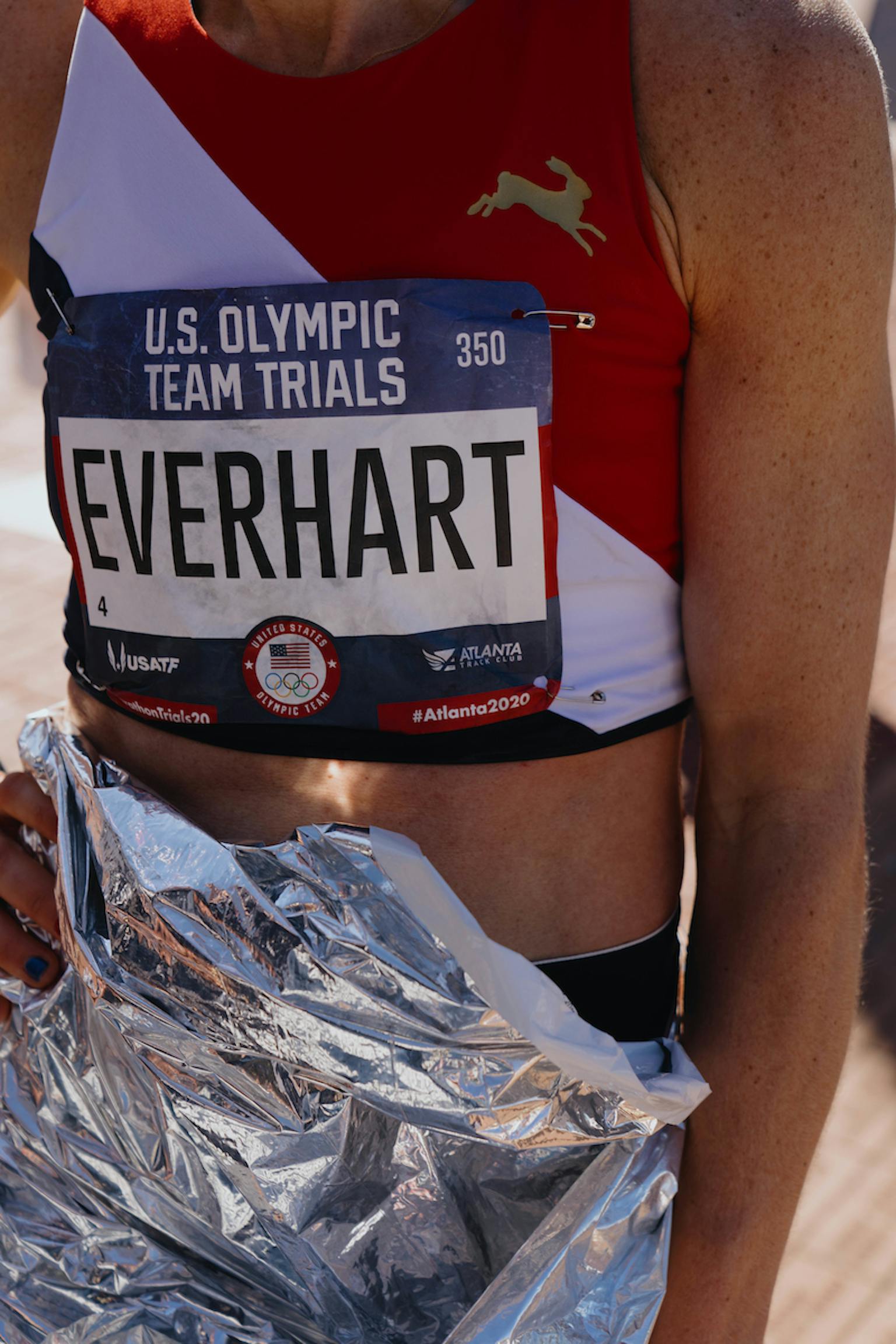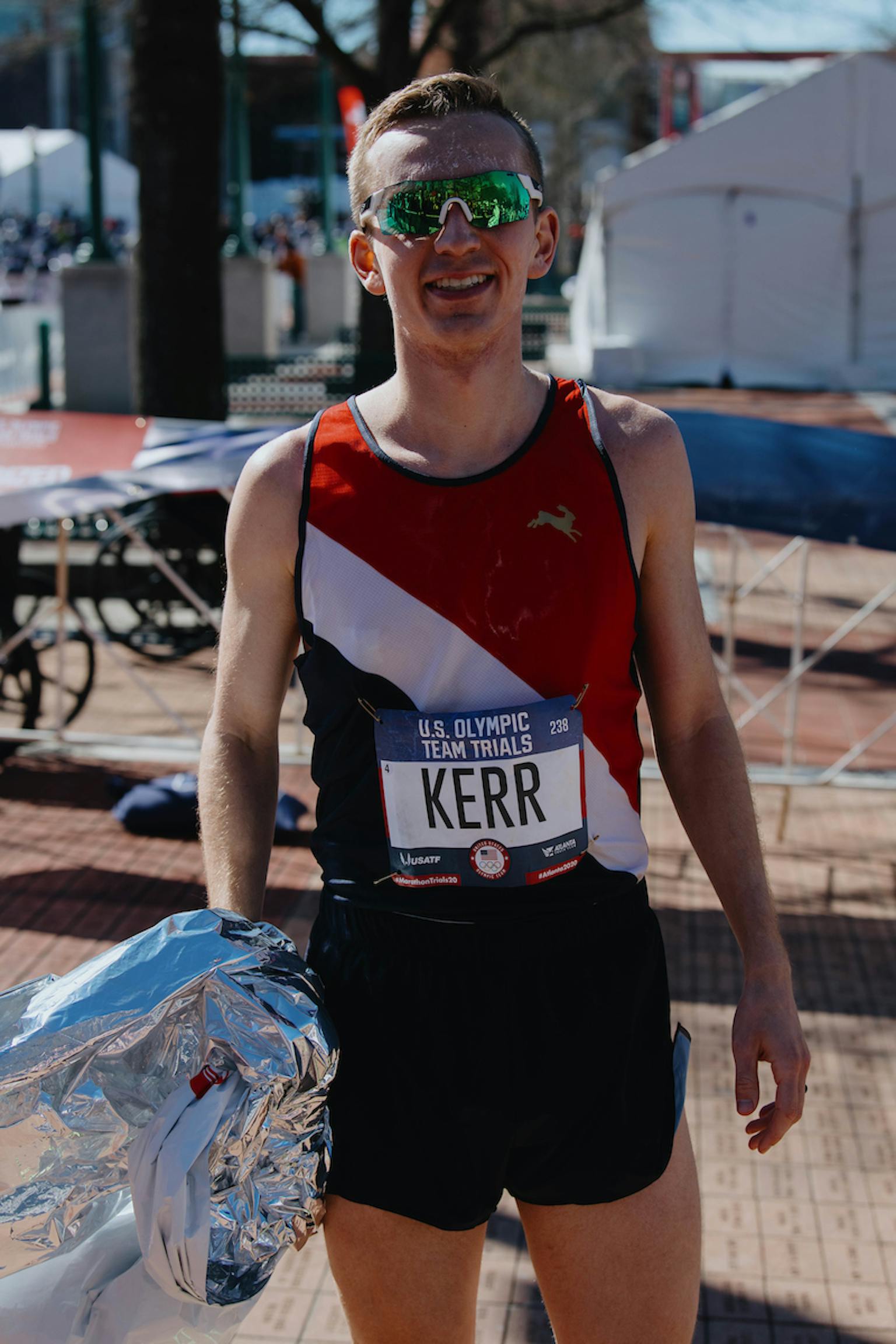 Caleb Kerr
I'd prepared for the hills in my training. I expected things to be difficult. Especially later on. What I didn't anticipate was the wind - that was really the haymaker, especially in that last 5km. I made up a lot of ground in the second half so I was really happy with how that worked out. I went about 69 flat for the half, and then 71 for the second half. So, honestly, pretty solid as the second half was more difficult. I came in with bib 238, so to finish 59th, I beat my seed time by a whole lot. My second marathon and I think I ran pretty smart and executed exactly as I hoped to.
Caleb finished in 59th place in 2:20:21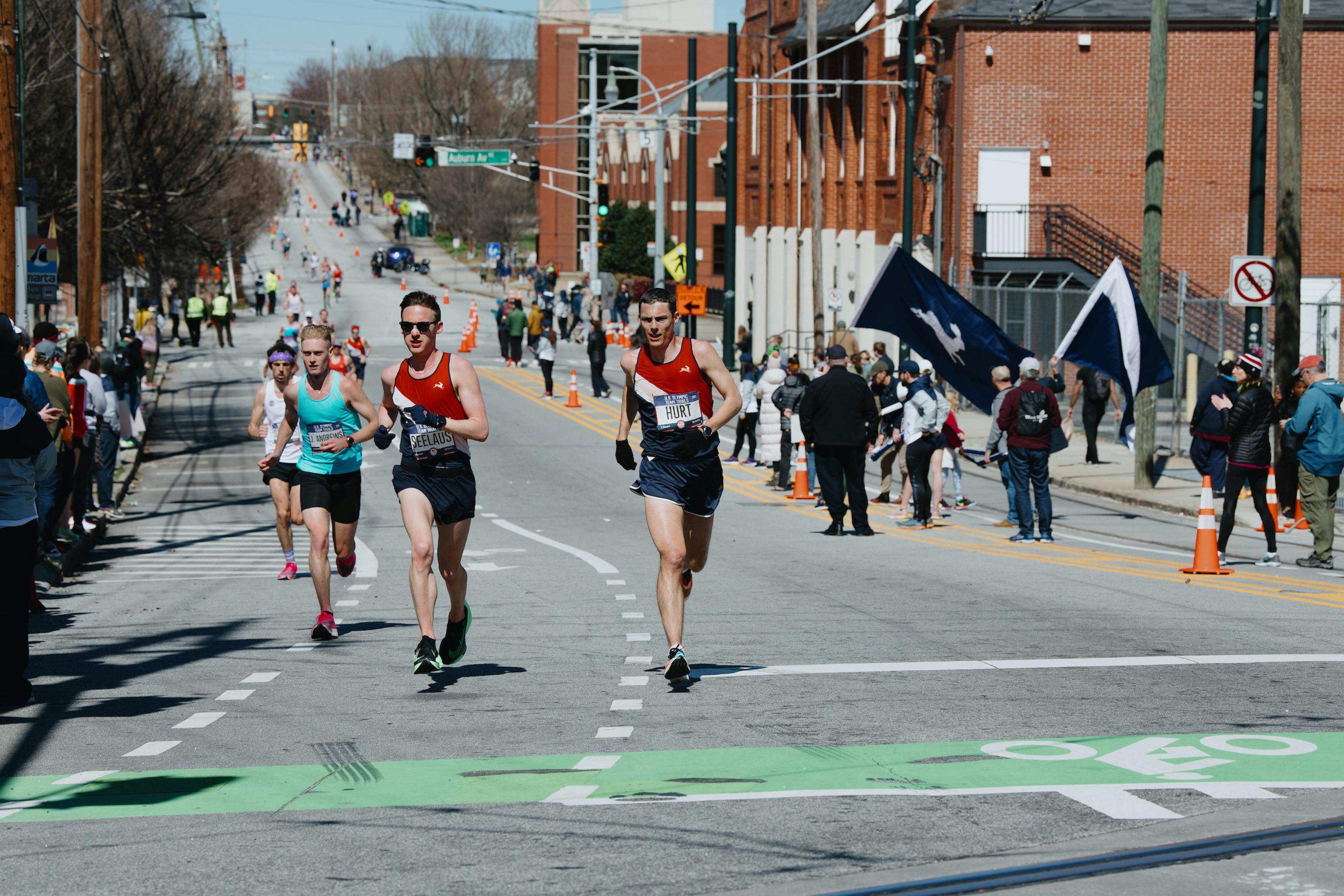 Jeanne Mack
I was feeling really good through mile 20, even 22, and then all of a sudden, I felt like I got run over. Everything was sharp cramping and a little dizzy. I stopped for a bit, had some water, then hopped back in. It was the hardest course I've ever run. The wind was so strong it was blowing you off your feet in parts. It was hilly the whole time. I tried to draft off a pack. The plan was to negative split and I started to do that, but then I didn't. I'm glad I finished. I think I could be prouder. I wish I'd run it a little bit smarter. Just so hard not to get swept up in the excitement when you're out there. It's like a cross country race that goes on way too long on pavement. It was the slowest marathon I've ever run. I suppose it's good to know what it feels like to blow up entirely.
Jeanne finished in 270th place in 2:52:19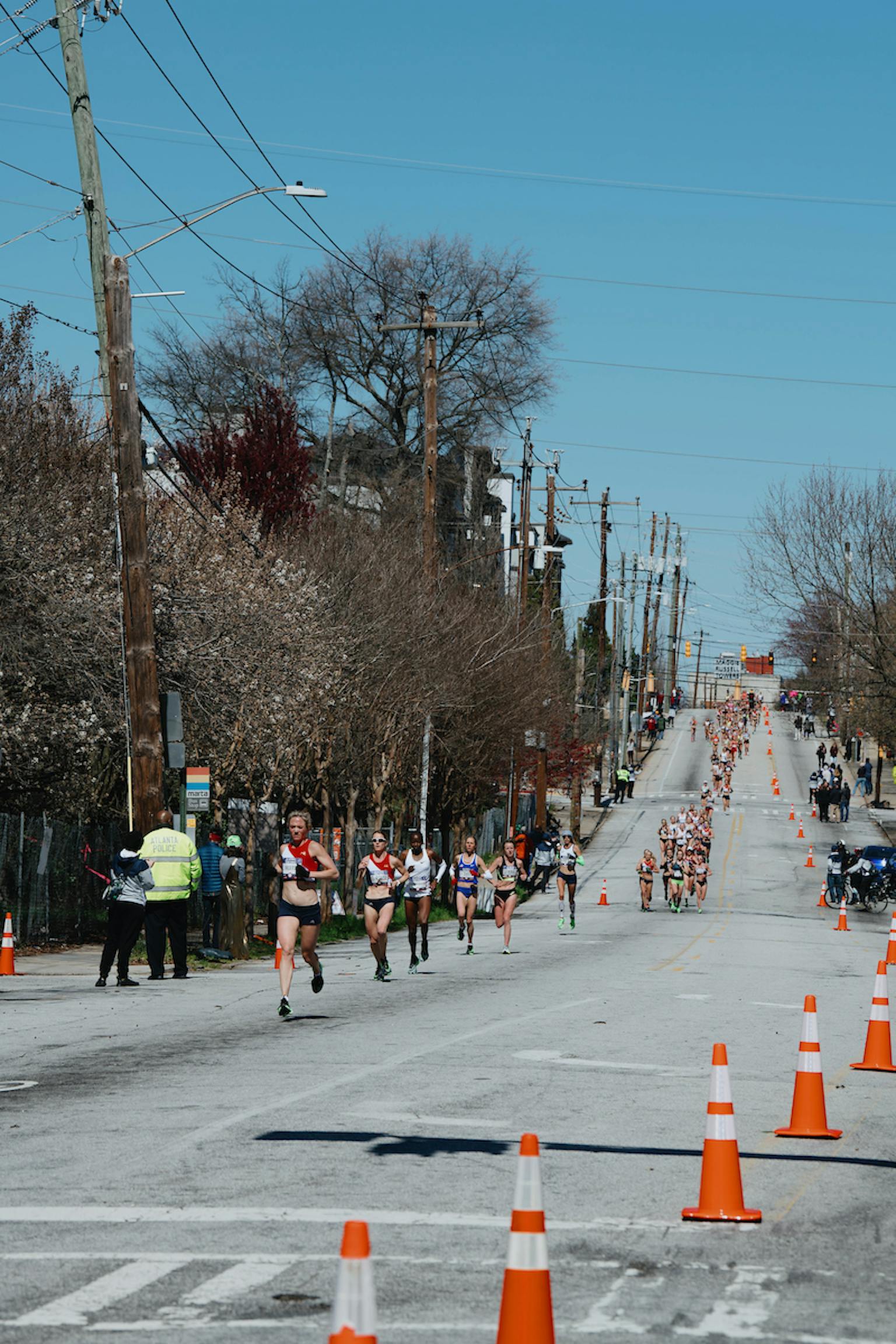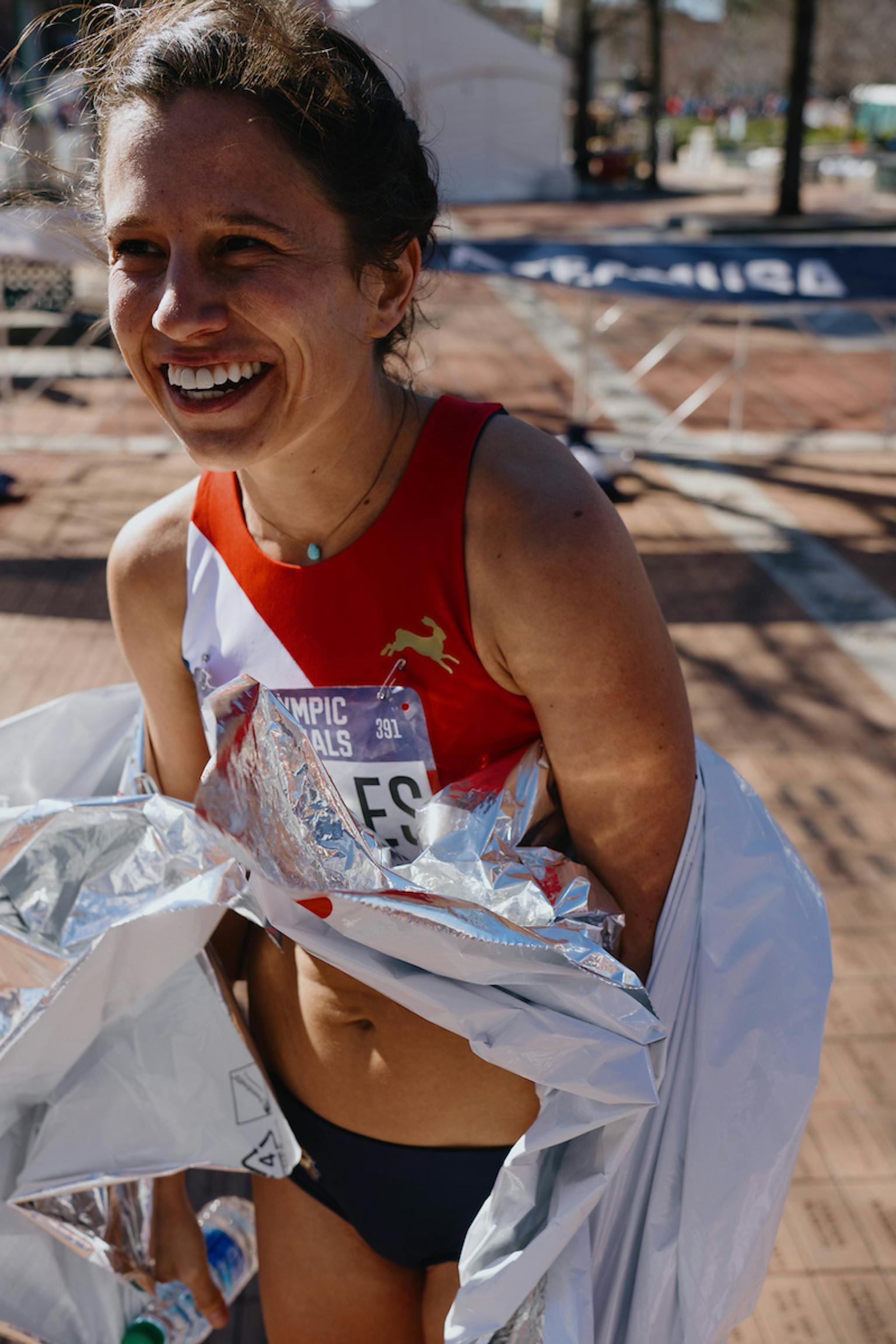 Bryn Morales
It was a grind. Wind city. Grind city. So hilly. Lot of gritty women out there today. I left it all out there for sure - threw up at mile 25, then rallied and snuck under 3hrs, and looked good doing it!
Bryn finished in 345th place in 2:58:46
Gabi Drummond & Lou Serafini
- The wind was insane. I felt like no matter which direction I was going it was always a head wind, and it was blowing me over.
- There were moments where you're like, 'oh finally, a tailwind' and it would last for five seconds and be back in your face again.
- I didn't love it, I'll be honest.
- I can't believe they saved that last loop. It was the hardest part. If they put that first it wouldn't have been so bad - that's why it was evil.
- Honestly, I know we were doing a loop, but I had no idea where I was.
- I felt really good through about 18, then I had to weather the storm for a bit, but 22 to 26 were just like, the defining moment. OK, this a survival kinda day.
- The bottle stations were great. Atlanta Track Club did such a good job.
Gabi finished in 364th place in 3:02:26 and Lou finished in 60th in 2:20:27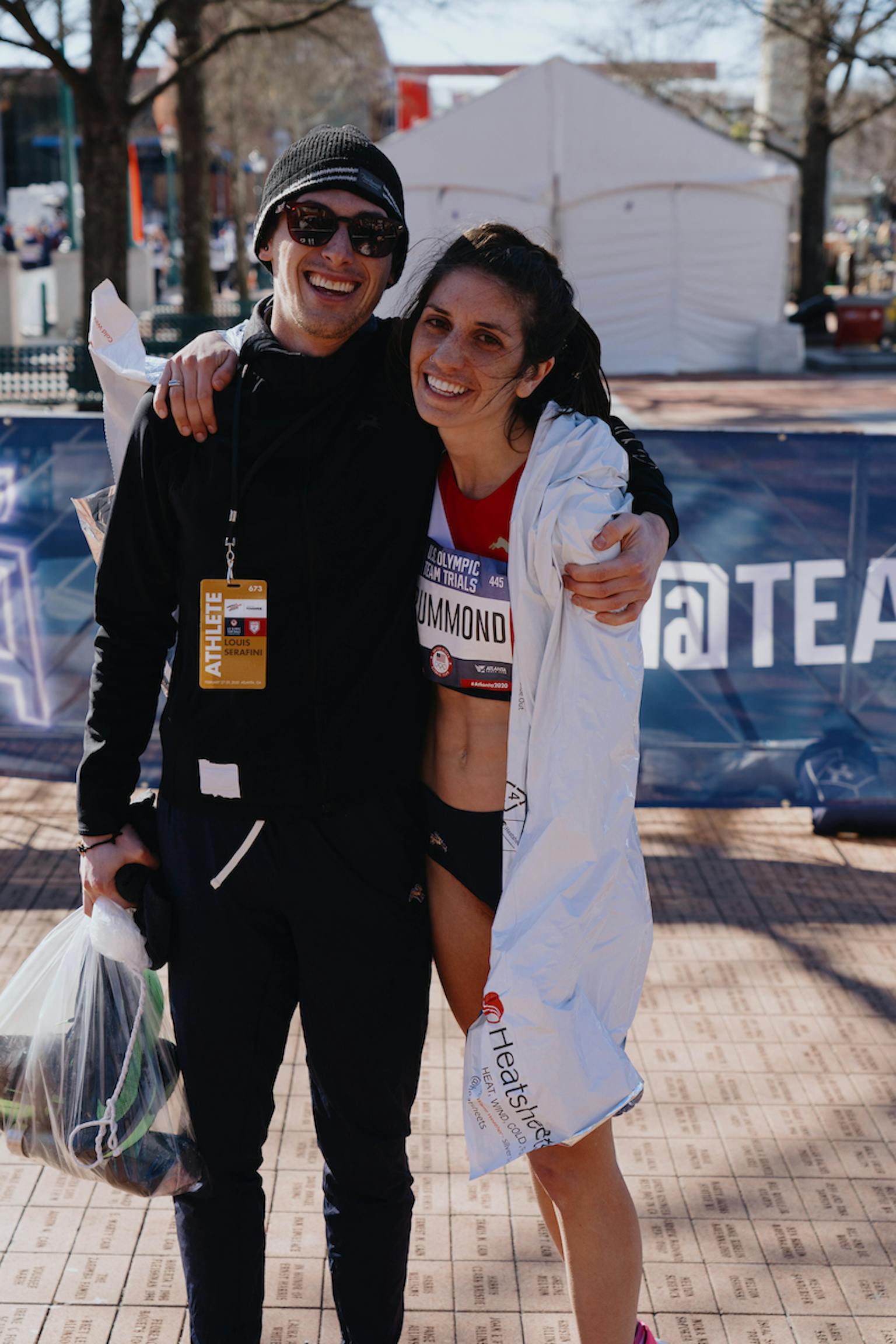 Our 2020 OTG Program was a huge success and our ambition is to continue the program into the next Olympic cycle. Will it be the same? Maybe, maybe not - we're currently corresponding with our 2020 athletes to see how the program can develop, change and improve. Details of the new program will be released in June.