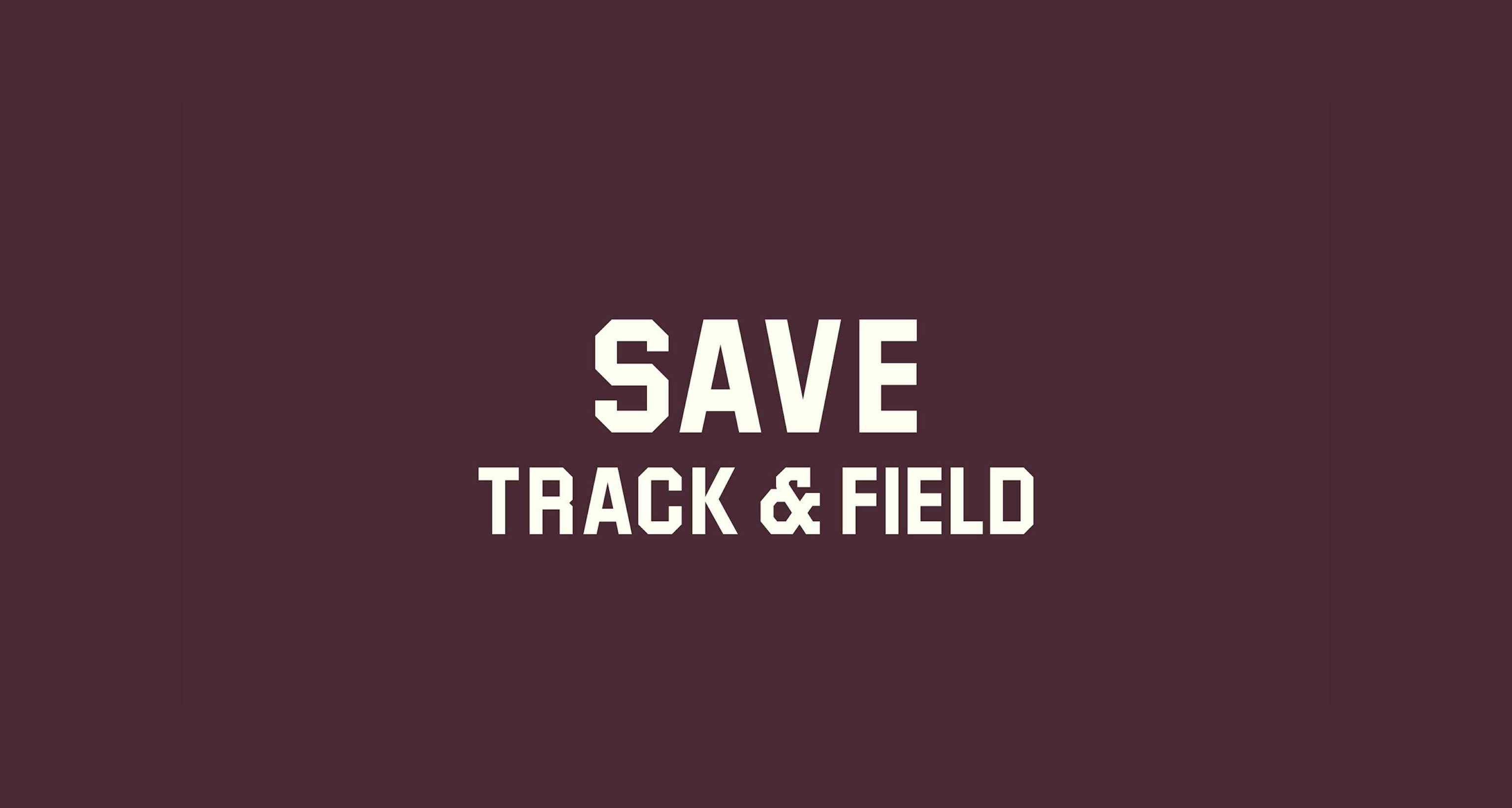 Save College
Track & Field
As a kid I loved all sports, especially basketball. I dreamed of someday being a professional. But over time, when it became clear that my biggest asset was speed, not accuracy, I joined my high school track team. It's a story that many runners share: of finding their niche among the hard-working, motley crew of the Track and Field team, pursuing a common goal with athletes who were often more different than alike.
As a distance runner training alongside throwers, sprinters and jumpers, I called a diverse group of athletes my teammates and friends, first in high school and then in college. In a world where youth sports have become hyper-competitive and prohibitively expensive, track remains among the least costly for families, affording access and opportunity to a wide range of athletes from different socioeconomic backgrounds, races, body types and abilities. As a result, collegiate Track and Field teams represent a mix and diversity of athletes that cannot be replicated or matched. And yet, when athletic departments face budget challenges, all too often Track and Field is one of the first sports considered for elimination.
Why is this a problem? These programs are the foundation of our sport. They build a pipeline of talent not only for the professional ranks, but also for those who go on to contribute to running as youth coaches, race organizers, and executives at companies that support the sport. They unlock opportunities to earn scholarships and expand educational horizons. These athletes don't expect to turn professional - they compete for the love and for their team. Four years of competition and a degree is their reward. Plus, track and field brings a diverse group of athletes together, breaking down barriers and reducing biases. We need our youth to have more of these experiences, not fewer.
Although a slate of programs lost funding this year, including Central Michigan, Appalachian State, William and Mary and Minnesota, we have some positive indications that this is a fight in which we, together, can make a difference. This summer, Brown University cut men's Track and Field, only to reverse its decision thanks to a grassroots campaign led by alumni and former Princeton runner, Russell Dinkins. In a time when universities are committed to building a diverse student body, Dinkins exposed the hypocrisy in cutting Track and Field. Unfortunately, the recent decision by Minnesota to eliminate a team that's been home to national champions, professionals and Olympians, suggests that Track and Field's future remains uncertain.
Collegiate athletic programs were in crisis before the COVID-19 pandemic and will only face more challenging decisions in the months ahead. It's all too likely that other Track and Field teams will be cut. As such, we're working to establish a fund to help alumni and athletes save these programs, giving them the tools and framework they need to make a case to their university to protect Track and Field. Profits from our first-ever Alumni Championships virtual race will establish the fund and immediately support the University of Minnesota and William and Mary teams in their efforts to be reinstated, as well as other programs facing similar challenges in the future.
I hope you'll consider joining this effort. Cutting collegiate Track and Field programs weakens the foundation of our sport and harms some of our most promising athletes at the pinnacle of their careers. Now's the time to act to support the programs in jeopardy and establish a precedent to protect against future cuts.
Sincerely,
Matt Taylor