We just sent out the first issue of the METER Trials Dispatch, a daily newsletter from experts on the ground in Eugene. If you missed it keep scrolling, and sign up for the METER newsletter to ensure you get all future editions.
Welcome to the first edition of METER Magazine's Trials Dispatch, an inside look into the storylines, events to watch, and behind-the-scenes drama from the 2021 U.S. Olympic Track Trials. Over the next 10 days, we'll bring you daily recaps and previews straight from Eugene, Oregon, as track and field's finest athletes vie to guarantee their spot on the sport's hardest-to-make team.
We'll bring you expert insight from some of the sport's most prolific voices, including The Lap Count's Kyle Merber, Fast Women's Alison Wade, Running Report and 2 Black Runners' Joshua and Aaron Potts, and McThrows.com's Dan McQuaid, all in one place.
The action begins today at 12 p.m. Pacific. There are only two finals scheduled for Day 1, but both promise to be barn burners. In the men's shotput, the top three throwers of 2021 are all Americans and all competing, including Ryan Crouser and Joe Kovacs, the #3 and #4 all-time throwers in the event. These two titans of the sport, who took gold and silver at the most recent world championship, have been throwing better than ever in 2021. In the men's 10,000m, depth is the name of the game, as the 2012 Olympic silver medallist and 2016 Olympic Trials champion Galen Rupp is seeded 23rd of 25 entrants and the top three spots are pretty much anyone's guess.
The qualifying rounds this evening will feature their fair share of drama as well, with several women, including three-time Olympian Jenny Simpson, entered in both the 1500m and the 5,000m, considered an "impossible double" due to the meet schedule. We'll likely see a chess match in action as the country's best middle-distance runners choose their events and efforts strategically to try and anticipate one another's priority races and give themselves the best chance of going to Tokyo.
We'll also see qualifying rounds of the men's hammer throw, women's discus, men's triple jump, men's and women's 400m, and women's 100 as newbie and veteran athletes alike get their first taste of the new Hayward Field, the crown jewel of University of Oregon athletics.
Over the course of Trials, Tracksmith is supporting more than 31 athletes across 17 events through the Amateur Support Program. Keep an eye out for the distinctive Tracksmith sash today in events ranging from the hammer throw to the 10,000m.
David Melly Editor-at-Large
Sprints and Jumps
Words by Joshua and Aaron Potts of 2 Black Runners
Joshua: I'm Joshua Potts Mr.Pottsible! He's Aaron Potts, SupaHotPotts! And we're your favorite 2 Black Runners writing on TRAAAAACCKKSMIIIITTHHHH!!! That may be a weird intro for a newsletter, but that is how we intro every episode of our podcast, 2 Black Runners. We are new to this newsletter game but we are no strangers to track and field. Aaron and I have been fans of the sport from a young age, while competing since age five for me and 2nd grade for Aaron. I started the Running Report my freshman year of college to bring more energy to the running world that is similar to First Take or Jalen & Jacoby. If you like the sound of that, follow us on Instagram to see necessary stories about running. Listen to our Podcast where you hear our perspectives as Black Runners and perspectives from guests like Michael Johnson. Also, watch our YouTube channel to see analysis and debate about the track world.
Aaron: Thanks for the intro Joshua! The Olympics are where stars are born and right now there is no bigger star in the US than sprinter Sha'carri Richardson. She's been electric this year running a blazing 10.74, and personally I believe she has the potential to be the star of the Tokyo Olympics. On the other hand in the Men's 1500 a professional, a college kid, and a highschool athlete all have a real shot of making the Olympic Team. There are so many other stars that may make their Olympic Dreams come true such as Athing Mu, Terrance Laird, Elle Purrier, Bryce Hoppel, Marvin Bracy, Juvahgun Harrison, Elise Cranny, Cambrea Sturgis, and Tara Davis just to name a few. We appreciate you tapping in with us and Tracksmith over these next ten days and will do our best to make your experience more enjoyable!
Women's Middle/Long Distance
Words by Alison Wade of Fast Women
Hi, I'm Alison Wade and I'm going to be covering the women's middle and long distances during the Olympic Trials. I write a newsletter about women's competitive distance running called Fast Women and you can subscribe here if you're interested in a deeper dive into some of the topics I'll be covering during the Trials. I also share frequent updates via Twitter and Instagram.
The first rounds of the women's 1500m and 5,000m will take place this evening and whew, the races haven't started yet, but they've been dramatic already. In case you missed it, the Bowerman Track Club announced Monday that Shelby Houlihan, who would have been the top seed in the 1500m and/or 5,000m, has been banned from the sport for four years after testing positive for nandrolone. Most people assumed the ban meant Houlihan was out of the Trials, but yesterday, USATF said that she would be allowed to race, prompting widespread outrage. But now it's looking less likely by the minute that Houlihan will be allowed to compete. (This is fast changing situation - by the time you read this it may have changed again. -Ed)
There are six athletes, including top seeds like Elle Purrier, Elise Cranny, Rachel Schneider, and Jenny Simpson, who are entered in both the 1500m and the 5,000m. We'll find out for sure tonight which event each athlete intends to focus on, as the meet schedule makes the 1500m/5,000m double nearly impossible. Simpson said earlier this week that her entry in the 5,000m is just a backup plan, in case something goes wrong in the first round of the 1500m. We'll also get a first glance at other top seeds such as Shannon Osika (1500m) and Karissa Schweizer and Josette Norris (5,000m). Most of all, I'm excited for these athletes to race at Hayward Field in front of a good number of fans. After a year of racing mostly on high school tracks, it's going to be a serious upgrade.
Men's Middle/Long Distance
Words by Kyle Merber of The Lap Count/Citius
Hey there track fans! It's Kyle Merber here, your resident expert the next 10 days for all things men's distance. Forget the words of your high school coach because the 800 isn't a controlled sprint — it's aerobic baby! As a former professional and 3:52 miler, I am uniquely positioned to be your go-to source because I was good enough to have raced most of these guys, but not quite good enough to still be doing it. Now I write the weekly newsletter, The Lap Count, to recap all the fun news of T&F through the biased lens that are my opinions. I'm excited to cheer athletes on from the sidelines in their Olympic quest and believe the trials serve up the best action our sport has to offer. At the conclusion of each day, I will be sitting down at the Tracksmith house with Chris Chavez to discuss all the happenings and hope you'll tune into the Citius Mag podcast to listen. The 800 will whittle down 32 men to 16 on the first day of action Friday. For the favorites like Brazier, Hoppel, Murphy and Harris, this shouldn't be too stressful of a day as they sit back early and show off their fitness in the final 150m. But things do happen! The key is to survive and advance, which is best done by steering clear of trouble. Remember: a 1:45 feels pretty good for 1:42 guys. With 3 rounds in 4 days, it's about energy allocation – not just physically, but emotionally.
To make the Olympics, you have to run fast. But to make the US Olympic team, you have to run fast on the right day. And with the pressure of it all, I think we are going to see some diamonds here. The conditions are setting up for an electric finale in the 10k with the 27:28 standard well in sight for many of the athletes who come in without it. As we consider how this race may play out, I'd expect all eyes will be on the standard-less Galen Rupp, the 2x Olympic medalist who has already qualified for Tokyo in the marathon. If he decides to take it then it's going to be fast and honest from the gun, otherwise look for a small pack to work together to keep things moving. Odds are the favorites will ride the train from the middle of the pack until as late as possible. Lomong is one to watch on paper, but have you seen Grant Fisher this year? We know there will be at least one upset and it'll unfortunately be a poorly timed commercial break. But that's track and field baby!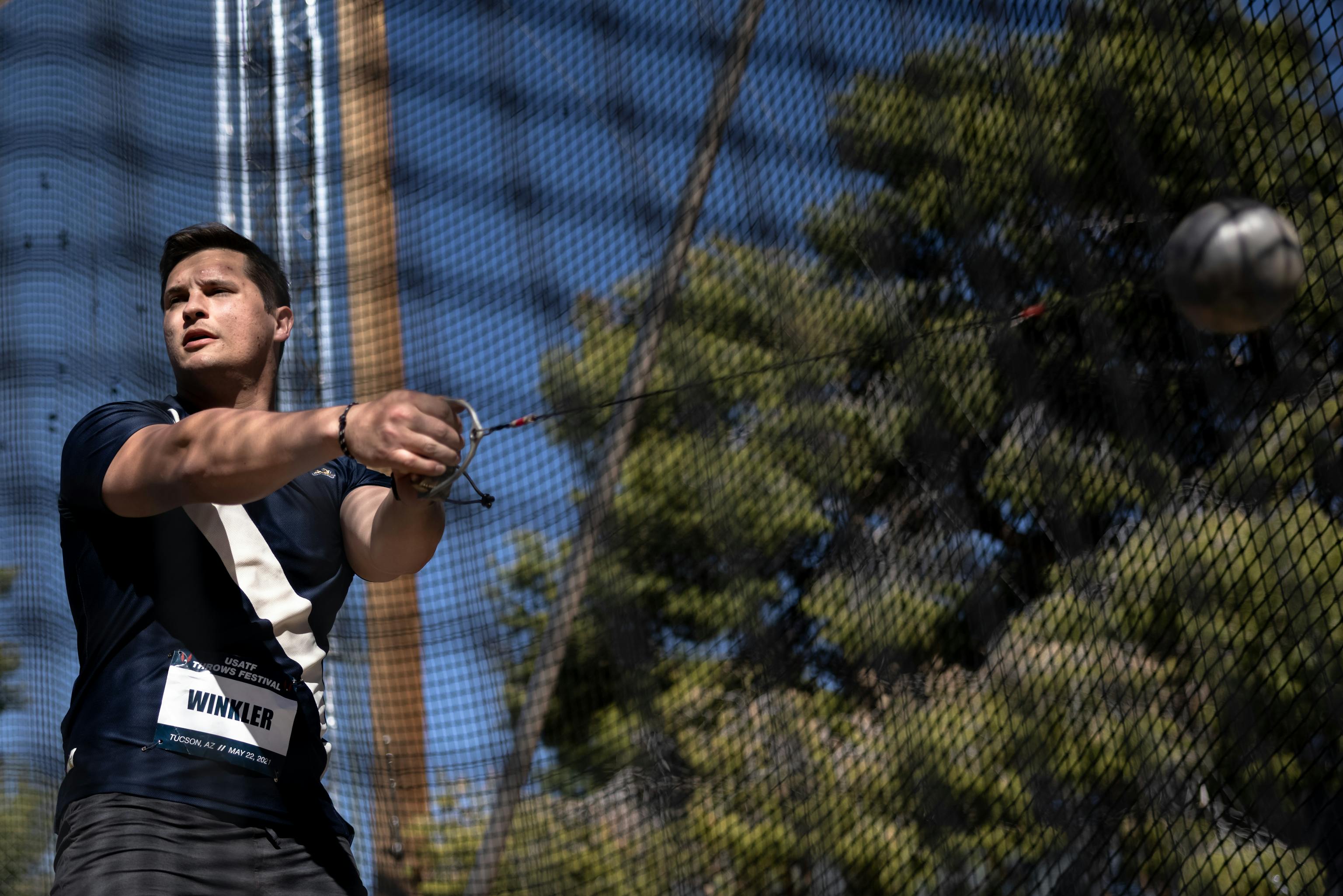 Throws
Words by Dan McQuaid of McThrows.com
At the NCAA Championships, contested just a week ago on this same track, each throwing event consisted of two flights run either simultaneously (in the case of the shot) or one right after the other. Each athlete received three attempts, with the top nine advancing to the final for three more attempts. The final was held immediately after the conclusion of the prelims, and marks achieved in the prelims carried over.
The Trials, though, will follow a different format, one aligned with what athletes will experience in the Olympic Games.
Again, there will be two flights of competitors in each throwing event, but with the exception of the shot put, the prelims and finals will be held on different days. The prelims will also feature an automatic qualifying distance. Any athlete who achieves that distance is guaranteed a spot in the twelve-person final. For the top throwers, the goal will be to hit the qualifying mark on their first attempt so that they can pack it in early and conserve energy for the final.
As of Thursday evening, the USATF had yet to announce what the automatic qualifier will be in any of the throwing events. Most coaches and athletes I have talked to seem to think that the USATF will use the Olympic standard as the finals qualifier. If they do, you won't see many athletes go one-and-done in the prelims, as the Olympic standards in the throwing events are beastly. In the men's hammer, for example, the Olympic mark is 77.50m, a distance which would get you pretty darn close to a medal in Tokyo.
The logic of using an automatic qualifying mark that few athletes could hope to achieve? I haven't the foggiest. Also mysterious to me is why the shot putters will be required to compete in the prelims and finals on the same day, as that will not be the case in Tokyo.
It sounds complicated, but trust me on this. You give a group of throwers six attempts to fight for an Olympic berth...drama will ensue.
Preview: Men's Shot
Remember those WWII propaganda films that showed American factories pumping out row after row of gleaming tanks and Flying Fortresses? The forces of darkness stood no chance.
That's how we do it with shot putters these days. We crank them out mercilessly and inexorably. It probably seems that way to the rest of the world, anyway.
Our latest batch is pretty formidable. The favorite on Friday will be Ryan Crouser, arguably the best putter ever. Hyperbole? John Godina, who dominated this event in the 1990's winning four World Championships and two Olympic medals, threw twenty-two meters maybe half a dozen times in his career. As of this moment, Crouser has surpassed that mark 127 times, including a 23.01m bomb at the USATF Throws Fest in May. The world record, set by Randy Barnes in 1990, is 23.12m. So, you tell me.
Should Crouser falter, next in line will be Joe Kovacs, Olympic silver medalist, 2015 World Champion, and winner of the greatest shot put competition off all time, the 2019 Doha Worlds where he smashed a PB of 22.91m to edge out Crouser (22.90m) and New Zealander Tom Walsh (also 22.90m) on his sixth and final attempt. Joe's rise to prominence, his displacement by Crouser at the 2016 Games, and his battle back to the top is a fantastic story, one that I recount in this blog post. A few days shy of his 33rd birthday, Joe is likely nearing the end of his career, but with a season's best of 22.72m, he's not ready to be pensioned off just yet.
Are any of these gents likely to falter and leave an opening for someone among a fine group of young putters featuring Payton Otterdahl (21.81m PB), Tripp Piperi (21.74m PB), and Josh Awotunde (21.68m PB)?
No. In almost any other country, Payton, Tripp, and Josh would be the top dog, but here the kennel is... oh, you get the idea. Anyway, if you'd like to see three all-time greats at the top of their game battle it out and maybe take down the world record in the process... tune in.
Preview: Men's Hammer
This event will feature five up-and-coming, hugely talented young throwers, all of whom are friends and two of whom will have their hearts broken in Sunday's final.
Rudy Winkler might be considered the favorite. He has been over 80m twice this season, and showed he can hold up under pressure by making the final in Doha. Just behind him on the world list is Sean Donnelly (79.27m PB), who finished in the dreaded fourth spot at the 2019 US Championships and has spent the last two years determinately launching hammers into the deserts of Chula Vista paying a stark and lonely penance. He told me today that, so great is his excitement over finally having this chance at redemption, he woke up at 3:30am wishing the competition would start immediately.
If it had, I know that Daniel Haugh would have shown up. This genial Georgian, who has gone 79.03m this season, is a young man of great enthusiasm.
Throw in 2017 US champion Alex Young (78.30m PB) and 2019 National champion Conor McCullough – strangely and wonderfully also a former national champion of Ireland – and you have the makings of an epic showdown.
I asked Amin Nikfar, coach of Alex Young, why, after many long years during which the US could not seem to produce a medal threat in this event, we suddenly have a group of five. He mentioned two factors.
"They've all managed to find stable situations," he said. "Not an easy thing to do for a post-collegiate thrower."
"And," he continued, "they have each other. When one does well, the rest are inspired to match them. After all, iron hardens iron."
Preview: Women's Discus
My favorite version of Elvis Presley is the way he was in the 1968 "Comeback Special." You can find it on Youtube. The 1968 Elvis wasn't a young phenom anymore. He'd been around the block, and that life experience enriched his natural talent to the point where he became a truly singular artist.
Val Allman has reached a similar place as a discus thrower. She went through her phenom phase a while back, getting the silver at the 2014 World Juniors. Like Elvis, she endured some disappointment, particularly at NCAA Championships during her time at Stanford.
But since graduating in 2018, she has built herself into a magnificent competitor. She was US champion in 2018 and 2019. She made the final in Doha. Last year, she joined the seventy-meter club. And, earlier this season, she returned to Doha and defeated Sandra Perkovic, Jaime Perez, and Denia Caballero, all former World – and in Perkovic's case, Olympic – champions.
Can she do the same thing in Tokyo? Absolutely. Is she going to let anyone or anything get in her way this week in Eugene? Not a chance.
I'm told that at a training session earlier this week Val cranked out throw after throw in the vicinity of 67m. A throw like that would put her three meters ahead of the rest of the field in Saturday's final.
Look for Laulauga Tausaga, 2019 NCAA champ and 2021 runner-up, to grab the silver. Like Val, Lagi made the final in Doha, so we know she has the horsepower to make the discus go far inside a stadium.
That remains to be seen with Rachel Dincoff. The 64.41m PB she set earlier this year may denote her as an up-and-comer to be reckoned with, but American throwers are notorious for achieving great results in great conditions. She can build a lot of credibility with a top-three finish Saturday and a decent showing in Tokyo.
Whitney Ashley is an old favorite of mine. I was present at the 2012 NCAA meet in Des Moines when she rifled a late-round 59.99m for the win – a throw that put her on the path to a long career as a thrower. She has travelled a lot and competed against the best in the intervening years, and as recently as 2019 tossed a very respectable 63.64m. Her 2021 results have not been impressive, but she cannot be counted out.
Kelsey Card won an NCAA title in the previous incarnation of this stadium. That winning throw of 63.52m is still her PB. She'll have to get close to that to earn a spot on the podium Saturday, and with the toughness and consistency she has displayed throughout her career... She just might.