STANDARD BEARERS
On impossible dreams and the Roberta Groner effect.
Words by Izzy Seidel
Photography by Emily Maye
The purpose of an interview is not to question, but rather to listen. Originally I sought to write a story about the debate over the difficulty of the women's current Olympic Trials Qualifying Standard – 2 hours and 45 minutes – and whether or not it should change come 2024. There remains a debate on whether the OTQ standard should be lowered, largely because the field of qualifiers more than doubled from 2016 to 2020. Others argue that if the standard becomes a few minutes faster than 2:45, it could deter women from even giving qualifying a shot.
I turned to Olympic Trials Qualifier Roberta Groner to learn more about her experience with breaking the 2:45 barrier. Listening to her journey into elite marathoning challenged me to think less about the clock and more about the entirety of American women's distance running today. How do we maintain the momentum that saw the women's field double in size in one Olympic cycle, while continuing to provide athletes with a goal that's both achievable and aspirational?
Roberta is headed into the Trials with a 2:29:09 qualifier. As she told me about her history with the marathon – and how in her first intentional attempt to hit the 2020 Trials B Standard, she surpassed it by over seven minutes – I thought that maybe Roberta wasn't the athlete I needed to hear from regarding this 2:45 debate. I thought I needed insight from someone who had felt a true challenge in making it to the Olympic Trials. Of the 511 women that will toe that line at the Trials on February 29th, Roberta, ranked 18th by time, is in a very different position than, say, the 126 women that snagged an OTQ with less than a minute to spare. Roberta was chasing, and eventually achieved, not only the Women's A Standard, but also the Olympic Standard within the past four years: 2:45 is no longer a challenge to her.
But following my call with Roberta, I couldn't stop thinking about how wild her story was. She ran in college, and although talented, she never received All-American honors. Then upon graduation, she left the sport. For 10 years.
By her early 30s, she picked running back up as a way to escape from her hectic schedule as a full-time nurse and mother of three young boys. She ran her first marathon in 2011 for nothing but fun. But it soon became apparent that the 26.2 mile distance suited her. In 2015, now in her late 30s, Roberta ran 2:45:30 at the New York City Marathon. The 2016 Trials standard at the time was 2:43, but abruptly changed to 2:45 just three months before the race in Los Angeles. Yes, in hindsight, Roberta had missed the qualifier by 30 seconds, but the Trials had hardly been on her mind at the time. So, she decided to challenge herself to break 2:45 at her next marathon, planned for October of 2016. She put in the work and finished in 2:37.54. Since that race, she has improved on her PR by almost nine minutes.
Let's also not forget that to this day, Roberta is not a professional runner. We were only able to find a quick window to talk over the phone as she commuted home from work where she remains a full-time nurse, all while raising her sons.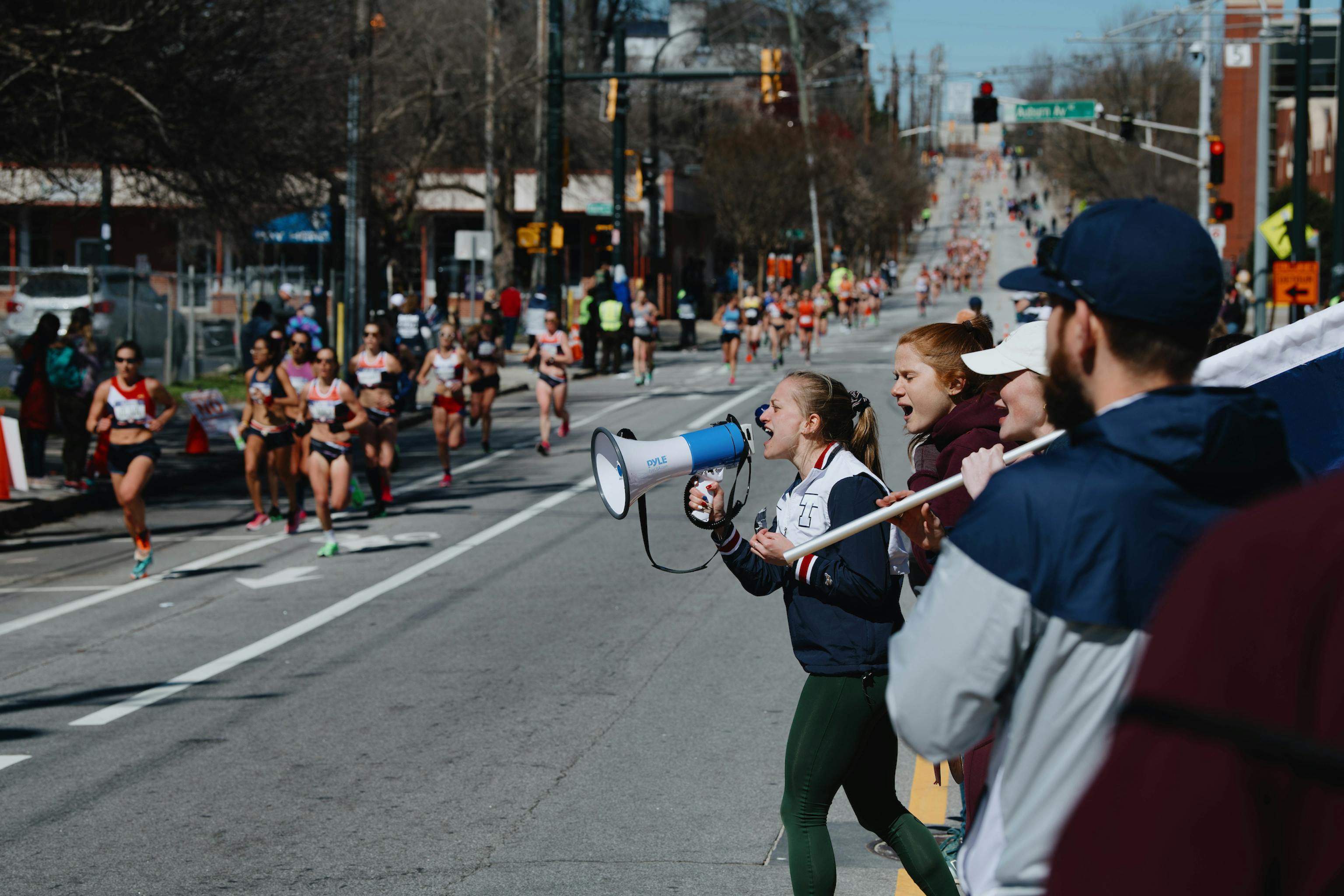 The more I processed her story following our conversation, the more I realized that Roberta was one of the most important voices I needed to hear from. What I condensed into one paragraph took nearly 10 years of Roberta's life to come to fruition – her success hardly happened overnight.
And this brings me back to the topic of 2:45. It might seem just attainable enough to motivate amateur runners, but that's not why over 500 women qualified for the Trials in Atlanta. Amateur women like Roberta showed up over the past four years. This has become such a prolific era for American women's distance running because women proved to each other that you don't need to be a professional to run at an elite level. One OTQ turned into two turned into hundreds. The motivation came, and continues to come from the women themselves, and 2:45 is merely a placeholder. Women didn't approach training with the thought, "I can run a 2:45." They approached it thinking, and believing, "I can hang with these women."
Roberta's story proves that where you start doesn't determine where you end. There is no single route to success, and years of patience, passion, and commitment can take a runner from good to great. Hundreds of amateurs are now sitting on the heels of the pros, or in Roberta's case, on par with them. These women may choose to remain amateur, but they are undeniably elite.
Female American distance runners, pro or not, keep chipping away and collectively setting the bar higher as time progresses. We can all have our own opinions on what the standard should be in 2024. Speeding up the standard might weed out the field, but I don't think it will stop women from trying. Who's to say that a 2:50 female marathoner can't be a 2:35 runner by 2024? Time will tell, but what is certain is that there is talent out there and with the right goals, and the right support, that talent will shine through.
This story originally appeared in Millimeter, Tracksmith's Atlanta Trials edition of Meter magazine.